The New Greubel Forsey GMT Balancier Convexe Sets The Bar At Geneva Watch Days 2022 (Live Pictures)
The new GMT caliber puts Earth at center stage
Smashing through the world's preconceptions of what a timepiece represents, Greubel Forsey inhabits its own microcosmos. In fact, I wouldn't be surprised if Stephen Forsey or Robert Greubel recently passed through a wormhole in space and time. Such is the sheer otherness of their "watches" that the word alone seems almost banal. The GMT movement in the new Greubel Forsey GMT Balancier Convexe is a case in point.
If I could pinpoint a moment when my wrist felt overwhelmed by a watch, it was at Geneva Watch Days 2021 in the Greubel Forsey hotel suite. The brand's Sport GMT was a jaw-droppingly mesmerizing timepiece and unfeasibly comfortable for such a big watch. I'm happy I tried it on late in the day. The impression stayed with me and would probably have belittled most other wrist impressions thereafter. But the feeling I was left with was not one of bling-awe. Rather, it was one of deep respect for each minuscule part of the intrinsic architecture within the case and the depths of craftsmanship.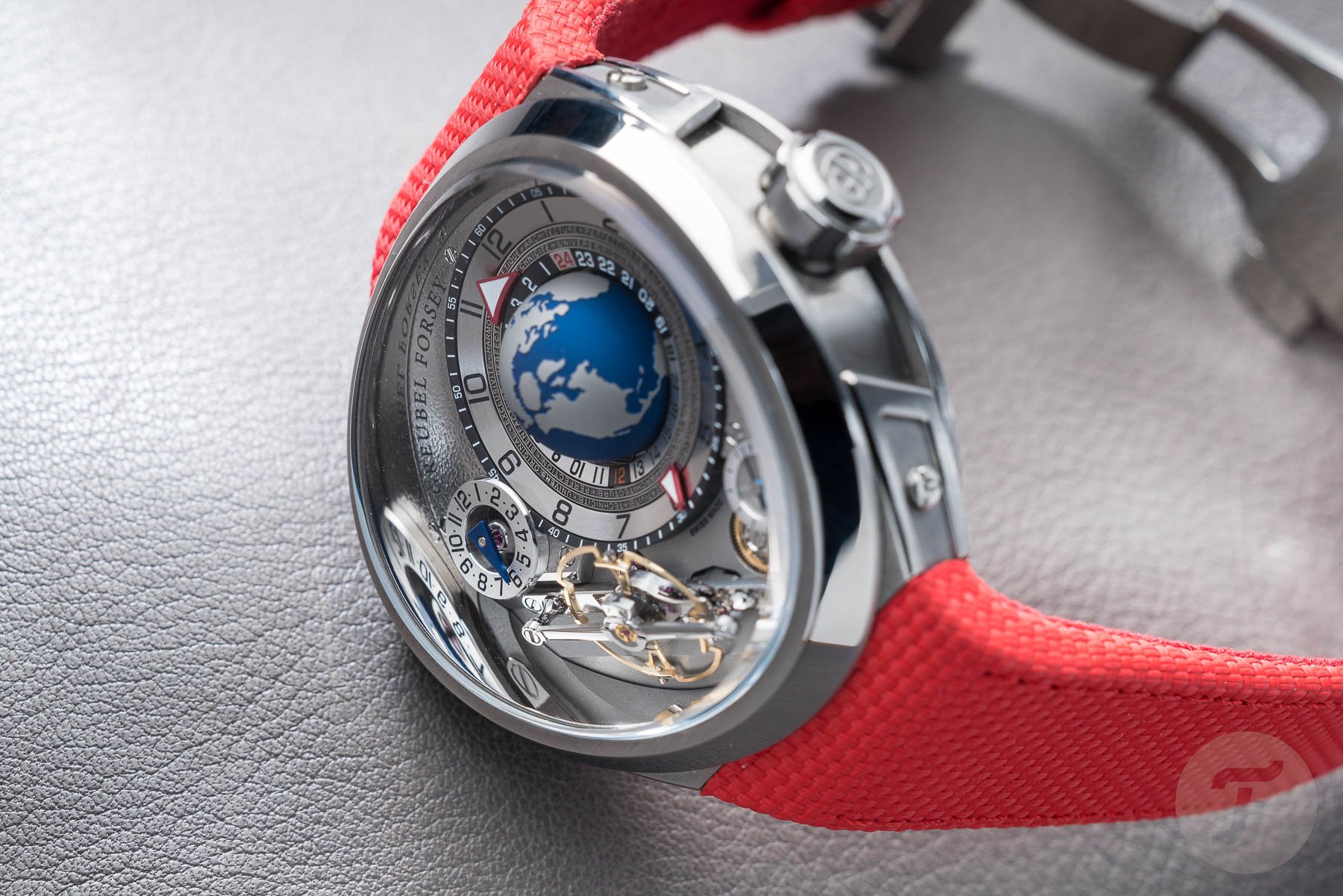 Greubel Forsey GMT Balancier Convexe
The asymmetric GMT series from Greubel Forsey made a huge impression with their large but comfortable designs and odd case protuberances. The new Greubel Forsey GMT Balancier Convexe showcases the brand's new movement while keeping to a more sporting intent in titanium. Last year, Greubel Forsey made the sustainably brave decision to not release any new models on animal-leather straps. That helps in making the new GMT a textbook example of juxtapositioned styles that come off otherworldly yet cohesive. The production run will be a mere 22 watches per year between 2022 and 2024. This is something that speaks volumes about what is a resolutely futurist timepiece while encompassing more hours of manual hand finishing than you can imagine. And this combination is what makes any piece from Greubel Forsey such an intriguing proposition.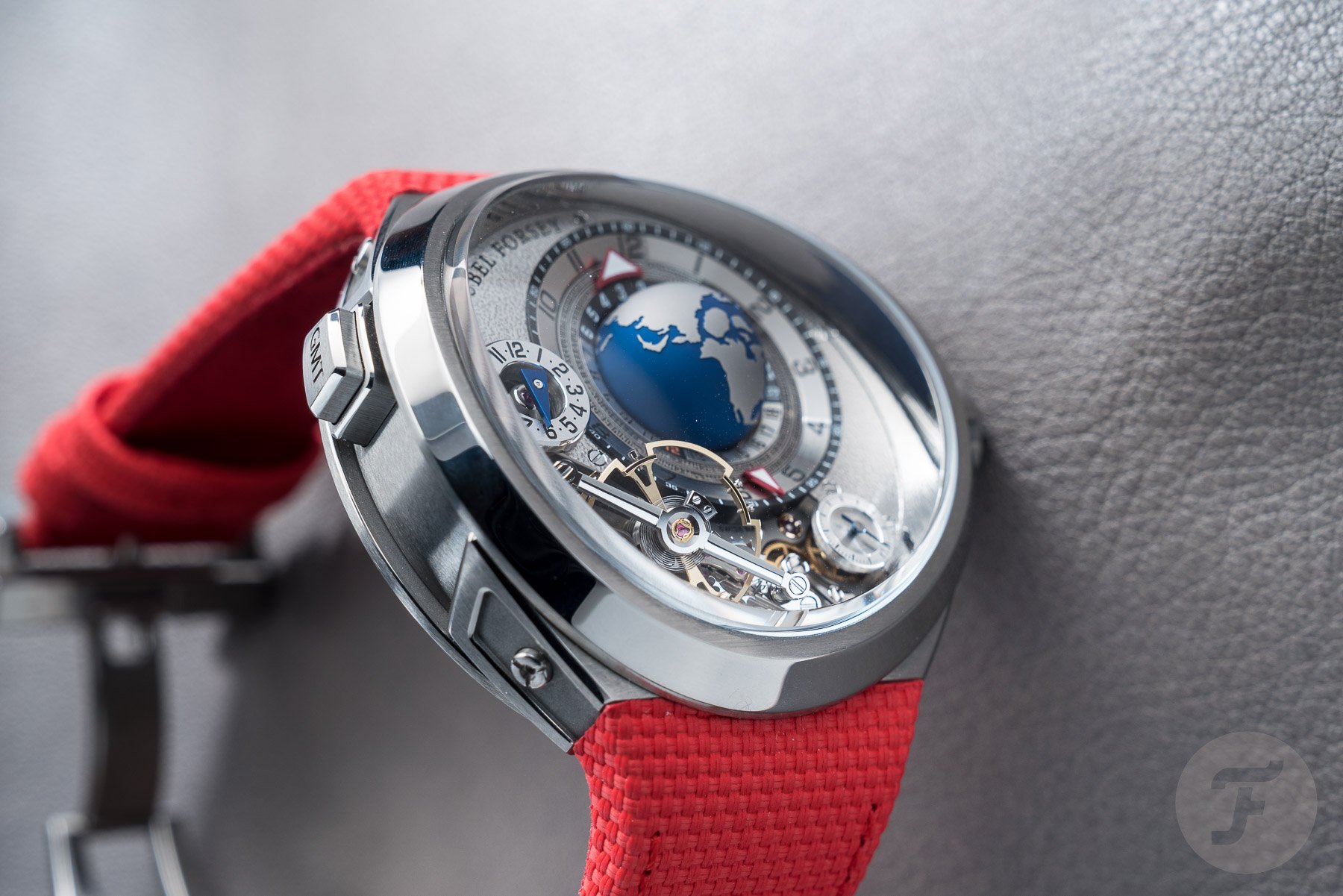 The first impression of studied contrasts
You will recognize a fine blend of Greubel Forsey design clues in the GMT Balancier Convexe, starting with the successful GMT Sport case. This is the shape that blew me away for good reason last year. On paper, it seems huge with a 46.5mm bezel, 43.5mm mid-case, and a 17.4mm thickness. But it doesn't have lugs in the usual sense, making it quite comfortable for its size. I'm not lying when I say it feels more like a 41mm watch, albeit a rather chunky one. Last year in Geneva, the convex back, case shape, and huge curved sapphire wrapped around my medium-small wrist with aplomb. The sporty touch of a textured red or blue rubber strap makes for a delightful contrast.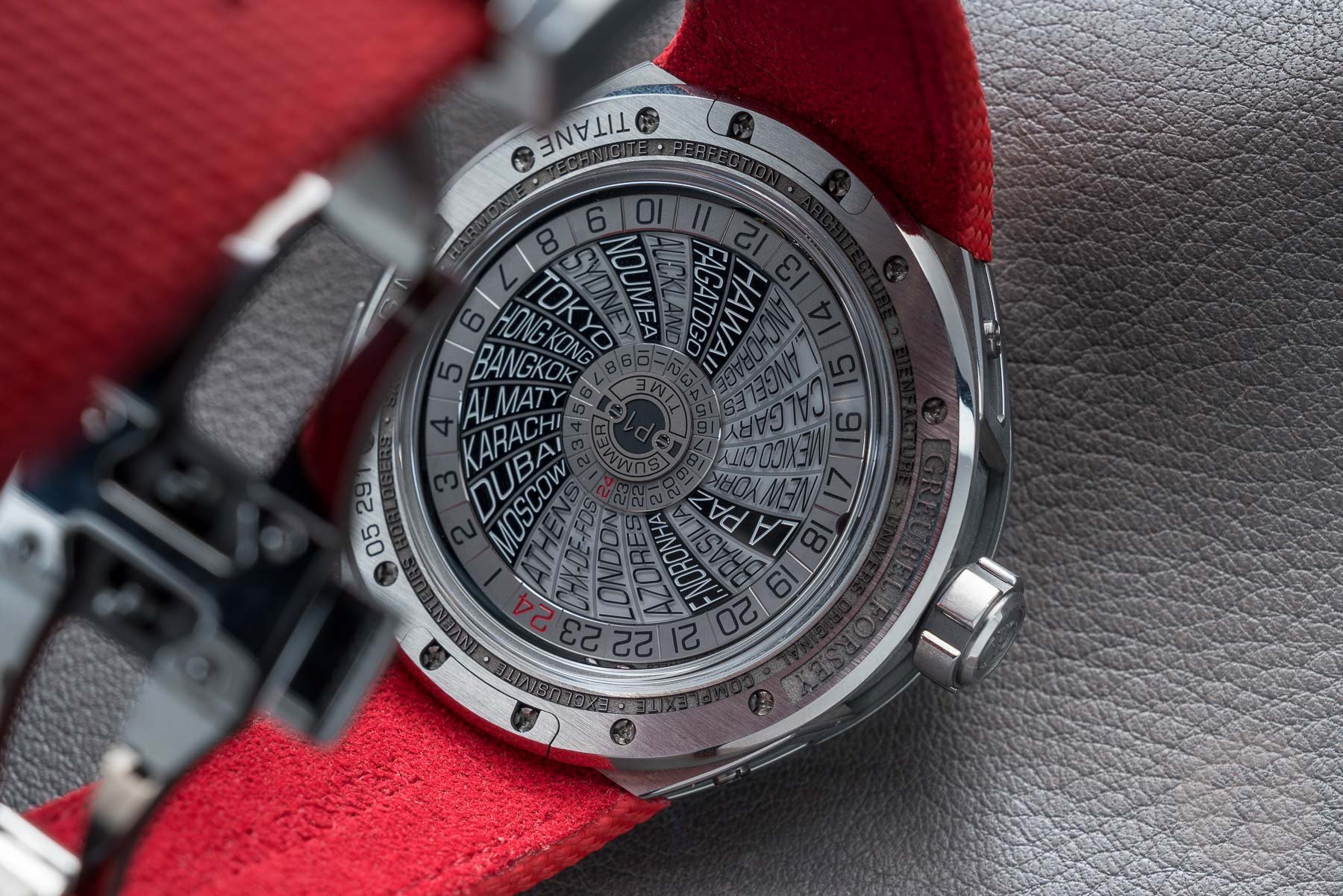 Dial theater of the architectural kind
The dial or lack thereof reminds me of the Greubel Forsey Art Piece. While that is one of my favorite watches, here the big circle at 1 o'clock frames the trademark GMT globe. The three-dimensional sculptural quality of our planet alone is enough to distract the senses, and it is packed with functionality. It provides not only a GMT but also a world-time feature with the added benefit of an adjustment on the back for daylight savings time. Competing against the globe and the poetic engraved text encircling it is the dramatically inclined balance at seven-thirty. This prima ballerina becomes the beating heart of the Greubel Forsey GMT Balancier Convexe and marks the first time we see it in a GMT. As if floating in space, the hand-polished straight balance bridge and visible gears are nothing if not hypnotizing.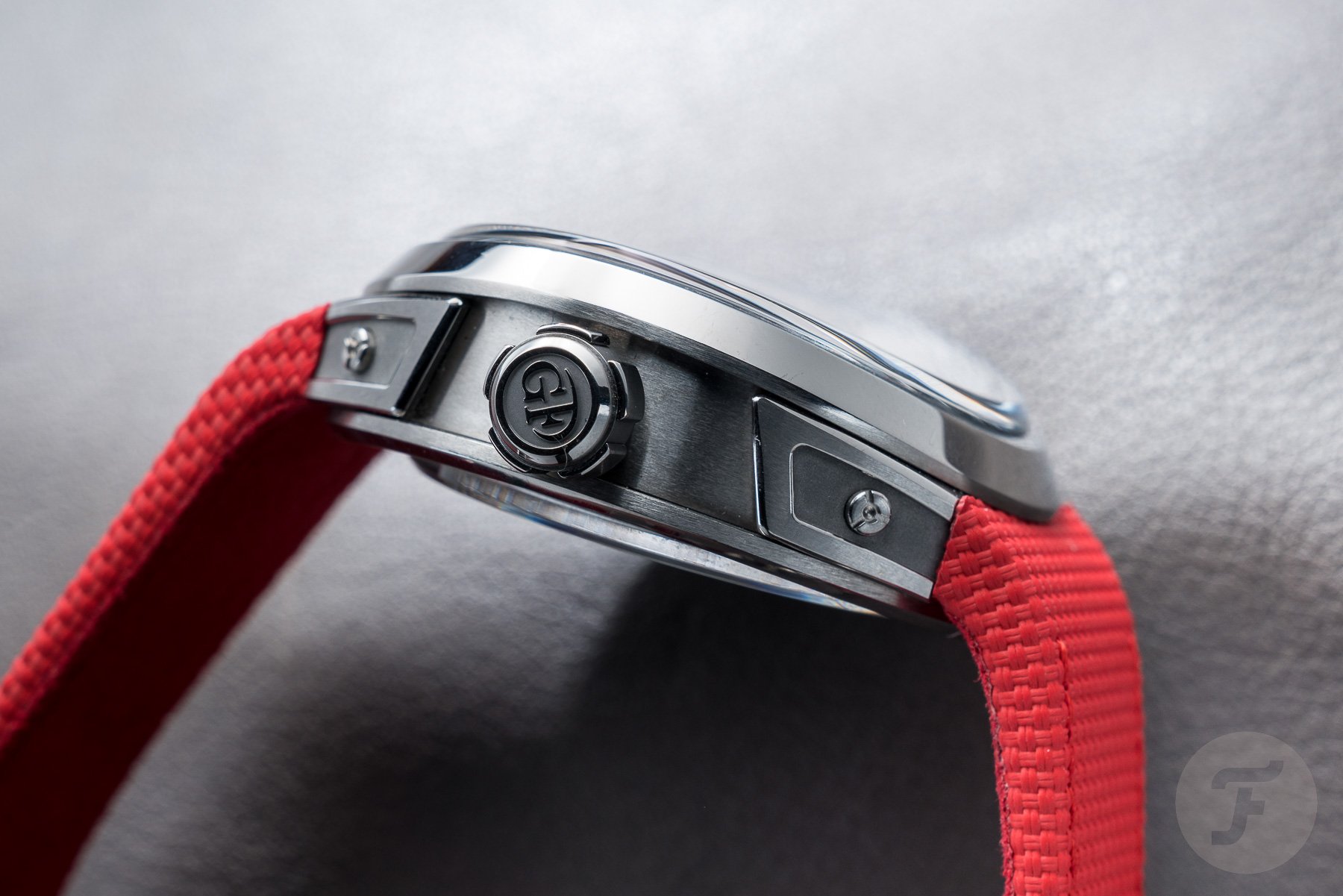 Titanium panache
For its considerable size, the watch is pleasingly light thanks to the titanium case. With a considerable upcharge for the hand-finished bracelet, you might balk at the cost. Then again, if a GF is in your budget, the difference likely won't matter anyway. The polished, beveled, and hand-frosted bracelet might just be the epitome of titanium bracelets, especially as a material notoriously difficult to work with. It also completes the picture with the tech-angular case, on which a convex sapphire crystal resides over a city of horology.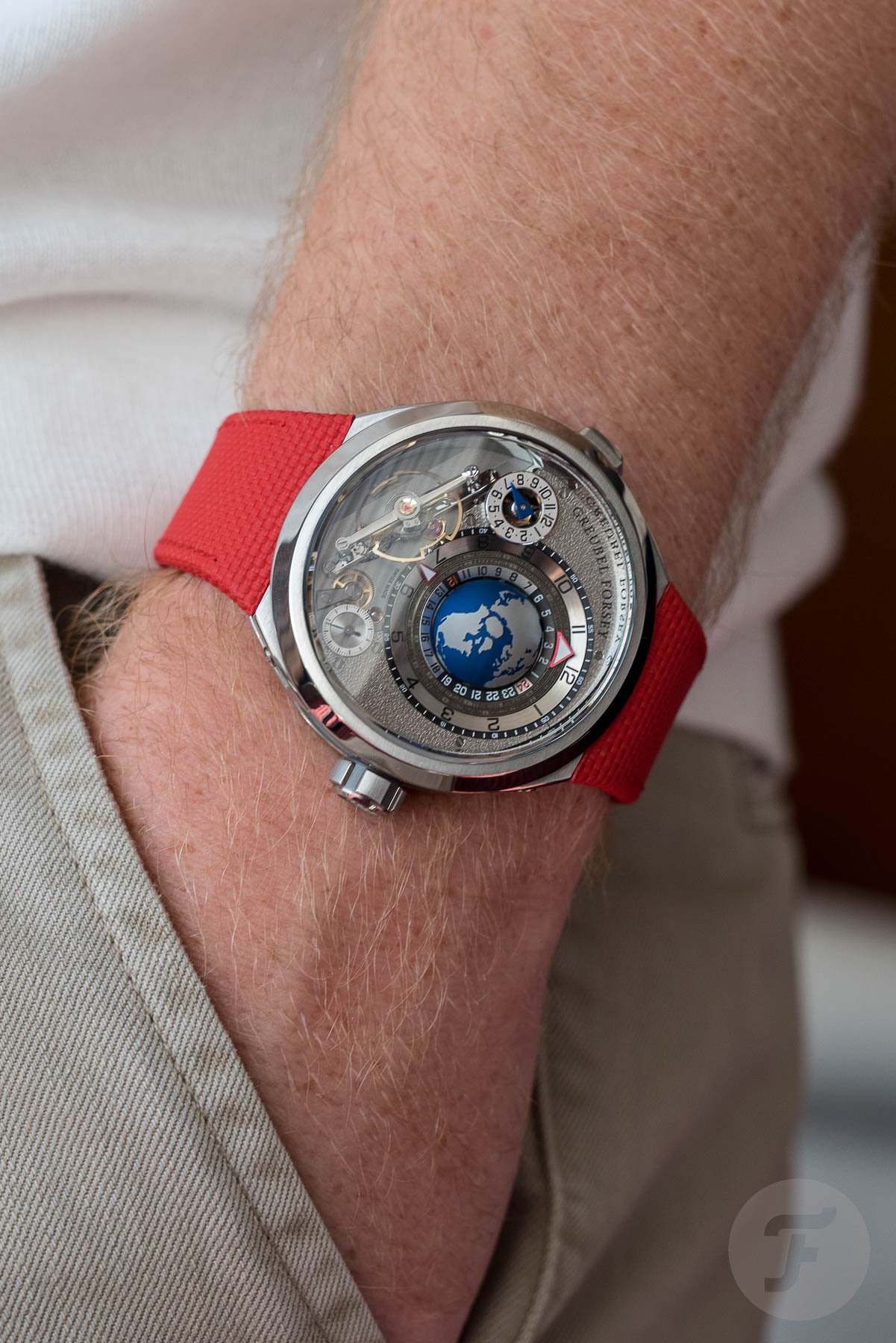 Concluding thoughts
It is simply challenging to write about any Greubel Forsey when each detail vies for my attention. The joy of finding a perfect screw or anglage on a shapely bridge is even more pronounced in these shots by our photographer Bert. It is beguiling in real life as it is on the screen while inhabiting another echelon of watchmaking for most. The new Greubel Forsey GMT Balancier Convexe is available for €401,000 on a strap. But really, why not stretch to €447,000 to get it on perhaps the best titanium bracelet available? Production is limited to 66 pieces over three years.
I don't know about you, Fratelli, but to me, any Greubel Forsey is grail material. What do you think about the new look of the GMT? Let us know in the comments.
Find me and follow me at @thorsvaboe