The New Greubel Forsey Tourbillon 24 Secondes Architecture — A Bolder Look From The Masters Of Maximalism
Greubel Forsey CEO Antonio Calce shares his vision of an architectural future
Big is back for 2022! But for Greubel Forsey, it never went away, and for good reason. I used the misunderstood term "maximalism" in my headline, sorry. This time, though, I mean it as a compliment of the highest order. Big-cased wrist statements don't come any better than a GF, even if they remain out of reach for most of us. But dreams are free, right? And the new Greubel Forsey Tourbillon 24 Secondes Architecture will provide plenty of inspiration.
Robert Greubel and Stephen Forsey understand one of the most important aspects of Haute Horlogerie that's so close to my heart. It's the reason that their Hand Made 1 is my forever-unattainable grail watch. They are aware of the fact that intricate depths of dial architecture can capture our hearts more than glimmering gems. In the Tourbillon 24 Secondes Architecture, impossible curves and a pirouetting tourbillon aid in doing just that.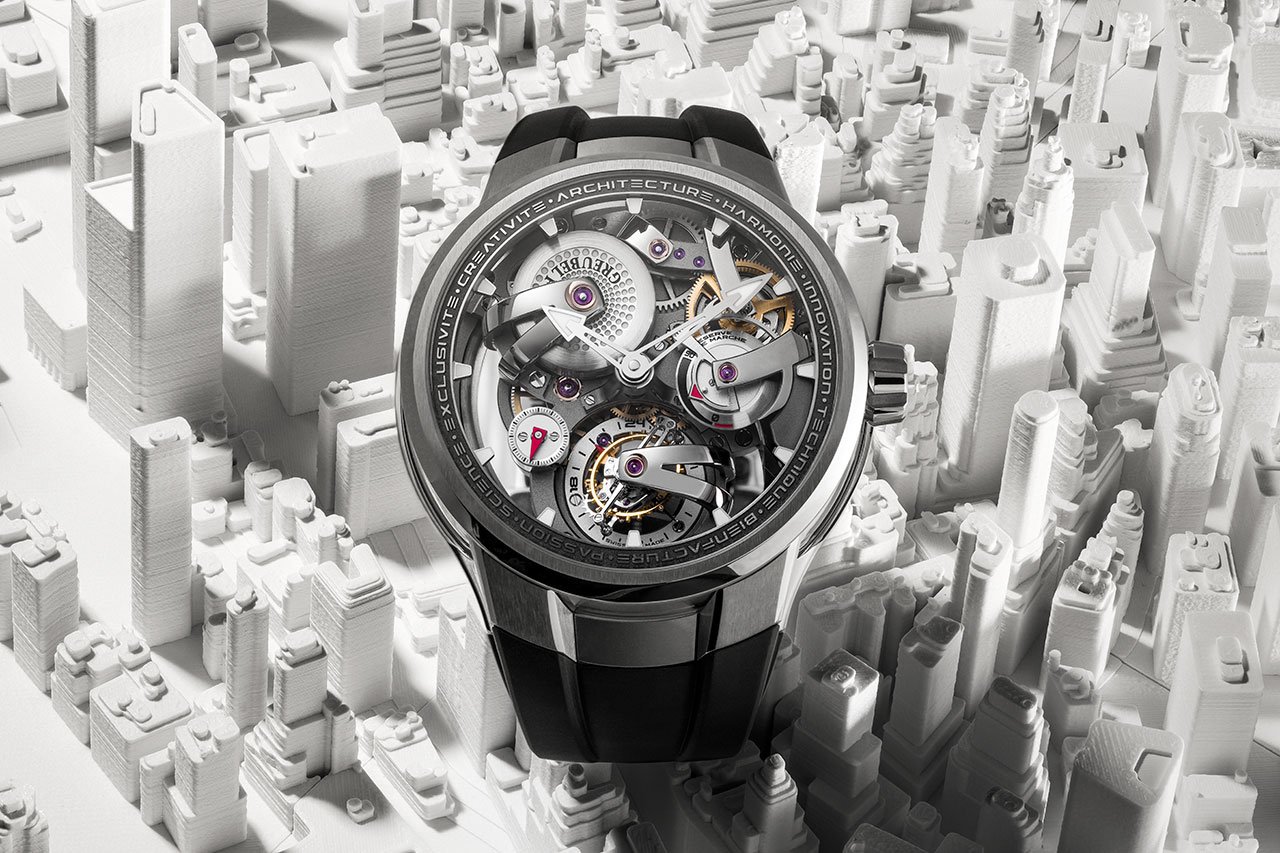 The Greubel Forsey Tourbillon 24 Secondes Architecture
If there are any cliché terms in this story like "mindboggling", "awesome", or "beguiling", they are there for good reason. You will, however, never find terms like "everyday" in a Greubel Forsey story. I sampled a few of the strongest Greubel Forsey references last year at Geneva Watch Days and will come clean. I looked less like a serious writer than a teenage fan meeting their rock (or should that be K-Pop?) idols backstage. The first word that comes to mind is one you would not expect — comfort. Despite the fact that any Greubel Forsey watch is unmistakably large, they are wizardly examples of ergonomic design. I have no doubt this applies to the Tourbillon 24 Secondes Architecture as well.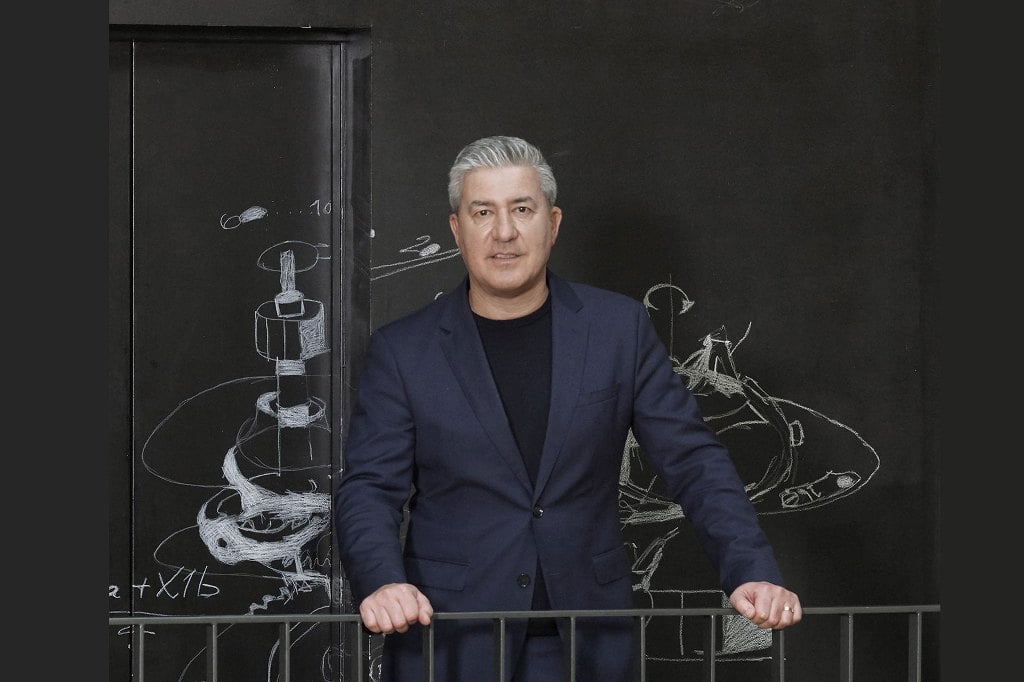 A chat with CEO Antonio Calce
I had a chat with Greubel Forsey CEO Antonio Calce about what this design direction means for the brand, and he told me, "The Tourbillon 24 Secondes Architecture is a natural evolution that embodies all the Greubel Forsey codes, for example, a three-dimensional movement and exceptional hand finishing. This concentration of architecture and creativity is represented by each and every component, such as the curved titanium bridges."
For me as a watch journalist, GF wears the crown of big-cased horological architecture. But when I asked Calce whether he'd ever join the super-thin game, he responded, "When you look at our latest creations, there is an evolution from our side. Our timepieces are less imposing and thinner, and this is something that we are working on." So, without revealing any Greubel Forsey secrets, this got me pretty excited, to be honest.
An evolutionary way forward
The way forward, according to Calce, is an evolutionary one: "We will stay focused on a very strong watchmaking approach with exceptional quality to perpetuate the emotions that are driven by our timepieces' aesthetics, but also on an architectural level with the volume and depth of our calibers." I also asked Antonio Calce about the philosophy behind the open case-side viewing windows. Calce told me, "When you look in through the left lateral window of the Tourbillon 24 Secondes Architecture, you can see the small seconds, which are fixed on a cylinder with a 360° flank. This also allows us to admire the polished curved titanium bridge emerging from the main plate holding the barrel. If you look at the opening at 6 o'clock, you can enjoy the Tourbillon 24 Secondes inclined at 25°, also held in place by a curved polished titanium bridge."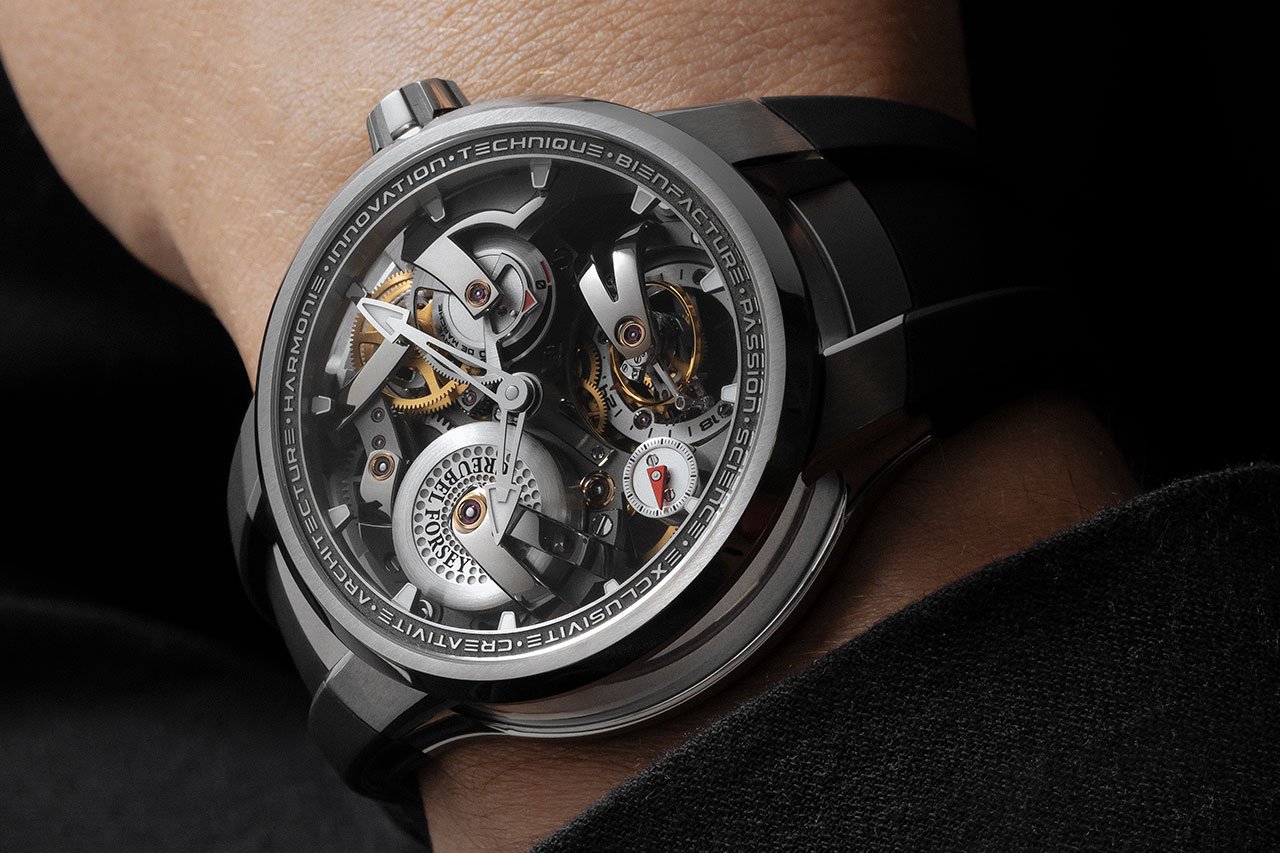 First impressions of the strongest kind
This time, I'm glad I only have the press shots to judge, especially since the new case design so clearly spells out the reasons for its large presence. GF's micro-architecture masquerading as timekeeping removes most objectivity as well as objections about size. A small-cased watch is a comfortable presence, yes. But GF's miniature city-like caliber would either not fit in anything smaller, or it would lose its immense visual depth. Would you enjoy a classic orchestra playing in a small, dark club, or would you prefer the Sydney Opera House?
Questions like these come naturally when viewing large-sized horology. Even in press shots, you get an immense feeling of depth. While it is an achievement for other brands to design a perpetual calendar within an open-worked 10mm-thick case, the Tourbillon 24 Secondes Architecture is about perfecting the function and aesthetics of each moving component, bridge, and chaton. Making a non-calendar watch more captivating than the complexities of a QP? Now that is art.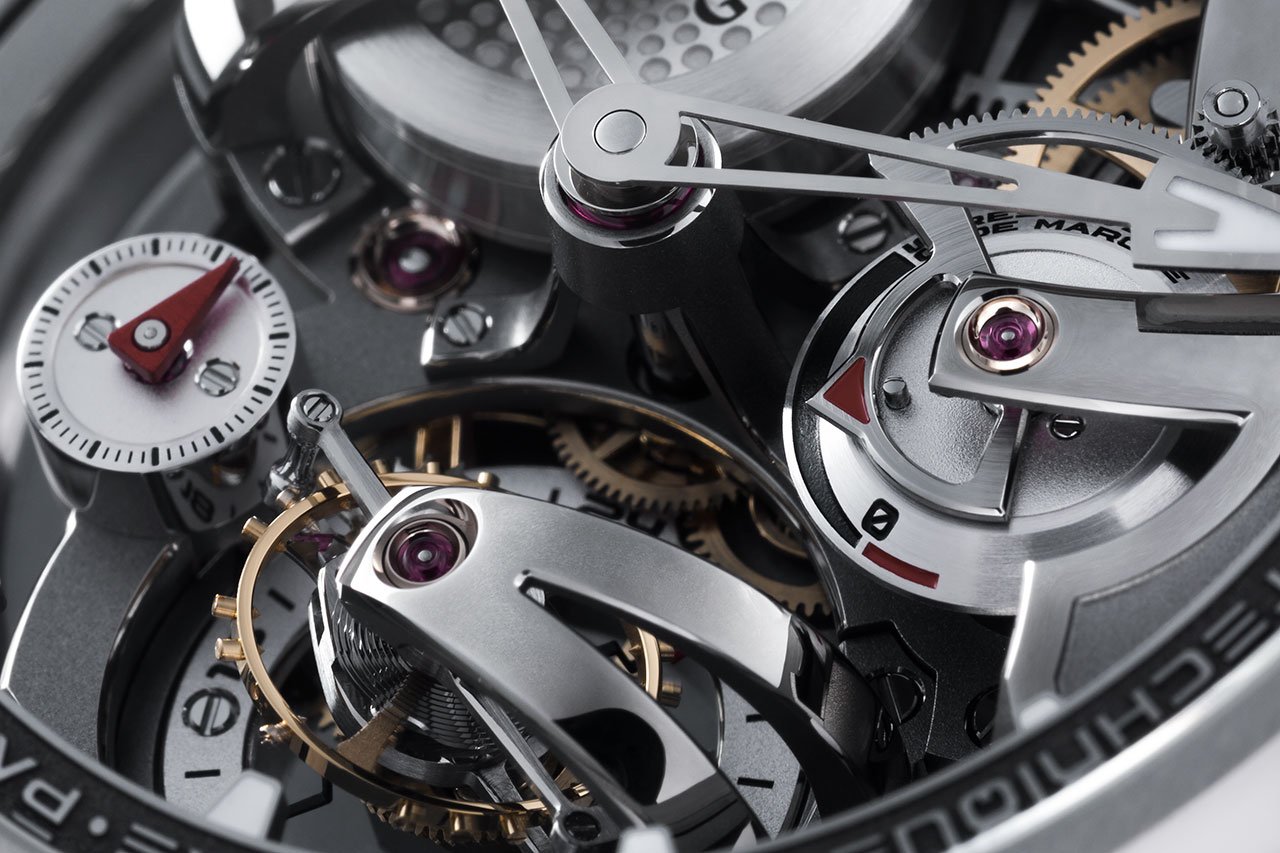 Bridges of desire
As a vision of future Greubel Forsey creations, the open-worked movement seems split into separate machines. They are "somehow" working in tandem as the interlinking geartrain remains hidden from view. What strikes you first is the broad, spherical shape of the open-worked bridges, which anchor the tourbillon and logoed spring barrel. They are impossibly glossy for polished titanium and embody solidity with their strong shapes. They sit in marked juxtaposition to the intricate, fast-rotating 24-second tourbillon and the dark grain of the main plate. A few minuscule touches of red break up the monochrome metal theatrics for a bold look. The broad, smooth bridge design is carried on through the design of the new caliber, with the barrel itself grabbing more attention than usual. Its thickness actually conceals three coaxial series-coupled spring barrels, seemingly suspended by the largest sculpted bridge.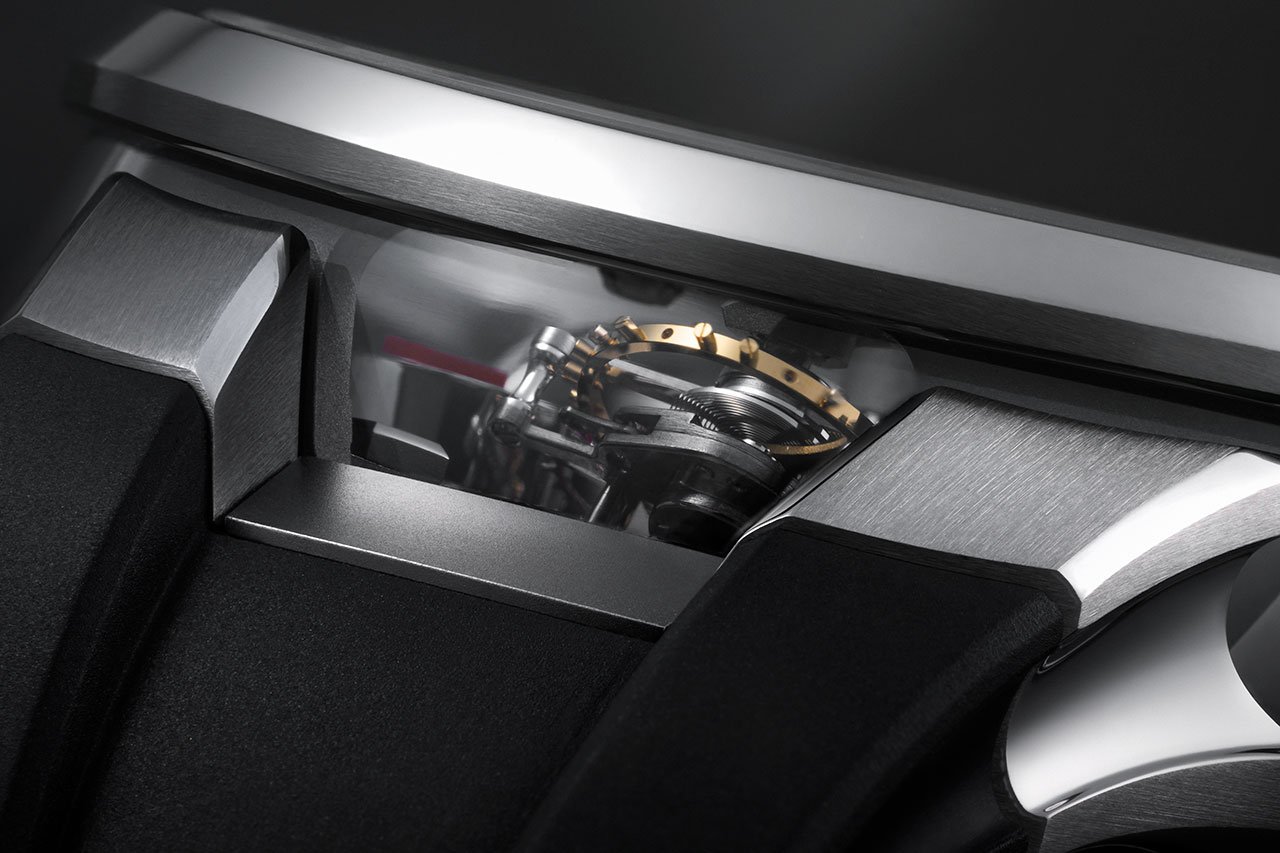 Unfathomable depths and viewing windows
I love the unobstructed view of the hand-finished horological architecture within. This is aided by sapphire viewing windows on the case sides and between the lugs, ensuring enjoyment from every angle. You can see that this is no small watch by any standard. But the 47mm case back and 45.5mm bezel combined with the curvature will make it sit sleeker than you'd think. In the center, we find a familiar tripod bridge holding the large, lumed skeleton hands. They point to small but distinct hour indices with good lume fill for their size. But any Greubel Forsey creation is about the essence of Haute Horlogerie and a stage for the prima-ballerina tourbillon. In this new caliber, she is as hypnotizing as always but shares the attention equally well with the slow-turning spring barrel.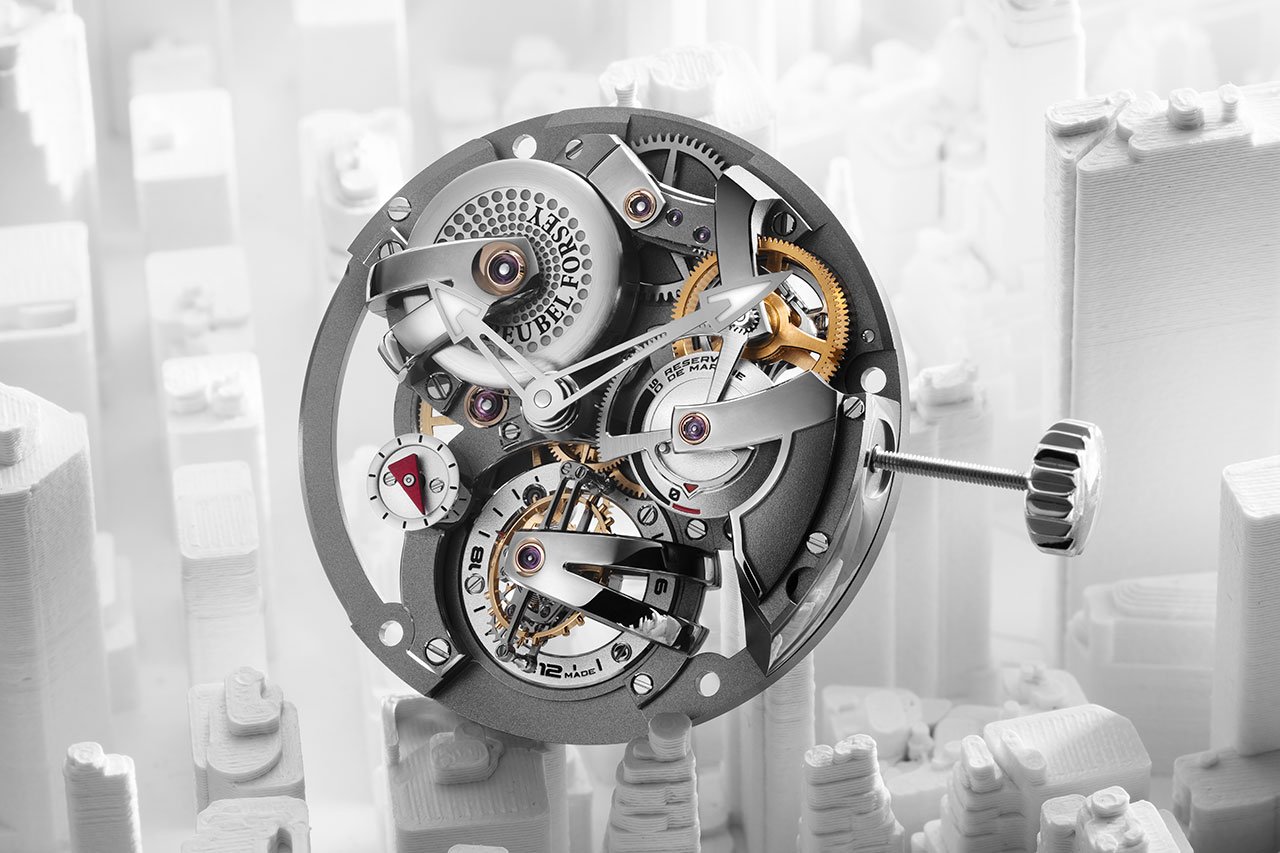 Grail potential or bust
From the very first flash of polished titanium, the truth of Greubel Forsey's standards hits home. A single component here takes longer to finish and assemble than a couple of dozen mid-range watches. This craftsmanship spells the future of horology, even more so than a 90-hour power reserve and the 25-degree tourbillon's chronometric performance. This fact is known to the important collectors of the world today. As such, a GF is often spared the life of a safe queen. Yes, a watch like this may be an intricate work of art, but it is made to be enjoyed on the wrist. I would certainly enjoy it, even if it involved bespoke shirt sleeves wide enough to slip over that curved sapphire and 16.8mm thickness.
The Greubel Forsey Tourbillon 24 Secondes Architecture will be limited to 11 pieces this year.  After that, eighteen pieces will be produced per year for the next three years. This horological investment costs $500,000. Find out more on the Greubel Forsey website.
Find and follow me @thorsvaboe