New Linde Werdelin Model – LW10-24
Linde Werdelin – 10 years of watches
Although the Linde Werdelin company is older than 10 years, they introduced their first watch in 2006. Jorn Werdelin and Morten Linde, old friends (40 years of friendship) that went into different directions (professionally) but shared the same passion for watches. In these 10 years, we've seen them launching the Biformeter models via the 2nd generation of Linde Werdelin watches like the Spido and Oktopus collection to what I will show you in this article: The LW10-24. The decoding of the LW10-24 is fairly easy, but explaining the complexity of this watch is not.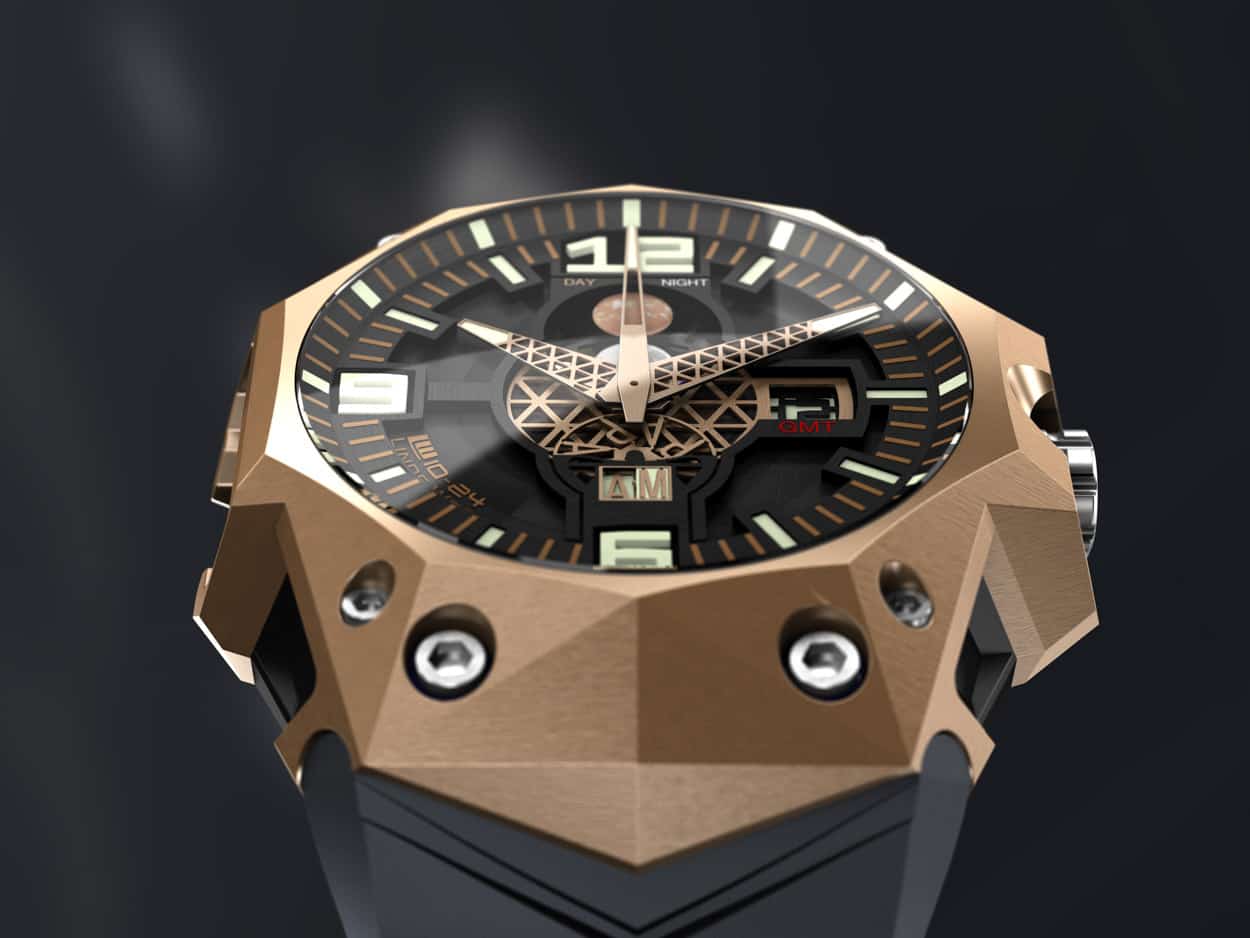 LW10-24
Commemorating 10 years of Linde Werdelin watches and a GMT function. That's what LW10-24 stands for. But that's only the name of the piece. Let's have a closer look at the LW10-24, that will be sold on invitation basis only.
New Case Design
Other than the Spido and Oktopus family of watches, that kept building on the existing complex case design, the LW10-24 marks a new era for Linde Werdelin concerning the design. In essence, the case shape is much the same, especially regarding dimensions (44mm x 46mm x 15mm). But somehow, the LW10-24 does look a bit more organic to me, if that makes sense with all the sharp edges.
As you can see on the prototype of the LW10-24 the bezel is missing, it is all casing you will see from the top. According to Linde Werdelin this shows more of the dial and enables it to show more information on the dial. It means they can use more and larger complications in the future. The first complication Linde Werdelin put in the 3rd Gen of watches, is a GMT function.
Linde Werdelin offers this watch in two executions. One is the LW10-24 in 18 carat rose gold, the other is using their 3DTP Carbon material.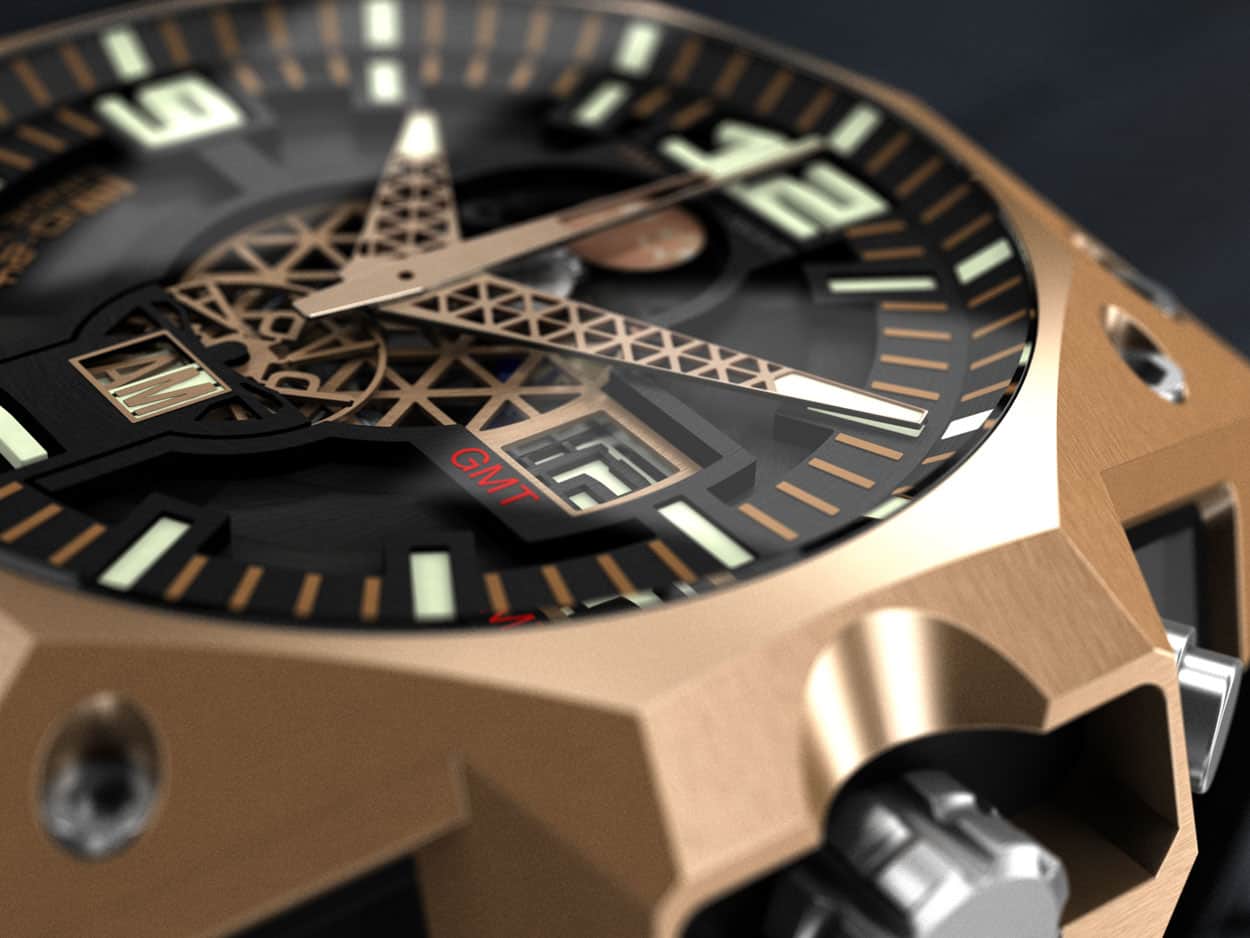 LW10-24 – A watch for a Traveller
One of the great complications out there (and usable) is the GMT function, to show local and home time on the same dial. Besides a date and a chronograph, it is perhaps the most demanded complication as well as the most usable ones. Tourbillons and minute repeaters are awesome, but they don't solve any real problems. Having a GMT in your watch is also clever from a brand's perspective. Luxury watches are bought by people who – at least – have a bit of serious money to spend on a watch. Most of these clients are traveling around the world for their businesses or jobs.
Using a simple pusher at 2 o'clock it is made very easy for the wearer to correct the second time zone. The day/night indicators advance accordingly as well with this operation.
Linde Werdelin uses their LW08 movement for this LW10-24. Since a couple of years, Linde Werdelin puts more effort and importance in the movements they use. At the early start, they were using ETA based movements. But nowadays, they have joint ventures with movement manufacturers like Concepto that develop exclusives for them.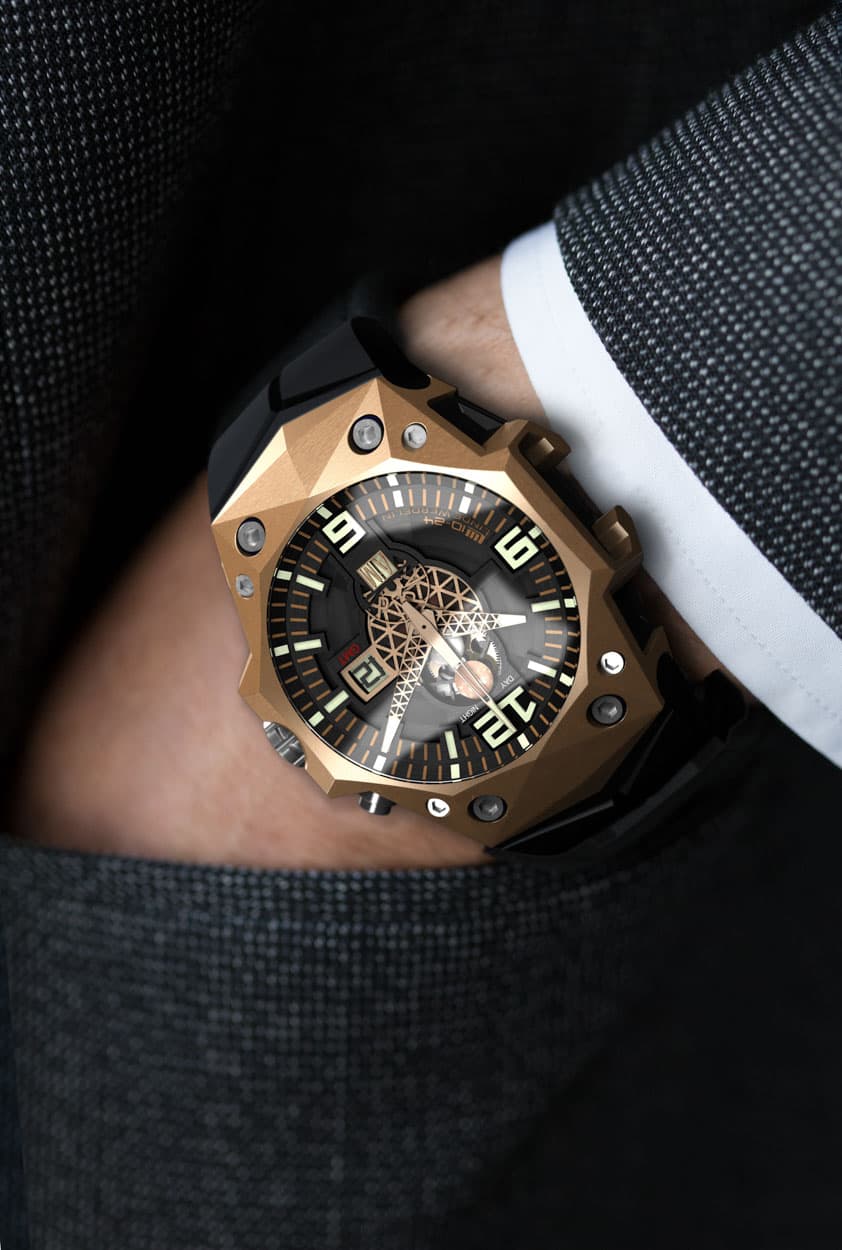 Linde Werdelin LW10-24 Video
Co-founder and designer Morten Linde gives a thorough explanation of their Third Generation watch, see below.
Available On Request Only
These LW10-24 timepieces are only sold as per request. They will not be offered in the e-boutique like Linde Werdelin's other timepieces. Available in two versions, gold and 3DTP Carbon, and limited to 96 pieces each. You will only have this month to order your watch, and make your preference known for a serial number (first come, first serve).
If you're interested, visit the official website (link below) and activate the clickable banner. This way, you can request an 'invitation' to order your LW10-24. Then, the wait can begin. Linde Werdelin expects a delivery somewhere in Q2 of next year. Knowing Linde Werdelin a bit, I assume that they will keep you posted on the progress of the production of the watch. Perhaps they will do this publicly via their own The Lab blog or just in private via a special page.
The rose gold LW10-24 retails for CHF39,000 Swiss Francs, the 3DTP Carbon LW10-24 for CHF27,000 Swiss Francs. These prices are excluding sales taxes.
I haven't seen the watch in the flesh, so there is little I can comment about it. When it is out, or when a prototype is available, I will keep myself 'available' for giving it a spin. That's also when I will get back to you with more details and opinions 🙂
More info via www.lindewerdelin.com