Ming Brings The Heat With The New 37.08 Sand And 29.01 Dubai Edition Watches
The popular independent brand brings two new releases to Dubai
Ming will attend Dubai Watch Week for the very first time. Along with the brand's team, two new watches will also be in attendance. The new 37.08 Sand and the 29.01 Dubai Edition will be on display and will also go on sale during the event. Let's take a closer look at both limited-edition watches.
After months of silence, Ming has been on a roll. Today's announcement of the 37.08 Sand and 29.01 Dubai Edition pieces marks the third and fourth releases in the last month. That's almost Grand Seiko-like! All kidding aside, we're always happy to see new releases from the innovative independent brand. Today's new watches should please new fans and seasoned collectors alike.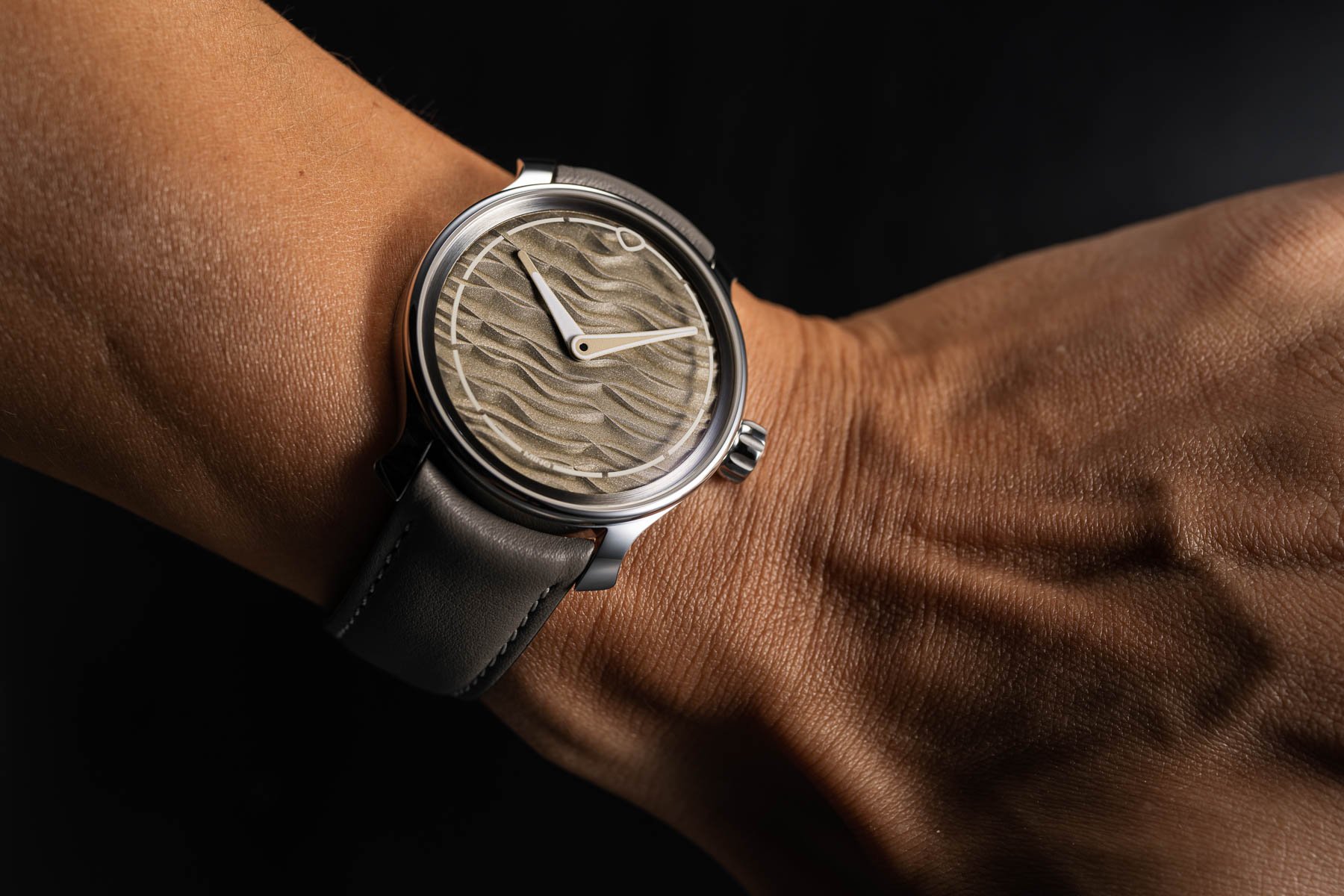 The Ming 37.08 Sand
Let's kick things off with the new Ming 37.08 Sand because this one is near and dear to my heart. I say that because it's based on the same footprint as the 37.07 that I own, and that watch rocks on the wrist! Essentially, the new Sand kicks off a new series of watches with textured dials. This is very different for Ming, a brand that often likes to stack sapphire crystals to create a layering effect. Now, though, we have a stamped brass dial that has been media blasted, galvanized, and lacquered to create its realistic, wavy appearance. The dial is thicker than those in prior Ming models, but the design still allows the case to retain its 38mm diameter and 10.9mm thickness.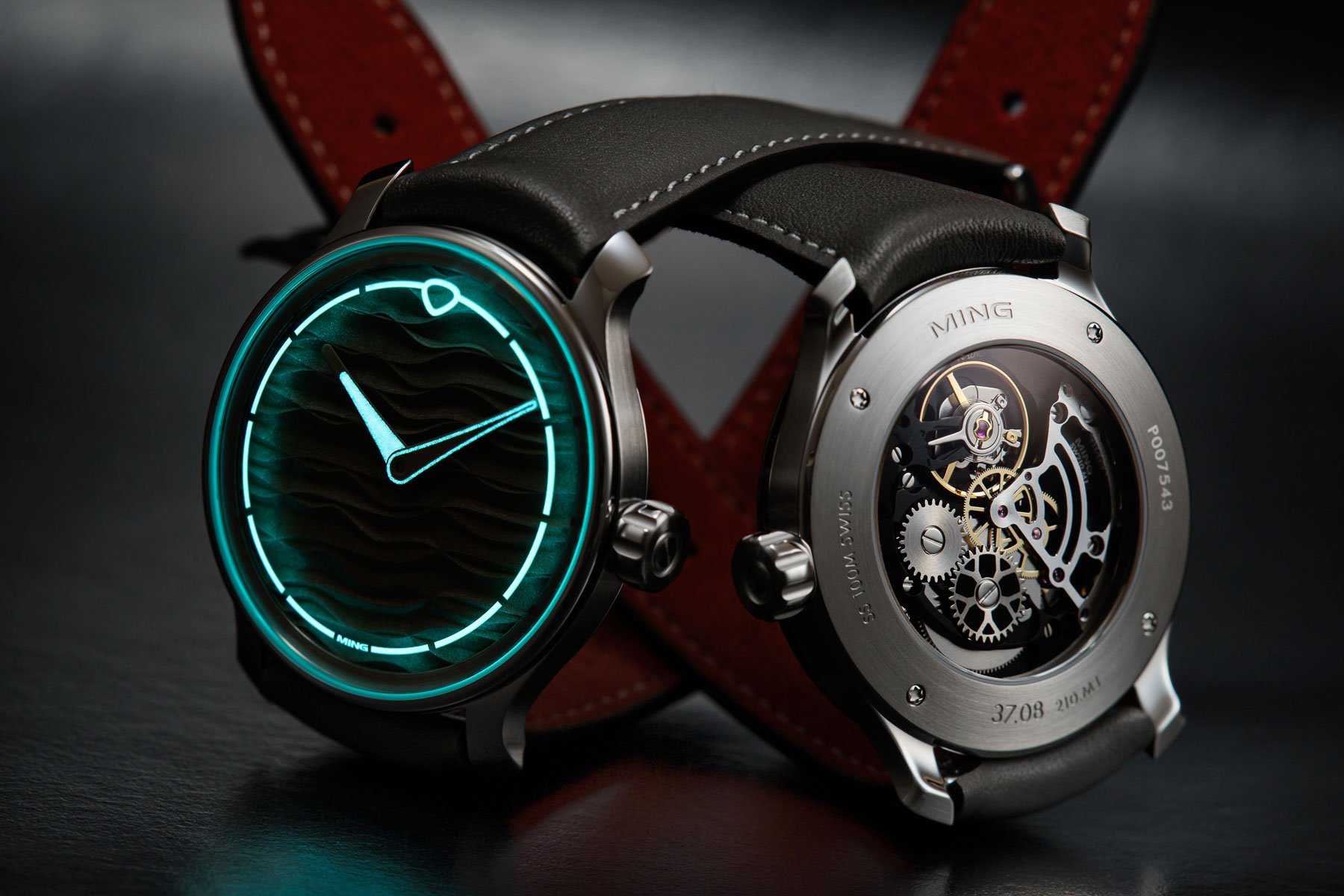 The 37.08 Sand has its luminous HyCeram indices on the underside of the sapphire crystal. The matte gold hands contain Super-LumiNova X1, resulting in a highly legible display in darkness with a solid hour hand and outlined minutes hand. In keeping with the sand theme and adding an air of casualness, the steel case has a completely matte finish. Inside, Ming uses a hand-worked Sellita SW210.M1 manual movement that is on display via a sapphire window on the case back. As usual, the watch is highly usable with 100m water resistance, and it will come with a medium-gray Jean Rousseau strap and tuck buckle.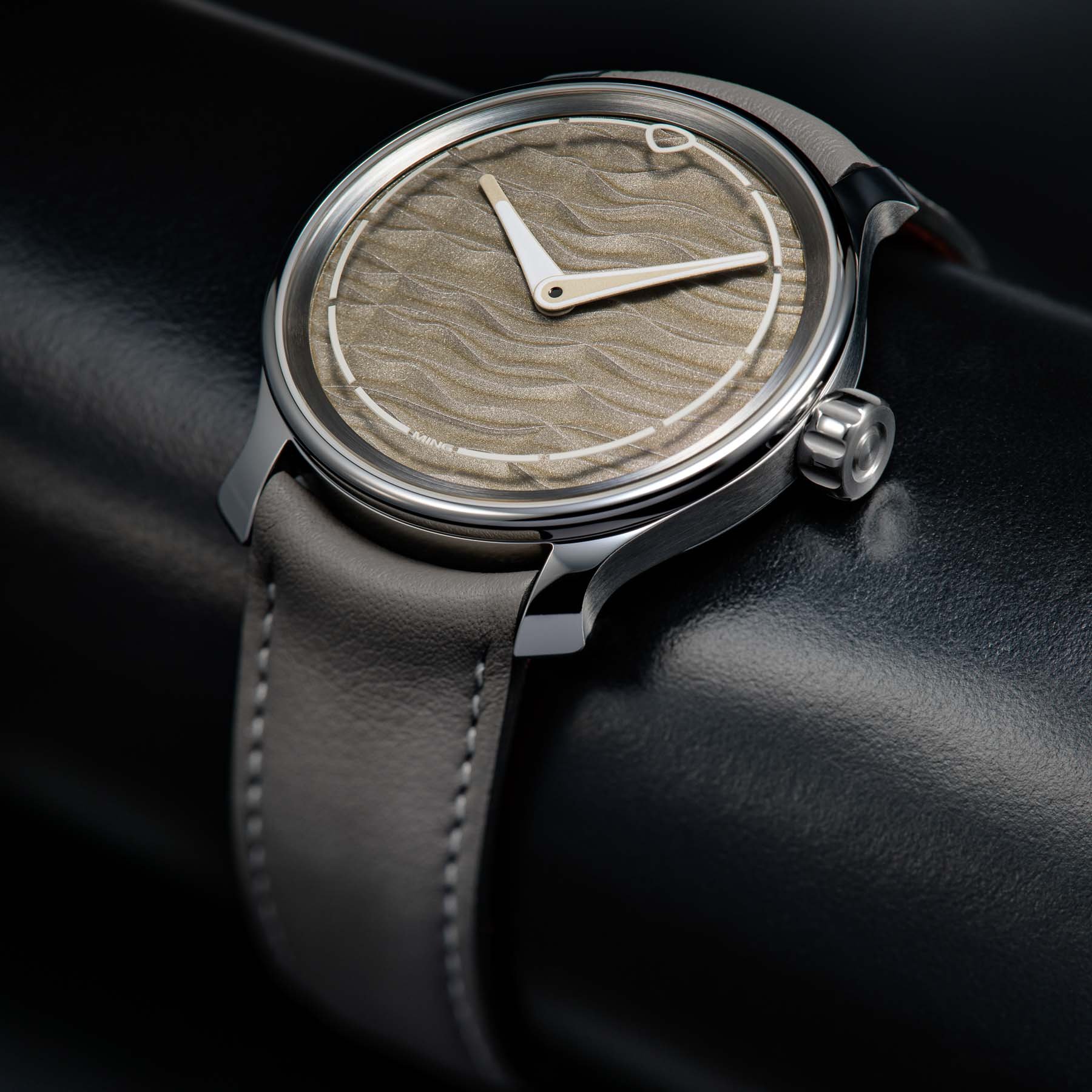 Ming 37.08 — Thoughts and availability
I love the new Ming 37.08 Sand and its lovely dial. It's something different for the company. Plus, I think it fares well against a certain other brand that likes its textured dials. The fact that it is the first in a series of pieces also has me excited. Pricing is set for CHF 3,950, and 500 pieces will be produced for deliveries beginning in January 2024. As far as availability, the watches will go on sale on the Ming website on November 16th at 1:00 PM GMT and will require a 50% deposit.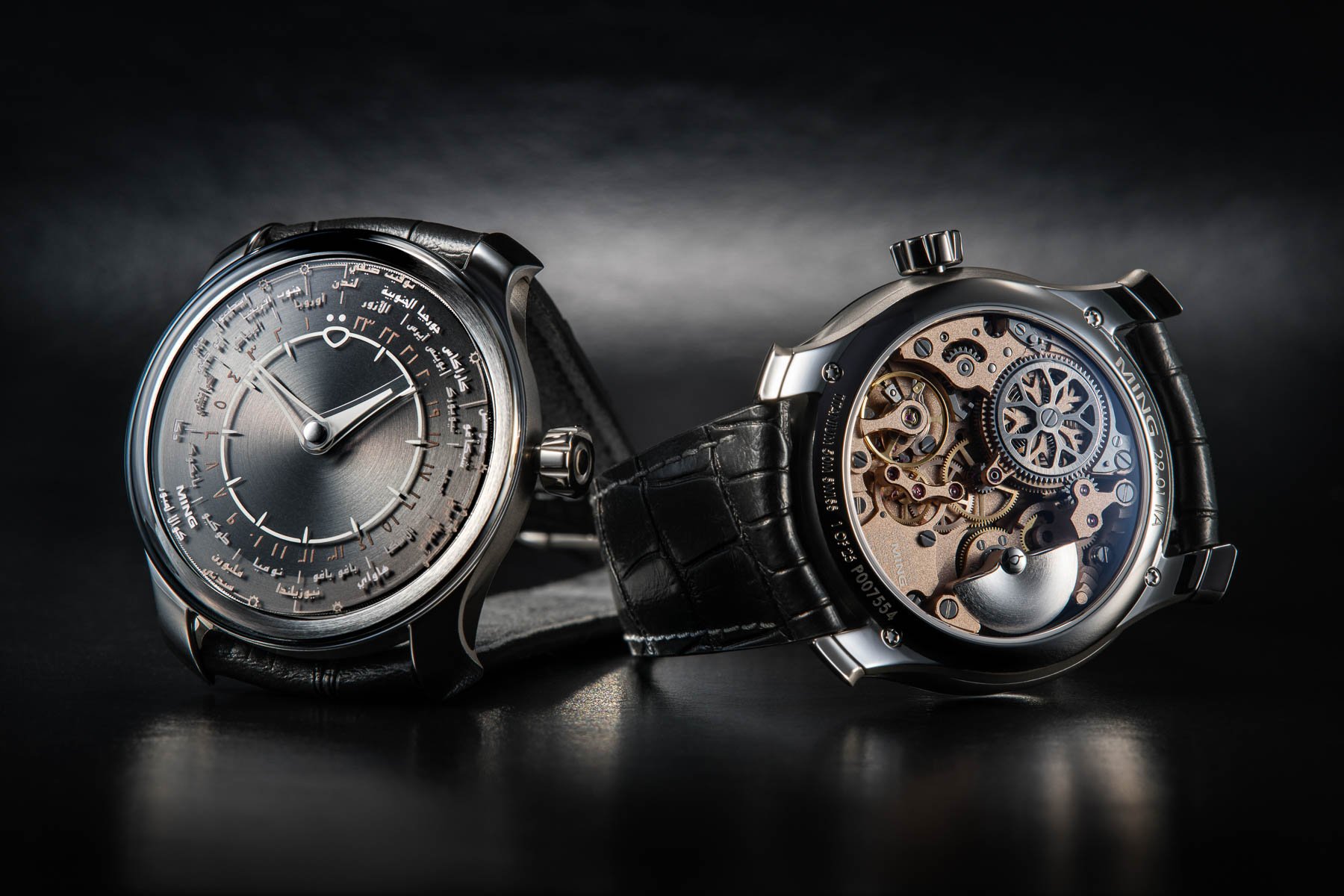 The Ming 29.01 Dubai Edition
The second new watch from Ming is the 29.01 Dubai Edition. In celebration of the brand's attendance at Dubai Watch Week and due to requests from collectors, we have a special piece complete with Arabic text on the dial. This watch uses the original 29.01 for inspiration and brings in several changes. The dial, in addition to the font change, has new cities on it. It sports a third ring to allow for cities that follow daylight-saving time. The change to the Schwarz-Etienne micro-rotor automatic caliber is notable due to the 5N rose gold bridges and diamond-cut anglage. Finally, the watch will also mark the debut of a new animal-friendly black synthetic strap material called "elastogator" from Jean Rousseau.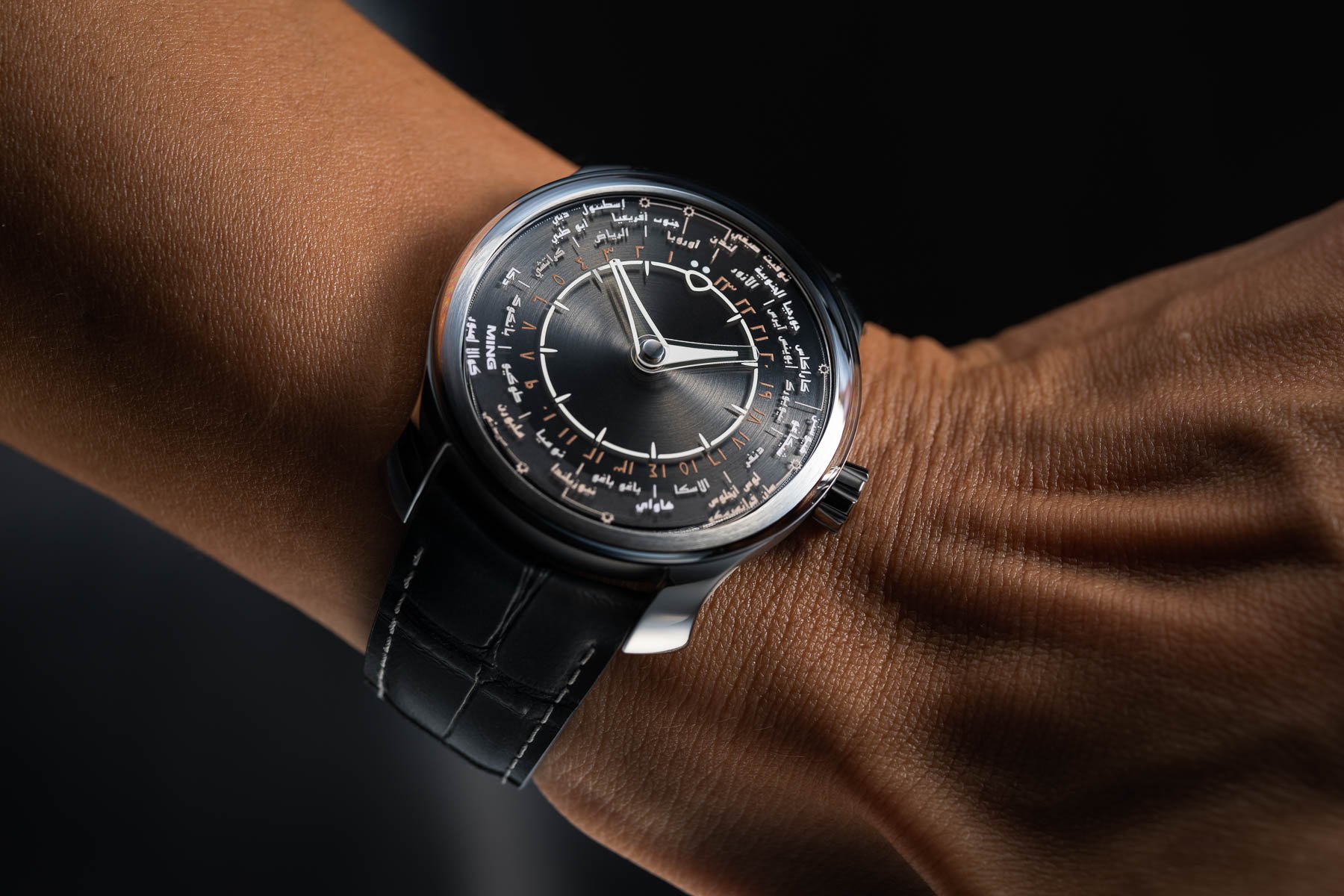 As far as details, the 50m-water-resistant watch has a metallic gray circular-brushed dial underneath a rotating sapphire dial with the inscribed cities. This sapphire dial rotates seamlessly on a ball-bearing track. The hands are made of sapphire, laser etched, and filled with HyCeram. The Grade 5 titanium case is 40mm in diameter and 11.9mm thick. It has hollowed "Blade" lugs, which are affixed to the case via Torx screws.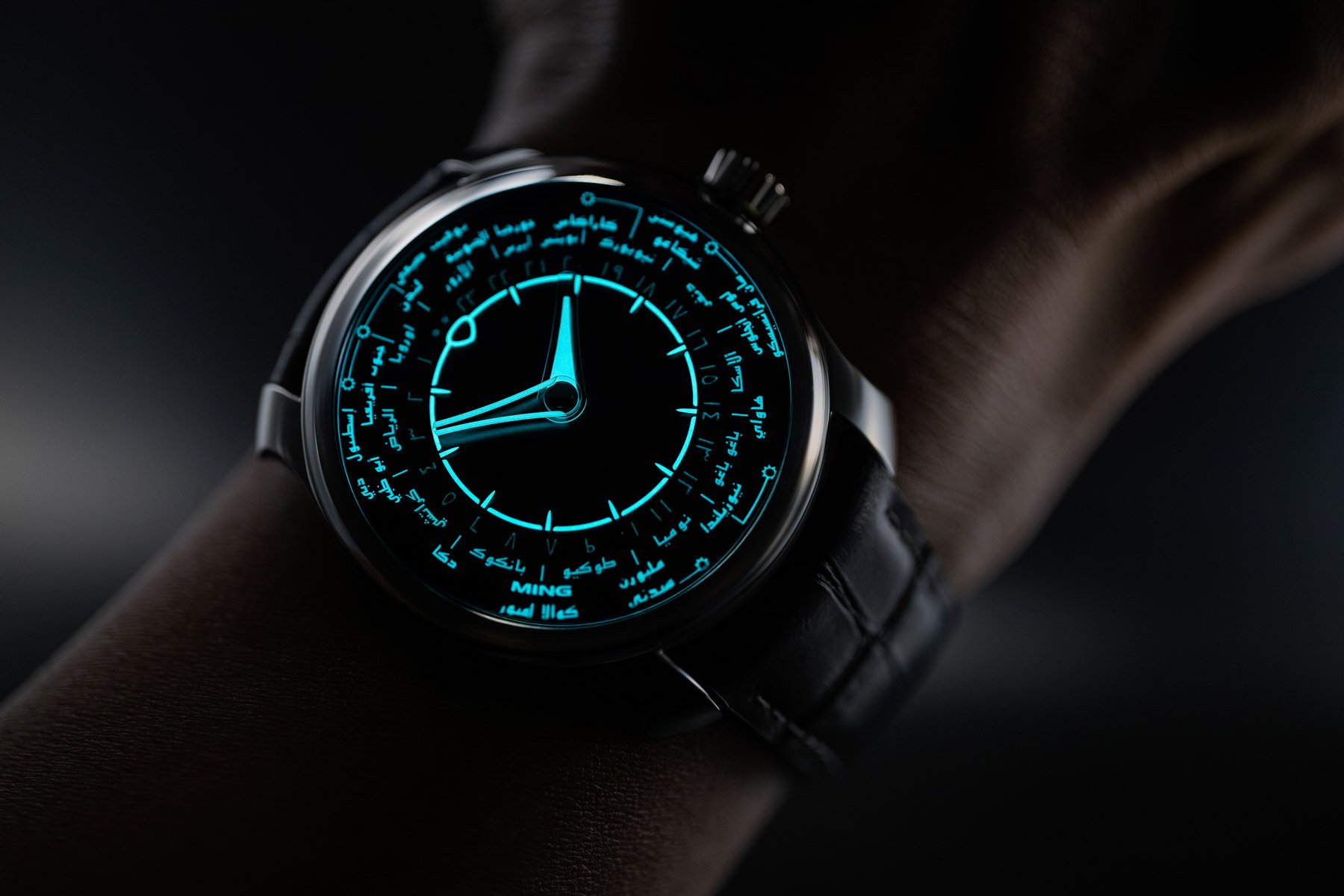 Thoughts and availability
The Ming 29.01 Dubai Edition is a distinctive watch specially produced for the brand's Arab collectors. While it's not a watch that I can read, I appreciate the lengths that Ming went to create something memorable. Just 25 pieces will be produced, priced at CHF 22,000. Deliveries will begin during the third quarter of 2024. As far as ordering, these watches will also be available on the Ming website on November 16th at 1:00 PM GMT.
We're certainly glad to see that Ming is taking part in its first international watch fair this week. The fact that they are bringing two new watches is also a real positive. We look forward to more upcoming releases from one of my favorite watch brands.