The New NOMOS Glashütte Autobahn Director's Cut Shifts The Model Into A Vibrant Lane
This time, it's full gas.
Ambitious watch design is always divisive. To create true novelty you have to walk the path untrodden. Genuine newness often scares people into rushed hot-takes, polarized opinions, and a babbling state of confusion in the first moment. I was no different. When I first saw the NOMOS Glashütte Autobahn (designed by Werner Aisslinger) I didn't quite know what to make of it. Now, with a bright trio of "Director's Cut" watches released here, today, at the NOMOS Glashütte forum, I think I get it. What "it" is, however, is still sure to split the pack. Let's take a look.
If you're running late this morning, skip the coffee and scroll through these images instead. This three-part caffeine-shot-for-your-eyeballs does something very eccentric with what is perhaps the most eccentric NOMOS model. We have the Autobahn A3 (white), the Autobahn A7 (blue), and the Autobahn A9 (black).
When the Autobahn first came out, there were some people that aggrandized it as an incredible effort in restraint that was able to twist and blur the rules and boundaries of Bauhaus to create something that still sat within that sphere but challenged the established order. Others were quick to dismiss it as "the least NOMOS NOMOS ever." Perhaps both camps were right. Perhaps being the "least NOMOS NOMOS ever" was exactly what NOMOS needed from the model.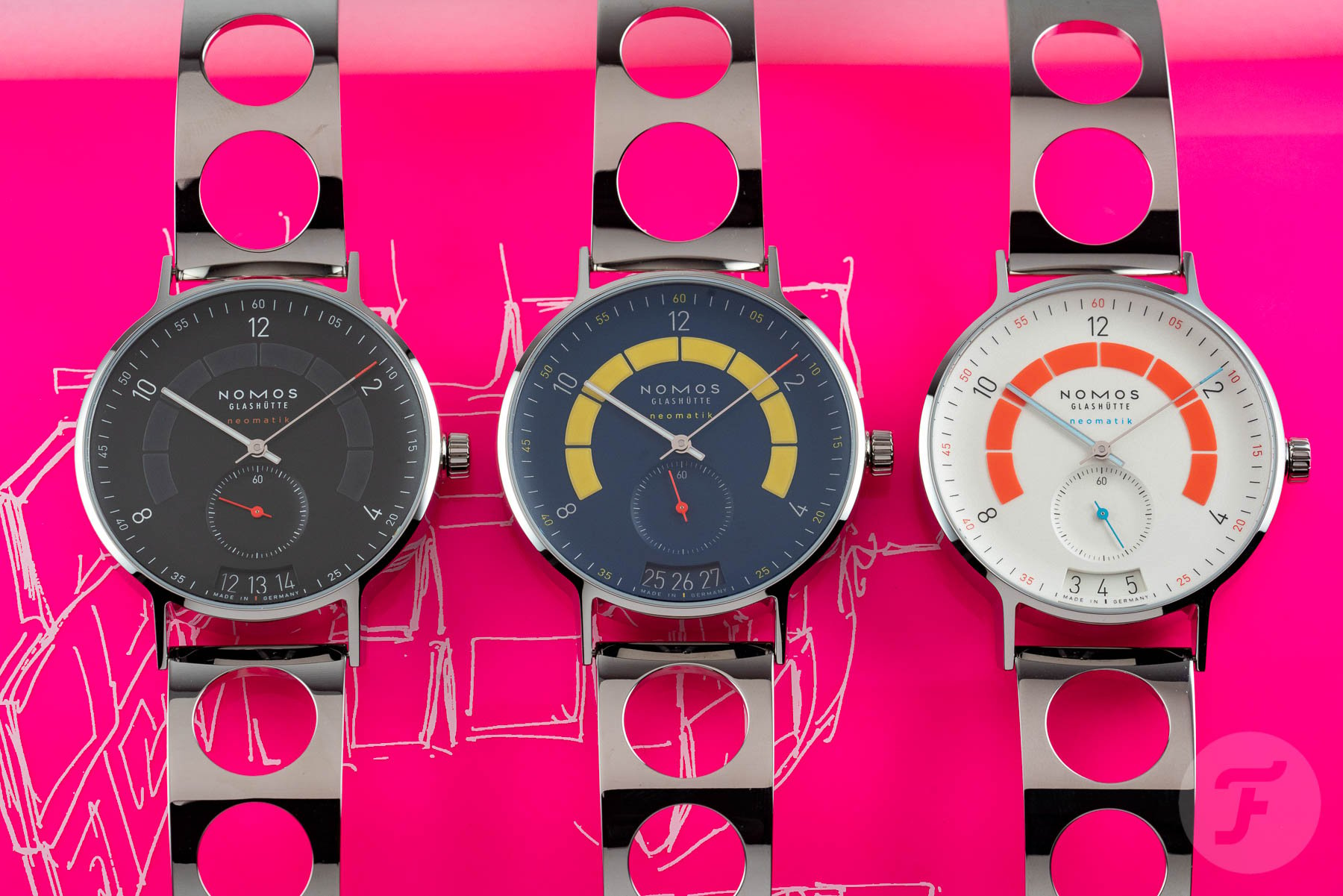 And yet given the Autobahn's initial colorways (an icy off-white, silver-plated dial, a rich navy blue, and an interesting-but-still-muted "sports gray") we didn't see this piece's full potential to embrace the oddball character its automotive-inspired character had earned it. Here, Aisslinger reimagines the collection with colorways that will either find you speeding to your local store, or slamming on the brakes.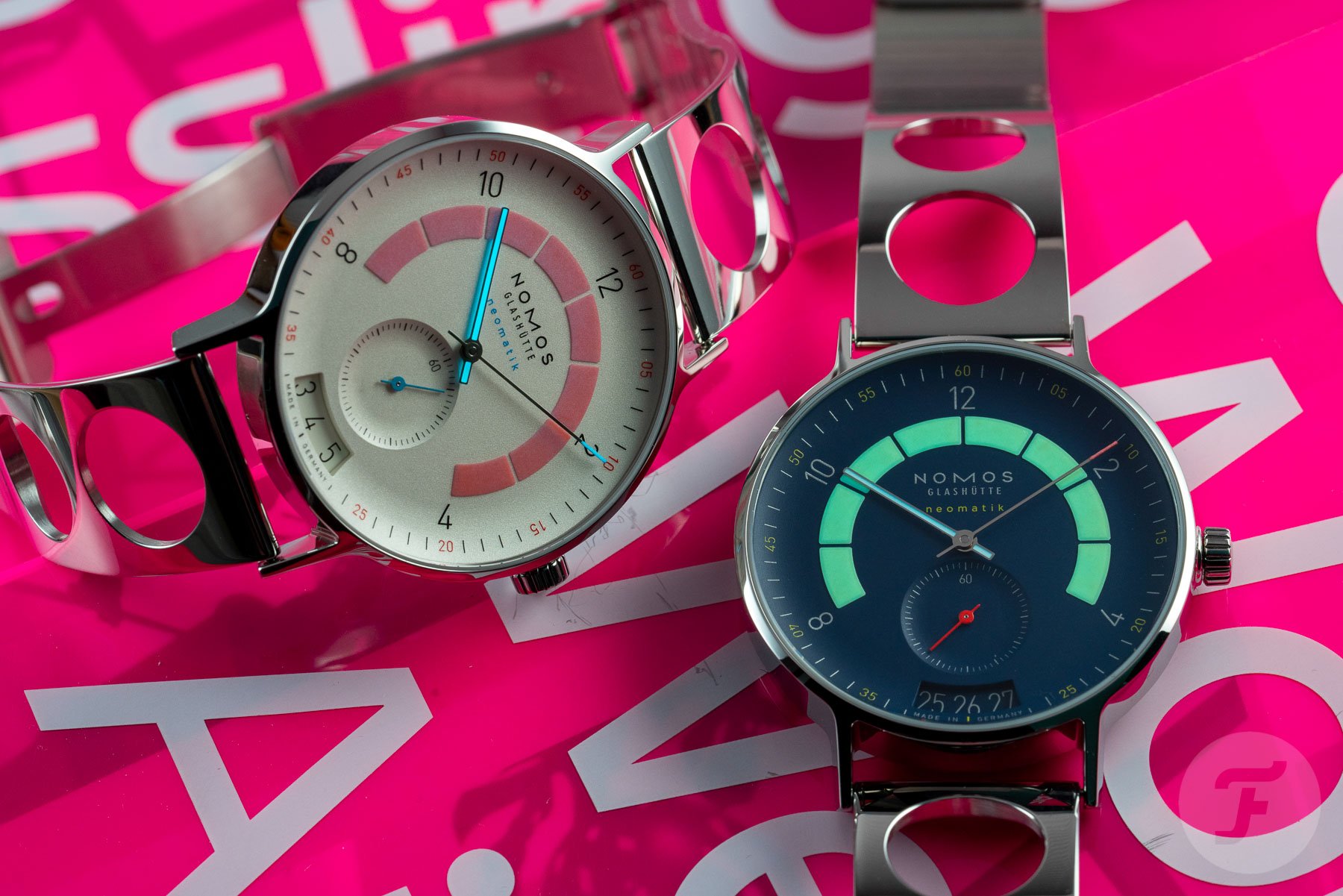 A luxury machine
The Autobahn is one of the brand's most expensive steel regular collection model. For that price (€3,800) you get the brand's most recent update caliber (the DUW 6101 from 2018), with its "damage proof" date setting mechanism (that works both forward and backward), and a futuristic flying saucer of a watch that creates a very unusual aesthetic on the wrist.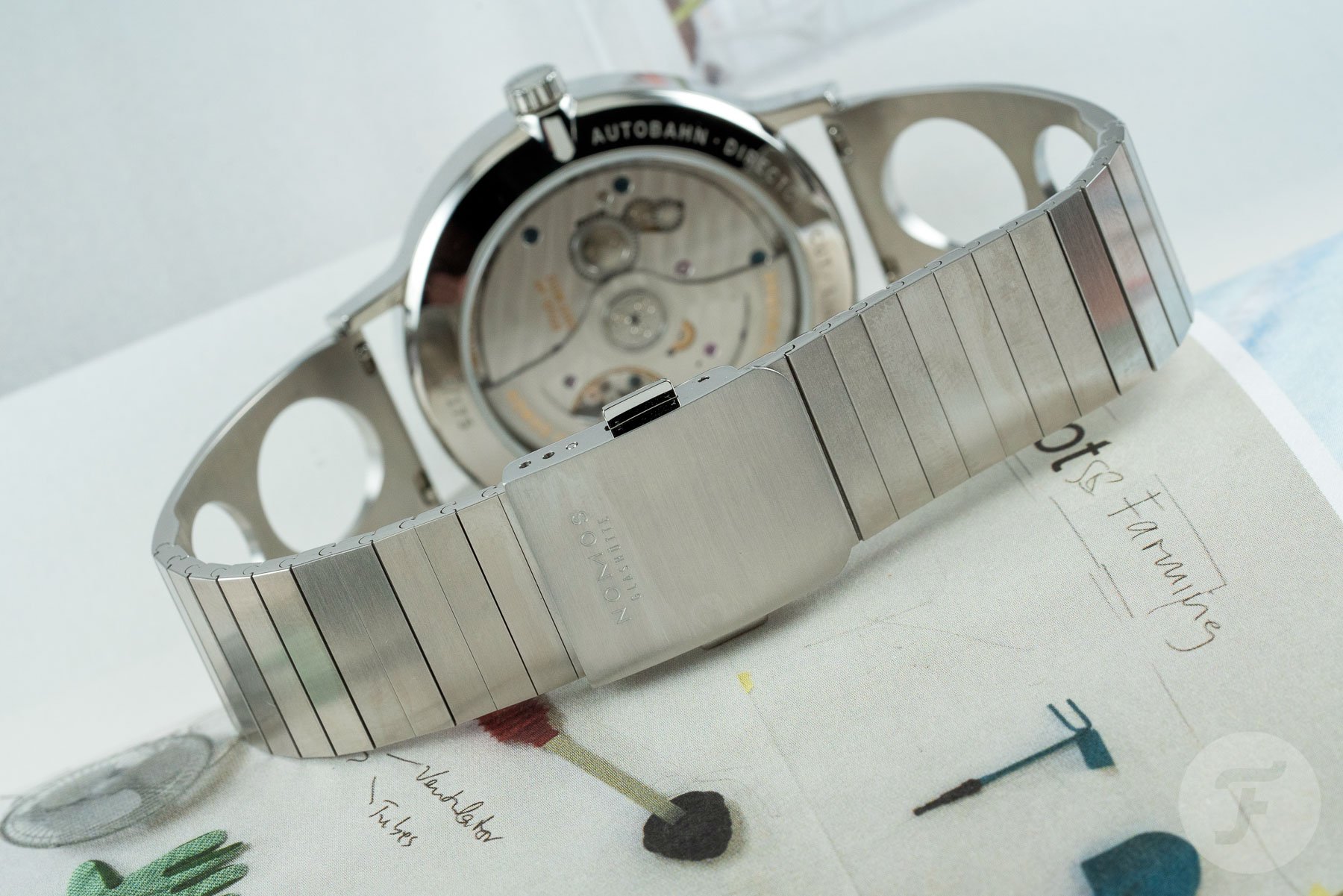 As far as NOMOS watches are concerned, it's big. Incredibly stout lugs, however, keep the watch wearable. In fact, the NOMOS's fabric two-piece strap combined with those lugs turned out to be a bit of a stroke of genius. The immediate "drop-off" and forgiving drape of the strap means this watch sits low and flush with the wrist and doesn't threaten to roll around or cause discomfort throughout the day at all.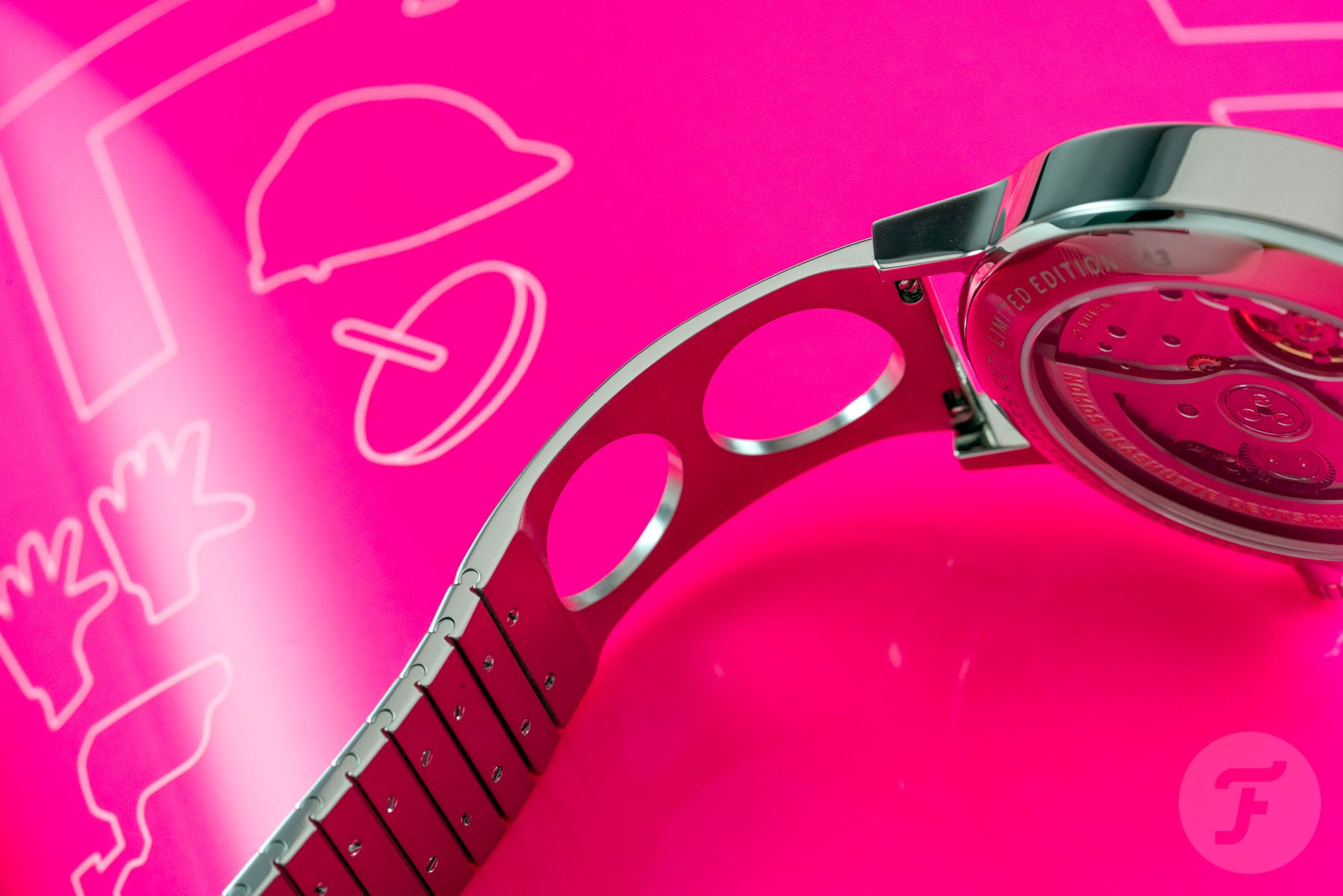 Now, though, in what is undoubtedly the biggest change from the standard model, we have this awesome retro racing cuff-style strap. This is, again, a marmite option, but it sent me a bit dizzy with excitement as this is one of those too-often forgotten bracelet styles that drag me right back to the time in which they first debuted. Is it bonkers? Yes. But is it also bold and, in its own very special way, beautiful? You bet it is…
About halfway down, the strap morphs into the standard NOMOS sports bracelet with the "jigsaw" links, as I call them. The foldover clasp has a three-point micro-adjustment and a double button closure.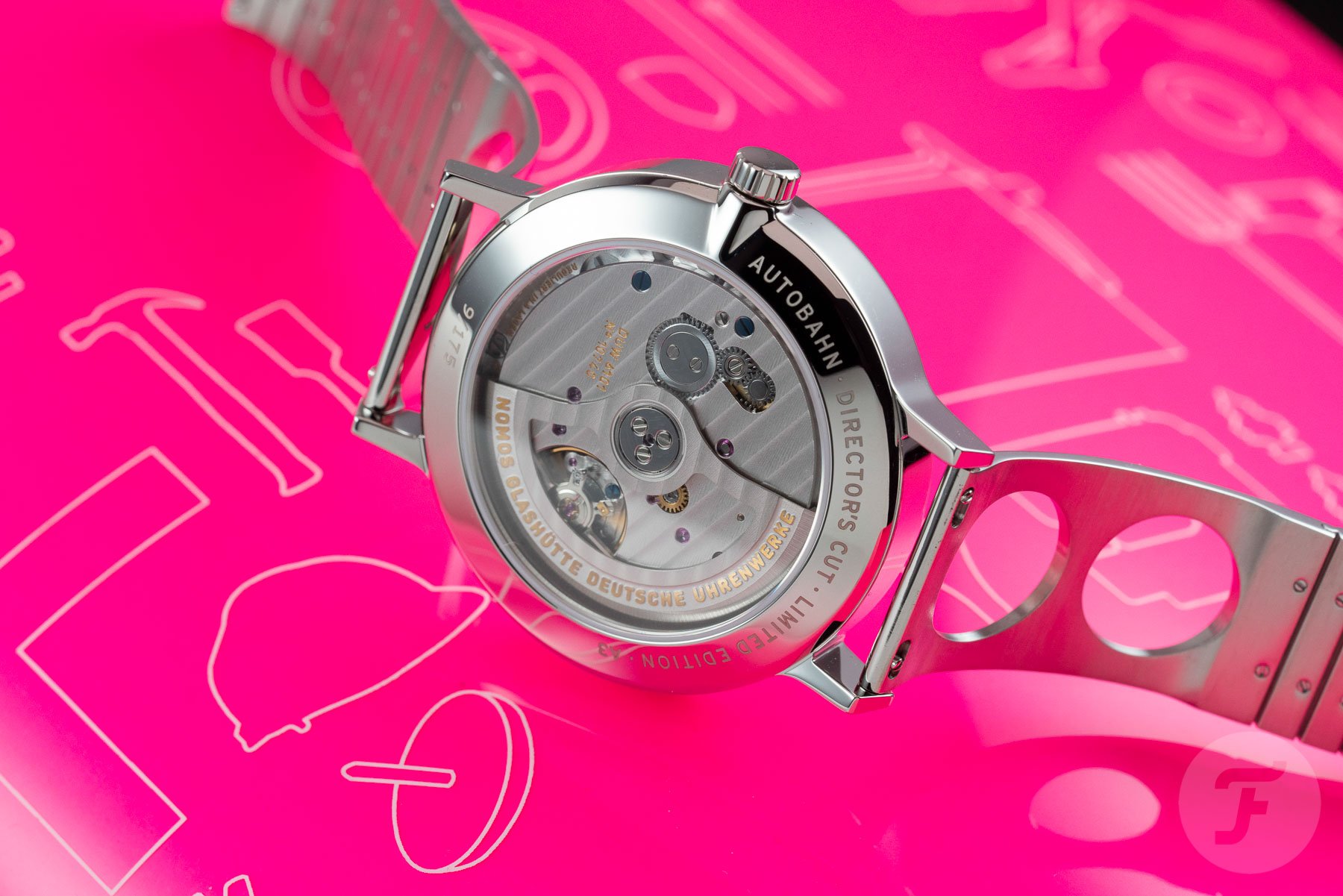 Hidden details
My favorite touch? The small, almost missable "auspuff" (or "exhaust"), if you prefer, can be seen on the case back, leading into the crown. It's a cutesy little easter egg for anyone looking for automotive cues in a case that was based upon the flowing bodywork of mid-late 20th-century sports cars.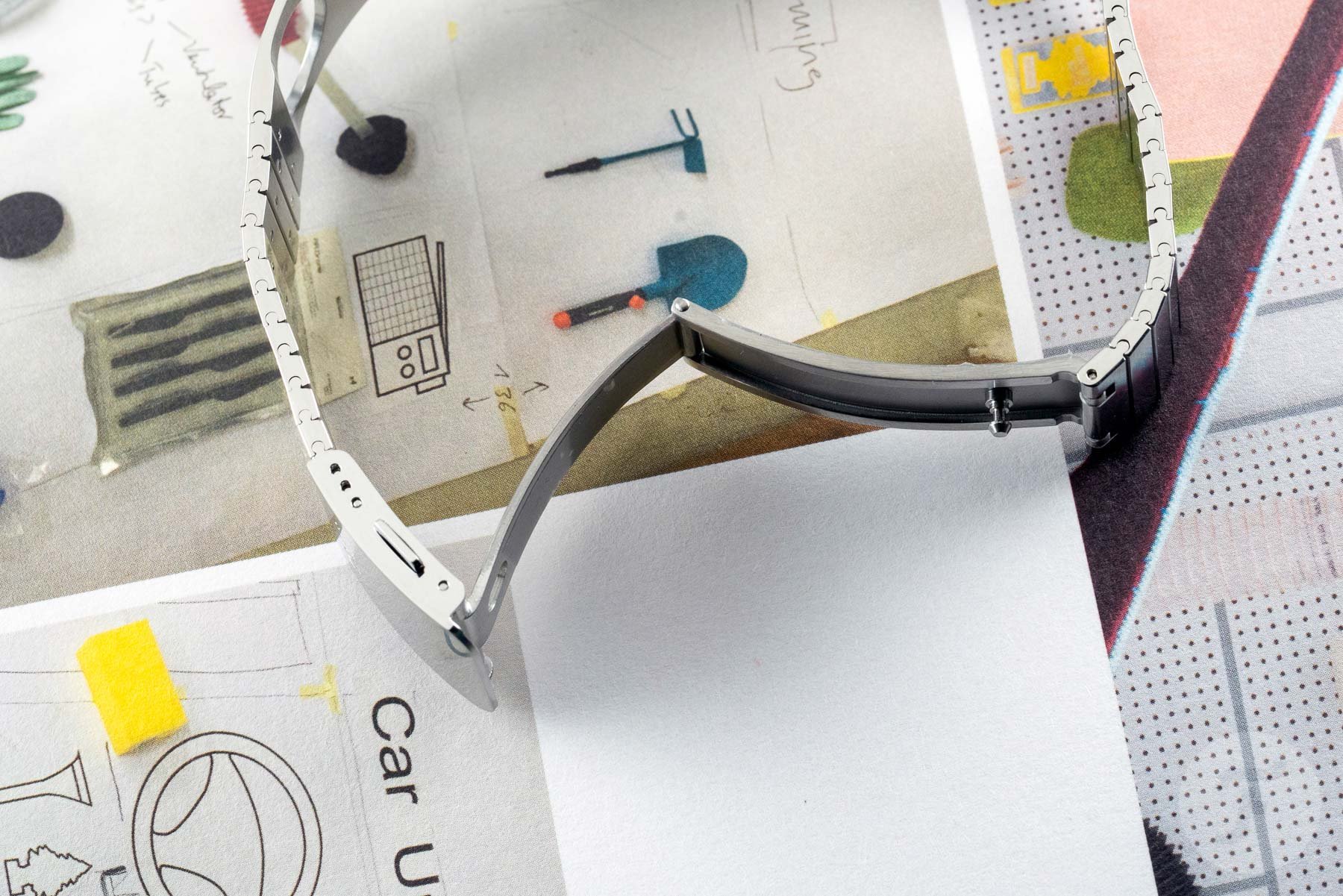 The charm of controversy
The Autobahn is not for everybody. I don't believe that was ever the intention. It is a calling card of the brand's potential, of NOMOS Glashütte's fearlessness to upend the apple cart every so often, and a warning shot to the industry: innovation, even in a field of design to tricky to navigate with confidence like Bauhaus, exists for those brave enough to reach for it.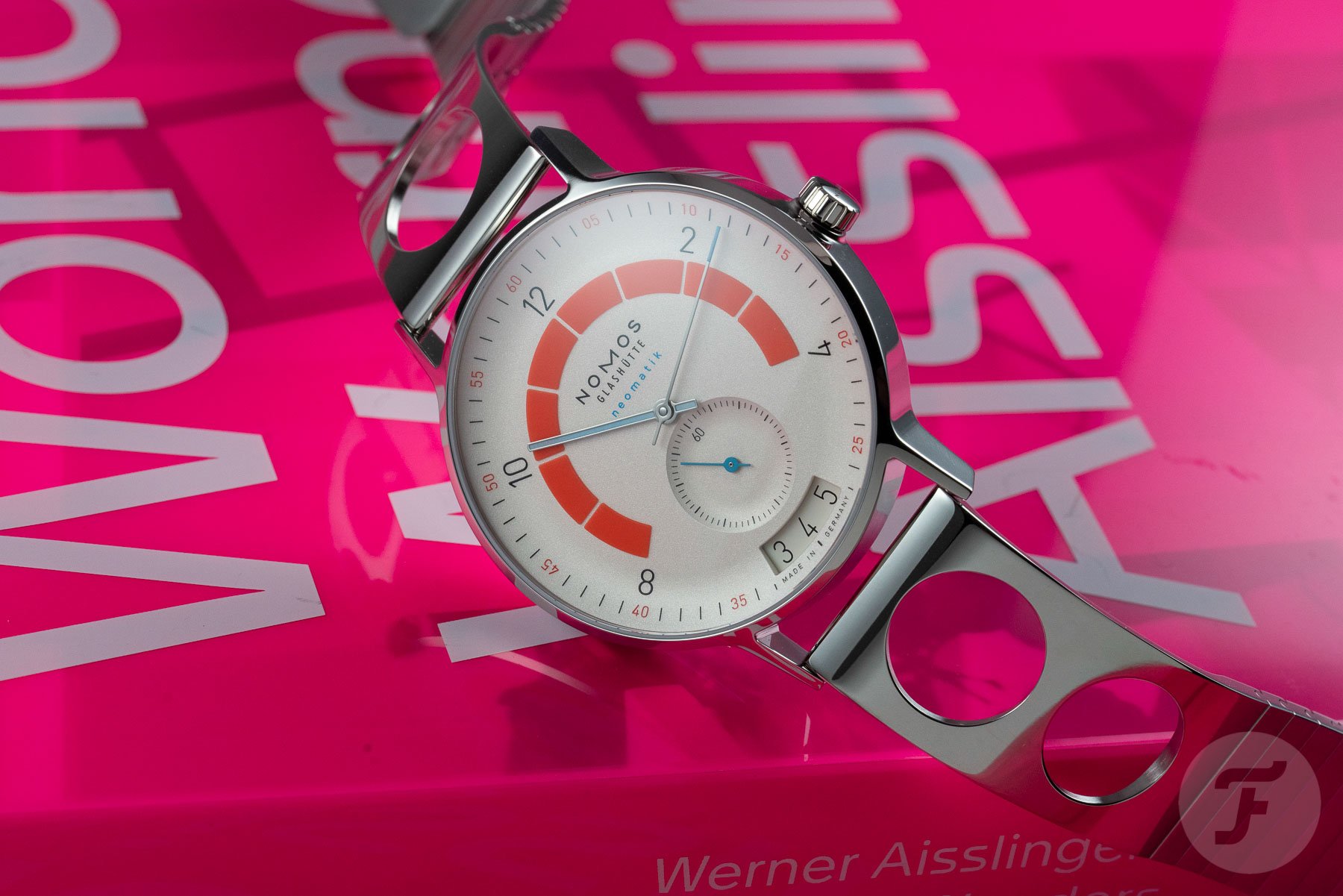 Whether you like the Autobahn is less important than the fact you see it. NOMOS has a track record of creating "buzz" pieces alongside classics in a way that few other brands are willing or able to. The strategy seems to be to release "wow" pieces and smuggle out three or four timeless versions of the eyecatcher, which will go on to define the collection over time.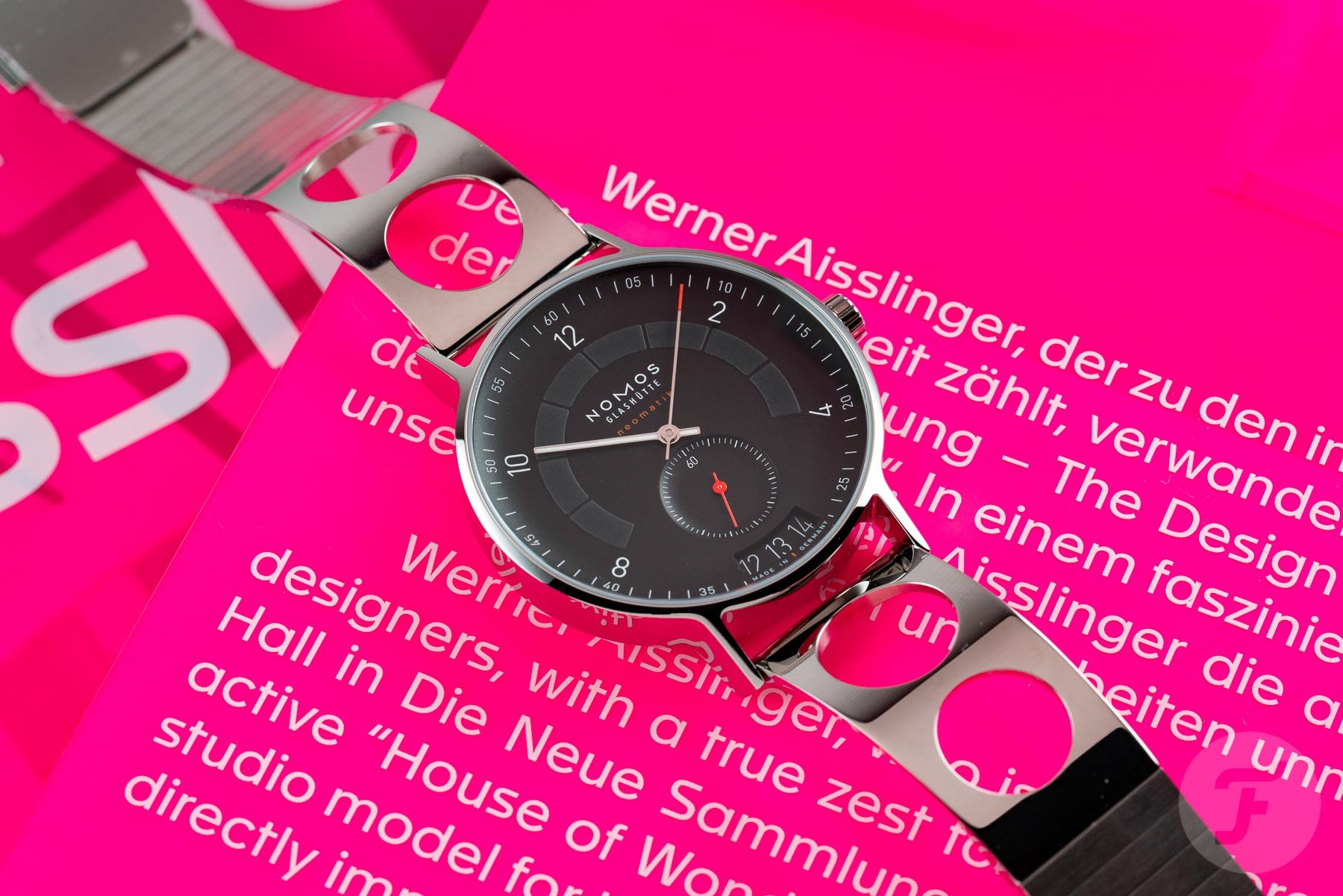 Maybe that strategy isn't conscious, or even how the brand sees it itself, but for me, it has always been the way to communicate and understand what NOMOS is doing, when certain pieces seem from a completely different part of the map.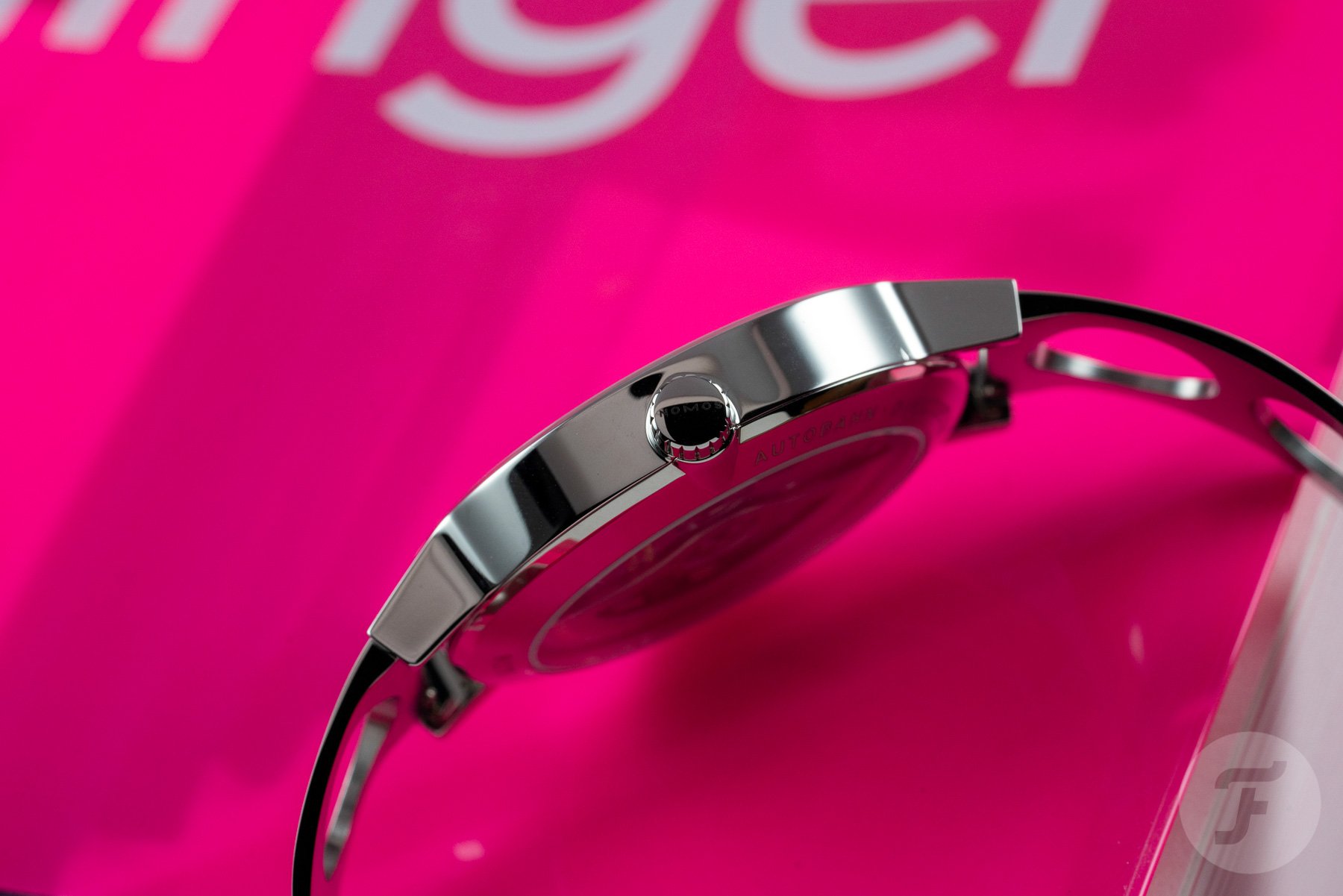 2017's Aqua collection saw the bright Signalblau and Signalrot (Siren Blue and Siren Red) dials of the new Neomatik Club and Ahoi pieces lead the line. Behind those divisive models were true classics (the standard silvered and Atlantik dials were to die for). Some might think the Autobahn could have done with these director's cut pieces in its initial release, but I actually think the Autobahn was shocking enough at the time to have the same effect. What it did so well, was focus on the brand en masse. It made us ask questions. Now, with these three pieces hitting the market, the original Autobahn itself becomes accessible and friendly.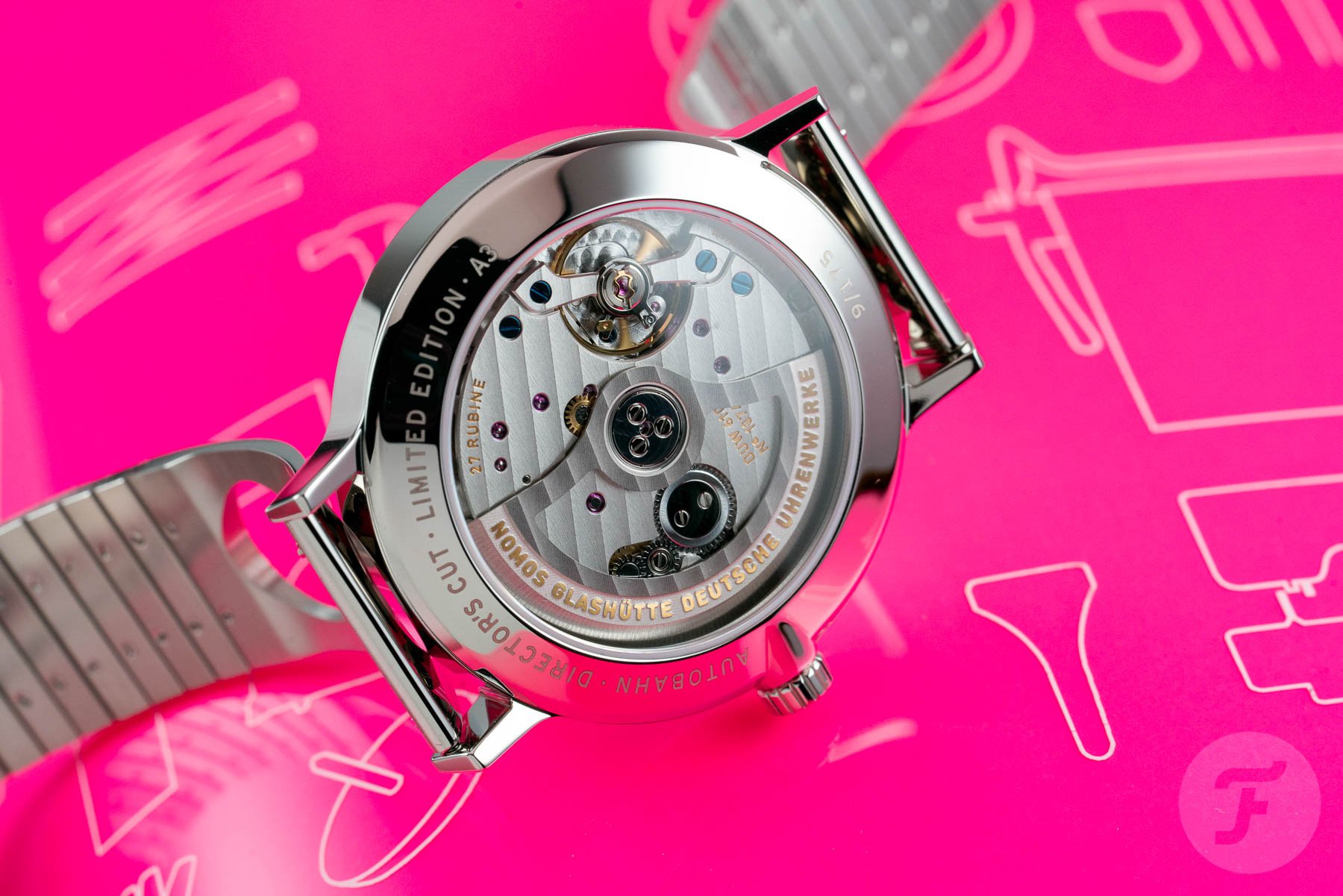 Is this what people want?
Again, how we as individuals feel about these new Autobahn pieces will come down to taste. The watches are supremely well-designed, excellently made, and certainly talking points. My favorite all-time Autobahn piece is the dark blue from the initial drop. In fact, seeing these pieces and being reminded of the things I liked about that watch when I was first charged with communicating it to brands, I like it, even more, today than I did yesterday.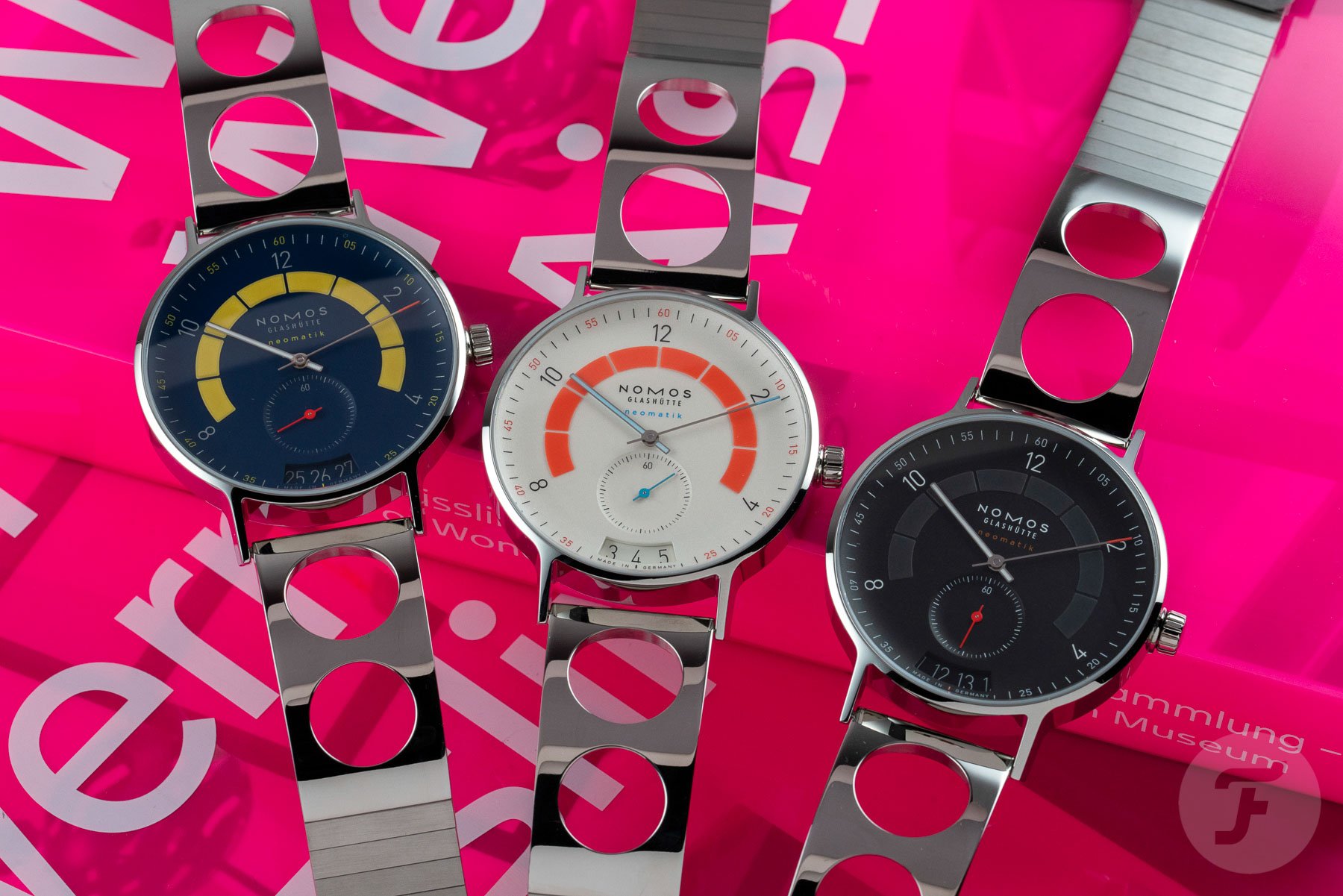 Weirdly, the feeling I now describe towards that older, blue model, is nostalgia. Oftentimes in watchmaking, those waves of nostalgia hit us too late. Normally, they accompany missed opportunities. Thankfully, this is one of those occasions the nostalgia can be fed with a purchase.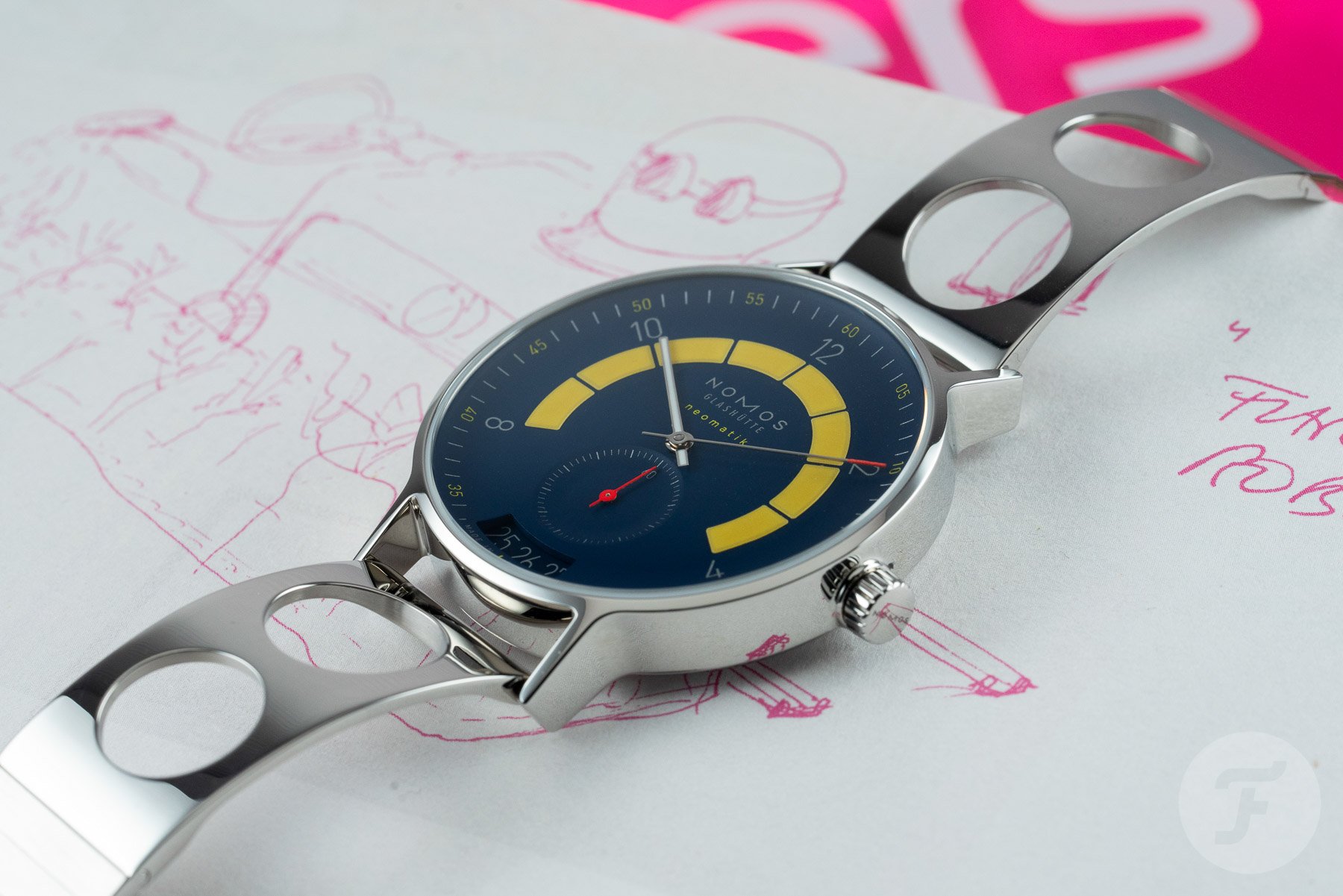 I'm really excited to see the response to these "Director's Cut" watches in the comments. My pick? It's tight between the all-black and new white (I love the pairing of the baby blue and orange — how about we call this one the NOMOS Gulf, anyone?), but I think the moody black and charcoal takes it and leaps ahead of the original midnight blue as my top Autobahn model ever. Here, the blue with yellow blocks doesn't do it for me despite me digging the primary colors vibe in theory.
One thing to note: the racing bracelet is NOT going into regular production. It will be limited along with these models, which themselves will be limited to 175 pieces each (a nod to last year's watchmaking anniversary in Glashütte, which is still being celebrated).
How do these models make you feel regarding the older models? How about the whole brand? Tell me the past releases that have shaped your opinions of NOMOS and other brands and let us know what you'd like to see. Learn more about NOMOS Glashütte here.
Watch specifications
Model
Autobahn Director's Cut LE
Dial
Curved dial in dark blue, black, and silver
Case Material
Stainless steel
Case Dimensions
Diameter 41.0 mm Height 10.5 mm
Crystal
Domed sapphire crystal glass with anti-reflective coating
Case Back
Sapphire crystal glass back
Strap
Stainless steel bracelet
Special Note(s)
Limited to 175 pieces in each color.