Here's The New Oris ProPilot X Calibre 400 Laser With A Unicorn Titanium Dial
Reflecting certain hues and canceling out others for a colorful spectacle
One of the things I enjoy the most about my watches is how they play with the light. A domed crystal, applied hour markers, and even a stepped dial can all bring about fascinating reflections and shadows. With the new ProPilot X Calibre 400 Laser, Oris adds another dynamic element to this list. The watch's titanium laser-treated dial makes use of optical interference and, therefore, only reflects blue, green, and violet hues. It almost looks like a kind of unicorn dial.
The all-titanium ProPilot X Calibre 400 was introduced about a year and a half ago. More wearable than the 44mm ProPilot X Calibre 115, this 39mm version first appeared with gray, blue, and salmon dial options. This year, for Watches and Wonders in Geneva, the watch was also presented with a bright green dial — Kermit green, that is. The date wheel even featured a little mug shot of the most famous Muppet on the first day of the month. Make sure to check out Lex's video on that one featuring Kermit. Indeed, Oris sure knows how to put a smile on your face. And I guess that's also exactly the idea behind this new Laser version. Let's take a quick look.

The ProPilot X Calibre 400 Laser
The ProPilot X Calibre 400, as such, didn't really change all that much for this new Laser version. It still has a 39mm diameter, is 11.8mm thick, and measures 47mm from lug to lug. The end links ensure that the bracelet quickly angles downward from the lugs and wraps nicely around the wrist. The titanium three-row bracelet has a lot of character, especially in combination with Oris's "LIFT" buckle, which mimics the buckles of airplane seat belts. And that's not the only aviation reference here, of course. There's also a turbine-engine-inspired pattern on the bezel, the guarded screw-down crown, and the rim of the exhibition case back.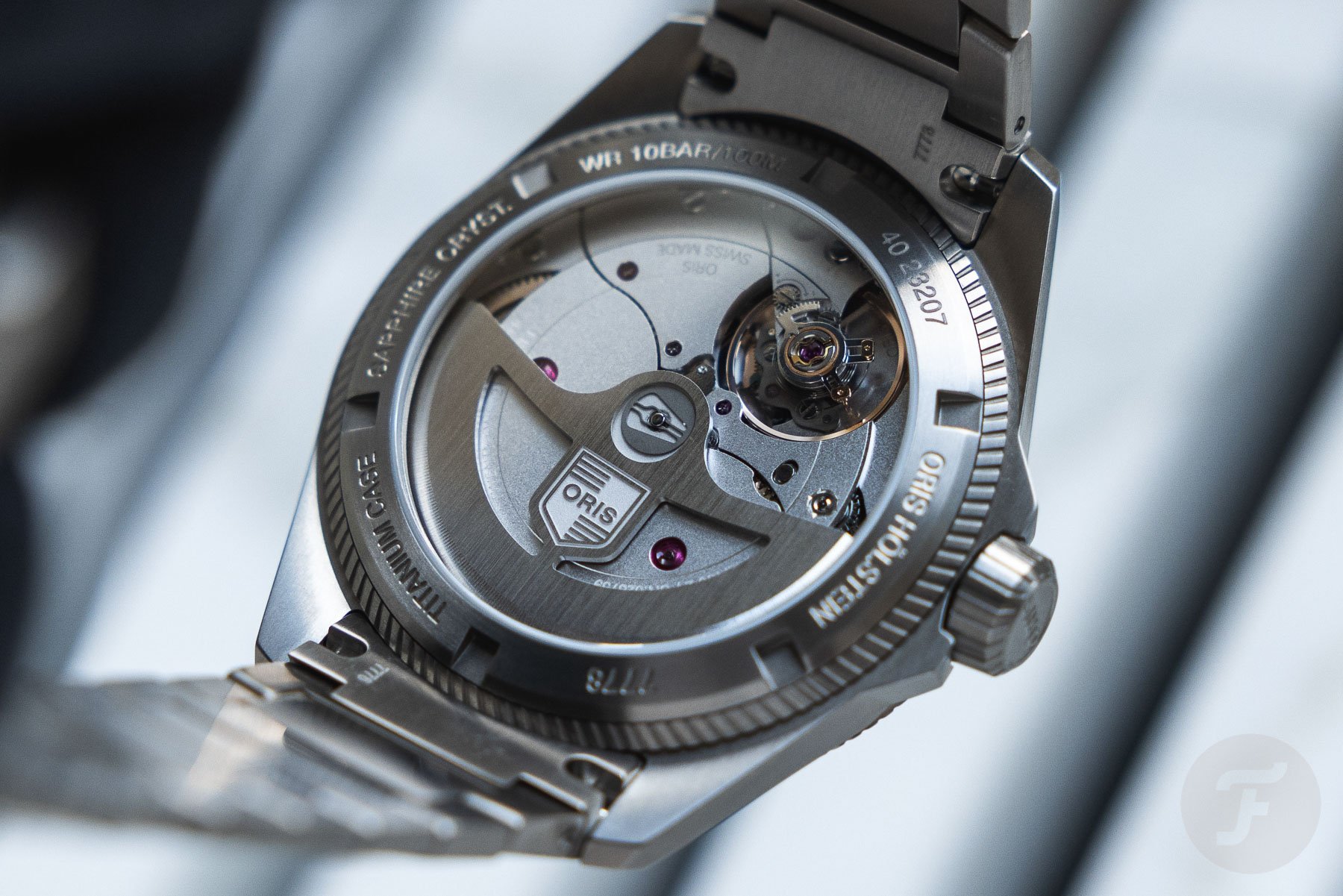 Through the sapphire window, you're able to take a look at Oris's proprietary Calibre 400. This automatic movement runs at 28,800vph and boasts an impressive power reserve of 120 hours. It's also regulated to better-than-chronometer standards and, therefore, should run somewhere between +5 and -3 seconds a day. But the best things about this movement might be its 10-year service intervals and 10-year warranty. Now, that shows you Oris has confidence in its capabilities. All right, on to that funky titanium dial.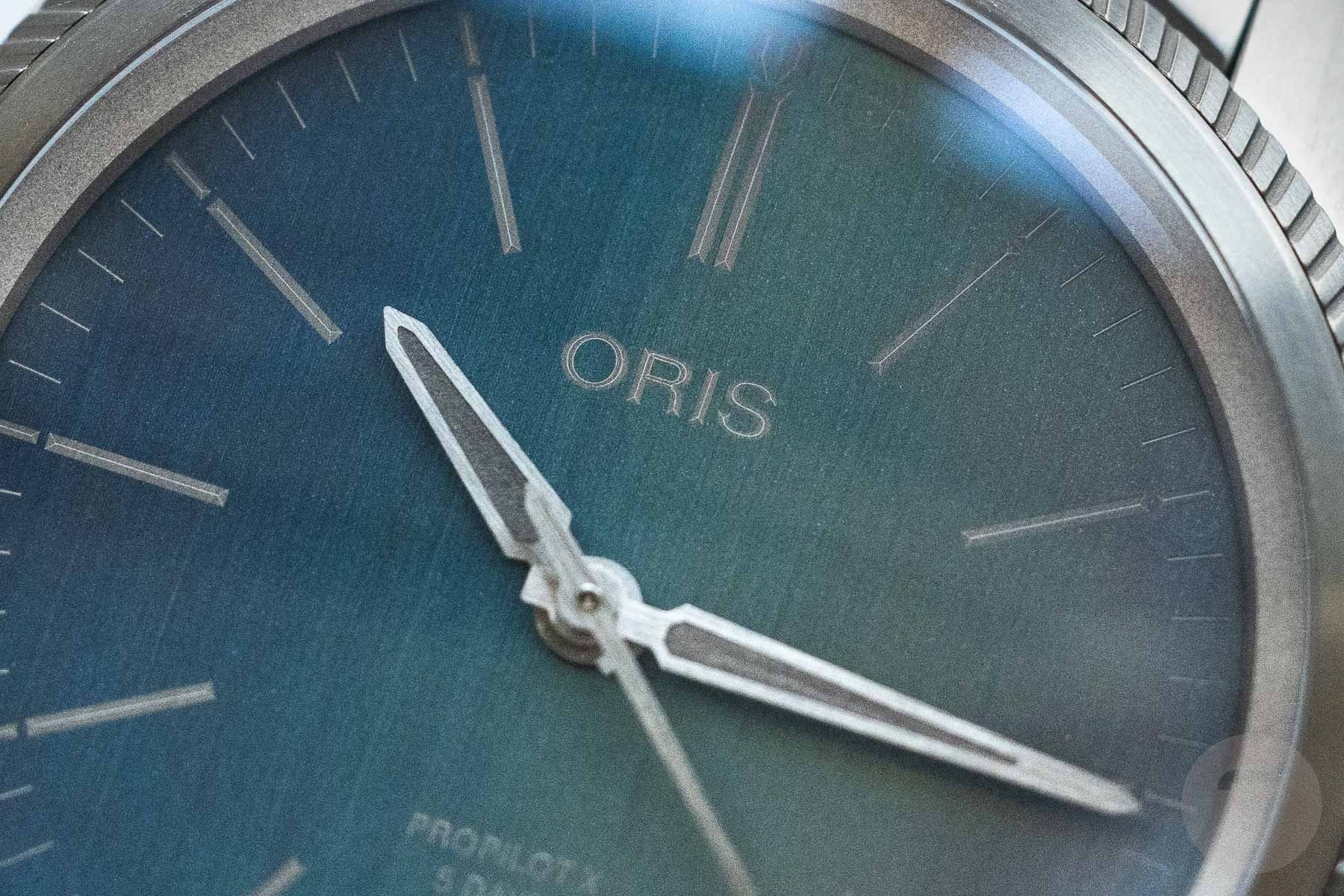 A serious unicorn dial
I guess I'm showing my five-year-old daughter's influence here. As soon as I saw this colorful titanium dial, I couldn't help but think of unicorns. However, the entire development process behind it sounds a lot more serious than that. It's the result of a collaboration between Oris's product development engineer Richard Siegrist and students from the Swiss Federal Institute of Technology — Eidgenössische Technische Hochschule (ETH) — in Zürich. Together, it took them about two years to develop a method that could consistently produce similar-looking results.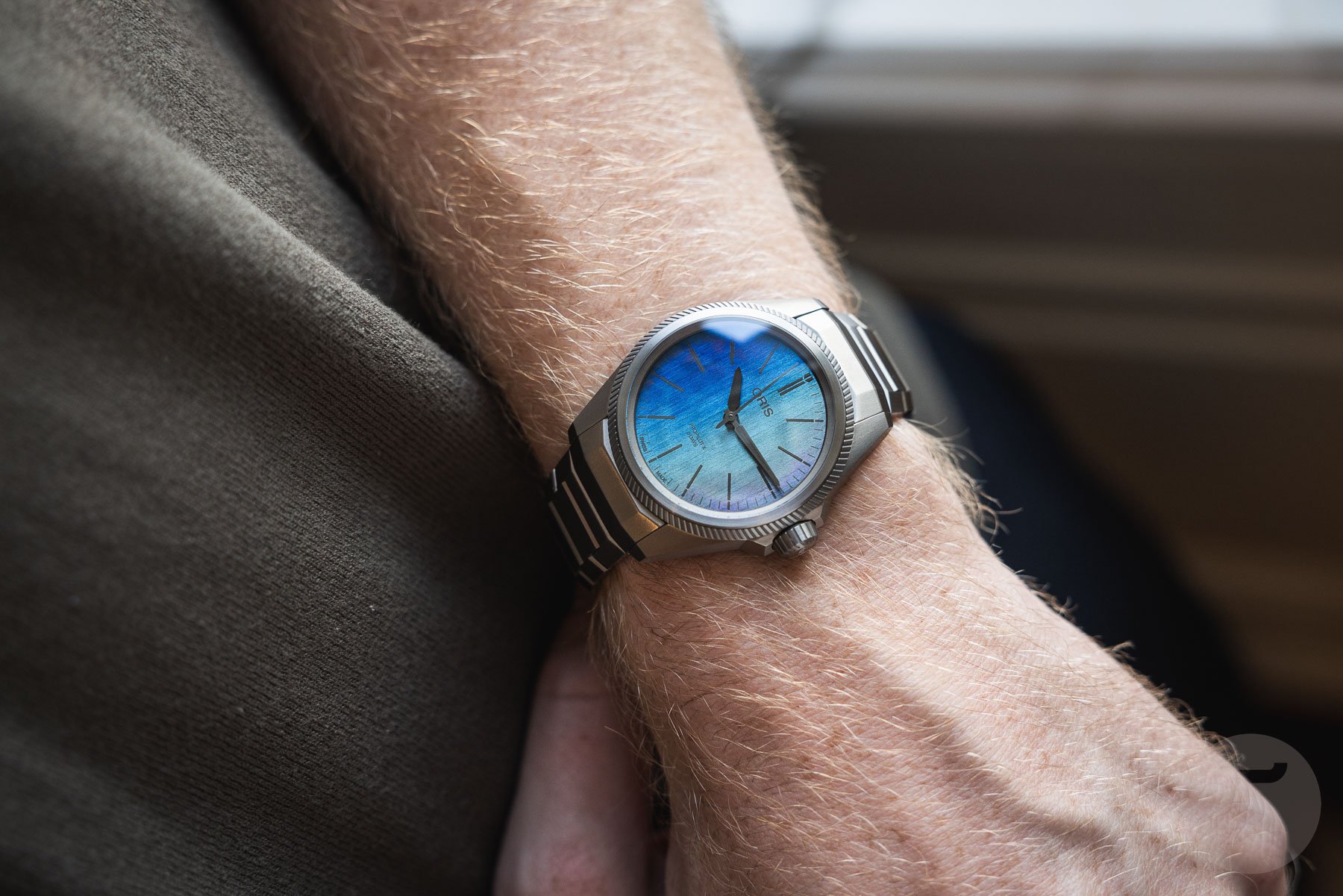 Although all the laser-treated titanium dials have the same blue, green, and violet shimmer, each one also has a unique fingerprint. Not every base dial has precisely the same thickness. A difference of one micron (1/1000mm) already affects how the laser's focal point exactly hits the dial. The resulting texture causes a phenomenon called "optical interference." This means that light with a certain wavelength is amplified while others are canceled out. That's how you end up with a very colorful dial without the use of any pigment. Clever, isn't it?
The colors you're able to see depend on the angle from which you look at the dial. Aside from just being colorful and playful, this also makes it a very dynamic watch to look at.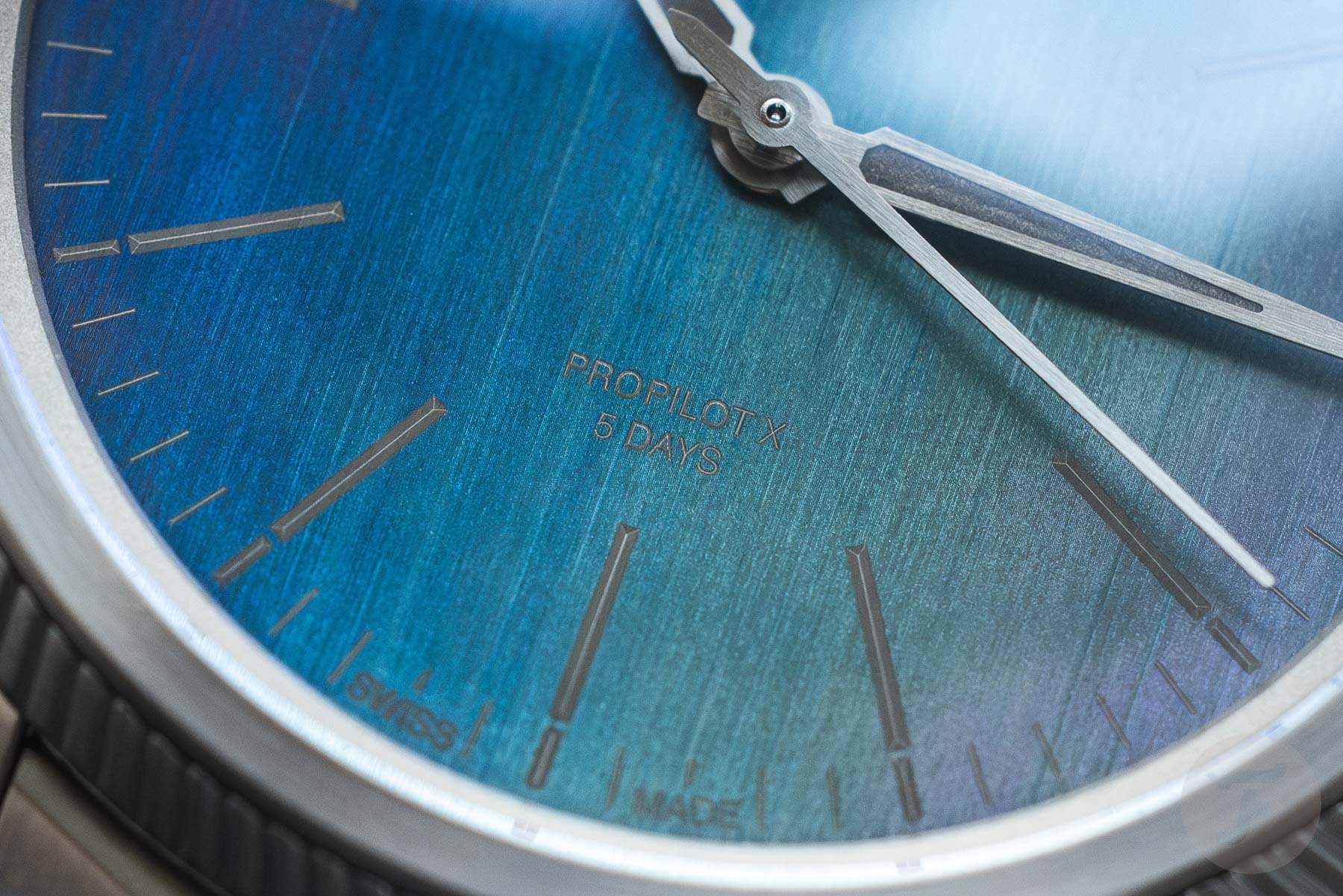 It's all about the dial
Apart from the vibrant background, the black indices and text on the dial are also realized with a laser. They match perfectly with the black Super-LumiNova on the hour and minute hands. To fully focus your attention on that mesmerizing dial treatment, the designers have decided to get rid of the date window. This might seem like a minor detail, but it's something that many brands often forget. The usual date window at 6 o'clock would most certainly ruin the experience here. So, well done, Oris, for leaving that one out.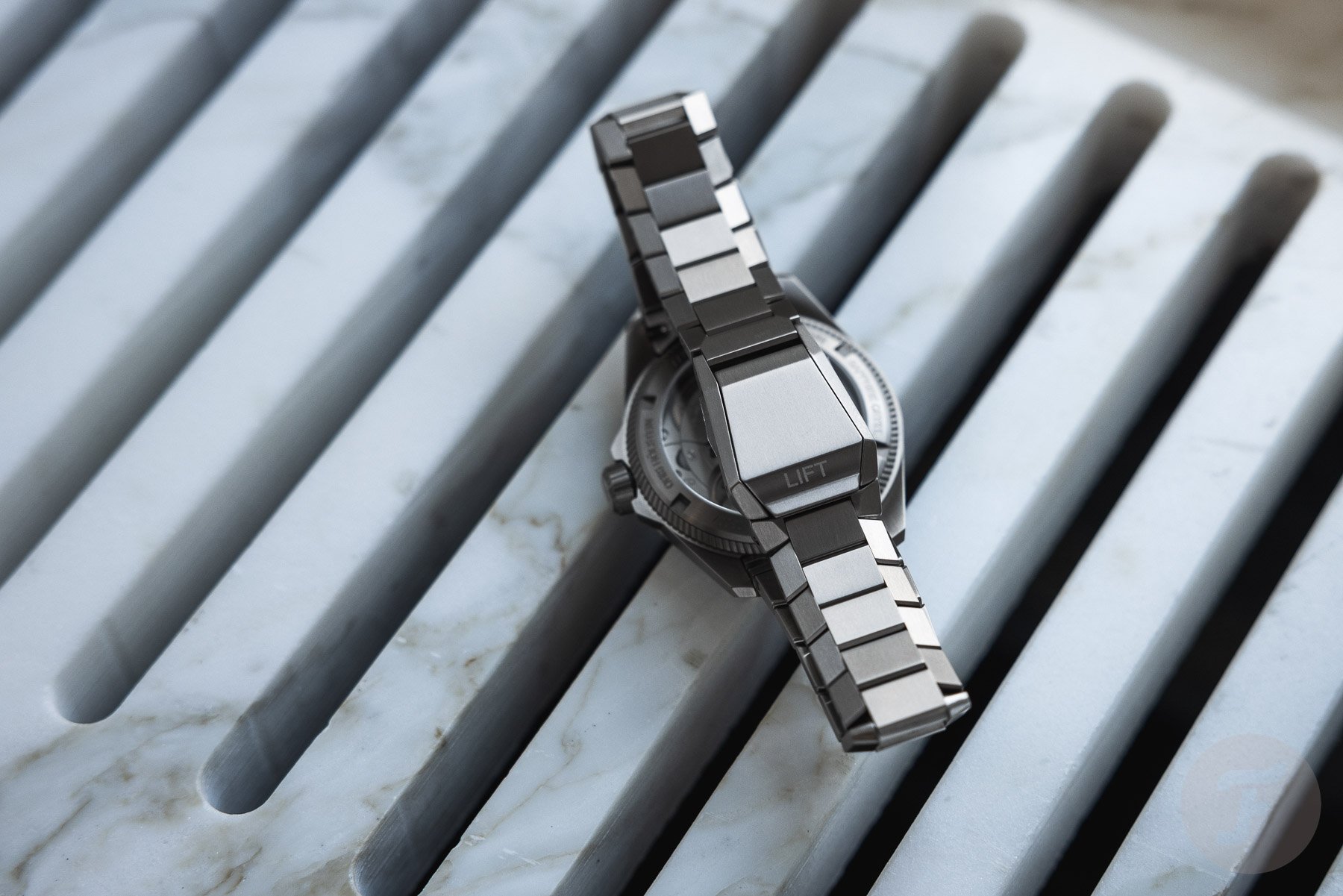 My first thought, indeed, was "unicorn." However, as you can see from Morgan's pictures, the watch has a more industrial look in the flesh. The darker gray shade of the titanium in combination with the colorful yet minimalist finish on the dial might even make it look like a proper tool watch. In the end, it's resistant to magnetic fields of up to 2,250 gauss and water resistant to 10 ATM, so you can wear this watch almost anywhere you go.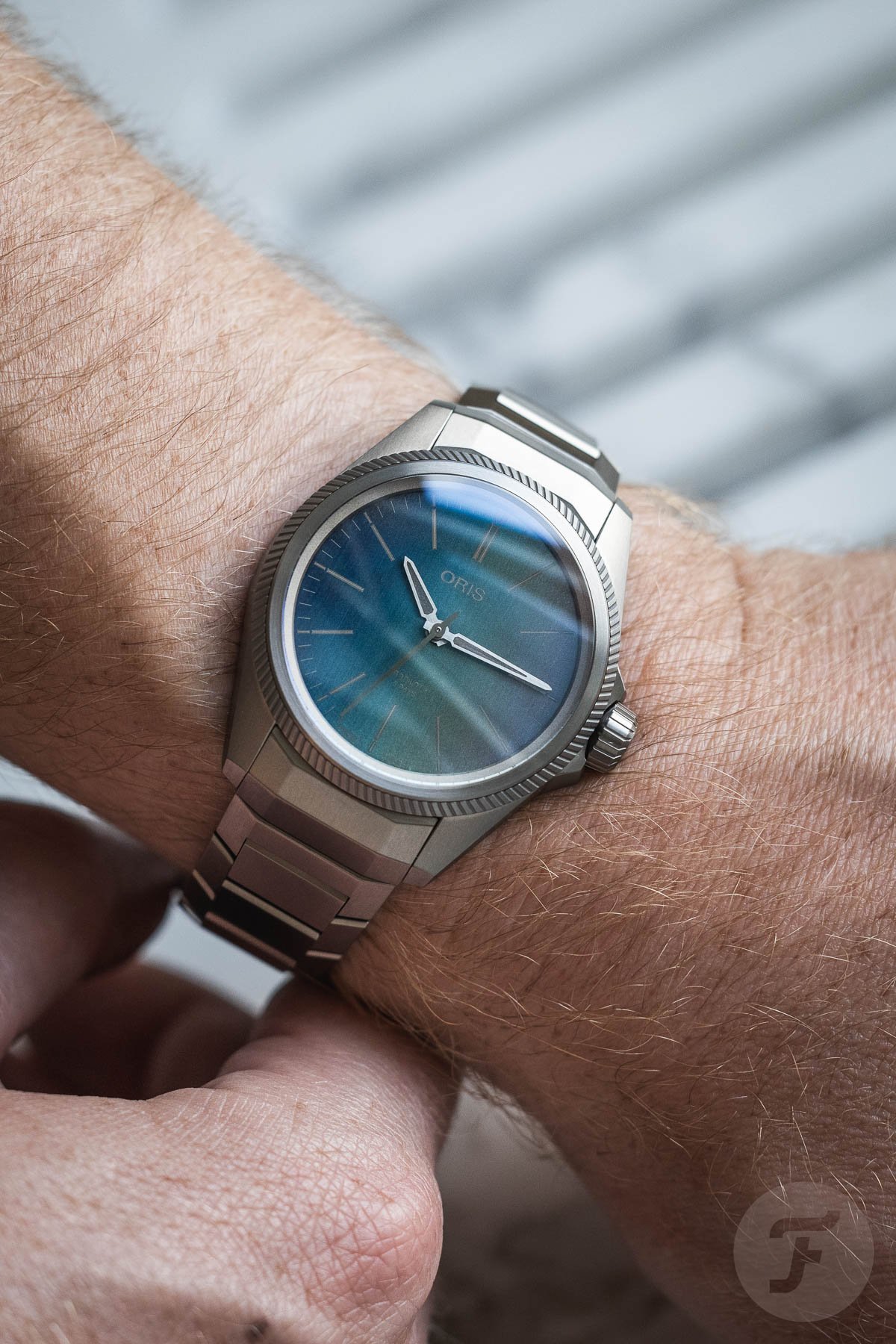 Final words
When it comes to the Oris ProPilot X Calibre 400, I still have to get used to its more daring case shape. But this striking laser finish on the titanium dial is most definitely a nice addition. It might also help to justify the price of CHF 4,800, which seems a bit steep for a time-only Oris watch. Then again, you do get all the perks of the advanced Calibre 400 and a high-tech dial.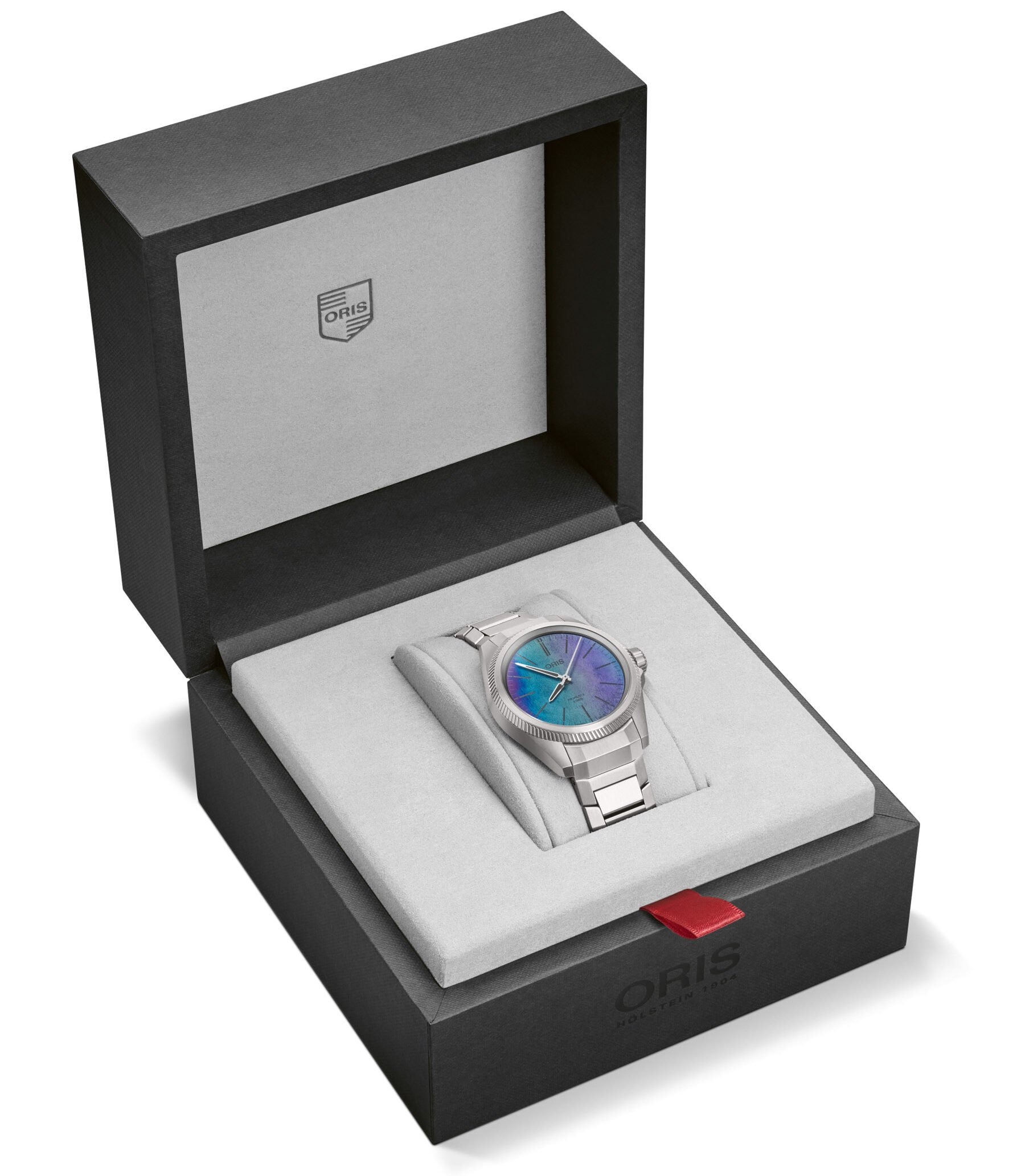 The Oris ProPilot X Calibre 400 Laser is available now and is a part of the regular ProPilot X collection. For more information, please check the official Oris website.
What do you think of the laser-finished dial in the new Oris ProPilot X Calibre 400 Laser? Let me know in the comments below.
Watch specifications
Model
ProPilot X Calibre 400 Laser
Reference
01 400 7778 7150-07 7 20 01TLC
Dial
Light-reflecting lasered titanium with laser-etched indices
Case Dimensions
39mm (diameter) × 47mm (lug-to-lug) × 11.8mm (thickness)
Crystal
Double-domed sapphire with antireflective coating on the underside
Case Back
Titanium with sapphire display, screw-in
Movement
Oris Calibre 400 — automatic and hand winding, 28,800vph frequency, 120-hour power reserve, 21 jewels
Water Resistance
10 ATM (100 meters)
Strap
Titanium three-row bracelet with patented "LIFT" clasp
Functions
Time (hours, minutes, central seconds)
Price
CHF 4,800 (including taxes)
Warranty
10 years (extended)