Introducing: Oris ProPilot X Kermit Edition
Sometimes it's easy being green
Why are there so many watches without Muppets? [Cue an article full of inside Muppets' references.] In short, The Muppets — the brainchild of Jim Henson — is a group of ridiculous, hilarious, often strange, and inherently lovable puppets that have graced television and movies for over 50 years. It may have been their chaotic antics and humor that relegated them to children's quartz watches through the '80s and '90s, but the love for The Muppets is serious. Children who grew into adults watching and rewatching Muppet movies now have buying power. Oris, the Swiss watch company committed to making people smile, has partnered with the puppet franchise dedicated to the same for an unprecedented watch release. Move over, Mickey Mouse; the ProPilot X Kermit Edition is taking the spotlight.
It's no secret that I generally love everything Oris does. When I first saw the press materials for the ProPilot X Kermit Edition, I was floored. One of my favorite watch companies partnering with a beloved childhood character? Mind: blown. Kermit the Frog is undoubtedly the lead star of The Muppets cast. For those who don't know, he's a green (Kermit Green, if you will) frog with spindly arms and legs that delivers a surprisingly candid performance given his face is little more than a glorified hand in a sock. If having a puppet frog as the protagonist in just about every Muppet movie to date seems strange to you, Kermit's love interest is a pig. It doesn't get any less weird from there.
Why Muppets? Why Oris?
If you have no idea what The Muppets are or what I'm talking about, you may want to sit this one out. Not unlike wearing mechanical watches in the 21st century, The Muppets are very much an "if you like it, you love it" phenomenon (🎵 doo doo do do do). Kermit and the rest of The Muppets have accrued a diehard fanbase over the years that spans generations and continents. It's the sort of enjoyment that stays with you for a lifetime, making it easy to sit down and watch any of their old films for the hundredth time, just like strapping on a beloved watch that hasn't been worn in a while. Either way, you're going to smile once again.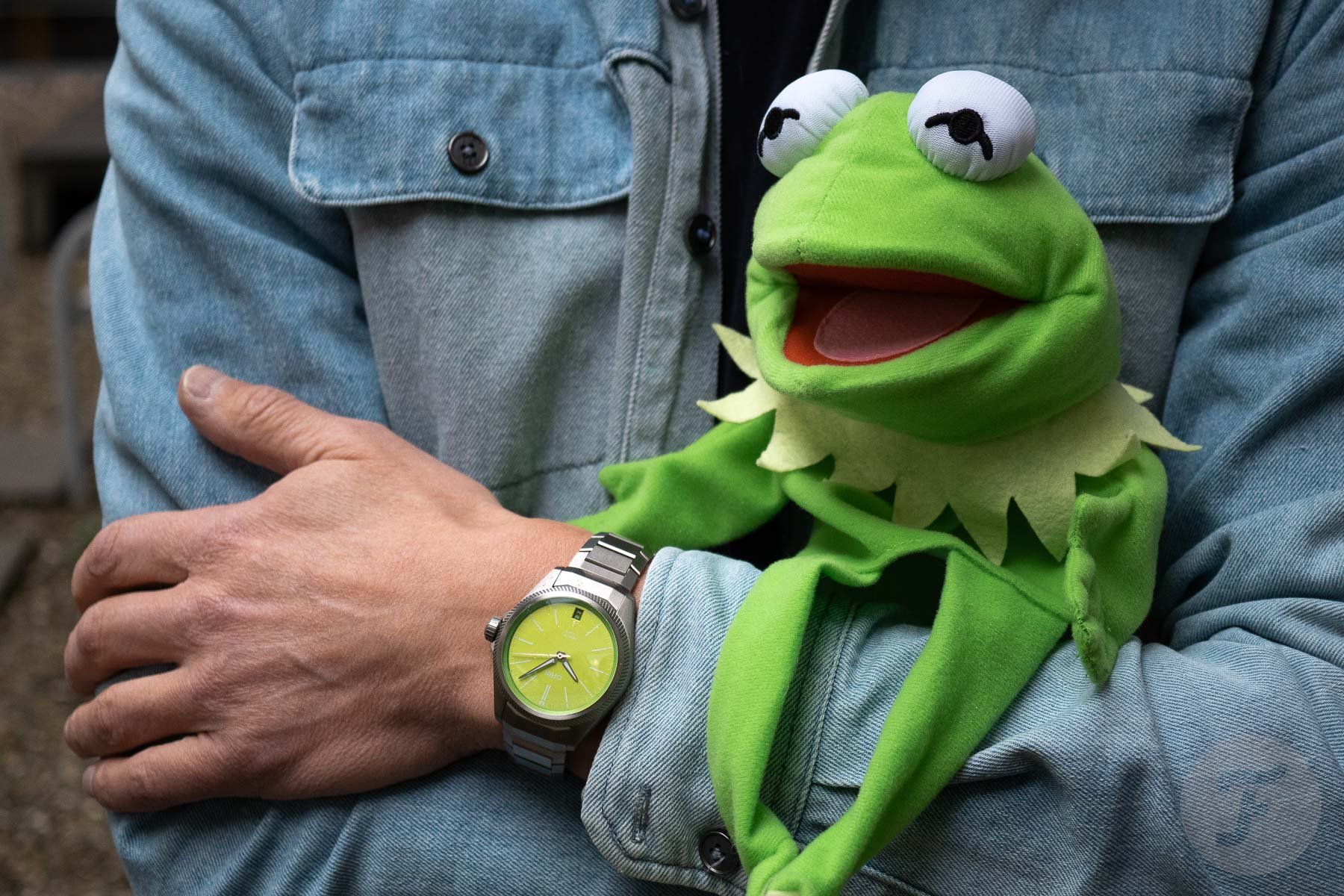 Oris is in the business of creating smiles — it's literally the brand's mission. After the initial shock of learning of an Oris × Kermit collaboration wore off, I thought, "Well, of course." It's a natural pairing. Both Oris and The Muppets are all about bringing enjoyment to people's lives, doing the right thing (though Miss Piggy and Rizzo reluctantly so), and sometimes being a little bit quirky. This watch is a case in point.
PropPilot X Kermit Edition — Not your dad's character watch
The Oris ProPilot X Kermit Edition takes what I had previously seen as an edgy yet still classy watch — the ProPilot X — and cranks up the playfulness factor. The dial is a (what else?) thrilling Kermit Green, clearly the loudest visual element of the watch set against the subdued backdrop of the matte titanium case.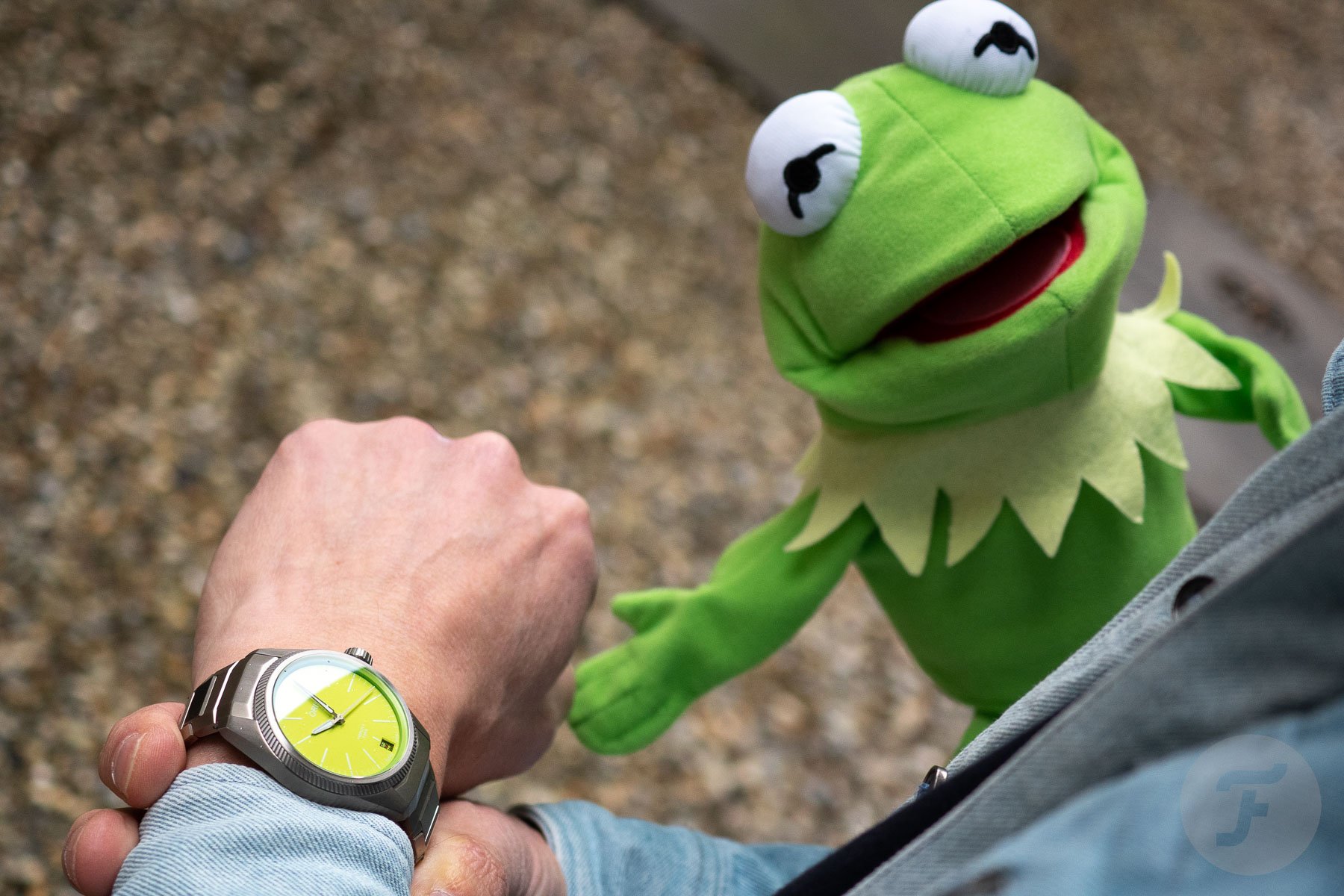 This isn't a typical approach to a character watch. Most companies plaster a dial with whatever character du jour so that there's no ambiguity that it is absolutely a (cough) Mickey watch. Not Oris. One has to wait at least 28 days to get a glimpse of Kermit when he pops up with his trademark smile in the green date window every first of the month. This is what Oris is affectionally calling "Kermit Day," and it's a reminder to not take things so seriously. I think it's a wonderful sentiment. It slates the watch as an "if you know, you know" sort of thing, with that gleeful Easter egg popping up just 12 times a year.
A Kermit the Frog watch that at once crystallizes and displays our passion for both horology and Muppet mayhem without giving too much away is the perfect approach.
And I think that's fitting. Unlike most "Disney adults" who wear their love for Disney and all things Mickey proudly on their sleeves (or under a cuff), we Muppet heads are a more subdued lot. There are a few people in my life that I know love The Muppets as I do. I expect there's probably a lot more that I don't know about. You won't catch us wearing Muppet T-shirts, though you might catch me humming a Muppet song. A Kermit the Frog watch that at once crystallizes and displays our passion for both horology and Muppet mayhem without giving too much away is the perfect approach. It's also an evolution from the plastic Muppets kids' watches we grew up wearing.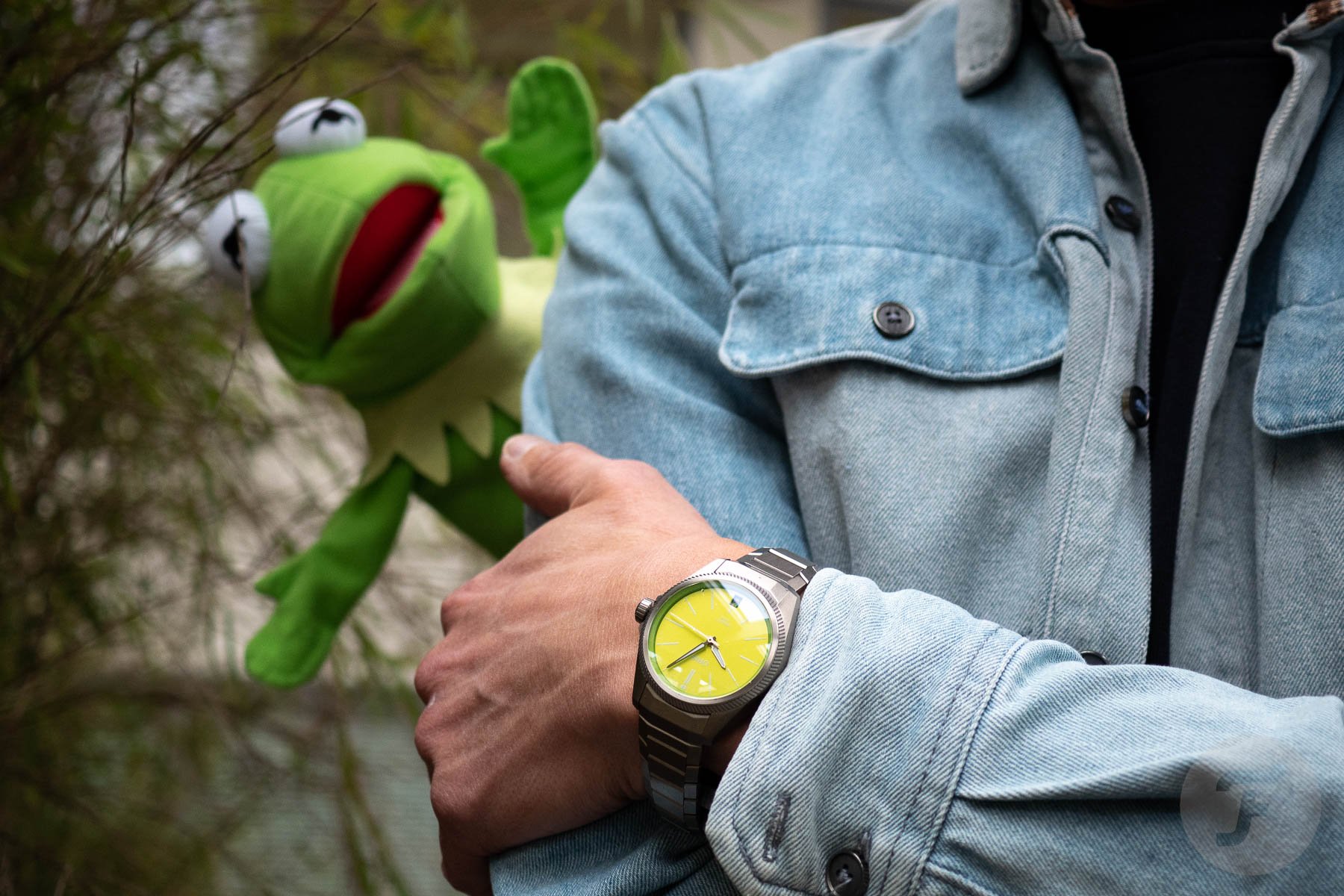 Past the Kermit, it's all ProPilot X
The rest of the watch is standard ProPilot X, though that's hardly standard. Inside is Oris's in-house automatic Calibre 400 with a five-day power reserve, high magnetism resistance, and a 10-year service interval and warranty. It also has a COSC level of accuracy at +5/-3 seconds per day.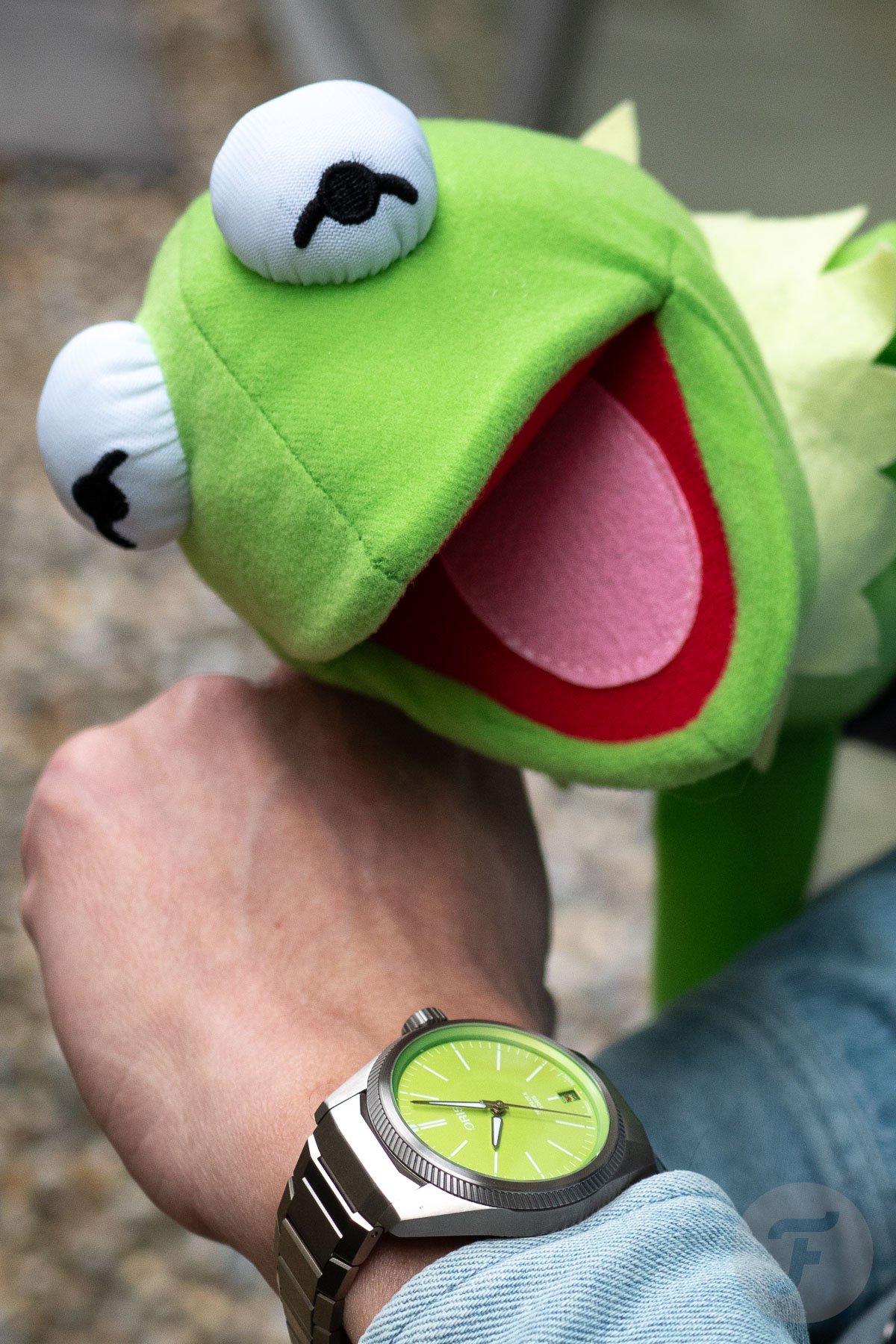 Aside from the vivid green dial and smiling Kermit every 1st of the month, the watch has the same dial layout and markings as the other ProPilot X. It's a minimal presentation with sparse wording — only an "Oris" at 12 o'clock and "ProPilot X" and "5 Days" at 6 o'clock. "Swiss Made" sits at the bottom, straddling the date window. The domed sapphire crystal has an antireflective coating on the inside. Sapphire adorns the back as well via the exhibition case back. As mentioned before, the case and bracelet are titanium, and the latter has Oris's seatbelt "Lift" clasp. Water resistance is a solid 100 meters with the screw-down crown.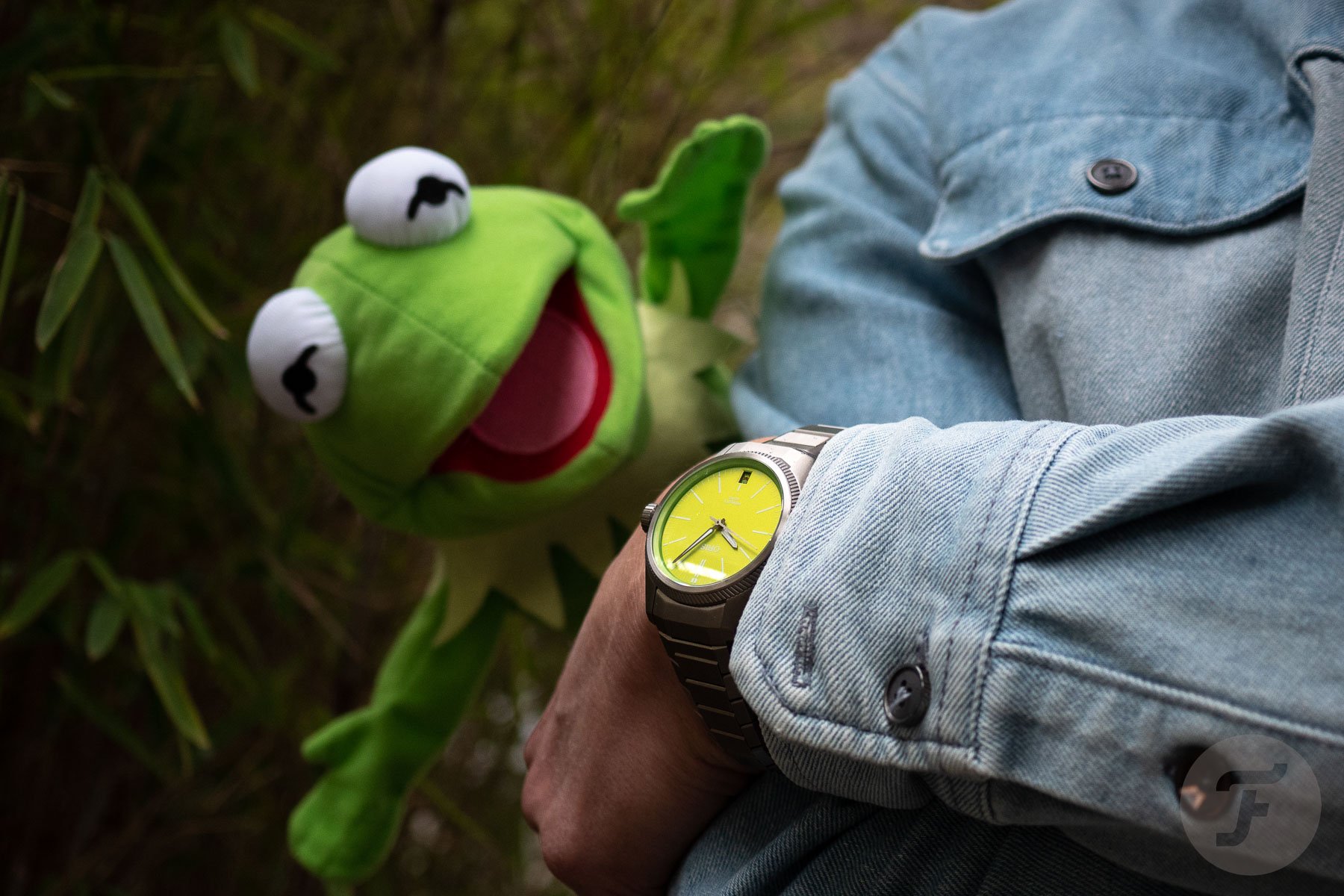 Kermit — and this ProPilot X — is for anyone
Like The Muppets, I expect the ProPilot X Kermit Edition will appeal to all sorts of people. The 39mm diameter ensures a comfortable wearing experience for a range of wrist types. The lightness of the titanium is a bonus. The cost is CHF 4,400, and it's a special edition. There's no indication yet of a set number of pieces, but I'd treat it as limited. The excellent specs and the price elevate Kermit to premium Swiss levels to sit among other greats like the Omega Speedmaster's Snoopy.
A bonus
The ProPilot X Kermit Edition releases this April along with a special song from Kermit and Oris to you. If you know The Muppets, you know the importance that music plays in everything they do. And the music is good (I have the soundtrack to The Muppet Movie on vinyl). This song is called "Gotta Make Time For Me." I'll be listening to it for the first time with everyone else, so I haven't heard it as of this writing. I can't imagine it'll beat "Rainbow Connection," but it's not every day that a watch release helps you pass the time with a song. Just don't blame us if it makes you a little green with envy.
You can learn more about Oris and the ProPilot X Kermit Edition on the official Oris website. You can find more of me on Instagram @WatchingThomas.