The New Pinion Pure (Pro) Collection
Pinion Pure
End of 2014, Bert Buijsrogge had a Pinion Axis Bronze in his photo studio and decided to do a proper write-up on this model as well. You can find his Pinion Axis Bronze review here. I had the pleasure to wear and try one of the Pinion watches as well for a while, the Pinion R1969 chronograph, but since it was a prototype that was executed a bit differently from the production model, I didn't do a review on it.
But in general I can say that these Pinion watches have a very high standard when it comes to finishing of the case, dial, hour markers, hands etc. It is almost ridiculous for a watch in this price range, even with a loupe there were no flaws to detect and all is razor sharp. It needs to be seen in the flesh though, perhaps even tried on and observed with a loupe to recognize and adore the craftsmanship in Pinion watches. Something not everyone is willing to do, acknowledged, but once you do take the time and effort, you will see how perfect the dial and hands are for example.
Today, Pinion announces their new Pure (Pro) watch collection. Pure, since the movements in these watches are hand-wound (Unitas 6498). This slow-ticking movement was initially designed for pocket watches, but has been used by many watch brands (Panerai is perhaps most famous for doing so) with a relatively large case.
The Pinion Pure (Pro) is not entirely new of course, it was introduced in 2014 already in stainless steel and bronze. Also equipped with the hand-wound Unitas movement, of course.
Pinion's design for the Pure (Pro) collection grabs back to historical military watches and instruments. Also, the new Pinion Pure watches have yellow-ish Super-LumiNova that have the same color effect as those military watches using Radium. Except for the Pure Pro Black version, which uses green colored Super-LumiNova.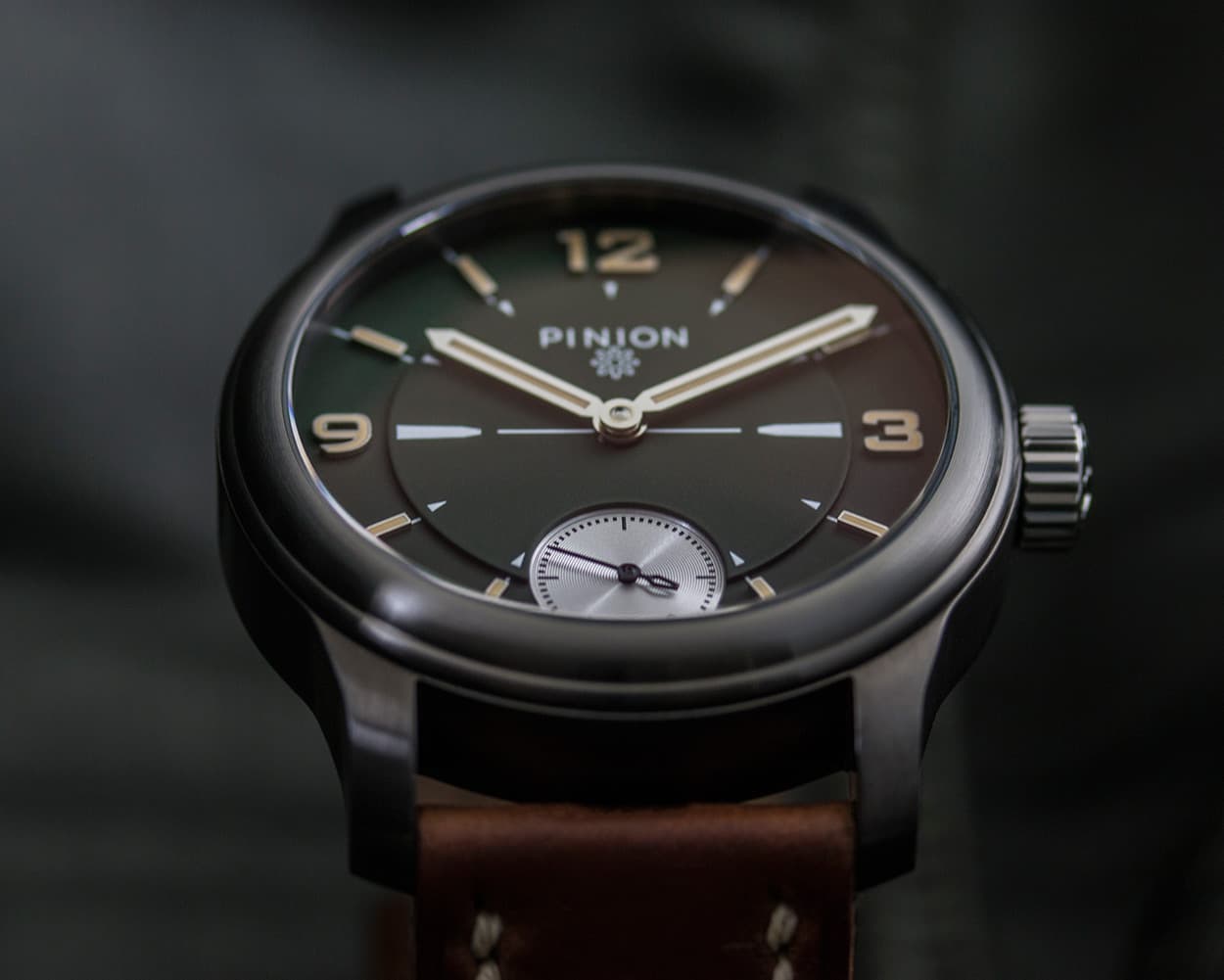 There are four new models added to the collection, consisting of the Pure GG and three Pure Pro models. The Pinion Pure GG has the exact same dial as the 2014 collection, but a brushed steel case treated with DLC (in gunmetal grey, hence the GG) and a satin finished hunter green dial.
The Pinion Pure Pro model comes in three variations:
Pure Pro Black: Black DLC coated case, bright green luminous indexes and hands;
Pure Pro Bronze: Bronze case and faux-patina luminous indexes and hands;
Pure Pro Steel: Stainless steel caseand faux-patina luminous indexes and hands;
Also, all of the new Pinion Pure (Pro) models come with a new bezel. This stepped superdome bezel was also on the limited edition Pinion R1969 chronograph and Axis II collection and now made it to the Pure collection as well.
As written above, all Pinion Pure watches come with the hand-wound Unitas movement.
"As we live in modern times, with smart phones and other automatic time- keeping devices, the PURE provides the perfect antidote to the digital age: As the name suggests, it celebrates mechanical timekeeping in its purest form by utilising a hand wound movement, the UNITAS 6498." – Piers Berry, founder of Pinion and designer of the Pure collection.
With full assembly of the watch undertaken in England, as a finishing touch each PURE will be presented in a handcrafted solid wooden box finished in a beautiful high gloss piano black with polished chrome-plated hardware and soft blue inner lining.
Prices: GBP 2300 for the stainless steel Pure Pro, GBP 2550 for the Pure Pro in bronze, GBP 2650 for the Pure Pro black, GBP 2650 for the Pure GG. Prices include VAT.
Specifications:
Size: 42 mm size (Excluding crown) x 13 mm height.
Movement: Hand wound Swiss movement (UNITAS 6498).
Functions: Time in hours, minutes and sub seconds at 6H. Crown: Push in double o-ring decorated polished steel crown.
Cases: Polished steel, marine grade bronze, brushed steel with black or grey DLC coating.
Case-back: Engraved solid steel with engraving
Water resistance: 100 metres. Strap: 22 mm handmade leather strap.
More information via Pinion Watches.