New Raymond Weil Freelancer Calibre RW1212 is Going Green
The green streak shows no signs of slowing down
New from Raymond Weil in their adventurous Freelancer range is this green dial version. Working with Sellita, Raymond Weil created the exclusive Calibre RW1212 to power the automatic, smart-casual timepiece.
When people ask about my hobbies, and I tell them I write for an online magazine about watches, I get a few standard follow-up questions:
Is that a thing?
Do people still wear watches?
Are there enough watches to warrant an online magazine?
These questions I tend to bat off without going into too much detail as I can predict the intended audience would lose interest.
But there are a few questions that perk me up:
My family member gave me a service watch. Would you know anything about it?
Could you recommend a first *nice* watch?
Even rarer is my favorite question:
Could you write about my watch?
Raymond Weil in the eyes of collectors
I like this question because it gives me the best insight into someone's personality without me having to ask "what's on your wrist?" awkwardly. I always offer a compliment when I see someone with Wrist-Game, but they often look perplexed or worry I am going to mug them. With that person knowing what I do and where my interest lies, they feel they can talk proudly about their watch. More often than not, this watch tends to be a Raymond Weil.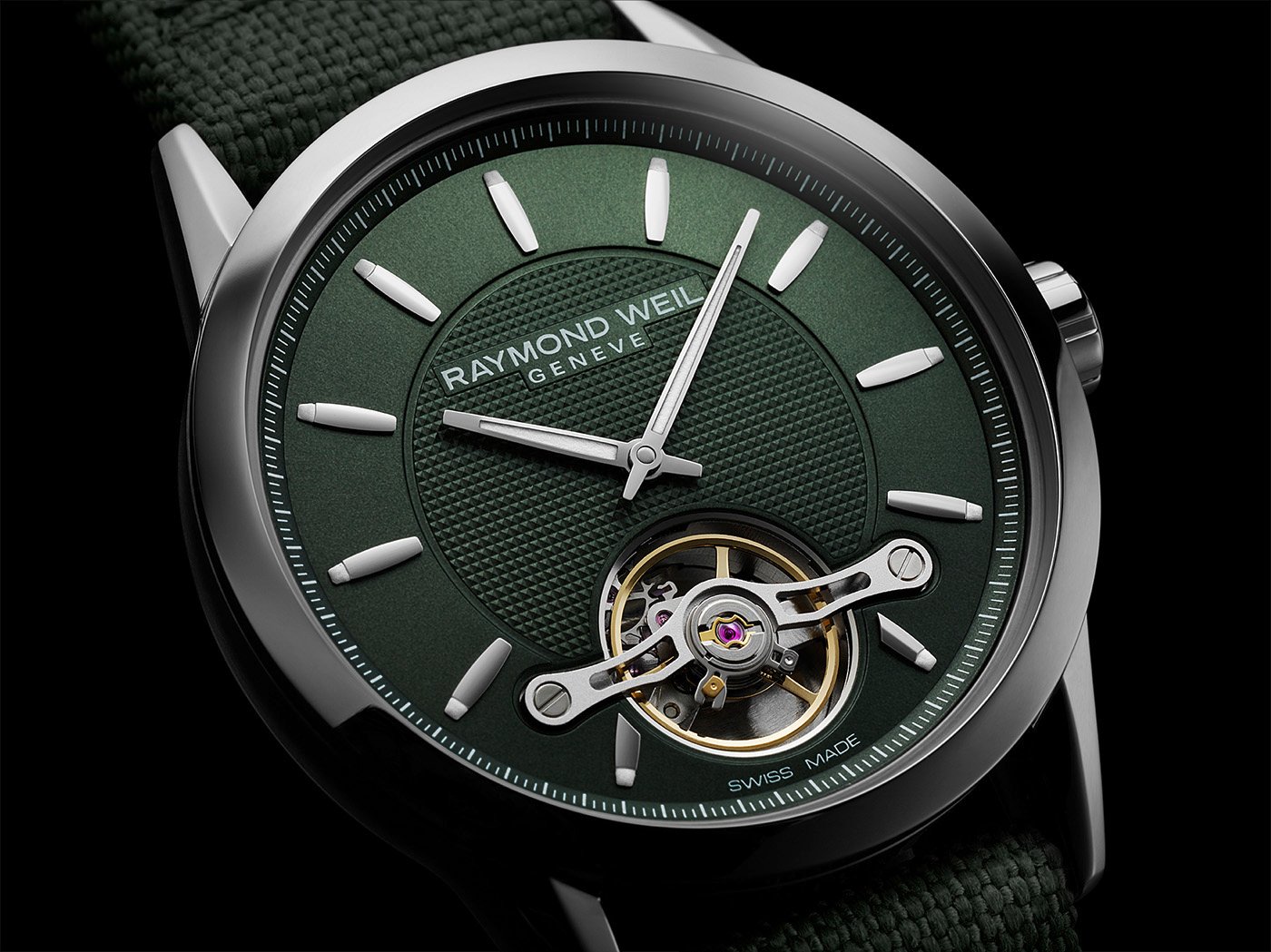 Why non-enthusiasts proudly sport a Raymond Weil
I don't have any statistics to base this on, but at least let me divulge a few theories of why this might be. Firstly: Raymond Weil is Swiss Made. But it is not the "Swiss Made" where you'd have to go to an own-brand boutique in an exclusive center of a large Metropolis. The high street store, the mini-mall, even an online shop, will give you the ability to purchase a Raymond Weil. You couldn't say this of the typical grail brands such as Rolex and Patek Philippe. So, to those not in "the know," owning a Raymond Weil is a straight-forward and satisfactory process.
Raymond Weil is Swiss Made. But it is not the "Swiss Made" where you'd have to go to an own-brand boutique in an exclusive centre of a large Metropolis.
Secondly, a Raymond Weil watch may not garner the attention of the enthusiast community, but they are at least an attainable product. Lastly, I just used the word "product." I usually dislike referring to Swiss watches as products. But for Raymond Weil, I feel it is appropriate. Not to discredit the designs or quality, but there is a general turnover of new watches and seasonal collections. The product refresh is more in alignment with a company that pays attention to what is popular and what is not. Rather than steadfastly insisting a flailing collection needs to stay as part of the portfolio for the sake of tradition.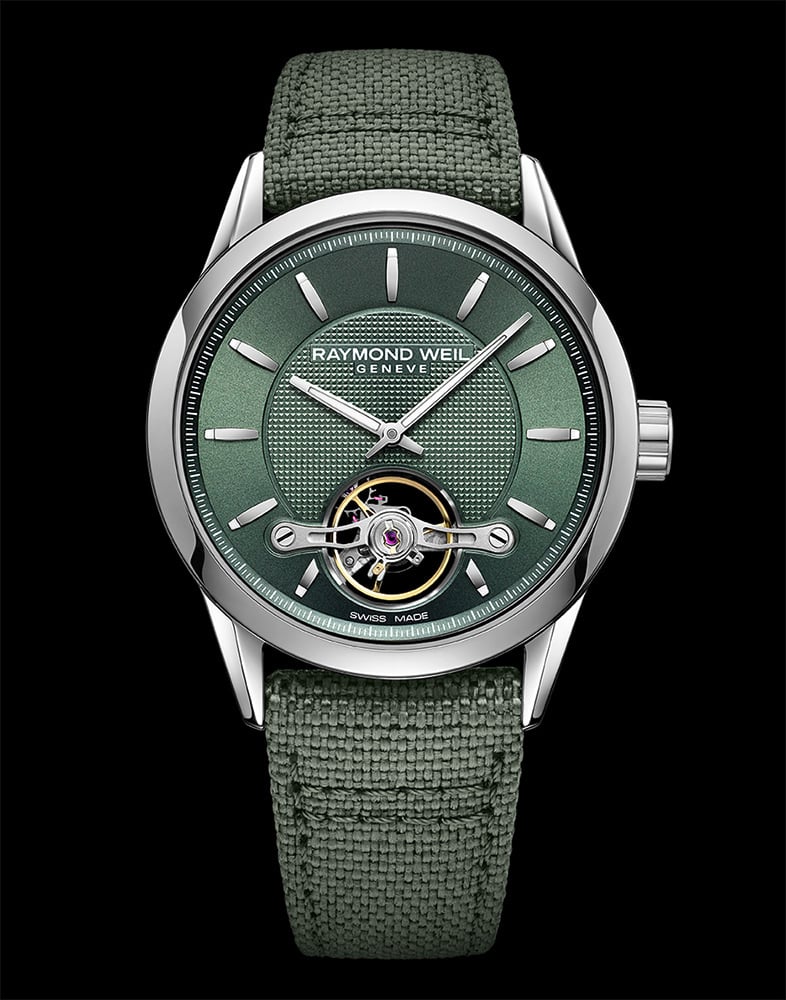 Raymond Weil Freelancer with new green dial
Moving on to the watch itself, the new Freelancer stays on trend with the green theme that has been doing its best to beat out the color blue in the hearts and minds of wristwatch lovers. Here we have a slight olivine hue that blends well with the fabric strap. And all that green might have been enough to woo you as it was, but there is more. There is an elephant in the room. Or, should I say, an elephant on the dial…
Often evoking thoughts of tourbillon movements, the open-heart dial in the Freelancer only provides a view of the balance wheel. The same type of balance wheel that makes the majority of mechanical watches tick (although that's not the case for Grand Seiko's Spring Drive, which you can see below).
Animation
It is interesting to have this aperture, bringing some animation to an otherwise bare dial. It also serves as a reminder that this Raymond Weil is proudly mechanical. On occasion, the double-sided crystal allows an unimpeded view directly through the watch. That is until the self-winding rotor swings around and blocks the view.
…a deal-breaker…
The centre sector of the watch has a dressy hobnail pattern that plays with light in an eye-catching manner. It blends nicely with the satin finish of the outer dial and smooth silver indices. The minute hand does not quite reach the minute track that hugs the perimeter of the watch case. It may not be a deal-breaker for me, but I know others who routinely set their watch to the precise minute. They may find it challenging to do so.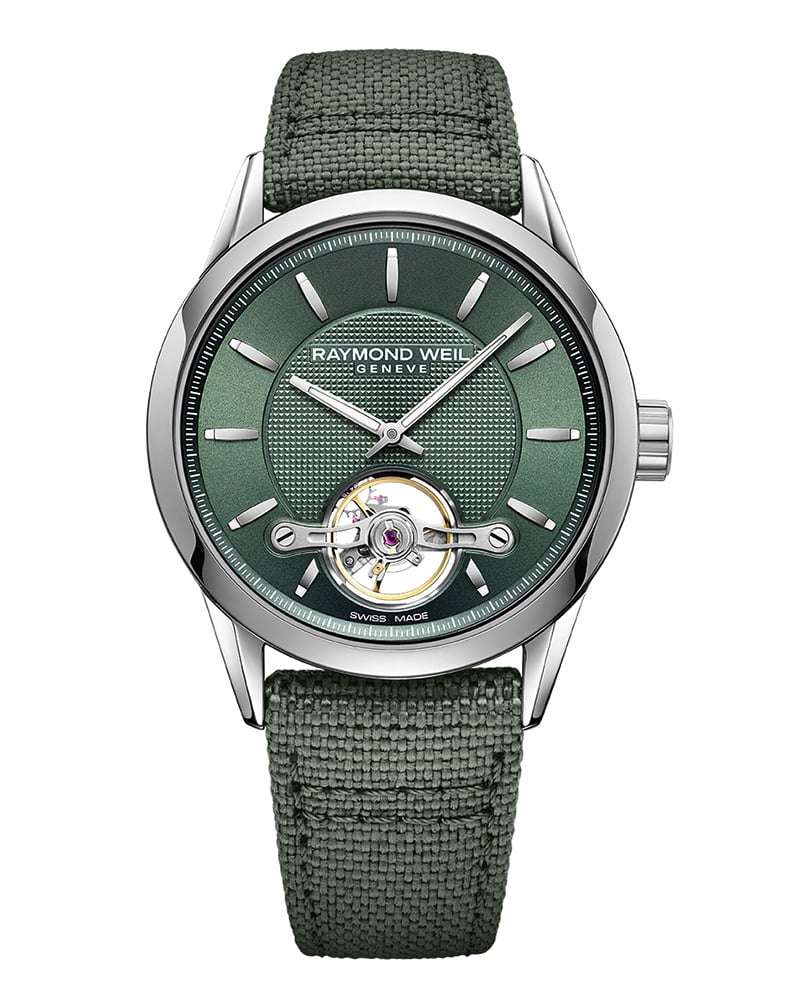 The dual-spoke bridge prominently features on the dial, but I find the execution quite industrial. To me, this is a positive as I like how it blends what would typically be an elegant design with a more utilitarian feel. The Freelancer would look quite at home on the slopes or at a dinner reception. You would feel safe in taking it swimming thanks to the 100-meter water-resistance rating that is secured with a screw-down crown. The 42mm stainless steel case is polished on the top surfaces and brushed on the case sides. Available for €1,990 or £1,750, you find more details on the Raymond Weil Freelancer Calibre RW1212 in green here.
Follow me on Instagram @benjameshodges
Watch specifications
Model
Freelancer Calibre RW1212 Green
Case Material
Stainless steel
Case Dimensions
Diameter: 42mm Thickness: 10.6mm
Crystal
Sapphire crystal with dual-sided antiglare treatment
Movement
Mechanical self-winding in-house movement, with visible balance wheel – RW1212
Water Resistance
100 metres
Strap
Green synthetic fabric with RW folding clasp and double push-button security system