New Release: Frederique Constant Highlife
An icon returns after more than 20 years
After more than 20 years, Frederique Constant found a perfect moment to resurrect its Highlife model. Watches with integrated bracelets are hot, and it was precisely this type of timepiece that was lacking in Frederique Constant's line-up. But not anymore, meet the new Highlife!
Here at Fratello, we've been Frederique Constant enthusiasts like forever. That already resulted in a Fratello-exclusive version of the Moonphase Manufacture, which you'll find in our shop as well. After we had the possibility to lay our hands on the brands latest offspring last week, we are now happy to introduce you to the: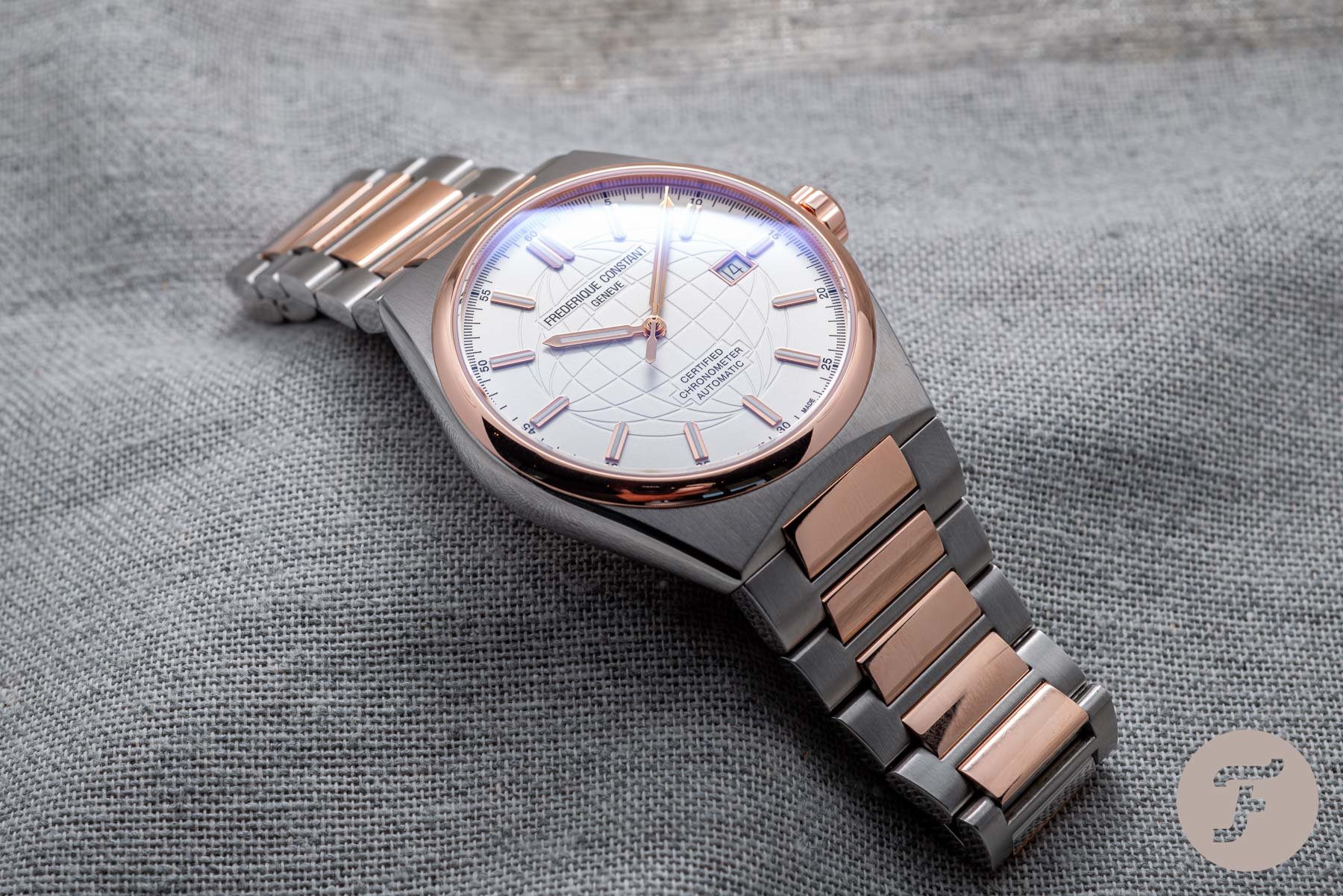 Frederique Constant Highlife 2020 Collection
Faithful to the original collection from 1999 the new Highlife collection shares quite some characteristics.
Like being Swiss Made, affordable, and made for everyday use. And as well, the Highlife 2020 collection shares that it offers an integrated bracelet again. The lack of horns allows for great flexibility in wearing and helps the watch sit naturally on the wrist.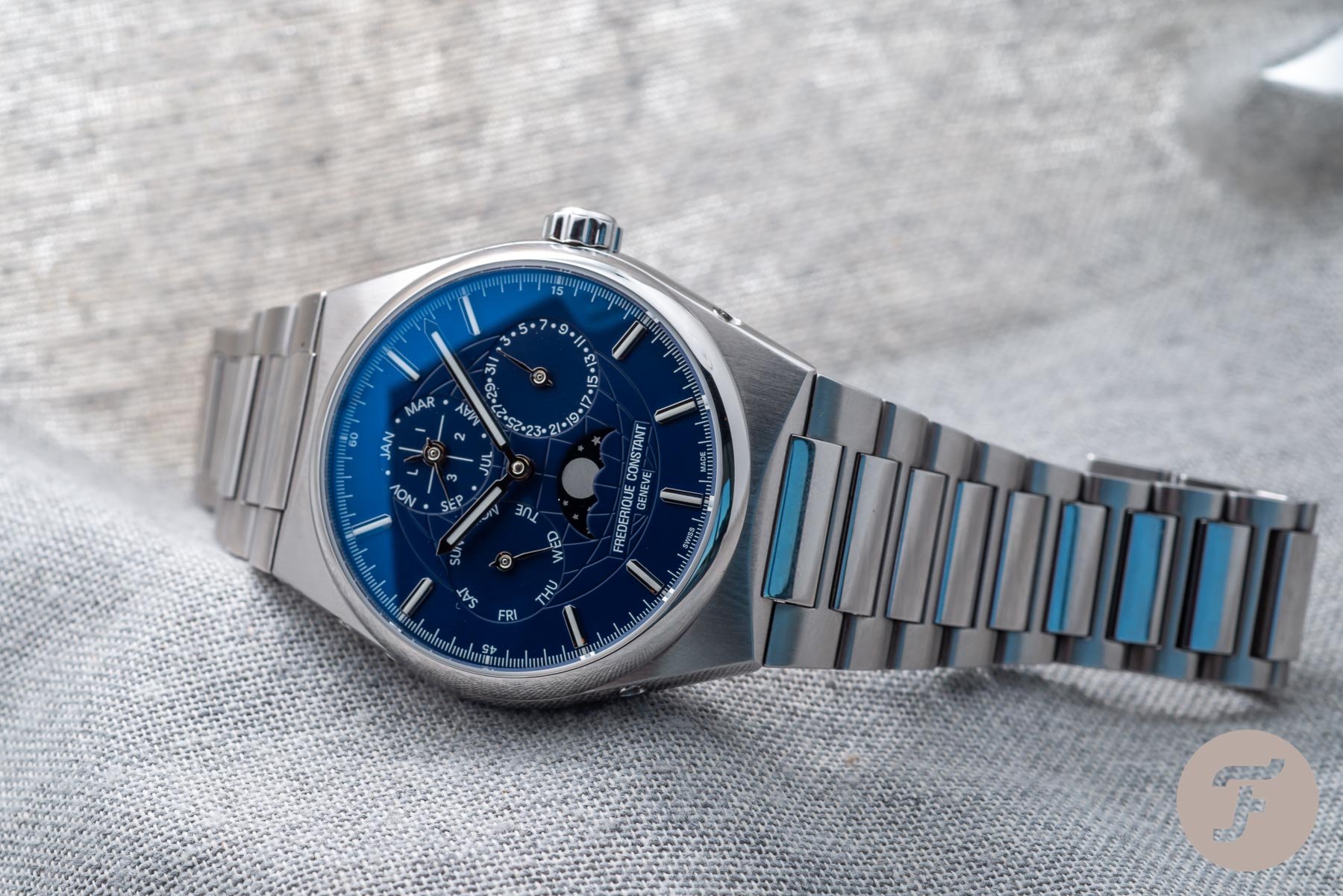 Three movements
In the now introduced Highlife collection, there's a choice of three movement types. First, the Heart Beat. Frederique Constant's well-known automatic movement that shows the rotation of the balance wheel through an aperture in the dial. Second, the Automatic COSC. A movement with date indication, COSC certified, so accurately running within chronometer specifications. And third, the Perpetual Calendar Manufacture. An automatic in-house caliber, sporting a perpetual calendar.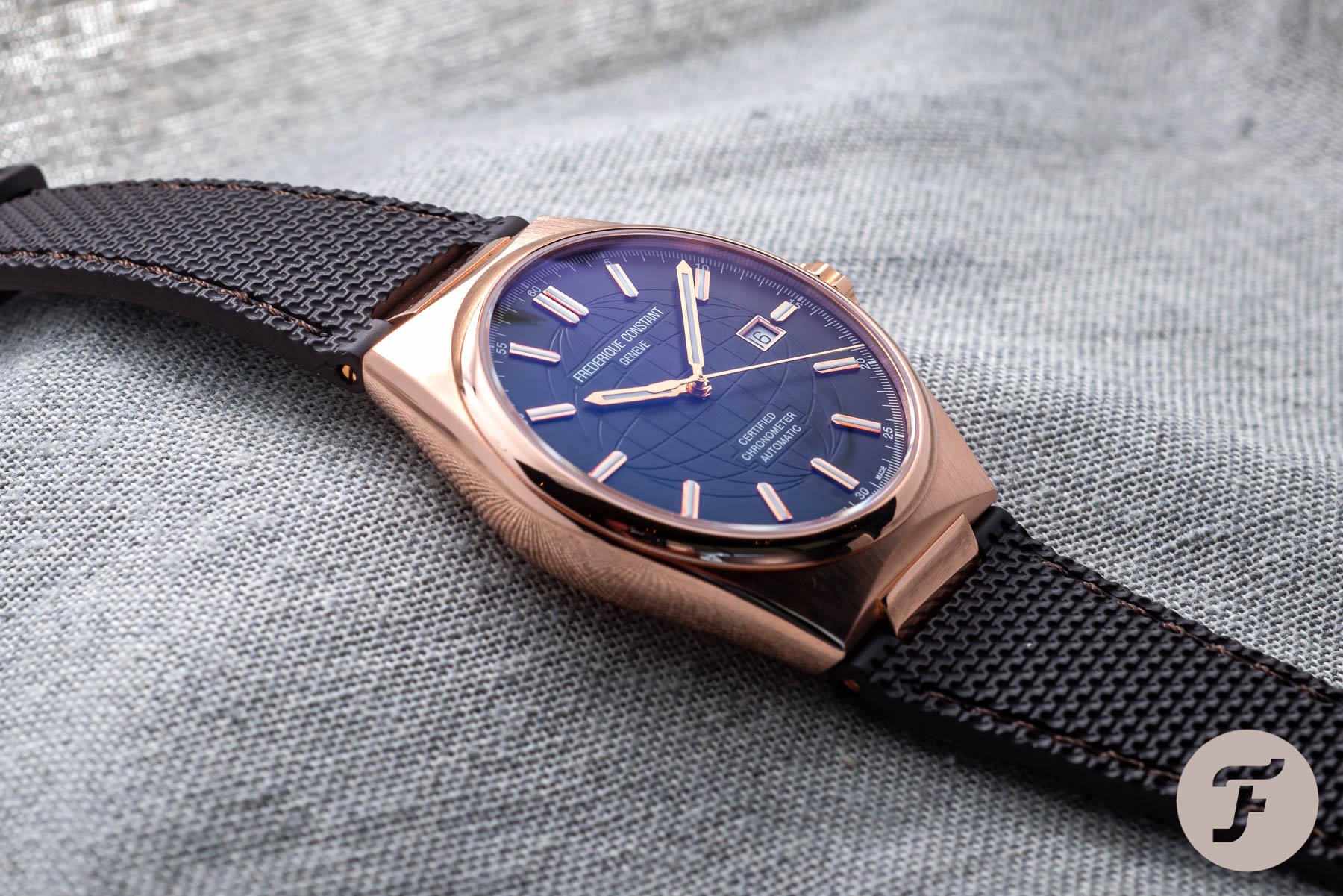 Three Highlife dial colors
Then there are three available dial colors; blue, black, and white. However, not all dial colors are available for all three movement types. All dial versions in the Highlife collection are nicely embossed. Unifying the pack, each one features the same globe motif, symbolizing harmony, and perfection of the circle. Frederique Constant says it's also the icon of a new generation that shares the same ideal for saving the planet, sustainable and sensible living.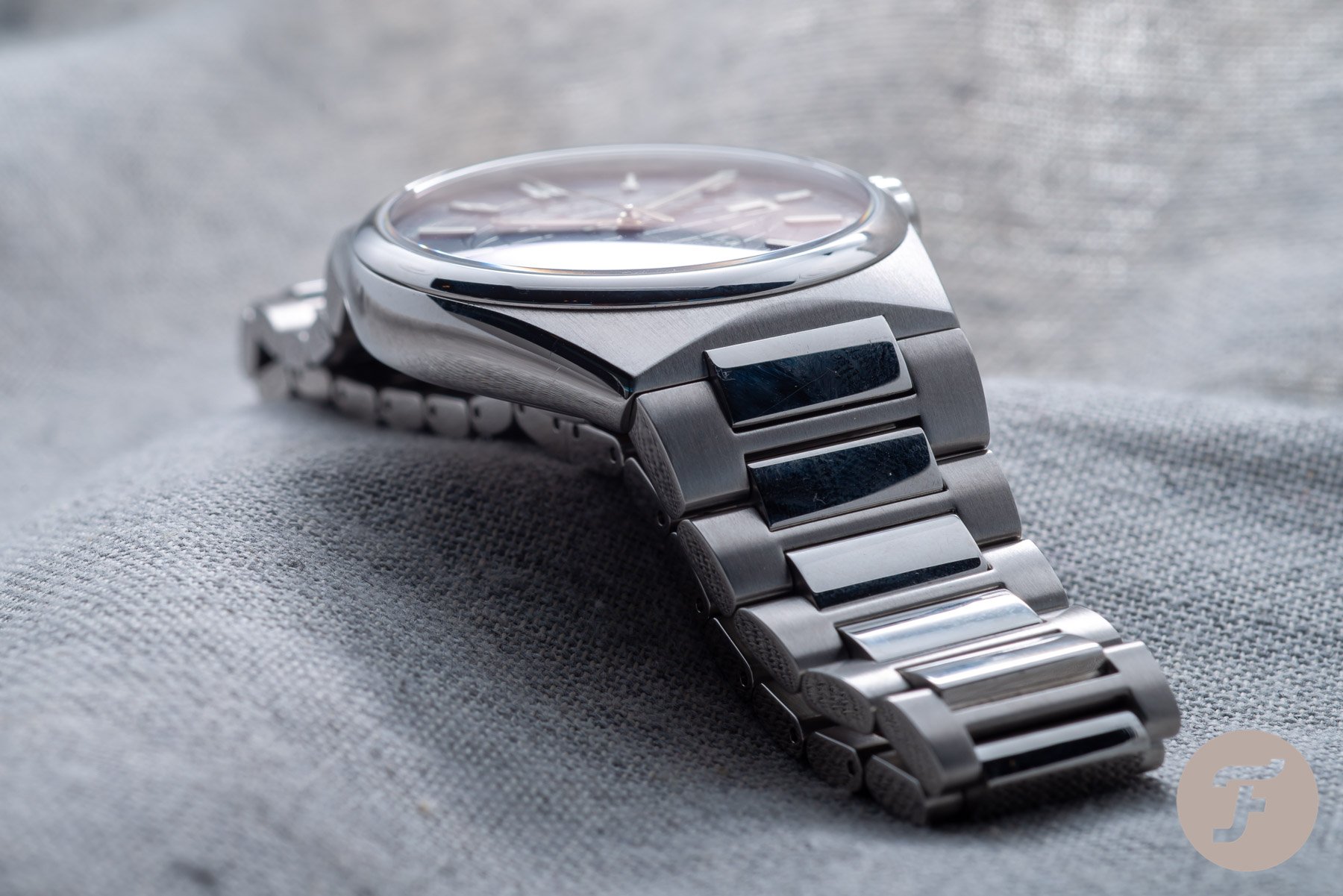 Three case material styles
All versions use the same size, 41 mm, casing. But there is a choice of stainless steel, two-tone steel goldplated, and fully gold plated. Again, not all case variations are available for all three movement types, nor are all variations available in combination with the three dial colors.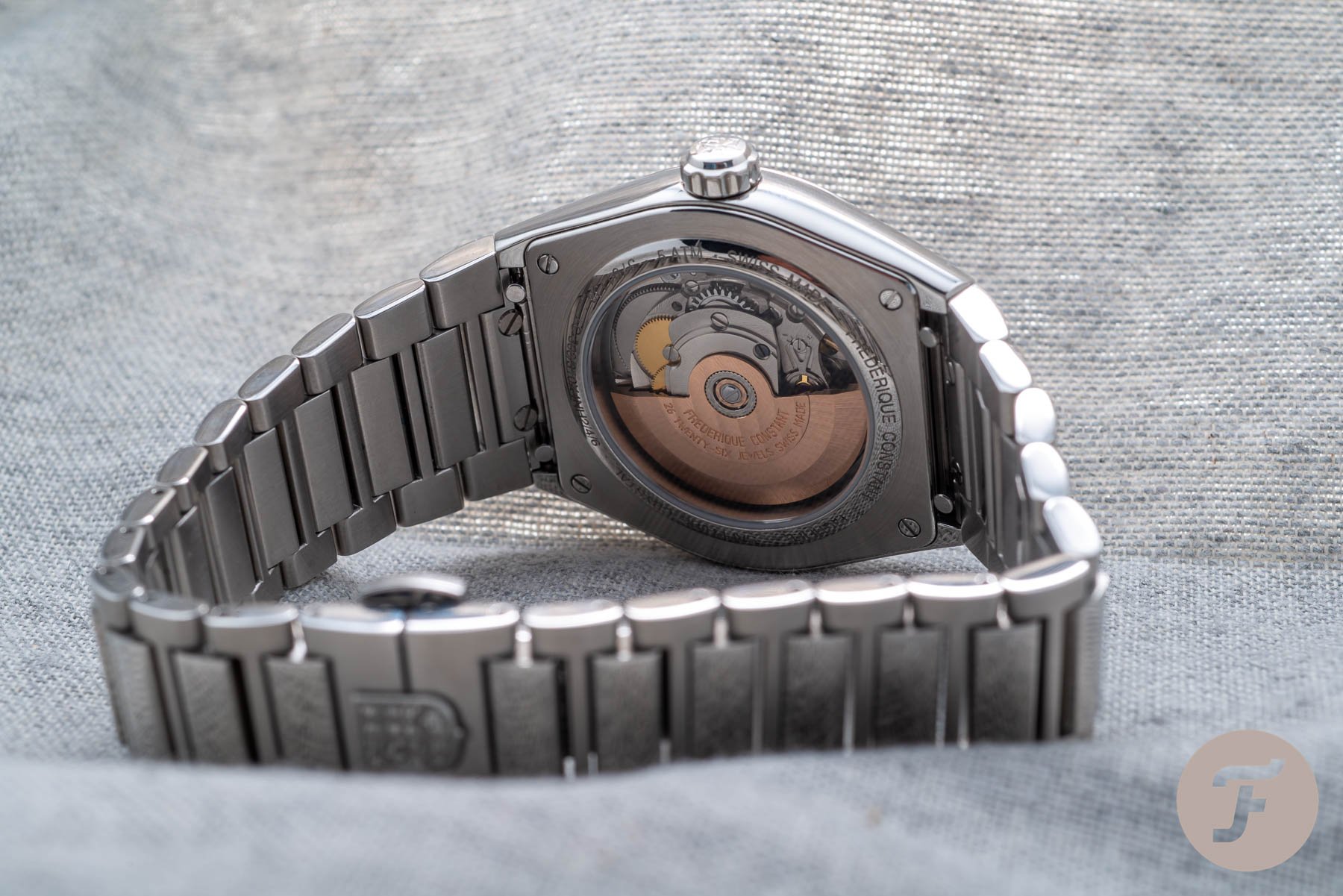 All models in the new Highlife collection sport a sapphire crystal case back, shown here above. Just like the quick-release interchangeable construction for the bracelet and or straps.
Highlife interchangeable bracelets and straps!
Although I think that the integrated metal bracelet of the Highlife is the real showstopper, there are leather and rubber straps available as well. And the good news is that Frederique Constant uses an interchangeable system (as can be seen in the picture above) that allows the wearer to change the bracelet with ease. Even better, an extra leather or rubber strap is supplied with every watch.
Clearing things up a bit
So we have three different movements, three different dial colors, three different case-material styles, and a boat-load of additional straps and bracelets. Theoretically, this could make up for a zillion watches in the Highlife 2020 collection. But, as mentioned above, that's not the case. Frederique Constant wisely chose for some of the most attractive combinations. The good news, in my opinion, is that all movements are available in a stainless steel case with a dark blue dial. And all of these are supplied with an extra blue rubber strap.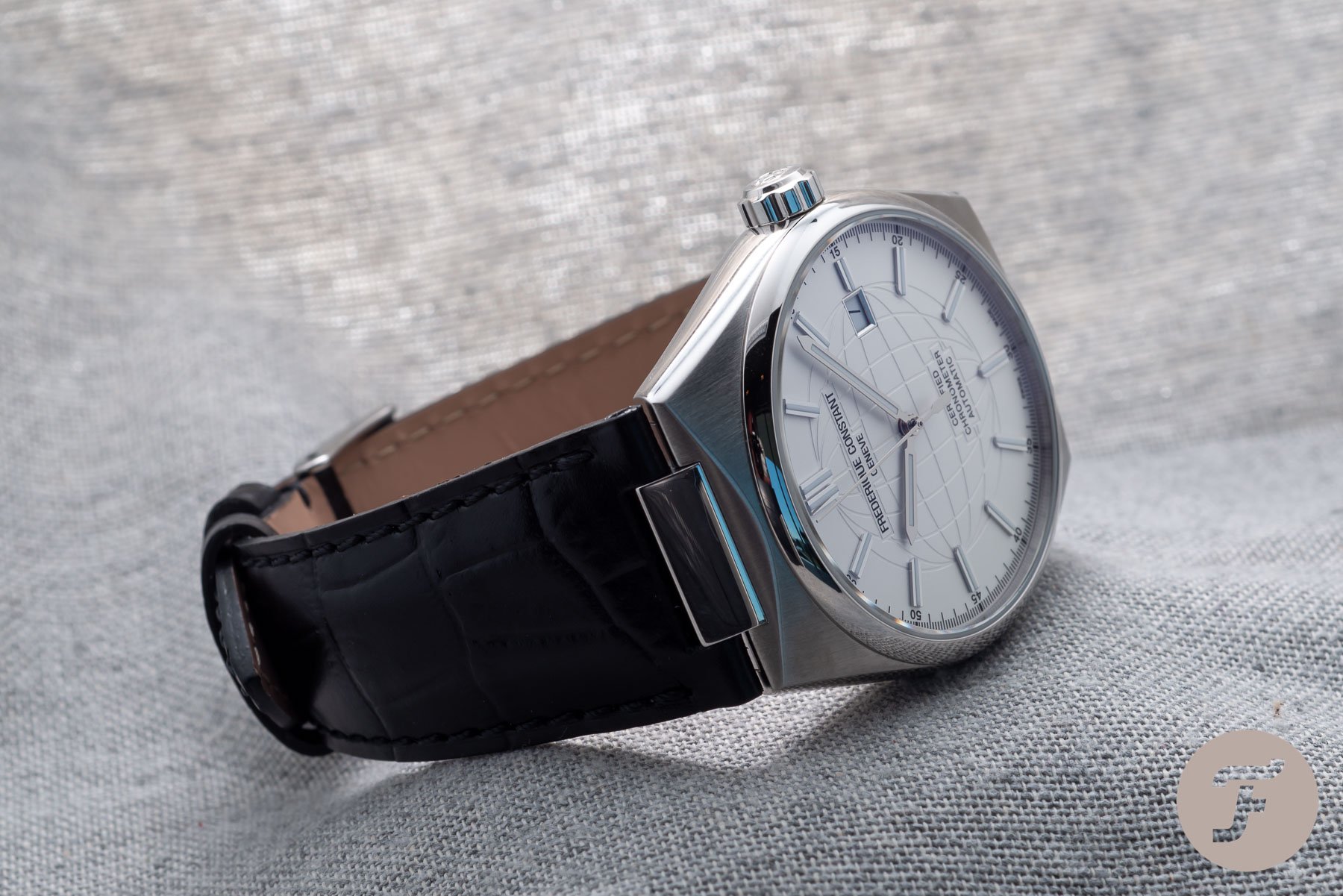 I won't go in detail about the further available model executions, but in short, it's like this. The Heart Beat can be had in three versions, while there are four versions of the Automatic COSC. Then the Perpetual Calendar Manufacture is available in three versions again. In my opinion, it's a pity that there's no stainless steel model available with a white dial. Something I would like to see in the future. And how about a salmon dial…? 😉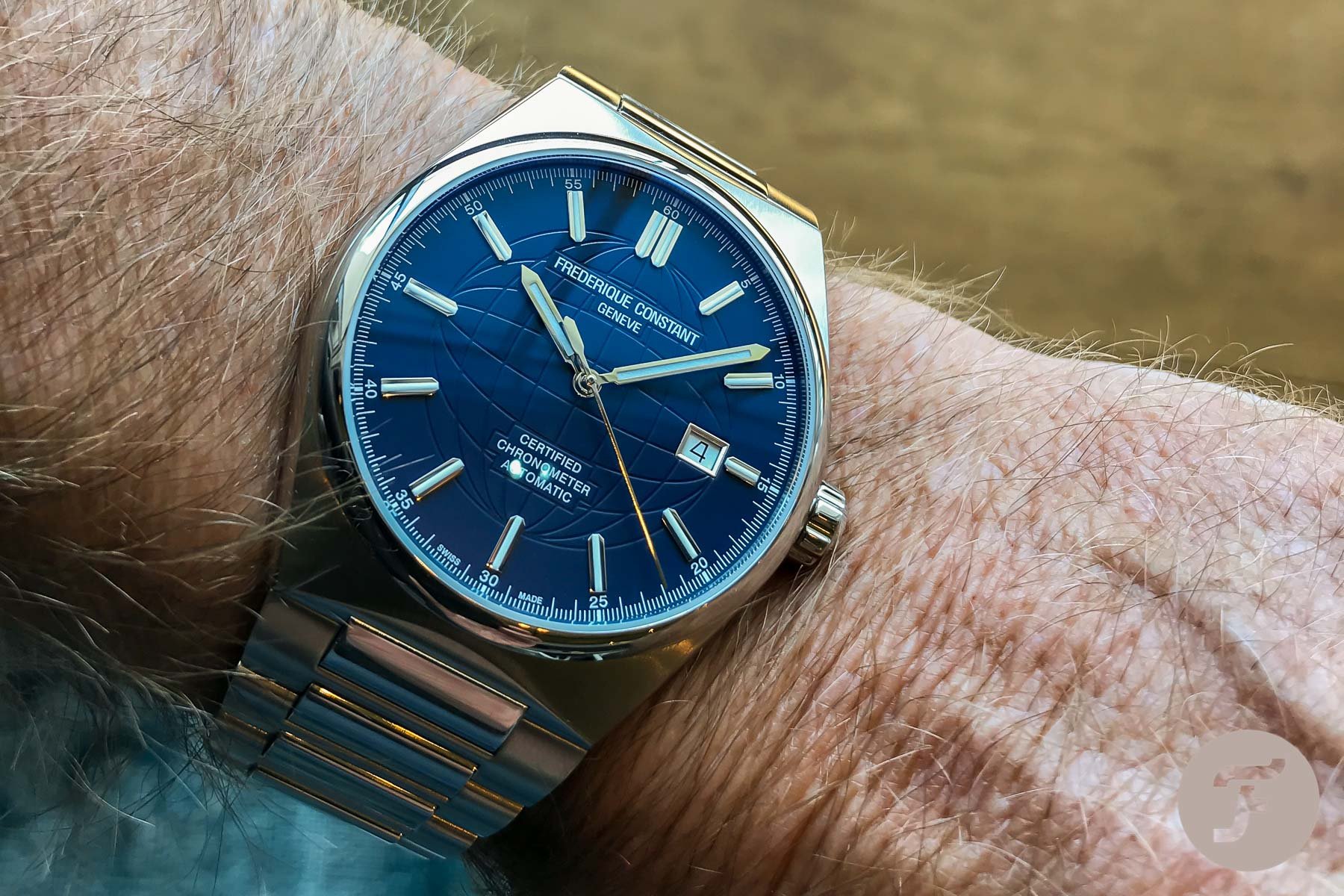 The technical side
Like mentioned before, and on par with Frederique Constant's general character, the Highlife aims at affordability and everyday usability. Technically the watches breathe this as well. The size of 41 mm sits perfectly on my 18 cm wrist, and I can see it will suit wrist sizes smaller and larger easily. The pressure rating of 5 ATM (50 meters) is adequate for any daily activity, and the convex sapphire crystal, with anti-glare coating on both sides, will keep the view at the dial clean for many many years.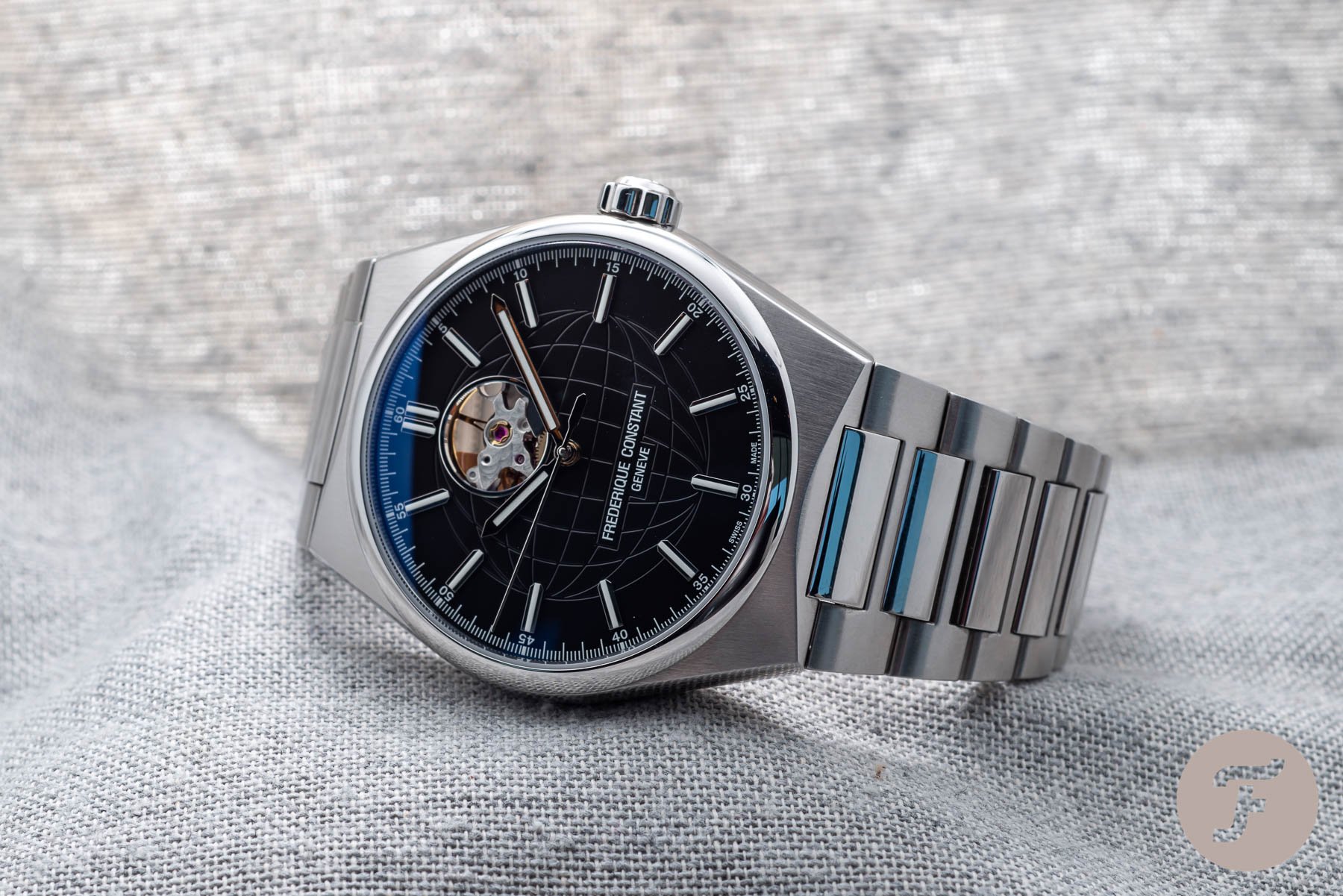 The case and bracelet finish might even be above the affordable quality level. The three-part case is finely brushed in combination with polished accents. No sharpness, no flaws whatsoever; this could have been a watch of a very different price level as well. Even the metal bracelet – often a point of criticism in this league – withstands my critical eye extremely good.
…only the movements witness the price level
It is the movements that mainly witness the price level of the new Highlife series. Here we don't find any additional extras like enhanced magnetism, extra running autonomy, or the use of exotic materials. Only on the in-house FC-775 Manufacture Perpetual Calendar caliber, you'll find perlage and circular Côtes de Genève decoration. The Open Heart and COSC calibers, FC-310 and FC-303, are Soprod sourced and very adequate for their task, but pretty much undecorated.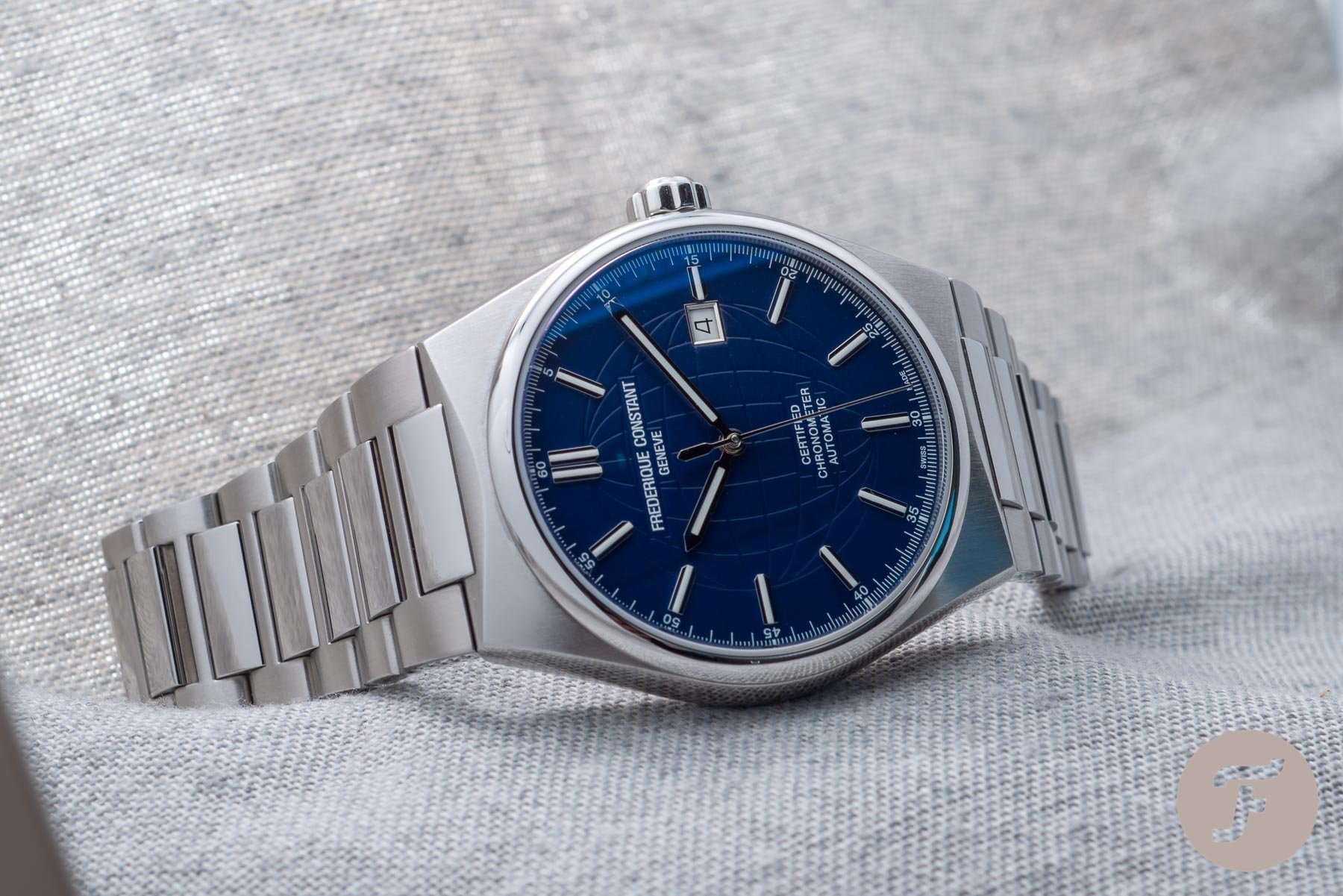 Price and conclusion
Now that I've mentioned the affordability of the Highlife series it's about time to reveal the actual prices. Stainless steel, integrated steel bracelet models start at €1,795 for the Automatic COSC, to €1,895 for the Heart Beat, and end at €8,595 for the Perpetual Calendar. Two-tone models cost €200 more, while models without a metal bracelet cost €100 less. I mean, less than €1,800 for a stainless steel integrated bracelet 5 ATM watch, with sapphire crystal on both sides, plus an extra rubber strap; that's affordable in my book.