New Release: MB&F LMX — Celebrating Ten Years of Legacy Machines
MB&F drops a mind bending set of stunners to mark a decade of innovation
It's hard to believe that the first MB&F Legacy Machine dropped way back in 2011. Now, ten years on, we look upon the new MB&F LMX as the brand celebrates a decade of innovation.
In life, it is said that certain things are an "acquired taste". Some come along purely with age, but others require real work. Oddly, a pint of Guinness comes to mind — my first beer ever and wow did it disappoint. Now, though, I love the muddy stuff and can appreciate it for what it is, which is different from the norm. And so it goes with Haute Horlogerie… I think I "get it", but I generally watch it from afar and move on to something more easily digestible and familiar. All that changed last September in Geneva, though. Blame MB&F and a visit to the brand's "booth." After taking hold of a Legacy Machine, the switch flipped and I acquired said taste. With today's new MB&F LMX editions, I have one message — tell the barman to start lining them up…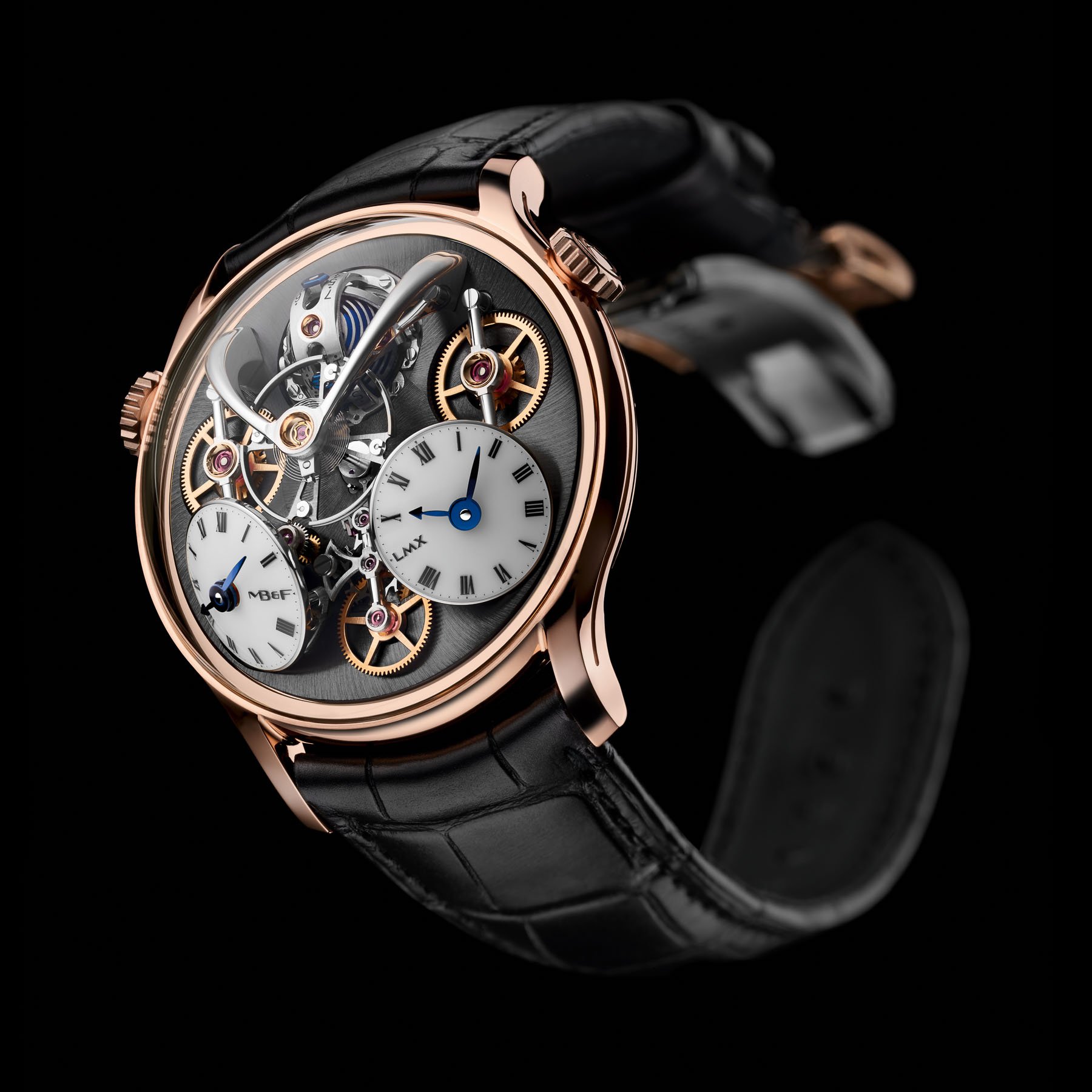 Haute Horlogerie and aesthetics
When it comes to haute horlogerie, it's often that the watchmaker's work is on display. This means that somehow, a wild movement has to sit inside some sort of watch case. The best examples, in my view, create an epic watch that manages to display the innovation in a pleasing overall execution. The worst ones — and I won't shame here — look like alien droppings. Watches in this sector are pretty artsy and often incredibly limited. Therefore, spending a ton of time on looks could be deemed as useless. After all, selling a handful of something is usually doable. With the new MB&F LMX and former Legacy Machines, I think that looks and technical prowess are complimentary.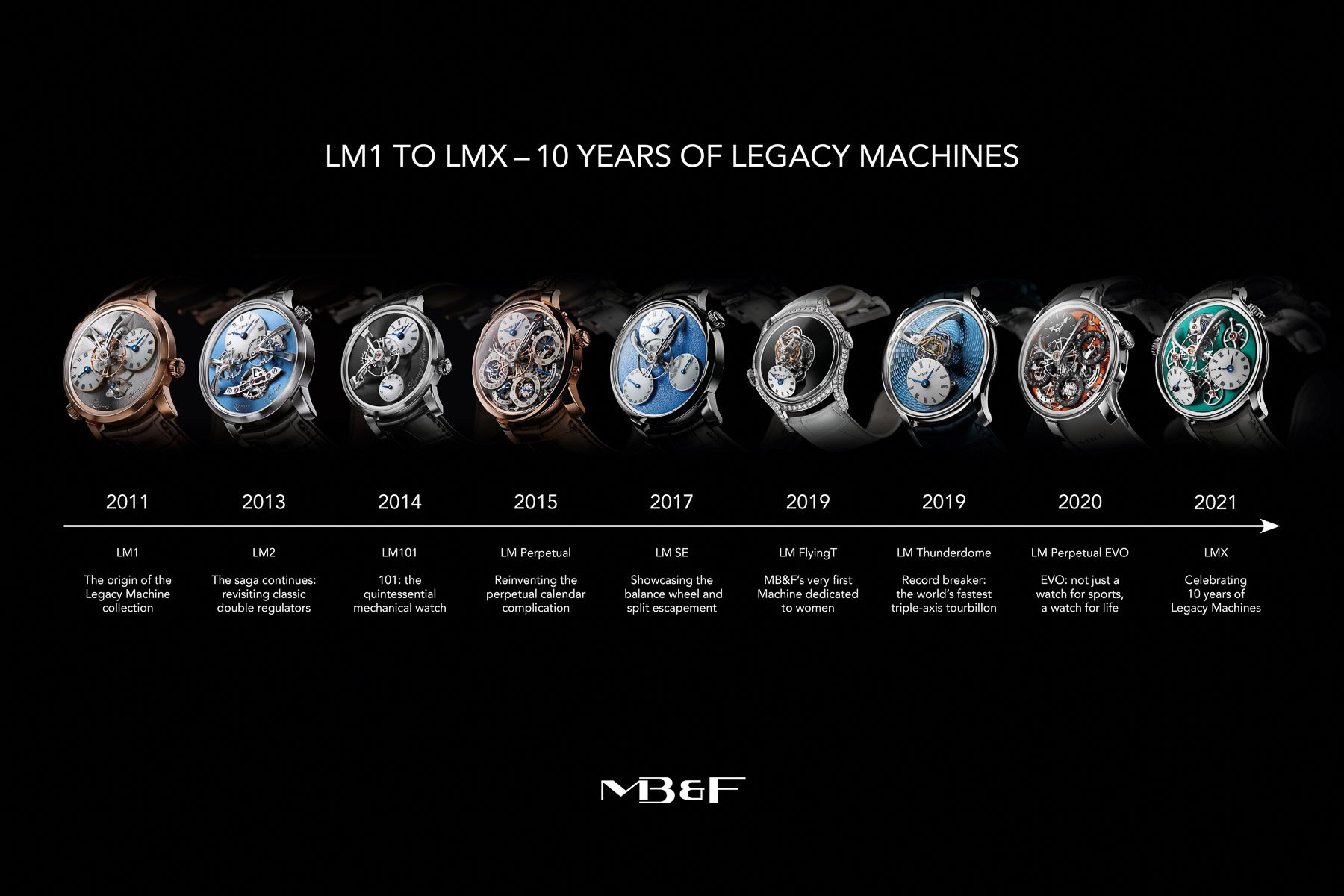 A legacy of epic looking watches
The graphic above does a really nice job of highlighting previous Legacy Machine models. You can see how it all ends up with today's MB&F LMX. Common themes are a highly domed crystal, the UFO-like "flying bridge", and a white lacquered dial with traditional detailing. Throughout the decade, MB&F has brought in masters to create different types of movements and complications within the series as well. Vivid colors are also something I truly appreciate and something I will always remember from last year's collaboration with Moser. Now, with the new MB&F LMX series, the theme carries forward and, as always, brings something new.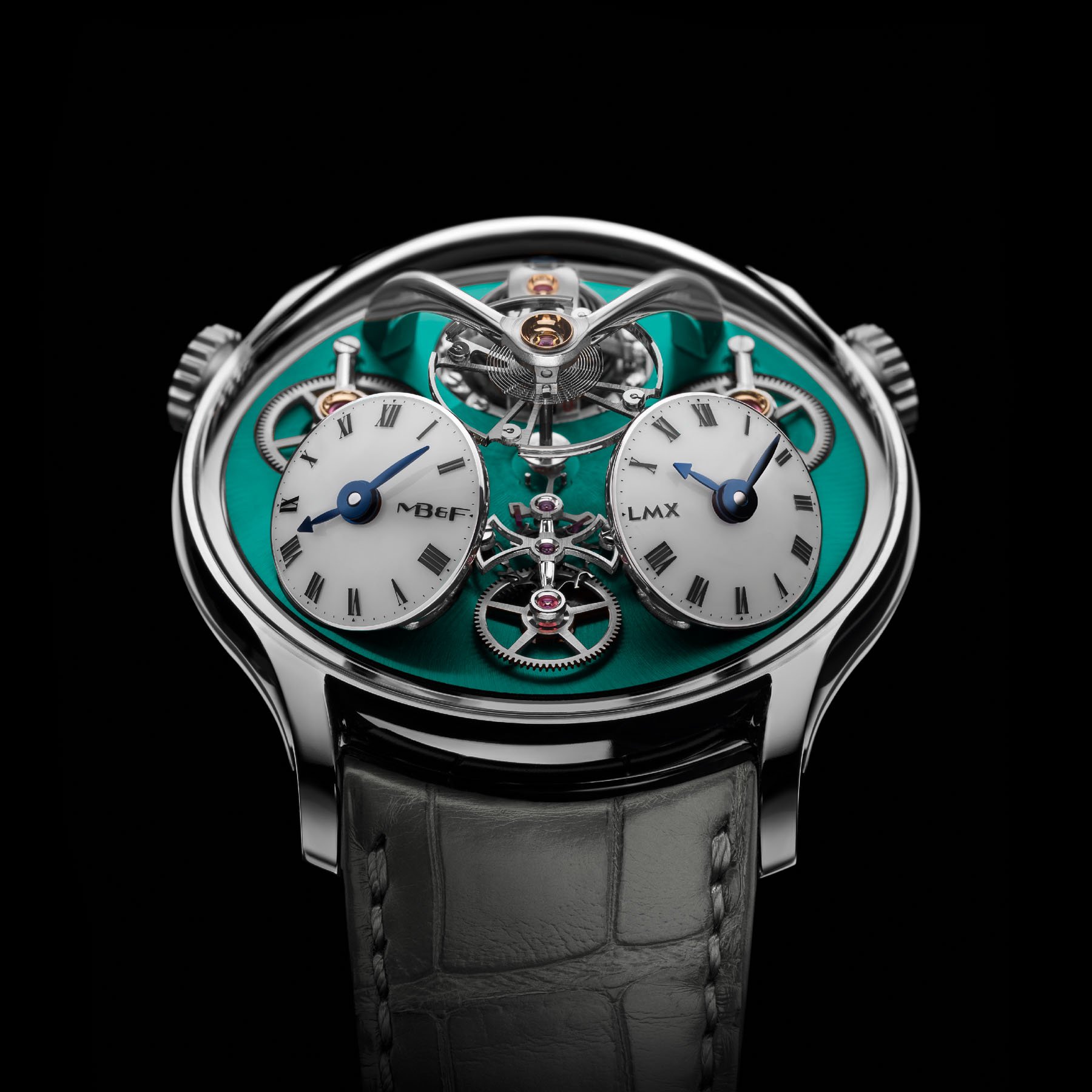 The MB&F LMX
The new MB&F LMX series will come in two flavors in 44mm by 21.4mm cases. A red gold variant is equipped with an anthracite dial while a titanium version comes with a vivid green that reminds me of an old Accutron Spaceview. Just 18 pieces will be available of the former and 33 of the latter. Both watches will come equipped with a brand new dual time zone manual wind movement. The flying balance wheel is here of course and so are two white lacquered dials. The dials, by the way, are tilted both vertically and laterally. This angling, MB&F tells us, required the use of conical gears to transmit energy from a flat plane to the angled format.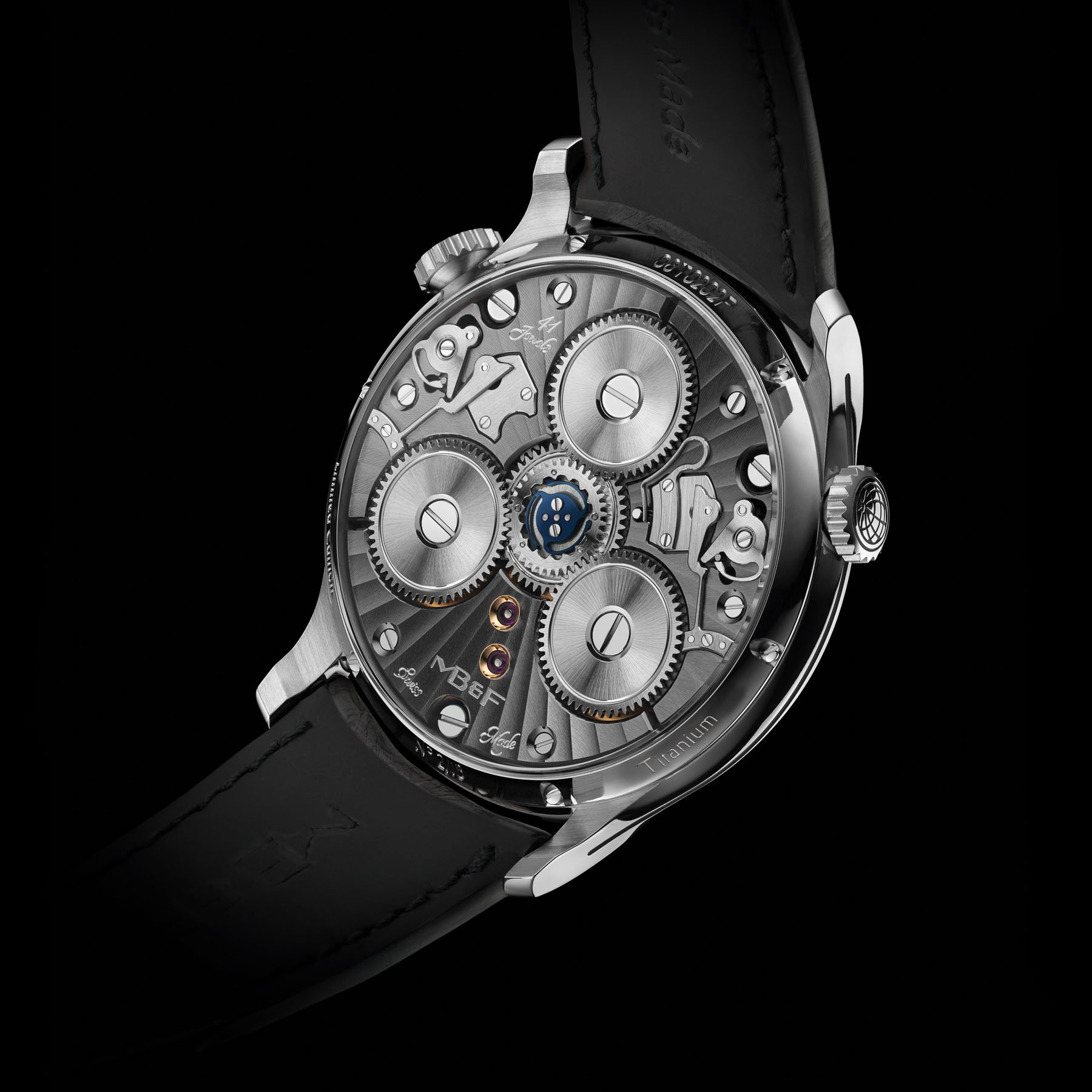 The battle-axe adorned crown at 2 o'clock hand-winds the seven day movement and sets the time for the display on its corresponding side. The crown at 10 has a globe on its crown and sets the time for the additional display. If we head back to the "axe" crown, it can be wound past its end. In doing so, the wearer can rotate the power reserve indication that sits at 12 o'clock to one of two displays. The remaining power can be shown in either days of the week or one to seven. Of course, the movement is also beautifully decorated. The case back is open and the Côtes de Genève finishing is proudly on display for some of the 367 components.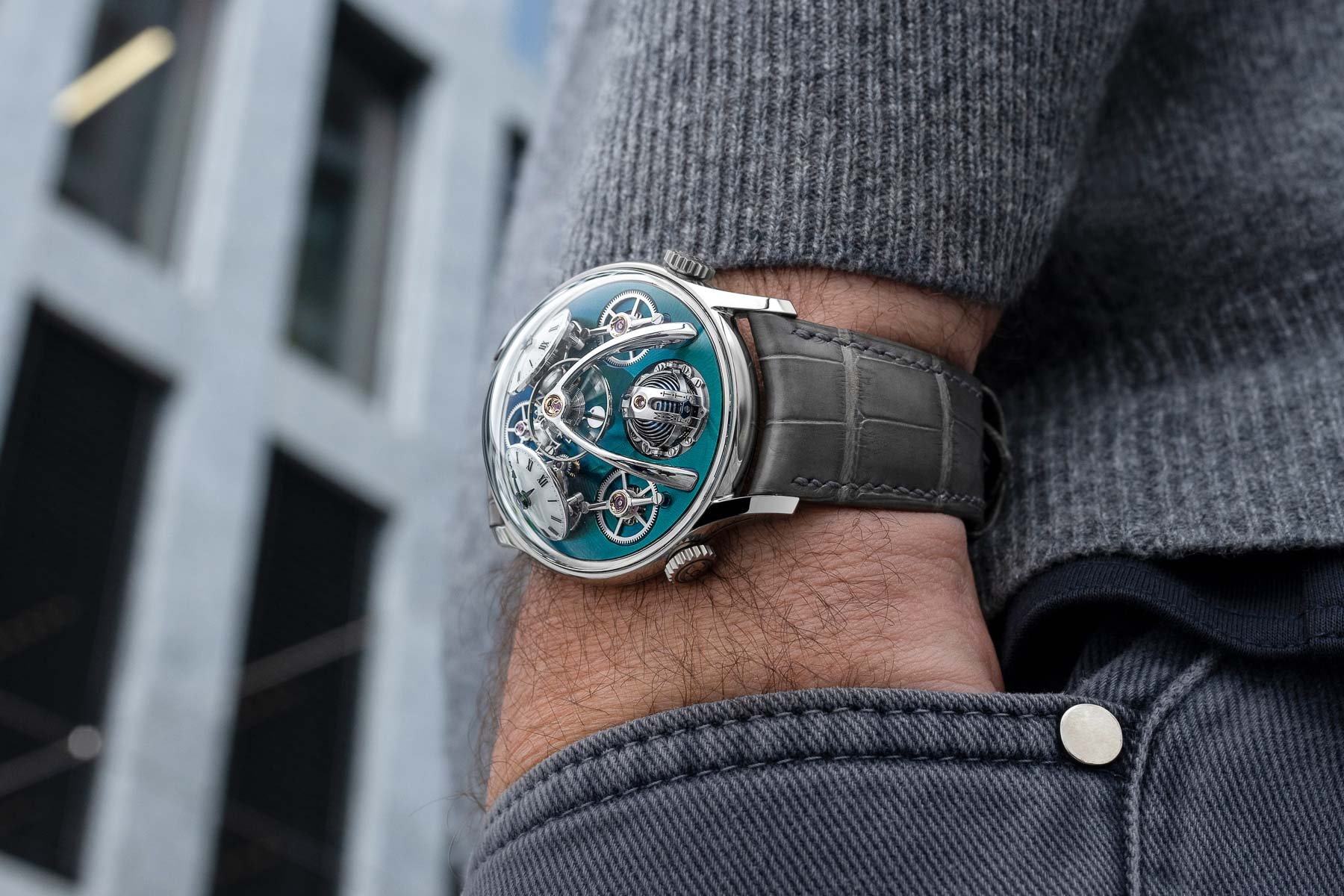 Final thoughts and pricing
It probably goes without saying that I am a fan of the MB&F LMX. This is one of those highly creative watches that brings everything together in a well rounded concept. I especially love the titanium version due to its bright colors and the technical, almost robotic look of a white metal. The 3D aspects are sensational and I hope that the lucky few owners will actually wear these. The issue of pricing when it comes to such watches is a separating point. Frankly, it usually takes deep pockets to bring home such uniqueness and the LMX is no exception. The gold will retail for €105,000 plus VAT and the titanium will sell for €92,000 plus VAT. Well done MB&F and a very happy birthday to this series of watches — now that I have the taste for such things, there's only the small part of sorting out the financing.
For more information on the MB&F LMX, visit the official MB&F site.
Watch specifications
Dial
White lacquered twin dials
Case Material
Grade 5 Titanium or 18K 5N+ Red Gold
Case Dimensions
44mm Diameter, 21.4mm Thickness
Crystal
High domed sapphire crystal
Case Back
Sapphire crystal display back
Movement
MB&F exclusive caliber, Manual winding with three mainspring barrels, 168 hours power reserve, Time display on two inclined dials, 41 jewels, 18,000vph
Strap
Black hand-stitched alligator strap with 5N+ gold folding buckle for red gold version, grey hand-stitched alligator strap with titanium folding buckle for titanium edition.
Functions
Dual time zone via two displays, power reserve display
Price
€105,000 + VAT Red Gold, €92,000 + VAT Titanium
Special Note(s)
18 Pieces Red Gold, 33 Pieces Titanium