New Release: TAG Heuer Connected × Super Mario Limited Edition
A light-hearted, nostalgic take on TAG's Swiss luxury smartwatch
When talking about watch collecting, it's important to remember why we're in this hobby: to have fun. At least that should be why. Yes, let's admit, it can be easy to get into heated debates over which brand has the finest movement finishing, the slickest adjustable clasp, or even, *gasp*, the highest resale value. But when it's all said and done, it's always best to view our personal watches as things that bring us joy. After all, there's something to be said for the guy who rounds off his box of Pateks and Langes with a Gérald Genta Mickey Mouse Retro Fantasy just because it makes him smile.
To me, the new TAG Heuer Connected × Super Mario Limited Edition has the potential to be that one really fun piece in a collection. That watch you throw on when you ain't got nothin' to prove — the Natty Light to round off a night of Dom Pérignon. Is it for everybody? No. Will it be the only watch that you own? If you're reading Fratello, that's highly doubtful. Nevertheless, for watch people like us, it could be just the type of scale-balancer a horologically heavy collection could use. But, enough for now about what it could be. Let's talk about what it is.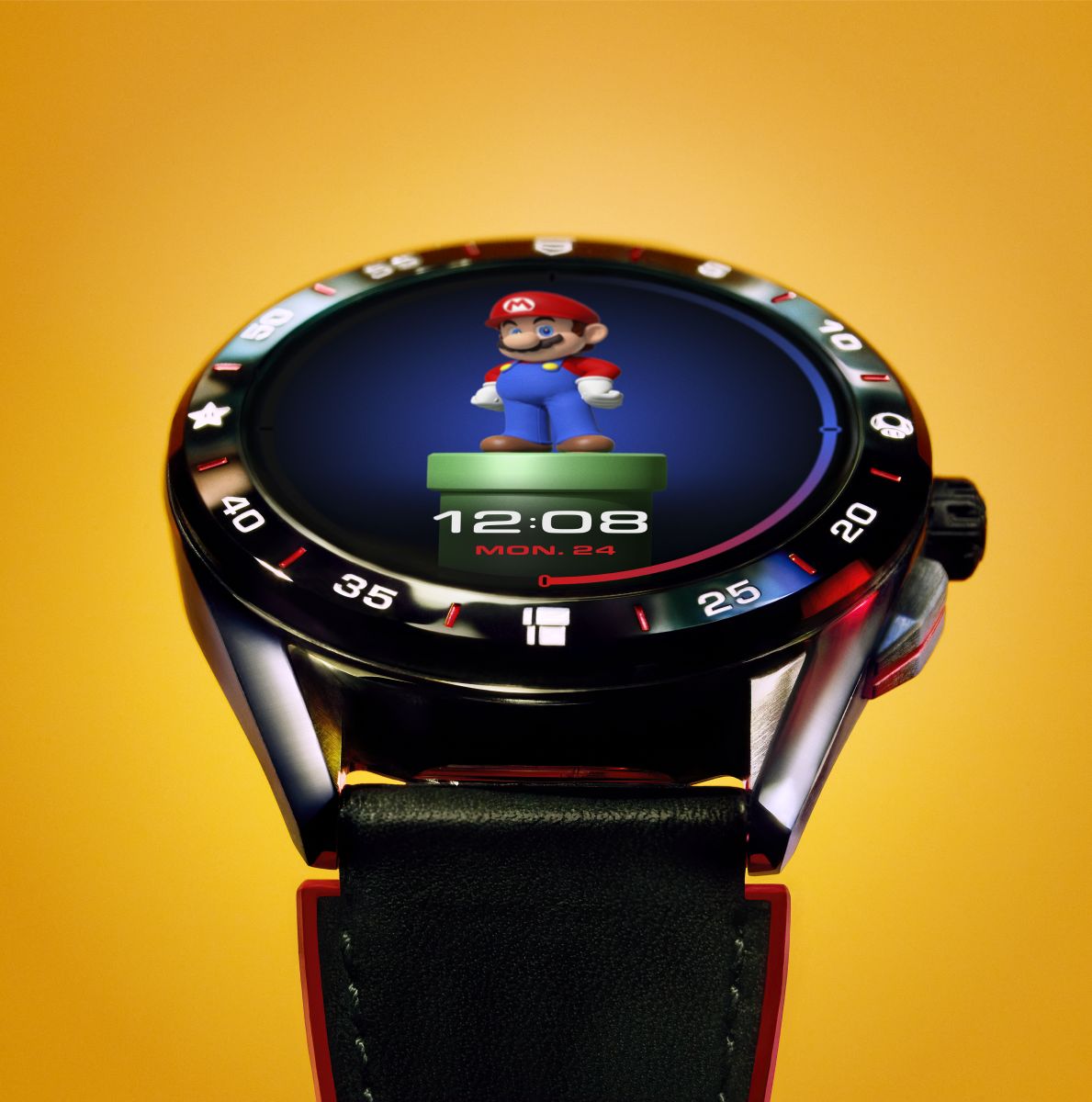 TAG Heuer's latest sporty tech
This new Super Mario Limited Edition is a whimsical take on the most recent version of TAG Heuer's Connected smartwatch. Rather than a do-it-all mini smartphone for your wrist, the 2021 version of the Connected has a well-defined purpose: to keep you on track with your health and fitness goals. It runs on Google's Wear OS and houses a Qualcomm Snapdragon Wear 3100 processor. This gives the Connected an average of 20 hours of battery life, an always-on display, and optimization for a wide range of sports applications.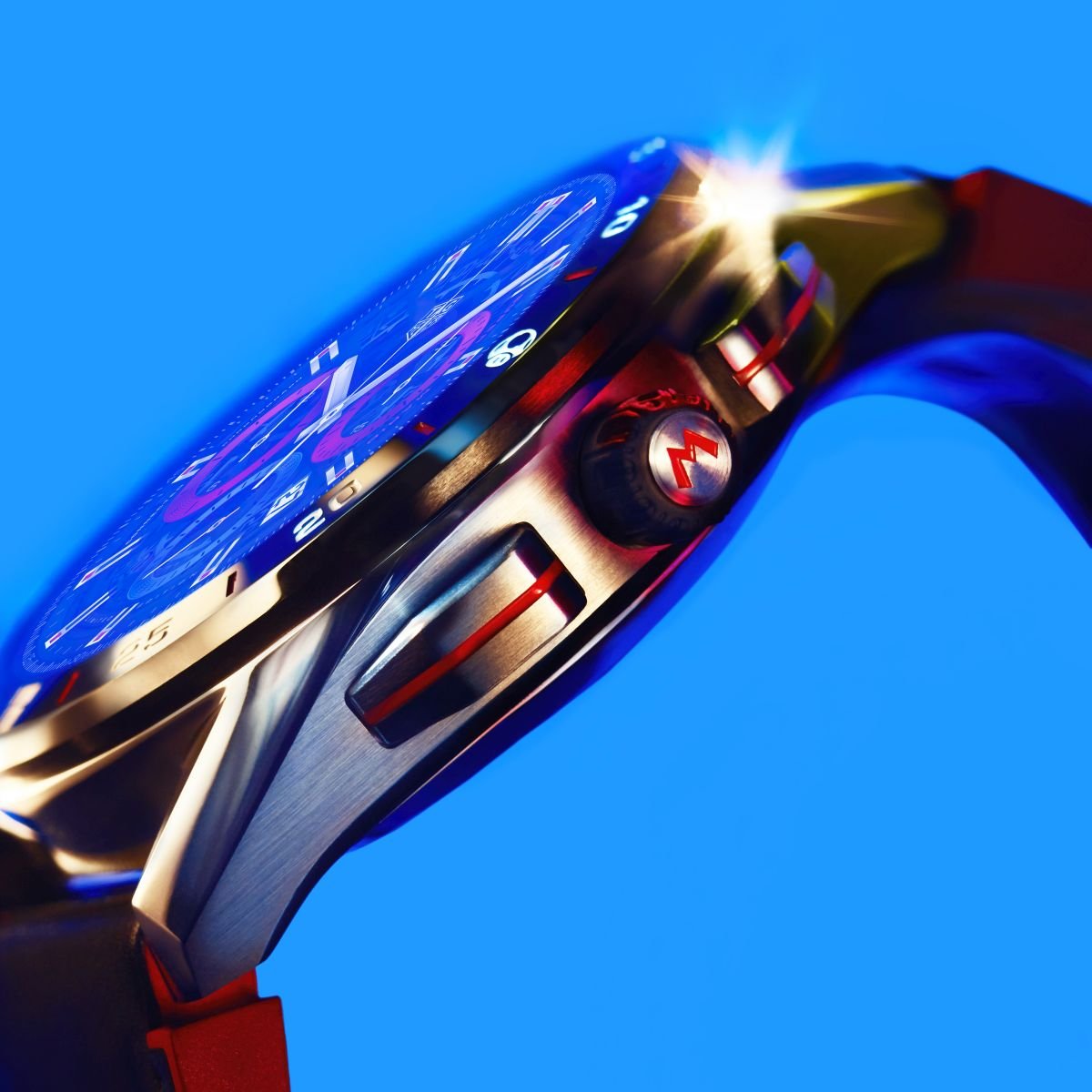 A press of the top pusher opens the Sports app. This app has modes for running, walking, cycling, swimming, fitness, and golf. Using these, one can track an array of personal performance info. From total times and distances for running and cycling to lap times in the pool, from club recommendations on the golf course to calories burnt and average heart rates, the app records everything the wearer would want to know, syncing it to the Connected app on their smartphone automatically.
The Wellness app allows the wearer to set daily calorie and step goals and to track them in real-time. The circular progress meter on the dial offers a visual summary of this data without the need to fiddle with any buttons or apps. A huge variety of apps are available through the Google Play store, including Google Fit. This app allows stat tracking during even more specific activities that the pre-loaded Sports app doesn't offer. Of course, the watch is equipped with GPS and Wi-fi and Bluetooth connectivity. The watch does not have a built-in speaker, and therefore can neither make nor take calls. However, all of the smartphone notifications one would expect on a smartwatch are present, from text messages, to email, to weather, and more.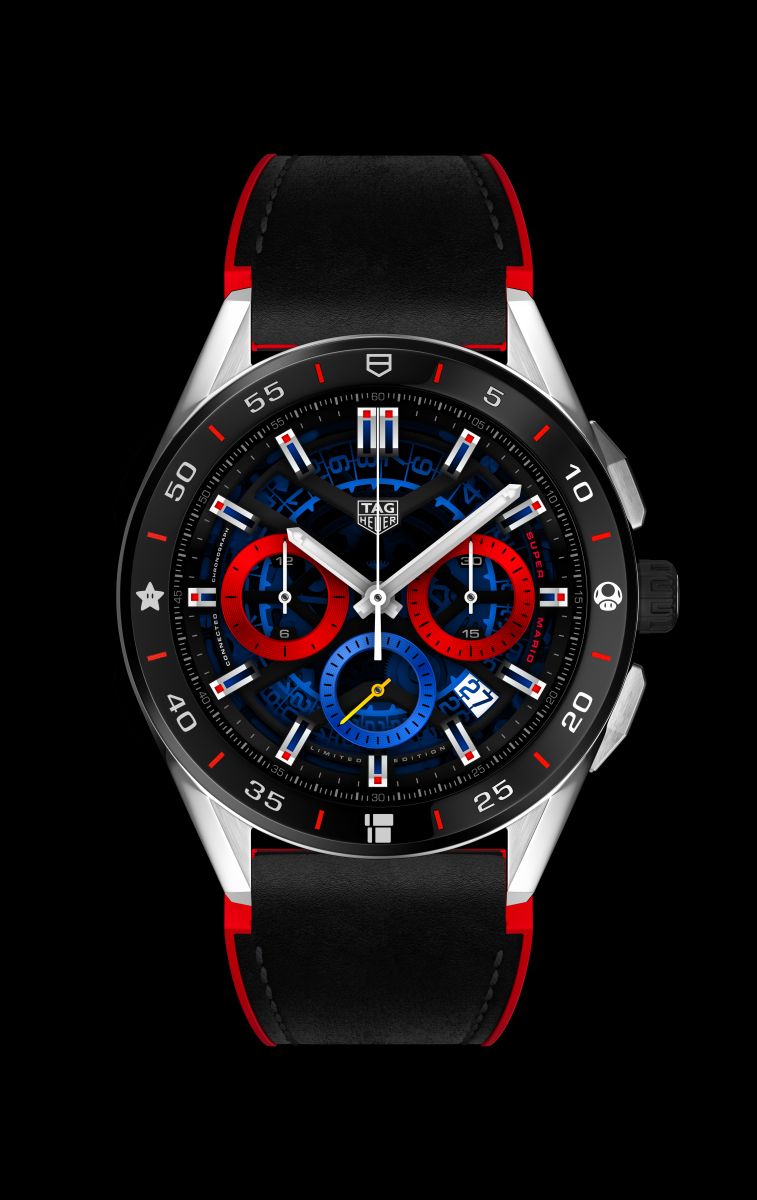 Real TAG Heuer styling with a fun twist
Some watch lovers are totally content to wear a mechanical watch on one wrist and a smartwatch on the other. For others, that sort of double-fisting just ain't happening. Those in the latter camp need not fret. The case of the Connected is similar to TAG Heuer's Carrera Sport, albeit just one millimeter larger. At 45mm in diameter, the Connected is honestly quite a large piece of kit. But at a reasonable 13.5mm thick, at least it won't be a skyscraper on the wrist. The 1.39-inch, 454×454-pixel OLED display is protected by a sapphire crystal. Brushed case sides and angular pushers keep the watch sporty and less prone to showing light surface scratches. Inwardly chiseled lug tops give the watch that real Carrera vibe, while their highly polished facets nicely contrast the watch's mostly brushed finish.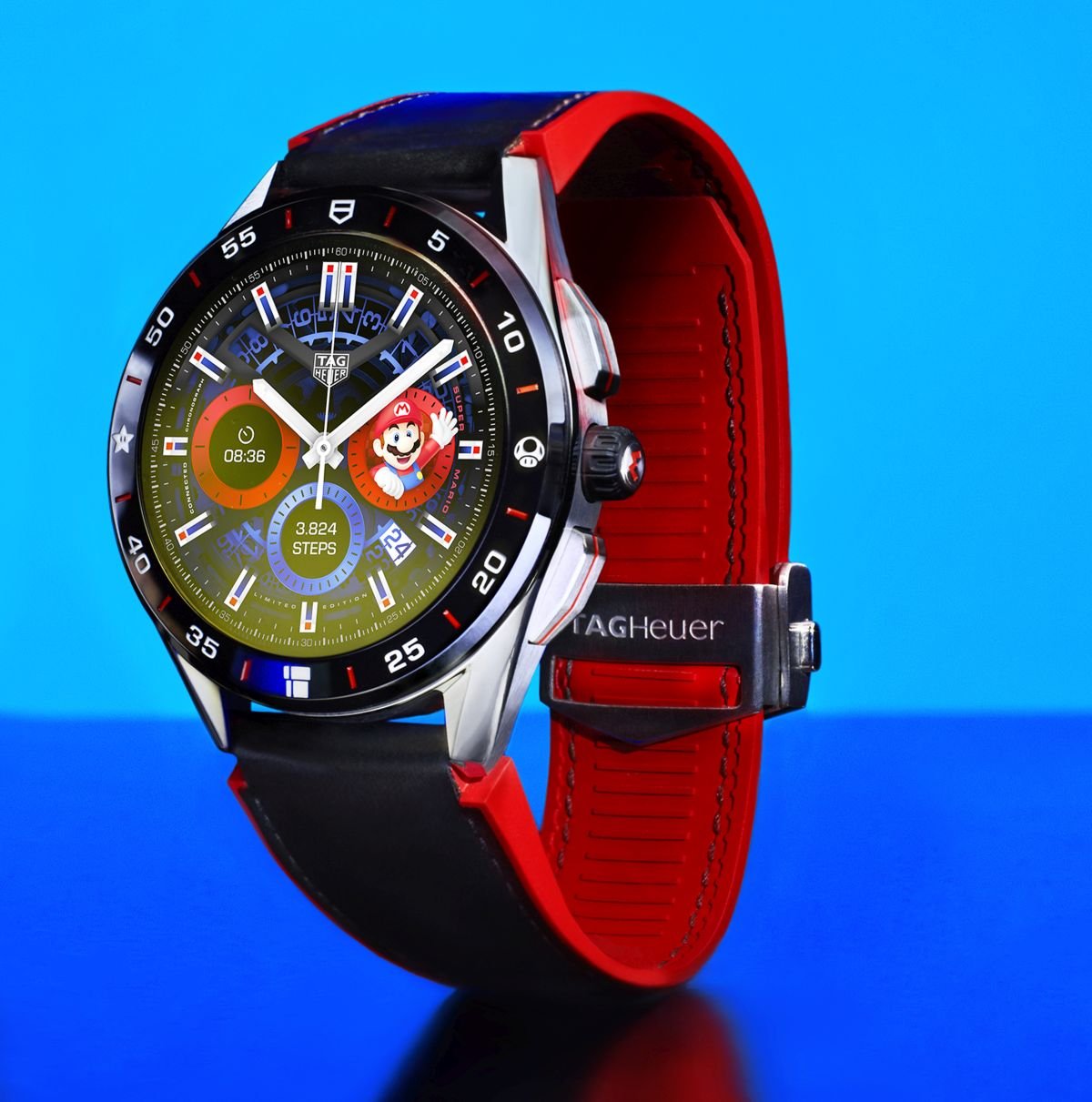 Here is where it gets fun: the case is topped with a black ceramic bezel. On it, we see iconic Mario elements that distinguish this LE from the standard Connected. The mushroom at three, the tunnel pipe at six, and the Super Star at nine o'clock are subtle, yet smile-inducing touches. Red hash marks on the bezel replace the standard white ones. On the crown side, we see the red accents on the pushers and the Mario "M" on the crown. The displays, though, are where it's at. On the standard Connected, TAG Heuer offers a range of displays inspired by its other models. On this LE, the Mario theme is present on all of the displays. The titular character makes his presence known on virtually every screen. Blue and red elements abound. My personal favorite is the blue/red sub-dial layout with Mario waving from three o'clock!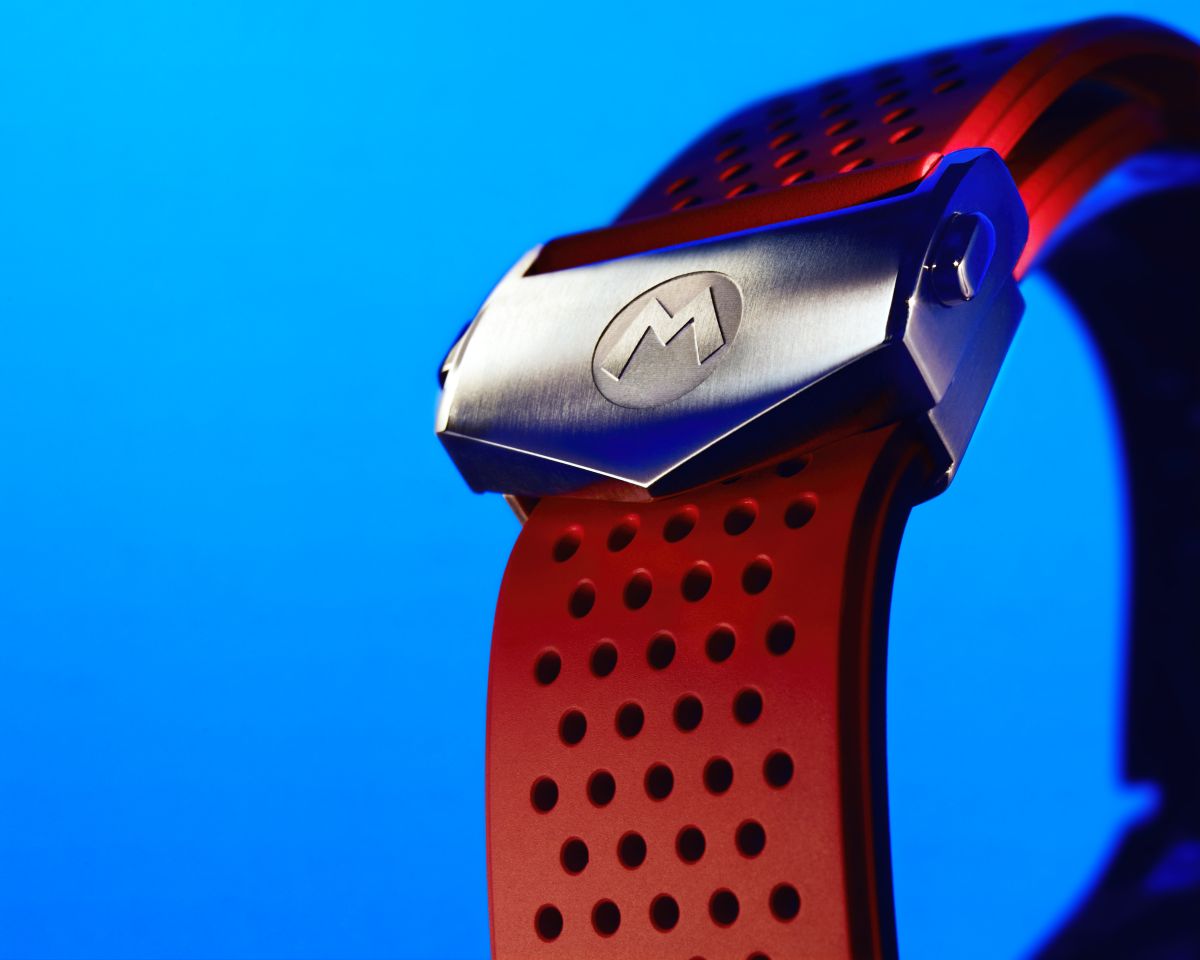 Versatility with straps
I must say that from a more "traditional" watch enthusiast's point of view, one of the things I appreciate most about the Connected is the strap-changing system. Similar to the Zenith Defy Extreme or Vacheron Constantin Overseas, changing straps is as easy as pressing a button. The watch will be delivered with both a black and red hybrid leather/rubber strap and an all-red perforated rubber strap. TAG Heuer also offers a wide array of additional rubber and hybrid strap options for purchase on its website. Standard straps include a nicely engineered single-fold deployant clasp with raised TAG Heuer logo. The straps included with this limited edition, however, feature the Mario "M" logo. Even cooler still, the brand also offers a full stainless steel bracelet with hexad-style links. I feel like this option goes a long way in making the Connected feel like a "real watch."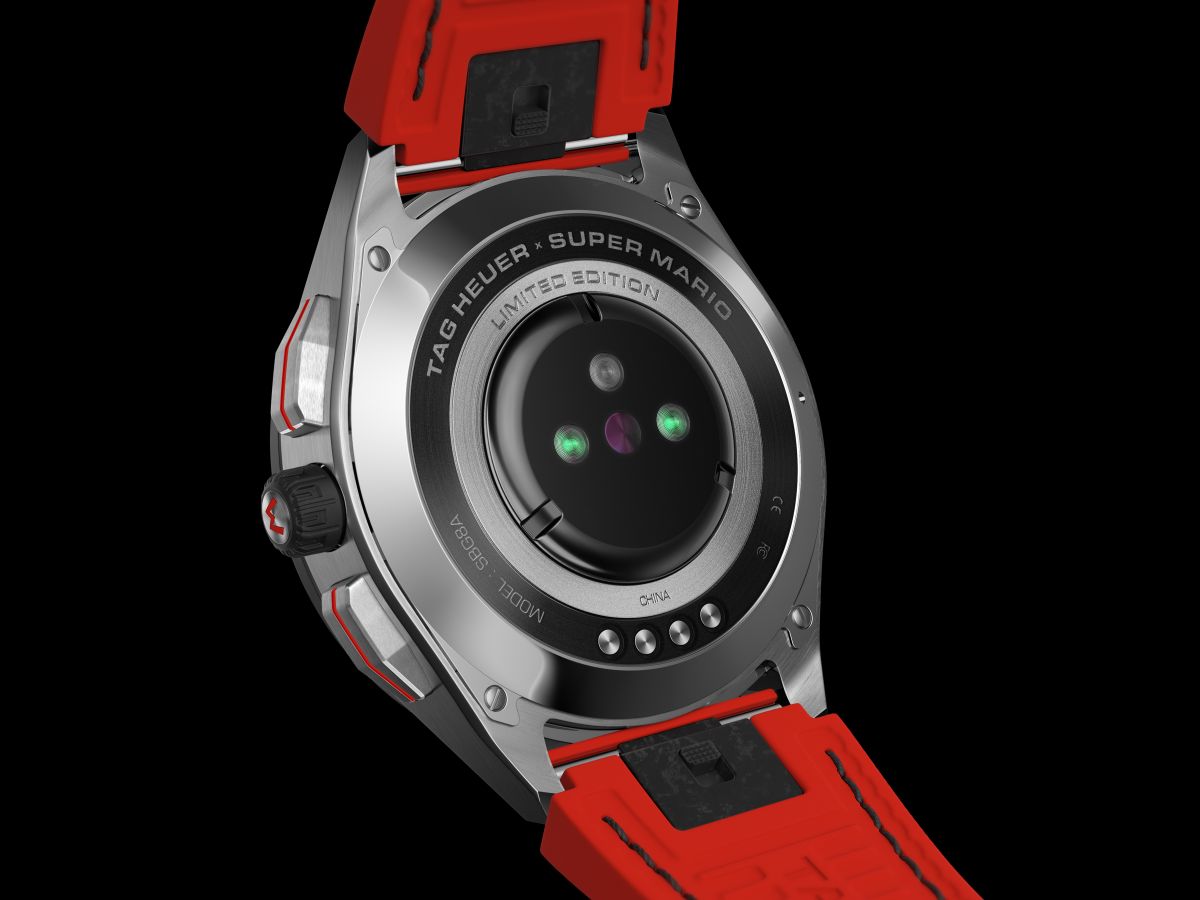 So who is this watch for?
Nostalgia is an emotion that cannot be underestimated. It makes us pursue items and do things that, in any other circumstances, we would find totally irrational. Now, don't get me wrong. I'm not trying to say the Connected × Super Mario Limited Edition is an irrational purchase. All I'm saying is that for those who grew up playing Mario, and may even do so now, chances are that you and that pudgy Italian plumber share some pretty fond memories (does that sound wrong?). While Mighty Morphin' Power Rangers was the ultimate source of childhood happiness for me, I nevertheless totally get the indescribable feeling of satisfaction that comes with nurturing those memories as an adult. If you have considered dipping your toe into the smartwatch pool, and Mario just so happened to be your childhood joy, this watch could be for you.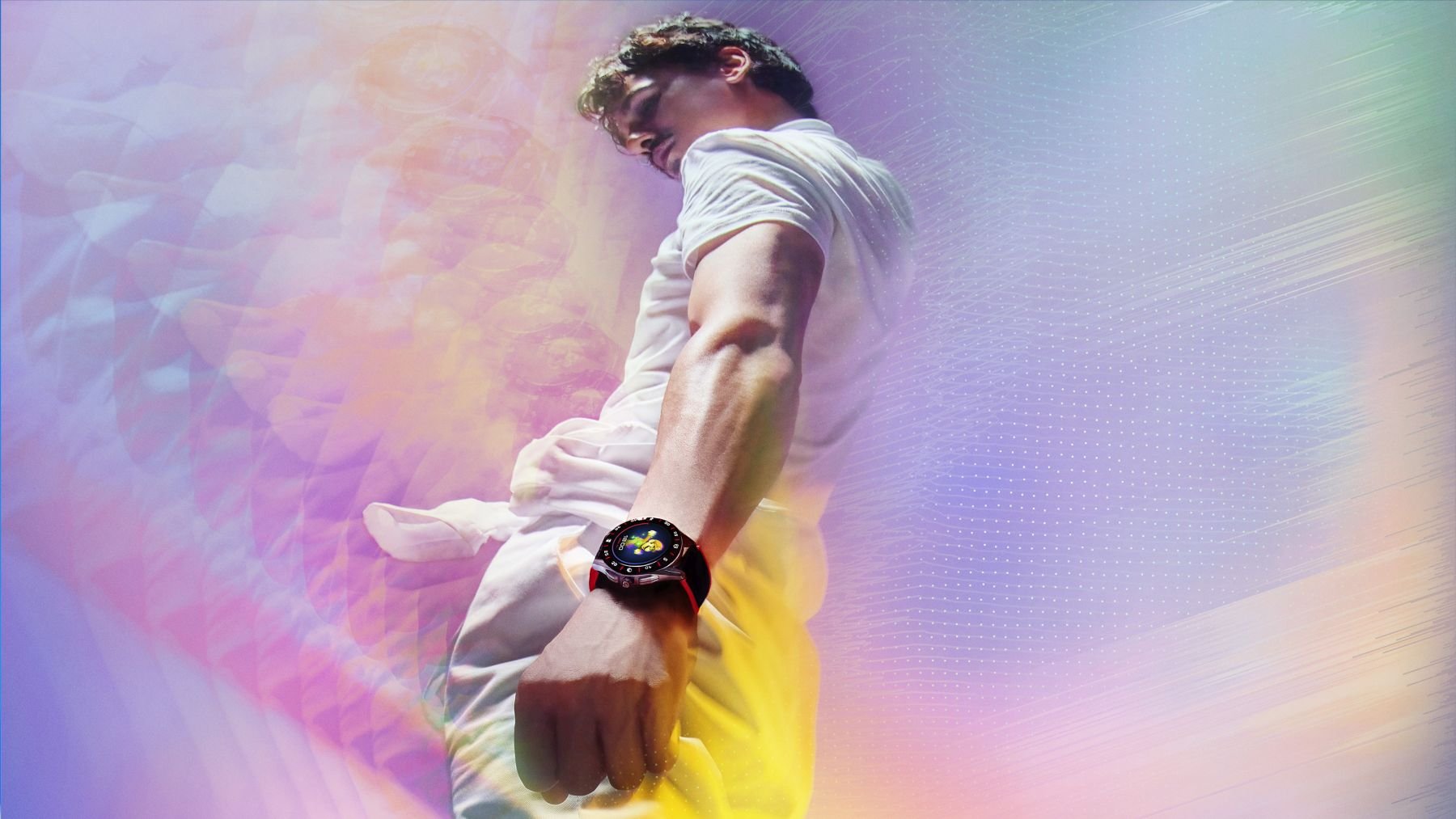 As I stated earlier, this watch really could be a great way to balance a serious, heavy-hitting collection. It's fun, versatile, and let's face it, pretty damn useful. As someone who has lost a lot of weight and doesn't have any desire to gain it back, I do tend to monitor my daily calories and exercise. Having that log right on my wrist without having to whip out my phone and open MyFitnessPal does sound quite convenient. Further, though I'm honestly not an enormous Mario fan, even I couldn't help but smile upon seeing the release images. I imagine that in-person and on-wrist, the TAG Heuer Connected × Super Mario Limited Edition is even more of a grin-inducer.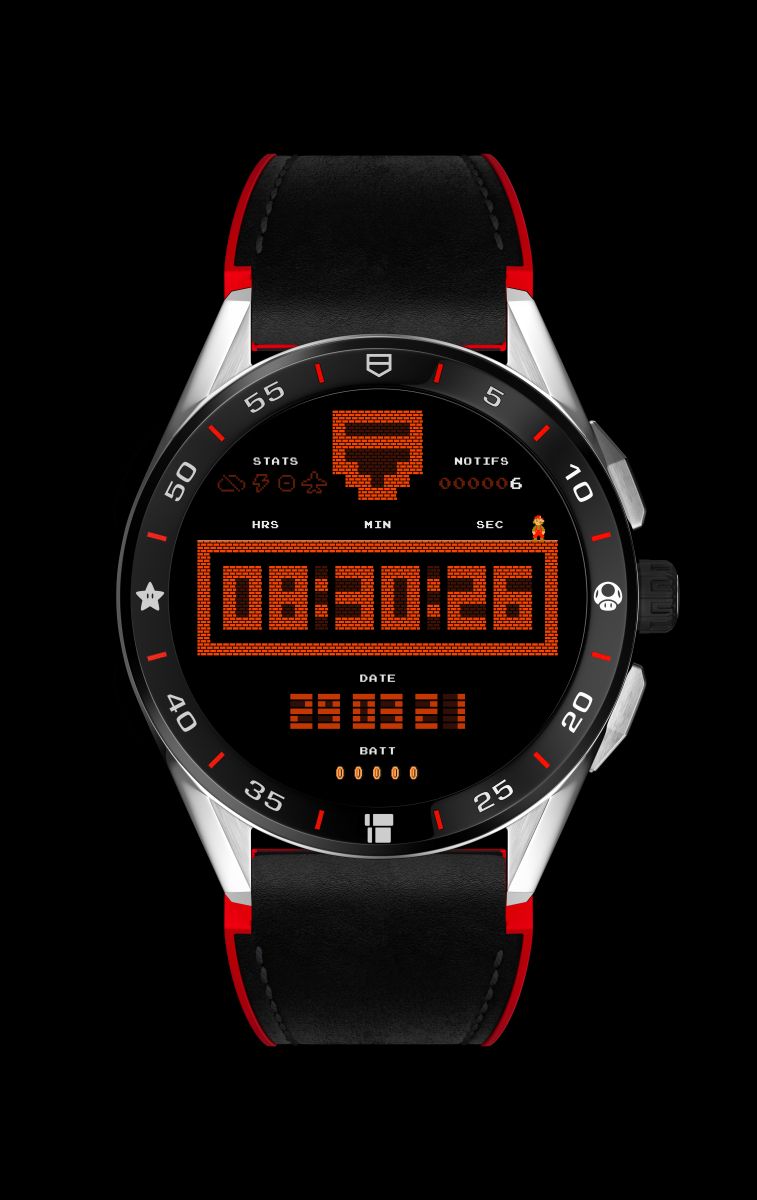 Pricing and availability
The TAG Heuer Connected × Super Mario Limited Edition will be available starting July 15th, online in some locations and at selected TAG Heuer boutiques. The watch will retail for $2,150 and is limited to a run of just 2,000 pieces. If you think it's the smartwatch for you, make sure you act fast. With Mario having reached the status of an evergreen worldwide phenomenon, I have no doubt this model will be gone before you can save Princess Peach.
For more in-depth information on the Connected line, check out TAG Heuer's website here. For our past reviews of the Connected, click here and here.
And TAG Heuer, if you're reading this, I'll be waitin' on that Power Rangers collab!