NOMOS Glashütte Club Sport Neomatik 42 Date With A Sunray Blue Dial And New Bracelet
NOMOS brings professional vibes to its Club Sport line
The unthinkable has happened. NOMOS Glashütte has released what will be regarded as an incredibly sporty bracelet in comparison to its previous (and wholly unexpected) effort. Three years ago, the thought of NOMOS releasing a metal bracelet at all seemed almost farcical. Following the warm reception of the brand's first metal band, we saw the totally bonkers "limited edition" rally bracelet that debuted on this month's Autobahn Director's Cut. Now we have something entirely new for the brand and yet entirely familiar for the rest of the industry. Say hello to the NOMOS Glashütte Club Sport with a sunray blue dial and its thrillingly "normal" bracelet.
Thrillingly normal. As dramatic a description as it may be, I stand by it. This bracelet is, despite being the most middle-of-the-road bracelet from NOMOS yet, seriously exciting because it is exactly what people wanted. Better still, it debuts on a Club model that frequently comes into criticism for its long lugs.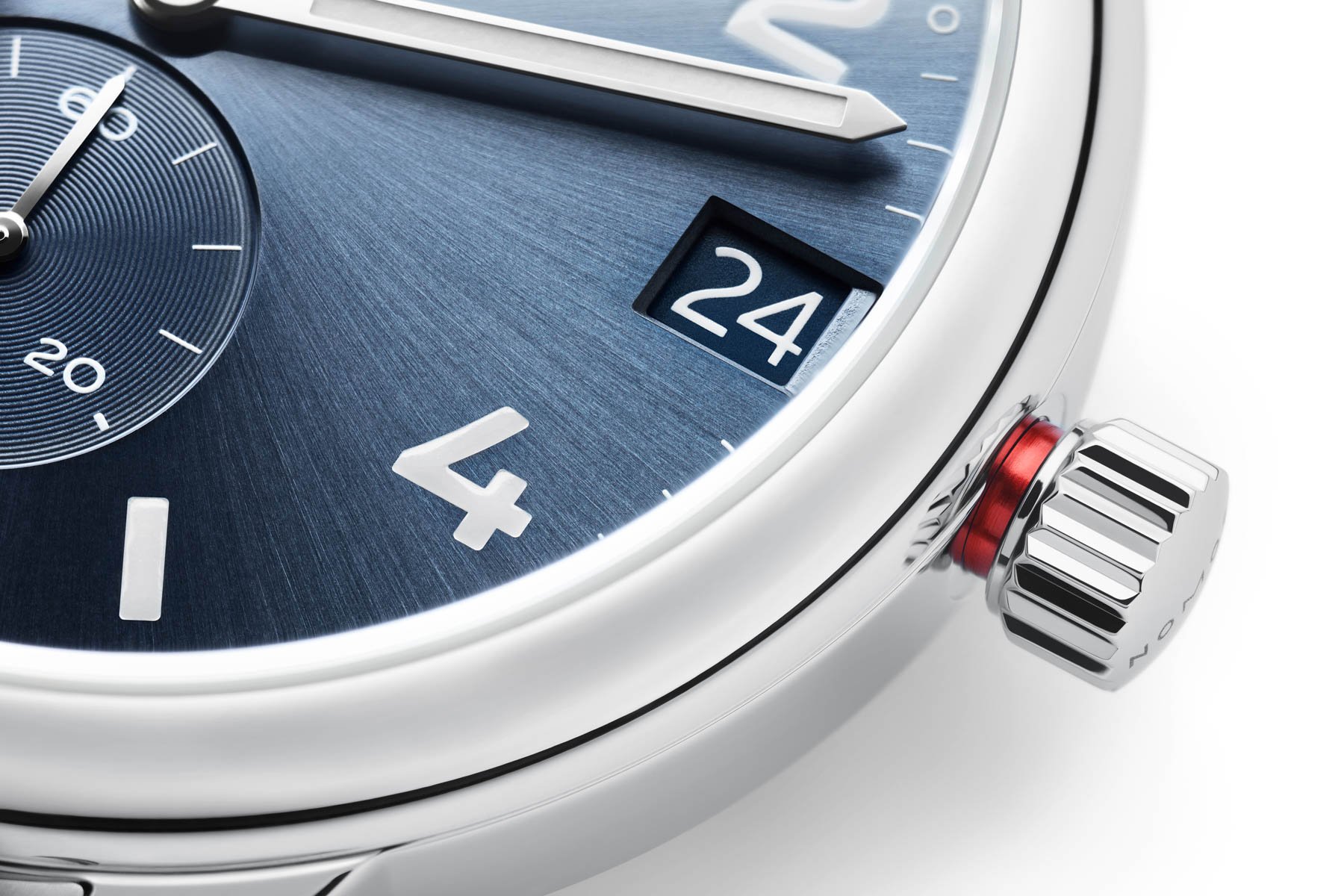 I own two Clubs. I have both the 36mm and 38mm models. Generally, I prefer the smaller of the two but happily flip between them without much issue. I adore the Club Sport. I loved it the moment it came out. The cutesy red "warning" collet beneath the crown reminds its winder to screw it down before entering water tugged at my heartstrings. And yet, at 42mm and in possession of similarly intimidating lugs, there was simply no chance that my skinny little handgelenk could handle such a mighty beast. On the bracelet, however, things suddenly got a lot more wearable…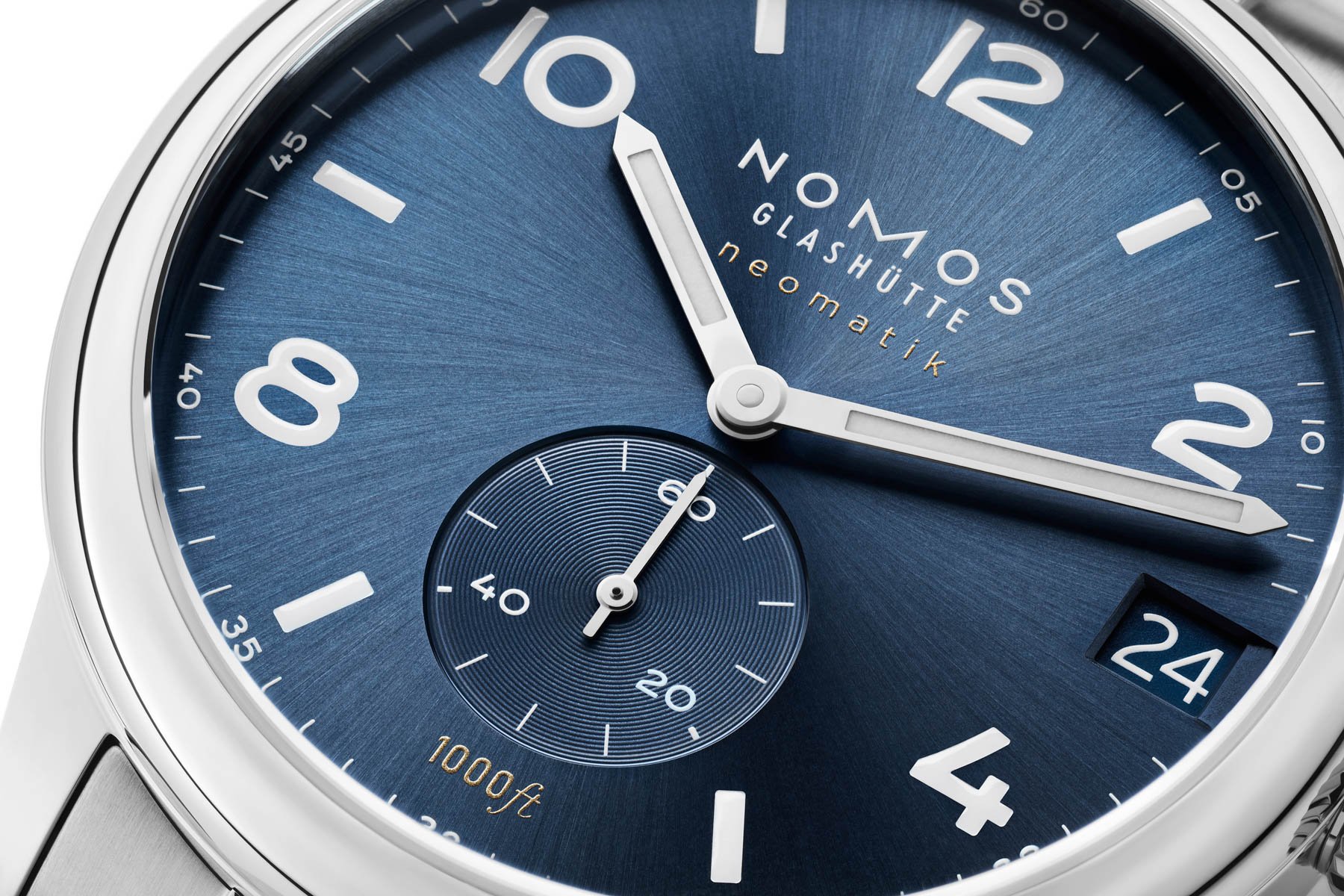 Diving in, feet first
Sure, I could rock this blue beauty on a fabric NATO to eliminate the lug gap (and I just might do that), but the bracelet really dresses this piece up. Given the new NOMOS Glashütte Club Sport Neomatik 42 Date is powered by the brand's most recent (and accomplished) caliber (the DUW 6101) this watch remains super slim. At 10.9mm thick, this watch boasts "dinner plate" like proportions, which should be music to the ears of any larger-wristed types that always fancied adding a NOMOS to their stable, but felt they were a little on the small side. This capable sports watch has a 1,000ft water resistance (don't ask me why NOMOS went for imperial measurements here, but I love it) and a high polished stainless steel case more than capable of standing up to the rigors of daily life.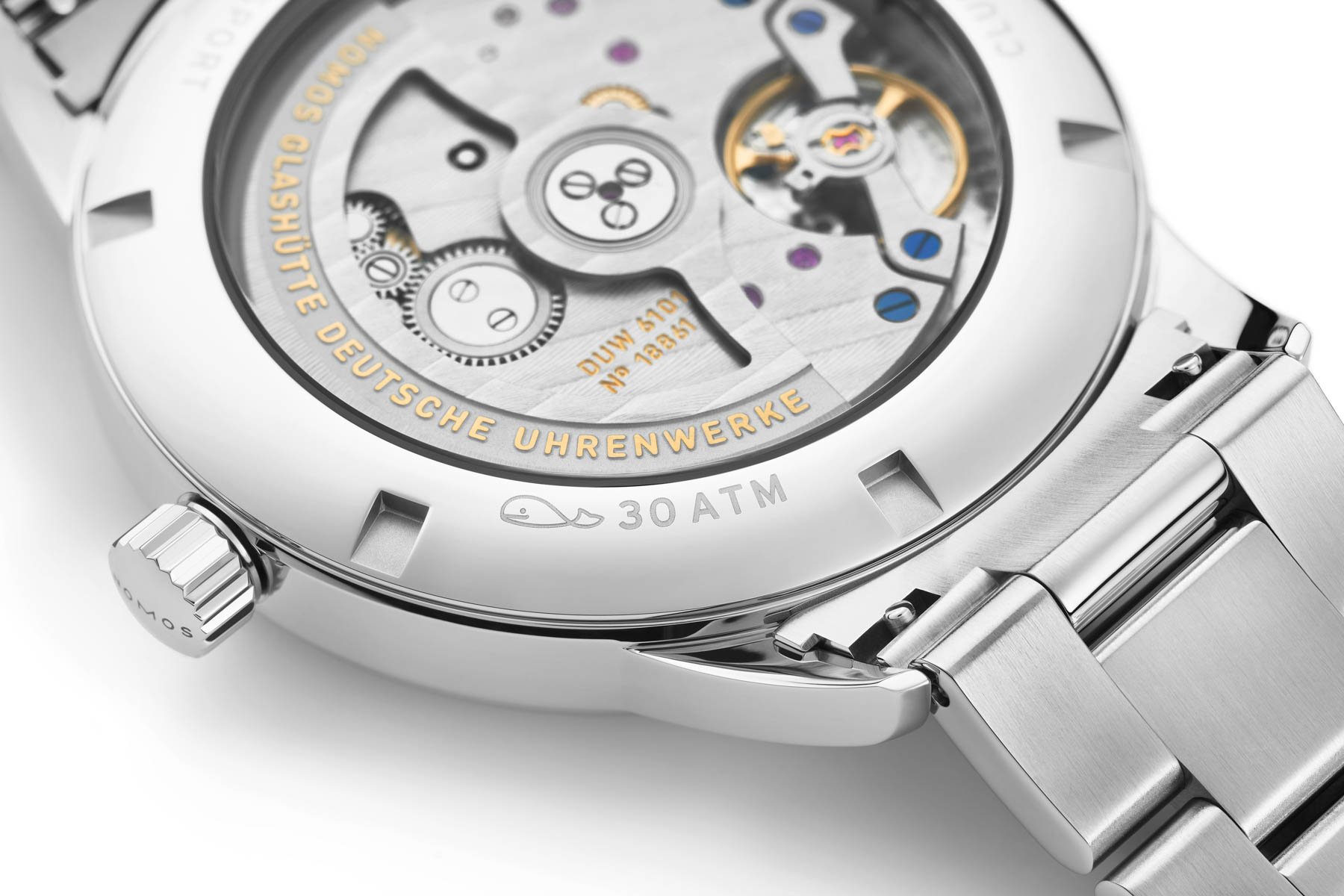 The heart of a lion
The movement is impressive for its novel date change mechanism (and truly massive date window display). It is possible to quick-set the date of the DUW 6101 both forward and backward. Better still, a "safety clutch" protects the movement from damage should you accidentally try and change the day during the "danger zone" (that is typically between 10 pm and 2 am during which time the date changing components are engaged and vulnerable to breakage should a manual set be attempted then).
…no damage will be sustained to the movement.
In this movement, however, the "danger zone" (which isn't dangerous at all thanks to the genius of NOMOS Glashütte's Theodor Prenzl and his R&D team) is an even smaller window (around 11 pm to 1 am). If you attempt a manual date change during this time window, the date won't change but no damage will be sustained to the movement.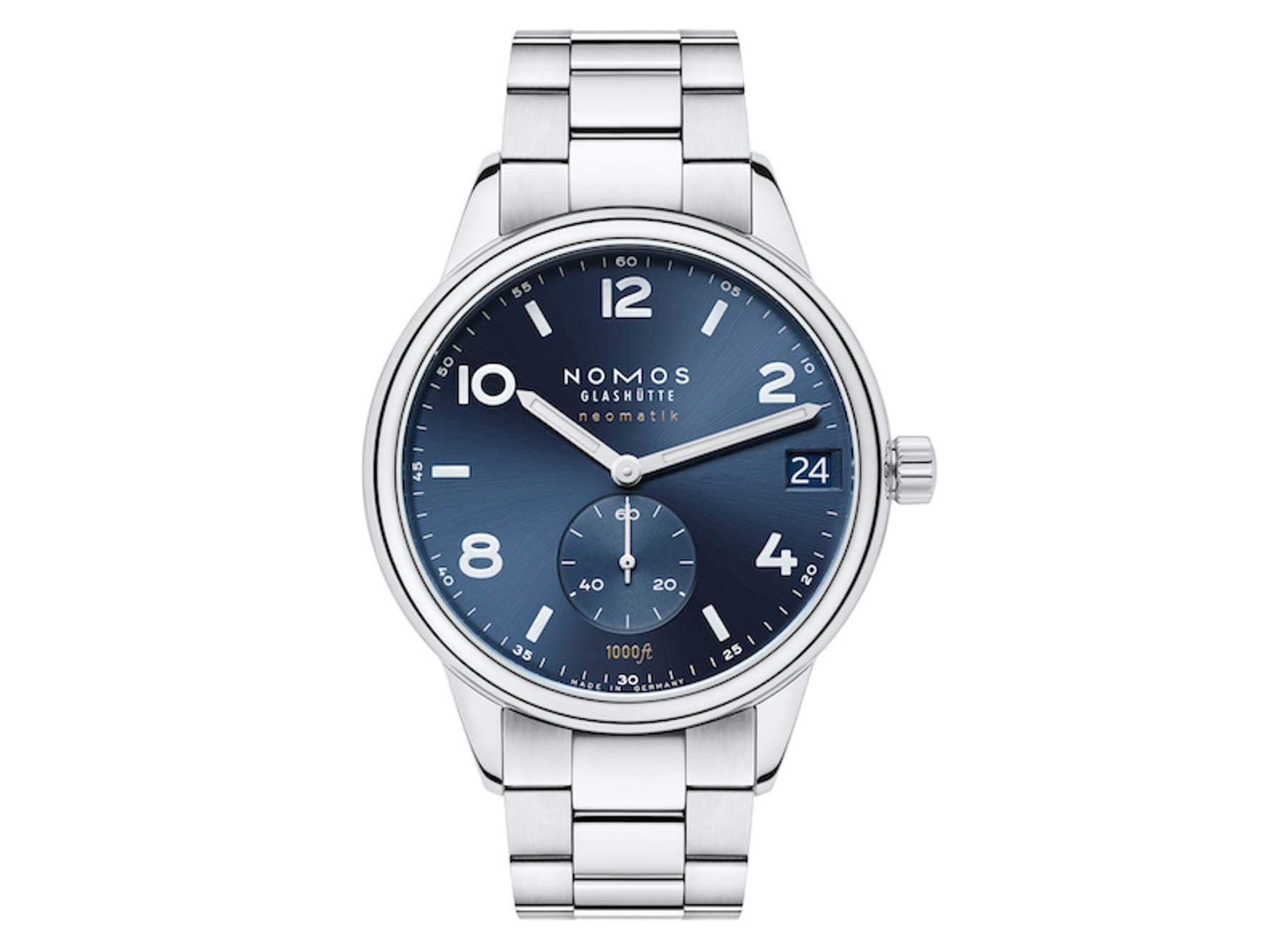 How does the DUW 6101 safety mechanism work?
How is this possible? Well, the five-fingered star wheel that normally engages with the date wheel, sits atop a friction-fit wheel that engages with the manual date change mechanism. When the watch enters the danger zone, one of the fingers of the five-fingered star wheel is in contact with one of the teeth of the date wheel.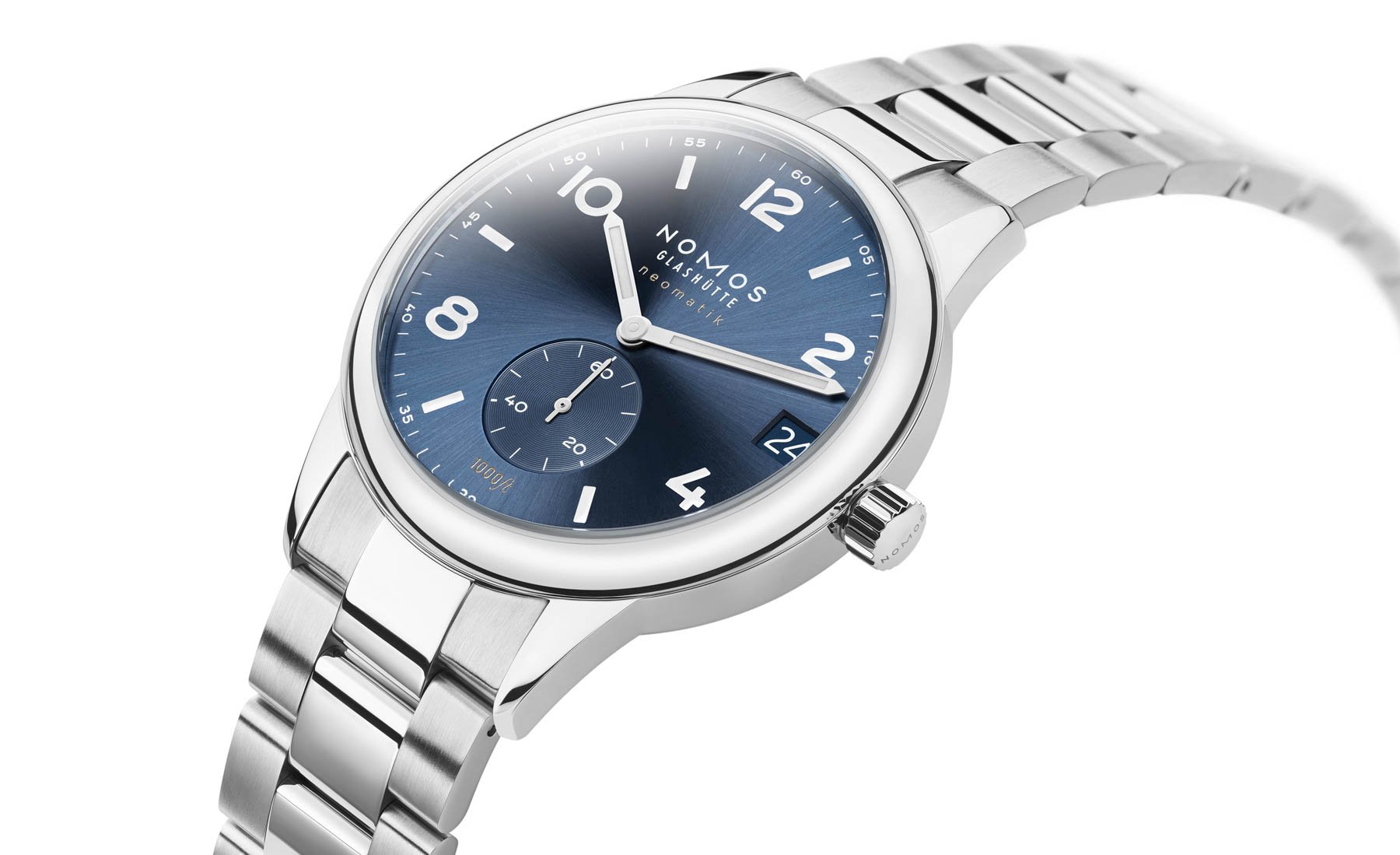 When a manual date change is attempted, the winding force transfers to the lower level friction-fit wheel beneath the star wheel. The tension between the star wheel's finger and the date wheel tooth is stronger than the friction-fit bond between the star wheel and the lower level wheel. Consequently, the lower level of this coupled wheel continues to turn when the wearer attempts to wind the date forward. If that seems like an impossibly precise balancing act of tension and friction to you, then you are sane. It is complex. That's why it's awesome.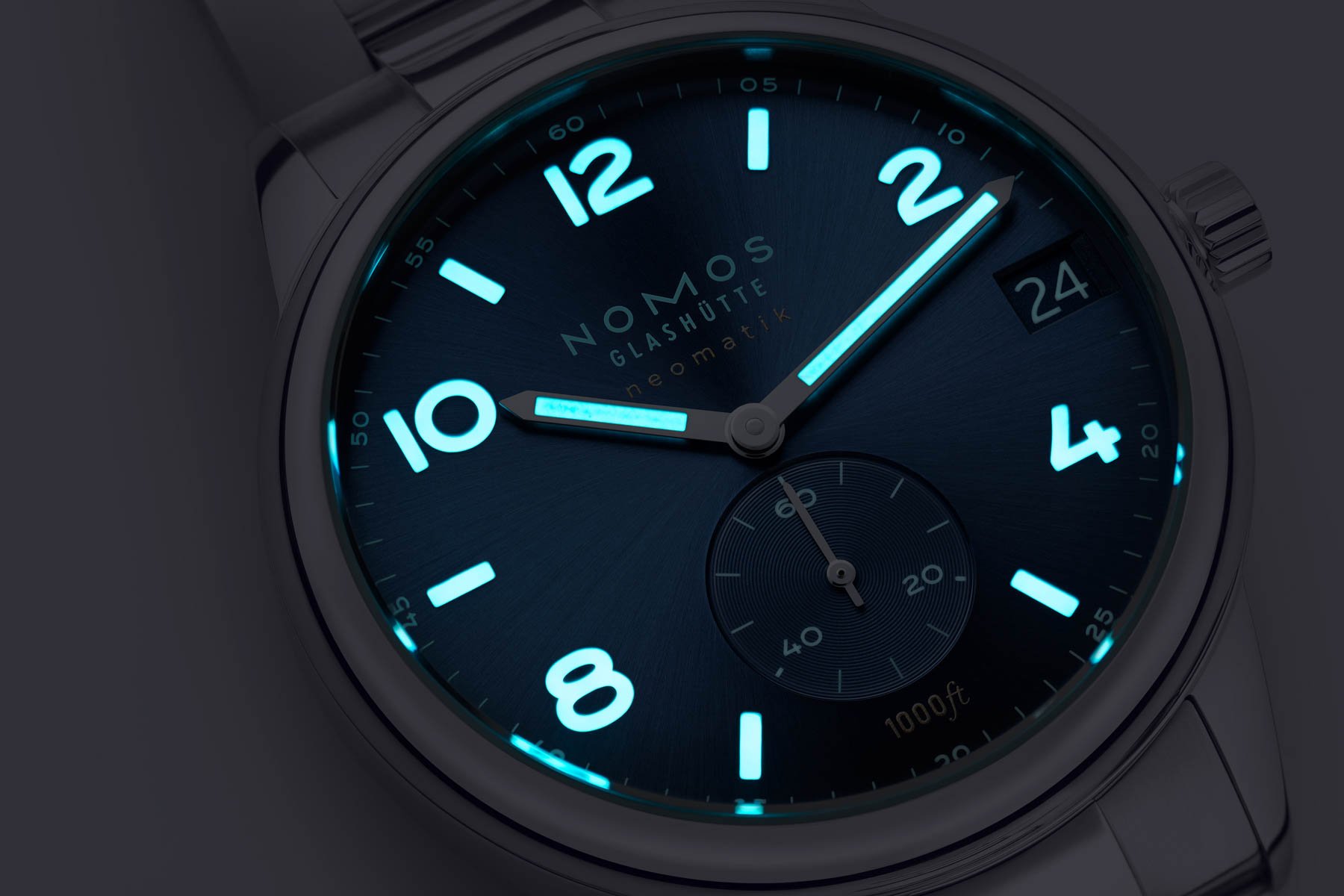 Conclusion
In summary, this release is great news for a few reasons. The blue sunray dial is gorgeous. The Club Sport is a fantastic addition to the catalog and needed some new blood. I sorely hope we see some cool, summery colors in this model next year. Signal rot, anyone? This bracelet may only be suitable for this model specifically, but it is a) very cool, and b) heralding a new age of possibilities. NOMOS is really taking the gloves off these days. When it comes to revising what it will and won't do, the brand is leading the charge. The surprises are flowing thick and fast. Fans of the brand must be pleased to see some of its quirky idiosyncrasies ironed out.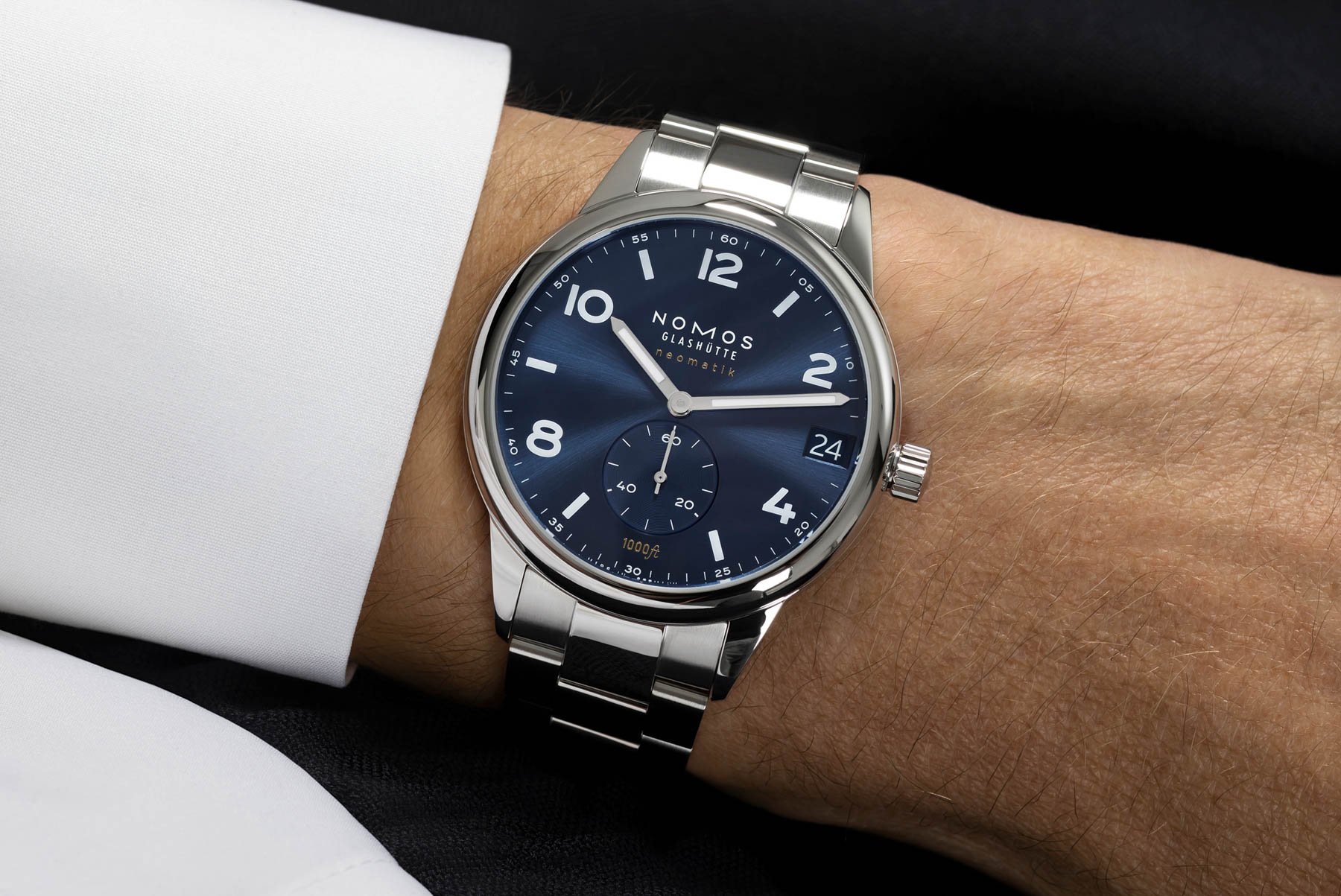 I always get excited when I get the feeling a brand is listening. Right now, I get that feeling from NOMOS in spades. I'm pleased to see a typically conservative brand make the risks it used to only take with limited editions a bit more of its daily bread. So what's next? That used to be an easier question to tackle when it came to NOMOS. Now it is very, very tough to say. If I had to bet, I would wager a new model family might be on the way. But don't ask me to speculate as to what that might look like. I never would have seen the Zürich or Metro coming and I'm sure I'll be stunned by whatever comes next.
The NOMOS Glashütte Club Sport Neomatik 42 Date has a long name and a reasonable price tag. For an in-house creation that features some obvious upgrades on its range mates, the price of €3,220 seems very reasonable. If you want one, head over to the official NOMOS Glashütte website here.