NOMOS Glashütte Tangente Neomatik Models With Platinum Gray Dials — Hands-On Watch Review
A shimmering vision in 35 and 38.5mm diameters
The NOMOS Glashütte Tangente is an industry classic. It has, in its 35mm form, been around, almost unchanged, for 30 years this year. It was launched in 1992 as part of the brand's debut collection, two years after NOMOS was founded in 1990 shortly after the fall of the Berlin wall in '89. And for the past three decades, the Tangente has weathered all comers. Formerly, it was an affordable out-of-house creation that brought quality components together in a high-brow design at a reasonable cost. Today, it has become a trend-setting game-changer, always on the front line of the brand's latest developments. And yet, it is still the same loveable cutey we've always known.
Today, NOMOS Glashütte is announcing two new Tangente models in the most commercial diameters of 35 and 39mm (actually, 38.5mm as usual). The difference? This time around, the dials a presented in "platinum" gray. No, the dials are not made of platinum (which is actually a shame in this writer's opinion). Nevertheless, the appearance is pretty convincing.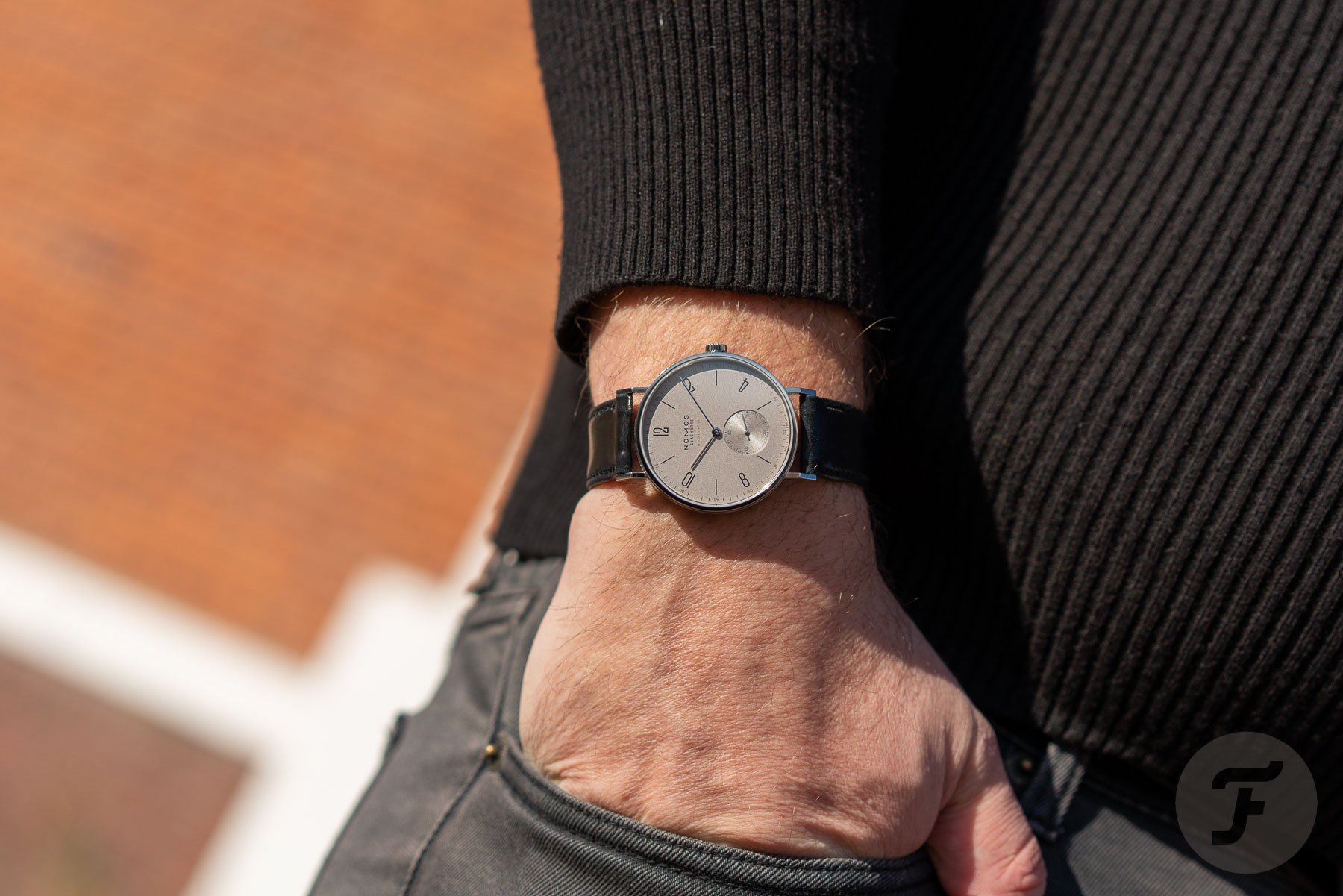 Hey Gray, good to have you back
This isn't the first time NOMOS has experimented with gray. For years, there was a gray-dialed 38mm Orion in the collection. At the time, it was a widely admired but rarely purchased watch. Eventually, that apparent lack of commercialism led to its discontinuation. That came on the back of 2017's mass catalog cull that saw NOMOS vastly reduce its offering. I was working for the company at the time of that strong-handed streamlining and I was in full support of it. I stand by it to this day, despite several attractive oddballs having bought the farm as a result. The pale gray Orion faded into memory and, as is often the way, the desire for it suddenly leaped through the roof.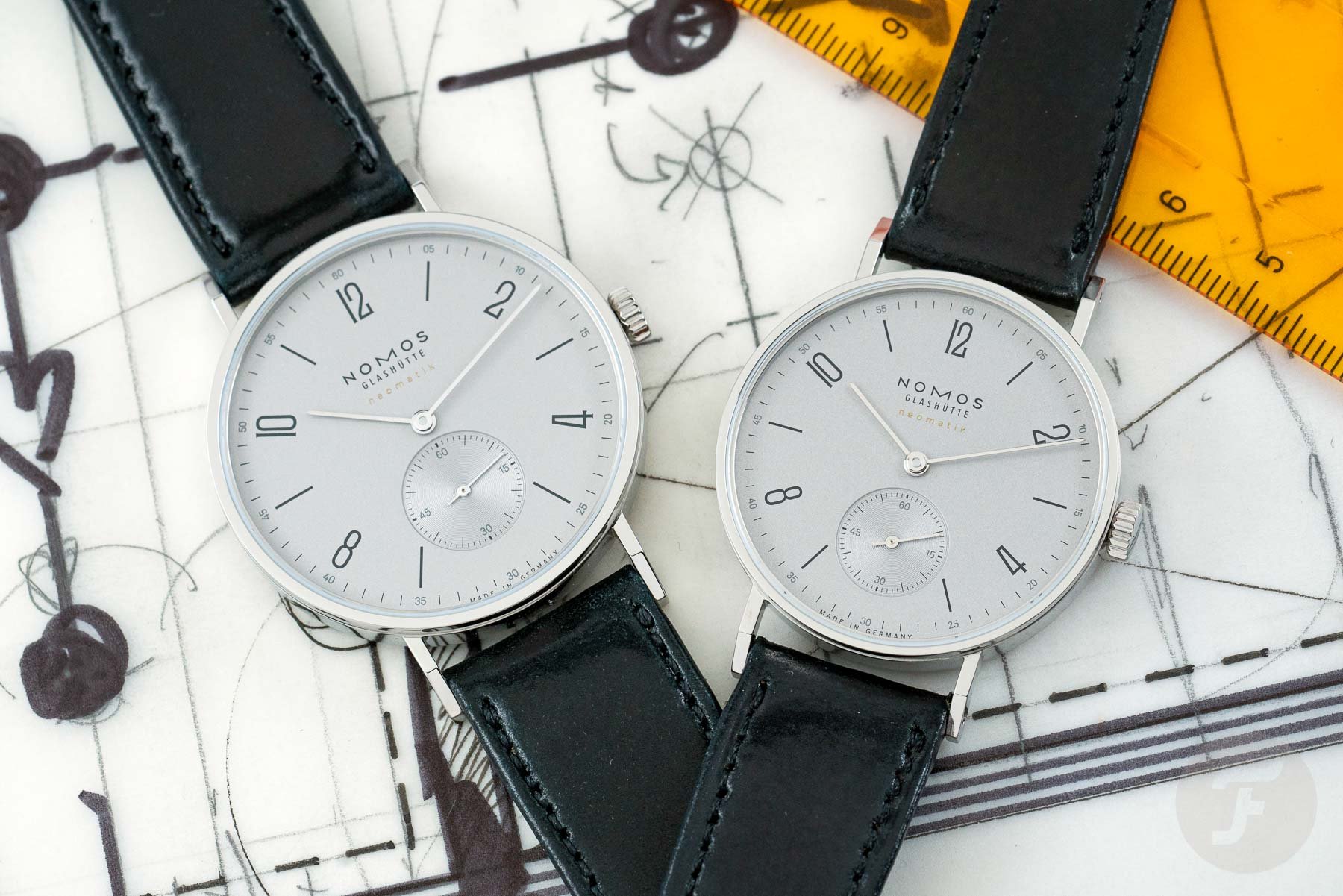 Similarly, there have been pale gray Tangentes available in the 33mm size for quite some time. In my experience, these are popular among female customers to whom they are marketed for their subtler looks and versatility. However, neither subtlety nor versatility are exclusively female traits, so it's nice to see this color rolled out to more unisex sizes once more.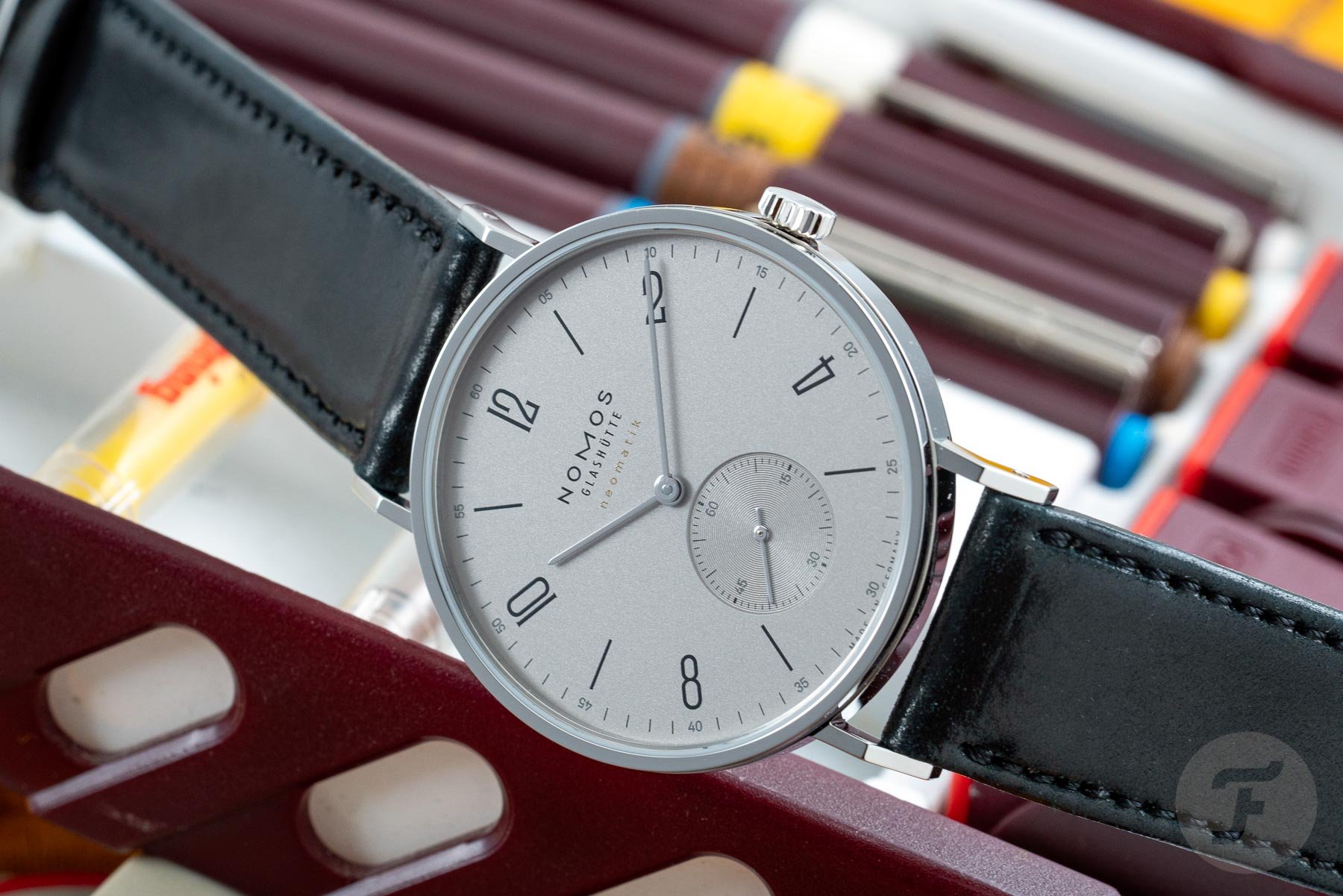 The Tangente is the perfect canvas
I own a Tangente. It's an old one. It has black hands and the minute hand is bent down toward the dial. I believe it is the same style as the old Lufthansa models that were once sold onboard the planes (oh, how I lament the passing of those days when air-travel exclusives were actually worth flying for), but mine doesn't have any of the engravings to suggest as such.
Truthfully, it was a gift from the brand that marked my first 12 months with the company, so I didn't actually buy it. However, despite very rarely citing the Tangente as my favorite (or even one of my personal favorite NOMOS families), I frequently wear it because it is just so damn appropriate in so many environments and with so many different types of clothes.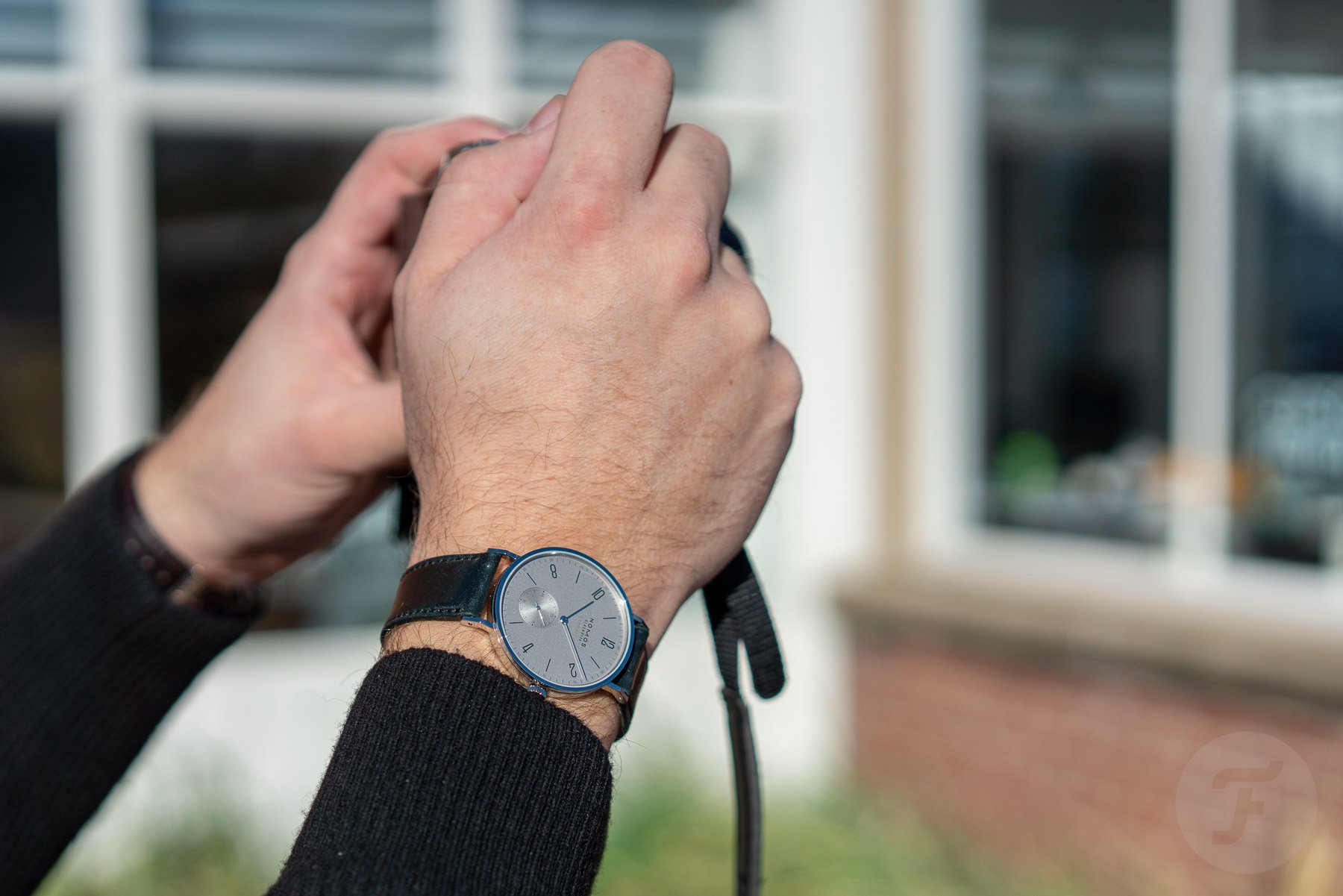 Mr. Chamelon, I presume?
I'm a fan of high-end sports gear. My wardrobe is packed with authentic baseball, soccer, football, hockey, and basketball garments, proudly sporting their "Made in America" tags. I believe in supporting the industries I love, so I invest a lot of my disposable income in this gear, even if I wear it more seldomly than I should. Funnily enough, the Tangente, which looks just as at home with a crisp business suit as the gray t-shirt and indigo jeans I wear around the house at the weekend, fits the mold with this kind of attire. Like the clothes themselves, the Tangente has this kind of off-beat hipster vibe to it. While I wouldn't vocally ascribe to that description, I cannot deny it defines that particular mode of dress for many.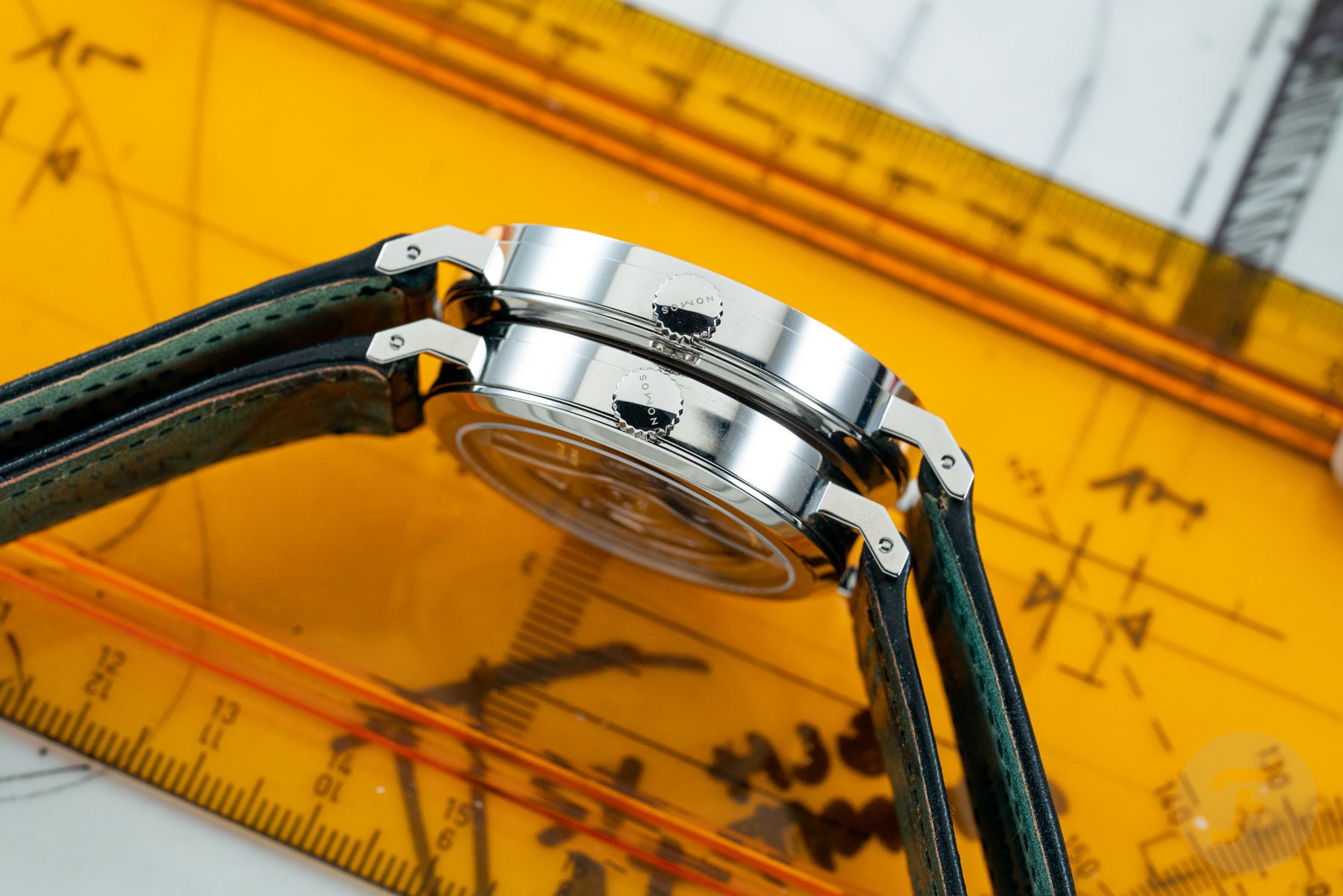 Sure, I wouldn't wear this watch to the beach. It has a 30m water resistance, after all (if you like the style but want a bit more security when it comes to water resistance, check out the NOMOS Glashütte Ahoi instead). But beyond the sand and surf, I struggle to imagine an environment in which the NOMOS Tangente couldn't flourish if given the chance.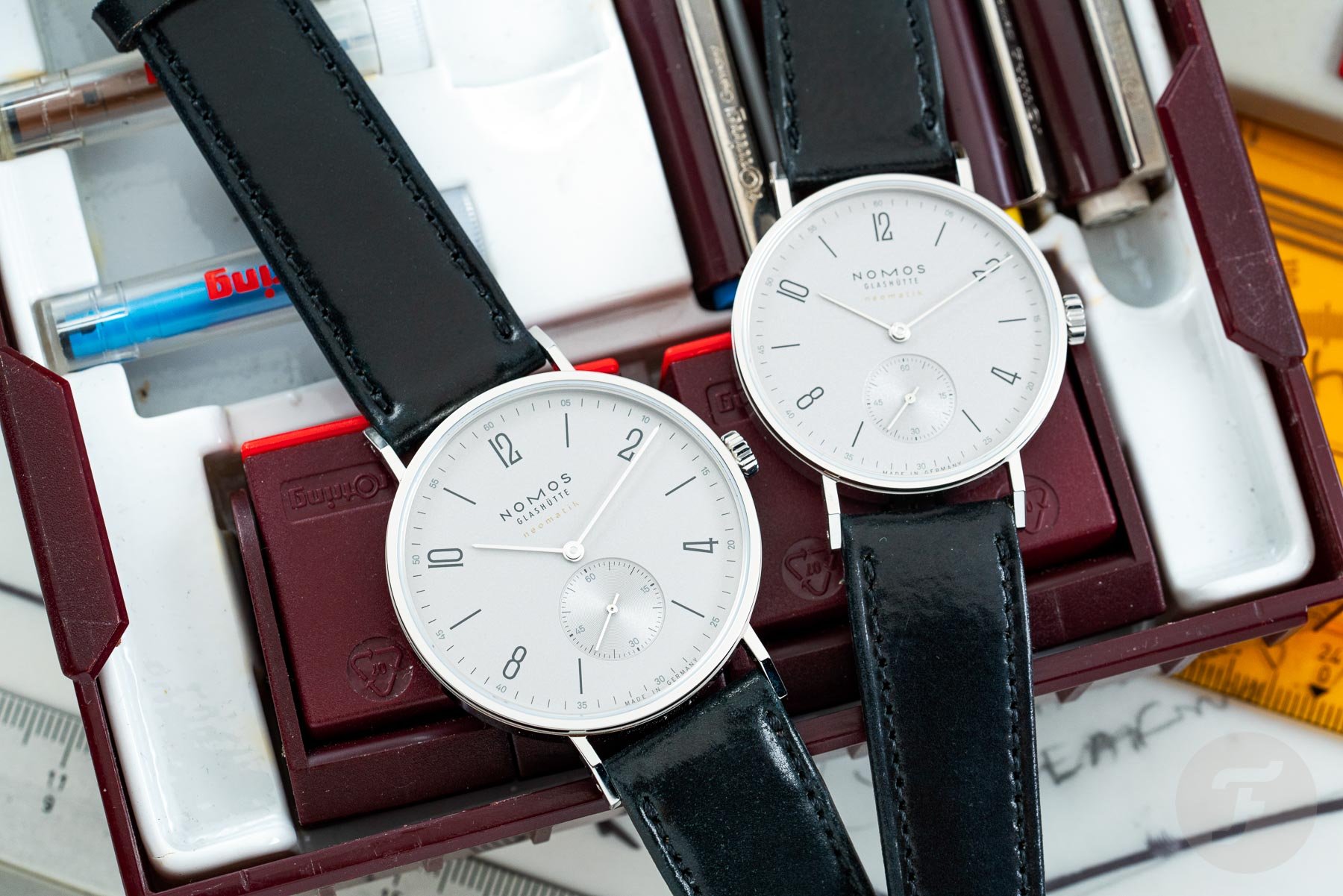 Gray goes with everything
And so this is a strong, relatively safe release from the Saxon darling. I imagine it will not come close to troubling the classic 35mm Tangente (reference 135) in pure sales figures, but it should certainly hold its own for a couple of seasons at least. Hopefully, if fans of the brand have learned anything from the swift and emotionless ex-communication of the Orion Gray, they will not dilly-dally when it comes to snapping this model up.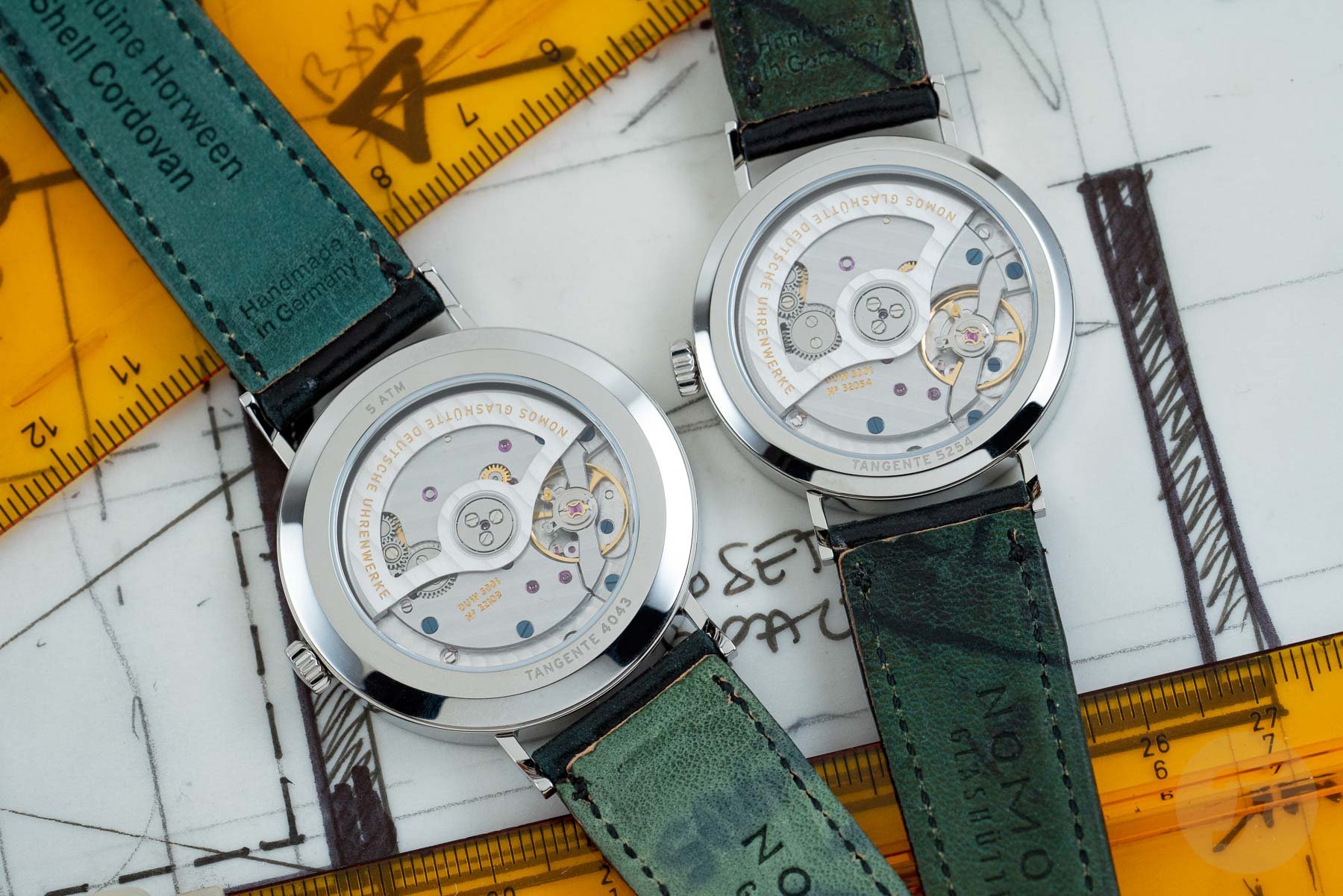 I could foresee NOMOS adopting a more seasonal (or perhaps bi-annual) approach to its colorways, dropping new models and discontinuing them on the regular to keep things fresh, much in the same way the brand has made a habit of doing with the Tetra family (I'm still lusting over that Grenadine, almost a year after it bit the dust… Maybe, just maybe I'll get my hands on one, one day…).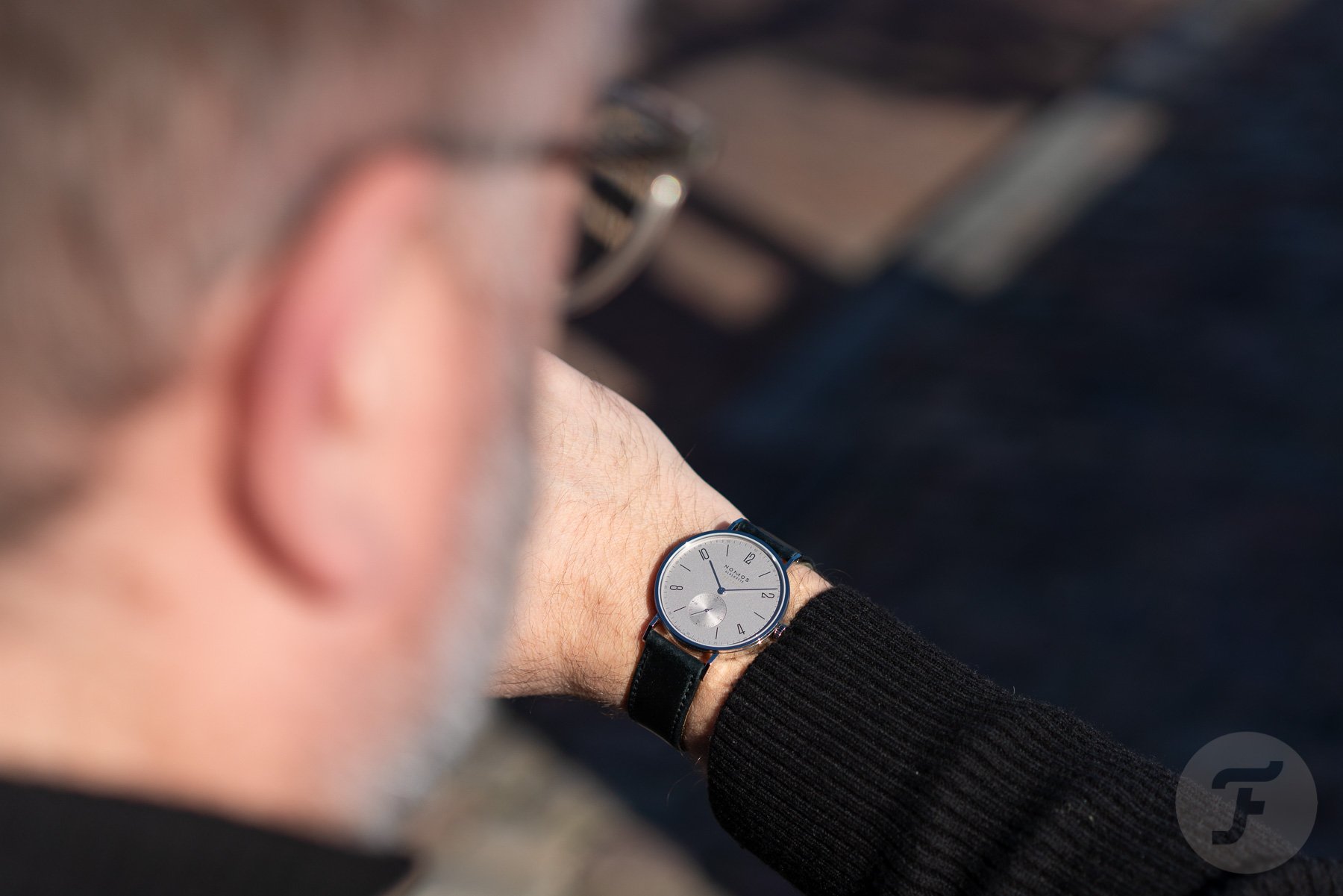 Price-wise, these models are some of the more expensive Tangente models in the core catalog. Why? Because they are both fitted with the brand's super-slim in-house automatic movement, the DUW 3001. The DUW 3001 was launched back in 2015 and has become a cornerstone of the brand. At just 3.1mm thick, this 21,600vph automatic movement is the perfect foundational caliber upon which the brand hopes to build an ever-stronger future.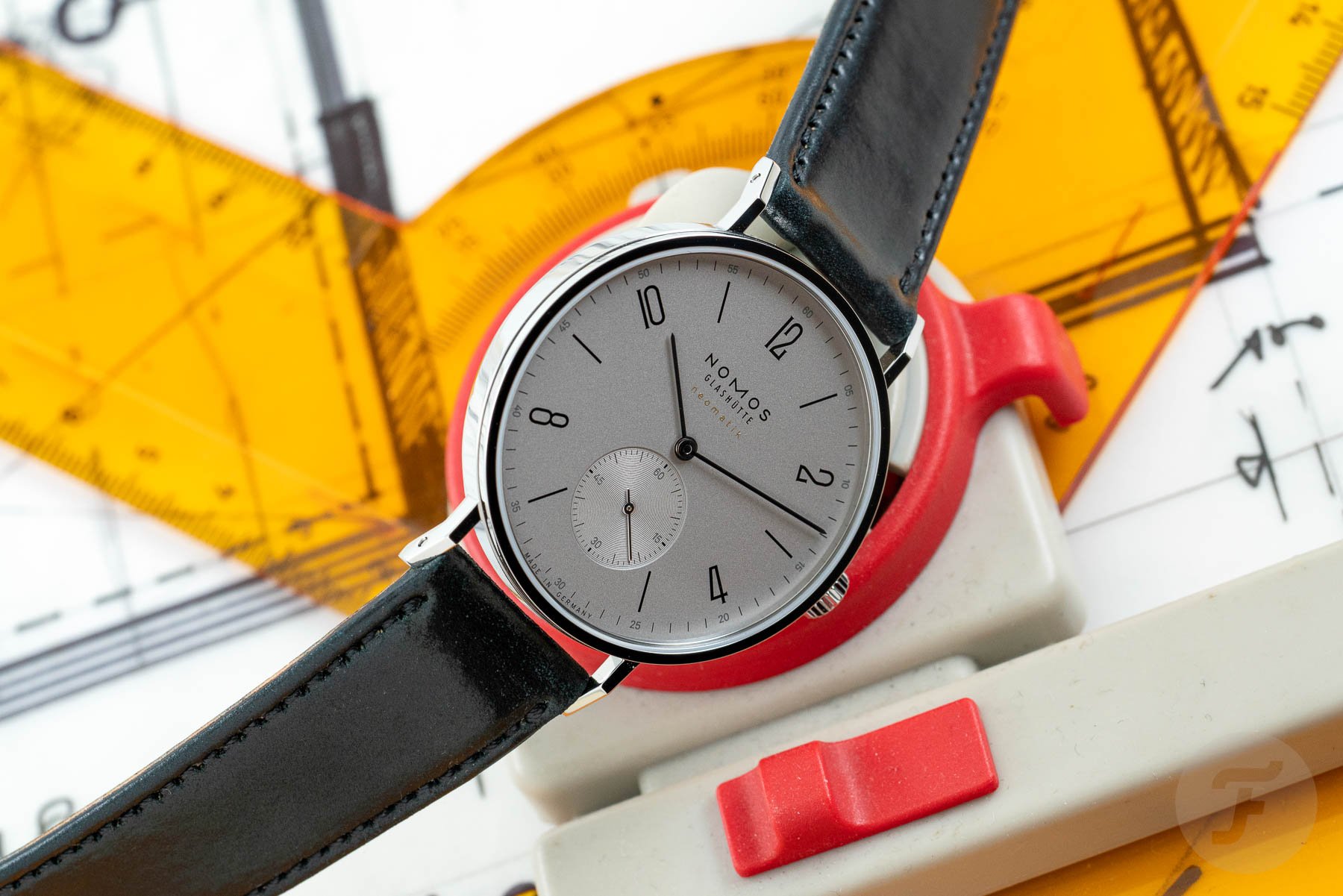 A statement of intent
It will be refreshing for some that these subtler Tangentes have been given such a mechanism. The classic, manually-wound Alpha caliber might have seemed the safer choice. While some will lament its absence (from a financial perspective, one would only imagine), this is a clear and welcome statement of intent from the plucky Saxon independent. This is the future. This is is NOMOS from now on. Get on board before the train leaves the station.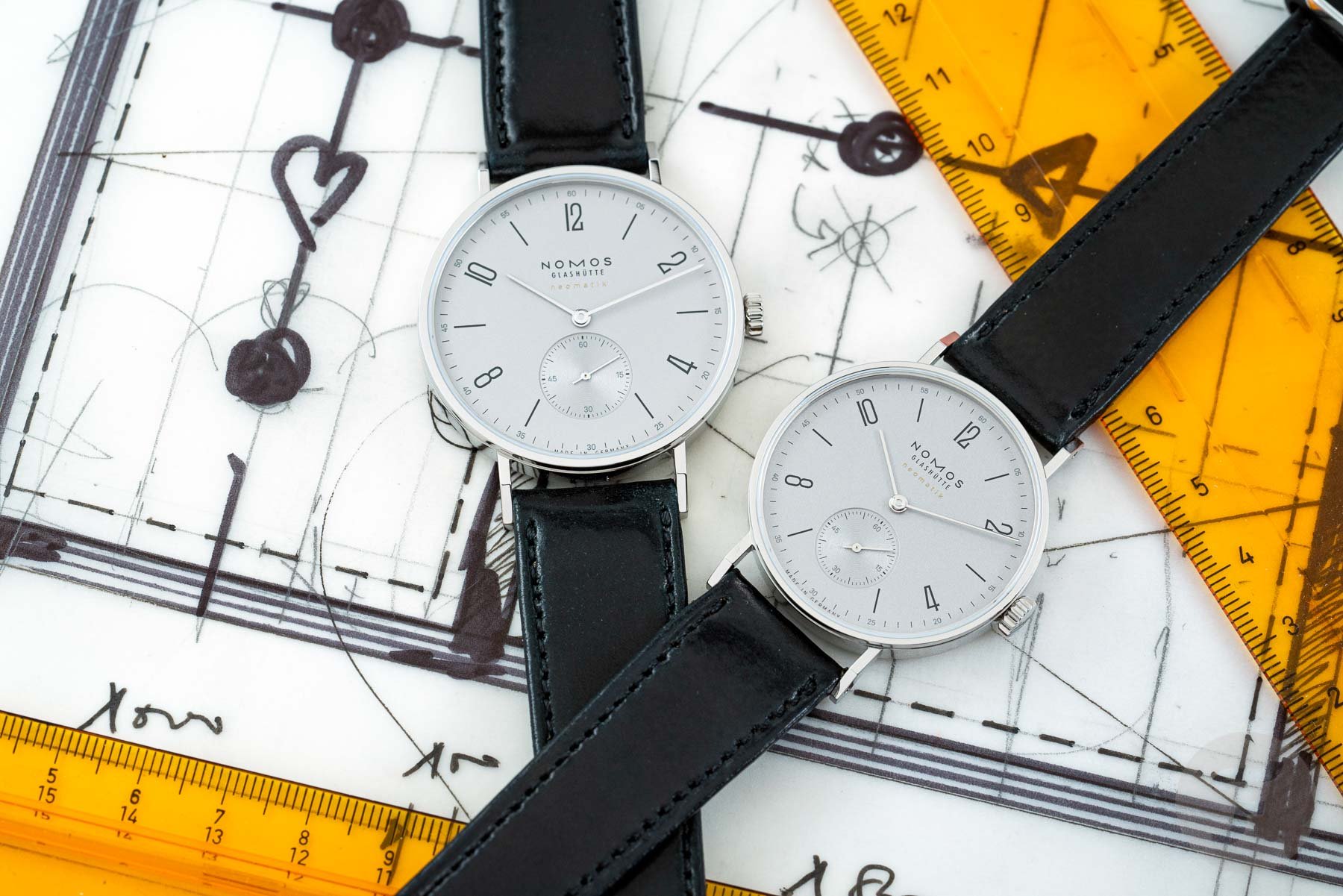 The design is award-winning and has stood the test of time for three decades already (and, let's be real, that isn't going to change any time soon). At €2,740 for the 35mm and €2,880 for the 39, this decision comes down to where you rank this new colorway among the available options, assuming you're down with the movement selection. If you love the watch but don't care to see that glorious in-house movement through the sapphire display case back, you can opt for a closed-back version of either, which knocks off exactly €300 from each price (so €2,440 and €2,580 respectively).
Let us know in the comments below if this is a model you'd consider buying, and, if so (or if not) why. Learn more about NOMOS Glashütte here.