NOMOS Glashütte Updates The Ahoi Atlantic "Dive-Inspired" Watch In Time For Summer 2022
The Atlantic Blue color palette gets a glowing update
Ahoy, landlubbers! For those of you who love the ocean and all things inspired by it but prefer not to venture beneath its surface in a professional capacity, the NOMOS Glashütte Ahoi is the watch for you. Released in 2013 as the Saxon darling's "dive watch", the Ahoi has gone on to become a design favorite. Bulkier and more resilient than the Tangente model that made the brand famous, the Ahoi lacks some of the typical "dive watch" specifications but treks far enough along the trail blazed by genuine dive tools to wind up as the perfect beach watch for both fashion and fun.
As a "dive-inspired" watch, the Ahoi's most notable carryover is its water resistance. Good for 200 meters beneath the surface, this one extremely over-engineered aspect of the design is a game-changer for the brand and a life-saver for the concept. Beyond that water resistance, the subtle but useful crown guards flanking a screw-down crown, and the quick-drying woven strap (and now bracelet), the Ahoi isn't really much of a diver at all. And yet, somehow, perhaps because of the clever use of color and NOMOS Glashütte's typically accomplished way of telling a story with its press images, the watch definitely seems to yearn for the sea (or at least the pool). While it isn't a tool of any sort, it is perhaps the most suitable NOMOS for daily wear.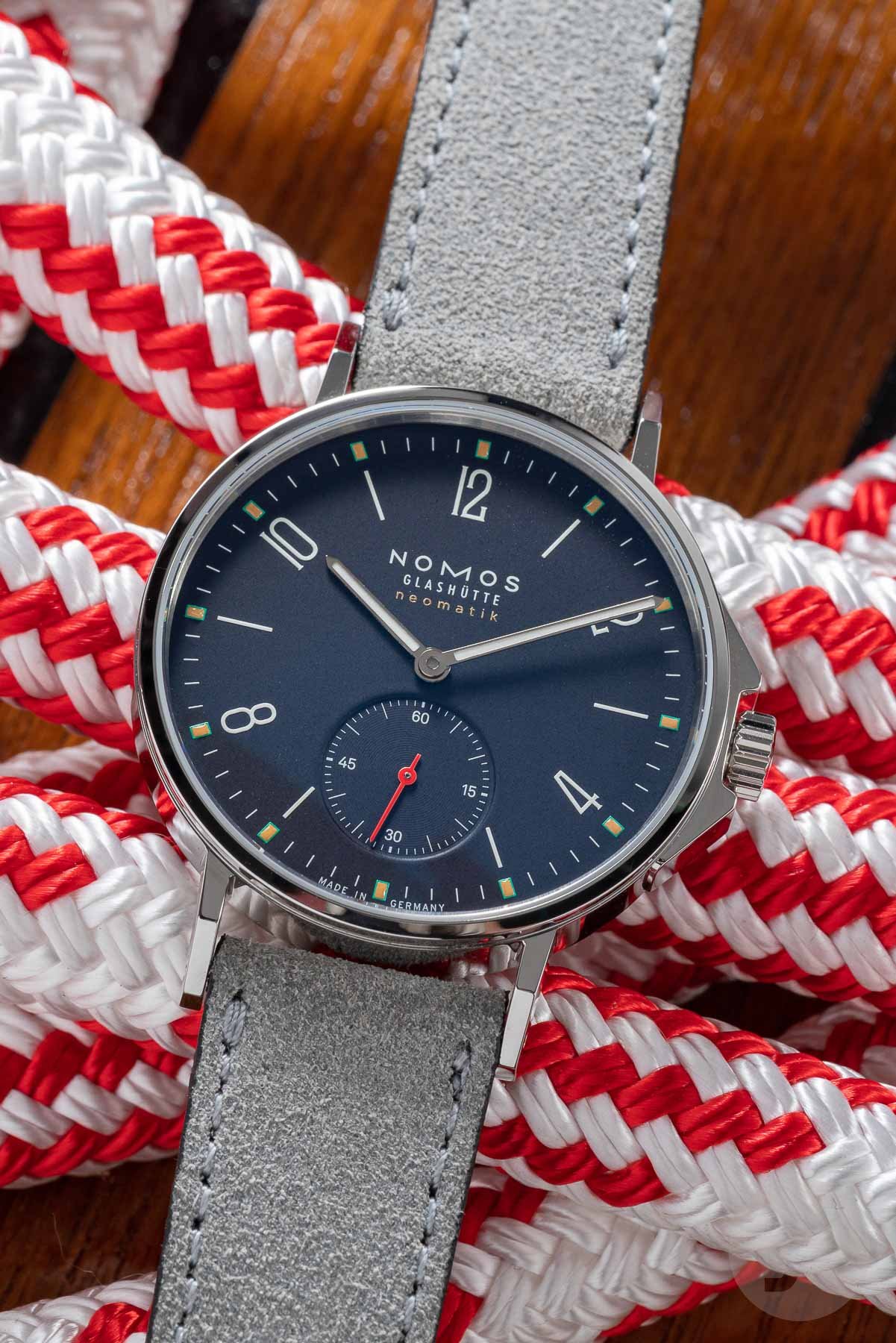 Bigger but not too big
The original Ahoi was one of the Bauhaus-led brand's bigger watches. That said, it is not big by modern standards at all. Despite the original's positively demure 40.3mm diameter and 10.6mm thickness, it looks huge on the wrist thanks to the edge-to-edge sapphire and almost complete lack of a bezel. While that instantly counts it out in the dive stakes, it jacks up its artistic potential a few notches.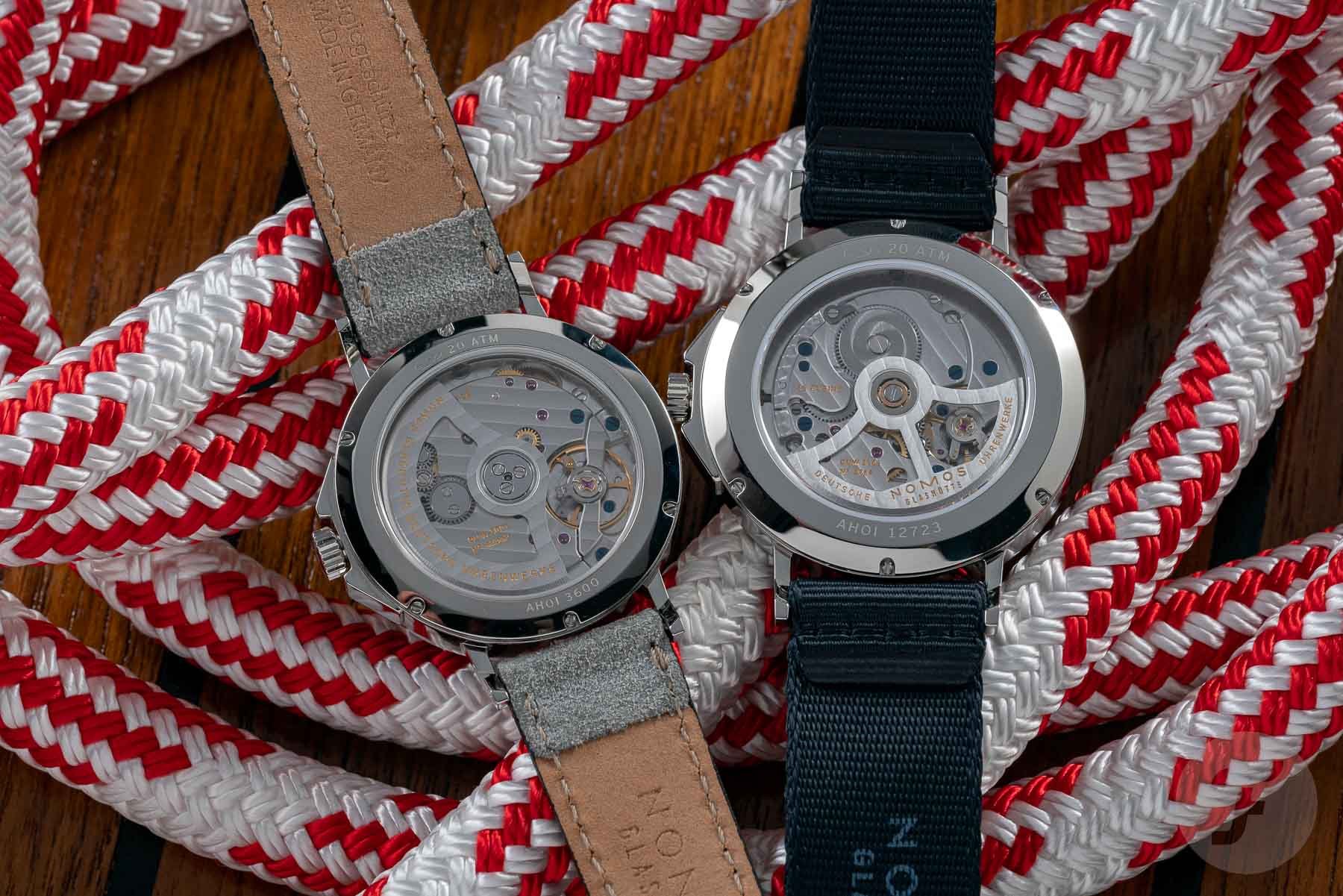 The original Ahoi references 550/555 and 552 were followed in 2017 with the release of the "Aqua" capsule collection, which contained four new Ahoi neomatiks that boasted both the DUW 3001 slimline automatic caliber and a new 36.3mm case size. The update to the collection we're discussing today sees six new references join the collection, including two new neomatik references 566 (closed steel case back — unusual for a neomatik model) and 567 (open display back).

While the closed-case-back 566 might be an "odd" choice considering the attractiveness of the DUW 3001 caliber, it does have one low-key benefit that might not be apparent to anyone who hasn't spent a significant amount of time with NOMOS's famous in-house movement. While I adore the architecture and finishing, its slimness, coupled with the slim cases for which the brand is known, does mean that the rotor weight has a tendency to make audible noise when spinning. Some sharp-eared customers have actually reported hearing it in operation all the way from their wrists. If you are very sensitive to such movement sounds, the closed case back offers slightly better noise insulation. It's a small thing, perhaps, but something of which to be aware when making your choice.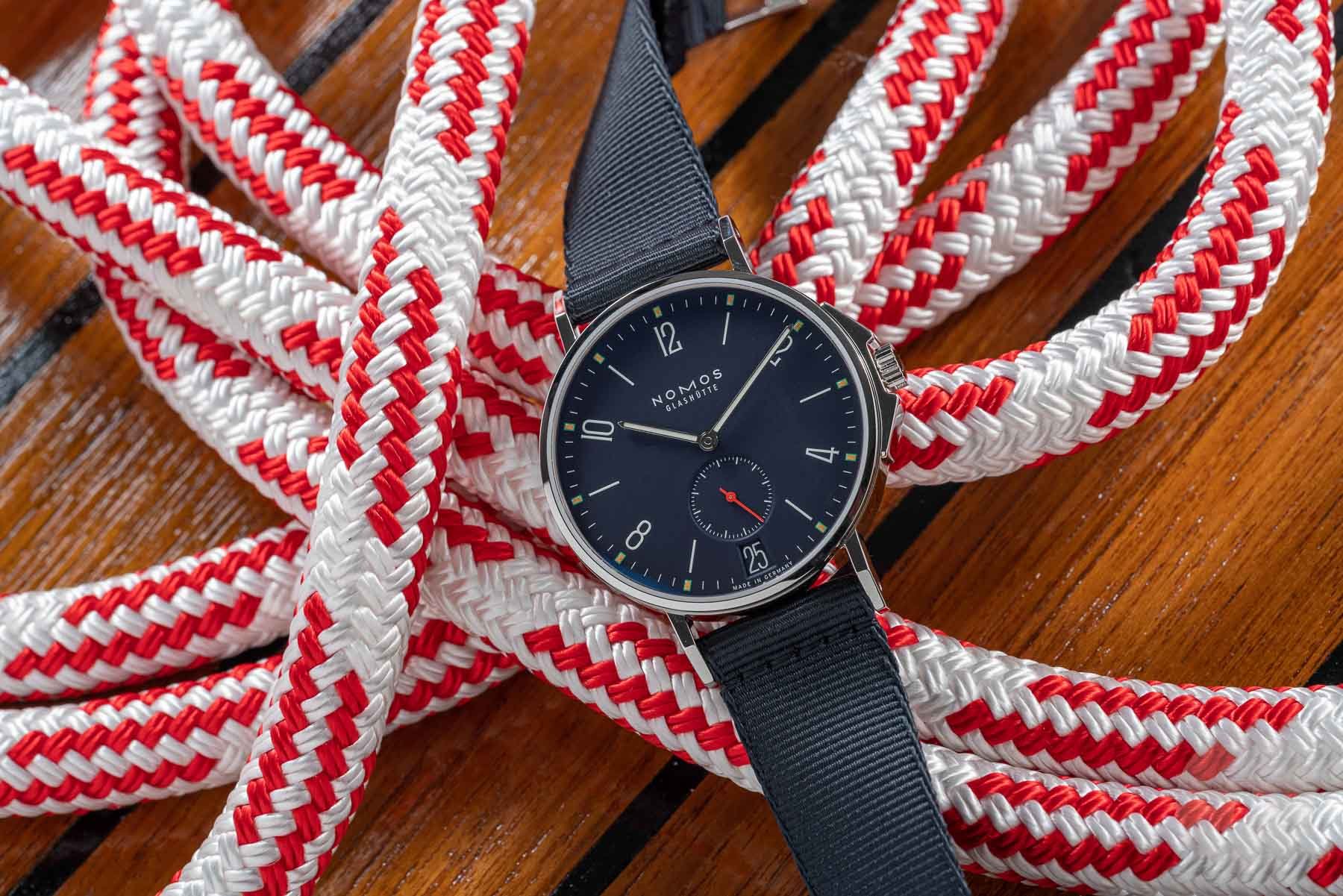 It's all about the rainbow
Color. It all comes down to color. The original Ahoi model was launched in two color variations. There was a white (silvered) dial and an Atlantic Blue dial. The sub-seconds hands on those earlier models were red. Sneakily, towards the end of the decade, NOMOS Glashütte did a very unusual thing and changed the sub-seconds hands on the original references from red to orange — RAL 2005, to be exact — and made no attempt to communicate it whatsoever.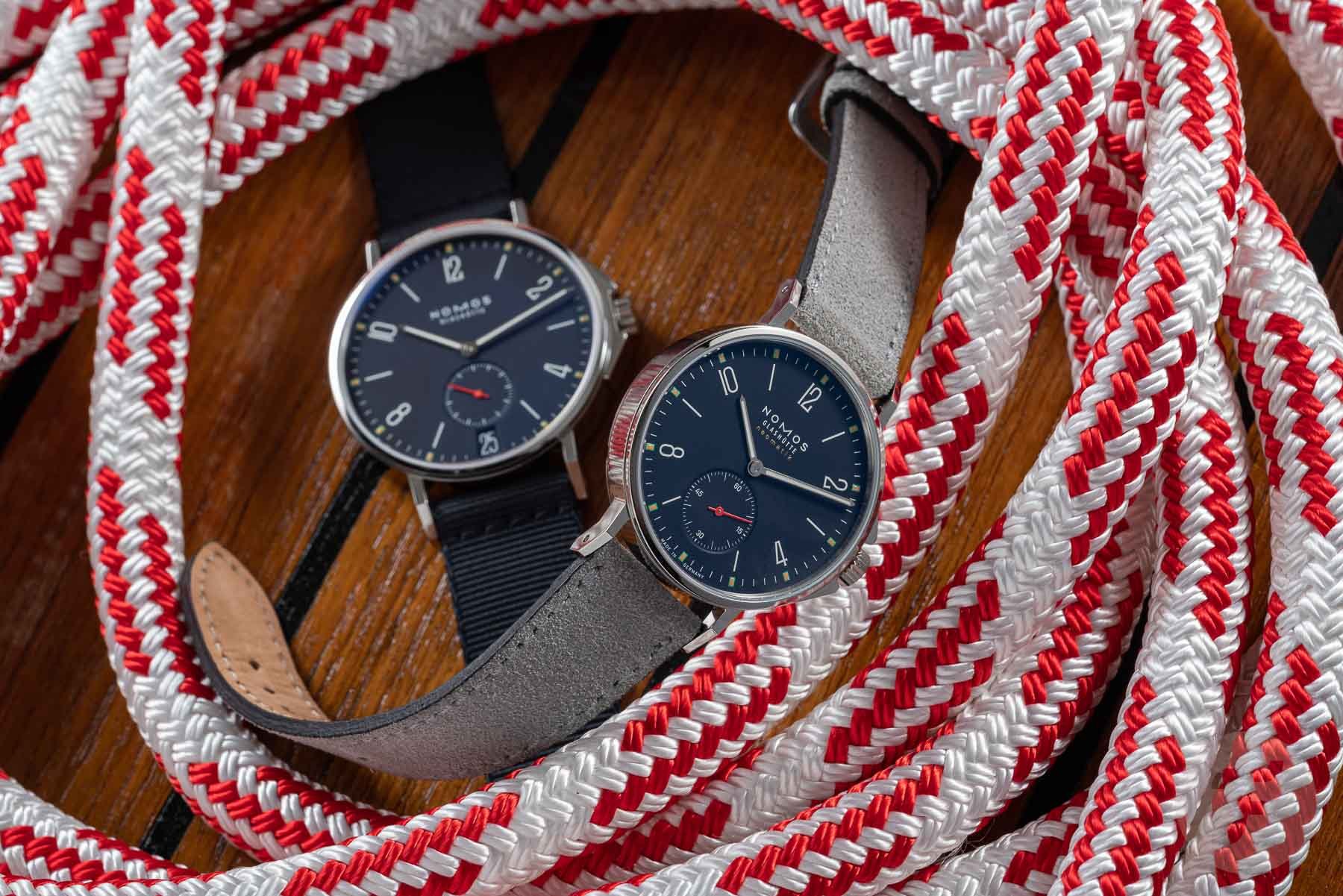 That's the same orange you'll see on NOMOS's neomatik line, the Club Campus 36mm sub-seconds hand, and the home-time indicator on our very own Weltzeit limited edition from last year (which will soon be joined by a follow-up model, so if you were sad to miss out on the world's first Panda Weltzeit, sign up to this waiting list for early updates and access to the next Fratello × NOMOS Glashütte collaboration).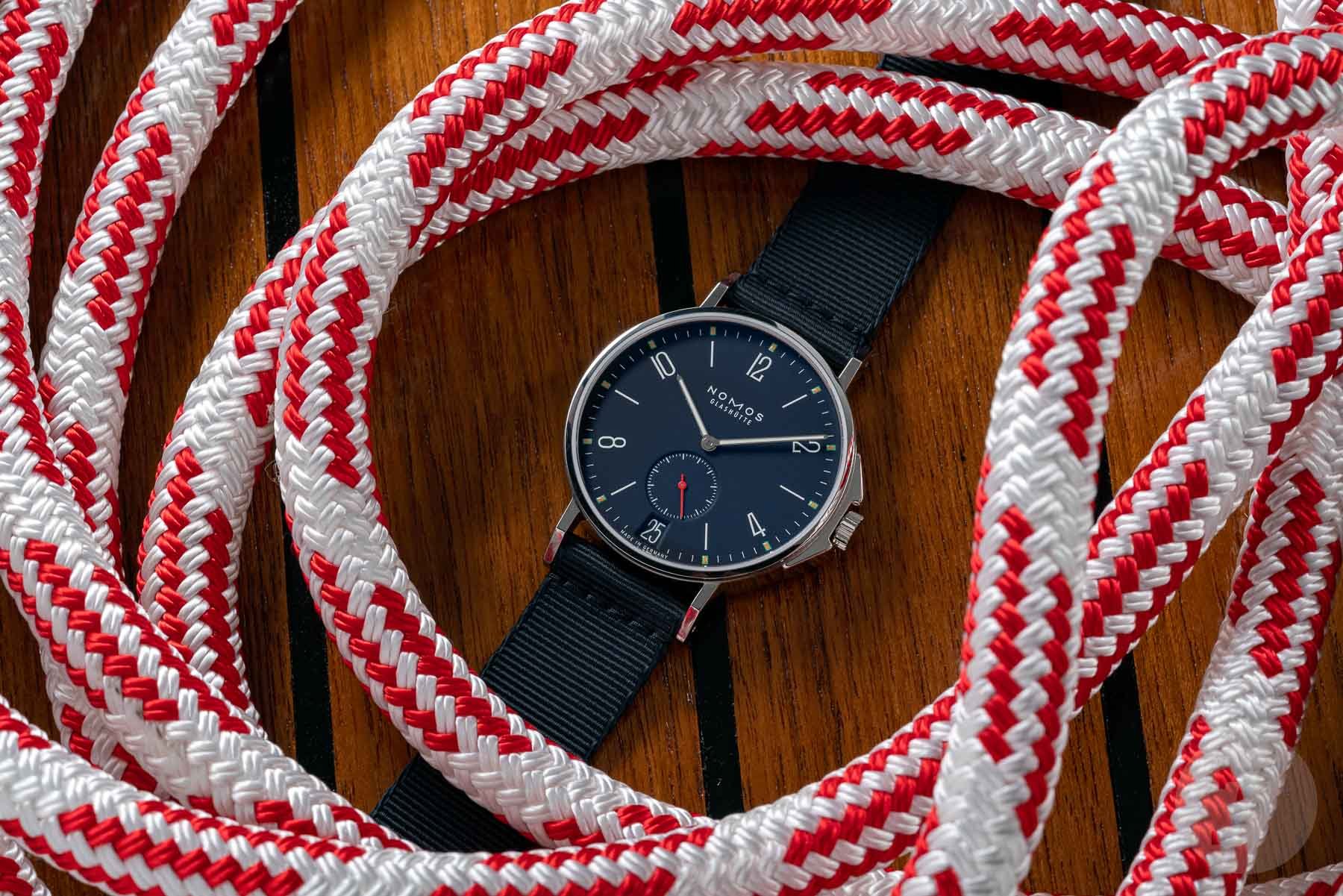 I was working for the brand at the time and liked the move for two reasons. Firstly, the orange was just bolder — especially on the Atlantic Blue model. I did wonder if the designers had inspired themselves to readdress the red on the original references after the incredibly positive reception to the 36mm Ahoi neomatik Atlantic released in 2017, but that remains unconfirmed (whether it's true or not, it would certainly make sense).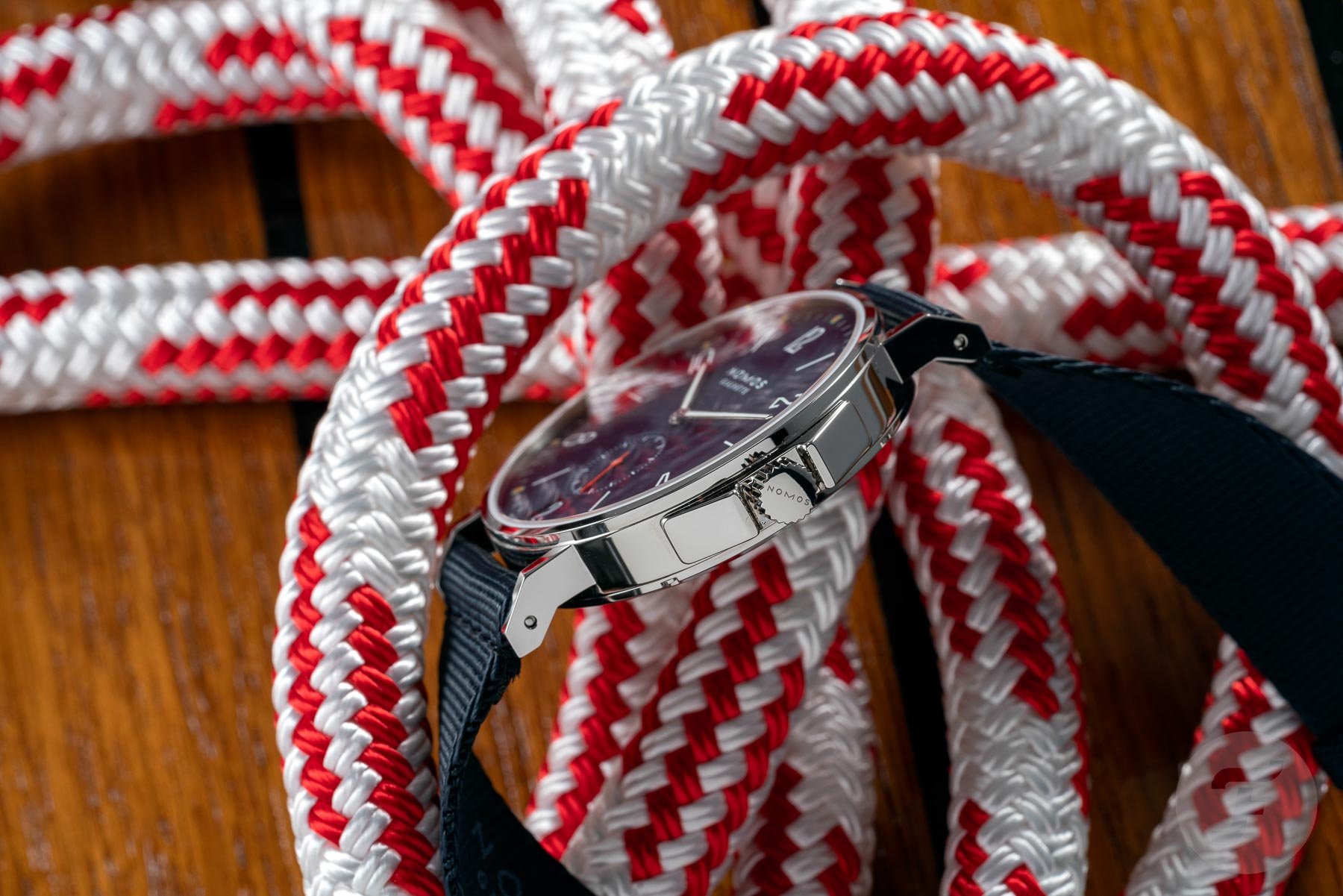 The second reason is that it suddenly, overnight and without warning, made all the Ahoi's early adopters the owners of a collector's item. The brand, without any kind of announcement, time-capsuled one of its own pieces. You might find that annoying. If you do, I get it. But I think it's simply cool.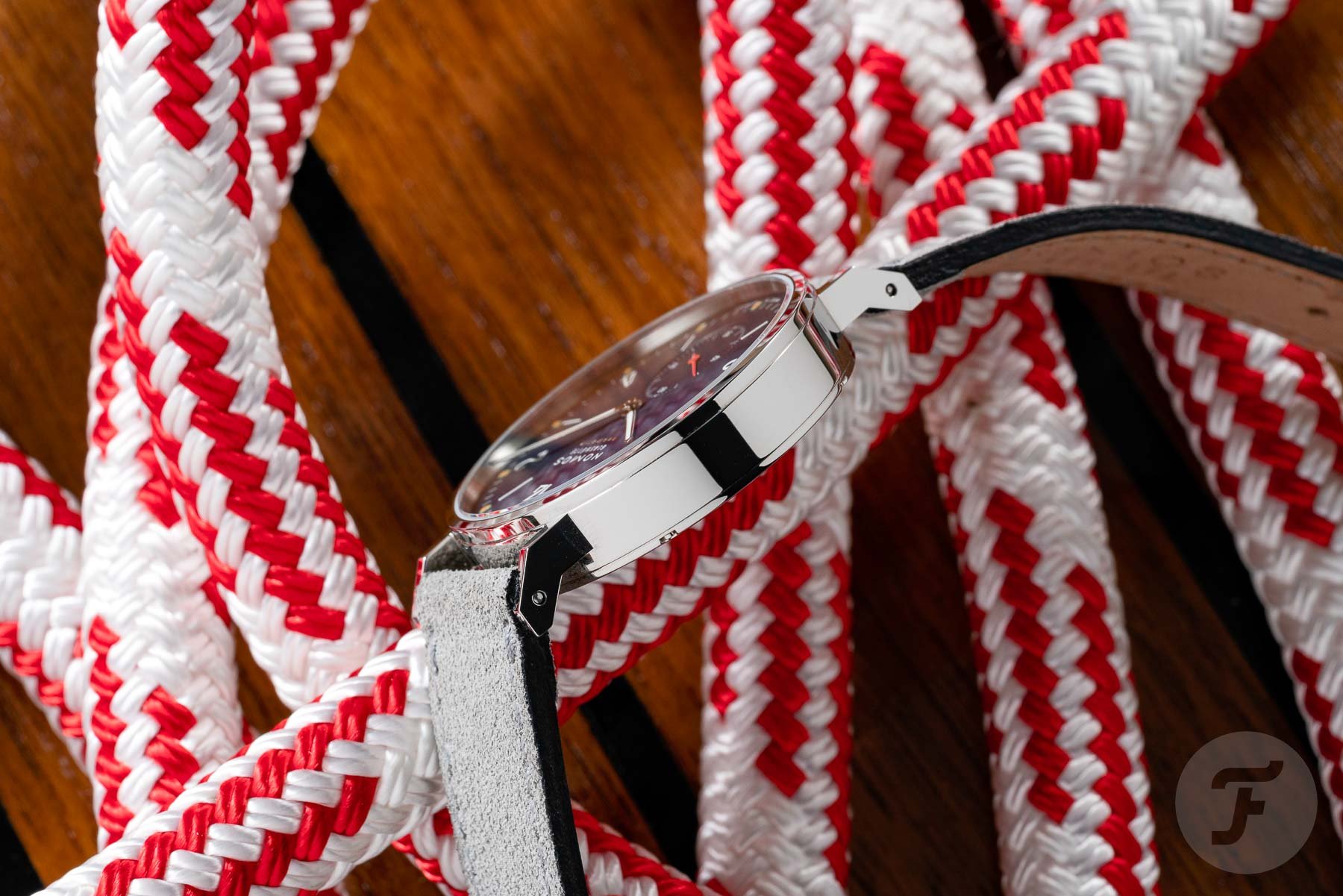 A return to red but a leap forward in lume
In this collection, we have the 40.3mm no-date Ahoi Atlantic with either a closed steel case back (547) or an open display back (557) showing the DUW 5001 automatic caliber (in-house, but not of the super-slim variety, resulting in a 10.6mm thickness). There's also the Ahoi Date Atlantic (reference 548 with a steel back and 558 with a sapphire back) powered by the DUW 5101 (the same movement but with a six o'clock date function), and the aforementioned Ahoi neomatiks (which benefit from their 3001 movements and thus stand just 9.6mm tall on the wrist).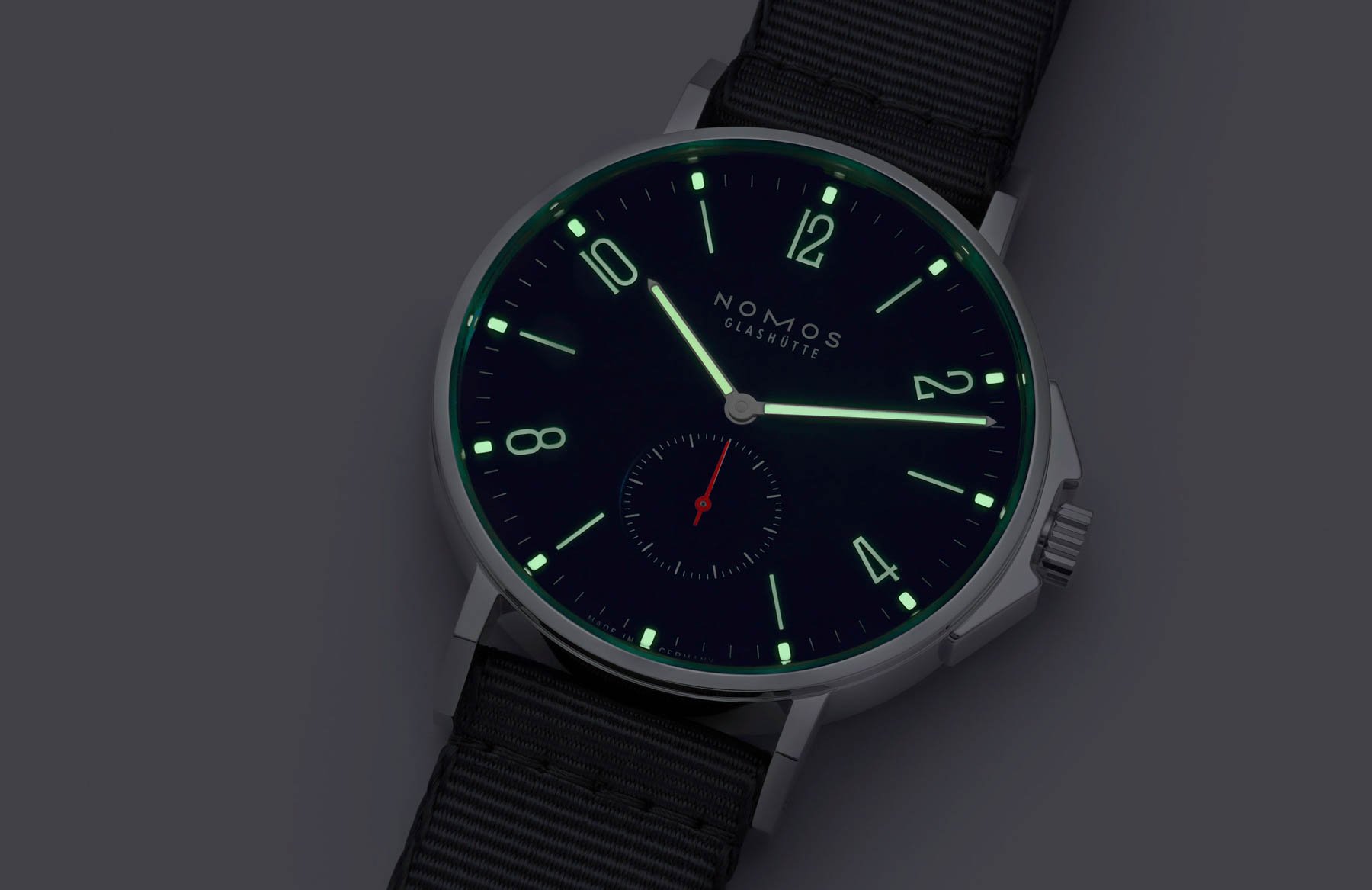 These six new references all follow the same color palette. They employ an Atlantic Blue dial, a red sub-seconds hand, white text, and yellow hour markers with funky teal outlines (look closely). Honestly, the daytime view of this new capsule doesn't excite me anywhere near as much as the orange-handed 552, but — and this is a big but — the nighttime view of these Ahoi knocks it out of the park. Here, for the first time, we have luminous numerals as well as hands and hour markers. In the dark, this Ahoi looks every bit like an underwater companion. And while it's still no good for timing your dive, this upgrade (in an area that NOMOS rarely dabbles) has surely got to be appreciated.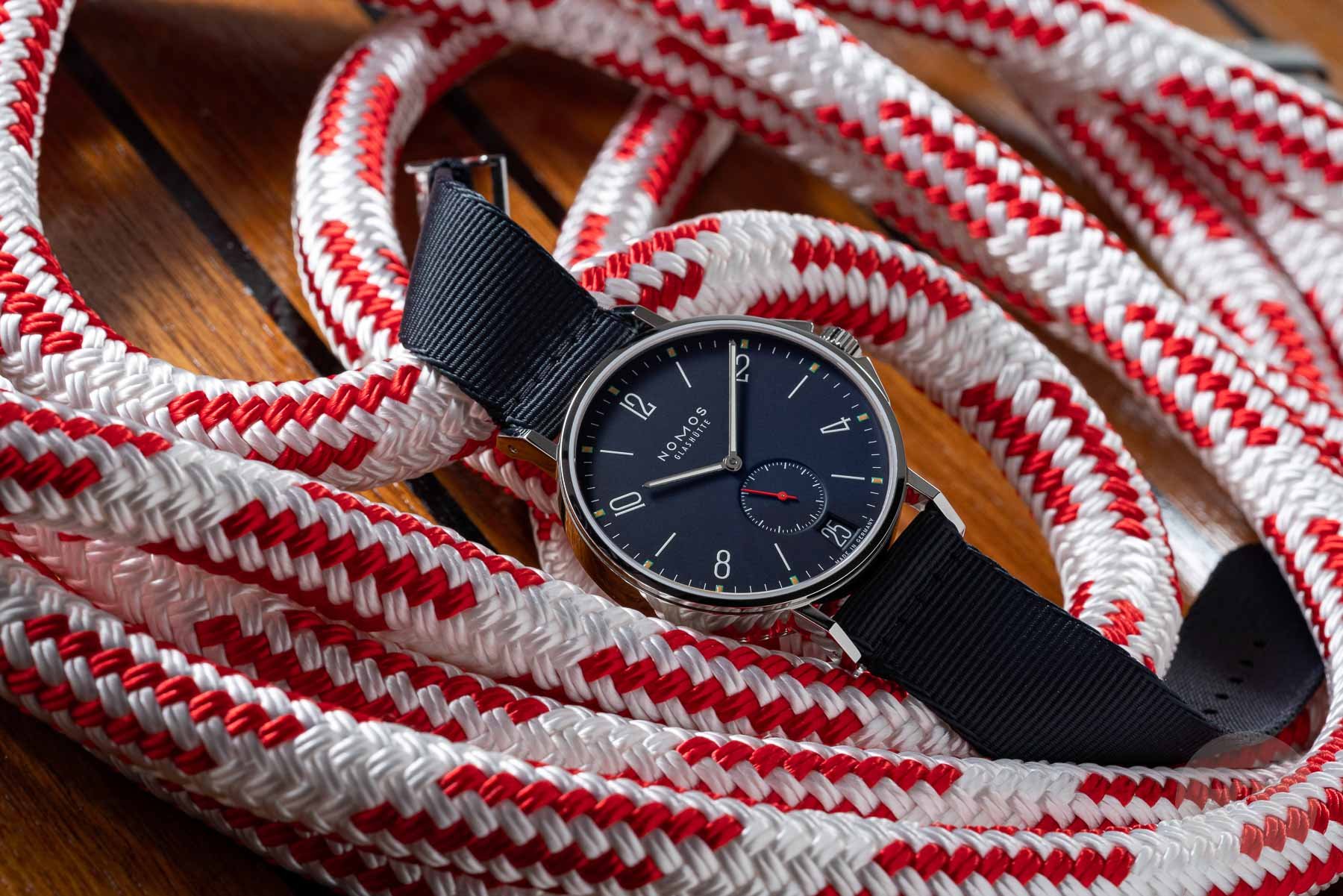 To lug or not to lug
For some, a slight sticking point of the 40.3mm models could be the 51mm lug-to-lug measurement, which is a touch on the longer side for a watch of such diameter. However, this is NOMOS's way. The longer-than-you-might-expect lugs are integral to the design. Swooping curves, measurement-reducing drop-offs, creative workarounds, or no lugs whatsoever are out of the question.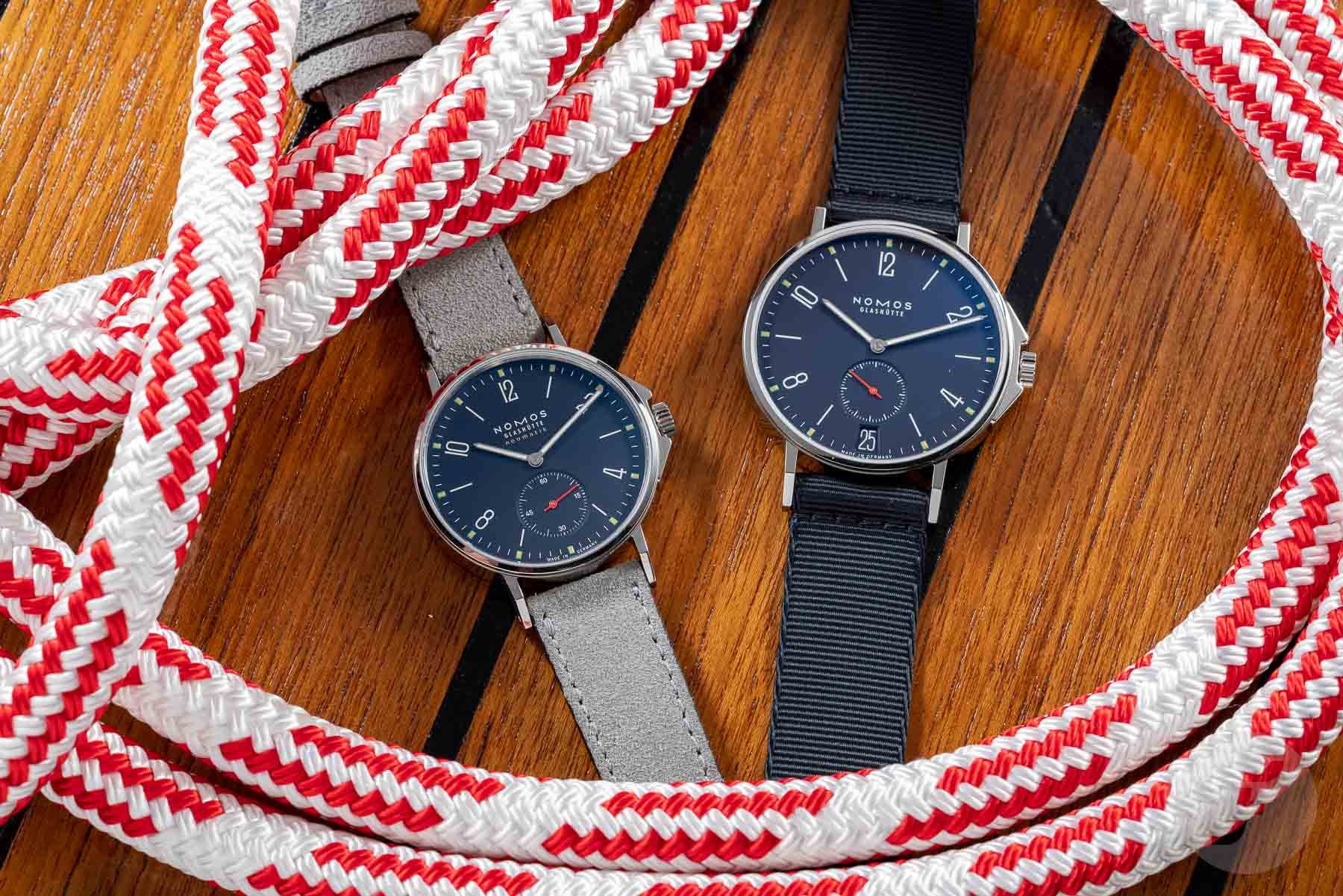 Form follows function. NOMOS adheres to its strict design code throughout the collection. Perhaps the closest you get to a sympathetic lug design in the NOMOS catalog is the Metro, with its stout, case-band-hugging wire horns. But tell me, honestly, do you want to go to war with the ocean with welded wire lugs? No, sir. For the kind of application for which the Ahoi is designed, you need strength. And strength is what those angular lugs exude.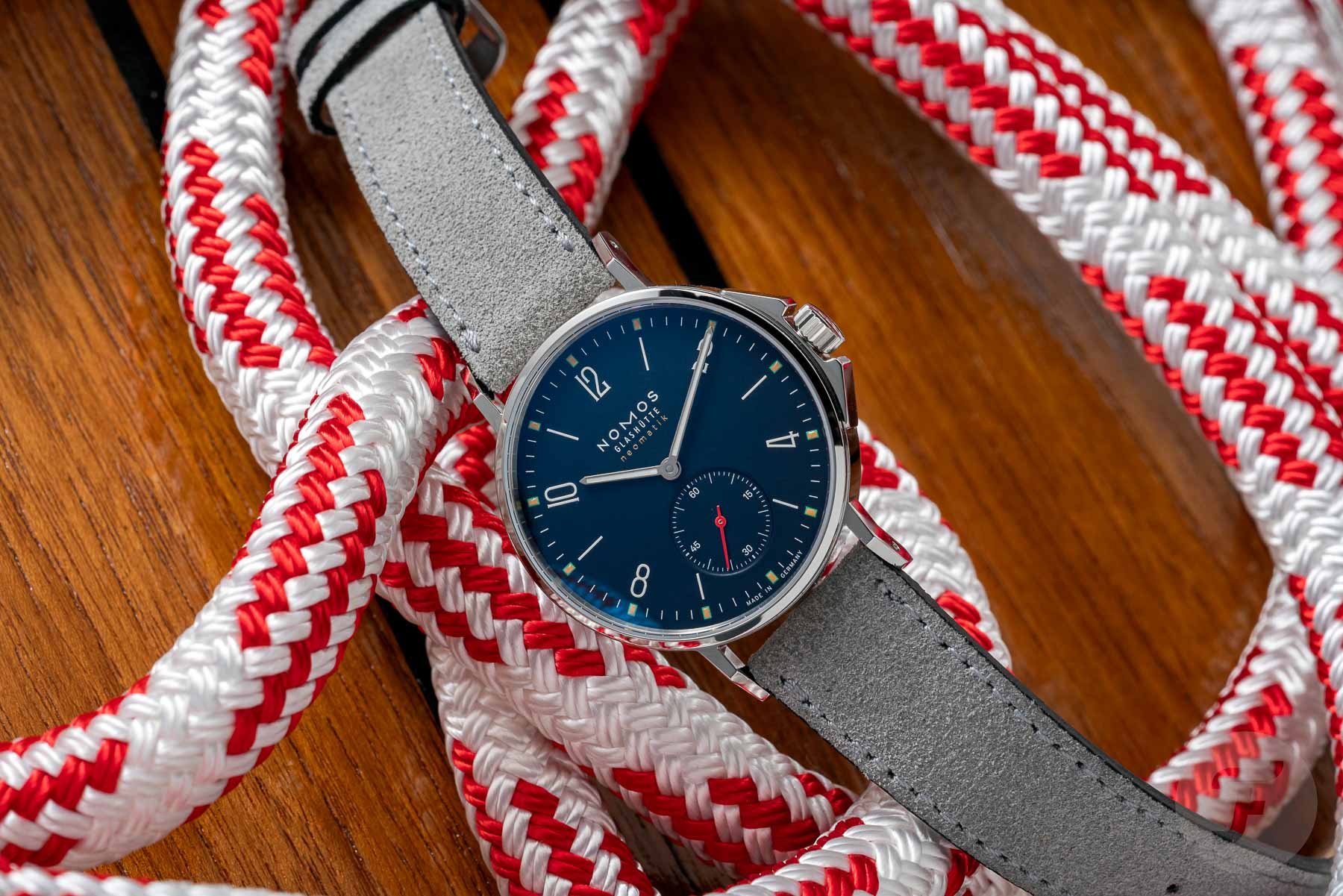 My personal preference in this line, therefore, would be to go for the 36.3mm version. Many will deride that as being "too small for a man". I, however, would urge anyone of that persuasion to try it on before making a decision. It wears much larger than its dimensions suggest. It is able to retain a muscular presence due to its slightly stouter proportions (4mm narrower and just 0.9mm thinner than its bigger brother will do that for you). Its lug-to-lug? A wearable but not weak 45.5mm.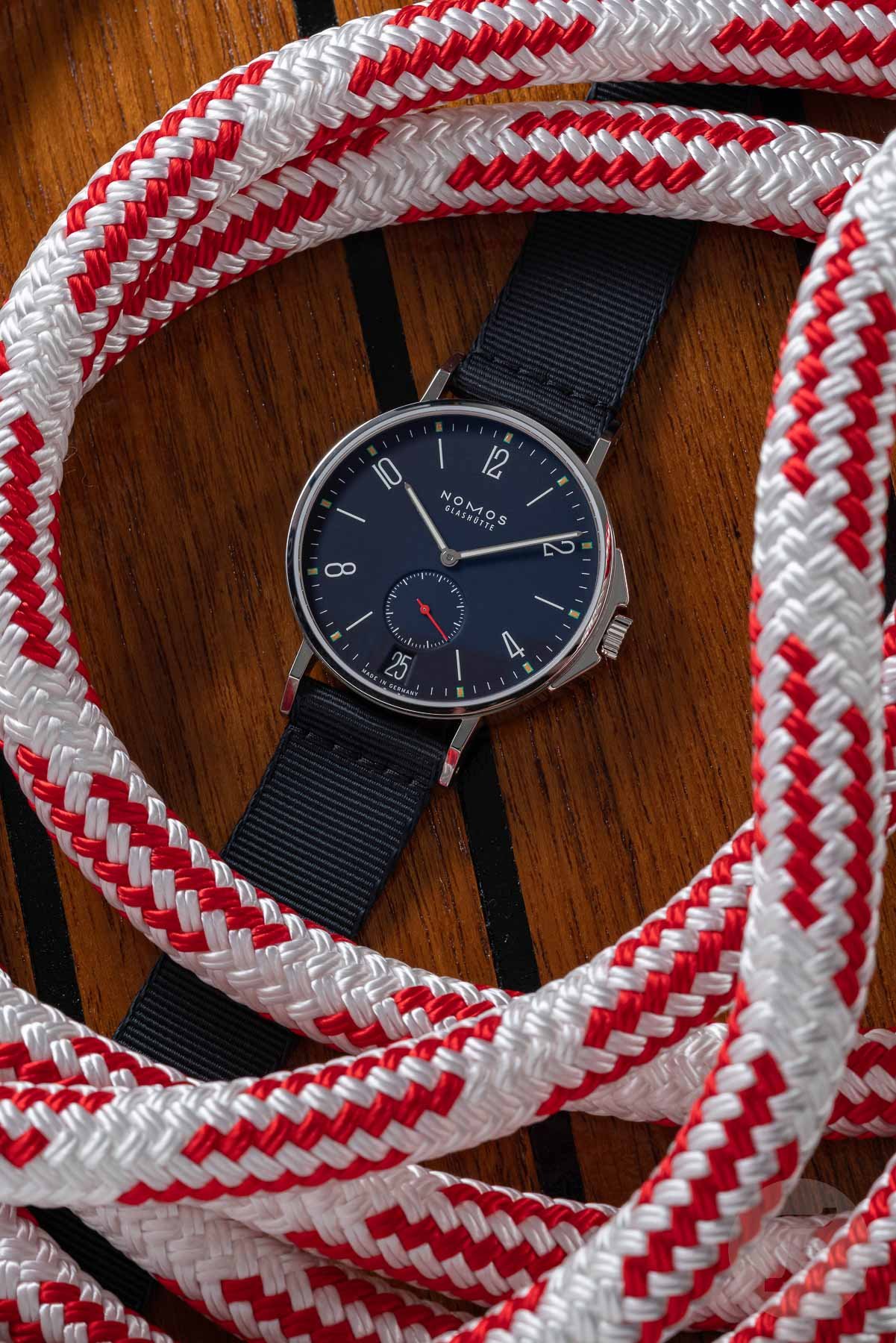 Conclusion
So, where do I come down on this new capsule? The 2022 Atlantic Blue updates are certainly welcome additions to the collection. Having each reference available with a closed case back is a nice touch. It not only gives you an option aesthetically but also presents the opportunity to reduce the price slightly. Models with closed case backs tend to retail for around €200 less. I'd personally take the open case back (always) because NOMOS does such a nice job with its movements. But maybe money is a concern. Maybe, ideologically, you prefer a "dive" watch with a closed back. Perhaps you are sensitive to movement sounds and want as quiet a watch as possible. All of those reasons would support the closed-back option.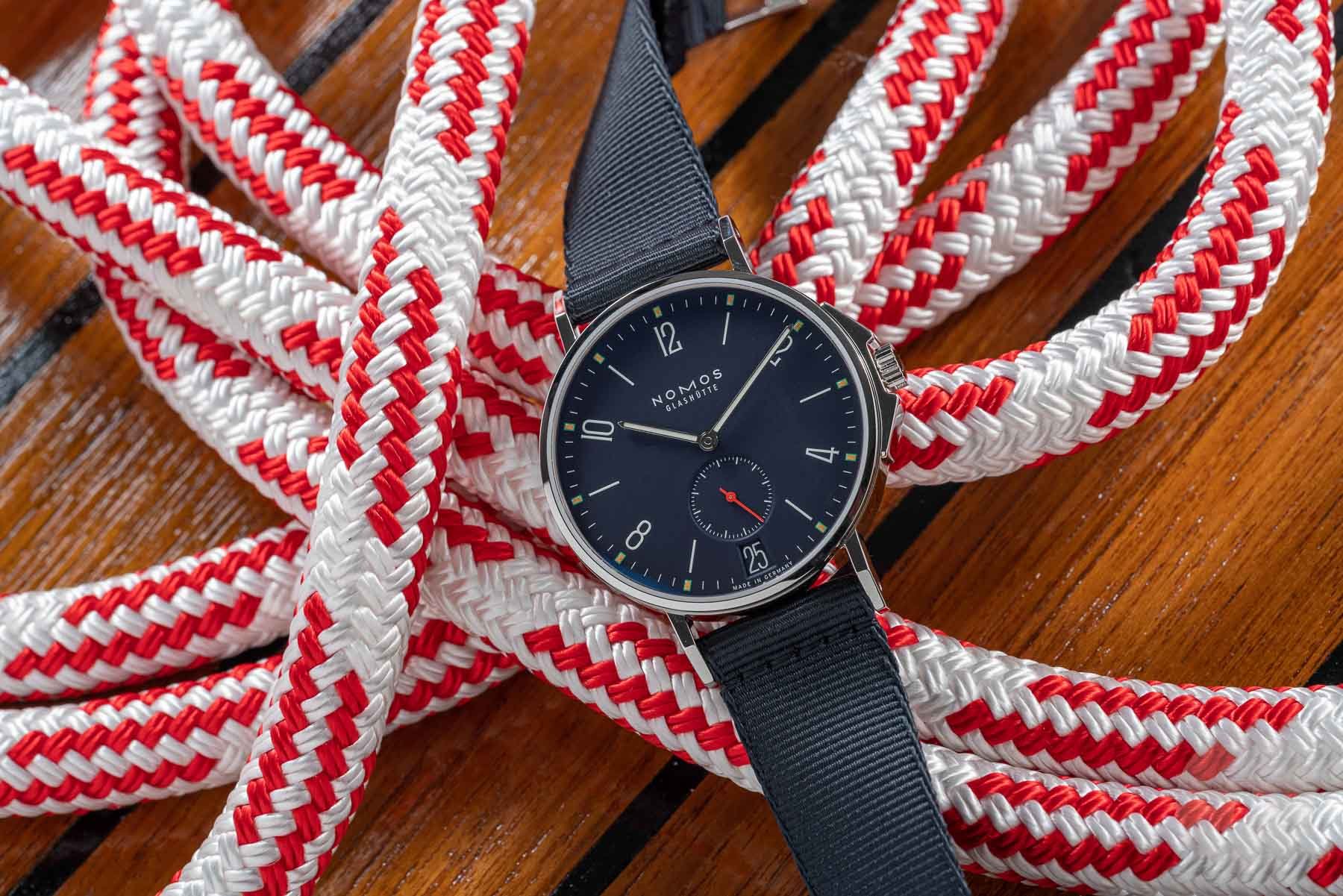 My favorite Ahoi model ever remains reference 561. That's the very first Atlantic Blue neomatik from 2017. It benefits from the RAL 2005 hand, RAL 2005 neomatik text, and the rose gold hands and numerals that add an inviting sense of warmth to proceedings. Of the new models released today, I would take the 567. It has the same proportions and functionality as the 561 but can argue its superiority on the back of those awesome luminous numerals.
Which version do you prefer? Do you "get" this new colorway? Is this a smart evolution for the Ahoi, or is the collection treading water? Let us know in the comments below and give your own suggestions of where NOMOS Glashütte should take its charming water baby next. Prices for the open-case-back models range from €3,140 to €3,620. Learn more about NOMOS Glashütte here.