Norqain Celebrates NHLPA Partnership With Adventure Sport Chrono Limited Edition
Independent Swiss brand prepares to face-off with the competition...
Spoiler alert: if you don't want to know the result of the Stanley Cup Final between the Dallas Stars and the Tampa Bay Lightning, look away now… In the wake of a thrilling, if somewhat unconventional, end to the professional hockey season, Norqain has announced its new partnership with the NHL Players' Association. The Norqain new Adventure Sport Chrono NHLPA Limited Edition, limited to 500 pieces, marks the moment…
Was it ever in doubt? Did anyone really think the Stars could hoodwink the quick-striking Lightning in the same way they did my beloved Golden Knights in the conference finals? As Tampa Bay skates off into the history books with its second Stanley Cup triumph this century, the rest of us are left to ponder what might have been. The Stars made it closer on paper than it was on the ice. Anyone who watched those games knows that to be true. But what makes it so tough to take is how predictable it all was. Wouldn't it have been nice to see a curveball team glide to the title? Wouldn't it have been great if the Hockey Gods had decided to hand us something we weren't expecting…
Well, in a roundabout way, they did. Here we have the Norqain Adventure Sport Chrono NHLPA Limited Edition. And no, I did not see this one coming.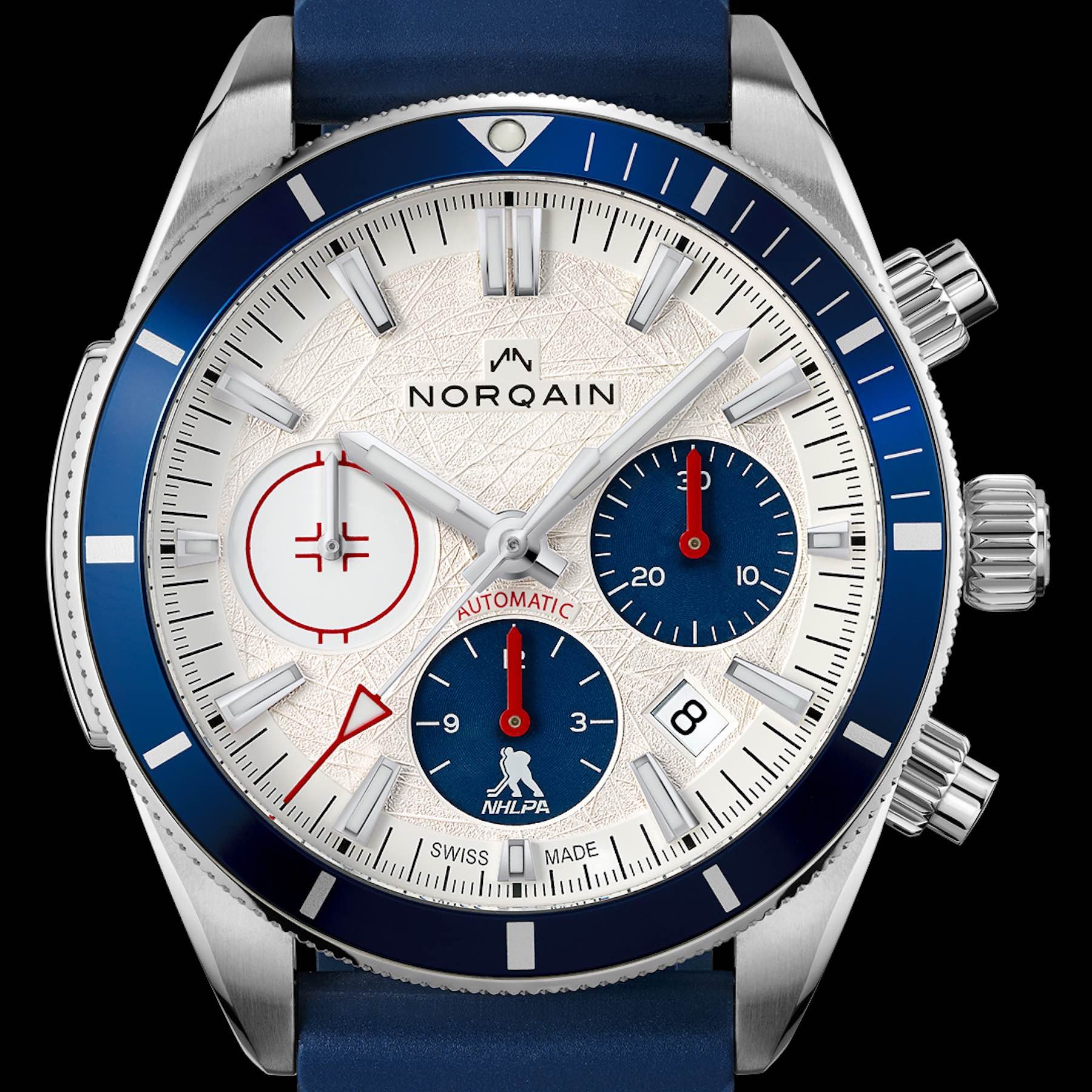 A happy marriage
Sports and watches go hand-in-hand. Timing is everything for the world's finest athletes. It makes sense that they should be timed by the world's finest watches, right? And yet sometimes, when a partnership is announced, it can be met with cynicism. For Norqain and hockey, this should not be the case.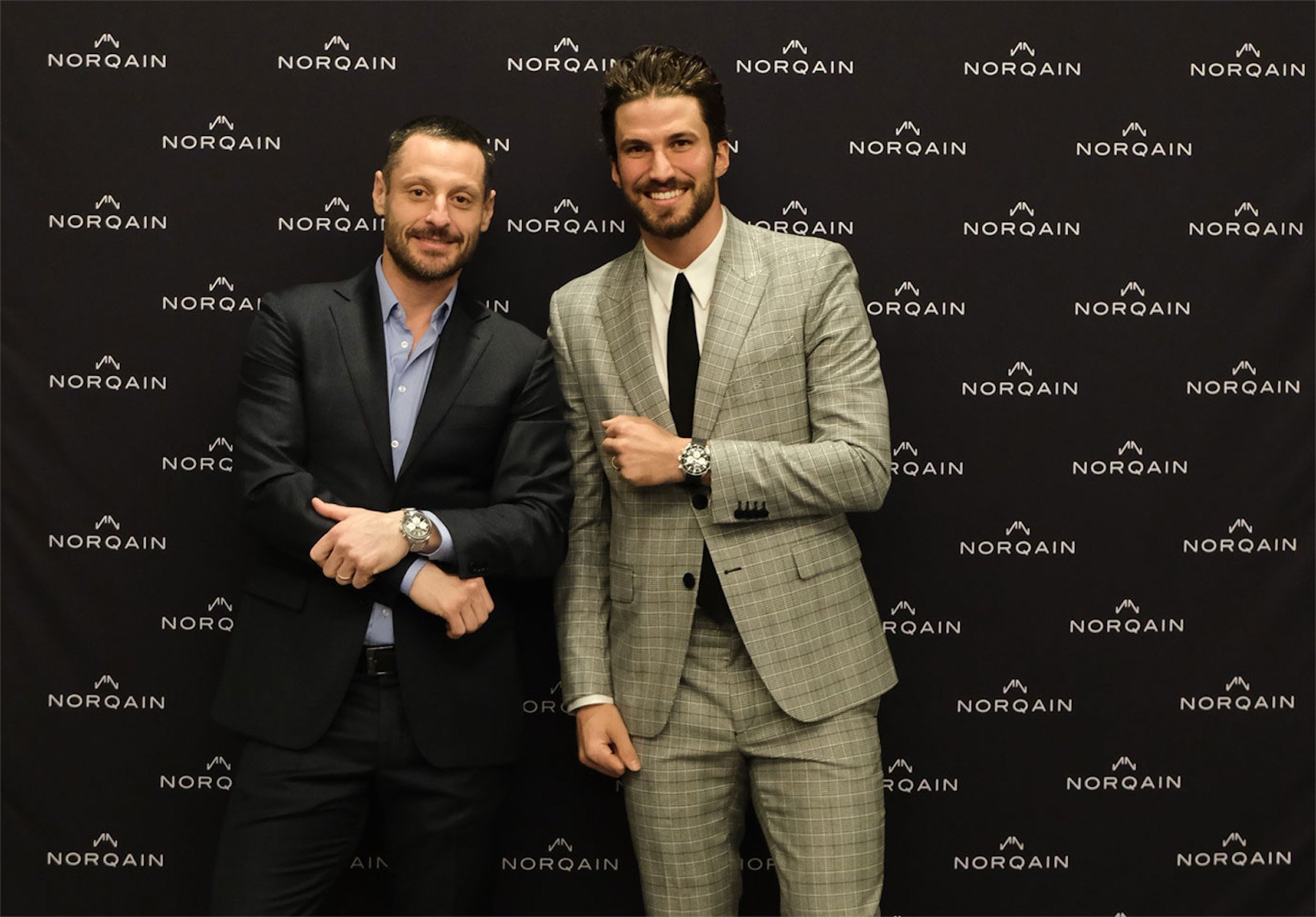 Norqain board member Mark Streit, 2017 Stanley Cup winner, and Roman Josi, three-time NHL All-Star player have been actively involved in the independent brand's development from the get-go. So it makes perfect sense, but even without those close ties to hockey this partnership just feels right to me…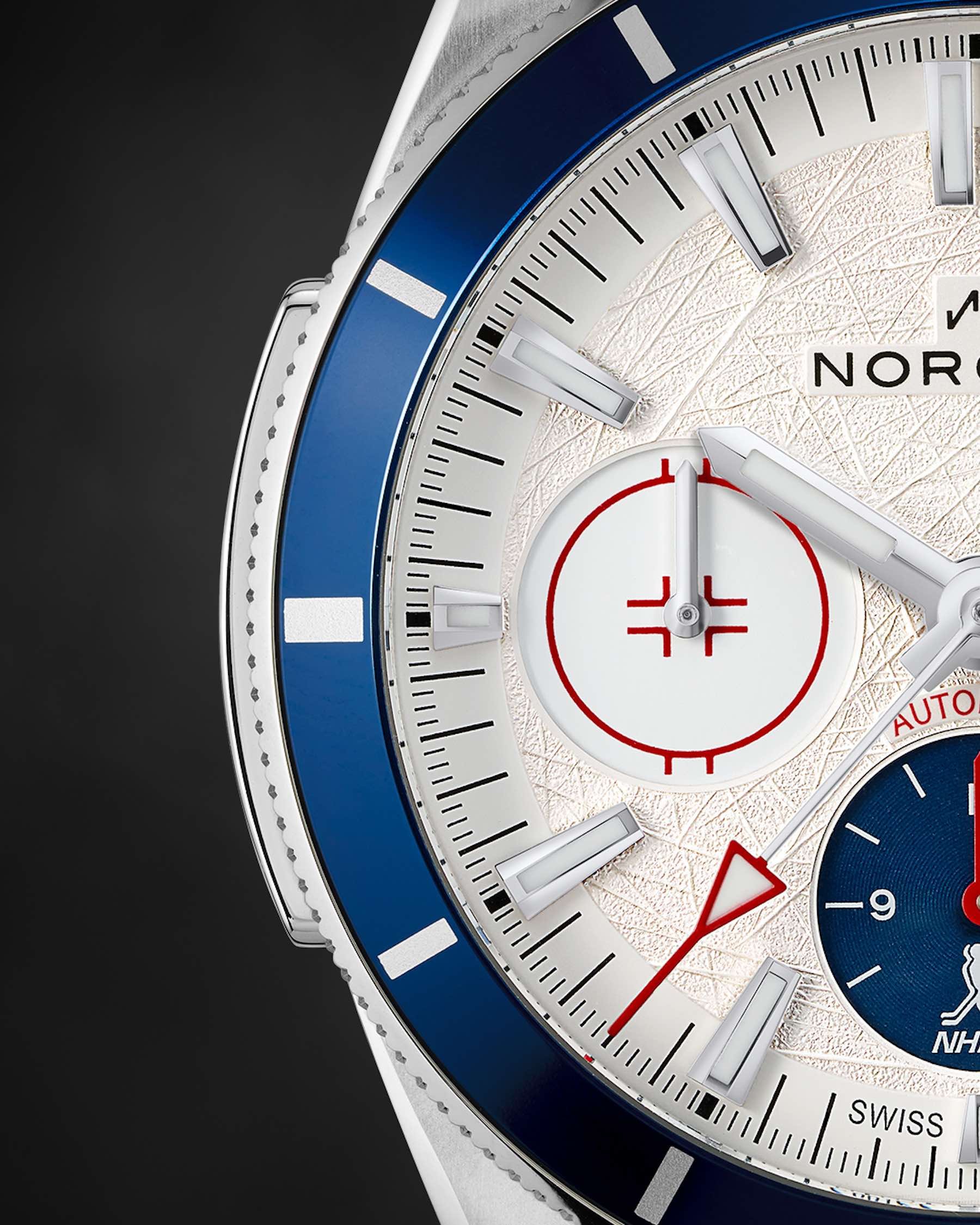 I'm not sure if it is because the Norqain name reminds me of the Quebec Nordiques team that migrated from Quebec City to Denver, Colorado in 1995, or whether it's because the Norqain logo looks like an ice-capped mountain, or maybe because, surprise, surprise, the watch is not just a co-branded marketing gimmick, but actually boasts a couple of really cool design elements I'd like to see more of.
It could just as easily be a graphical decoration dreamt up by a sideways-thinking designer.
The nine o'clock "face-off" sub-dial is a gimmie. If Norqain had missed the opportunity to use that motif I might have cried. Luckily, the brand ported the zone from ice to dial flawlessly. What I like about it is that it needn't be a hockey reference. It could just as easily be a graphical decoration dreamt up by a sideways-thinking designer. It reminds me of a sector dial (which I love) but has a heart.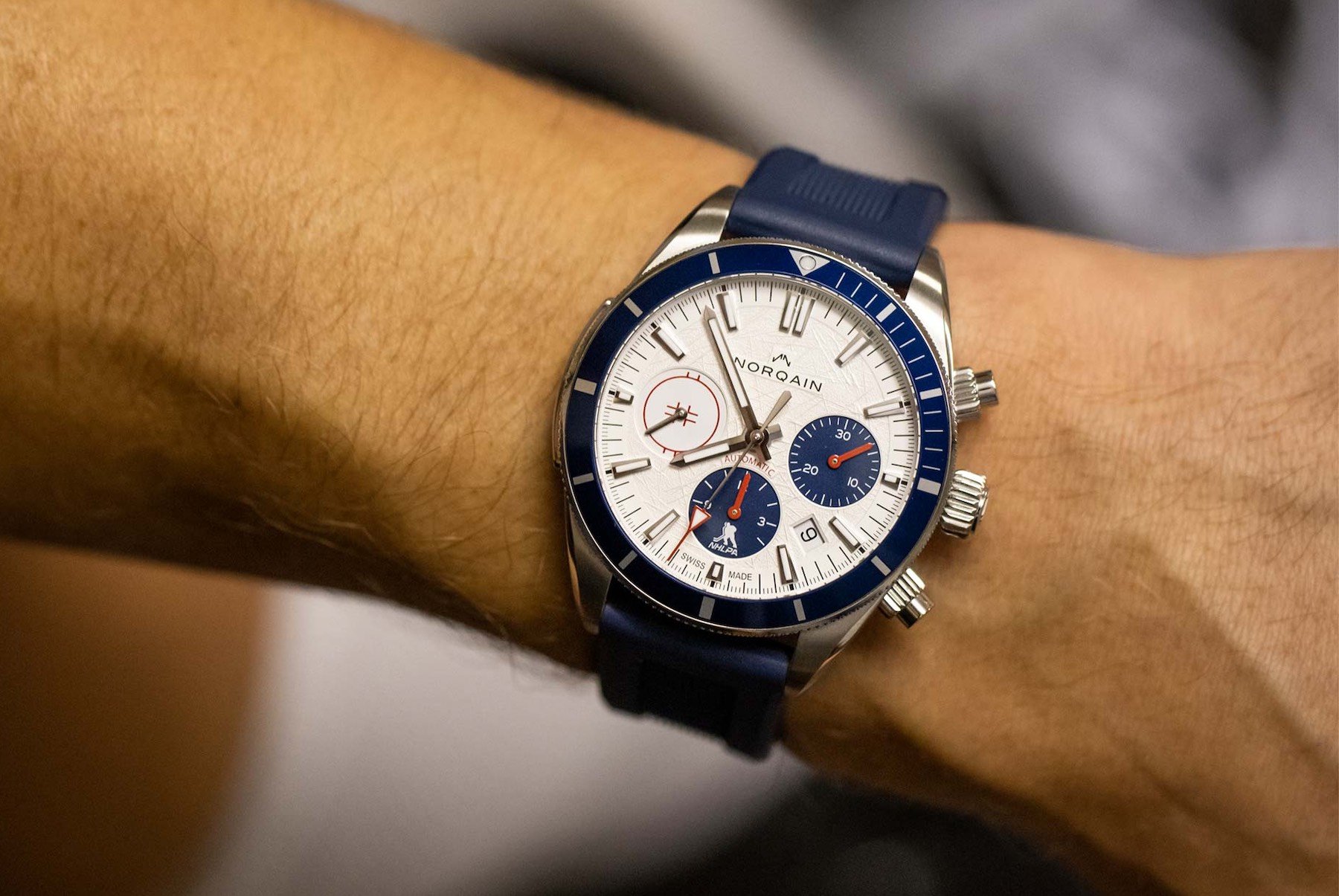 A textured triumph
I could live without the tiny NHLPA hockey player in the six o'clock sub-dial (his metalized bigger brother pops up on the see-through case back, which I think is the right spot for this logo), but he doesn't bother me too much. Mainly, he doesn't bother me because nothing about this watch is able to distract from the "scratched ice" surface, which is — let's face it — the beginning and the end of whether or not you like this watch at all.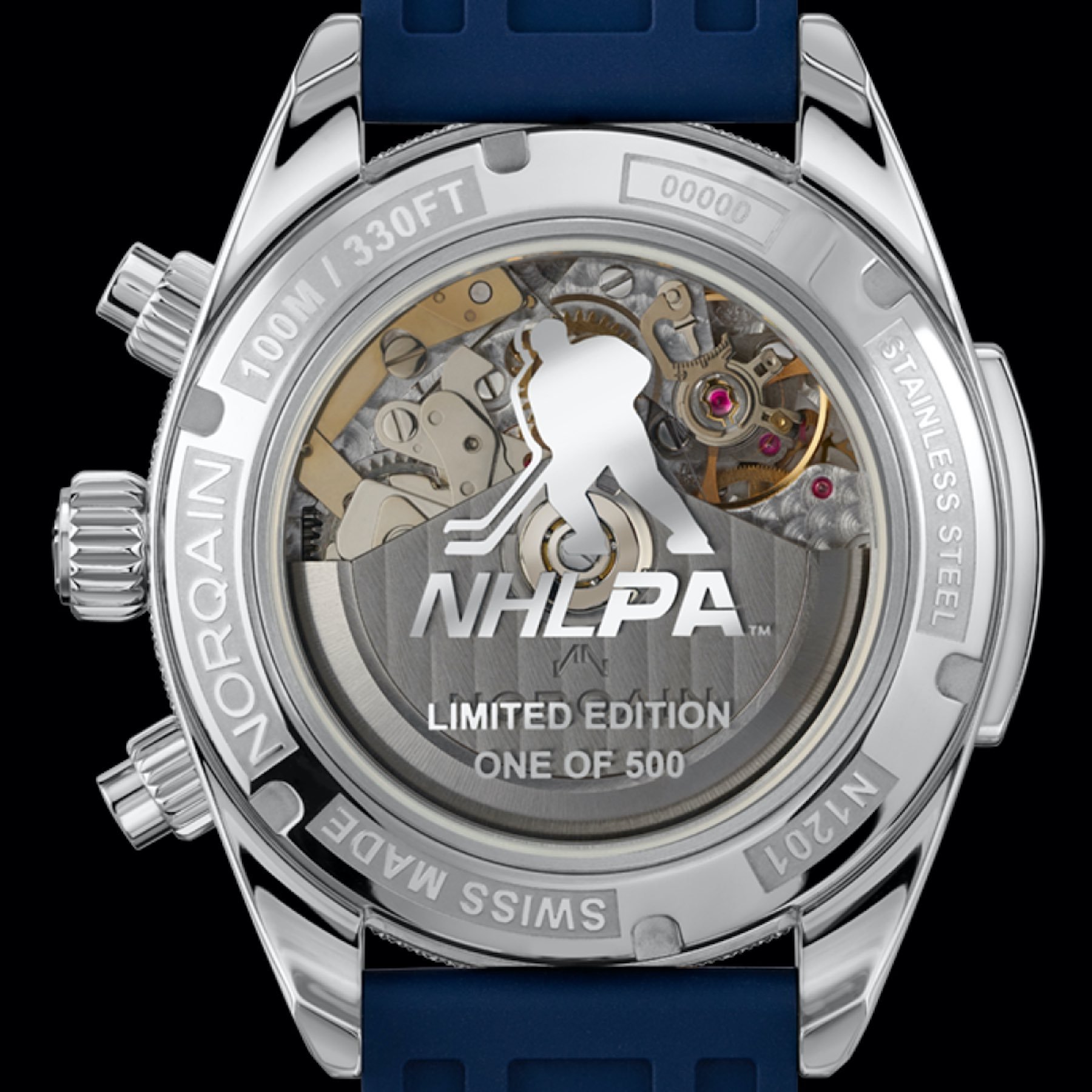 And I really, really dig it. This isn't the first time Norqain has rolled out this randomized texture on its novelties this year (the green dial of the Independence 20 we reviewed here wasn't a million miles away from this) but in this off-white shade, it looks absolutely brilliant. Apparently, it takes 30 separate production steps to achieve this finish. It looks like time well spent.
…it's so nice to have something new to get excited about.
Generally, my collection is trending away from pale dials, with a sudden influx of black, dark green, and occasionally blue dials taking over. This, however, made me stop and stare. I love heavily textured dials. I've waxed lyrical about the Grand Seiko Snowflake in the past. I can already hear myself droning on and on about this dial also. But, forgive me, please — it's so nice to have something new to get excited about. The question is, does the rest of the watch live up to the dial?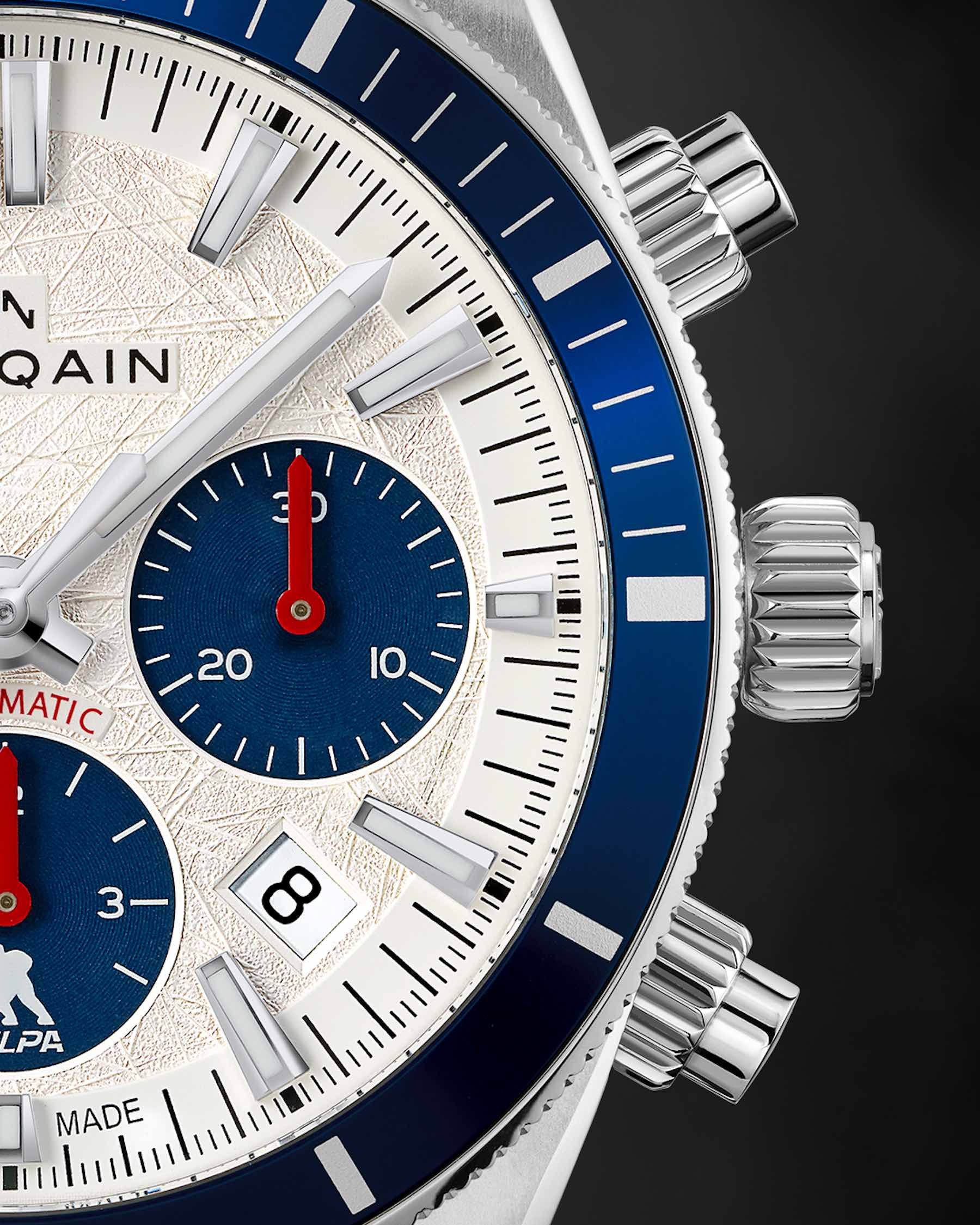 A fusion of new and old
Norqain is a new brand. As such, Norqain Adventure Sport Chrono NHLPA Limited Edition has little in the way of heritage to feed off. And yet there are throwback cues all over this piece. The collared pushers, the aluminum bezel insert, and the ETA 7753 to name but a few. Somehow, despite being an entirely new watch from a very new brand, the Norqain Adventure Sport Chrono Limited Edition has this air of a heritage-inspired model. Its 41mm case with a 49mm lug-to-lug play into that notion.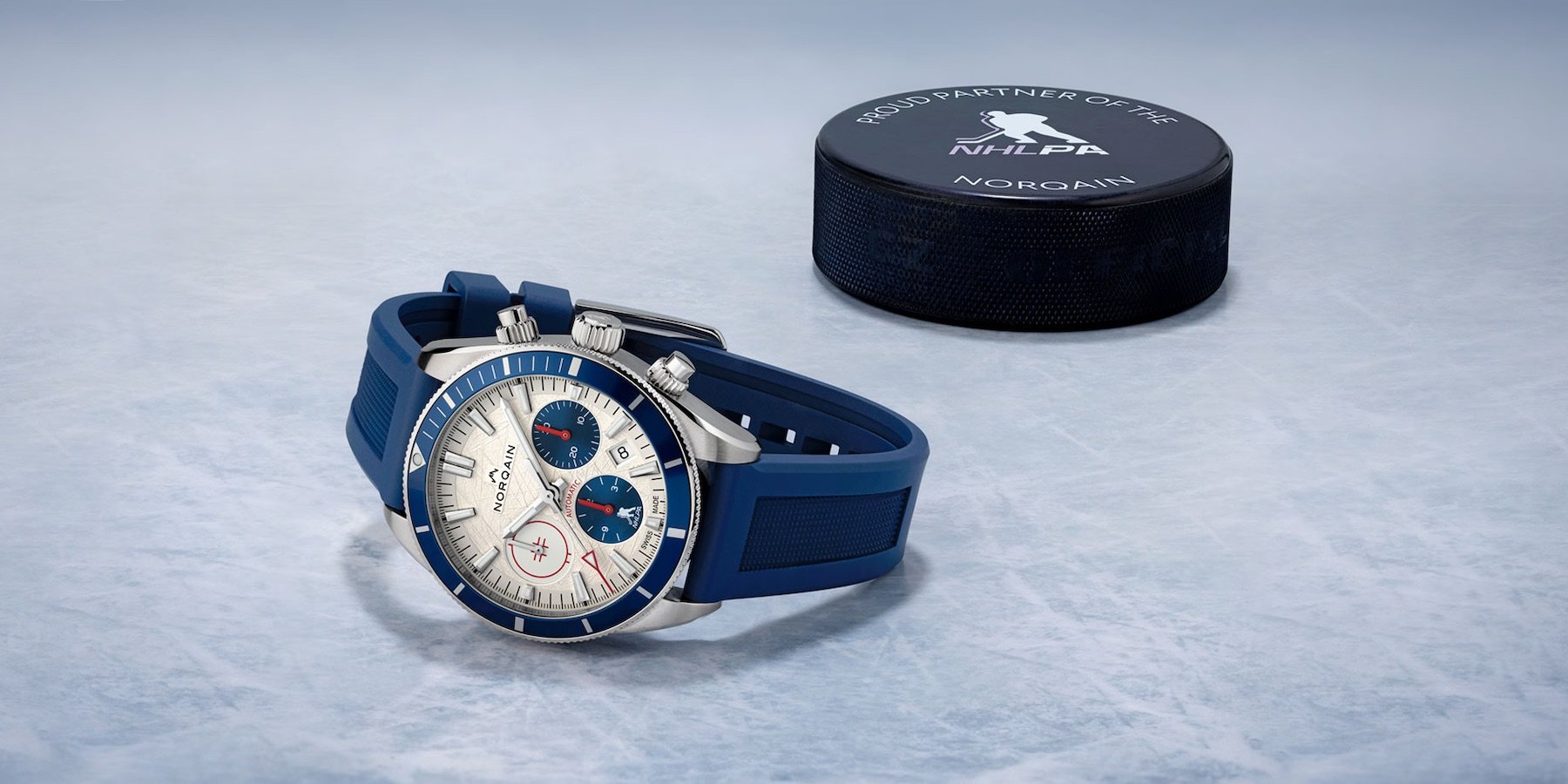 As noted, there will be just 500 pieces of this model made. Additionally, anyone that buys one will receive an exclusive NHLPA X NORQAIN puck that is not available anywhere else. If you're not into hockey, you might find that kind of funny, but as someone who actively collects hockey pucks and watches, I find that prospect pretty exciting. If you want to add one to your collection, it will set you back €2,990. Learn more about Norqain here.