Norqain Freedom 60 GMT Watches NN2100 And NNZ2100 On The Wrist
And how to start a new watch brand in a satisfactory way
We've seen many new watch brands over the last few years. Norqain was one of them. Many of the initiatives were attic start-ups, born out of a passion for watches. Those often lack a solid plan to become a real well-known watch brand and mainly rely on gut feeling. Norqain was not one of them.
Norqain was founded in 2018 by Ben Küffer. And like so many start-ups, this one was to fulfill a dream of building an own independent watch company. But when Norqain came to the market in 2019, it became clear that it wasn't just another well-meant microbrand startup. It appears that the company – besides to fulfill a dream – has been established on solid foundations of know-how and experience. Ben's father, chairman of the board of directors, has more than 45 years of experience in the manufacture of Swiss luxury watches. Ben himself had been working on a management level at Breitling for over 11 years.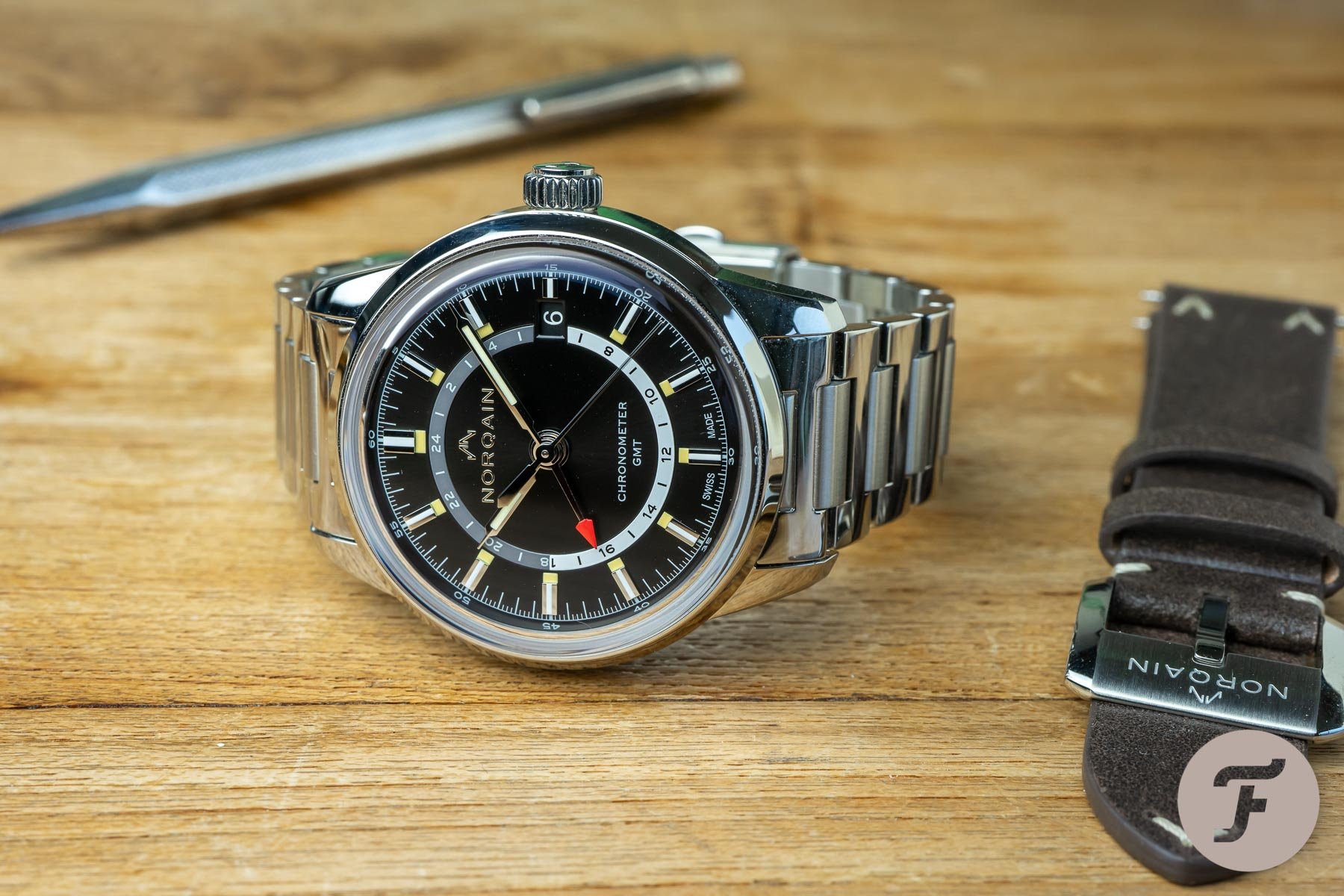 Former Breitling seems to be the common denominator for Norqain's management
Ted Schneider is also a member of the Norqain board of directors and is the son of Theodore Schneider, former owner of Breitling. Ben Küffer had worked closely with Ted during his 11-year career in the watch industry. A quick search through LinkedIn learned that other management members are all industry veterans. Breitling seems to be the common denominator in Norqains management; however, I found employees coming from Chopard and Movado. Meanwhile – almost within a year – Norqain managed to be available through 50 points of sale worldwide, including Bucherer, Christ, Wempe, Seddiqi, and Tourneau. Quite an achievement.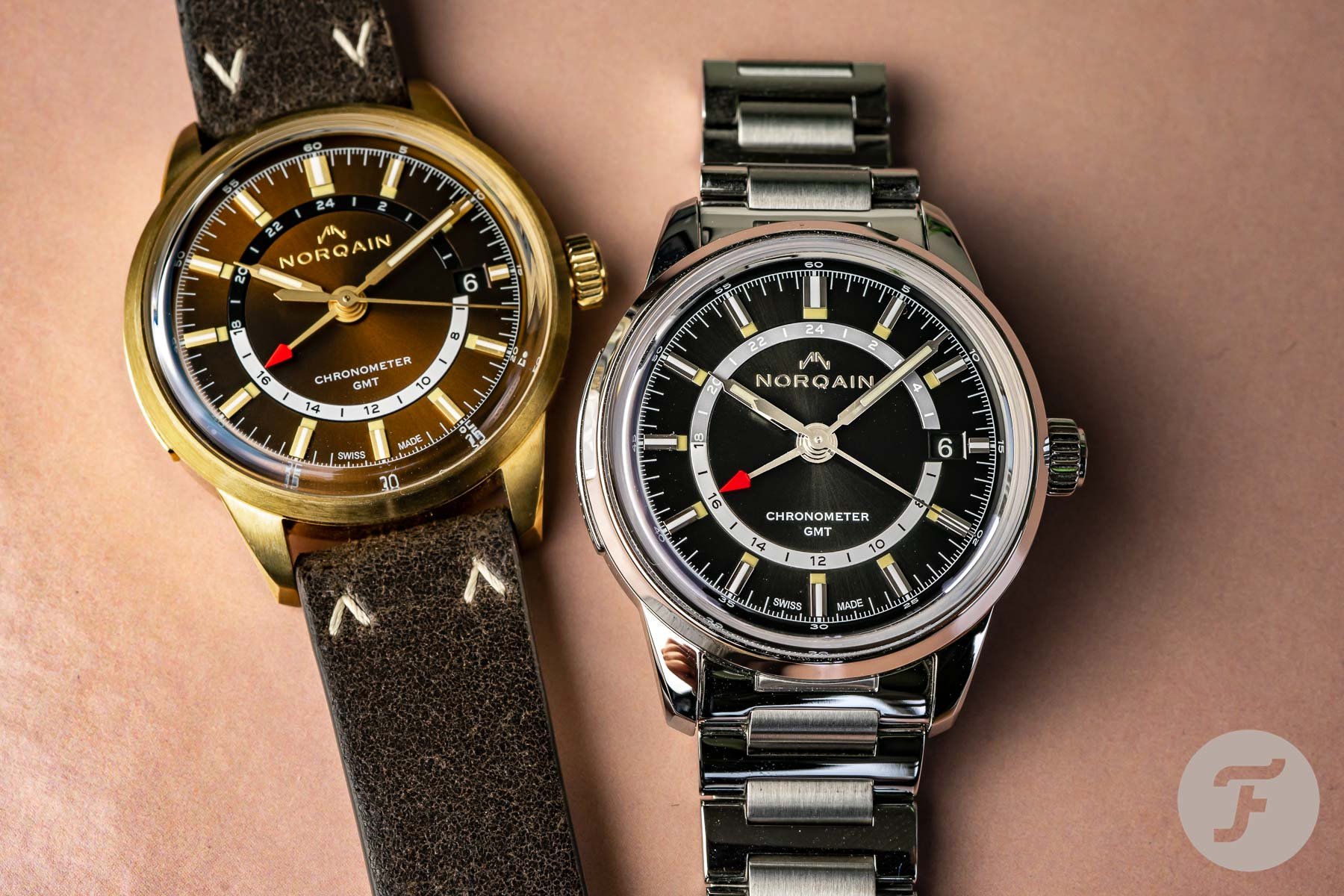 Norqain Freedom 60 GMT
So far for how to start a new watch brand adequately. On to the watch! Watches, I must say. Because, except for the stainless steel Norqain Freedom 60 GMT that I've been wearing, Norqain sent us the limited bronze version as well, to compare. Let's start with that, briefly comparing these two watches.
A limited-edition in bronze
Except for the case material and the dial color, there's virtually no difference between these two versions. Or be it that the bronze version, with reference NNZ2100, is available only in a limited number of 300 pieces. Of course, the difference in material and dial color makes the two watches express quite differently. For technical specifications, they're pretty much equal. Both sporting a screw-down crown, both are 100 meters / 330 feet rated. There's the same Kenissi automatic caliber. And both have a boxed sapphire crystal on top and a flat sapphire glass case back.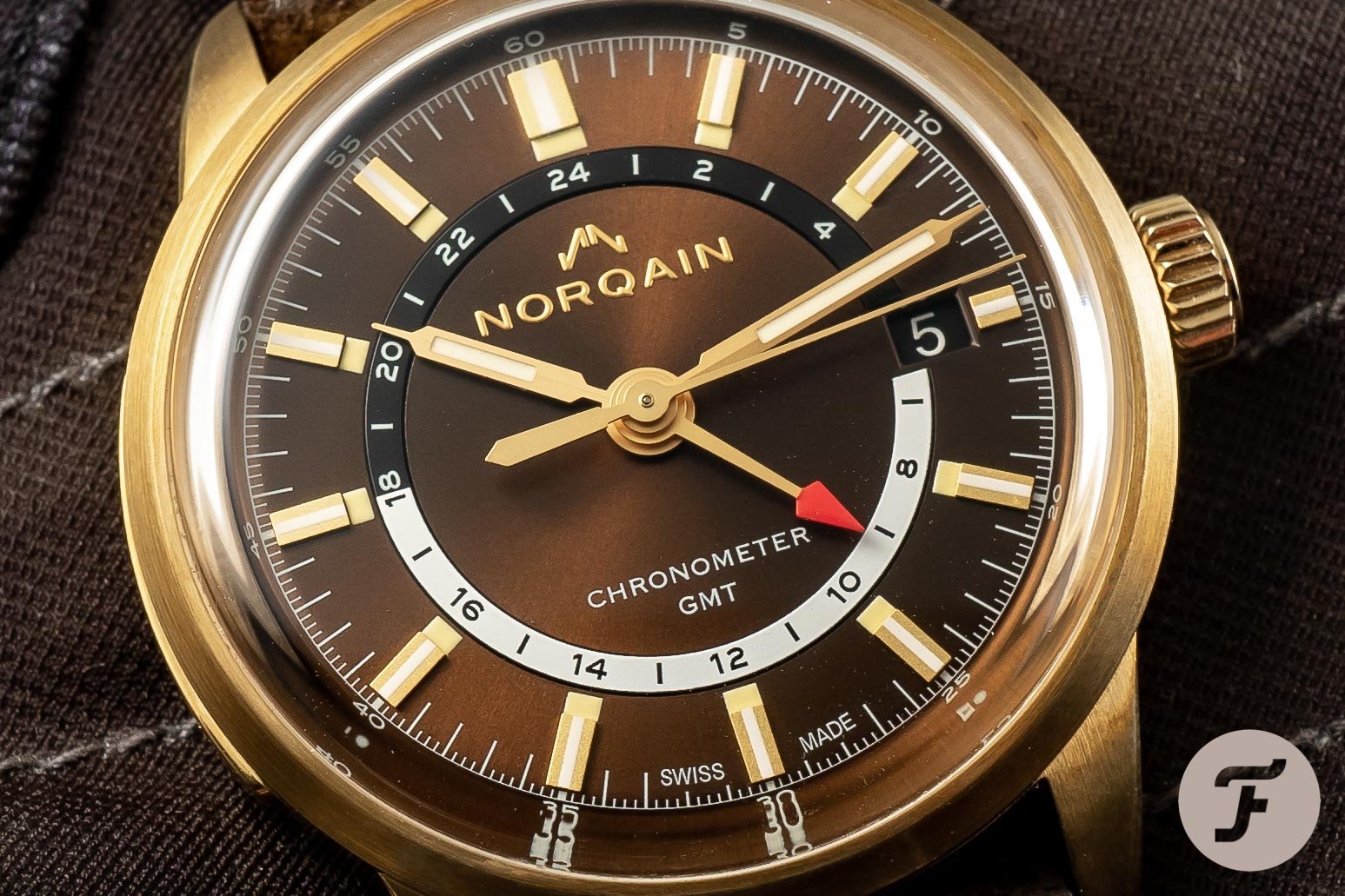 That case back brings me to the bronze version. It's not all bronze that glitters. The case back is made of stainless steel and – for color synchronizing purposes – PVD coated in a bronze color. The same applies to the crown. The reason for this will be that bronze in direct contact with the skin might irritate and even leave dark stains. A full stainless steel model does not have this problem and can be produced all in one material.
I'd say the bronze version shows more vintage and even a bit old-fashioned, while the stainless steel version is, without a doubt, quite sporty. Specifically, when the steel version is worn on the available stainless steel bracelet. Due to the material, there's no metal bracelet available for the limited bronze edition with reference NNZ2100.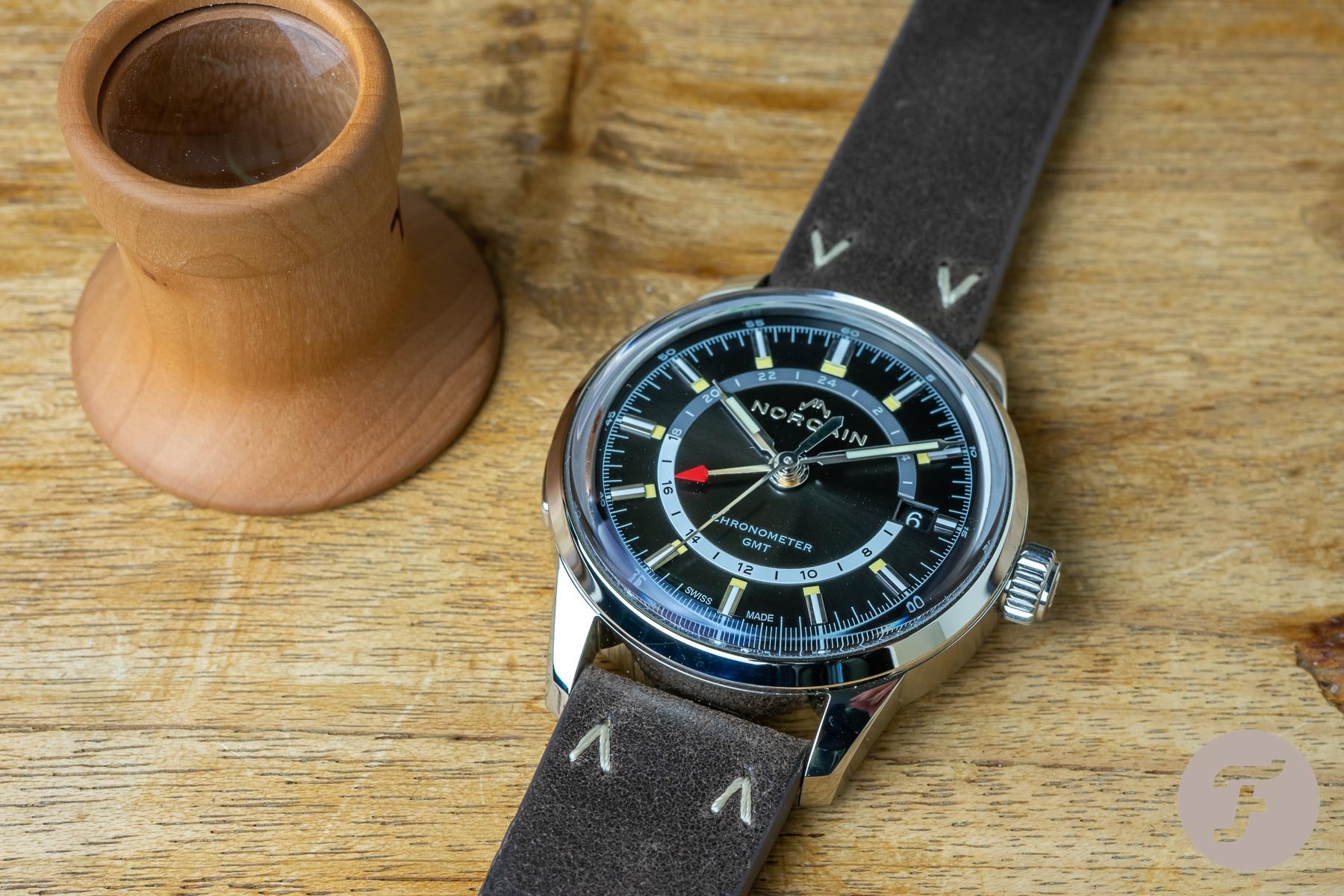 Attracted to the steel version
Comparing the two watches on my wrist, the stainless steel one spoke slightly more to me. So that was the one I chose for my hands-on review. Initially, I wore it on a stainless steel bracelet. I tend to love metal bracelets for the ease of putting the watch on and off and for their insensitivity to perspiration and water. But after a while, I changed for the classic looks of a brown leather strap.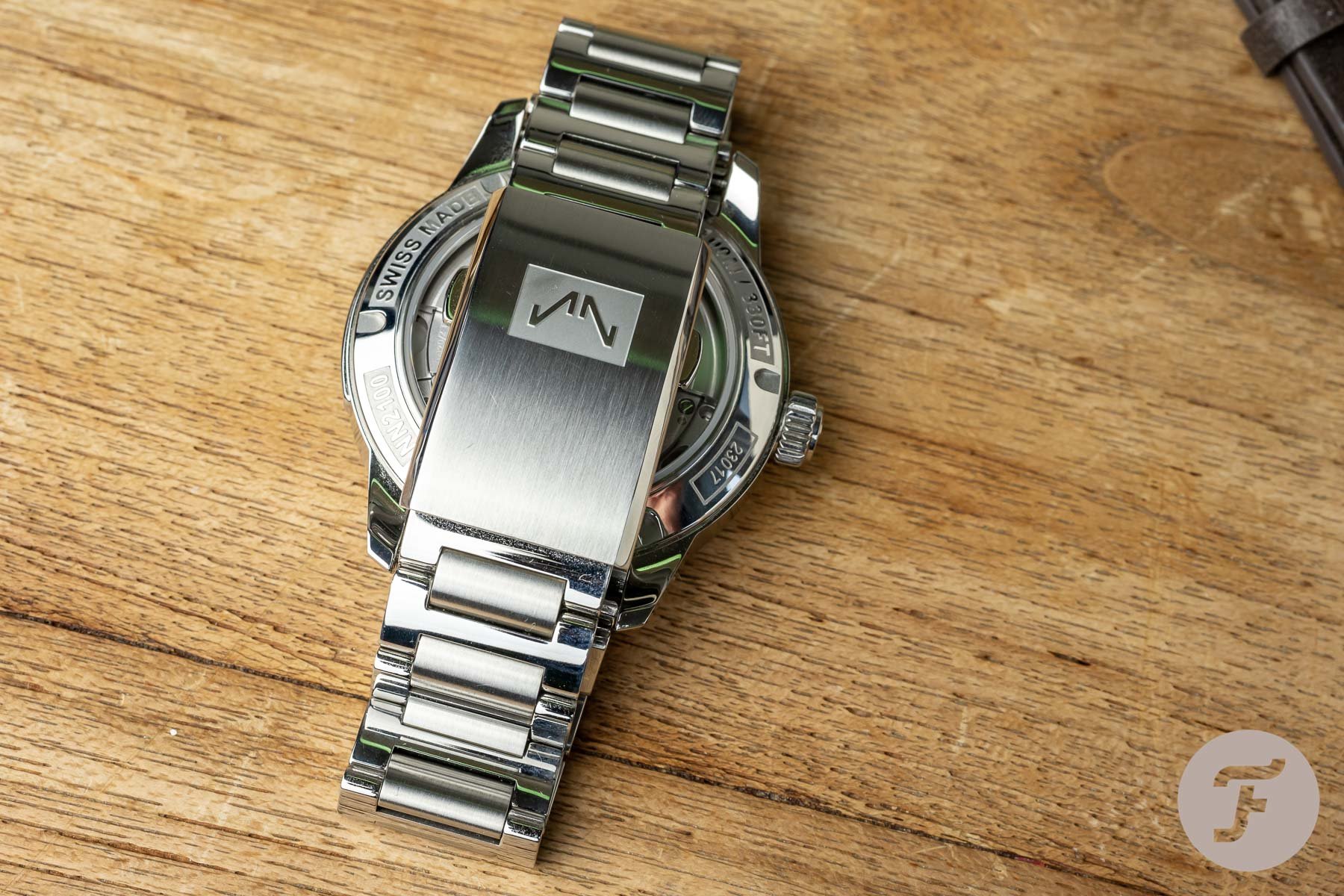 What about that stainless steel bracelet? The bracelet is of high quality and beautifully finished. There are no sharp edges, and it has a sturdy and sure clasp. The center links are brushed, while the side links are polished. This matches perfectlywith the finish of the case. The links are adequately fitted with screws. And from the 9 removable ones, I had to take five links out to make the bracelet fit my 17.5cm wrist. Inside the clasp, there's a five-position fine-adjustment available. It was just for the looks that I changed to a leather strap.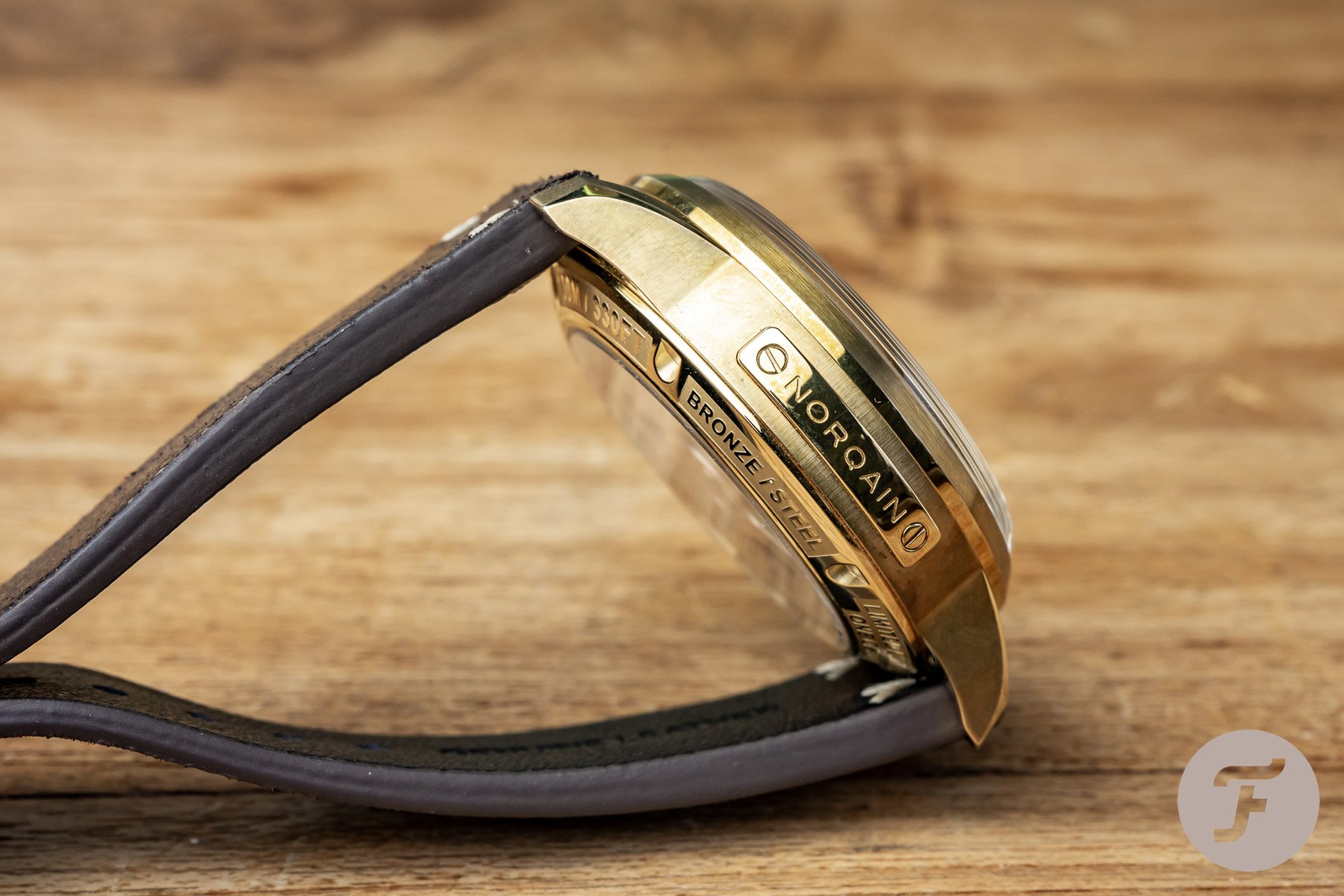 A comfortable size
With a diameter of 40mm, the Freedom GMT perfectly fits my 18cm wrist. The 14.5mm thickness and shape make it a bold watch. But it's still comfortable to wear, even with a log-to-lug distance of over 49mm. Talking about the lugs, the lug-width is 20mm and enables easy access to any leather strap you'd like to use for this watch. And although the screw-down crown is prominently present, it never irritated my wrist, probably because it wasn't placed low on the side of the watch case. On the opposite side of the crown, you'll find a little plate meant for personal engraving purposes.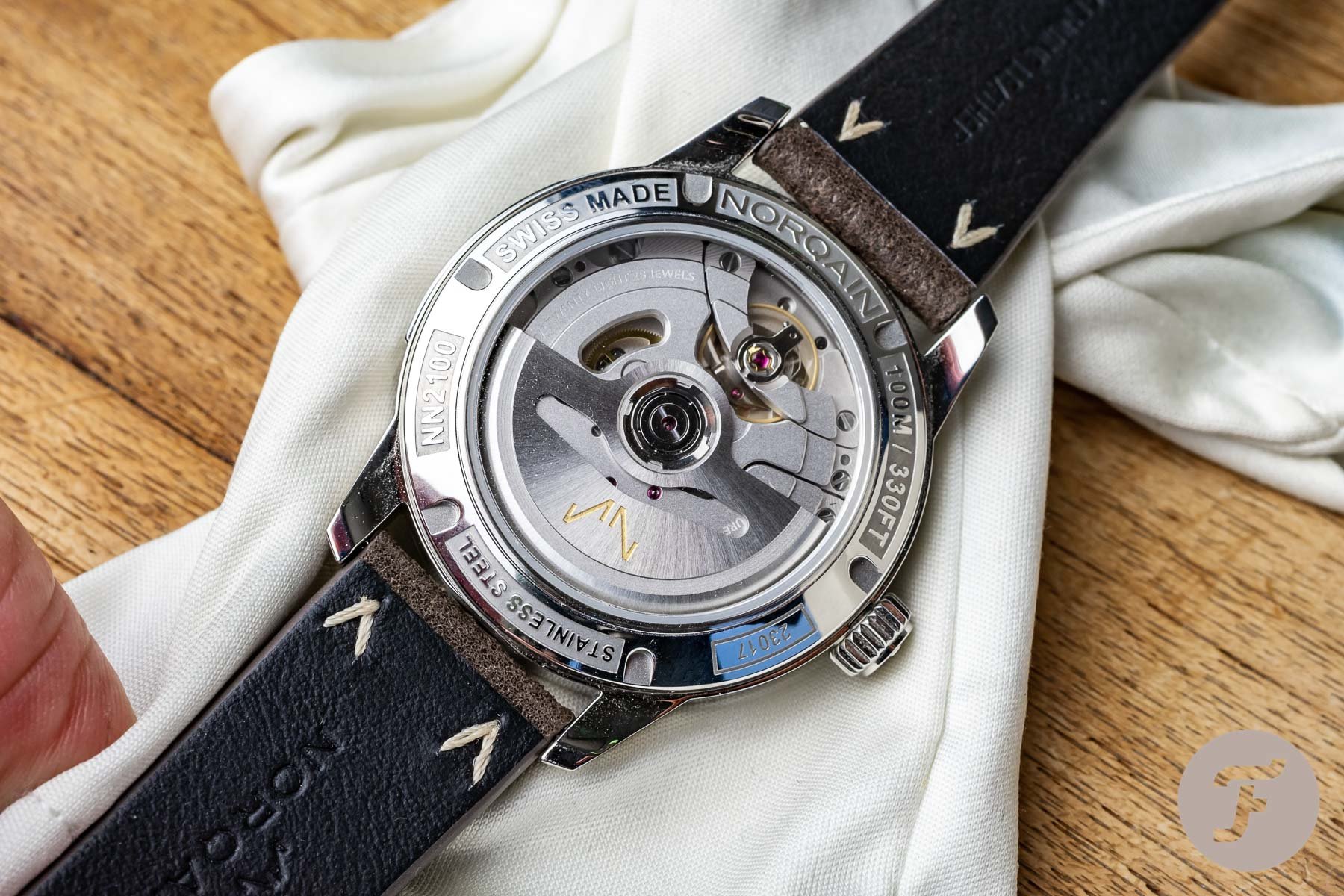 Norqain NN20/2 GMT movement
That leaves us to discuss the movement. First of all, the Norqain Freedom 60 GMT offers a beautiful screw-in glass case back. The flange is foreseen with relevant specifications and the watch's model- and unique serial number. The sapphire glass enables a view of Norqain's, Kenissi built, NN20/2 caliber. Neatly – almost a bit industrially – finished and engraved with the companies key mottos; adventure, freedom, and independence.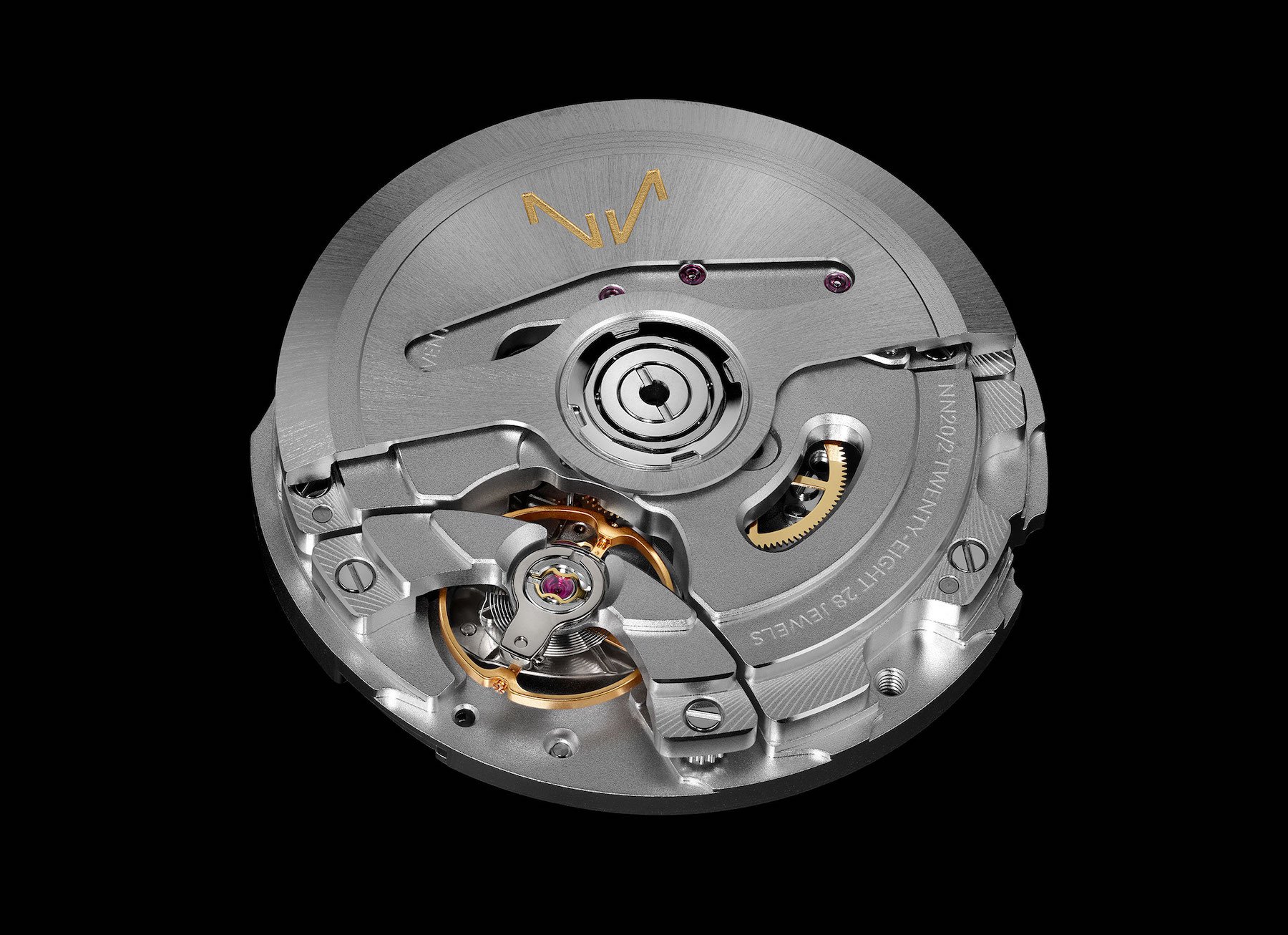 But what is Kenissi?
Kenissi manufactures the Norqain NN20/2 caliber and is a relatively young movement manufacturer. Founded in 2016, the company is managed by Eric Yvon Pirson (head of Tudor), Jean-Paul Girardin (formerly of Breitling), and Philippe Jacques Dalloz. In 2018 Kenissi partnered with Tudor to build a new movement manufacture in Le Locle on land owned by Rolex. The new plant will be 50% owned by Kenissi and Tudor and is expected to open by 2022. In January 2019, Chanel became 20% owner of Kenissi. So here again, we see a connection with former Breitling. Of course, we already knew of the cooperation between Breitling and Tudor on a movement-exchange level.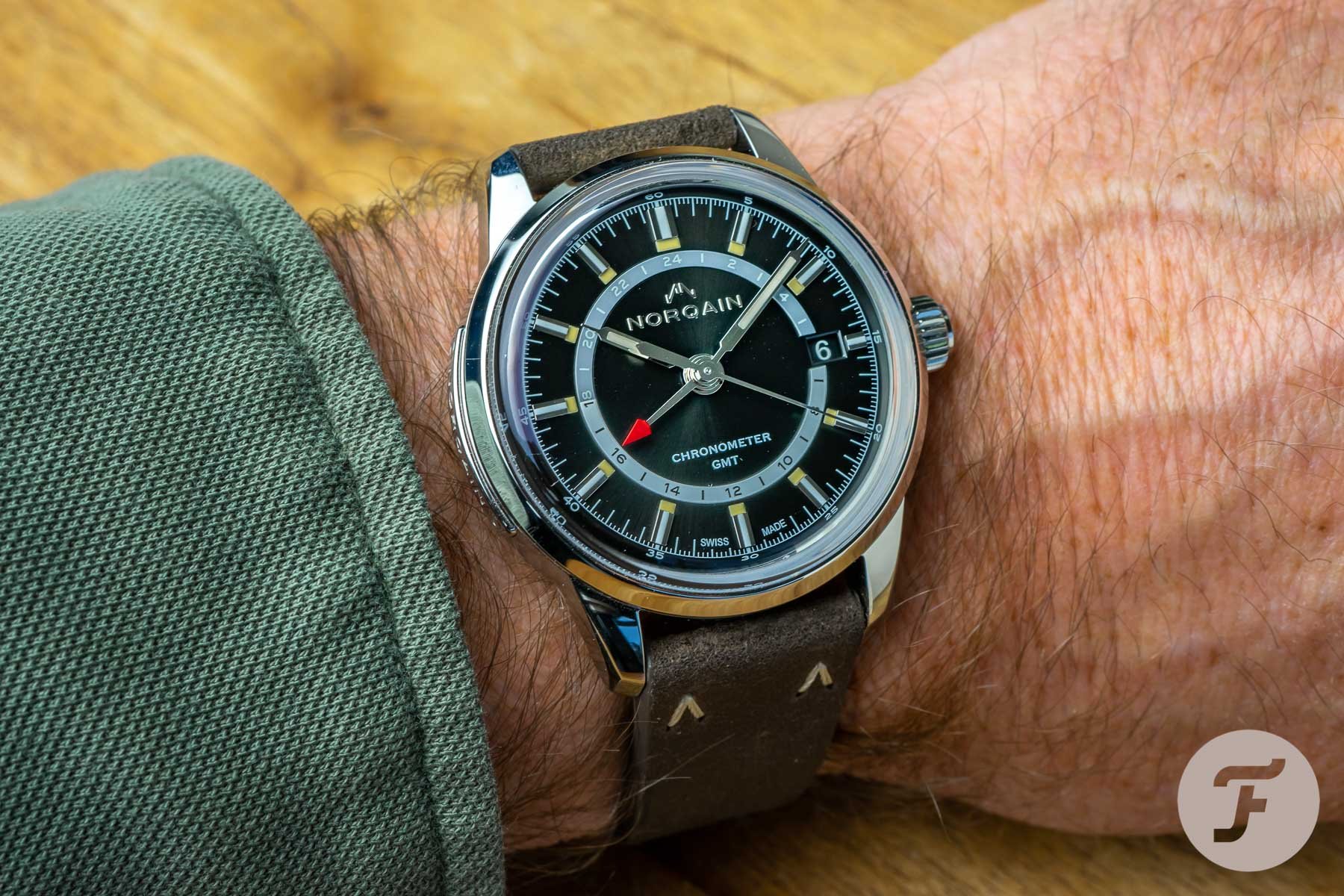 Conclusion and pricing
With $3,890 for the limited-edition bronze model and $3,590 for the stainless steel version ($3,860 on steel bracelet), the Norqain Freedom 60 GMT is not a cheap microbrand watch. And that exactly explains what Norqain is all about. It's a young brand with currently only a moderate line-up, but it isn't meant to be a microbrand. With a huge and important dealer network already now, we can expect the brand to expand further quickly. As such, for a company that takes business seriously, I'd say the Freedom 60 GMT prices are on point. Technically, as well, there's not much to whine about. It's a watch that has it all; a quality build GMT caliber, boxed sapphire crystal, 100meter rated, very well-finished overall, a quality leather strap, or a well-made bracelet.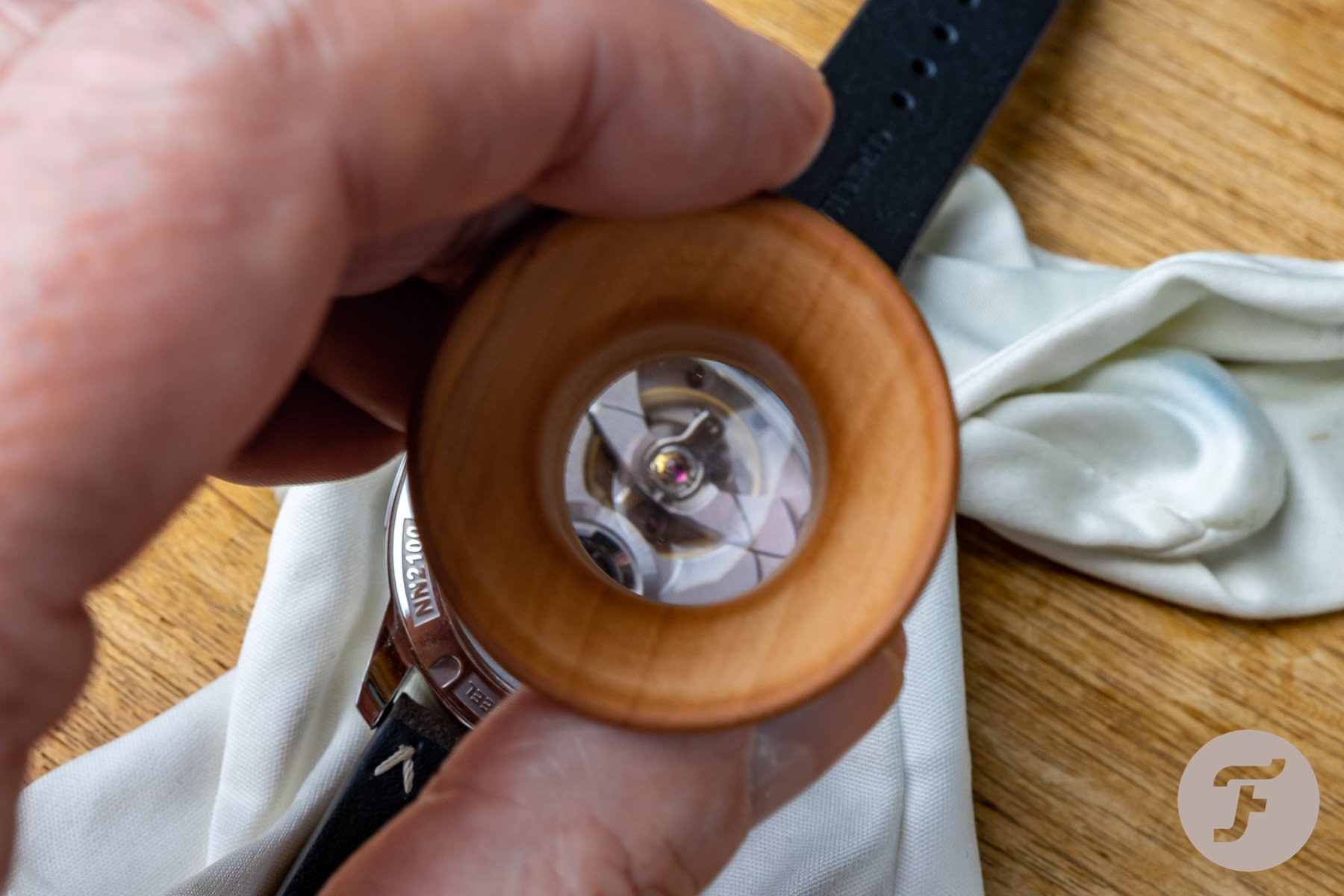 Watch specifications
Case Material
Stainless steel/Bronze
Case Dimensions
40mm diameter, 14.5mm height, 49.2mm lug-to-lug
Crystal
Sapphire crystal, boxed, double-sided anti-reflective
Movement
Norqain caliber NN20/2, made by Kenissi. 28,800/h, 28 jewels, 70-hour power reserve
Water Resistance
100 meters
Strap
Leather or stainless steel/Leather
Functions
Time, date, 2nd time-zone (GMT)
Price
$3,590 ($3,860)/$3,890
Warranty
The warranty for all our models equipped with Manufacture Calibres is 4+1 years (4 years + 1 additional year when the watch is registered online).
Special Note(s)
The NNX2100 Bronze version is limited to 300 pieces, signed 'One of 300'.