Norqain Introduces Two New Skeletonized Versions Of The Wild ONE
Modern summer style in bold colors and a skeletonized movement make for a standout pair of ultralight watches
Summer is here, and a lot of people are getting ready to leave for their summer holidays. For many watch enthusiasts, it's the perfect opportunity to bring out their best summer watches or buy a new one. Norqain plays into the summer theme with two new skeletonized versions of the Wild ONE. Each celebrates summer in a unique way, with one for active summer days and another for late summer nights.
It's not even been a year since Norqain launched the Wild ONE. The brand's take on the modern sports watch was unveiled with great expectations. As many of you know, Jean-Claude Biver's name was connected to the development of the watch, and that will always get people talking. For me, the design and the name were the two most interesting talking points. "Wild ONE" is not a name I am particularly a fan of. On the other hand, it is easy to remember, and you don't really need to specify Norqain for others to know what watch you're talking about. When it comes to the design of the watches, we were treated to a modern silhouette created with an interesting combination of materials.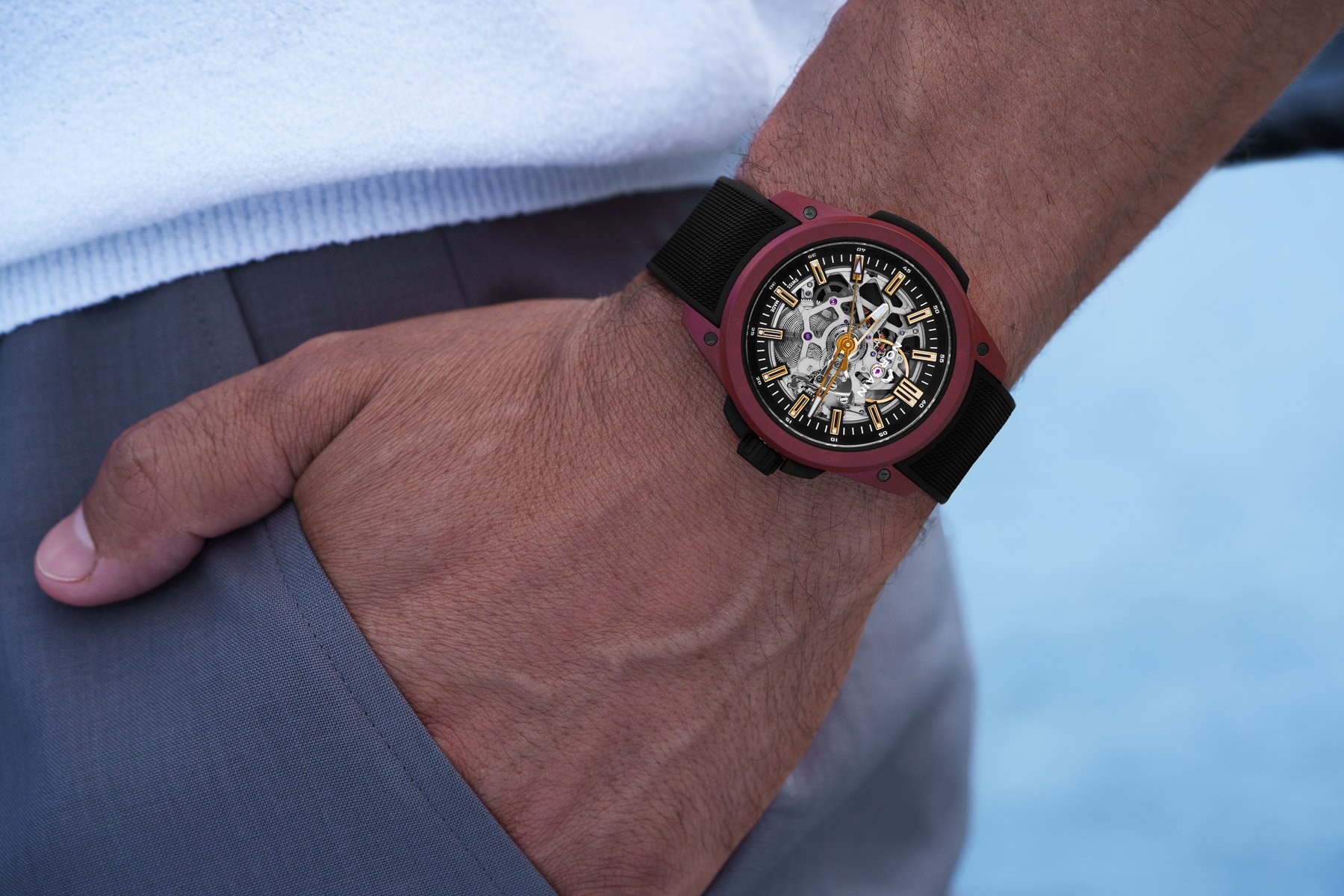 The new skeletonized Wild ONE models
For the next step in the line, Norqain decided to use skeletonized movements to come up with two new summer versions of the Wild ONE. As Nacho explained in his hands-on article for the Wild ONE, there is hardly a box that these models do not tick when it comes to specs. It's an ever-important aspect of a watch that leaves the discussion about the watch's looks. And that's where I thought the first series of Wild ONE models lacked the pizazz to create a real impact. Especially with prices around the €5K mark, the watches need to stand out. There is simply a lot of competition out there. But with the new models, the brand has found that pizzazz.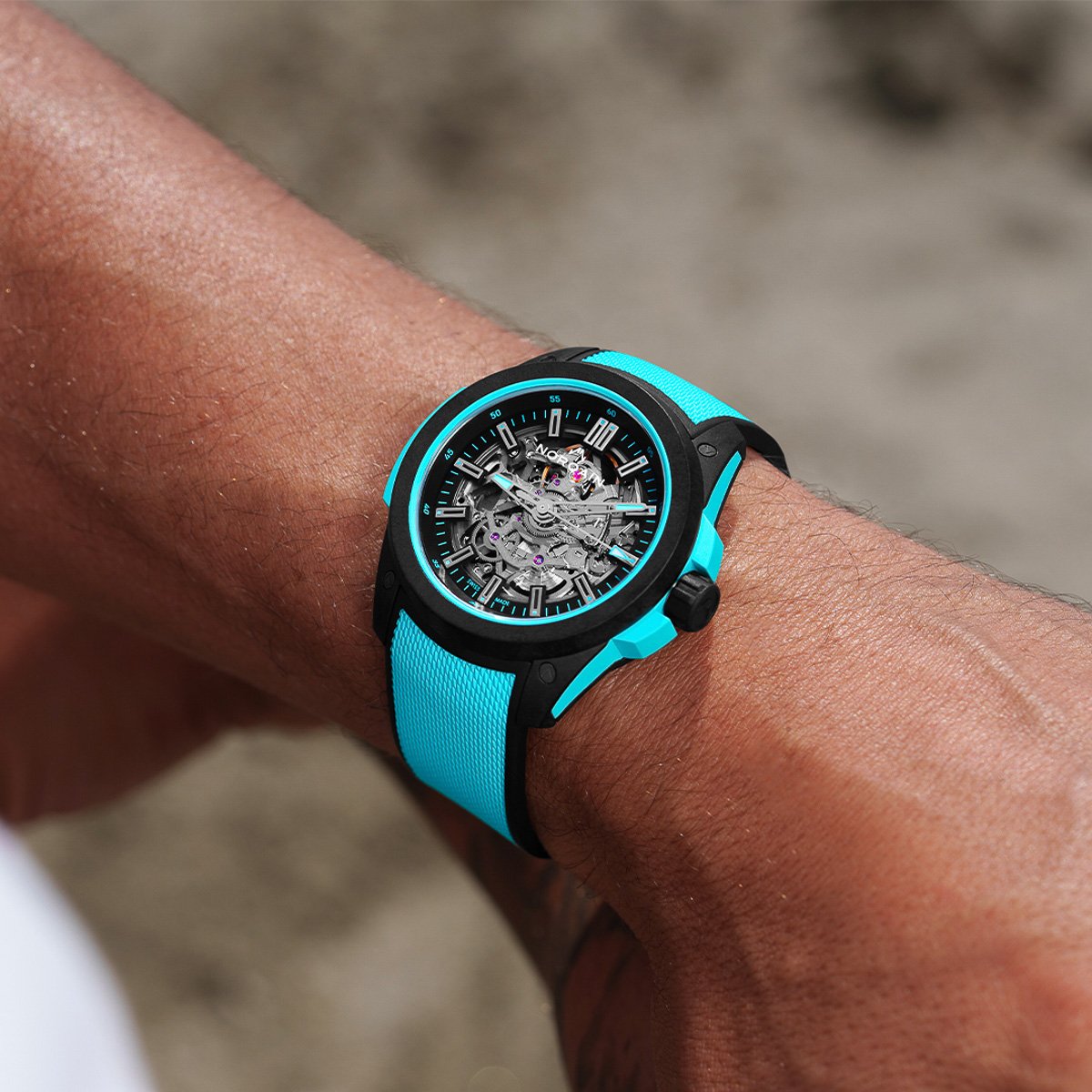 Having said that, I am the first to admit that when it comes to Norqain, my favorite models are the Freedom 60 Chrono and Freedom 60 GMT with their more classic styling. The Wild ONE design is, without a doubt, the most modern watch in the collection. I do indeed love a great modern sports watch, though, and with these new models, the brand has combined the Wild ONE's modern aesthetic with the skeletonized caliber NN08S from the Independence Skeleton. The result of this combination is rather nice, I must say.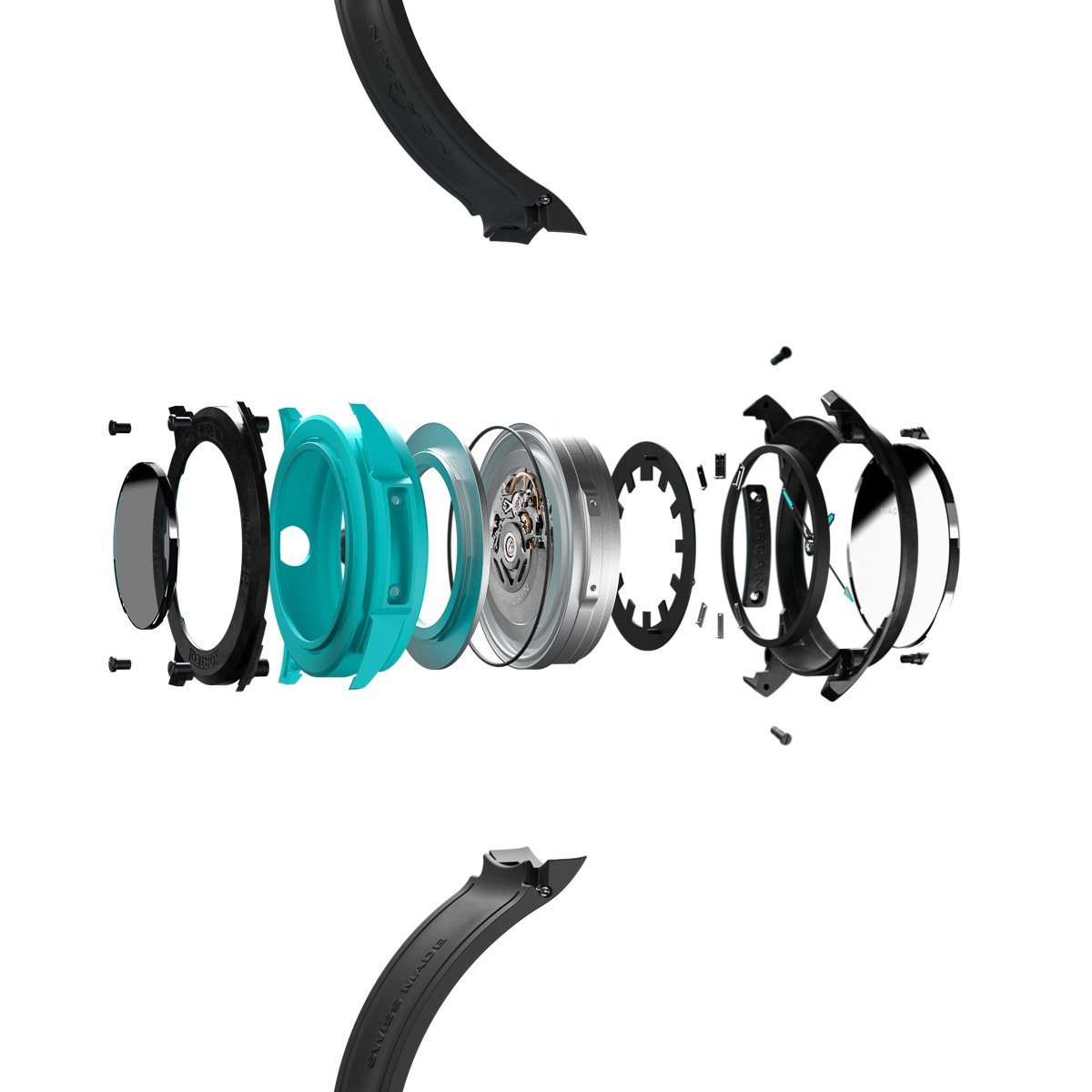 Ticking all the specs boxes
Let's start with some specs. Both of these models feature the same 200m-water-resistant case as the previous models. This means it's 42mm wide, 49.4mm long, and 12.3mm thick, with a 22mm lug spacing. The case construction consists of a titanium core that surrounds the movement and a layer of rubber that acts as a shock absorber. Surrounding the layer of rubber is a case made of the brand's proprietary Norteq material. As Nacho explained, Norteq is a composite made of carbon fiber and a polymer matrix made of 60% castor oil.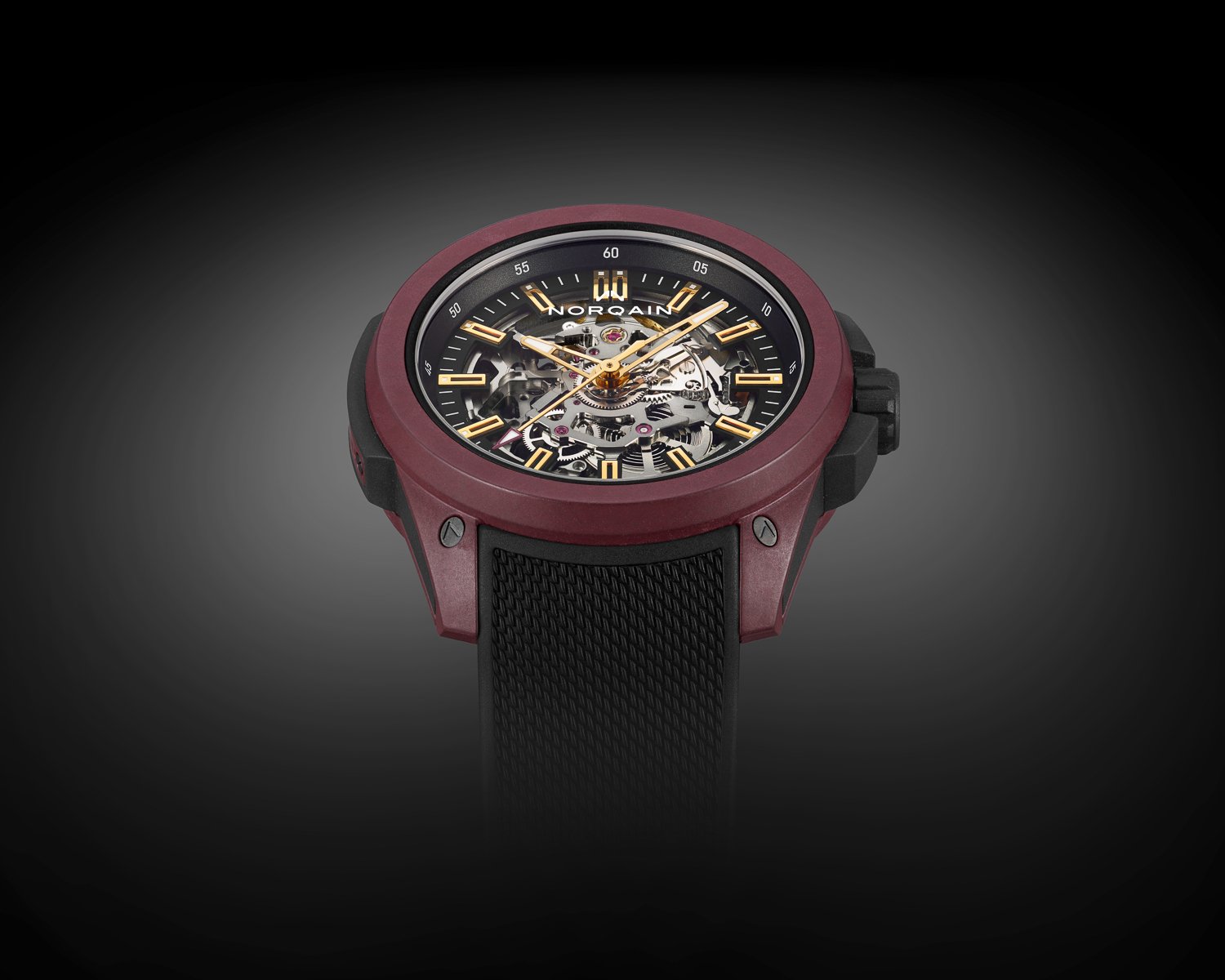 A big advantage is that Norteq is incredibly lightweight. It is three and a half times lighter than titanium and six times lighter than steel. It's also the first carbon material that can be created in different colors. Thanks to the use of the skeletonized movement, the overall weight of the two new watches is reduced to 78 grams, compared to 84 grams for the regular models. Overall, they are pretty impressive numbers.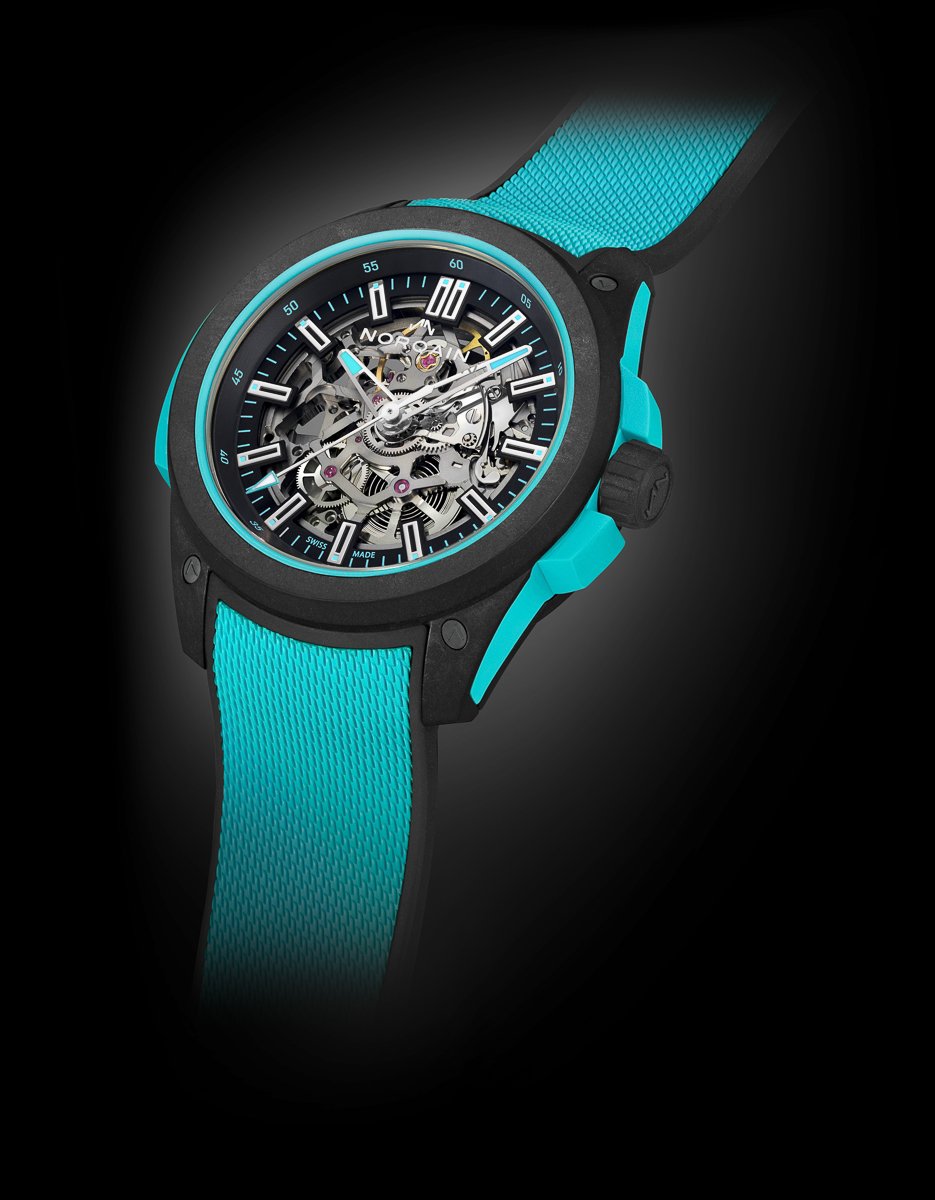 The skeletonized caliber NN08S
Inside the case, Norqain uses its skeletonized COSC-certified caliber NN08S. As mentioned, the brand also used the same movement for its Independence Skeleton models. This automatic movement is based on the Sellita SW200-1 S and is equipped with Norqain branded rotor. The caliber operates at 28,800vph, has 27 jewels, and provides a 41-hour power reserve.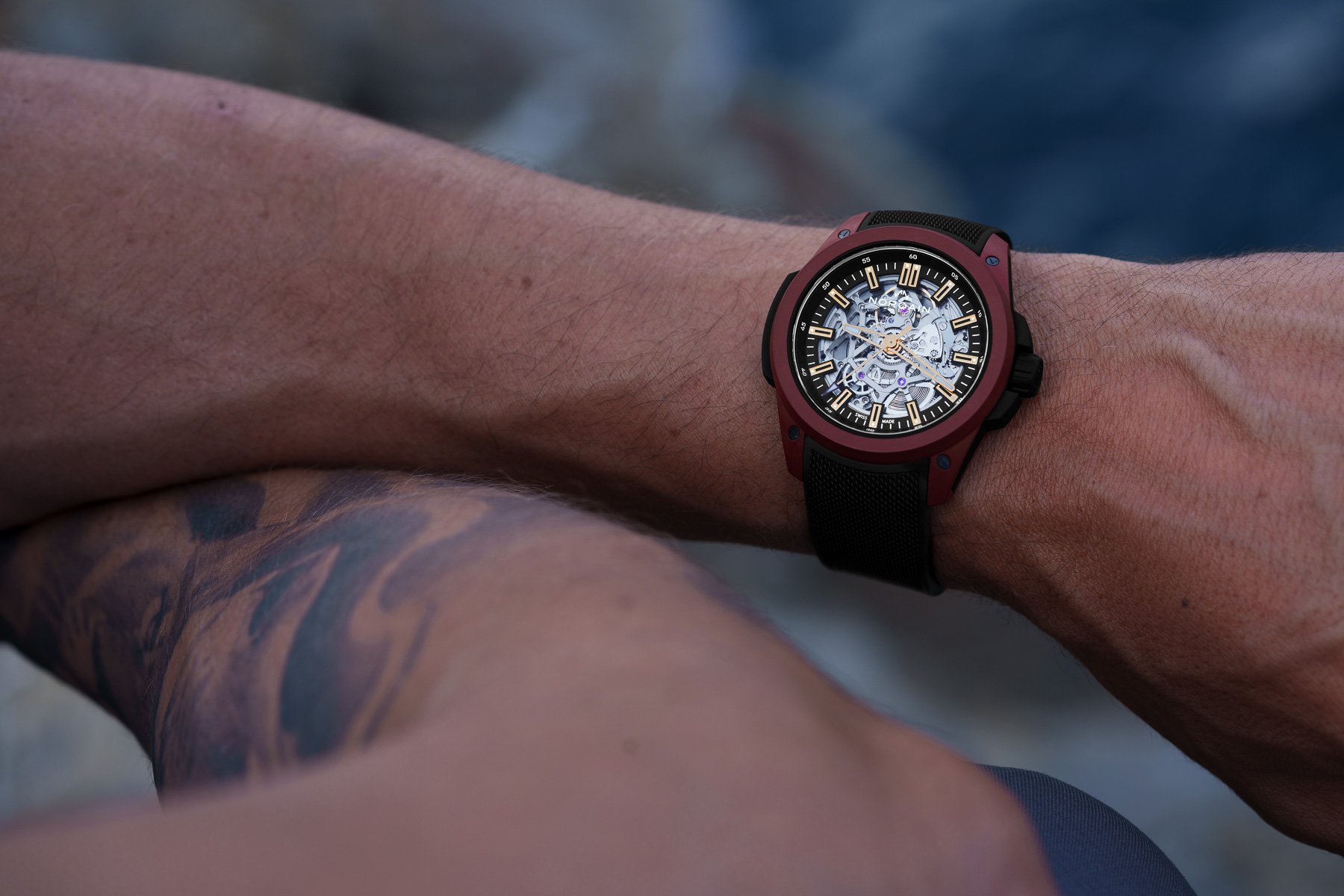 Now, I am usually not the biggest fan of skeletonized movements. It's simply not an aesthetic I am drawn to. Additionally, I adore a great dial design. I think it's an art form if done well, and that art form is mostly lost with skeletonized movements. The one exception I have is combining a skeletonized movement with a modern design. And in this case, the Wild ONE's modern design and construction perfectly suit a skeletonized movement. I have to say that I think these new models look better than the regular versions of the Wild ONE. The two elements bring out the best in each other and create two good-looking summery pieces. So, what are the two color configurations on offer?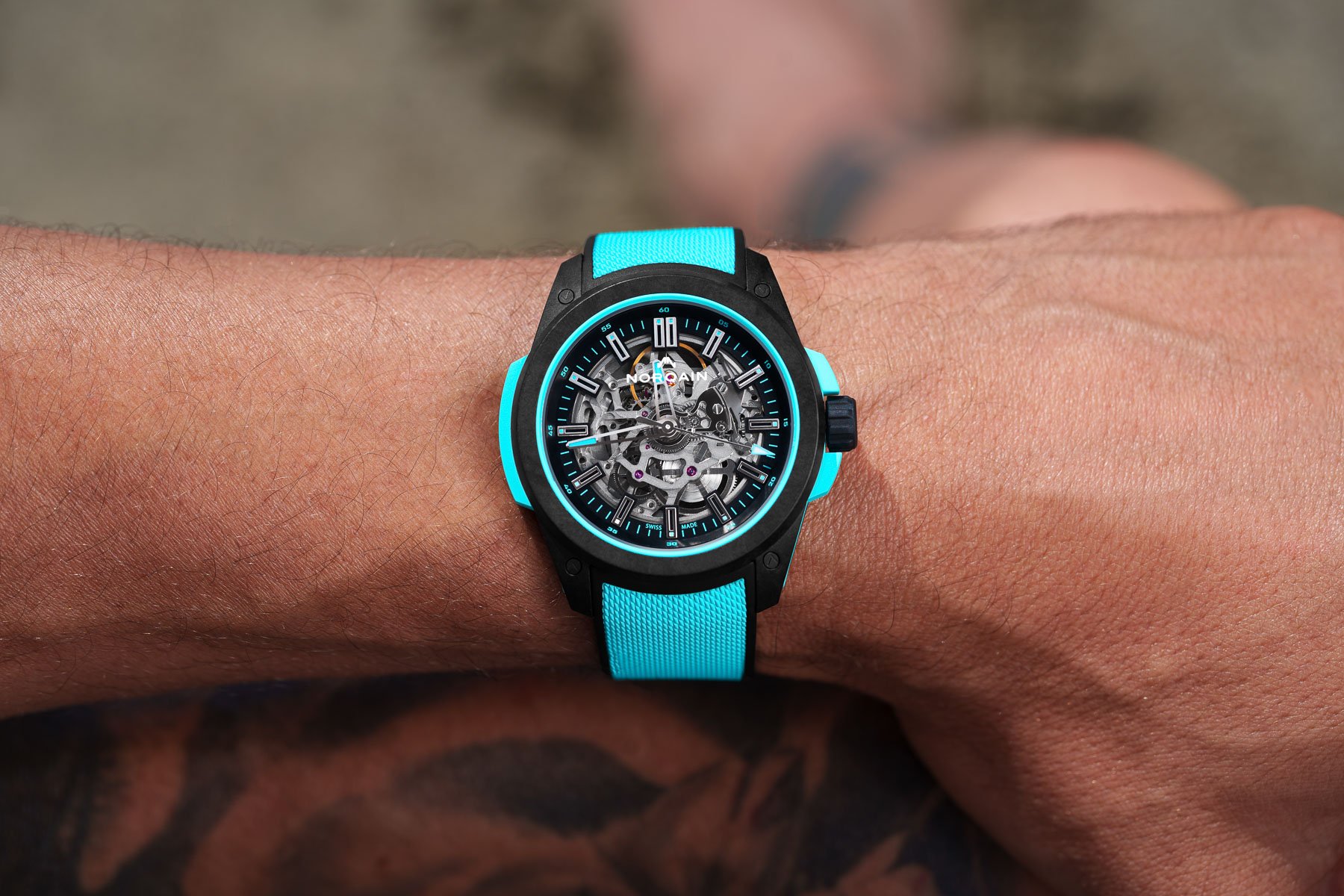 Summer days and summer nights
The first model makes for a lively summer-day companion, featuring a combination of turquoise and black. The black Norteq outer case is combined with a turquoise shock absorber and a black rubberized crown. As you can see, the open-worked dial features rectangular indices, which, along with the hour and minute hands, have an application of turquoise Super-LumiNova X1. The slim central seconds hand has a white Super-LumiNova-filled tip with a turquoise outline. The combination of black and turquoise continues on the rehaut, where the turquoise 60-minute scale contrasts nicely with the black background. Finishing the look is a turquoise rubber strap with a black outline.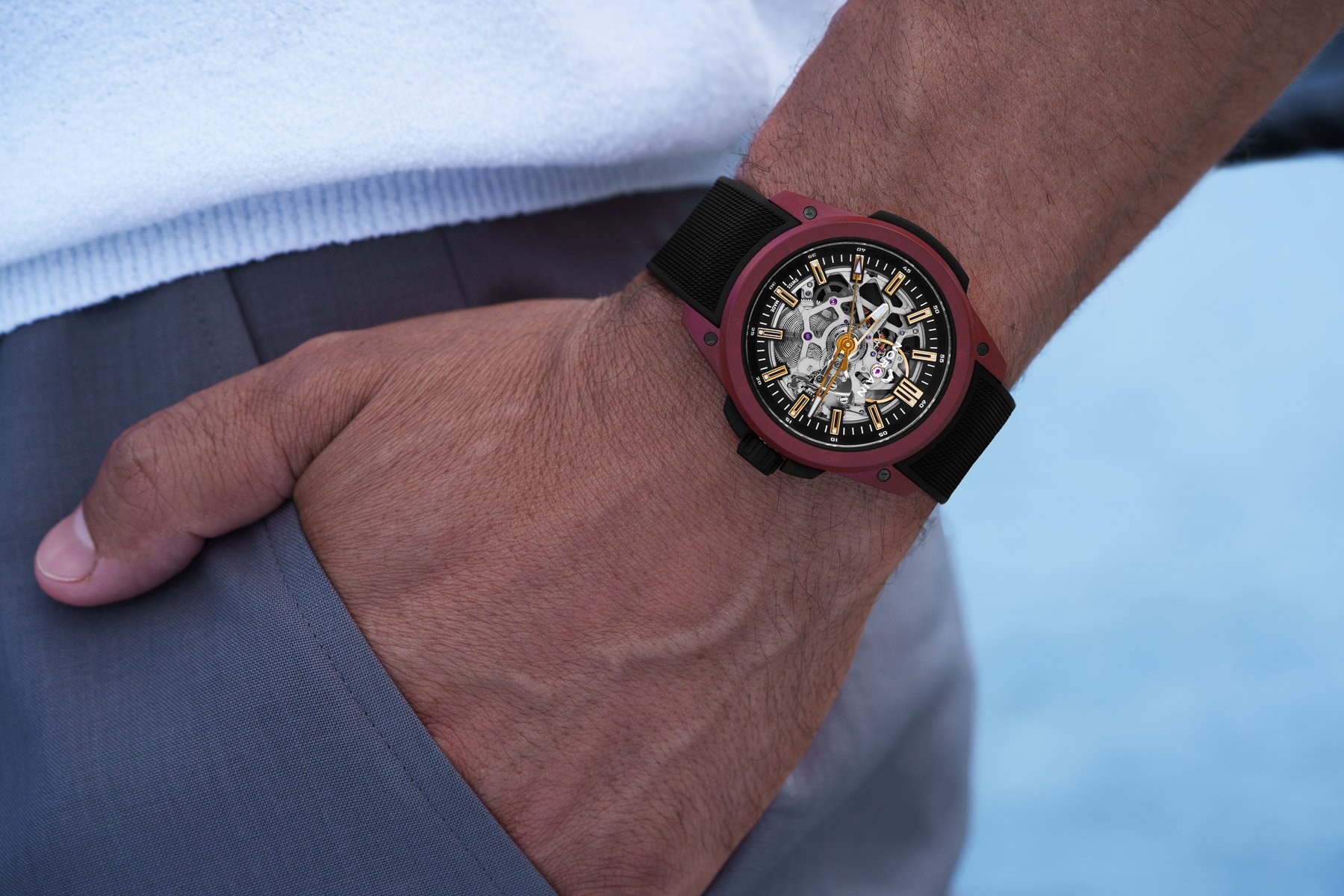 The second model has a completely different look that is more appropriate for late summer nights. It features a burgundy Norteq outer case with a black shock absorber and a black rubberized crown. The skeletonized dial for this version is graced by red-gold-plated indices and hands with white Super-LumiNova X1. It creates a completely different look that is less sporty and more sophisticated. This model is limited to a total of 300 pieces, and each will have a unique production number engraved on the display case back.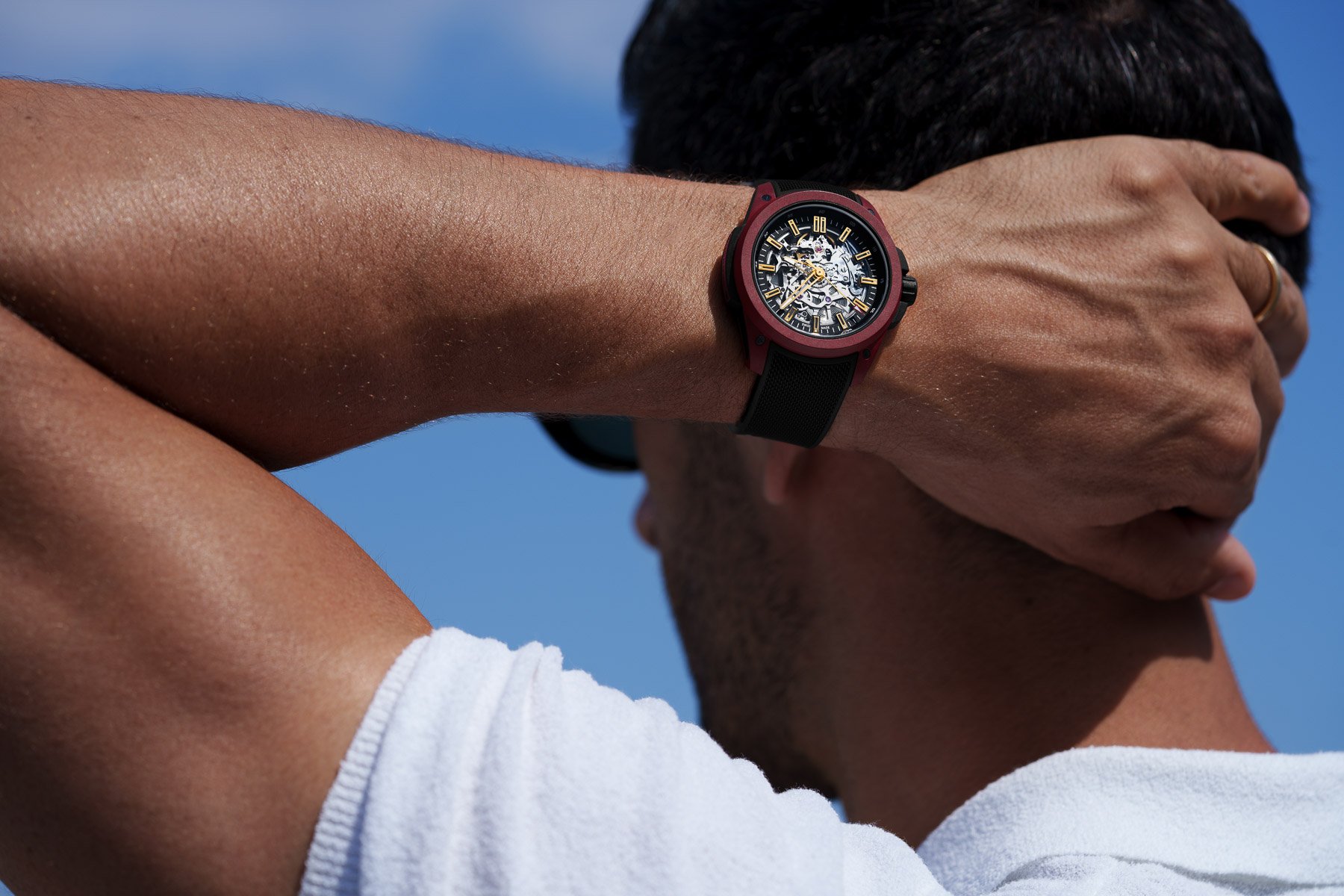 Thoughts on the Norqain Wild ONE Skeleton
I have to say that I was pleasantly surprised when I saw the images of these two new Wild ONE Skeleton models. The regular versions, while impressive in terms of the materials and movement, were not my thing from a design perspective. Additionally, their overall presence felt a bit "safe" for such highly technical and modern watches. But with these new models, the technical vibe is turned up to eleven, and it works!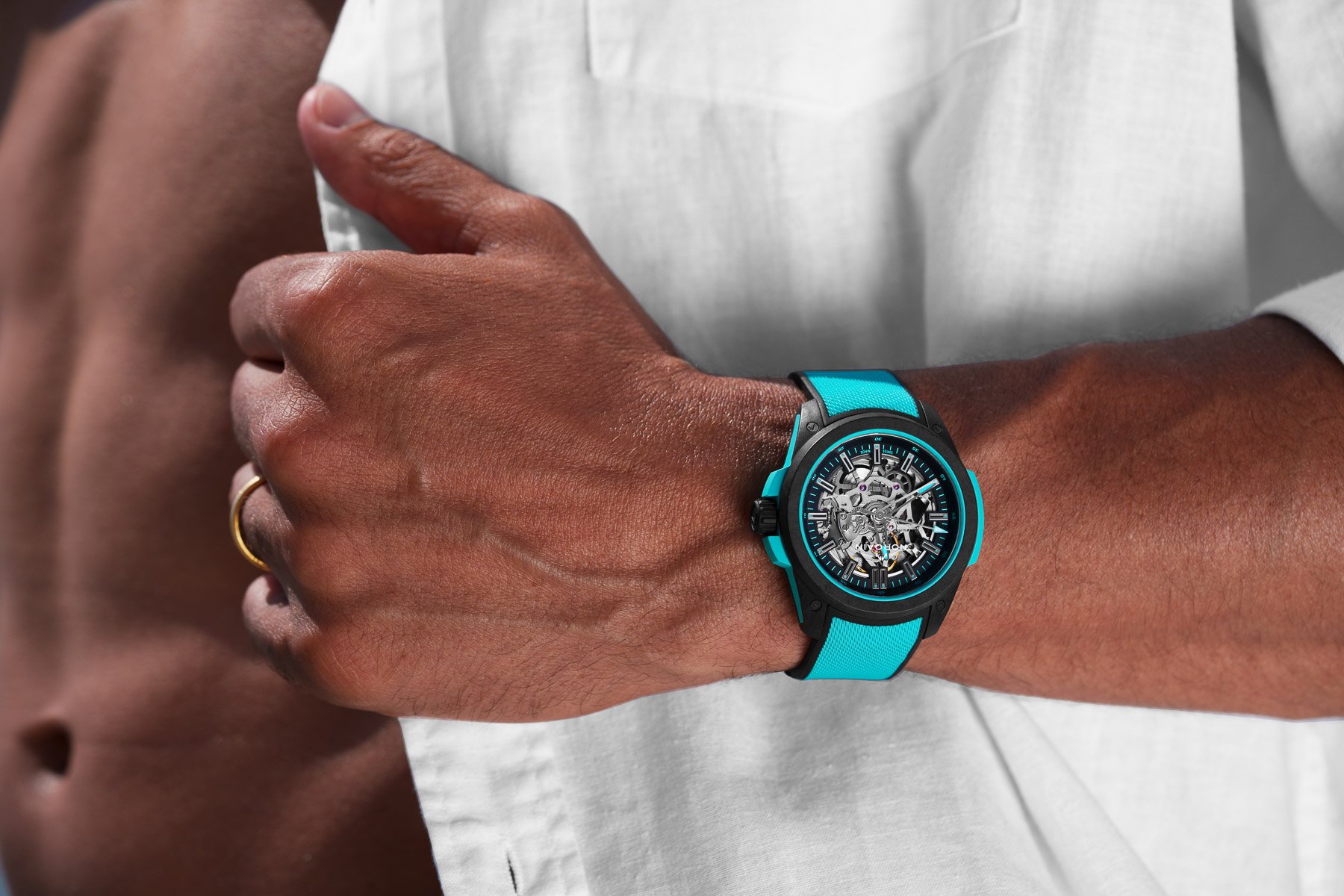 I really like the looks of these new models as they are the perfect marriage between a modern case design with new lightweight materials and a skeletonized movement. This combination simply works very well. In particular, the turquoise model stands out immediately. It is lightweight with a great, summery presence, and thanks to its construction, it is ready for any summer activity you can throw at it. To make this your new summer watch, you'll have to pay CHF 5,450, which, for many of us, is not pocket change. It is in line with the previous models, though, and I'm sure plenty of people will love these two pieces. While they won't find their way to my wrist this summer, I applaud Norqain's steps with these two Wild ONE Skeleton models. It seems that the pieces of the Wild ONE puzzle are coming together nicely.
For more information, visit the official Norqain website. Let us know your thoughts on this new step for the Wild ONE collection in the comments section.
Watch specifications
Dial
Turquoise: open-worked dial with skeletonized hour markers and hands treated with turquoise Super-LumiNova | Burgundy: open-worked dial with skeletonized hour markers and hands treated with white Super-LumiNova.
Case Material
Titanium inner case, rubber shock protector, and Norteq carbon outer case
Case Dimensions
42mm (diameter) × 49.4mm (lug-to-lug length) × 12.3mm (thickness) × 22mm (lug spacing)
Case Back
Norteq exhibition back with sapphire crystal
Movement
Norqain NN08S — Sellita SW200-1 S base, automatic winding, 28,800vph frequency, 41-hour power reserve, 27 jewels
Strap
Turquoise model: turquoise rubber strap with black outline / Burgundy model: black rubber strap
Functions
Time only (hours, minutes, central seconds)
Special Note(s)
Burgundy model limited to 300 pieces