Oak and Oscar Humboldt – New Territory For the Chicago Brand
Today, we're excited to announce the new Oak and Oscar Humboldt, the fourth release from the independent Chicago-based brand. Oak and Oscar, founded in 2015 by Chase Fancher, started with the Burnham, a limited edition three hand automatic with date, then followed it up with the automatic Sanford GMT, and earlier this year gave us the lovely manual wind Jackson Chronograph (still a few available at time of writing). As you'll see, the Humboldt brings us yet another type of functionality meant to appeal to modern day explorers like yours truly – meaning, those who spend a lot of time bouncing around amongst the time zones.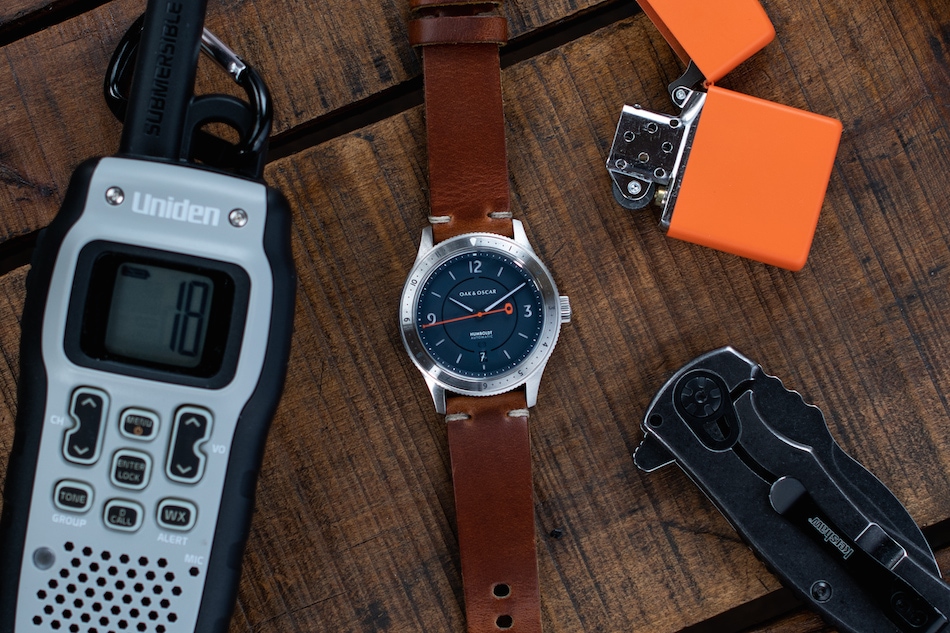 Oak and Oscar Humboldt – The Name
First, though, how did the Oak and Oscar Humboldt get its name? Alexander von Humboldt, an 18th century Prussian explorer, was well known for his travels throughout the world. I dashed over to Wikipedia and I think that you'll agree that he has quite the résumé. His travels led him all over, but particularly to North and South America. In 1804, he even engaged in direct discussion with Thomas Jefferson while visiting Washington D.C. Humboldt died in 1859 at the age of 89, which couldn't have been normal for an explorer during this period.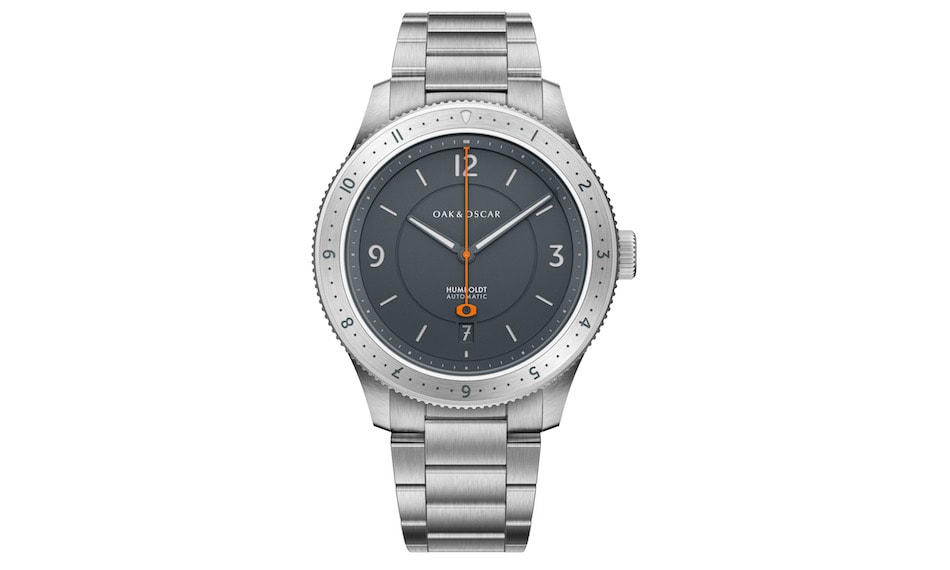 A Rotating 12-Hour Bezel
The concept behind the Oak and Oscar Humboldt is relatively simple. We have a 40mm (a 40mm bezel on top of a 39.5mm diameter case) stainless steel watch housing the popular ETA 2892A2 automatic movement with date function. Notably, the Humboldt contains a rotating external 12-hour bezel to track a second time zone, measure elapsed time, or count down the minutes. Many of us sport dive watches, but for everyday practicality, there's little that beats a rotating 12-hour scale.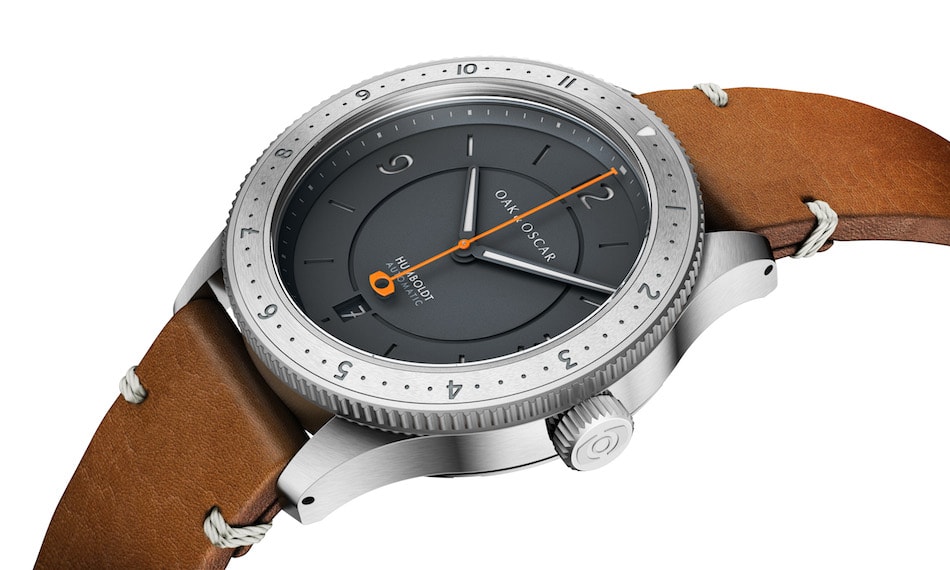 The Oak and Oscar Humboldt Can Dive
The Oak and Oscar Humboldt isn't made solely for jet setting, though, as its design allows for 200M of water resistance. Plus, with its drilled through lugs, strap changes are a breeze; the watch comes standard with an adventure-oriented olive green nylon strap, changing tool and useful water resistant pouch. Other niceties include a double-domed sapphire crystal with anti-reflective coating, a screw-down signed crown and bright SuperLuminova BGW9 to help support those adventures that are bound to take place in the dark (or perhaps those "where the hell am I" moments on a plane or in some far-flung hotel).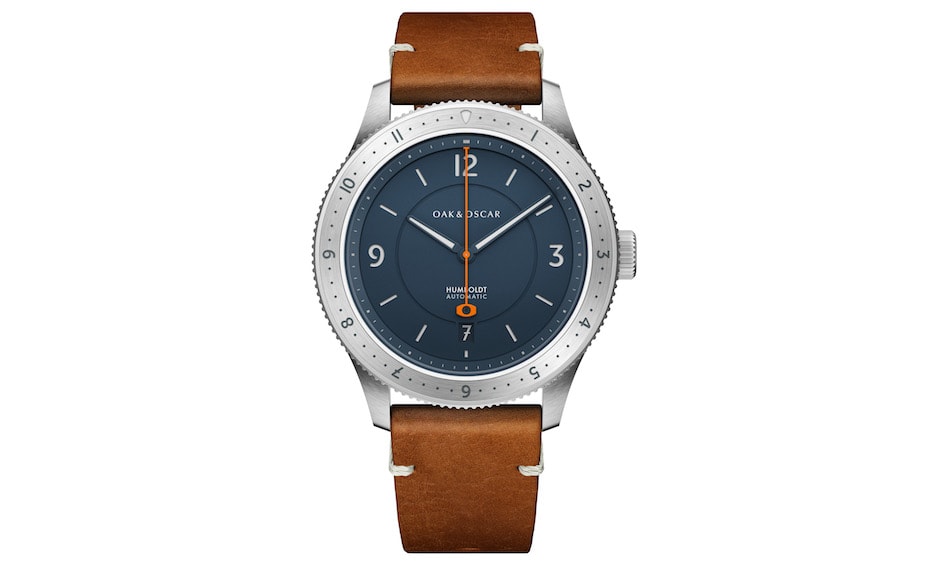 Recognizable Design Traits
If you're familiar with the brand's designs, the Oak and Oscar Humboldt should strike one as instantly recognizable. There are a lot, and I do mean a lot, of micro brands in existence. Some are really good, while most are merely ok. Where they often fall short relates to attention to detail. I think you'd agree that when looking at the Humboldt, details are a real strong suit. From the true sandwich dial to the shield-shaped lume pip on the outer bezel, this watch stacks up the particulars. You'll also notice that whether on the date wheel or bezel, the "7's" are styled with a hash through their bases – something we've seen on all the brand's models. The orange sweep hand also contains the familiar O-shaped counter balance and flat top that aligns perfectly with the dial's chapter ring. Whether one chooses the dark grey or navy dial, a color-matched date wheel is also included. Overall, there's an awful lot of depth to the dial, especially when viewed from the side. It's a job well done to Oak and Oscar for making another type of watch that successfully carries forward its design ethos.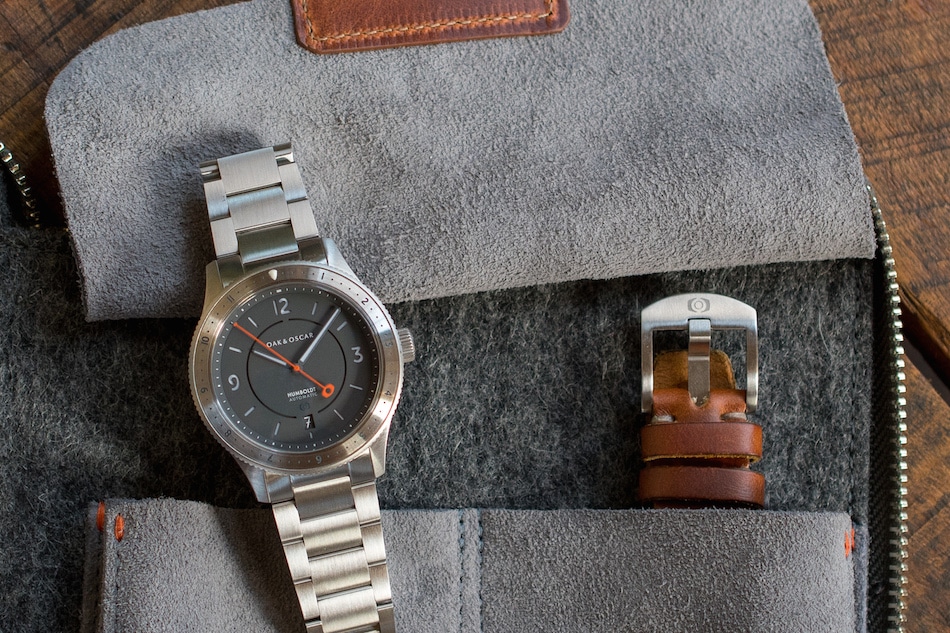 The Brand's First Bracelet
The Oak and Oscar Humboldt debuts a couple of firsts for the young brand. In addition to a choice of dial colors, prospective buyers will can opt for the marque's first ever bracelet in lieu of a brown leather two-stitch strap. The press release tells us it was a lengthy design process and the result is an articulating piece that tapers from the 20mm-wide end links down to a 16mm buckle. While I've not laid my hands on the watch or the bracelet, I like the sound of the taper. So many bracelets lack this distinction and they end up feeling heavy and look blocky. Let's see how the clasp looks and operates when we go hands-on early next year.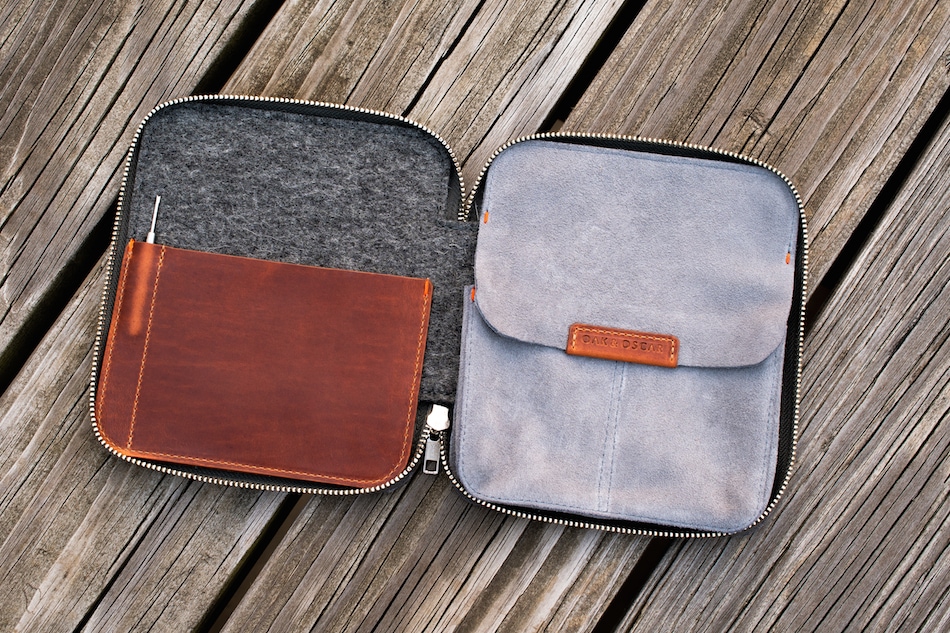 The Oak and Oscar Humboldt isn't Limited
At 46.8 in length and only 12.4mm thick, the Oak and Oscar Humboldt should prove to be a comfortable daily wearer for owners. Speaking of owners, it brings us to the other new frontier for Oak and Oscar. Past releases, especially in the case of highly limited variants, often sold out so quickly that fans of the brand were left without the opportunity to purchase. With the Humboldt, we're treated to the brand's first serial production model. That's right, it isn't a limited edition.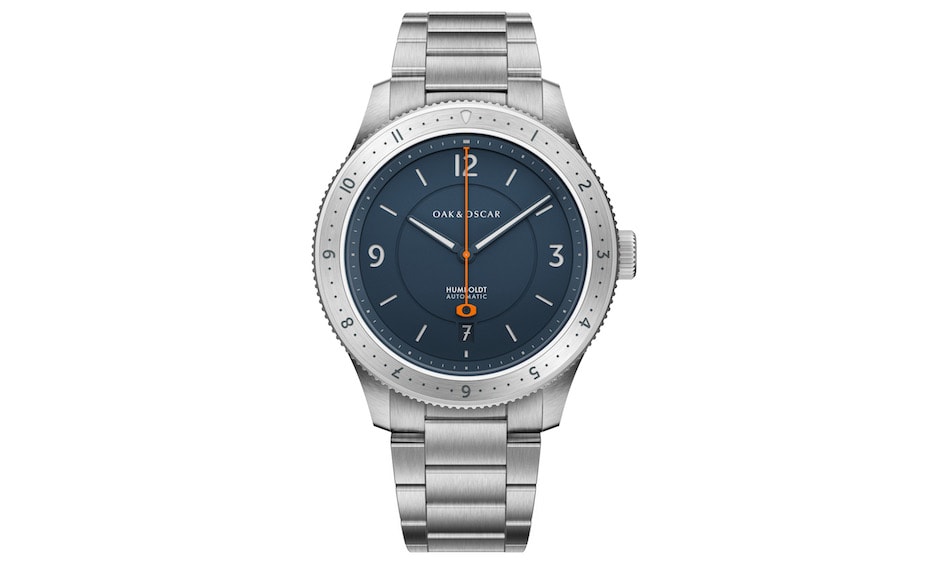 Competitively Priced
Whether you choose grey or navy, the Oak and Oscar Humboldt will retail for $1750 on bracelet ($1650 at launch) or $1550 on strap ($1450 at launch). While that's not inexpensive, our experience with watches from Oak and Oscar have led us to surmise that these pieces belong in the same league as pieces from pricier brands. Plus, and this is a difficult feature to price, with a Humboldt on the wrist, the uniqueness factor counts for something. The Humboldt should prove successful for Oak and Oscar – we'll come back with more thoughts once we see them in person. The Oak and Oscar Humboldt should begin shipping in late Spring of 2019 – for more details and ordering info, head to the official site here.