Hands-On, Downhill, And Round And Around With The Omega Seamaster Aqua Terra Beijing 2022 Watch
It's the subtle crispy pattern of the snow-white dial that wins the game
Like most Dutch people, I'm looking forward to the speed skating events of the 2022 Winter Olympic Games. And especially short-track speed skating on the small rink, because that's where we, most likely, can harvest a bunch of gold medals. In other countries, curling is the main event, or (ice) hockey, or biathlon, or downhill skiing. To be honest, I also enjoy sports I normally wouldn't watch because the Olympic setting adds significance to every event. And that's why we go hands-on, downhill, and round and around with the Omega Seamaster Aqua Terra Beijing 2022 watch — a special edition, not a limited edition.
It was in the Fall of 2021 that Omega presented the Seamaster Aqua Terra Beijing 2022. With lockdown in full effect and no traces of snow or ice, I had a hard time warming up to this watch. It was also because February 4th, the start of the Winter Olympics, was a date in the distant future. But that changed when I got to see this watch up close. I have a thing for white dials. My recent acquisition of the Grand Seiko Tough Quartz SBGX341 proves that. And the Omega Seamaster Aqua Terra Beijing 2022 special-edition watch (€6,100) sure has an interesting, no, make that intriguing, white dial.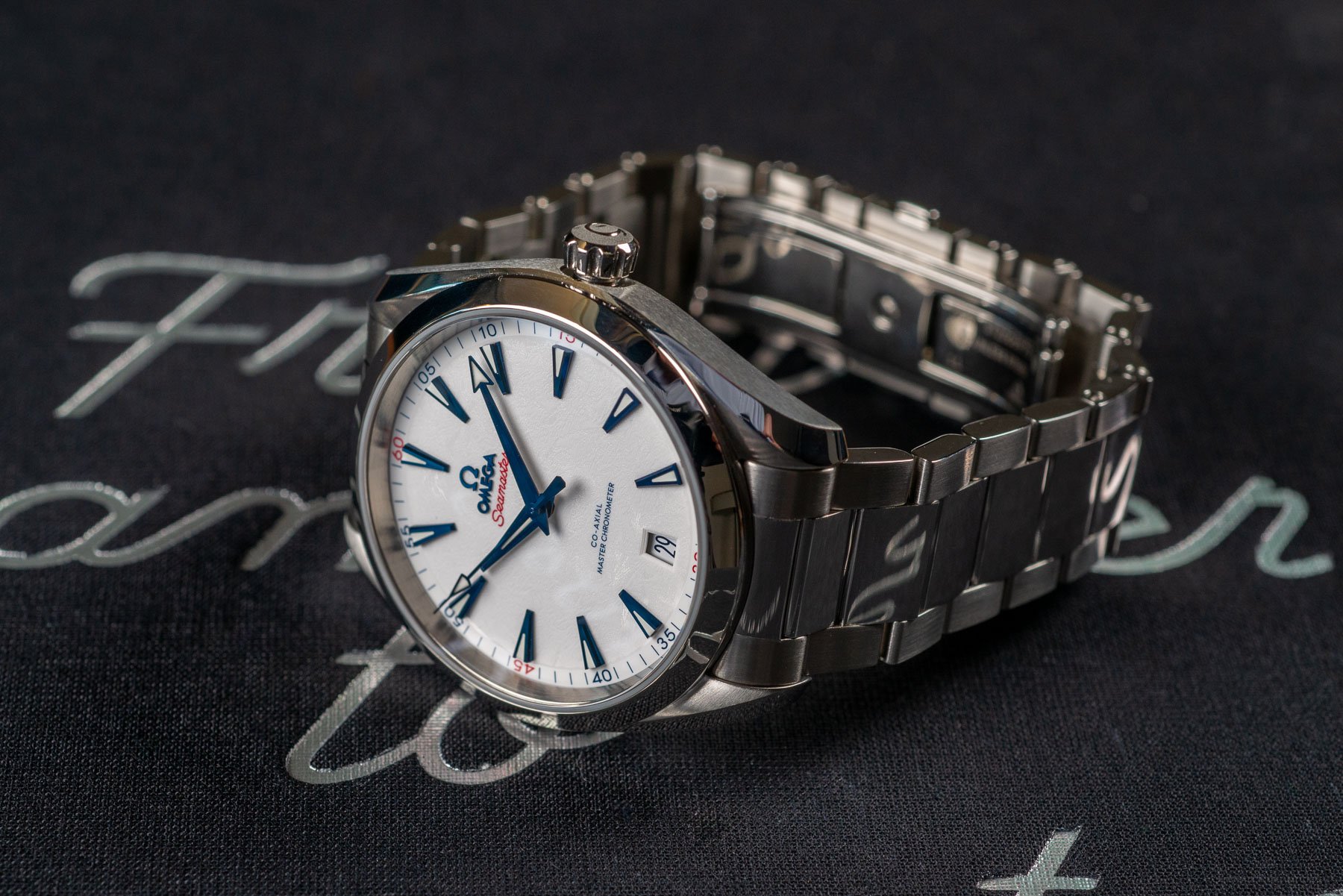 Warming up to the frosty Omega Seamaster Aqua Terra Beijing 2022 watch
I liked the Seamaster Aqua Terra from the moment the new lineup was introduced back in 2017. The symmetrical rather than asymmetrical case does wonders for the watch. And so does the finishing. The lugs have a polished finish on top, and a satin finish on the sides that create a dynamic look. And because the Aqua Terra is relatively flat, it sits prominently on the wrist, but it's definitely not uncomfortable. On the contrary, the Aqua Terra is a strong contender if you're on the lookout for a practical and good-looking "daily beater".
… so subtle you sometimes have a hard time noticing it.
The characteristic teak-deck pattern of most Aqua Terra dials works for me in some colors, but not in all. The Omega Seamaster Aqua Terra Beijing 2022 forgoes that style and shows a ceramic dial with a very subtle, frosty pattern. It's so subtle you sometimes have a hard time noticing it. But that's a good thing, I think.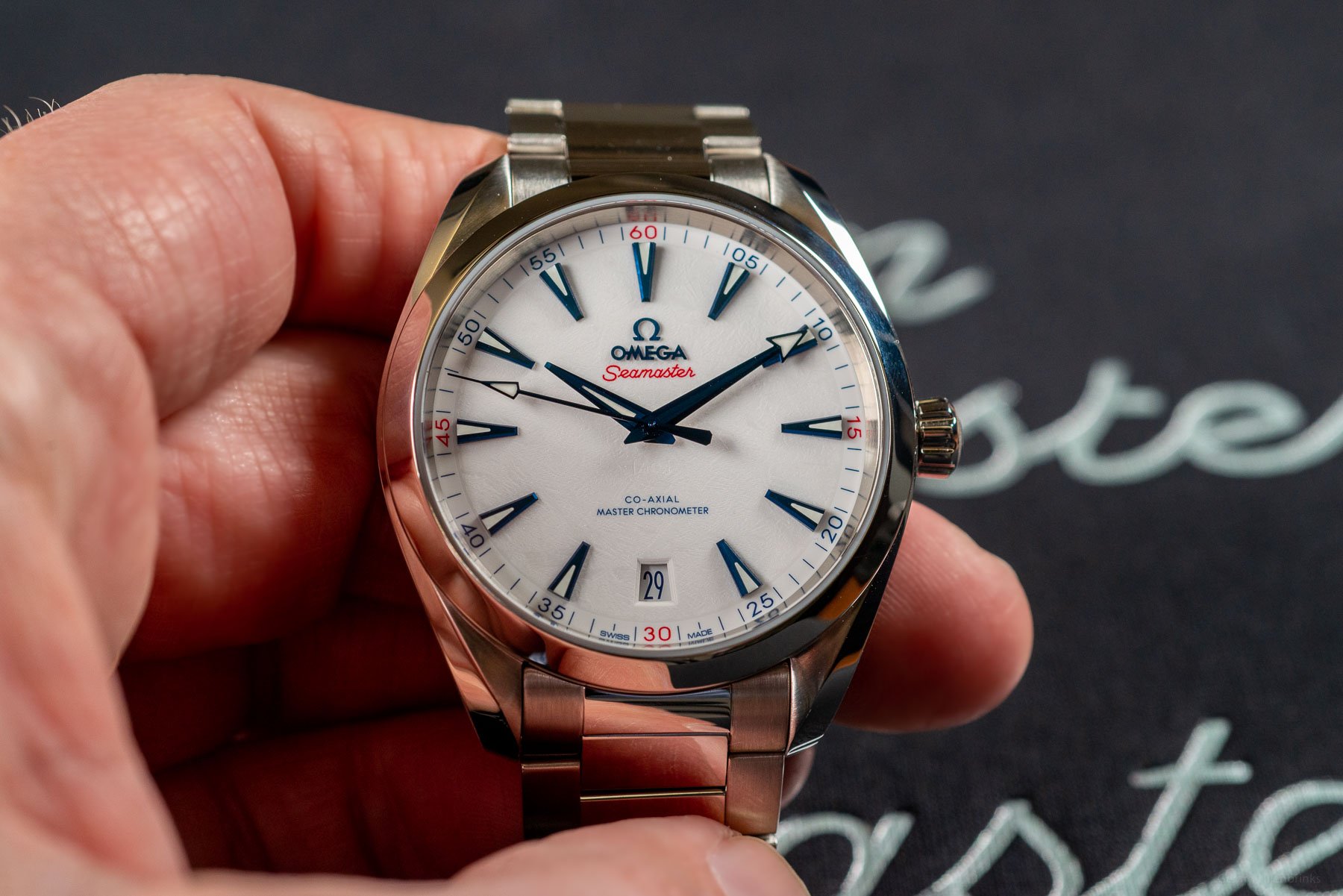 Not too white, not too bright
I do like a decorated dial. But I also think when it's overly decorated, your eyes will get tired of it eventually. I prefer things understated because I know that, in the end, the allure of something soft-spoken has a longer lifespan. Too understated — too white, too plain, too "boring" — also doesn't work, of course. It's the balance between busy and boring and the absence of a lot and the presence of a little color that I'm looking for. And Omega sure delivered. The white dial has a pattern that only reveals itself when you want it. And the small amount of red — only the name "Seamaster" and the four quarter numbers on the minute track are done in red — and more prominent blue details keep things vibrant.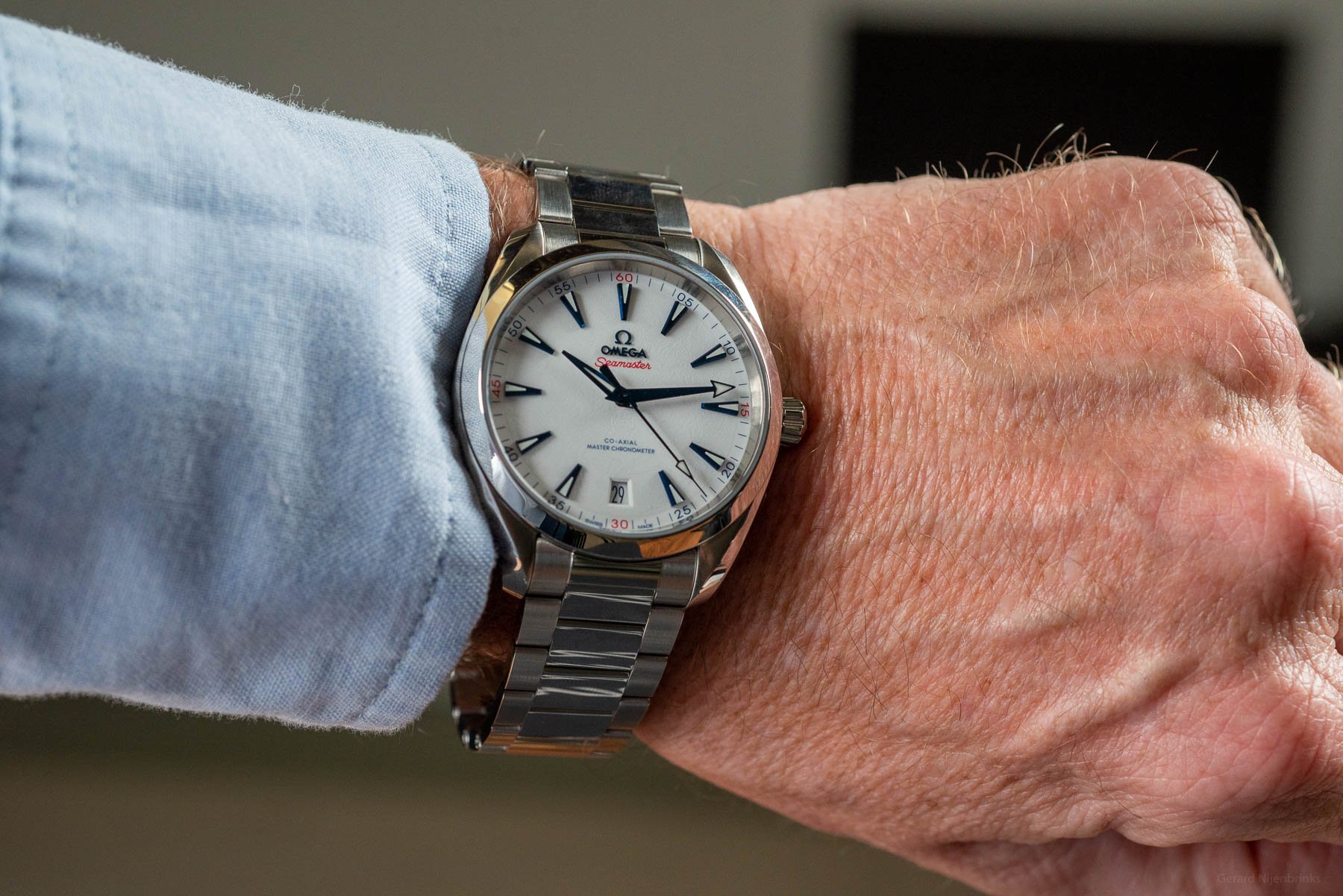 Different shades of blue too
I found myself staring at the hands from time to time. And that's because the powerfully shaped hands are very blue in some light and almost black in other lighting conditions. In real life, the watch looks way more balanced from a color perspective than what you see on the Omega website — the watch looks a bit harsh in that render. In reality, the metallic blue looks deeper and darker. And it also combines very well with the white Super-LumiNova that helps keep things readable at night.
Final lap with the Omega Seamaster Aqua Terra Beijing 2022 watch
There's nothing new regarding the case, the bracelet, or the movement. What you get is a 41mm Aqua Terra case with elegant lines and a polished steel bezel. The very well-made bracelet, with Omega's patented screw-and-pin system, feels solid and wears like a dream. I have no complaints either regarding the Master Chronometer Caliber 8900. What makes this edition special — again, it's not a limited edition, but it won't be in production for that long I guess — is the case back that shows a special engraving with the Beijing 2022 Olympic Winter Games logo.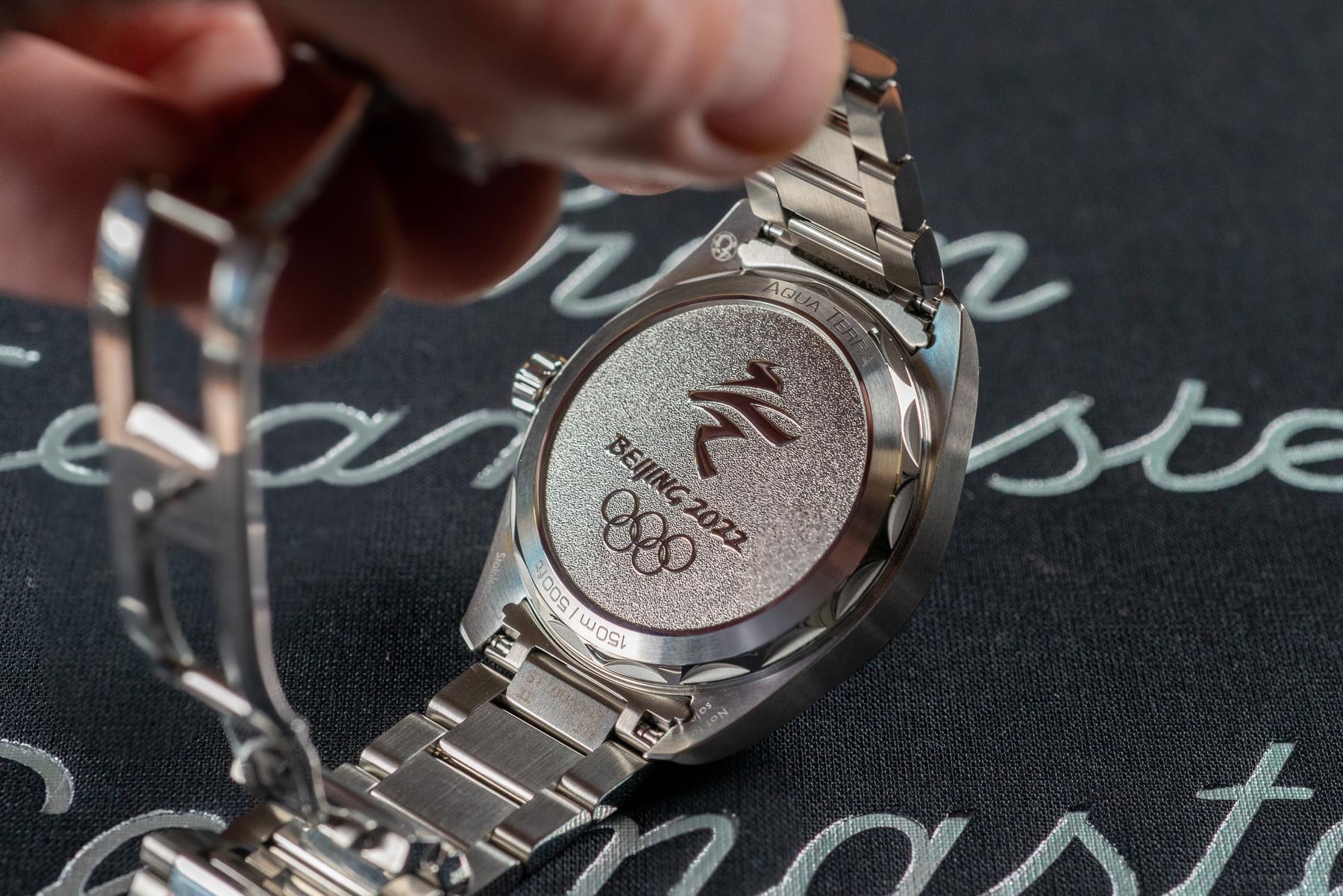 But what makes it even more special is the crispy white dial. It sits beneath a domed, scratch-resistant sapphire crystal with anti-reflective treatment on both sides, and it warms my heart every time I look at it. And now it's time to get into that Olympic vibe. Let the games begin!
For more information on pricing and availability, please check the Omega website here.
Please find and follow me at Lex Stolk • Instagram