OMEGA Seamaster Diver 300M "Commander's Watch" Limited Edition
We introduce to you the Omega Seamaster Diver 300M "Commander's Watch" Limited Edition watch. James Bond has been a wearer of some handsome timepieces ever since the first movie, including the Omega Seamaster Diver 300M. A watch that is often being referred to the 'Bond' watch, despite that he has been wearing slightly different watches in the last film (Spectre). What is the Omega Seamaster Diver 300M "Commander's Watch" about? Let's have a look.
Since 1995, Omega is the official watch for James Bond. So what's there to celebrate or commemorate, you might think? James Bond was created in 1953 and the first movie was Dr. No in 1962. No, 2017 marks the anniversary of "You Only Live Twice" (50th anniversary), "The Spy Who Loved Me" (40th anniversary) and "Tomorrow Never Dies" (20th anniversary).
Introduced in London, on a special location, Omega showed us the new Seamaster Diver 300M "Commander's Watch" this evening. A watch to commemorate the three anniversaries mentioned in the introduction. The "Commander's Watch" is based on the fact that James Bond wore his official military uniform in these three films.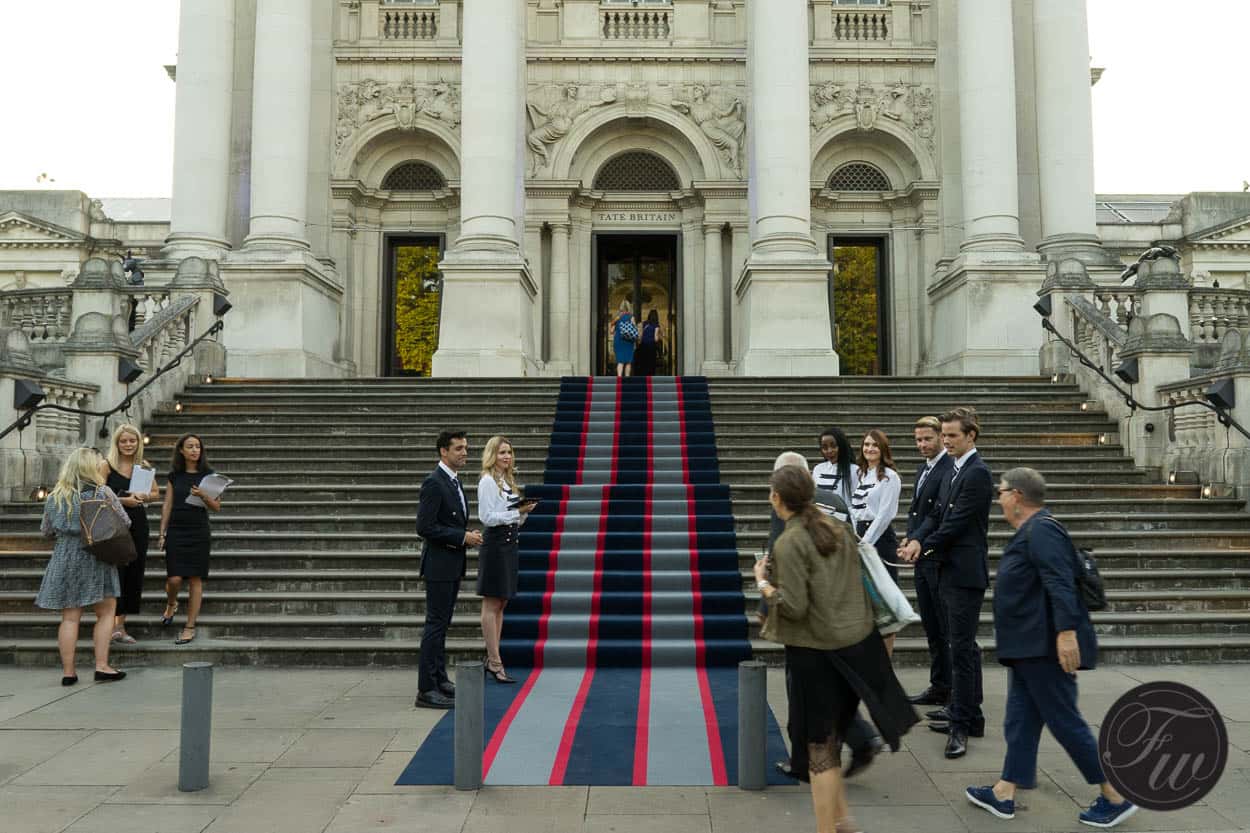 Seamaster Diver 300M "Commander's Watch" Limited Edition
As you can see, the Commander's Watch has white, blue and red elements. These are also the ensign colors of the British Royal Navy. The Seamaster Diver 300M is a watch known to you we guess. Just to be sure, it is a 41mm diameter stainless steel watch with a blue ceramic bezel with LiquidMetal diving scale. Like we've seen in other Seamaster (Planet Ocean) watches, Omega also used their rubber injection technology for this Commander's Watch as the first 15 minutes on the LiquidMetal diving scale are made of red rubber.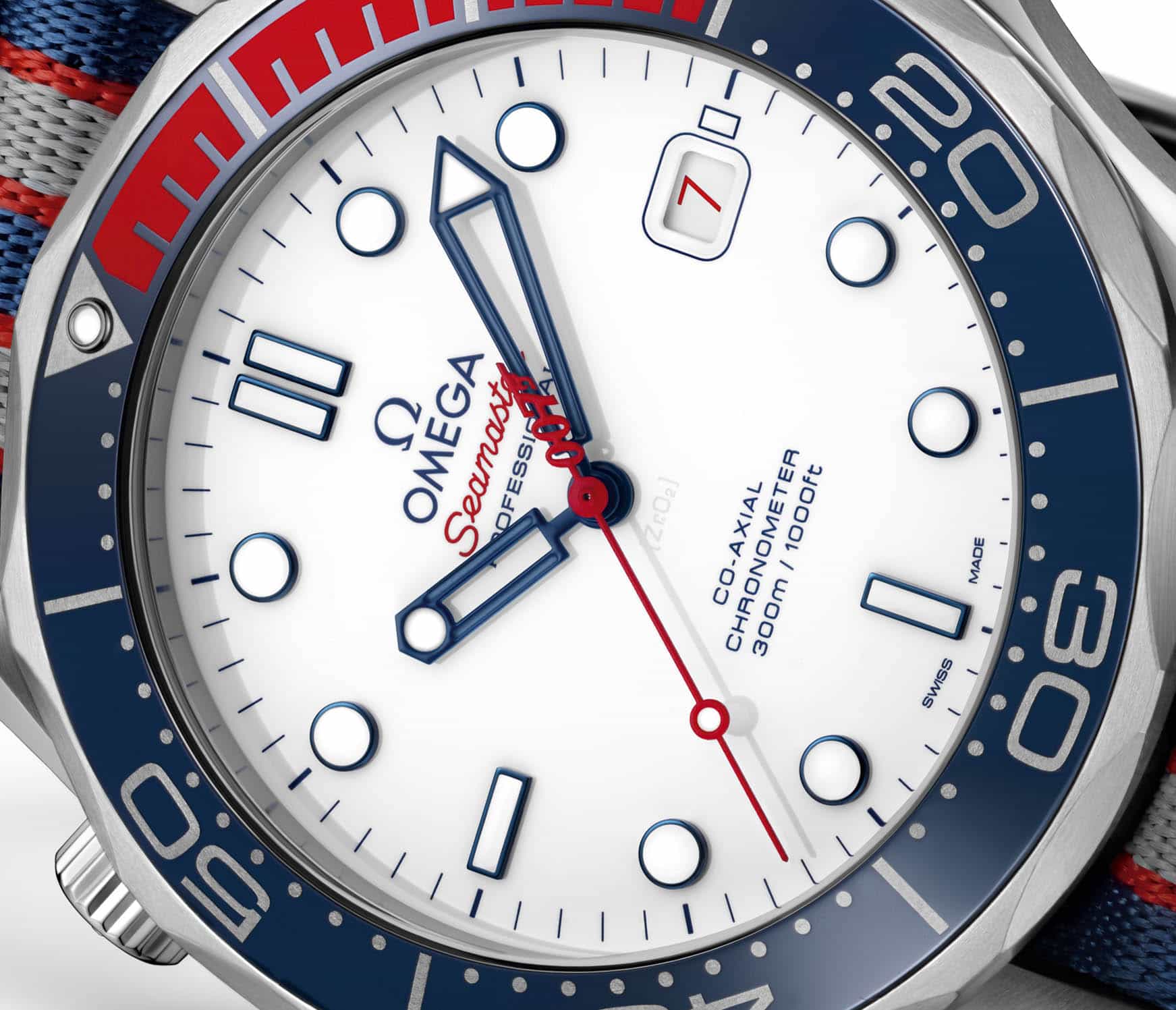 The polished white ceramic dial has 12 blue indexes and the 'Seamaster' written in red. The typical skeleton hands are also blue. A small 007 gun logo is featured as the counterweight on the seconds hand, like we've seen on other James Bond Seamaster limited editions. The date disc has blue numerals, except for the 7, which is in red. The watch comes on a blue, red and gray NATO strap. The case back of the watch has the wave relief and a sapphire crystal to admire the Co-Axial caliber 2507. The 'bullet'-design rotor has the three stripes of the Commander's insignia.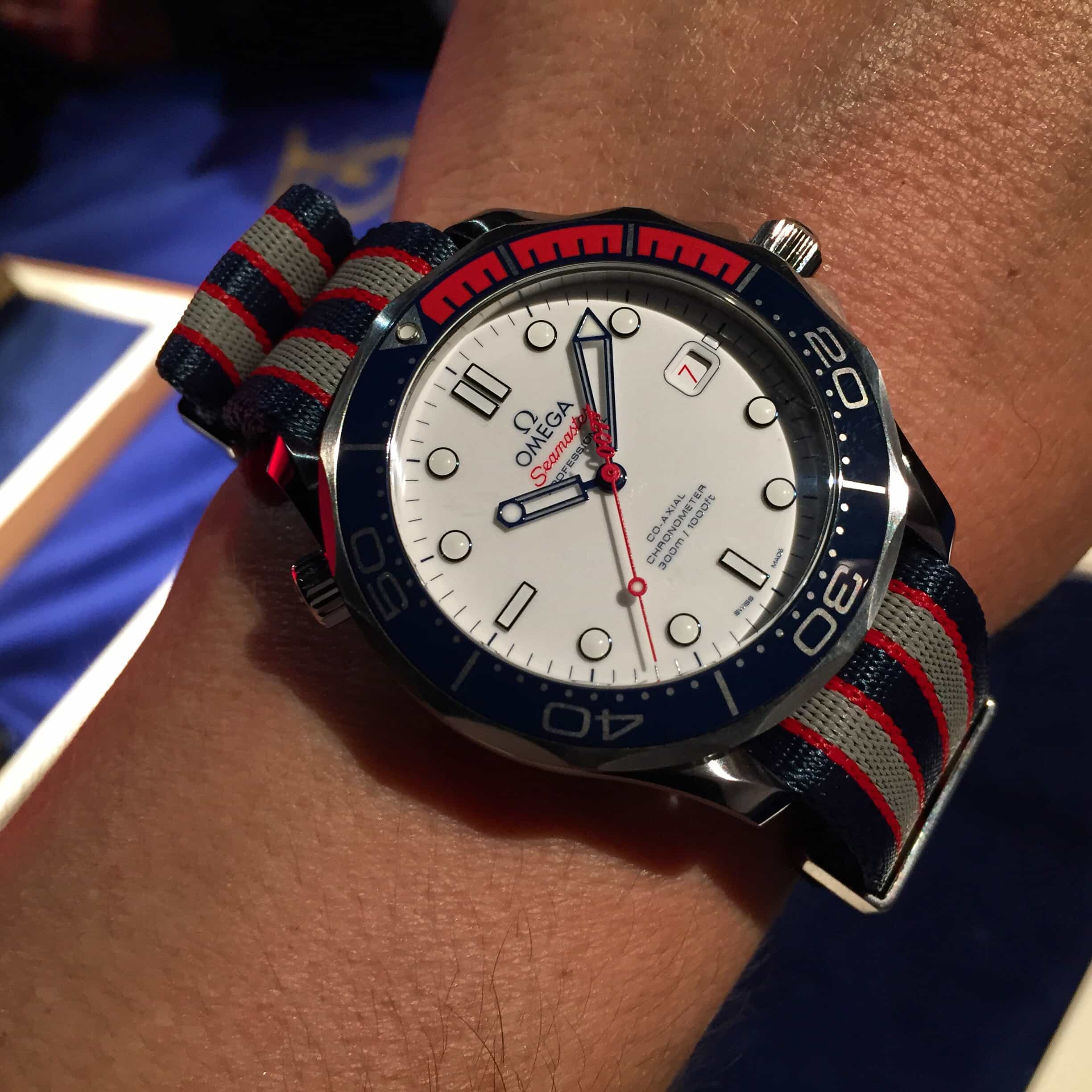 The stainless steel Seamaster Diver 300M Commander's Watch is limited to 7007 pieces. A lot of watches, but keep in mind that the previous Bond Seamaster (300) for Spectre was also limited to 7007 pieces and sold out in a flash. The interesting thing is, that whenever a new James Bond Seamaster is being introduced, the demand for former models is also increasing (and pushing up prices of these discontinued models).
What's more, is that Omega also decided to produce 7 pieces of this Commander's Watch in 18kt yellow gold. There will be one model produced in white gold. Read on.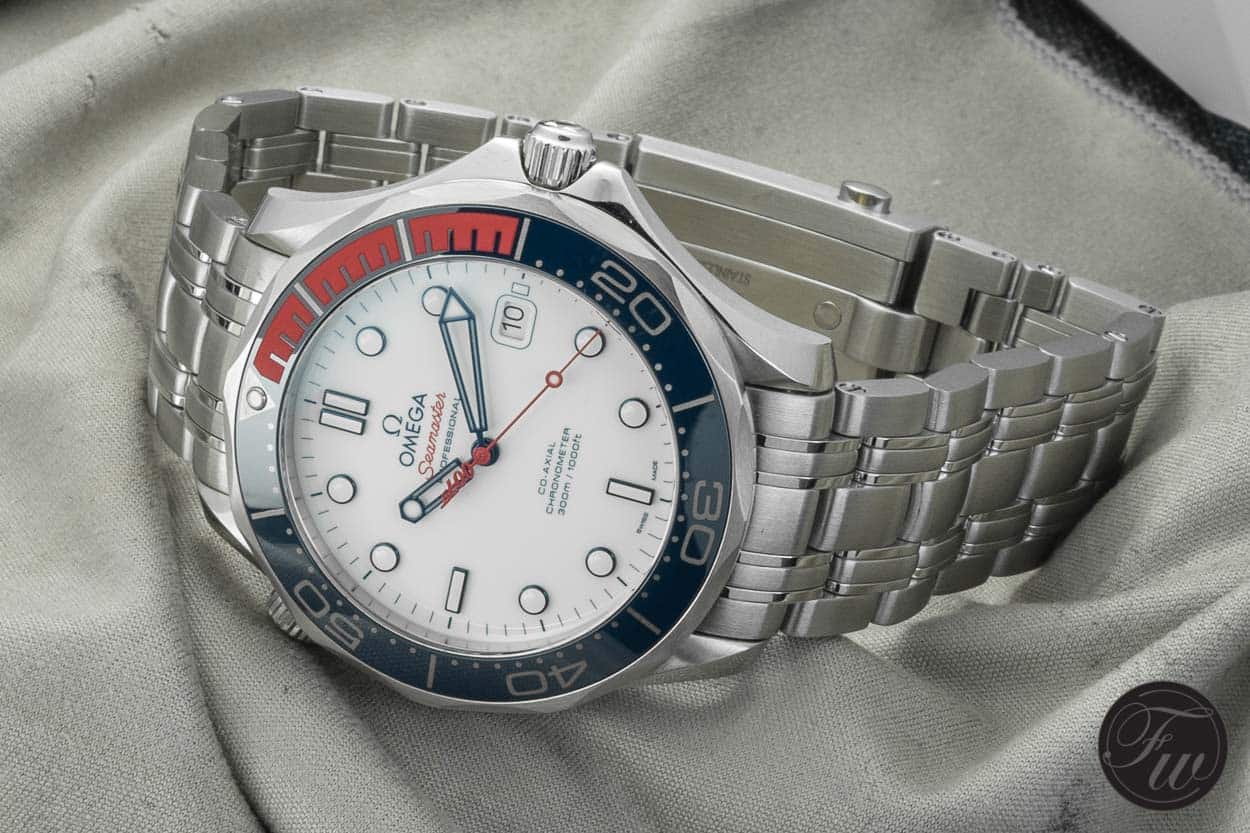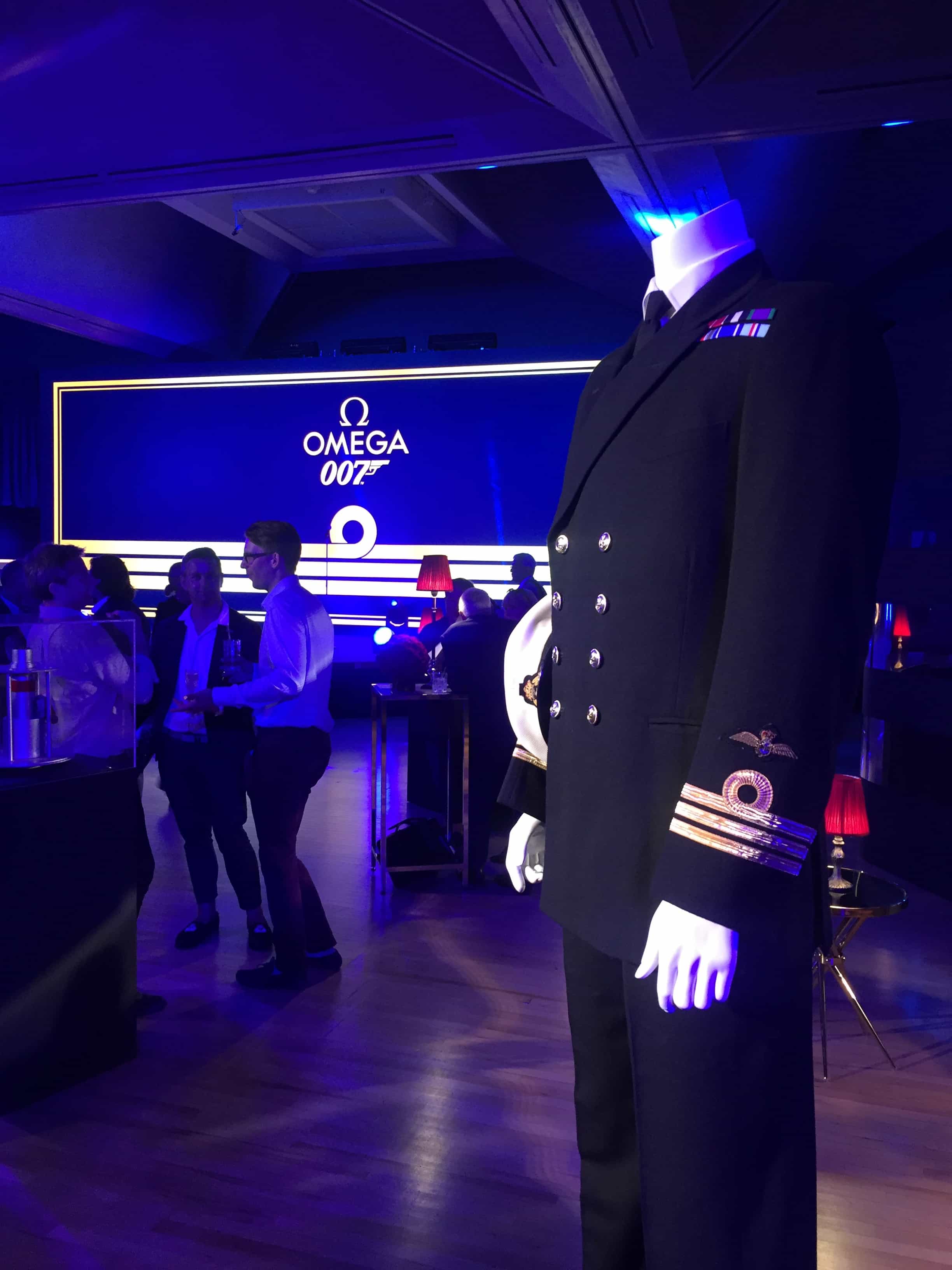 Selected Charities
For an auction later on in 2017 (yet to be revealed), three of these Seamaster Diver 300M "Commander's Watch" models will be sold with all proceeds going to selected charities.
At a special auction later in 2017, three of OMEGA's Seamaster Diver 300M "Commander's Watch" Limited Edition models will be sold, with all proceeds going to selected charities. There will be a stainless steel watch with the limited edition number 007/7007 auctioned, one 18kt yellow gold model and one and only (unique) 18kt white gold watch. We will keep you posted when and where this auction will take place.
James Bond and Omega
Ever since GoldenEye in 1995, James Bond has been wearing an Omega watch. Pierce Brosnan was the first Bond character that featured a Seamaster Diver 300M (reference 2541.80).
Although it was rumored that a lot was paid to get Omega in the script of a Bond film, it was actually the costume designer Lindy Hemming that proposed to give Bond an Omega watch for GoldenEye.
Hemming said: "I was convinced that Commander Bond, a naval man, a diver, and a discreet gentleman of the world would wear this watch as opposed to the one everyone expected me to use." She added, "My father had been in the RAF but was friendly with navy men and I remember as a child one often visiting us, and he always wore this OMEGA, which fascinated me – this unusually sporty design that looked as though it was built for purpose. It's the small details that really matter. So one of the early tasks in designing the new Bond, Pierce Brosnan, I went to a props and hand props meeting and argued for the use of OMEGA."
If you are a regular visitor of Fratello, you have probably seen our coverage on an actual RAF pilot's Omega a few weeks ago. Omega issued more than 110.000 watches to the Ministry of Defence during WWII. According to Omega, this means that more than 50% of all of Switzerland's watch deliveries to the United Kingdom during the war came from them, with all other brands sharing the remaining 50%. However, the British Navy also was equipped with Omega watches. In 1967, military divers of the British Royal Navy were issued with the Seamaster 300.
Anyway, although Ian Fleming chose Bond to wear his personal watch (of the author), in the movies 007 wore watches of several different brands before (finally) ending up with Omega in 1995.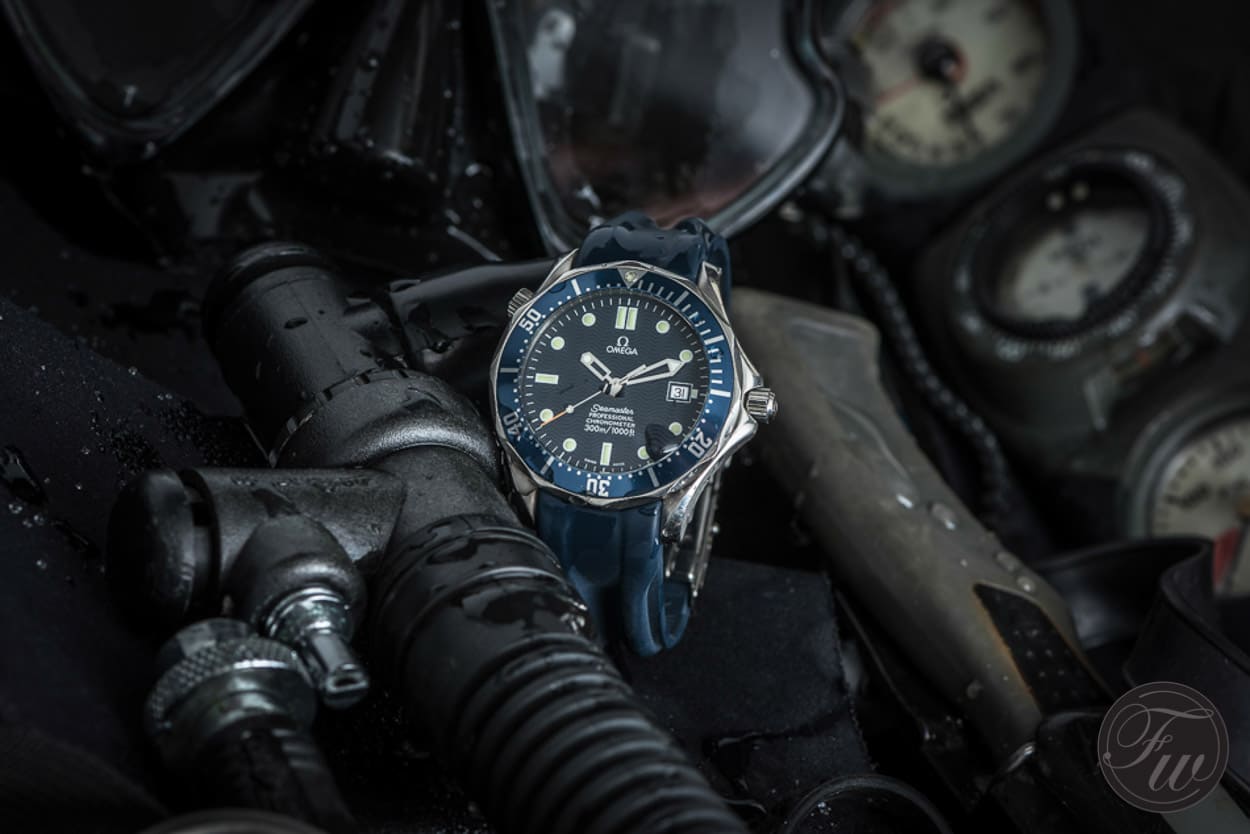 Costume designer Hemming was also responsible for James Bond's wardrobe and props on Tomorrow Never Dies (1997), The World Is Not Enough (1999), Die Another Day (2002) and Casino Royale (2006). In Spectre, Bond also wore an Omega of course. Two actually, as he can be seen wearing the Seamaster 300 in the action scenes while more 'formal' occasions in the movie made him wear an Aqua Terra. When I was in New York earlier this year, to witness the introduction of the new Seamaster Planet Ocean 'Big Blue', Bond-actor Daniel Craig claimed that he proposed to wear the Aqua Terra on these occasions. He told the guests of that small hosted event in New York that he is actually a fan of the Seamaster Aqua Terra line-up.
If you want to read more about Bond and the Omega watches he wore since 1995, read this article written by Balazs.
The stainless steel limited edition Omega Seamaster Diver 300M Commander's Watch reference 212.32.41.20.04.001 will retail for CHF 5000,- (including sales taxes). The 18kt yellow gold Seamaster Diver 300M Commander's Watch has reference  number 212.62.41.20.04.001  and has a price of CHF28000,- (excluding sales taxes).
More information on the Omega Seamaster Diver 300M "Commander's Watch" can be found via Omega on-line.