Speedy Tuesday – Omega Speedmaster Mark II 145.014
Until early 2014, I never shared the same enthusiasm for the Omega Speedmaster Mark II 145.014 that others seem to have. The initial reason I bought this early 1970's Speedmaster Mark II is one I am not really proud of: as an investment. I never advice people to buy watches as an investment and I never did so myself, until Omega announced their Speedmaster Mark II re-edition early 2104.
I thought the new Mark II could increase the prices of the vintage Omega Speedmaster Mark II 145.014 models quite a bit. Now I didn't search actively, but I was offered a Speedmaster Mark II just after BaselWorld in 2014, when I saw and tried the new Mark II re-edition. The price was around €1000 Euro and the watch was in good technical condition, but the case needed some work and a new crystal. Again, I never really cared for the Speedmaster Mark II, even though the late Chuck Maddox was so enthusiastic about this model in his articles and in our conversations. It didn't help although I wished I was more enthusiastic about it back then, as the prices were very interesting at the time. Well, a €1000 Euro is still a lot of money but I pulled the trigger on the Mark II and immediately brought it in for service.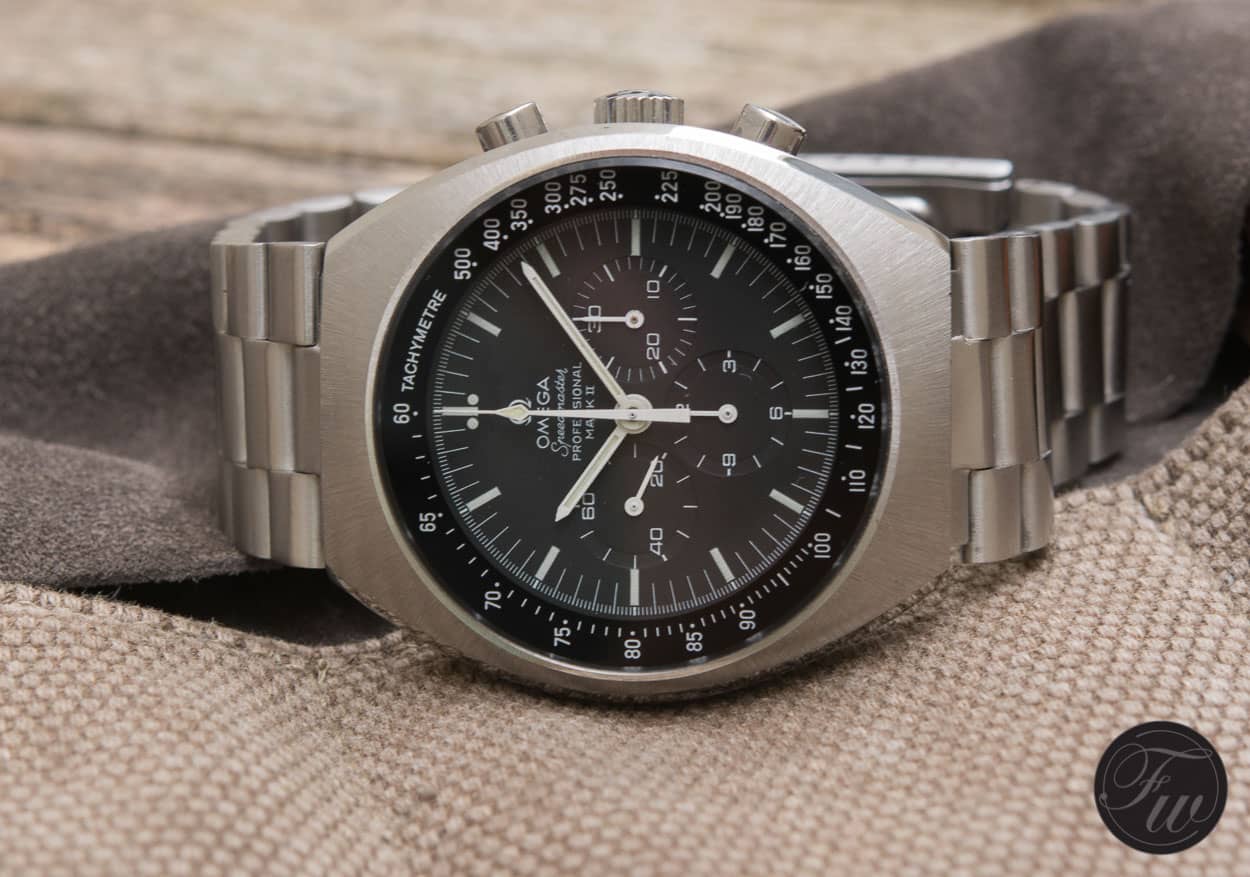 Restoration of my Omega Speedmaster Mark II 145.014
The movement was cleaned, a new crystal fitted (the tachymeter scale is printed on the inside of the crystal) and the watch was sent to a company who is able to get the nice brushed sunburst finish on the case. To do this properly, a service center needs a lapping machine. Not only Omega, but also Rolex, Audemars Piguet and some other brands use lapping machines to get the nice brushed finish combined with polished bevels on cases and bracelets. As you can see in the photo below, the brushed finishing on the case has nice coarse grain and the edges with the polished facets are still very sharp. This can't be properly done by hand. Really deep scratches and dents are still there, as I asked them to keep the watch as original as possible and not to take away too much stainless steel.
Unfortunately I don't have any good before & after photos, as I brought the watch straight in for this service. A few photos of the watch – before it went into service – can be found here, in our article on the new Mark II re-edition compared to this vintage 145.014 reference.
The entire operation cost me about €300 Euro, which made the total price of this Omega Speedmaster Mark II 145.014 come to €1300 Euro. Still not bad, compared to the prices of models in similar condition I found on Chrono24 and other on-line market places.
However, I still wasn't sure this would be a Speedmaster for me. The only other 'awkward' Speedmaster models at the time in my collection were a Mark IV and a Speedmaster 125. I sold the Mark IV as I felt I already had the Mark II (similar case and style) and the Speedmaster 125 had the same movement (but chronometer certified). I try to focus on the Speedmaster (Professional) Moonwatch or pre-Moon models, otherwise the scope would become too big for me and I still try to live by 'buy what you are going to wear'.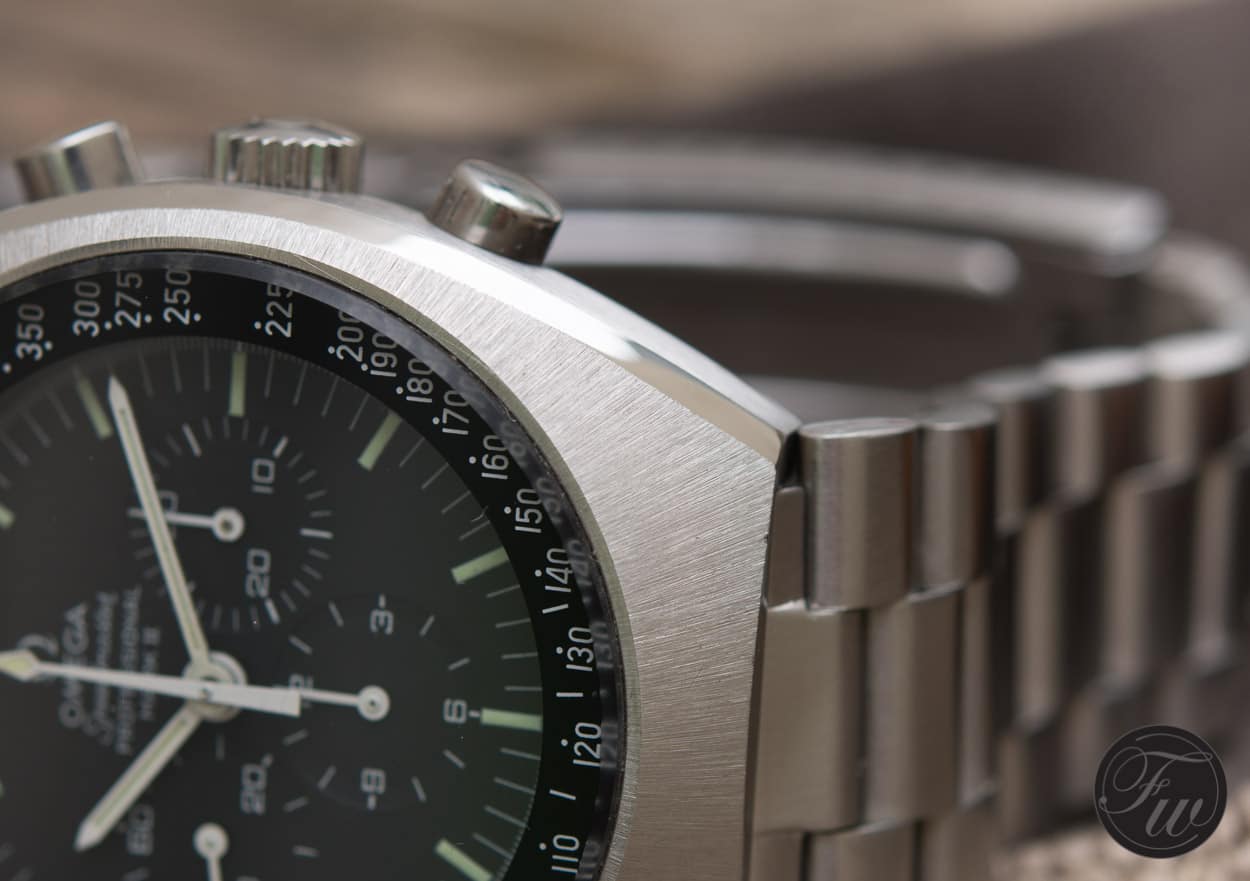 Speedmaster Mark II Case
After I picked up the watch from my watchmaker, I strapped it on my wrist and I remember that I wore this Omega Speedmaster Mark II 145.014 for a number of consecutive weeks. The shape of the case is very 1960's, early 1970's, but not as awkward as the Speedmaster 125 or even Mark III or Flightmaster models. The case is a bit smaller in diameter (41.7mm) than the regular Speedmaster Professional models, but very similar in wearing. It is the case model (tonneau) that makes it appear to be larger than a – let's say – Speedmaster Pro reference 145.022.
As you can see on the images below, the case is quite thick (about 15mm) but for a sports chronograph it isn't that bad. Compared to the regular Speedmaster Professional, the crown and pushers are a bit more part of the case instead of sticking out. The case band has a brushed finish between two thick polished facets, giving the case quite a complex appearance. In my opinion, much more interesting and complex than some of the other sports chronographs of that time (I have Heuer in mind).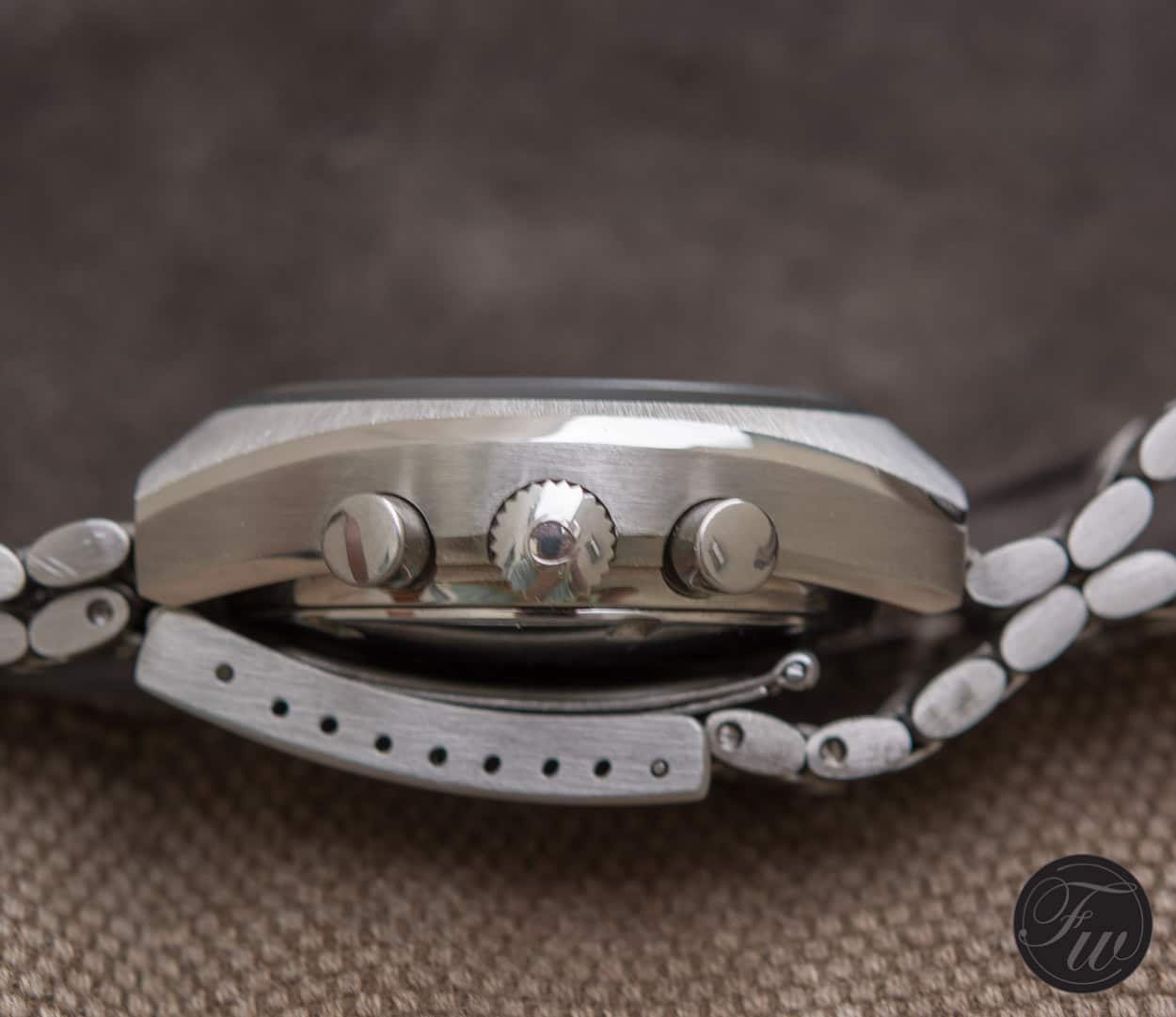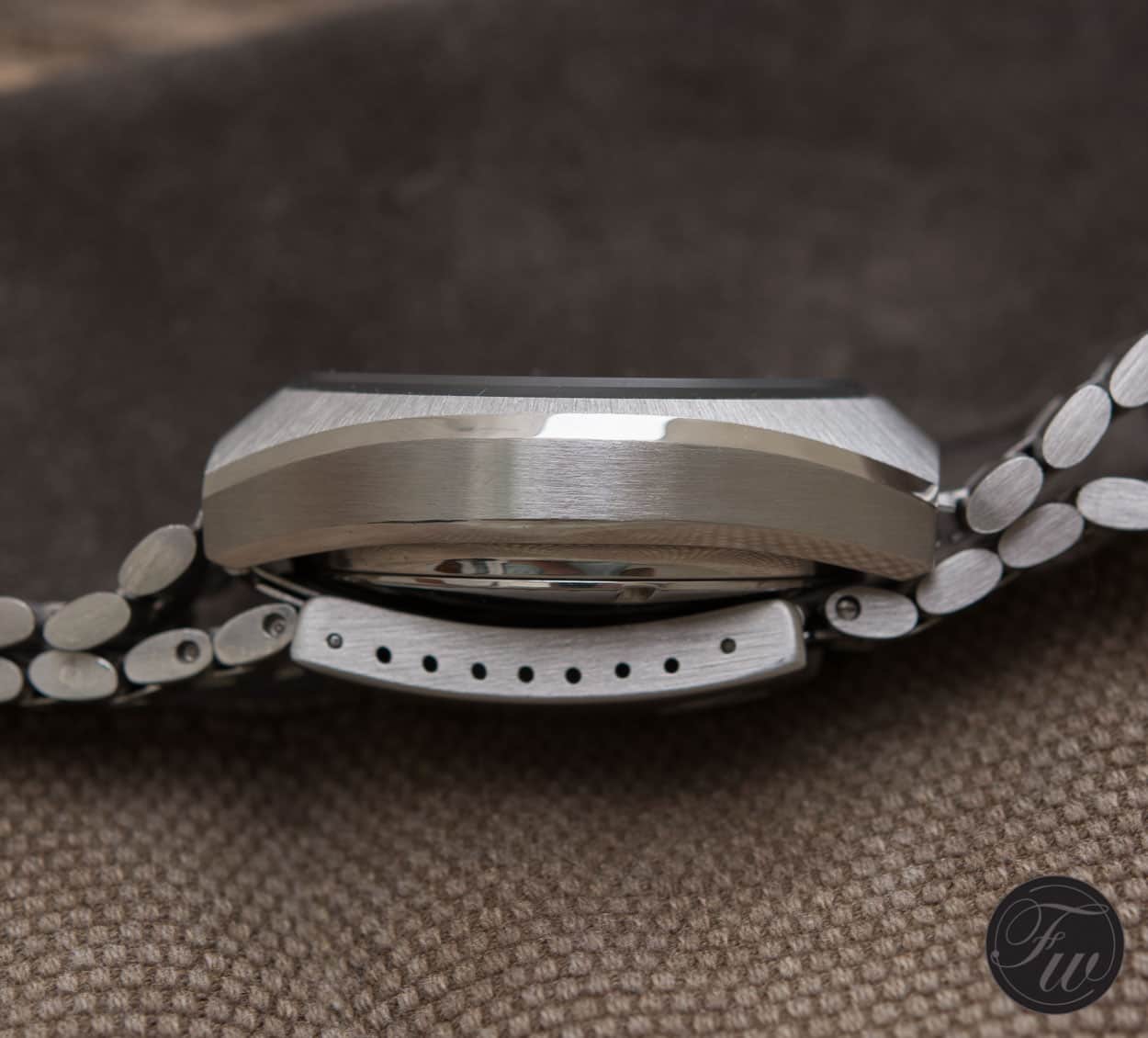 The caseback has no NASA inscription engraved of course, but just the famous Seahorse logo and 'Speedmaster'. The case back is of the screw-in type as you can see, which will need a specific tool with little claws that fit right into the rectangular cavities. Once the caseback is unscrewed, you will find a number of engravings in the caseback (see below).
Besides the reference number (or officially Omega's casenumber) 145.014 and Omega Swiss Made inscriptions, you will find the 'Brevet 487449' inscription. This Swiss patent can be found in other watches as well, even from other brands. It relates to the water resistance of the case as far as I could find out.
Speedmaster Mark II Bracelet 1162
The Omega Speedmaster Mark II 145.014 came on two different bracelets, the ref.1162 that seems to be the cousin of the ref.1171 used on the 'Moonwatch' at the time, and then there is this ref. 1159 bracelet, with two polished links next to the brushed center link. I have no real preference, except that I think the 1162 looks a bit more toned down and therefore a nice fit to this chronograph. The re-edition Speedmaster Mark II with Co-Axial movement has a bracelet inspired by the ref.1162 bracelet.
The Caliber 861 Movement
The Omega Speedmaster Professional Mark II was introduced in 1969 and as 'Mark II' implies, it was just a new/other version of the regular Speedmaster Professional. The dial (except for the Mark II wording on there), hands and movement are identical to the Speedmaster Professional. The movement is the Lemania based Omega caliber 861, a hand-wound copper colored chronograph movement. A movement that Omega used until 1997, when they started to use the caliber 1861 (an extra jewel and rhodium finish).
As you can see below, the movement has the Delrin brake which is some sort of 'nylon' synthetic material. According to Omega, this Delrin brake preserves the edges of the tooth of a very fine wheel, when resetting the chronograph (more here). On the movement you will also find the caliber number (861) and movement number (or serial number as you wish).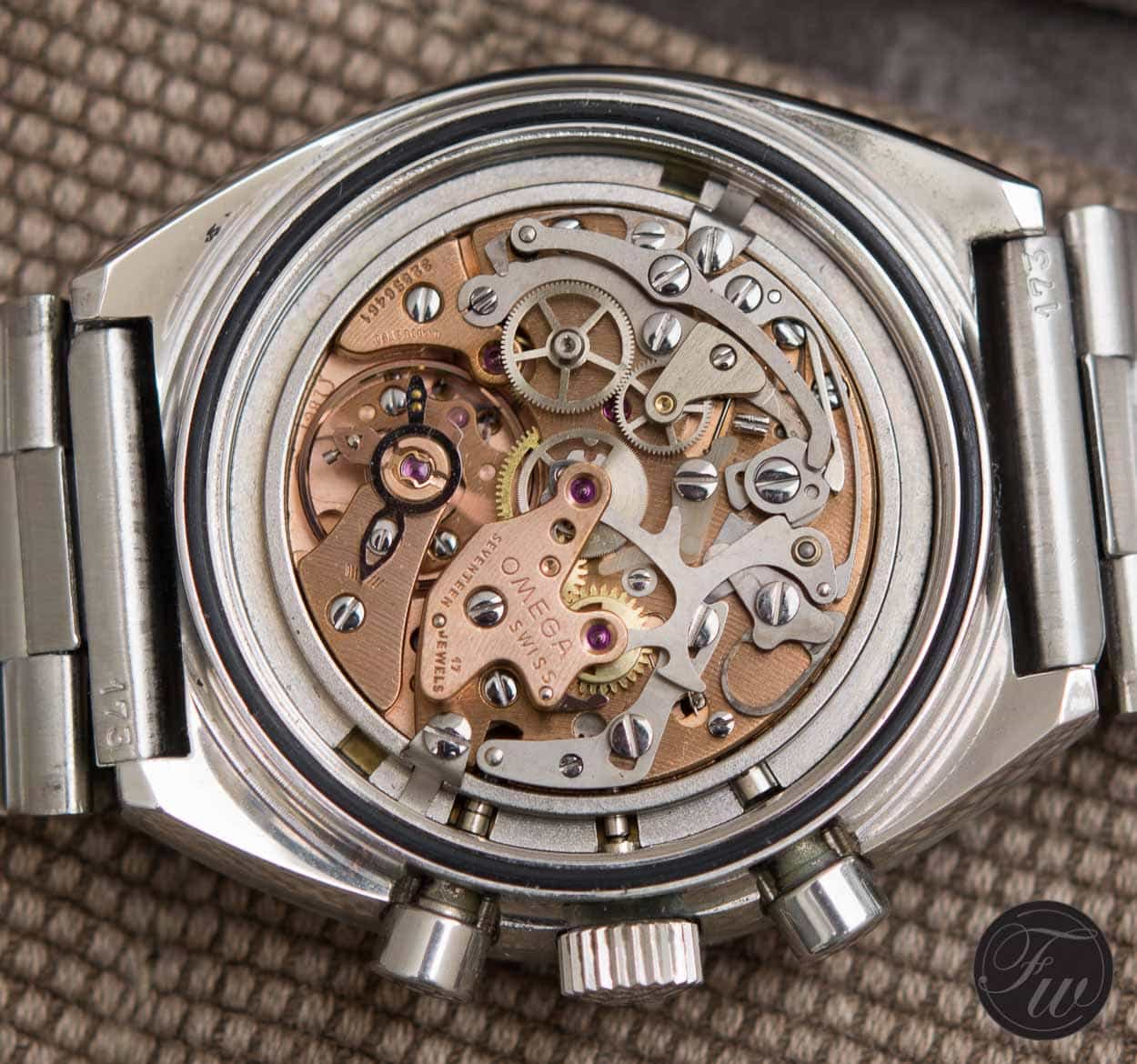 The serial numbers of Omega watches can be a bit confusing, however, the Speedmaster Mark II has serial numbers between 27,xxx,xxx and 35,xxx,xxx which ranges from 1969 to 1975. My Omega Speedmaster Mark II 145.014 has a 32,xxx,xxx number, which should be somewhere in between. According to the extract of the archive I have with the watch (an old one though, from 2003) says the watch was delivered on November 16th in 1971 (at a price of 515 Swiss Francs, a Rolex Daytona 6262 sold at around 800 Swiss Francs at the time). However, the certificate also states that the movement production year is 1974. Somehow this doesn't add up obviously. I can only make some assumptions here, but for now I have no reason to believe it is a replacement movement. I do have reasons to believe the lists of Omega serial numbers floating around are not always correct. I will try to sort it out a bit more and update this article accordingly.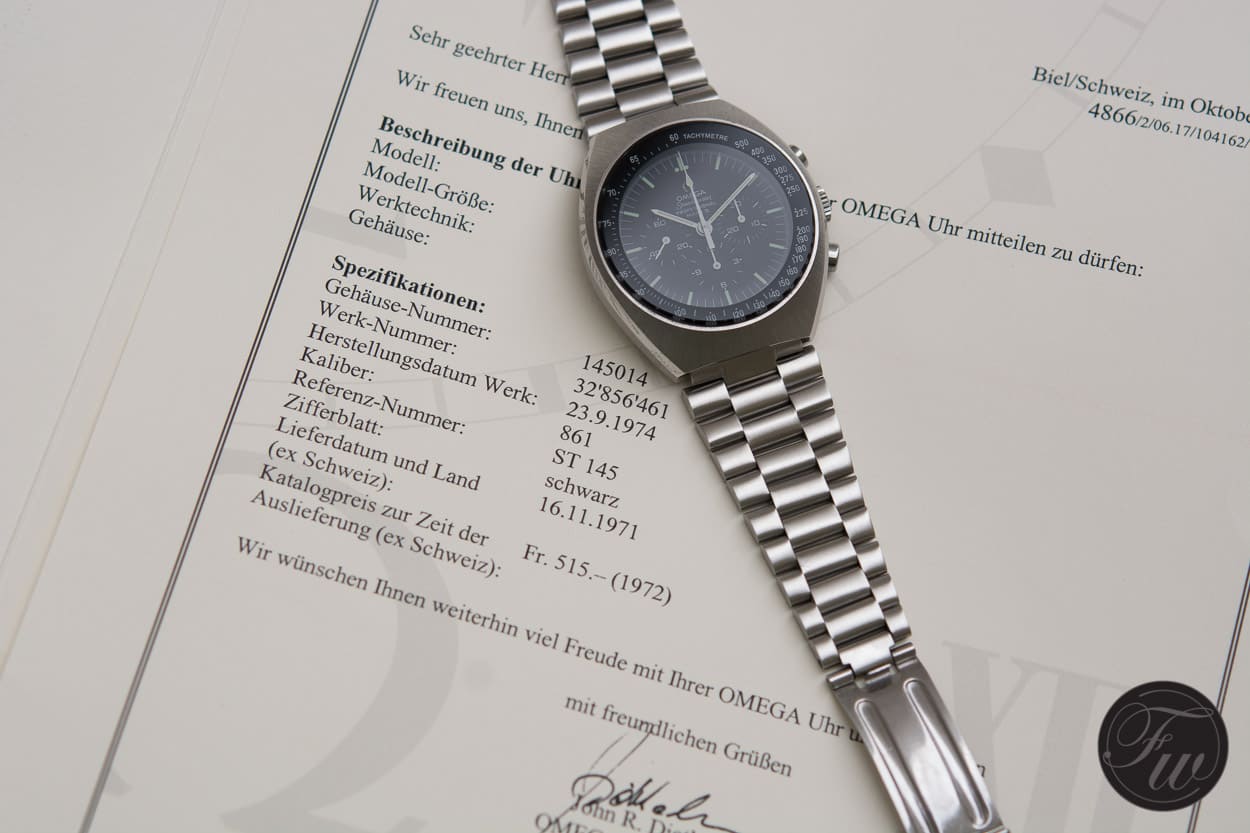 +12 Months Later
I have the watch in my possession for over a year now and although I wore it for a couple of weeks in a row at first, the Speedmaster Mark II is now part of my periodical rotation program. I try to wear all my watches and besides my Omega Speedmasters – believe it or not – I do have some other brands that I occasionally wear. The Omega Speedmaster Mark II 145.014 is not the Speedmaster I wear most or even that often, but still it gets some time on my wrist now and then. I don't think I have ever worn my Speedmaster 125 longer than 5 days in total to be honest. I wear the Mark II enough to keep it, that's for sure. And with regards to the investment bit, I wrote before that I paid €1300 Euro in total for this watch, which is quite a steal compared to what I see being offered on-line today. It might pay off to buy a Speedy Mark II that is a bit rough and have it restored, but make sure that the watch doesn't have too much damage. I would also be very careful with Mark IIs that have this funghi on the dial, most of the time a sign that it had moisture inside. Not only the dial and hands suffered from this, the movement probably did as well. Smooth winding and a flawlessly working chronograph are of course key as well.
Feel welcome to comment on this article below! If you have a similar story or experience, shoot us an email.
Omega Speedmaster Mark II 145.014 Image Gallery