Speedy Tuesday – BaselWorld 2015 Omega Speedmaster Professional Apollo XIII 45th Anniversary
I would like to abuse this week's Speedy Tuesday to do an educated guess on the novelty that Omega is going to present to us during BaselWorld (19th of March till the 26th of March). Almost every year, Omega introduces a limited or special edition Speedmaster to commemorate historical achievements of NASA where a Speedmaster was involved.
For example, every five years, Omega introduces a Speedmaster Professional Apollo XI limited edition, to commemorate the moon landing in 1969. Last year, it was the Omega Speedmaster Professional Apollo XI 45th Anniversary edition (we covered it here), limited to 1969 pieces.
So, going through the list of Apollo missions, it shows that Omega could commemorate only a few things in 2015. Either the 1970 Apollo XIII mission or the 1975 Apollo-Soyuz mission. I also had a look at Space Shuttle missions, as you know the Speedmaster got recertified for these missions as well (remember we've found one of 56 pieces here?), but it wasn't until 1981 until the first Space Shuttle (STS-1) mission took place.
Omega Speedmaster Professional Apollo XIII
Since Omega did a Apollo-Soyuz limited edition in 2009, with a beautiful meteorite dial (we reviewed it here and here) and already did one in 1975 itself (500 pieces only, we talked about it here) and a gold ones  in 1995 (250 pieces) and 2000 (50 pieces) as well, I think Omega will drop a new Apollo 13 mission limited edition on us.
Now, officially, Omega did a limited edition to commemorate the Apollo XIII mission in 1995 and used the same watch for the famous white mission cases (50 pieces in total). The model from 1995 was limited (and numbered) to 999 pieces only. I say officially, as unofficially but very much Apollo XIII related is of course their Omega Speedmaster Professional 'Snoopy Award' from 2003. I am a bit in the dark why Omega chose to introduce this watch in 2003,  but I will make sure we ask Omega in Basel.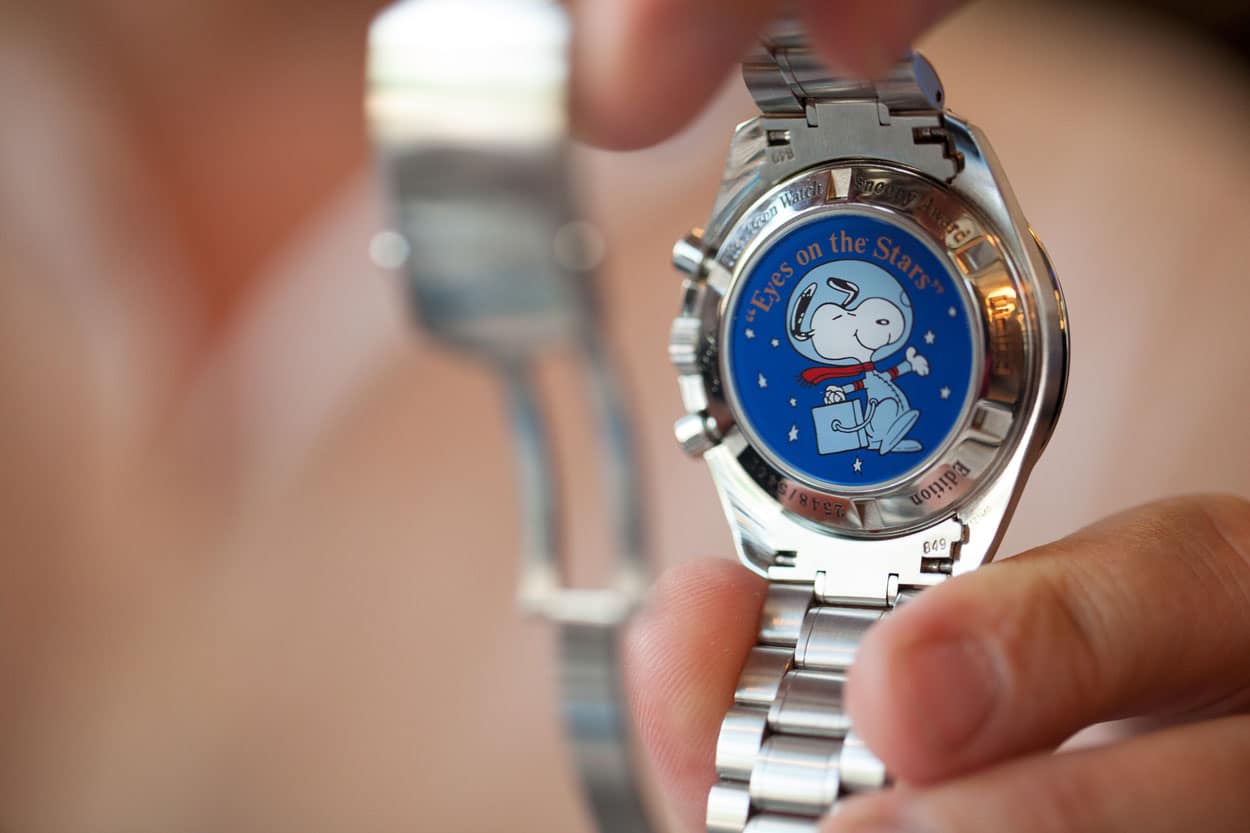 The Omega Speedmaster Professional 'Snoopy' is a much sought-after modern Speedmaster. I did a write-up on how Snoopy ended up on the dial of a Speedmaster in an article for WatchTime, which can be found here.
I actually have both the Speedmaster Professional Apollo XIII and Snoopy Award in my collection and cherish them both. While the Snoopy watch tells us the story of the accident during the Apollo XIII mission in 1970 where a Speedmaster came to the rescue, the 1995 Omega Speedmaster Professional Apollo XIII just shows a (beautiful) mission patch on the sub dial.
Until now, if we take the Apollo XI mission models, we only saw a mission patch on 3 o'clock with the Missions Suit Case version of 1998 (here is one that was sold separately though). We also have Apollo XI models with an inscription in the case band, only on the case back or using silver or even gold medallions on the sub dial. The 45th anniversary Apollo XI model didn't have anything referring to the mission on the dial, it was just an entirely different execution of the Moonwatch with its titanium case and Sedna gold bezel.
So, in other words, chances are pretty small they will just use the official NASA Apollo XIII mission patch again. One of the possibilities is that Omega will use the Snoopy Award again as commemorative aspect. This would either 'just' make it an Omega Speedmaster Professional Apollo XIII 45th anniversary or an Omega Speedmaster Professional 'Snoopy Award' Mark II or modern, 2.0. I can't imagine the latter, as it confuses people (now did I confuse you with Mark II there?).
My best guess would be that it will become the Omega Speedmaster Professional Apollo XIII 45th Anniversary edition. If Omega does decide to include Snoopy somewhere, I hope it will be done as tasteful as they did that with the 2003 Snoopy Award edition. This particular limited edition is a watch from my personal collection that I really cherish.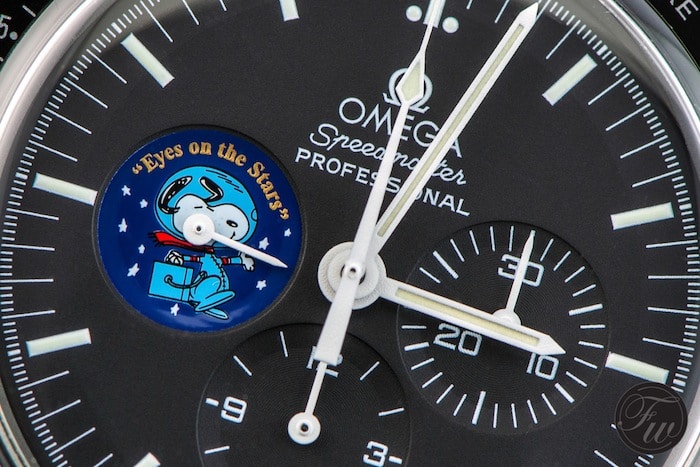 Also, given the fact that the number of limited edition Apollo models went down drastically in the last few years, I think you need to act quick and as soon as you like what you see, order it. The Apollo XI 45th edition was 'just' limited to 1969 pieces and they literally sky-rocketed in the boutiques. Now, since Omega knows about the demand for these limited editions, and especially the demand for the Snoopy (and the 1995 Apollo XIII model for that matter), they might do a bit more than 1970. But you'll never know. I hope they do more. Or do 1970 and I am able to get one myself in time :).
I guess we will have to wait until the 19th of March, but I am convinced the parameter (1970, Apollo XIII) is clear.