Speedy Tuesday – Omega Speedmaster Professional Galaxy Express 999
It is Speedy Tuesday! I recently received an e-mail from Andi (Germany) who's interest in Omega Speedmasters was sparked by our weekly Speedy Tuesday topic. That is always good to hear of course, but that's not all, he also sent some photos of the Omega Speedmaster Professional that he bought. Andi is part of a German group of watch enthusiasts who have their own place called uhrforum.de.
The watch that Andi bought is the Omega Speedmaster Professional Galaxy Express 999. This watch, especially for the Japanese market, was dedicated to the manga Galaxy Express 999, written and drawn by Leiji Matsumoto. The series ran from 1977 to 1987 and there have been several movies and series based on the story as well. More information about Galaxy Express can be found here.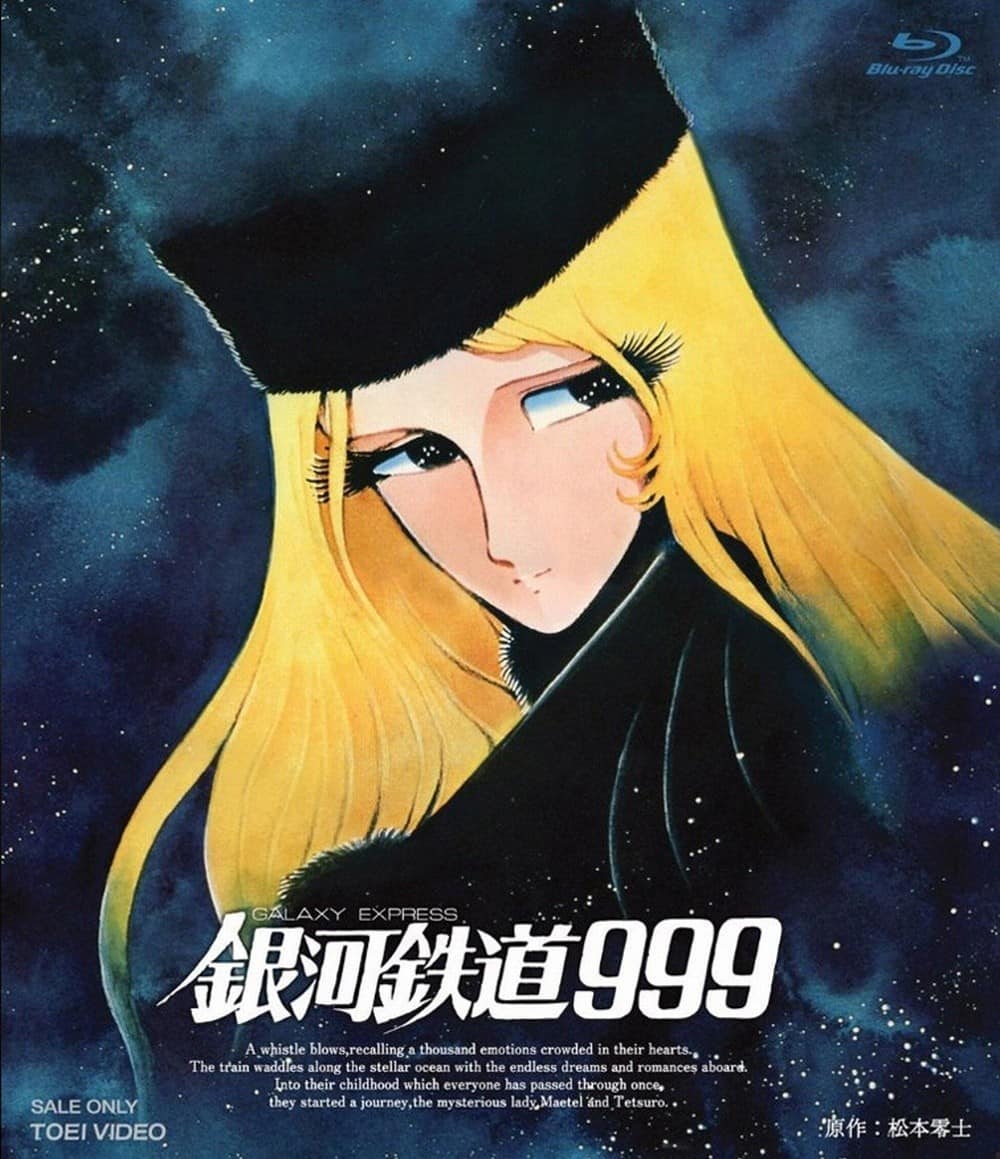 Speedmaster Galaxy Express 999
One of the main characters from the Galaxy Express 999 (which is a futuristic space train) is mysterious lady Maetel, as pictured above. The only thing that reveals the Omega Speedmaster Professional being a special edition is the case back that has a medallion of Maetel character painted as well as the number of the watch, a signature of author Matsumoto and "999". In total, there were 1999 pieces of this watch produced and delivered to Japan. The production number corresponds with the year of production (1999) and of course also winks at the '999' of the title of the manga series.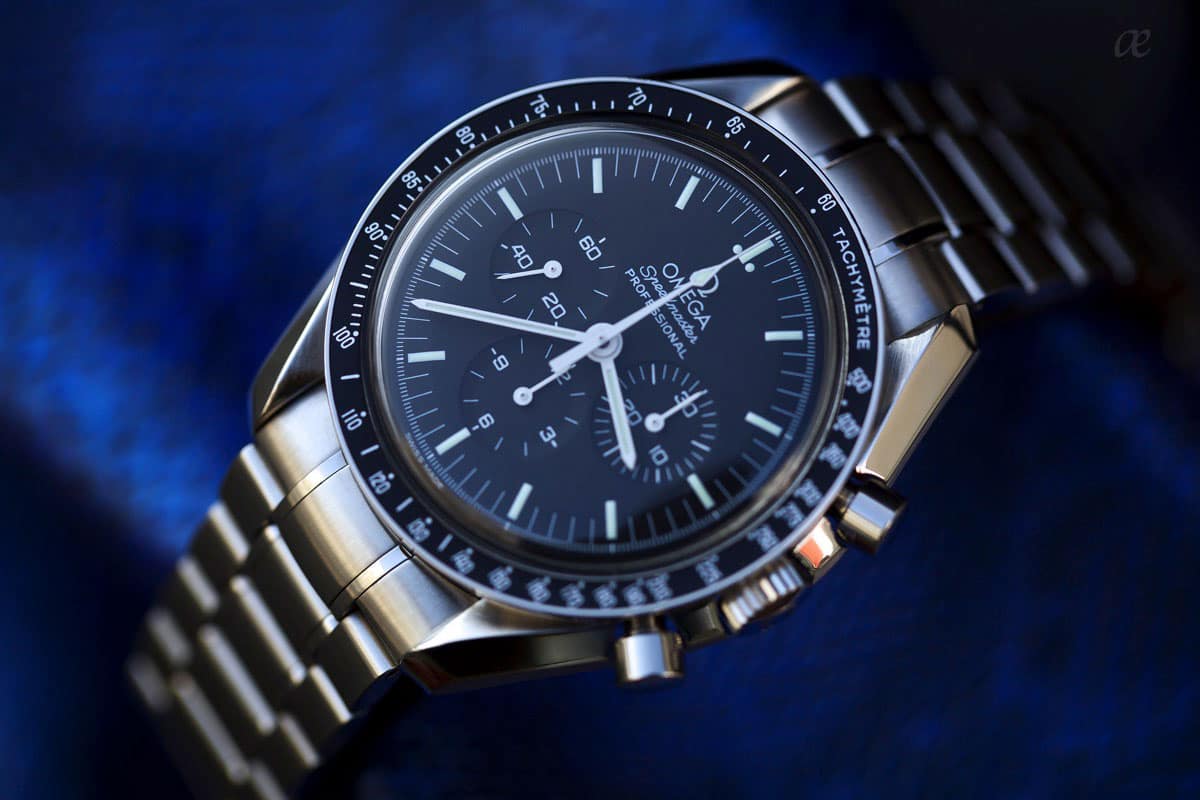 Otherwise, the Omega Speedmaster Pro Galaxy Express 999 is pretty normal. Hesalite crystal, hand-wound movement caliber 1861, reference 1998/840 bracelet and came in the standard red leather box or the black leather box for Omega's "specials". I've seen them in both types of boxes, much like the Speedmaster '57 Replica around the same period. The reference number of the watch is 3571.50 instead of the (at the time) 3570.50 for the normal Omega Speedmaster Pro 'Moonwatch'.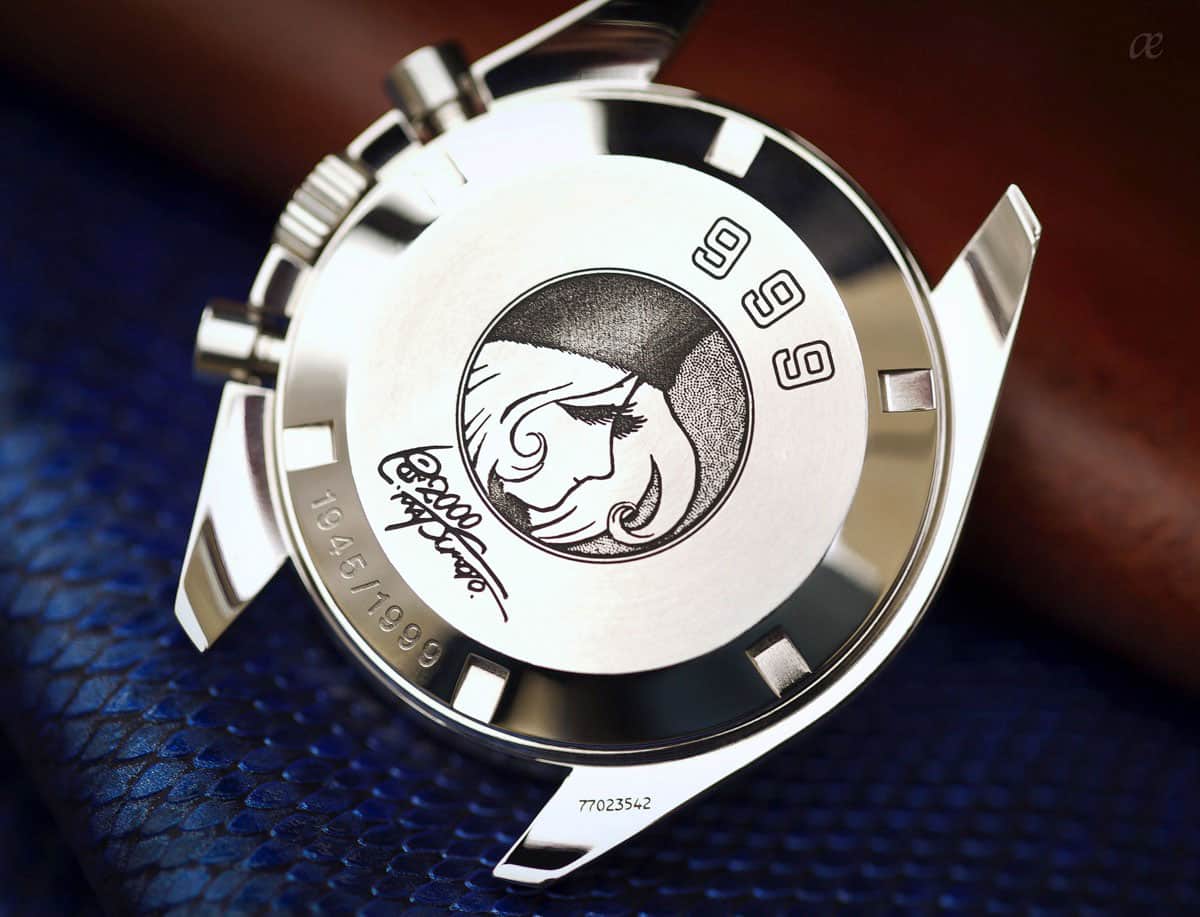 There are a couple of things that interest me about the Speedmaster Galaxy Express 999. First, why did Omega do a special edition for a manga in Japan? Although the 2013 'Tintin' was initially also aimed at a comic book or character, it is a bit more widely known than Galaxy Express. Perhaps the answer is simple, and someone at Omega has a weak spot for comics. Another possibility is that it has been done on request, as the Omega Speedmaster is quite a respected timepiece amongst Japanese watch enthusiasts. The Speedmaster 125 was quite a cult watch in Japan after a local TV host was wearing it during a show and then in 2003 and 2004 of course, there was the Speedmaster Pro Mitsukoshi (a large department store) and the Speedmaster Pro Racing for the Japanese market. Both limited editions. So there is definitely a connection between the Omega Speedmaster and Japan. I will do some digging about this in the next coming weeks and get back to you about this. Perhaps there is an interesting explanation that needs to be shared among Speedmaster enthusiasts.
One of the other things that interest me is why someone from Germany (or outside Japan in general) is interested in obtaining this specific limited edition as his first Omega Speedmaster watch. That answer is a bit more easy to give, by asking our valuable reader Andi himself about his choice.
Andi explains: "After many years of collecting watches I have recently purchased my first Speedy. My choice felt on the Omega Speedmaster Professional Galaxy Express 999. A model I didn't only like because I am a huge Comic-fan, but because I fell in love with the style, design and the fantastic tradition and history of Omegas Speedmaster Professional series."
And he continues…
"As a Speedy newbie it is very easy to helplessly drown in the deep space of references and smallest details. 'Speedy Tuesday' was a great help for me not getting lost, but to learn about Omega's Speedmaster and to finally find and decide on a certain model."
Although the Speedmaster Pro Galaxy Express 999 is quite rare (1999 pieces) and only delivered to Japan, there is a fair chance in finding one in good condition. There have been a couple of offers on omegaforums.net, eBay and there are currently three on Chrono24. I noticed that prices vary from 2500 USD (watch only) up to almost 4000 Euro (complete package) in Italy. The added value in this piece is clearly for those who have a weak spot for anime or those who collect (limited edition) Omega Speedmaster Professional watches.
Andi adds to his story:  "Now, as a proud owner of the Galaxy Express 999, I am already thinking about what's coming next. And since I am very much into Comics, I think I know what it's gonna be. The coolest beagle ever, winking at you from the dial of one of the coolest watch series ever. I mean, could it be any better?".
I think Andi might be in for a treat next week during BaselWorld, as I predicted in this article about this year's limited edition Omega Speedmaster Professional.
More photos below in the gallery. Two photos (case back and movement shot) are not from Andi but from instagram user and dealer in pre-owned watches @LunarOyster.