Speedy Tuesday – Omega Speedmaster Reduced White Dial
Omega Speedmaster Reduced White Dial
The Omega Speedmaster Reduced was once the watch for the fellow who wanted an automatic version of the Moonwatch, or simply wanted to have a smaller timepiece than a 42mm giant chronograph. This particular model was introduced in 1988 and came in several different versions.
Best known version is probably the black dial model, often being held for a Moonwatch (but it is not, read our Speedmaster Reduced versus Moonwatch here). Omega also used the Speedmaster Reduced for their bright coloured racing series (Schumacher had one). However, one of our readers owns a rare white dial version. Now you will come across a white dial version in a bi-color Speedmaster Reduced case once in a while, but al all-white dial with black hands in a stainless steel case is something unusual.
Omega Speedmaster Reduced White Dial
Our reader – who wants to remain anonymous – has a white dial Omega Speedmaster Reduced that was originally delivered to Spain in 1995. Two other all-white Omega Speedmaster Reduced models I've come across just recently were delivered to Italy. However, it doesn't seem to have been a model that went to specific countries. The white dial version (first introduced as reference 375.0032, later on as PIC 3810.20) was – like the black 3810.50 – also introduced in 1988 as well.
Instead of the famous hand-wound movement, the Speedmaster Reduced had the Omega caliber 1140. This is basically an ETA 2890-2 movement with a add-on Dubois-Dépraz chronograph module. This is called a piggy-backing movement. A solid movement though.
Like all late 1980s and early 1990s models, this Omega Speedmaster Reduced 3810.20 came in a grey leather box with white pillow. There was also the white outer cart box (sometimes signed with 'A sign of excellence' on top of it) and a booklet with the reference number, serial number and name of the dealer.
On these Speedmaster Reduced watches, you will often see the reference 1469 (with 811 end-links) bracelets. This is the smaller version of the Speedmaster Pro 'Moonwatch' bracelet of that time, the reference 1479. However, on this white dial Speedmaster Reduced you will see a bracelet that looks very familiar to the 1171 of the Speedy Pro.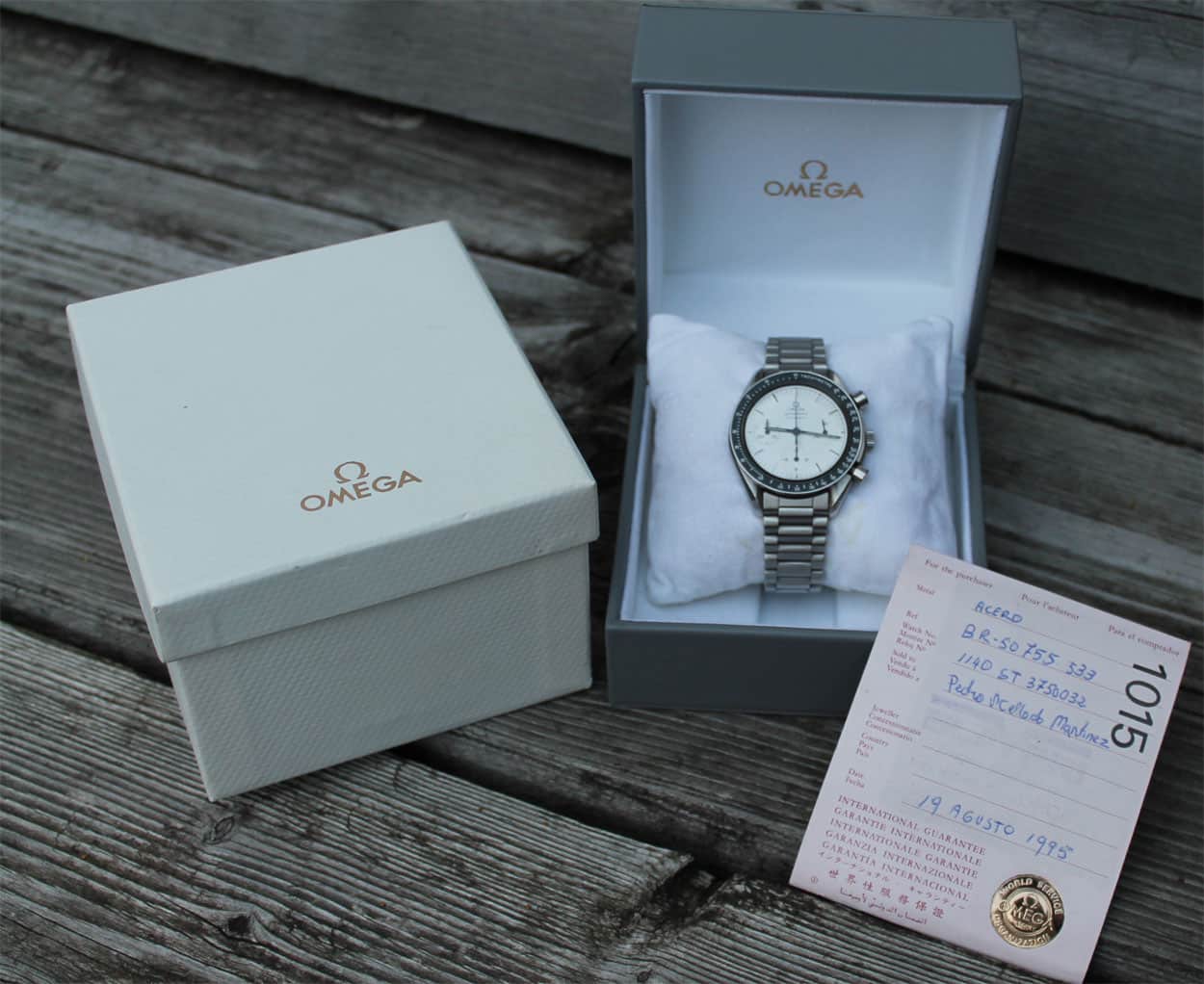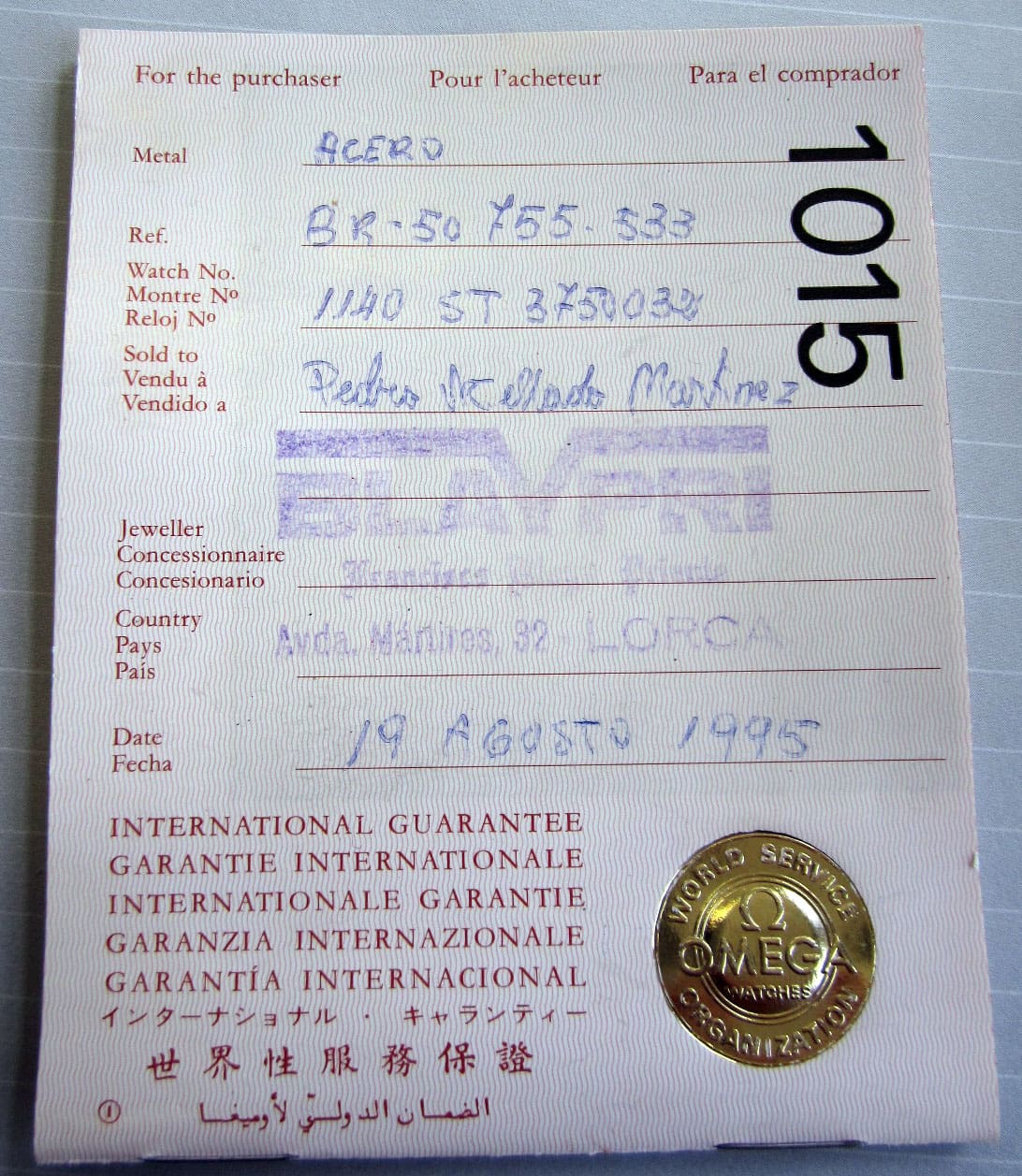 Since I try to keep track of all Omega catalogues and price lists, I had a look in the 1996 edition (there was no 1995 edition in The Netherlands) and the normal black Omega Speedmaster Reduced version had a list price of 2495 Dutch Guilders at that time. That would be €1.130,- Euro (~ $1,330.- USD) today, without inflation corrections etc. Currently there is only one white dial Omega Speedmaster Reduced up for sale on Chrono24, without the bracelet, for $1900 USD (here). The last known price is CHF 1700,- Swiss Francs in 2004.
The Omega Speedmaster Reduced was always a bit in the shadow of its Moon landed brother, the Speedmaster Professional. However, the 39mm Reduced might still be a good pick if you have small wrists or for ladies. It was actually the Speedmaster Reduced that 'modelled' for some of the Speedmaster Lady models that are today's Omega collection.
Thanks to our anonymous Speedmaster enthusiast for submitting his Speedmaster.