The Omega Speedmaster Speedy Tuesday Limited Edition In Pictures
Introduced on January 10th 2017 and sold out within 4.5 hours and about 7500 people on the waiting list. And believe me if I say that I had some sleepless nights before the release over the number of 2012 pieces in total. The delivery of the Omega Speedmaster Speedy Tuesday Limited Edition started in June and is finally about to end. It has been a long ride, and a fun one, with the exception of the long delivery time of the watch. Fact is that Omega did a few things quite differently on this Speedmaster Speedy Tuesday Limited Edition than they ever did before, and that took longer than expected.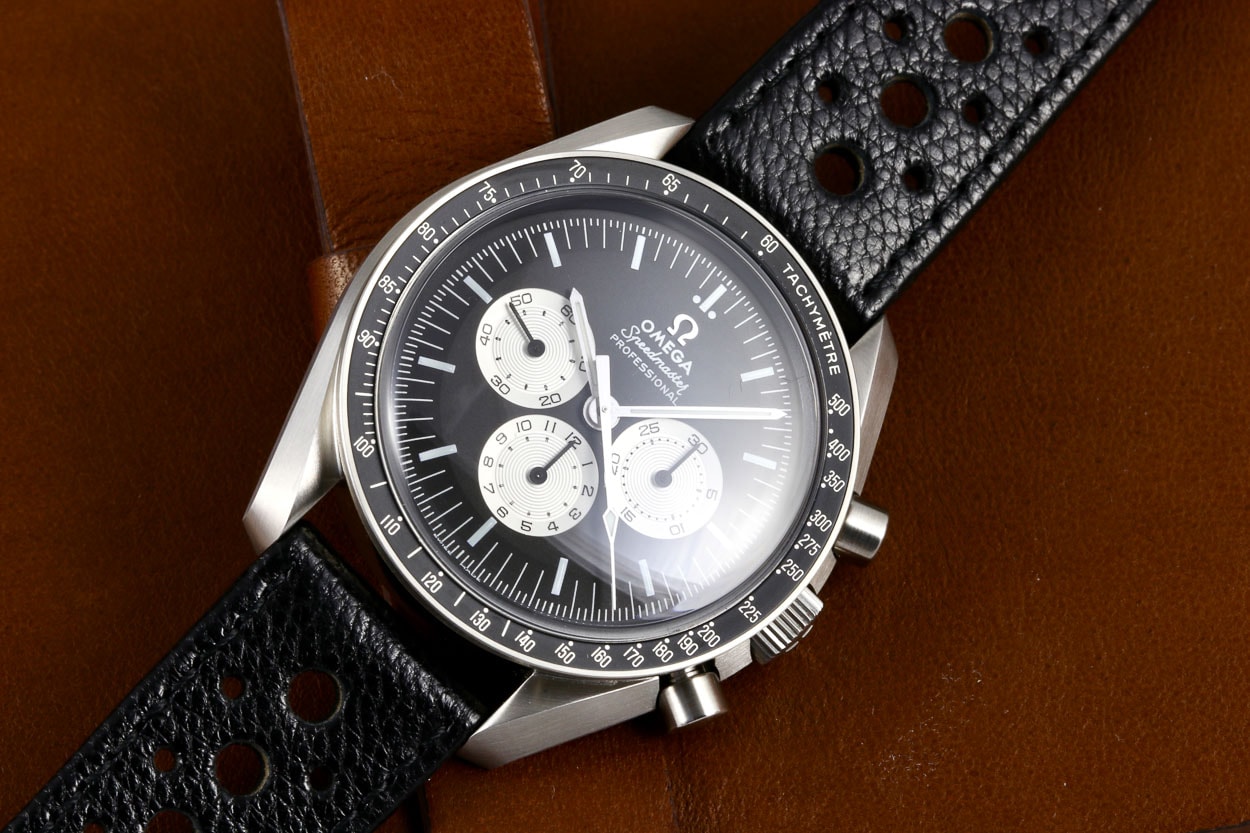 Without wanting to focus too much on things that went wrong, the Speedmaster Speedy Tuesday Limited Edition was very well received and almost all pieces landed at their respective owners or will do soon. In fact, only two members of Fratello Watches (including me) already have their watches. The others will receive it tomorrow, on December 6th, so keep an eye on our Instagram account (@fratellowatches) for some live coverage.
I've been told many times that the Speedmaster Speedy Tuesday Limited Edition reminds people of a vintage Speedmaster. And that is what we tried, not only by staying loyal to the Hesalite crystal and aluminium bezel, but also with the brushed case and reverse panda dial. Therefor, the watch looks great on a variety of straps. From vintage distressed ones to modern straps like the often used Speedmaster Snoopy strap. My own Speedmaster Speedy Tuesday Limited Edition is on a vintage stainless steel bracelet most of the time, the 1980's reference 1450 with 808 end-pieces. As this bracelet isn't very easy (and certainly not cheap) to source, a reference 1171 (with 633 end-pieces) bracelet is a great alternative. For those who like the current bracelet, that should also fit without any problems. However, in fact we didn't opt for a stainless steel bracelet for this watch as the current one has these polished small in-between links, and we didn't find that 'fit' for the all-brushed Speedy Tuesday watch. In short, any 20mm strap will fit, so there's something out there for anyone's taste.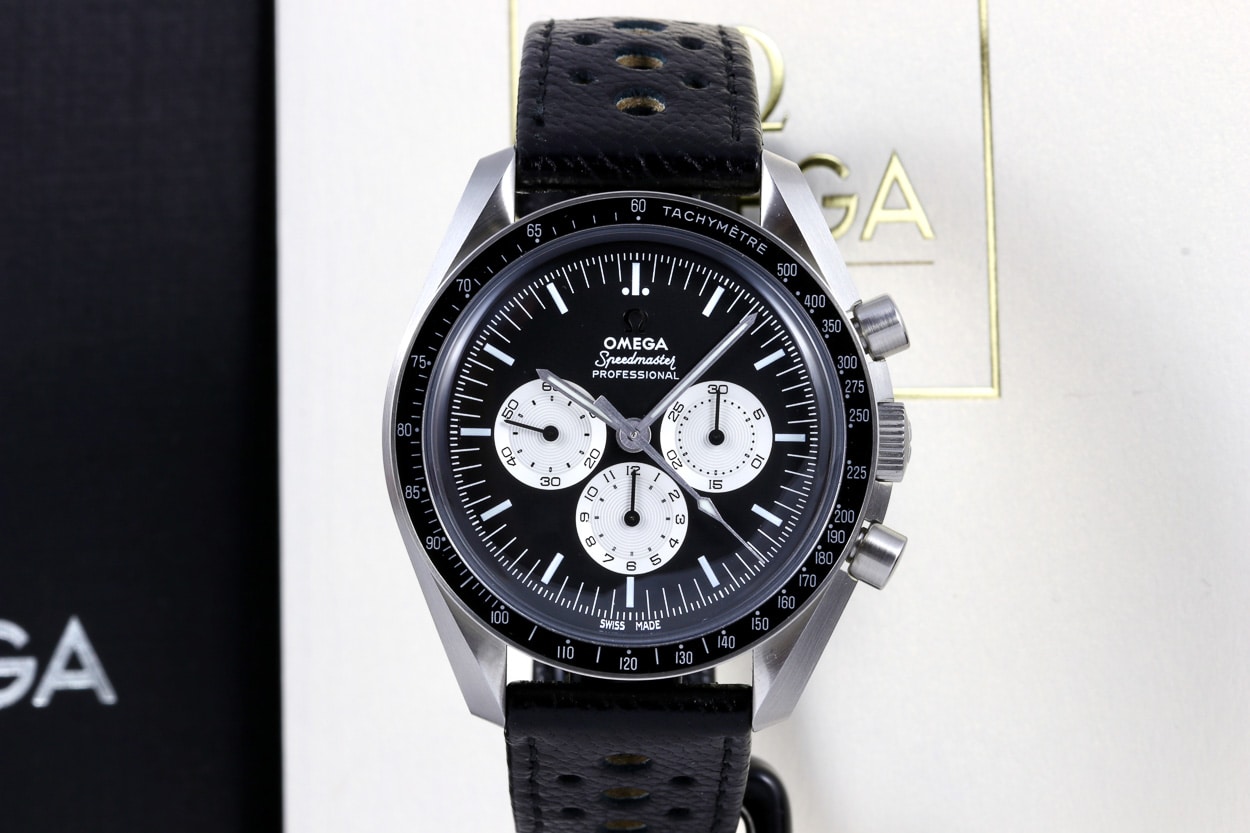 In case you missed out on this watch, there is hardly any chance you'll find one at a retailer (I often get this question). On Chrono24 and other sales platforms you will surely find a couple from people who want to make a quick buck or from people who changed their minds upon receiving the watch, expect to pay a bit over retail though. Some people let us know they found it a bit sour to find these watches for sale, as they were either unable to order one themselves or they are/were still waiting for one, but that's how the free market works I guess. Little we, or Omega, can do about this. At least it gives people who missed out on the watch to obtain one in the end, even if this means you have to pay premium.
On Facebook there's a group (you can find it when searching for #SpeedyTuesday) where on a daily basis thoughts, experiences and questions are shared with other Speedy Tuesday owners and fans. You will also find a huge amount of images of the watch with a variety of strap and bracelet suggestions.
One of our friends, Abel Court, recently picked up his Omega Speedmaster Speedy Tuesday Limited Edition and did a wonderful photo shoot with this watch. Today, we share his images with you for this Speedy Tuesday.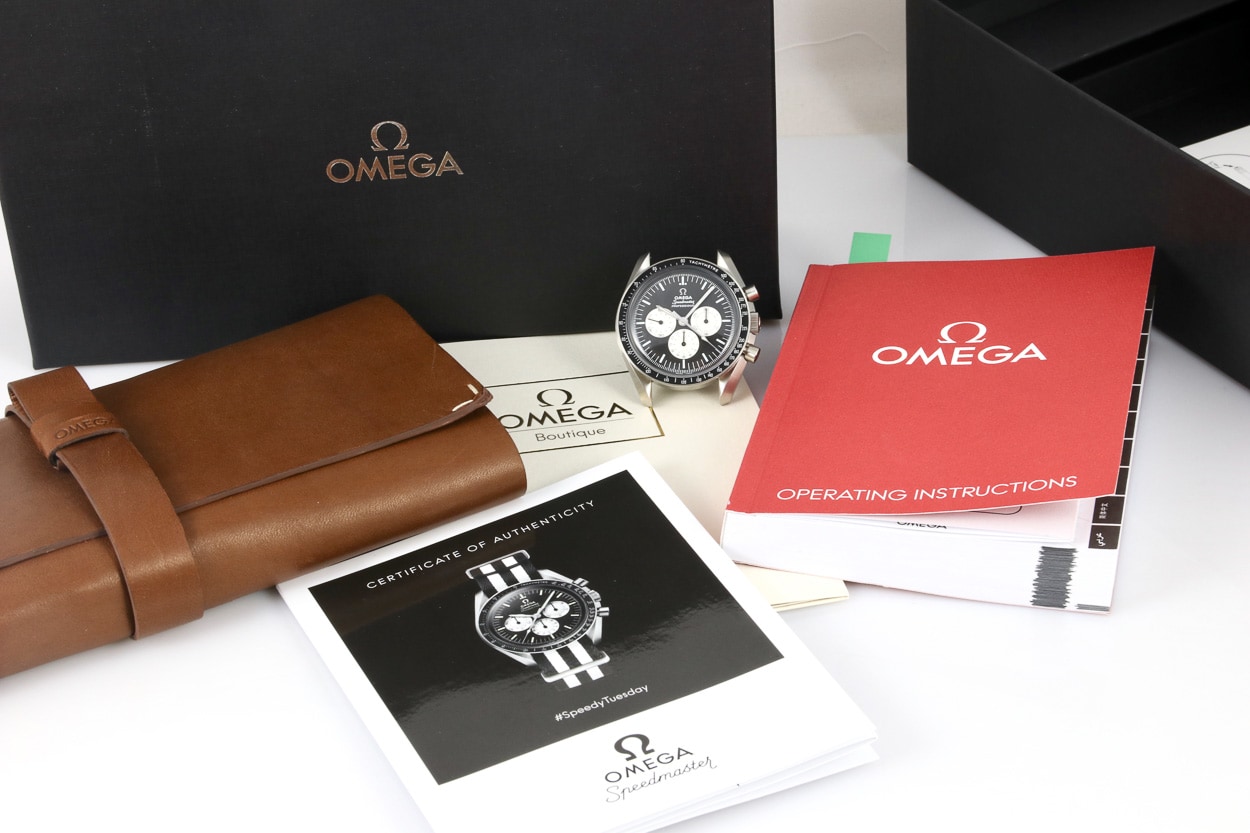 Abel also disassembled the watch, so you can have a look at the separate parts of the Speedmaster Speedy Tuesday Limited Edition, including the Omega caliber 1861 movement. This is the hand-wound movement that you will also find in the regular Moonwatch since 1997. Before, Omega used the caliber 861 & 321. The caliber 1861 is an upgrade of the previous 861.
Enjoy the gallery below! All images are (c) by Abel Court.
Official Speedmaster Speedy Tuesday Limited Edition information from OMEGA can be found here. If you want to have a digital copy of the Speedy Tuesday Magazine we created, click here to download it.