Omega Speedmaster World Cup Semi-Final 2: The Ed White 321, Speedy Tuesday 1, And Silver Snoopy III
An unprecedented three-way semi promises to be just as exciting as it sounds...
Well, well, well. None of us saw this coming. The Omega Speedmaster World Cup has reached the incredibly sharp end of the competition. By this point, we expected to have just four contenders still standing. However, a neck-and-neck contest ultimately marred by voting irregularities in Quarter-Final 4 (between the Speedy Tuesday 1 and the Silver Snoopy 50th Anniversary) saw both watches qualify in a magnanimous dead heat. They join the easy winner of Quarter Final 3, the Ed White 321, championed by Balazs. And so, rather unexpectedly, it is time for you to pick between your favorite of three for the second slot in next week's final…
We alluded to the issue of voter fraud in Thursday's Semi-Final preview article. Huge parcels of votes were coming in from unusual locations in which we historically have little traction. These voting blocks were hitting the poll at such a rate (of course interspersed with genuine votes) that separating them out at the time would have been almost impossible.
…the vote remained too close to call…
When the poll closed at midnight on Thursday, both watches had received a 50% share of the vote, with the ST1 ahead by about 30 votes. However, in light of the fact that the final 200 votes for the ST1 were cast in the final 10 minutes (akin to eBay sniping), we wanted to avoid any suggestion of nepotism by allowing the vote for one of our own to stand regardless. Furthermore, when we counted back through the votes, removing the blatant duplicates, the vote remained too close to call one way or the other.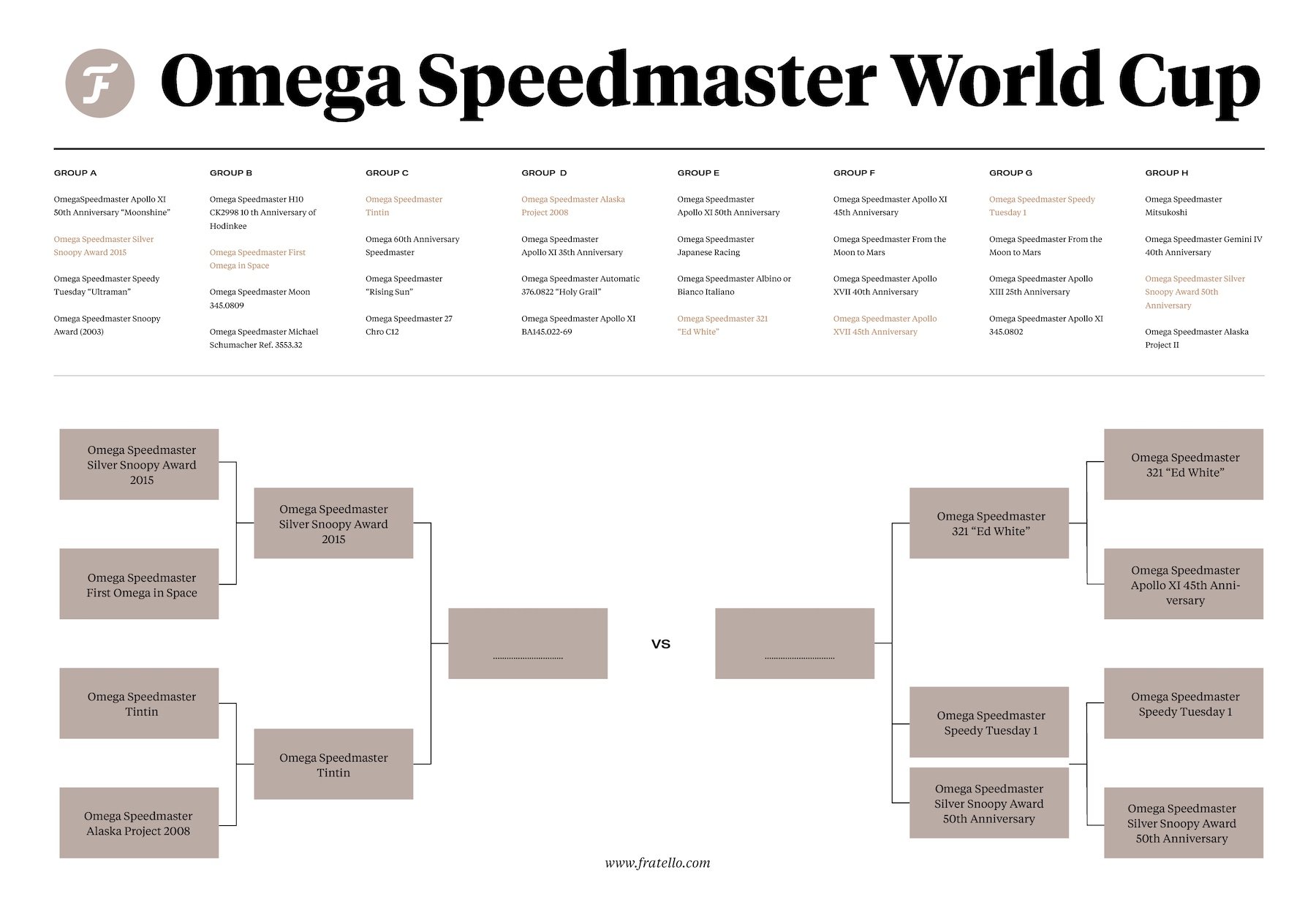 A tiebreaker enters the ring.
We hope that by introducing the 321 into the mix, a clear winner will emerge. As we will only put one watch through to the Grand Final, we will be monitoring the voting patterns closely. Please, please, please, play fair. Vote once. And vote true. Then, and only then, can we crown our winner without controversy.
…our fearsome and soft-skinned leader…
The watch that finishes this Semi-Final in second place will go into the third-place play-off against the loser of yesterday's Semi-Final between the Silver Snoop 2015 and the surging Tintin. The loser of this Semi-Final will be given 5th position. Based on their vote share from the other Quarter-Finals, 6th place goes to the Alaska, 7th goes to the FOiS, and 8th position is snared by the underdog Apollo XI 45th anniversary watch. And so, as our fearsome and soft-skinned leader would say, "Without further ado," let's get to the watches…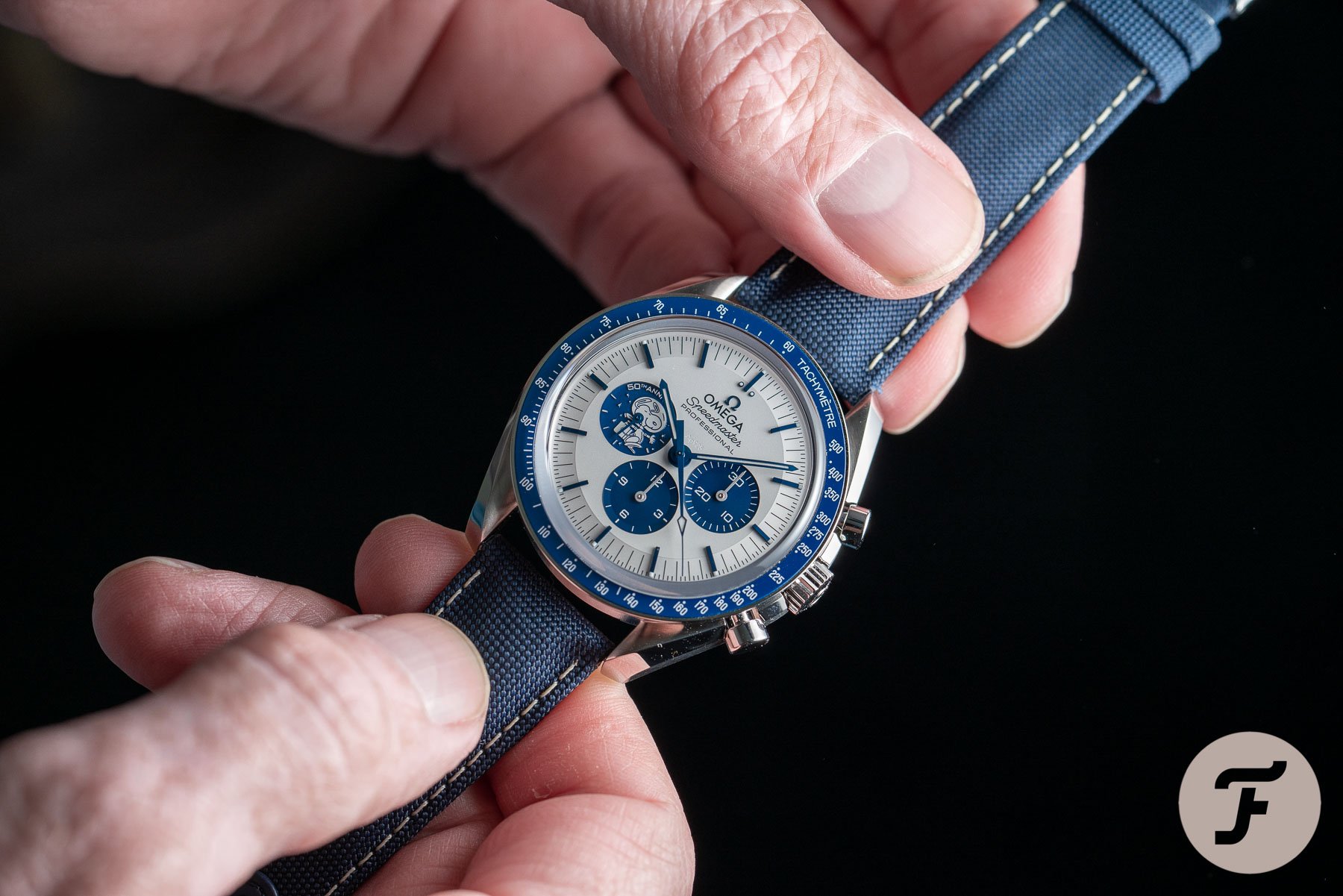 Omega Speedmaster Silver Snoopy 50th Anniversary
Rob Nudds: Here we go again. For large swathes of QF4 (the fabled QF4, as it is now known) I thought I was going to win. I thought I was going to streak ahead suddenly. For about half a day, I felt confident it was over. And then the ST1 came back. And how.
Only one of we three amigos will make it out of here alive.
Well, we'll never know the exact answer to that question, but I can say this: with more than 3,500 legitimate votes cast, the score was tied. It is a remarkable result and one that, I believe, justifies both watches moving on to this stage of the competition. But now it gets really serious. Only one of we three amigos will make it out of here alive. Unsurprisingly, I want that to be me. Coincidentally, I also think it should be me. Here's why you should vote for the Omega Speedmaster Silver Snoopy 50th Anniversary watch:
It's awesome
I could just leave it there, but I won't leave you hanging. I have my reasons for thinking that. Today, Snoopy and I are taking on the brand spanking new Ed White 321 and the seasoned Speedy Tuesday 1. Both of those watches are exceptional, but neither, in my humble opinion, is quite as special as the Snoopy III.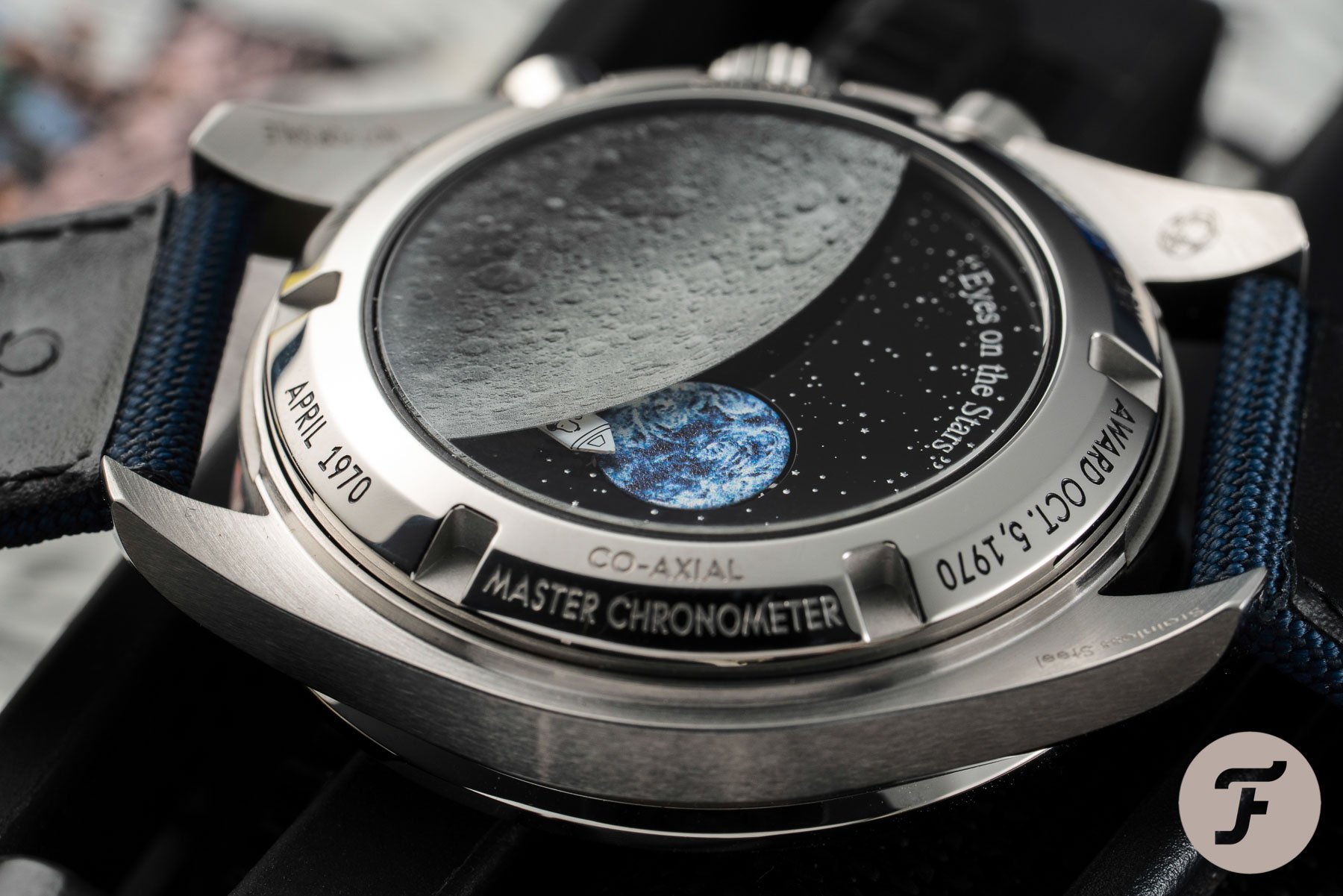 Let's start with my former Quarter-Final competitor. Bert made a great case for the ST1. Had it been any other watch (save the ST2), we might have decided to ignore the voting irregularities and put it through anyway. But we thought it looked too suspicious to roll in that direction, so the committee magnanimously allowed my Snoopy to progress also. And thank goodness. Had Snoopy fallen at the QF stage, it would have been a travesty. This is the most creative, surprisingly artful, and debonair Speedmaster in a long, long time. Possibly ever. Does it sound like hyperbole? Yes. Yes, it does. Do I stand by it? You bet I do.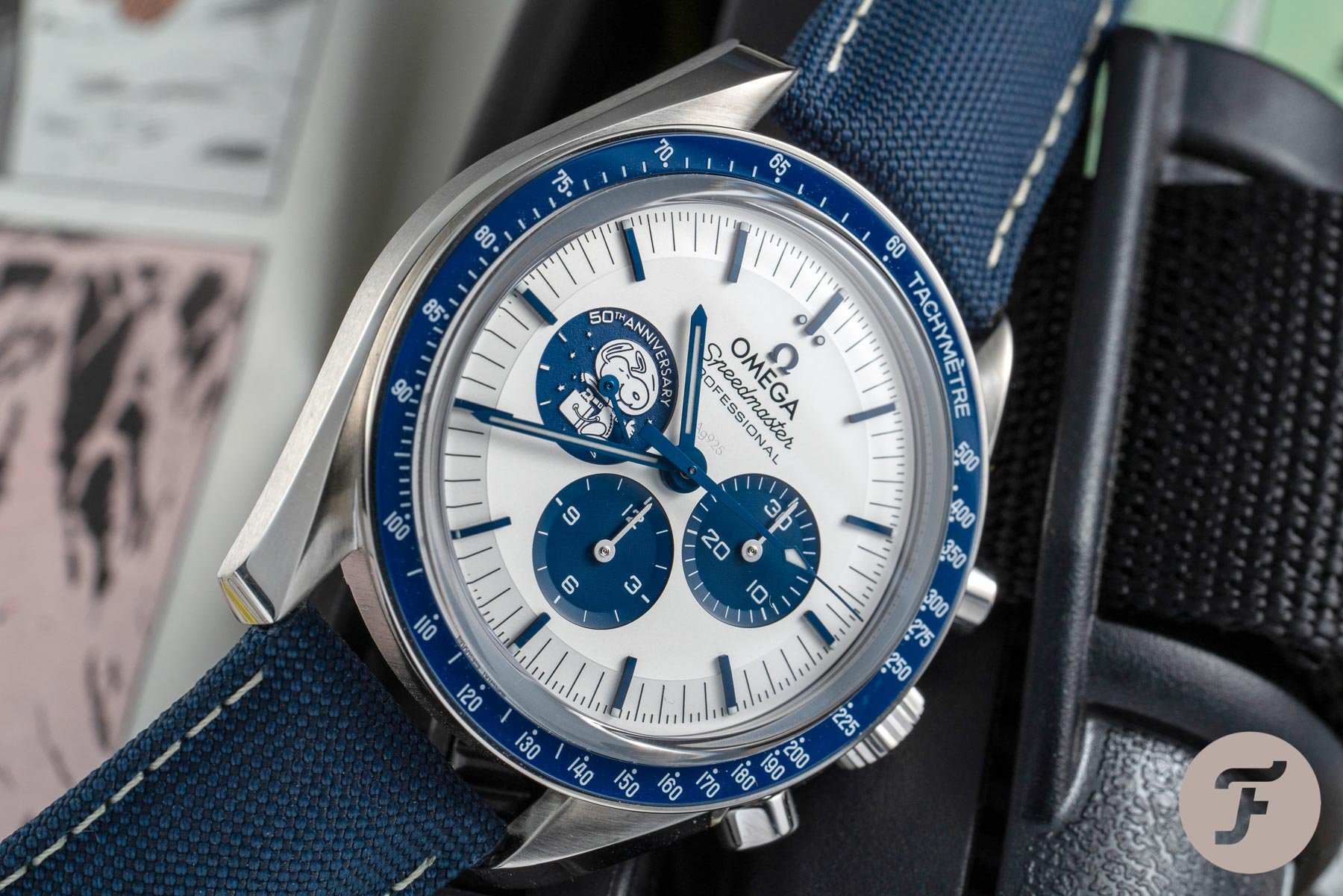 Art for all our sakes
Of all the Speedmasters in this World Cup (and remember, there were 32, to begin with), only one comes close in terms of artfulness in my opinion. Sure, you could argue that G2's god-awful coin watch should get a mention here, but I am, of course, talking about the Snoopy 2015 with its gorgeously enameled case back. That was cool, but it is nothing in comparison to the engraved, sloping-edge silver dial of this watch and its peerless case back animation.
Omega's statement of faith in our team was seminal.
But when it comes to creativity, there is another watch that holds a candle to my Snoopy, and that's the ST1. Bert's ST1 is, really, honestly, truly, the most exciting watch in this competition because of not just what it means to us, the Fratelli, but to Omega's relationship with its community. Omega's statement of faith in our team was seminal. It brought the #SpeedyTuesday to a wider audience and validated it as something beyond a fan group. Thanks to Omega's trust, Fratello become more than a follower; it became a leader.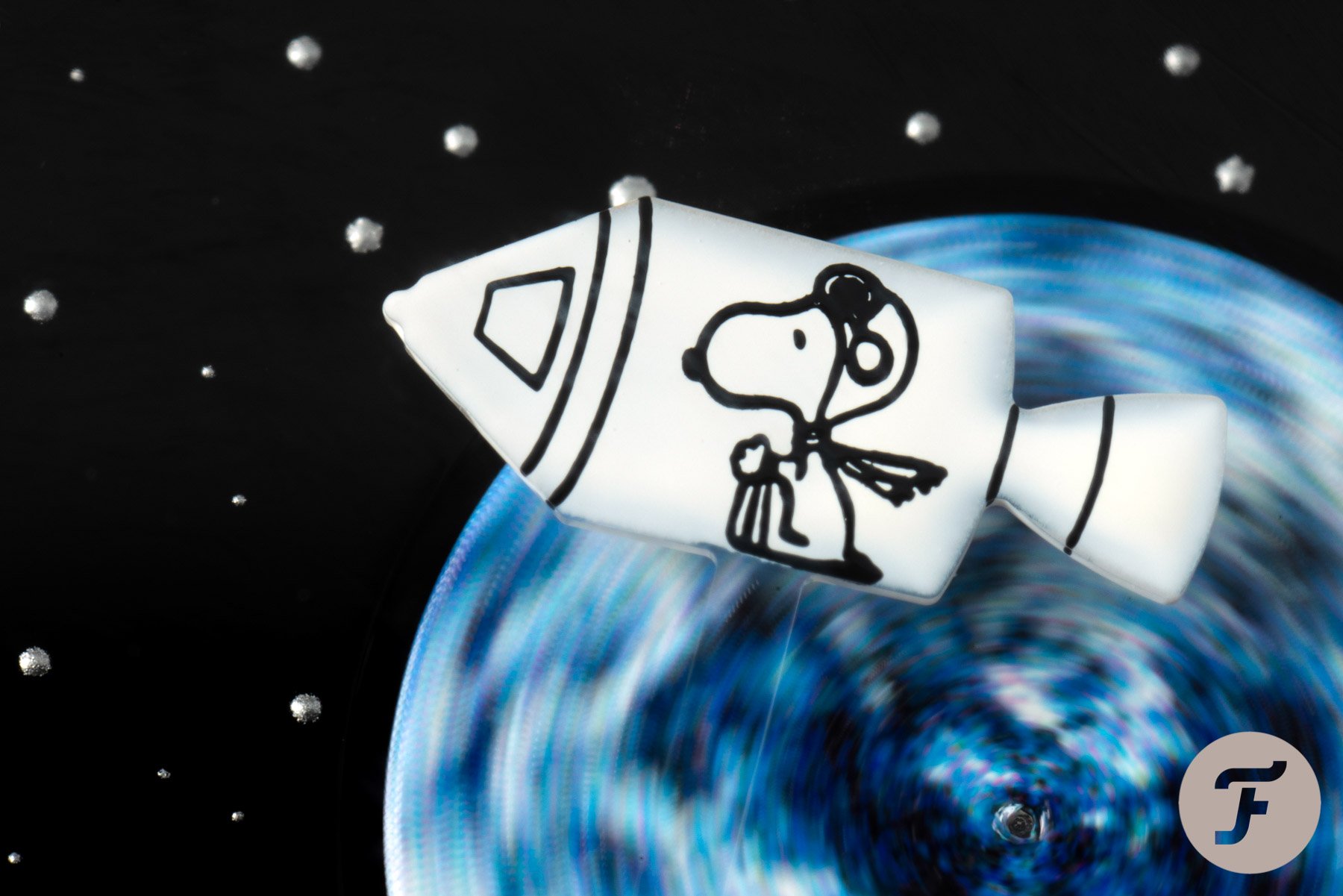 And so it is unsurprising, perhaps, that the ST1 scared me in QF4 and it scares me now. But while it has many, many, achingly cool elements, it is less stunning because it was made by fans for fans. Obviously, therefore, it has a lot of things fans wanted to see. In many cases, fans wanted to see these elements brought together for a long time. What makes the Snoopy III better, however, is the fact Omega came up with it all on its own, and gifted their followers with something they never knew they wanted until it was unveiled before them.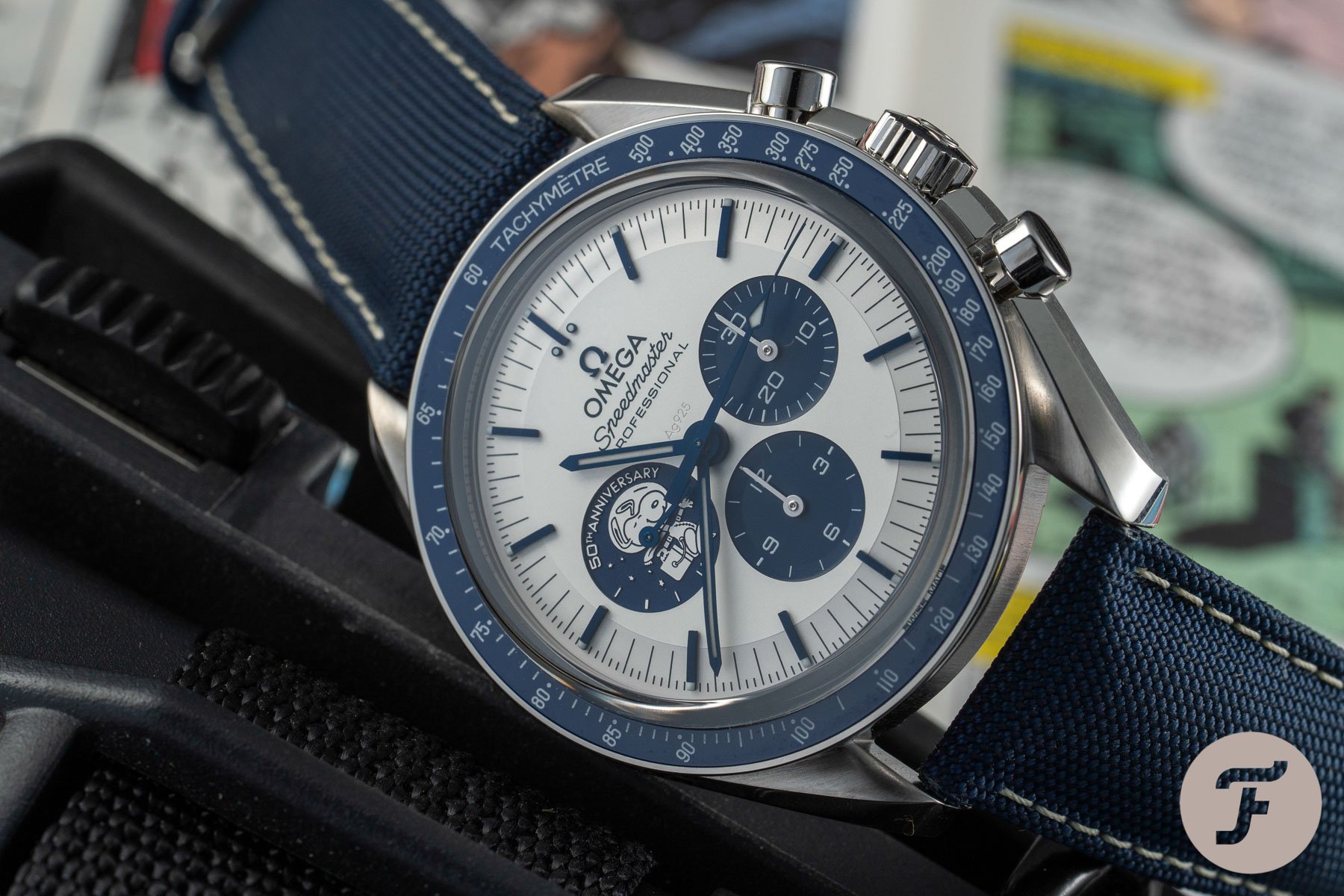 Surprises (good ones) are rare
Look around you. The industry is replete with yawn-a-minute re-releases or minor updates that do nothing but allow certain brands to dump another couple of grand on the price tag in the name of novelty. It is rubbish. So rare it is that a brand rewards its followers' patience and loyalty with a curveball that is so incredibly out there it results in the genuine dropping of jaws.
…there is no guarantee they will be beautiful…
We knew Snoopy III was going to be good. It simply had to be. But as soon as we saw it, we realized how easily it might not have been if its designers had made a misstep. We've become conditioned (since the 2015 release) to think that Snoopies are a guaranteed goal. Sure, they may sell regardless of design, but there is no guarantee they will be beautiful, timeless, endlessly desirable watches. It is even less likely they will be in any way unique.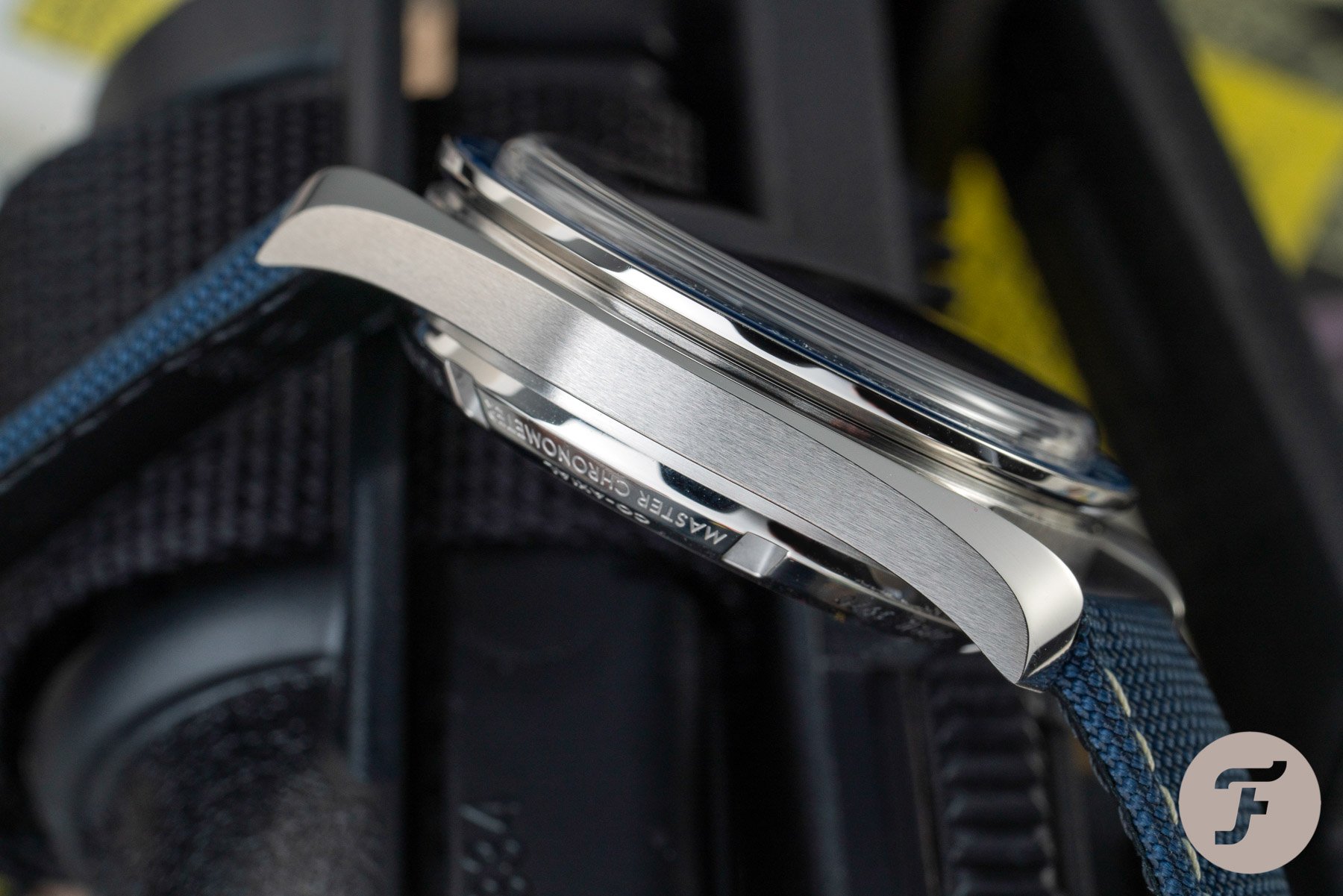 I used the word correctly, for once
Oh hello! The most overused and misapplied word in the watch industry just made an appearance. However, for once, it was necessary. The Snoopy III is unique among Speedmasters. It is so incredibly bold that its positive reception means ten times more than the release of, say, the fantastic new 3861 that was (annoyingly) leaked earlier this week. That new 3861 is a home run. It will be in the collection for years and will make a lot of customers happy (I'm assuming Omega is going to make plenty of these so everyone that wants one can have one). This 50th anniversary Snoopy is not limited to a certain number, but it is almost certain it will be limited in production and eventually discontinued. When that happens, prices for pre-owned versions will go through the roof. Why? Because there is nothing else like it.
That's right, Ed, I'm looking at you.
Forget its cross-appeal. Forget the dog on the dial. This is a stunning watch, created by the best minds, hands, and machines in the business. Yes, it's pricey (a shade under 10k), but it's cheaper than the other watch loitering around this crowded Semi-Final. That's right, Ed, I'm looking at you.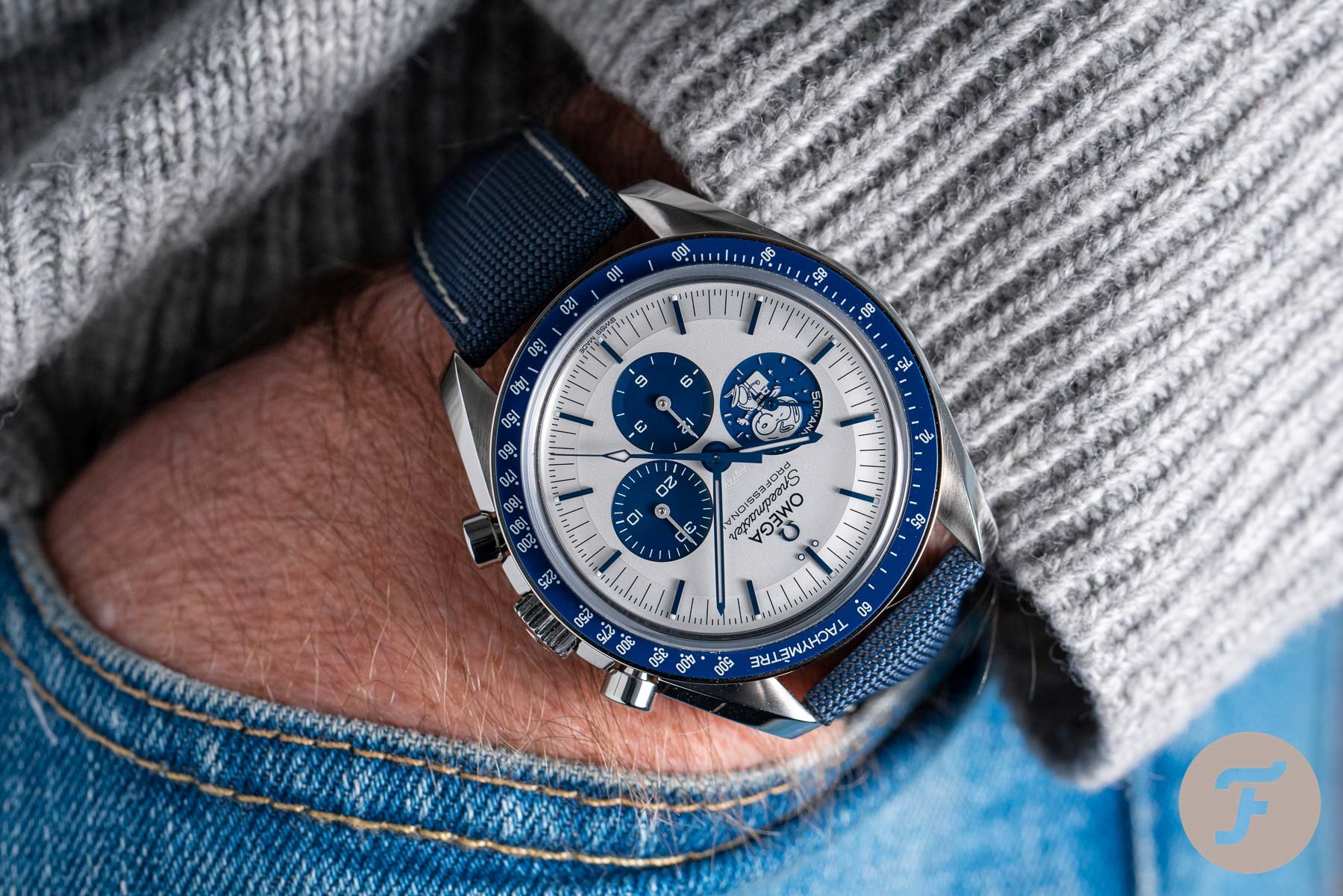 The Ed White 321 is a masterpiece. The movement is really excellent to look at and in operation, and everything about the dial, case, and bracelet is executed to the highest standards. However, it is cold. It is sterile. There is nothing about it that expresses just how good it is. The soft faux patinated lume on the dial and hands is neither here nor there. It is too brown to be crisp and too beige to be warm. When I see it on the wrist, I see an abundance of steel, and a weak, non-committal dial. It doesn't have half the character of the 1998 Broad Arrod I'm wearing right now; it doesn't have one-tenth of the character of the Snoopy III. That's why you should vote for my Snoopy and me. But just the once, please…
Ed White 321
Balazs: God, I never thought I'd ever use the German word "Luftpumpe" to describe a Brit, but here we go. I was so ready to go against the Snoopy III. I saw no competition in that watch at all. However, when it comes to the Speedy Tuesday 1, I felt some kind of guilt, being "our" watch. I mean, who wants to betray their home team? Not me, that's who. But Bert is going with the ST1, and I can't complain with my contender either. On the Contrary, triumphing over G Pops was foreseen; inevitable, even. I was not prepared to protect my 321 against these spectacular timepieces in the same round. But it is what it is, so let the best watch win. Mine.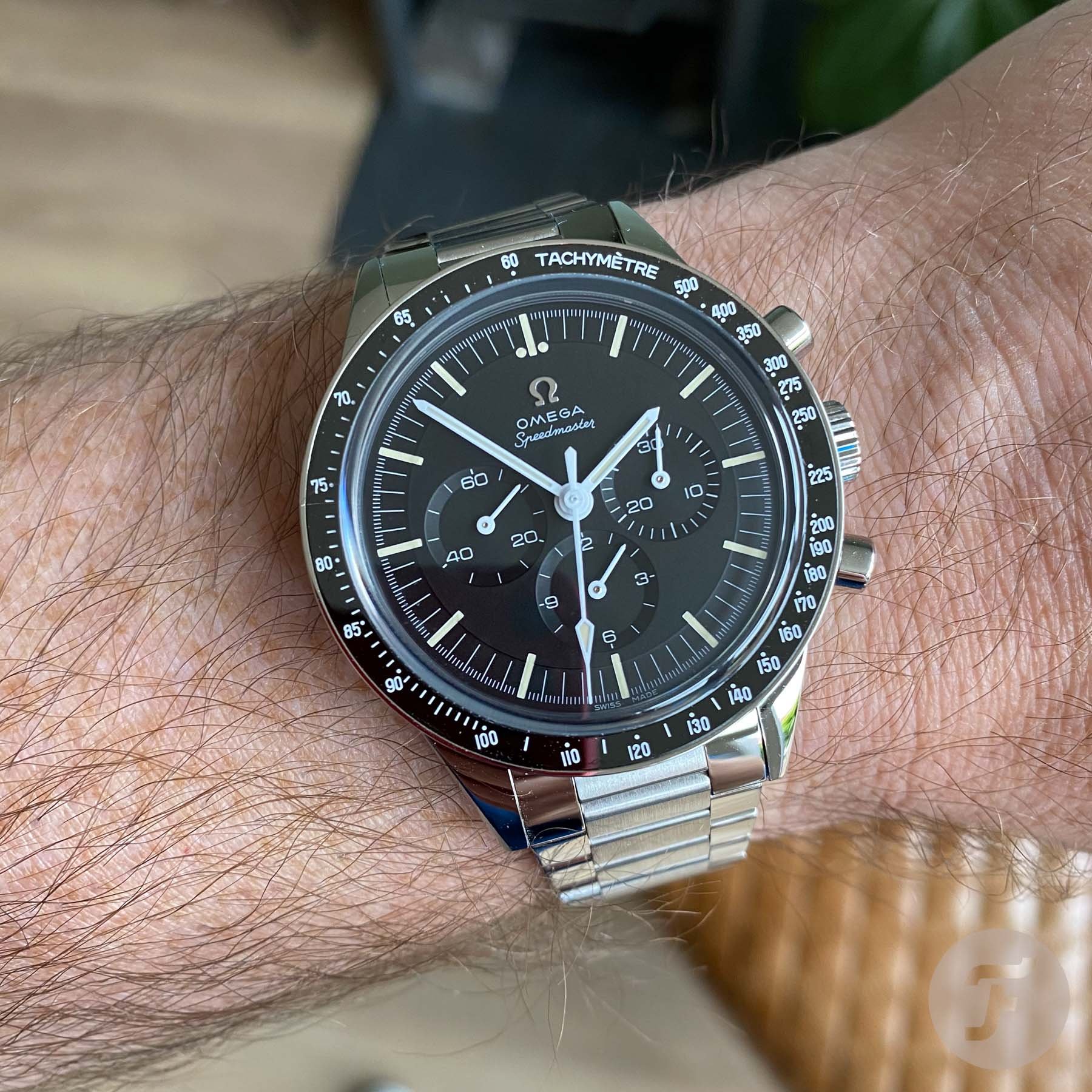 Less Is More
Out of all three Speedies, the 321 is the least "loud," in my opinion. No quirky flying dog on the back and then once more on the watch face, not even a panda dial or radial numbers. The Omega Speedmaster 321 Ed White is clean, classy, and marvelous, how an Omega Speedmaster should be. Hell, it doesn't even have Professional on its dial. The original Omega Speedmaster 105.003 was the third (fourth if we count the 105.002) in the Speedmaster lineage. Not only that, but it was a different model than the Speedy Pros that came later, with straight lugs, no crown guard, and a symmetrical case. Brands and collectors named other watches "iconic" for less; consequently it is safe to say that the 105.003 is on the Mount Rushmore of vintage Omega Speedmasters. We should not live in the past, though, and the 321 Ed White is a 21st-century watch, contrary to what some people say.
Reedition or not
Like always, Rob talks the talk stuffed with pathos, but his words can never touch the heart of the 321 Ed White. Also, what our friend forgets is there can be a difference between re-editions. I wholeheartedly agree with what he mentions brands being sloppy and in the hope of "dumping another couple of grand on the price tag," create boring re-editions of icons from the past. But is that really the case with the 321 Ed White?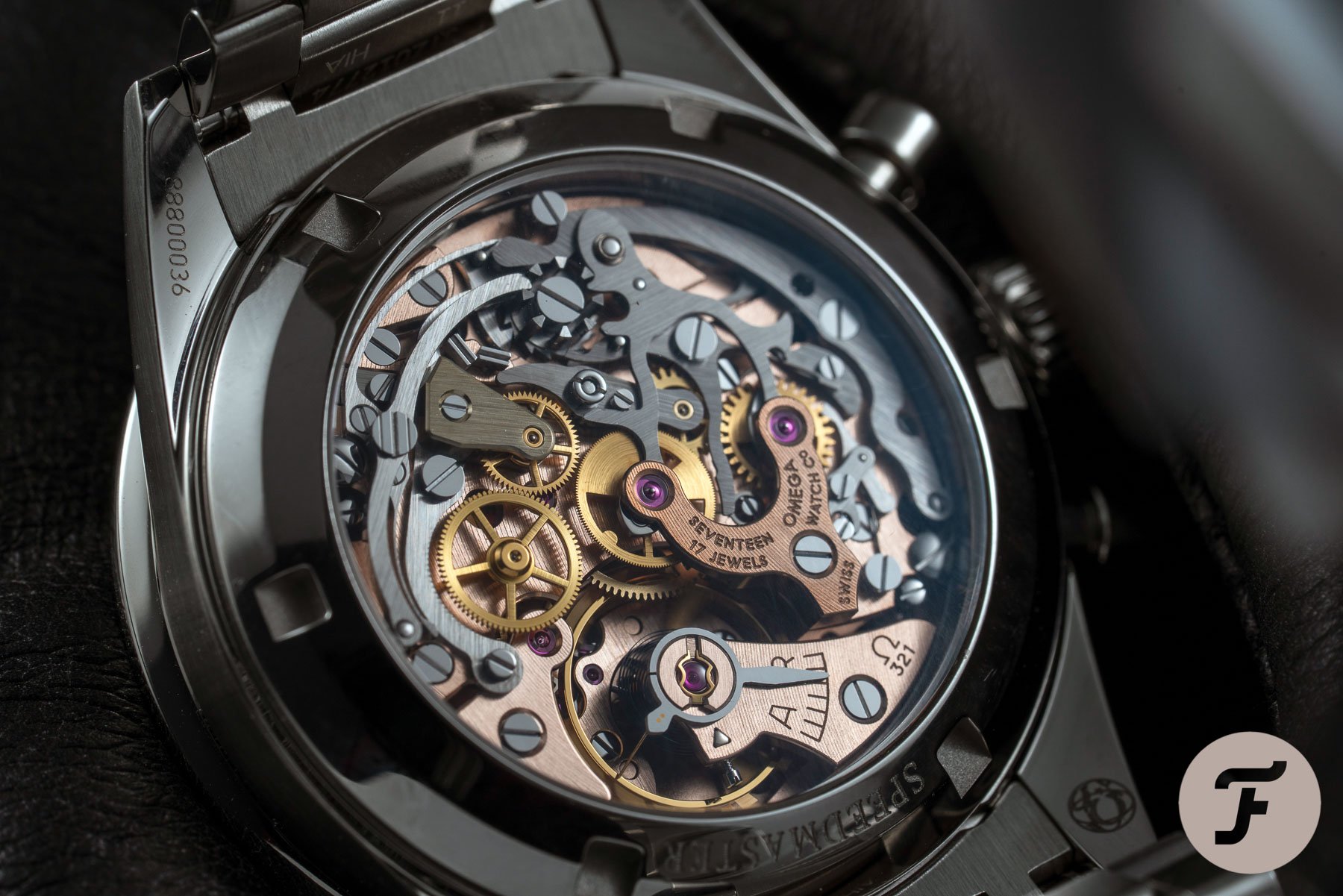 Did Omega pull out a vintage, uninteresting watch from their archives, give it a 21st-century redo, and release it with a hefty price tag? Or did the brand find a clever and respectful way to reintroduce an iconic movement (listening to its community's wishes) in a packaging that pays tribute to not one but two extraordinary gentlemen who unbeknownst to them contributed to the success of the Omega Speedmaster? Oh, and by the way also went to space, performed the first EVA, or became the last man walking on the Moon. You tell me, dear reader.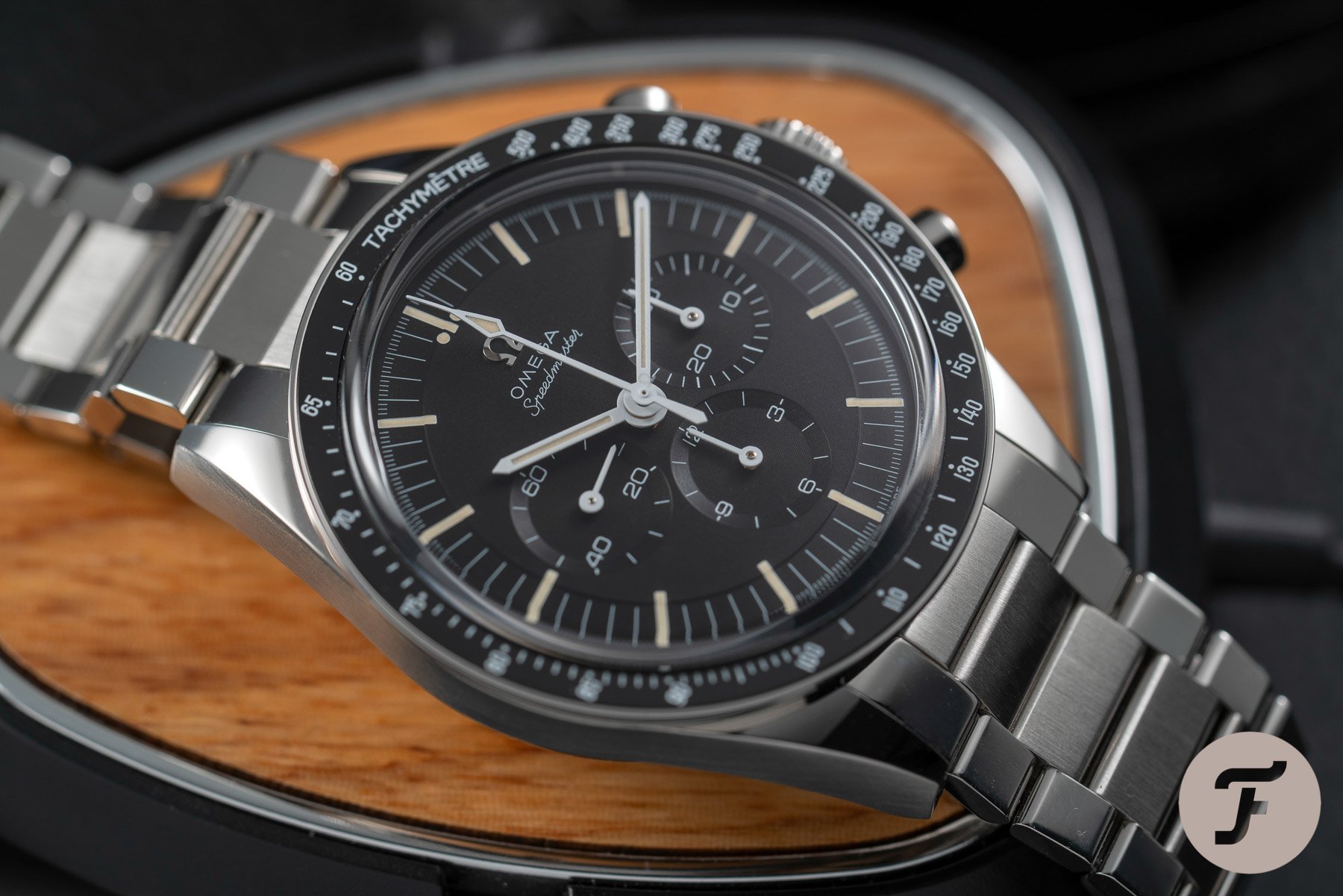 Piece Unique. Not.
If I had to rank these three pieces based on their visual attributes, I'd obviously put the 321 Ed White to the top for its simplicity. Second place would go to the ST1, for the reasons I talked about above. This leaves the last place for the Snoopy, a watch that is very far from being unique as Rob put it in his mile-long text. I hardly see the exclusivity in a piece that has been done three times in the last 17 years and twice already in the last five. Needless to say, Omega was not the only brand to put the cartoon dog on its products.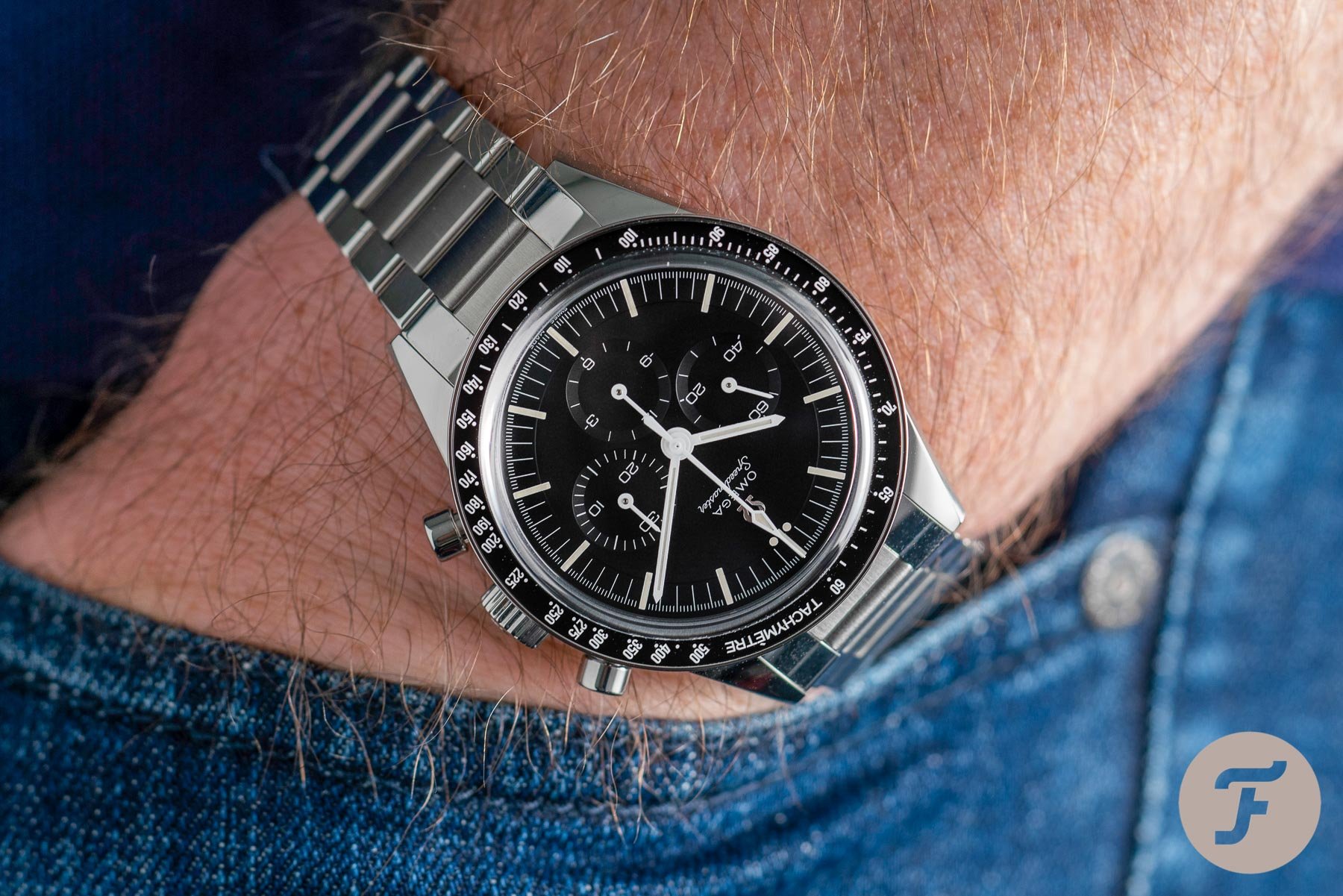 But hey, I bust Rob Nudds for his pick, but I barely mentioned Bertie and his ST1. Well, that's because there is no competition between the 321 Ed White and the Speedy Tuesday 1. I'm with you, Bert, you know it, brother. This time though, it's a matter of life and death. So when we compare the 321 Ed White with the ST1, as much as I'm in love with my Speedy Tuesday 1, I'm Team Ed through and through.
However, the faith of all three timepieces is in your hands. And don't think for a second that Omega's higher-ups are not reading your comments or paying close attention to the results, so again; cast your vote and let the best watch win. Mine.

Speedy Tuesday 1
Bert: Who could have thought of this ever happening? Maybe we should have had a penalty shoot-out. But what do I know? I never watch football (or soccer, if you prefer) or any other sport unless it involves revving engines. I actually waited to write my part until the second F1 free practice was over. And I must admit I relished another opportunity to explain why the Speedmaster Speedy Tuesday 1, tribute to Alaska project III, is such a cool watch.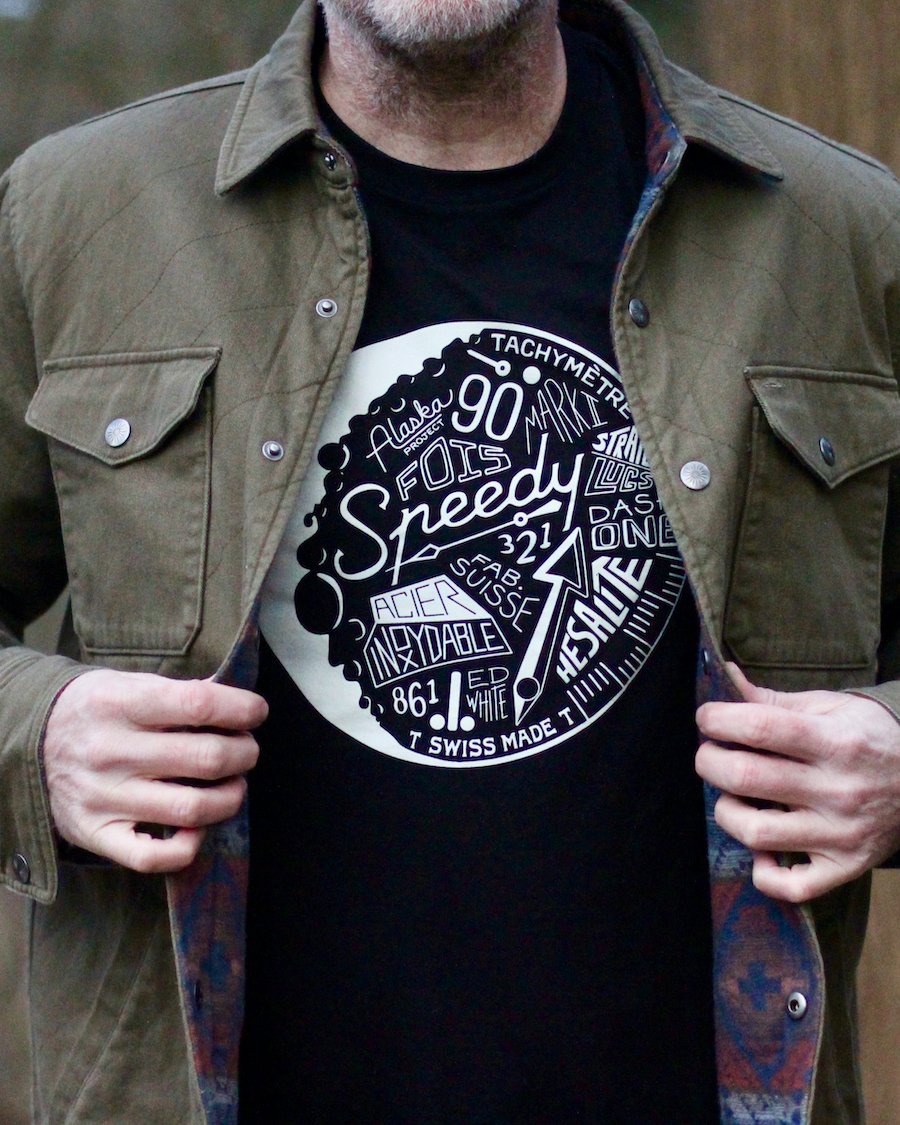 The recap
Again, the first Speedy Tuesday watch is a winner on many levels. Something mentioned in the quarter-final already, just like stopping the competition because this watch is definitely a winner. Apparently, even our audience couldn't pull the trigger, so now it's even harder to choose the favorite with three watches in the mix. Or maybe it just got easier if you fancy the new Speedmaster 321 over the others.
…the closest you can get to space-flown Speedmasters …
So no fancy links to commemorative awards, or the recreated and iconic caliber 321 placed inside a straight lug case. The Speedy Tuesday Anniversary Tribute to Alaska Project III is the closest you can get to space-flown Speedmasters because of the radial dial. Unless you can find an original, and fork out a fortune, this is the closest you can get.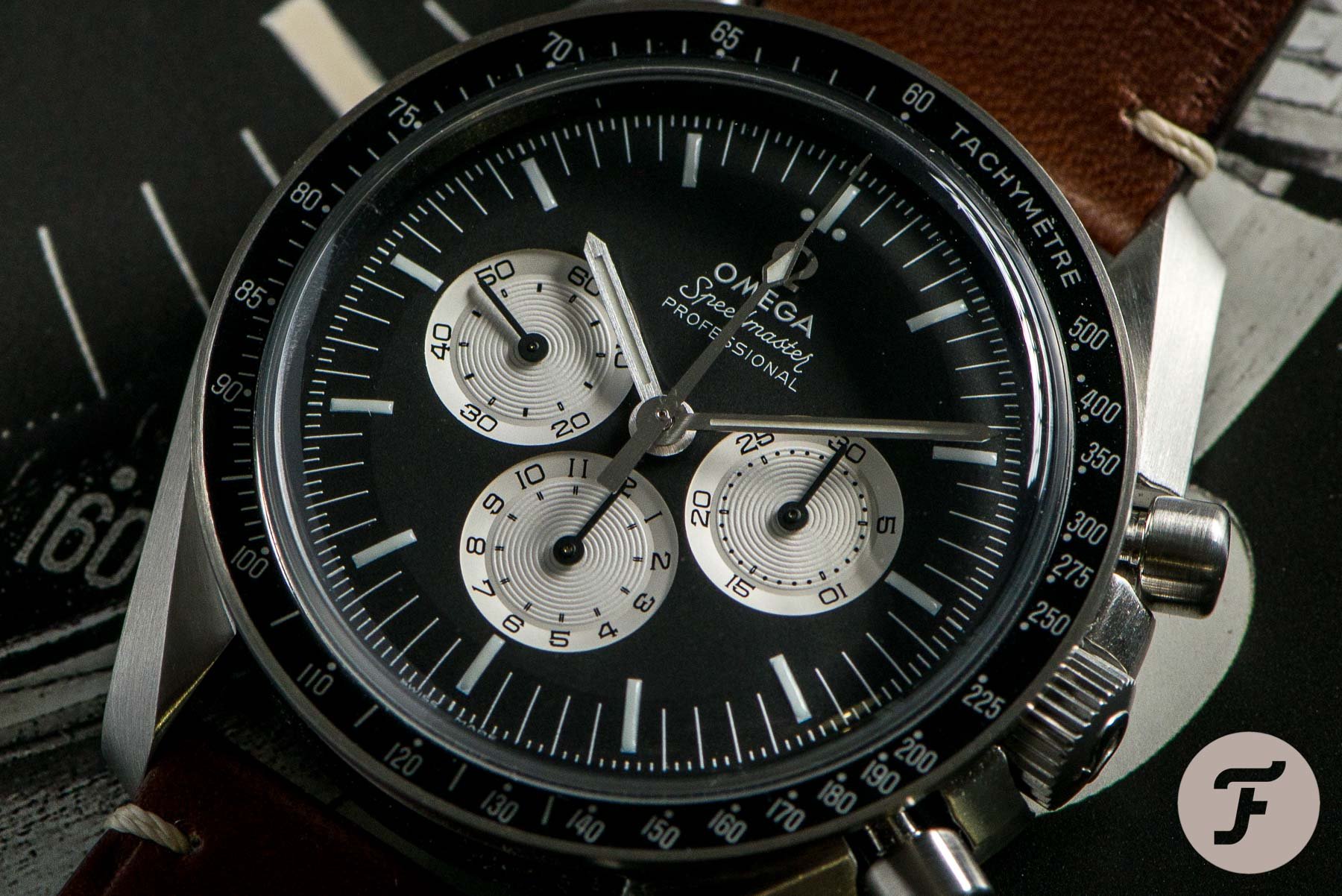 Following the Speedmasters used by NASA, the ST1 has an all brushed case to reduce glare. Again something that makes it stand out. And where I said it doesn't come with a single polished surface, someone pointed out that the vintage logo on the crown actually is. Good point. And it is an even better point when one considers what the vintage logo stands for. In many ways, this is a back-to-basics Speedmaster with subtle, unobtrusive embellishments. No fancy materials, no cutesy cartoon references, just the basics with a hesalite crystal. Yes, it scratches over time but to me that makes this watch even more personal.
…this watch rocked the watch world…
Last but not least in the recap is that this watch is community-driven and there are not too many of those around. I vividly remember the launch ( I was in Manchester at the time) and how this watch rocked the watch world. Designed by true watch lovers, for true watch lovers. The entire story has already been told many times and somehow it's one that never bores.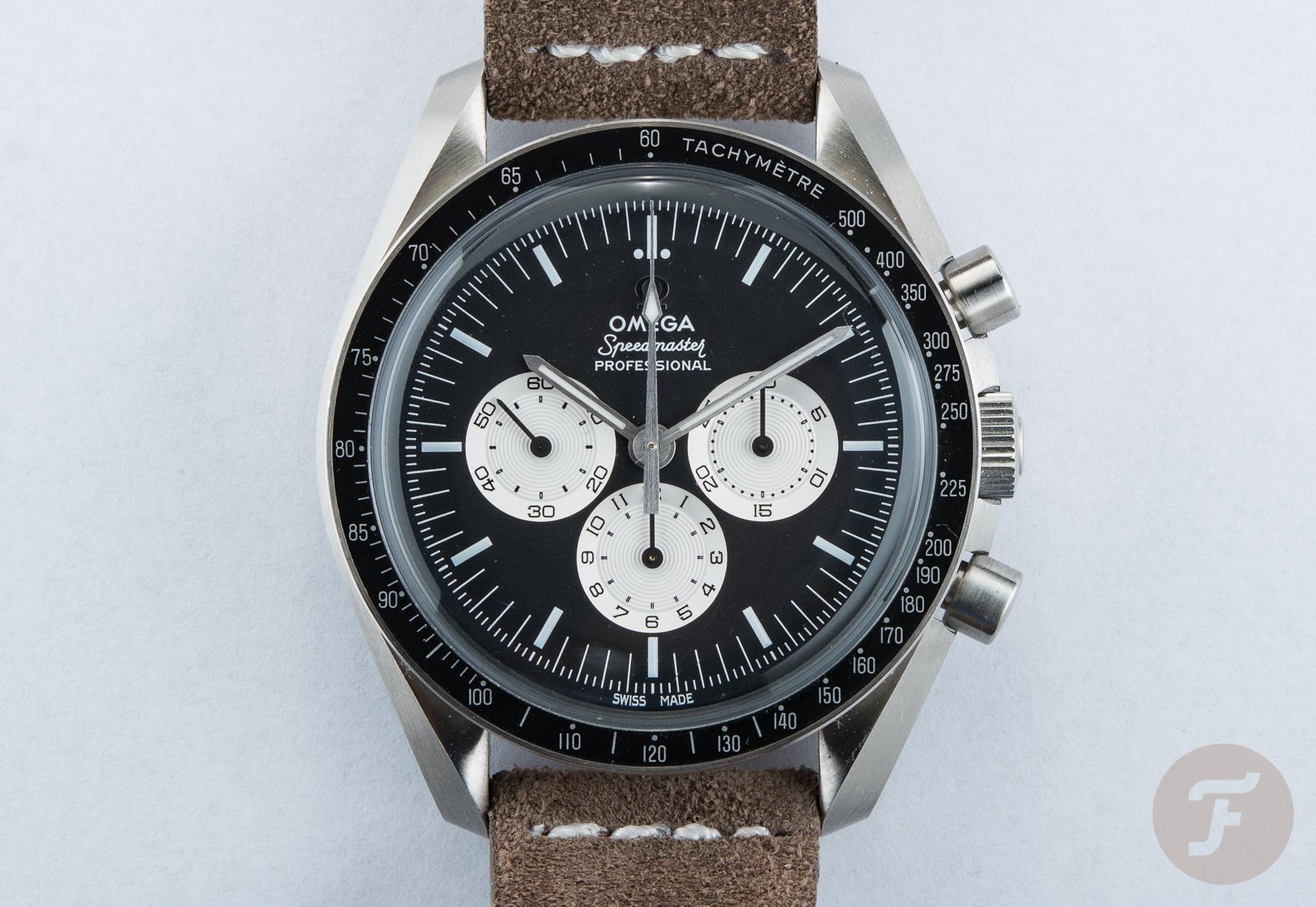 Pushing it to the next level
So here we are. I am putting the fate of my preferred Speedmaster in the hands of the readers, again. At this point, I should actually confess that all three watches are awesome. Yes, I ordered the Snoopy but haven't pulled the trigger on the 321 yet. But the only reason not to order one is the price tag and choices you have to make in life. If I could only have one, however, it would be the ST1.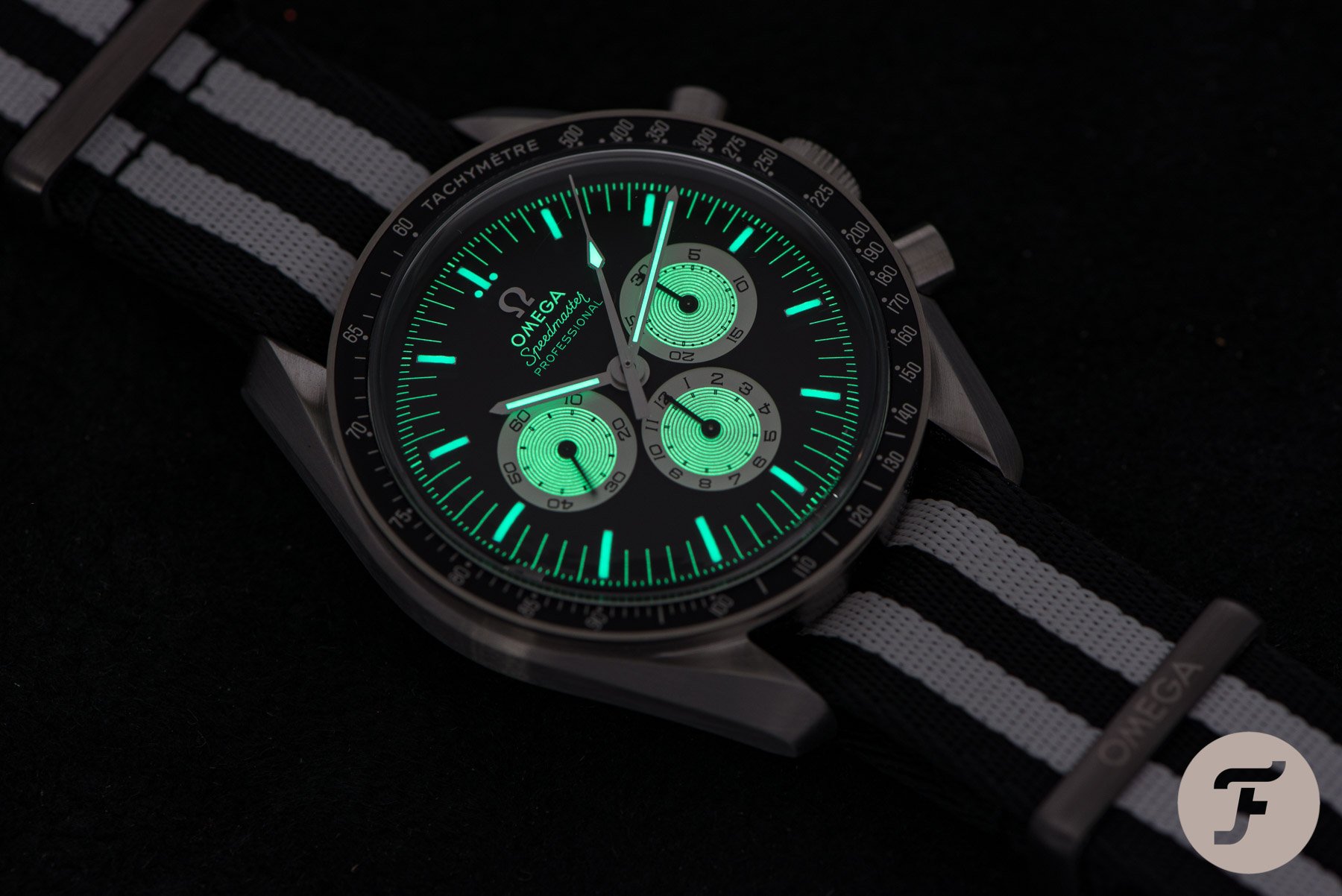 Having this watch on my wrist most of the time makes me biased. But, more importantly, it also says that this is the best Speedmaster to wear while being able to choose from a handful of Speedies. It looks modest and cool at the same time. It is modest because it doesn't look too shiny or have fancy colors or materials. We think it's cool because of its story and off-the-wall/under-the-radar looks with an odd all-brushed case (apart from the vintage logo on the crown) and inverted panda with radial counters as found on NASA Speedmasters. And how many modern Speedmasters come with an applied logo? What more could you ask for? Well, wait until you find yourself in the dark and discover the awesome radial lume on the sub-dials.
Most importantly when it comes to watches, pick what you like and what puts a smile on your face. This is something I have written on many occasions and on various platforms. The fact that I wear this one the most says it all to me. The ultimate Speedy for me and it happens to be one in which we had a say in the design. What more can I say about this stunning Speedy apart from, "make sure you click the right vote button."
Sorry. This form is no longer available.