Co-Axial Chronometer Movement by Omega – A Mechanical Video
OMEGA's Co-Axial Chronometer. For some time now, OMEGA has been teasing us with beautiful images on their Facebook page. Like the one below. Beautiful. Since it is Speedy Tuesday, we selected this one, but OMEGA did a few more very interesting images.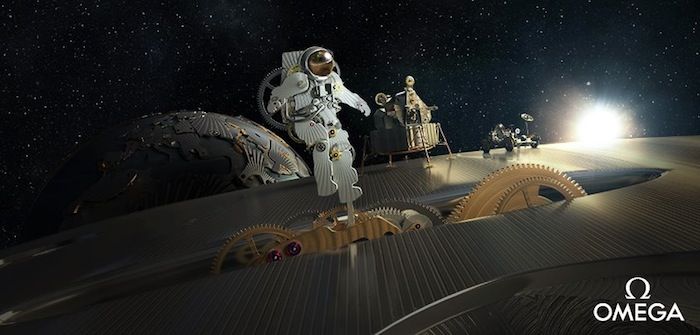 This morning, about an hour ago, OMEGA released a video about their Co-Axial Chronometer movements. The Co-Axial escapement was introduced by OMEGA to the public in 1999 in their DeVille Co-Axial watches (very limited production). In the last 13 years, OMEGA has been adopting the Co-Axial movement in all of their ranges (except for the quartz models and the original Moonwatch of course). This George Daniels invention was adopted by OMEGA a few years earlier, in 1994, but of course it took some time to have the production of this new escapement industrialized. In the last decade, OMEGA started to introduce their own in-house developed movements (caliber 8500 series, 9300 series) that also have this Co-Axial escapement.
OMEGA's Co-Axial Chronometers are crafted to a standard unmatched by any other industrialised mechanical watch movement. In OMEGA's new film, the viewer is drawn into the world of the Co-Axial Chronometer through spellbinding animated sequences expressing the perfection of nature elegantly interacting with man-made gearwheels and other elements of mechanical watch movements.
We can't wait to see all their new stuff this coming BaselWorld (25/4 to 2/5) and guess what? Our first appointment on the first day of BaselWorld is with OMEGA! Add our Instagram channel to your Instagram application to see their latest products first here on Fratellowatches.
OMEGA's Co-Axial Chronometer Movement
If you are interested in the Co-Axial movement and its founder, click here for our review on the biography of George Daniels, the inventor of the Co-Axial movement.
More information on OMEGA's Co-Axial Chronometer can be found on their special pages at www.omegawatches.com, OMEGA on Twitter or on their official OMEGA Facebook page.