One Collector's Tips On Watch Storage — How Henry Stores His Tudor, IWC, Doxa, And More
Different storage methods for different needs
A part of what makes the watch hobby so enjoyable is the massive amount of things to explore beyond just the watches themselves. For instance, even if you're a "one-watch" enthusiast, that still leaves open the world of straps to spice things up or tone things down, movements/technical aspects of the watch world, brand history, and more. This is indeed a hobby with so many facets. Watch storage is one that we don't often discuss, but it certainly affects anyone who puts together a significant-enough collection.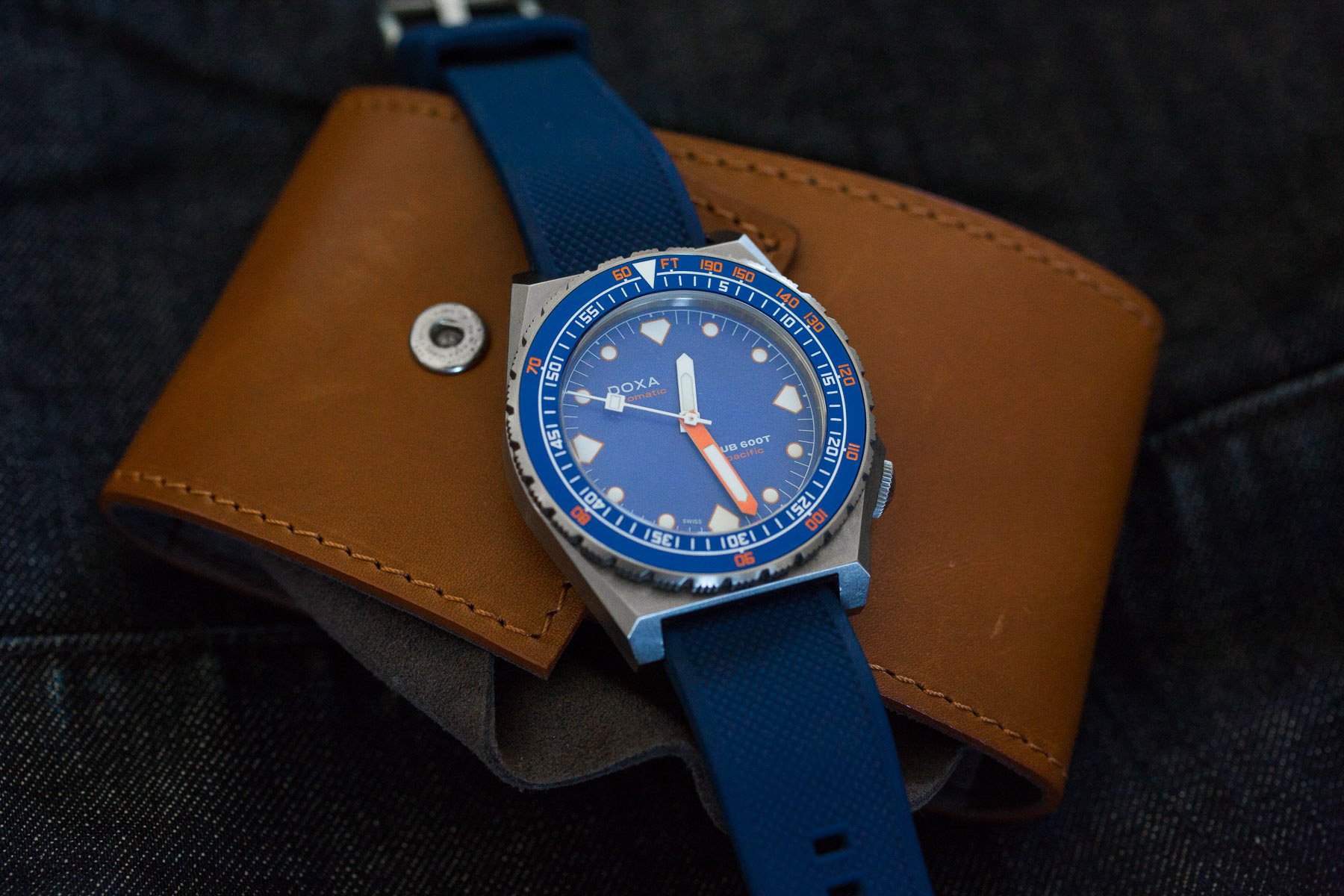 One collector's journey
It's an issue that I've contended with, which I'd argue often gets overlooked: how should you store your watches once you've amassed something of a collection? It's a matter that is especially important if the watches are older pieces or have high sentimental value. I'm not so much talking about security here but, simply, how to affordably put those watches that you're not wearing away. After acquiring another vintage watch, I found myself looking into this question.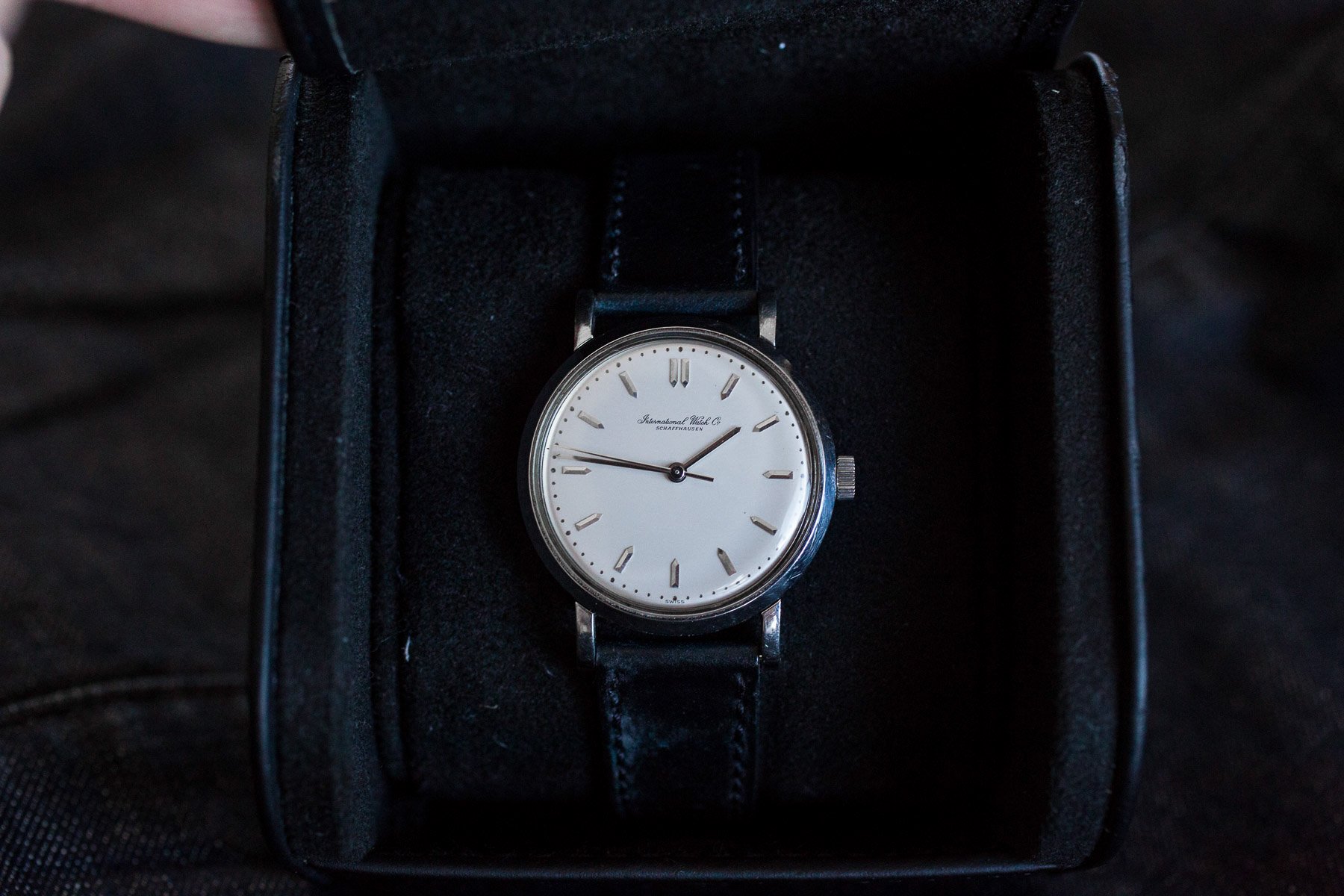 Before I go into a few options that I have experienced firsthand and can comfortably recommend, keep in mind what your needs are.  Do you have multiple watches and need a secure but efficient way to put them aside? Then a watch box is probably more for you. Are you someone who likes to take another watch with you on a holiday or trip? Then perhaps a single watch case or watch roll is more suitable.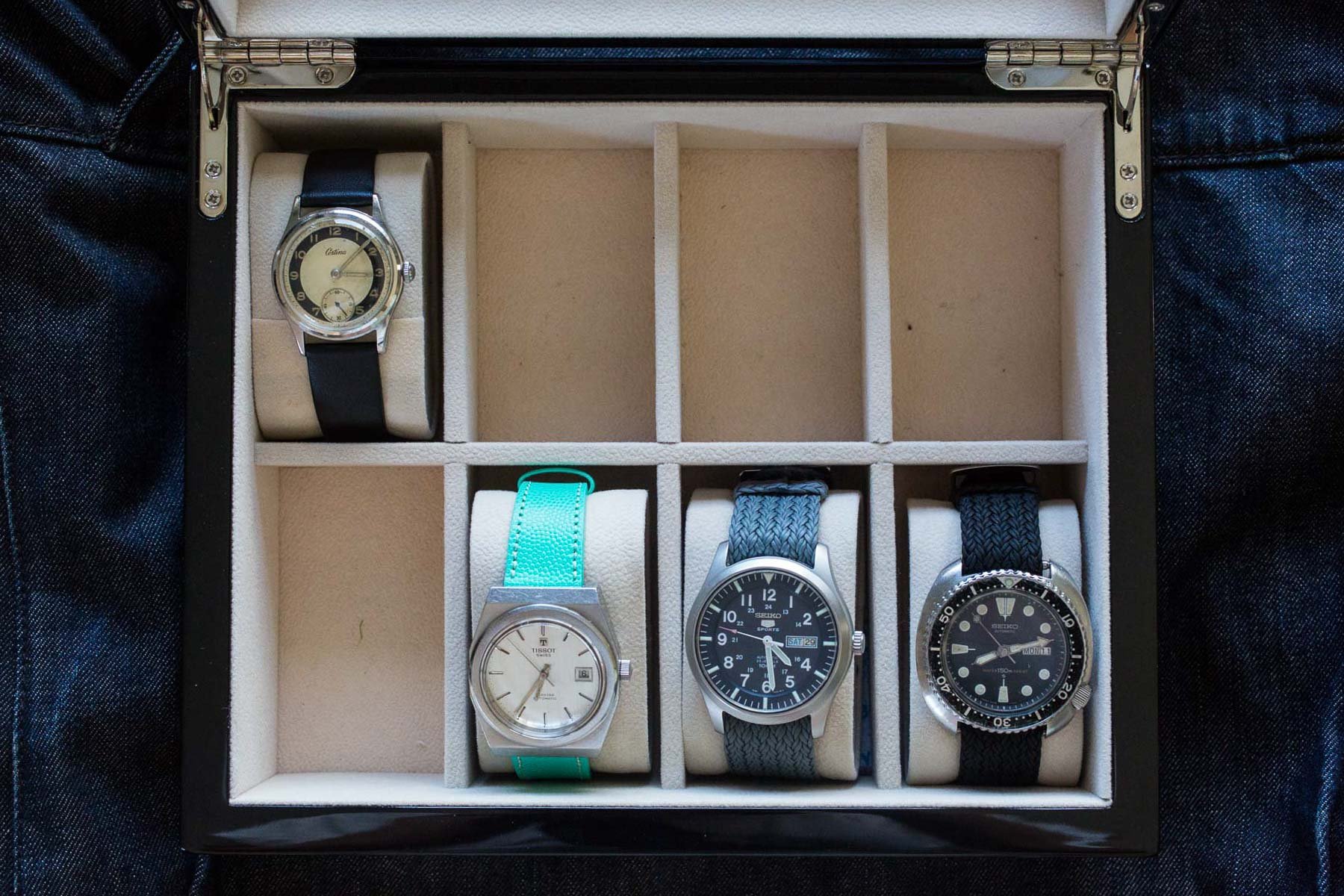 Starting with the basics
Most of my watches are vintage pieces. Many have high sentimental value and stories, either because they've come down through the family or because I've had memorable experiences while wearing them. One of the simplest methods of putting these collectibles away is a watch box. But the sheer array of options out there is, frankly, overwhelming. First start thinking about what kind of box you'd like. Are you after something bespoke or budget-friendly? Fancy or simple?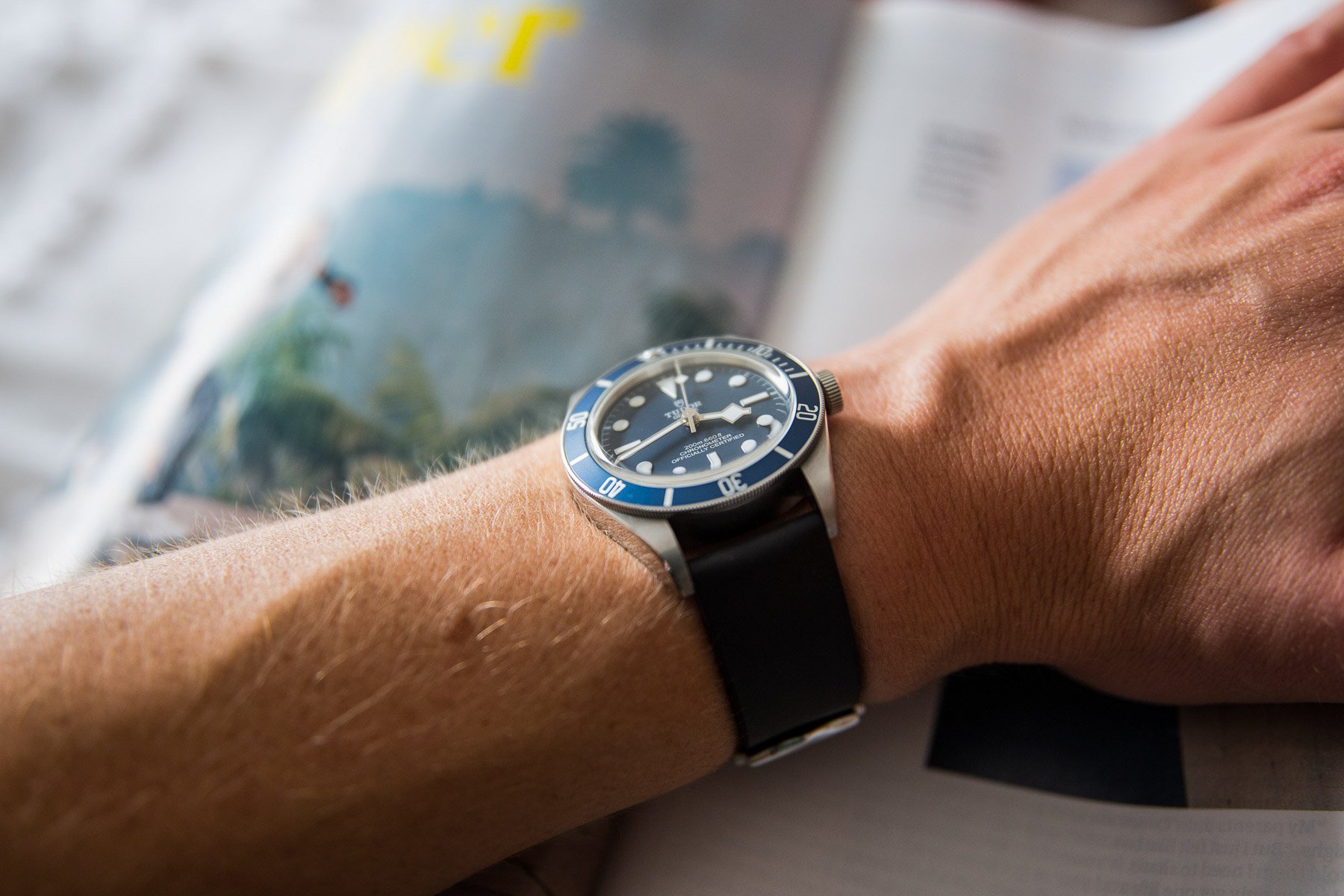 I was after the barest-bones watch box I could find, one that was very affordable and was built well enough to not fall apart from use. After some trial and error, I purchased a basic eight-slot watch box from Myer, an Australian department store chain. It didn't come with a lock, but it's all I wanted for something that I am keeping in one place, and it seems to work just fine.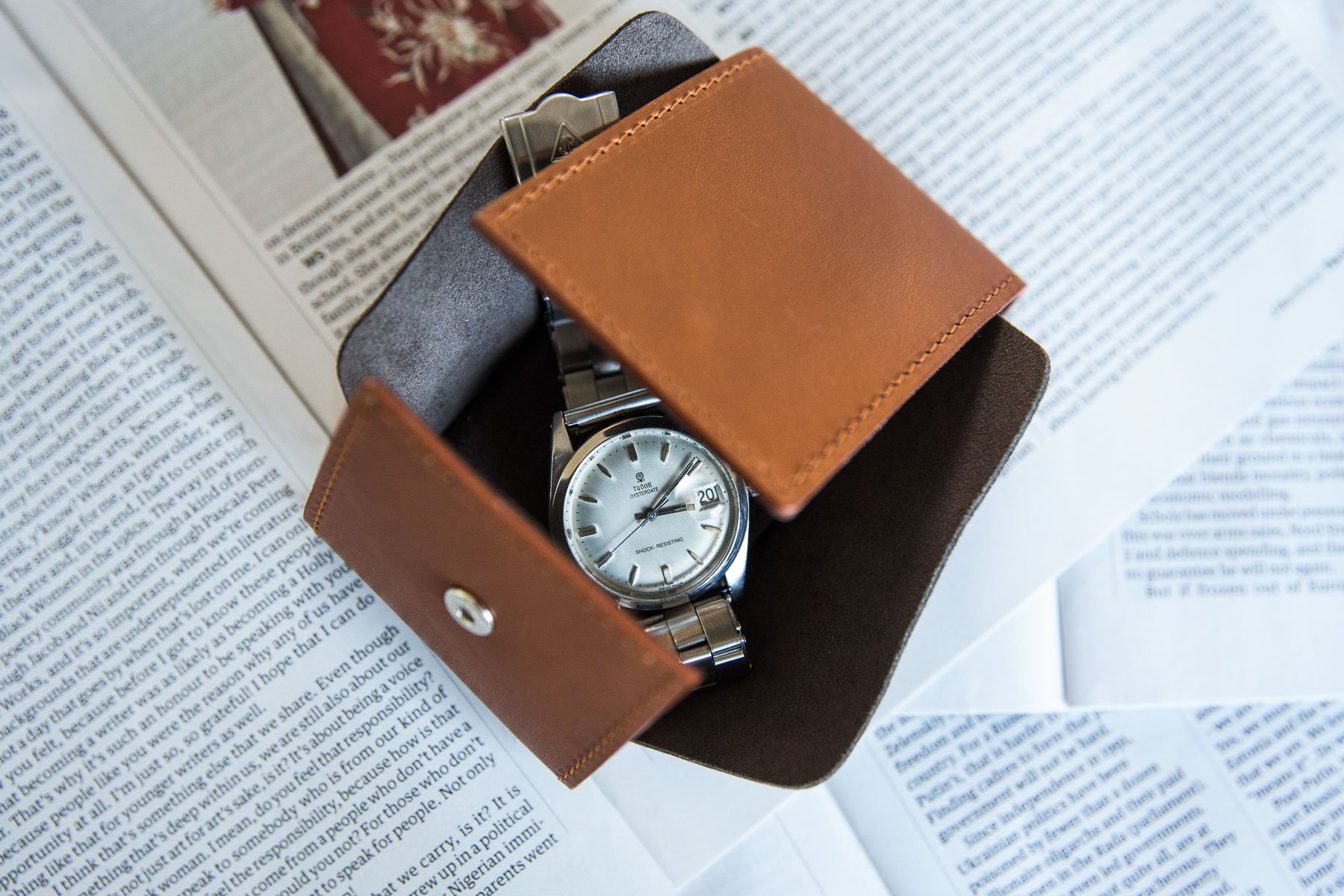 Establish exactly what you need
When selecting a watch box, I always advise buying the sort of option that meets your needs. If you want or need something that has a secure lock, then it's worth spending the money on a quality item. The same goes for something with a watch-winding function. Some department stores provide luxury options that would suit those needs, and if that's what you are after, I encourage you to check them out.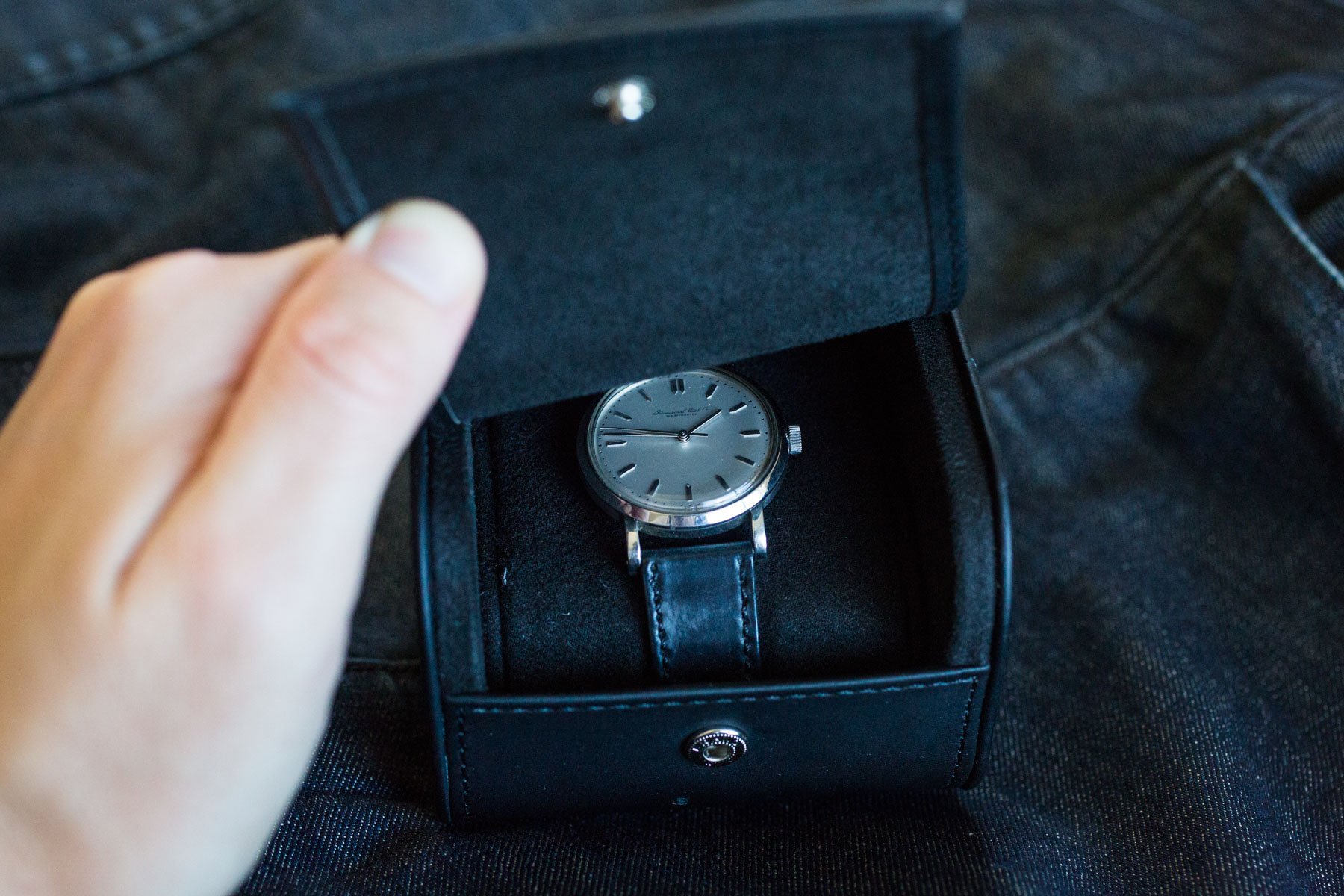 These include some very cool and innovative watch cases, such as suitcase-like options with fingerprint-scanning technology. And there are simply stunning watch cases that are much more bespoke than anything I yet possess. Thankfully, many watch brands sell their watches with small watch cases that can be quite easy to take with you when traveling. They offer good levels of protection and are (free) since they came with a watch purchase. The only issue here, though, is security. It's a very good way to advertise in your luggage where a watch is!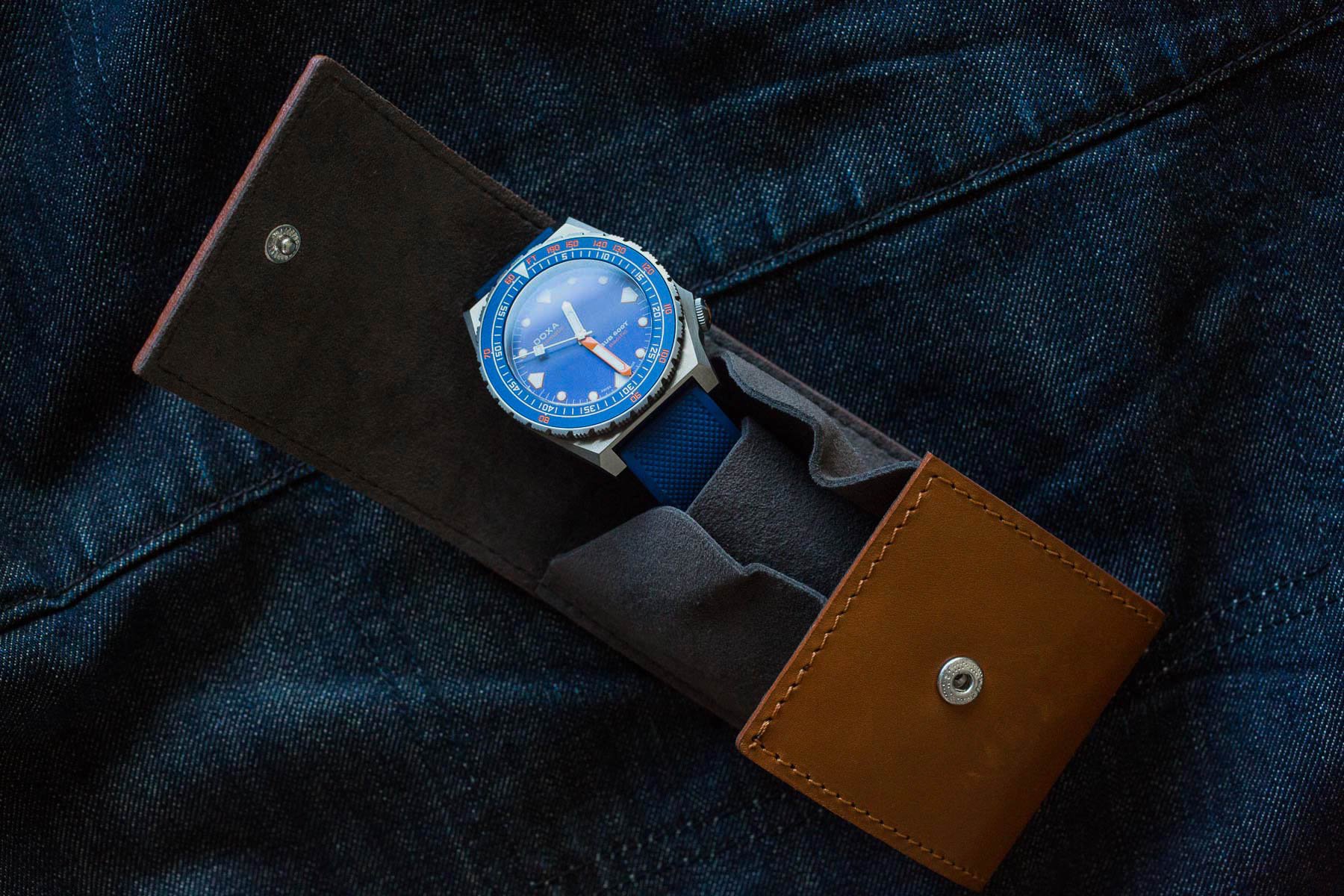 This is where the advantage of more discreet watch cases comes in. I have a couple of favorites. One is from the German brand Fluco, a company that specializes in leather straps. They make wallet-sized cases that look the part, and the four sides fold out, giving you better access to the watch within without trying to pull it up. I've traveled with it, and it's an excellent design. You can see it in use with my vintage Tudor Oyster in this article.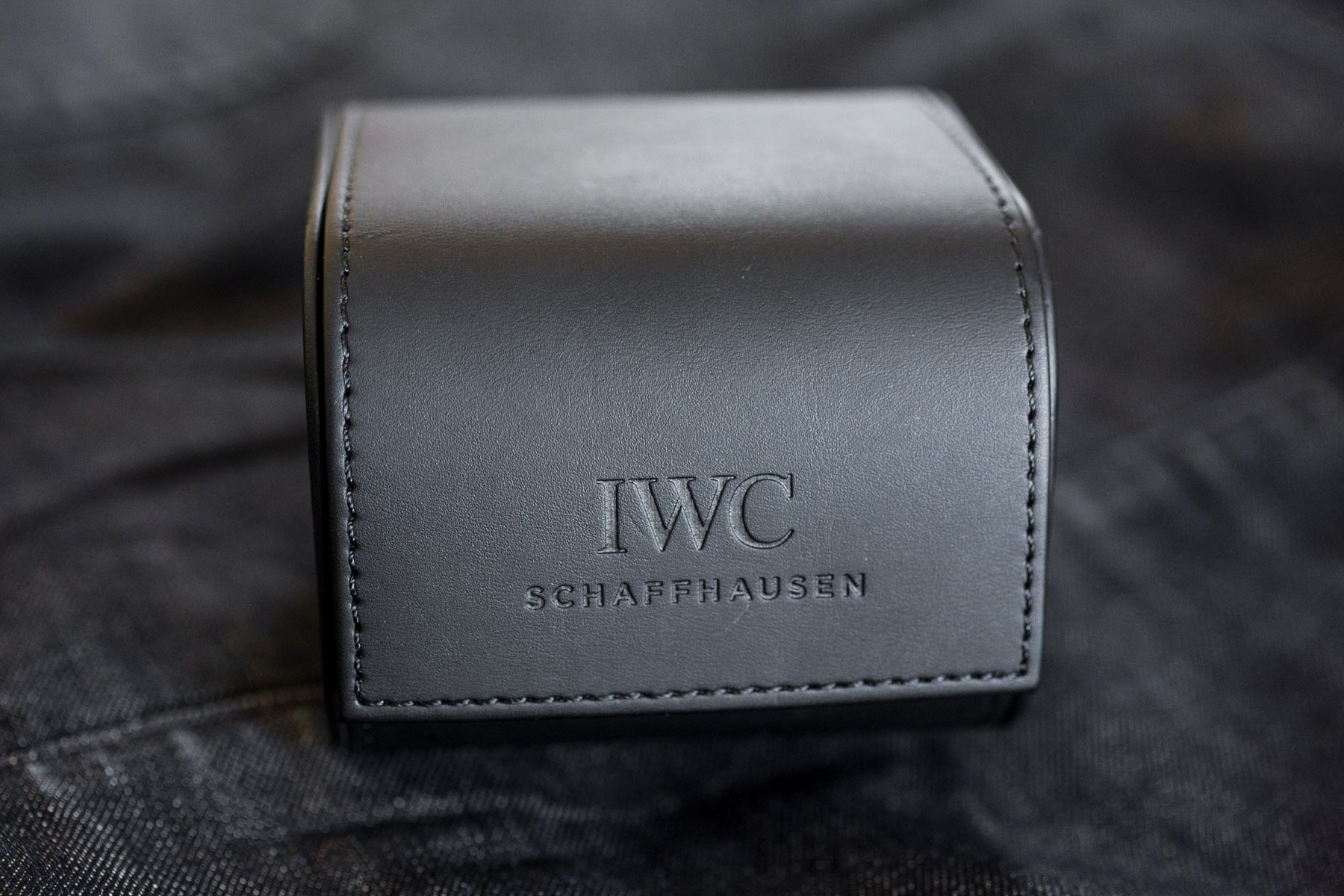 Keep rollin'
Watch rolls are a really great way to take watches on the go. Though they offer less protection than a watch box, they are less bulky and more discreet. There's also a stack of options here. Barton Bands has a watch roll that I've used, which did the job just fine, though I found that it only really would fit watches under 42mm in diameter. The British brand CWC makes a leather watch roll that is well made and is good at storing watches of all sizes.  
One "hack" that I have used, which I think is perfectly acceptable, is an affordable tool roll from the local automotive store. Yes, you heard me right! The similarities between a tool roll and a watch roll make them practically interchangeable in my experience, and the tool rolls often tend to be far cheaper! Just make sure the inner pockets are appropriate for a watch (many are universal and designed for medium-sized wrenches/spanners, or they have cushioning that fits the bill just fine).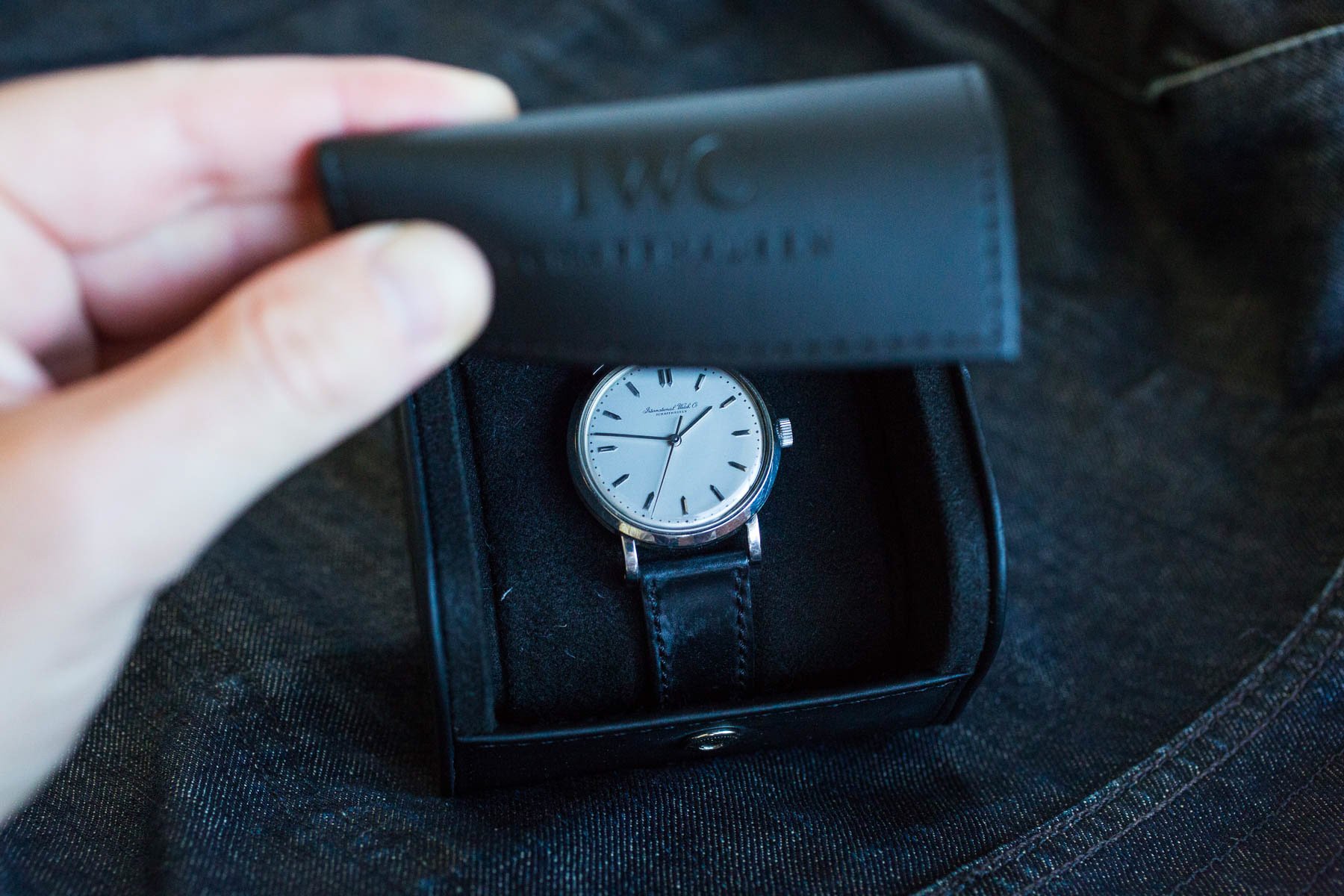 Final thoughts
Remember, always go for the sort of watch case or storage option that best suits your needs. If you want basic, you don't need to spend all that much to meet those requirements. If you want bespoke, there's no shortage of options either. Thankfully, I have done some experimenting myself to come to these recommendations so that you don't have to. But there is definitely fun in finding these product gems for yourself.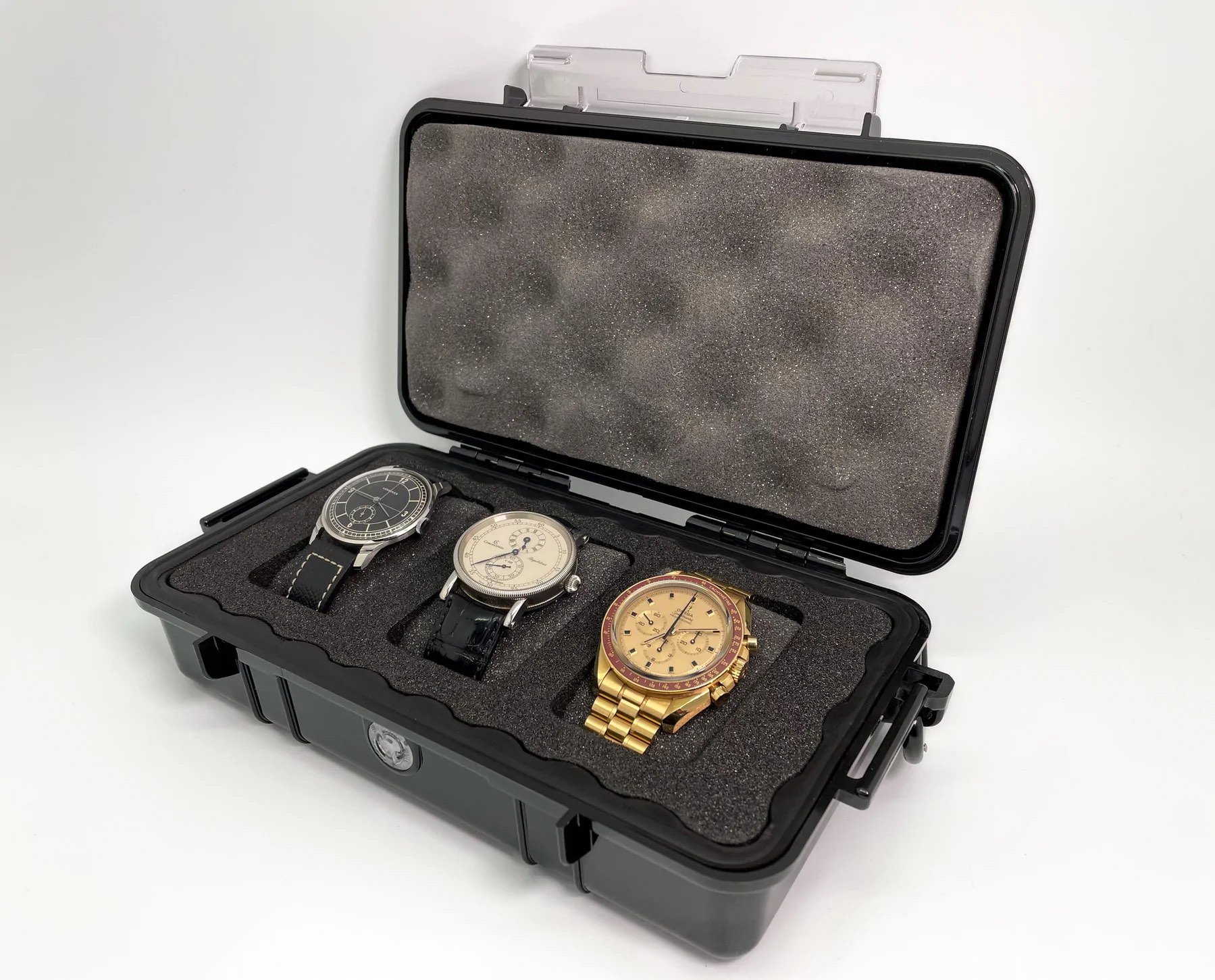 Of course, Fratello also offers storage cases and pouches for watches that you can find out more about in the shop.
Now I'll turn it over to you. What is your preferred method of watch storage, and have you found any "hacks" like the one I mentioned above? Let us know in the comments below. 
Find me on Instagram: @onhenryswrist