Only Watch 2021: In A Surprising Semantic Twist Patek Philippe Brings A Clock To Auction
An unexpected and intriguing follow-up to the brand's 2019 record-breaker
At the 2019 Only Watch auction in Geneva, Patek Philippe surprised both everyone and no one simultaneously when its stainless steel Grandmaster Chime (ref. 6300A-010) became the most expensive wristwatch ever sold at auction. It pulverized the previous record, held by Paul Newman's personal Rolex Daytona, by over CHF 14 million. But even more fantastically, the one-off steel version of Patek's most complicated wristwatch raked in a jaw-dropping sum of CHF 31 million for charity. That watch alone amounted to over 80% of the proceeds raised for the Monaco Association Against Muscular Dystrophy at Only Watch that year. And as the third consecutive Patek Philippe offering to take the top spot at Only Watch, the steel Grandmaster Chime was yet another feather in the cap of the horological king of the auction world.
Nevertheless, the impressive showing two years ago led some to question whether or not Patek Philippe could outdo itself this time around. Even when raising money for a charitable cause, producing a surefire 2019 record-smasher was certainly no simple task. Perhaps that's why, this year, Patek Philippe has taken a completely different approach altogether. For the 2021 Only Watch auction, Patek Philippe brings not a wristwatch, not a pocket watch, but a desk clock to the literal and figurative table. Superficially, this move makes me wonder whether the brand missed the nuance in the auction's name. Regardless of semantics, though, one thing is clear. The new offering showcases Patek's mastery of all forms of horology in a refreshing respite from the record-chasing rat race.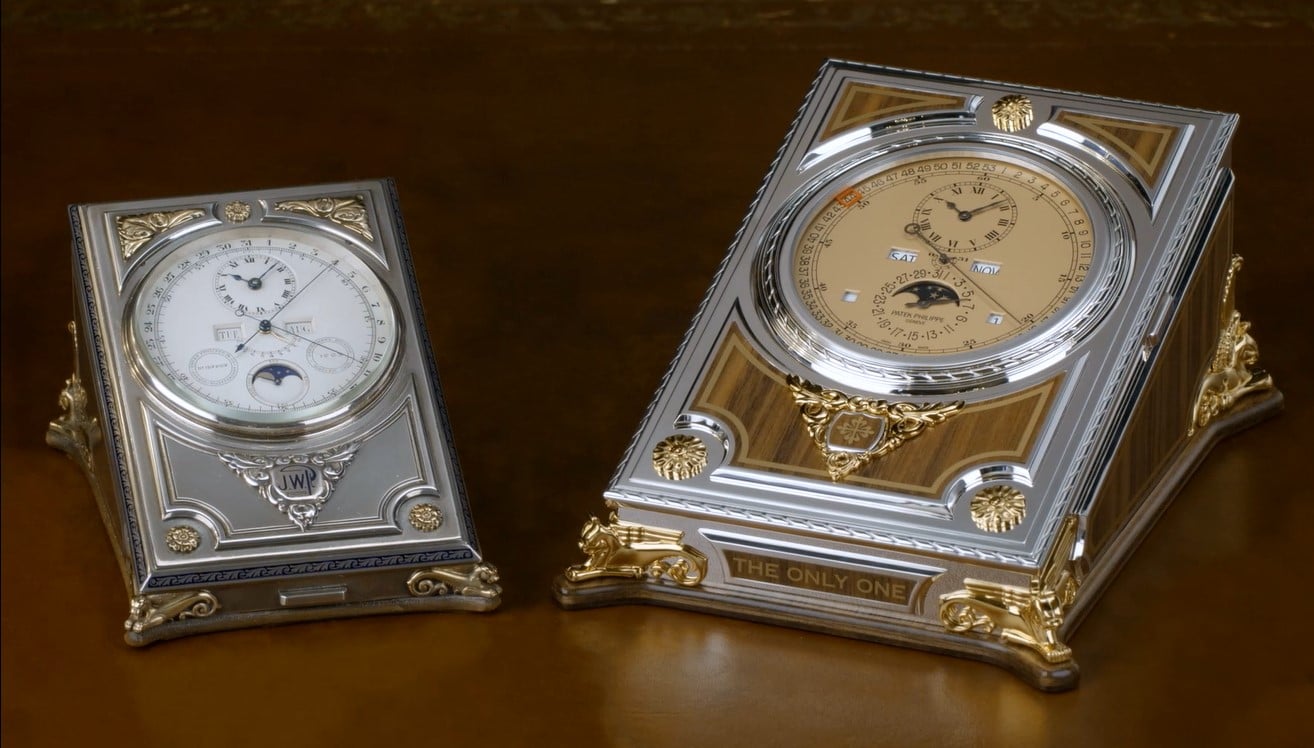 A historical throwback to an important clock
The new Complicated Desk Clock, reference 27001M-001, draws inspiration from the very first Patek Philippe desk clock from 1923. It was made especially for James Ward Packard, an American automobile mogul whose company was responsible for the steering wheel. He is also known as one of the most important patrons of Patek Philippe in the early 1900s. His numerous commissions from the Geneva manufacture included everything from a timepiece-topped walking stick and an 18k gold ring watch to an astronomical pocket watch with a perpetual calendar, minute repeater, equation of time complication, moon phase/age indicators, and both sunrise/sunset indicators and rotating star chart for his hometown of Warren, Ohio. Packard was a sponsor of horological finery in all its forms, and his custom desk clock was no exception.
The historic double-barreled clock featured an offset time display, moonphase, perpetual calendar with day/month apertures and radial date, and an eight-day power reserve indicator. The white opaline dial sat in a sterling silver case accented with blue enamel and gold vermeil embellishments. The official name of the clock was Le Presse-papiers — "the paperweight". A whole 98 years ago, it was an awesome display of horological prowess as functional art. But a lot has changed for Patek Philippe in those 98 years. Since 1923, the manufacture has made countless strides in its mechanical mastery. Thus, the brand found it only fitting to give the Packard clock the most impressive 21st-century upgrades it could muster.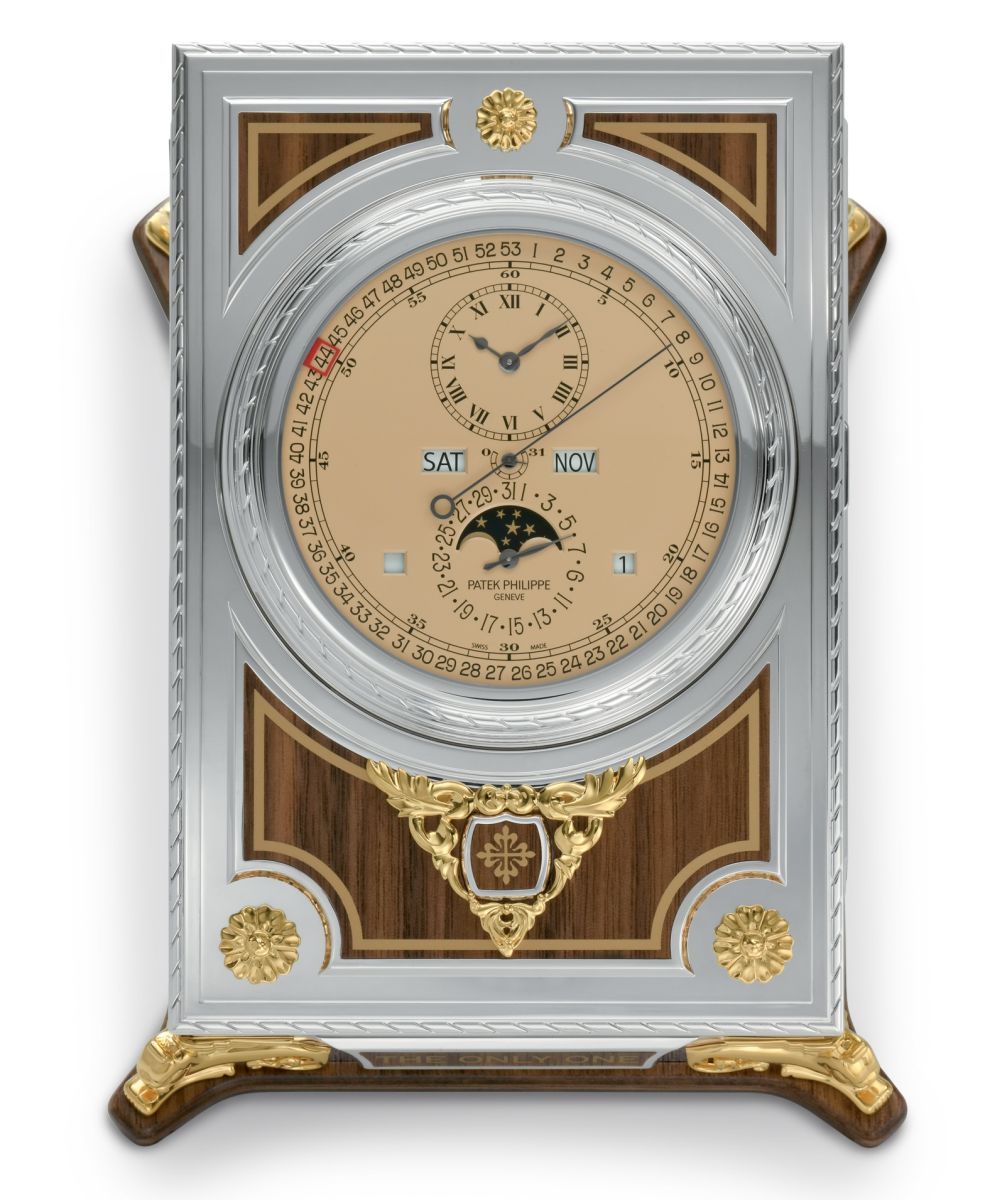 The same, but different
On the surface, Patek's new offering has obvious ties to its historical counterpart. Like the Packard clock, the new "Complicated Desk Clock" features an off-set time display, a moonphase indicator, a perpetual calendar with day/month apertures, and a power reserve indicator. But what the Complicated Desk Clock lacks in naming sense, it makes up for in new functions. The perpetual calendar now includes a leap year indicator at 4:30, as well as a day/night indicator at 7:30. The pointer date indicator has been relocated to 6:00. Taking its place on the perimeter of the dial, we see an all-new week indicator. Contrasting some perpetual calendars, which only indicate 52 separate weeks, the new clock indicates 53. This is due to the 53rd week that generally occurs every five to six years. It may come in handy in 2023 when we'll see the first 53-week year since 2017.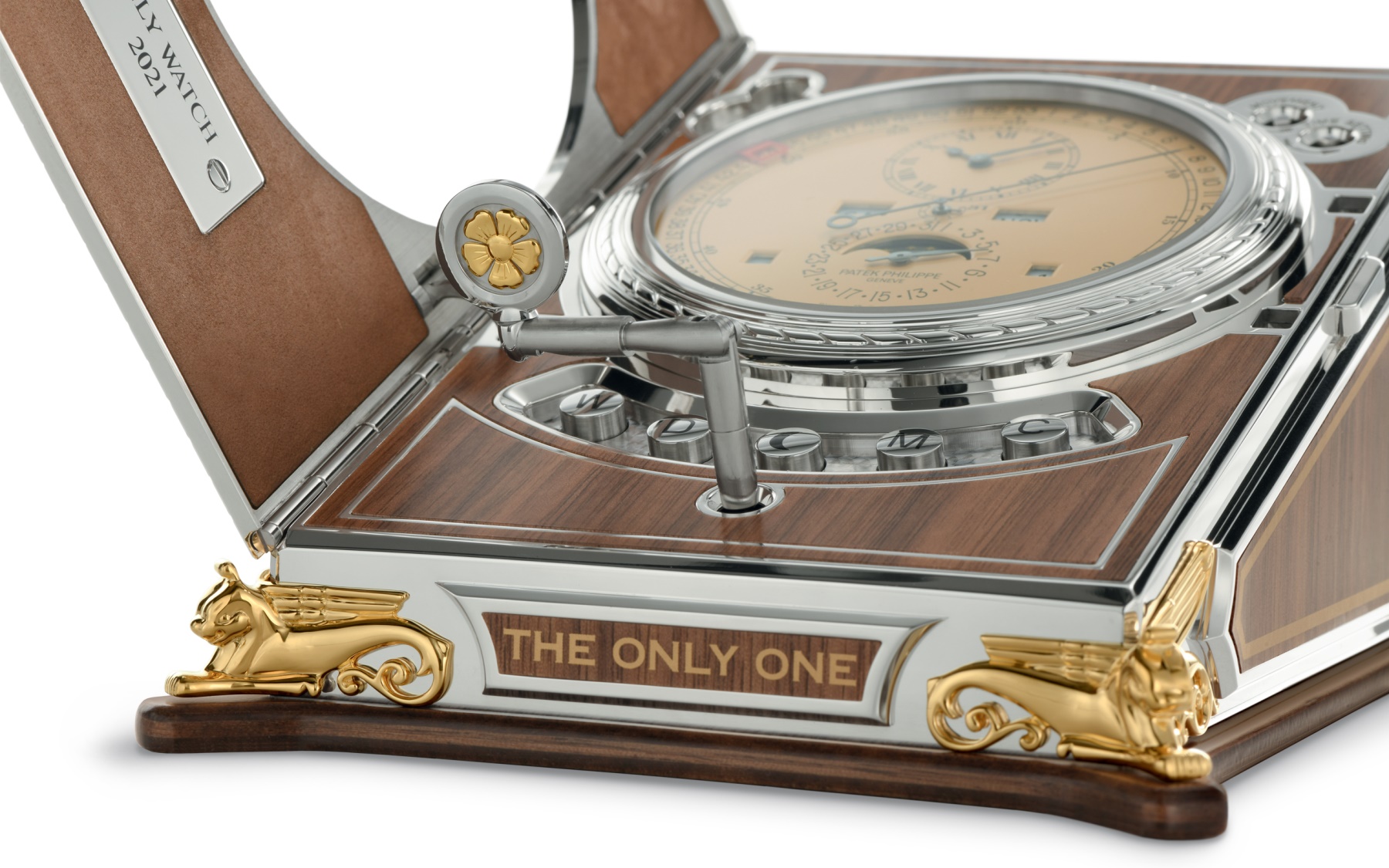 A dead-beat seconds complication further distinguishes the new clock from its precursor. The mechanically powered ticking seconds hand is elegant, decisive, and stutter-free. The Patek Philippe seal-bearing movement is remarkably precise too. It features a 4Hz frequency and a guaranteed accuracy of ±1 second per day over its full 31-day power reserve. Impressive accuracy like this is made possible through three mainspring barrels and several patent-pending innovations. A more efficient stop pawl and large lever limiter make sure no energy goes to waste in the perpetual calendar. Meanwhile, a constant force mechanism provides optimal balance amplitude for better accuracy. Patek also designed the 919-component movement with user-friendliness in mind. The clock features new mechanical push-button correctors for all calendar functions. The user can wind, hack, and set the movement with a traditional key.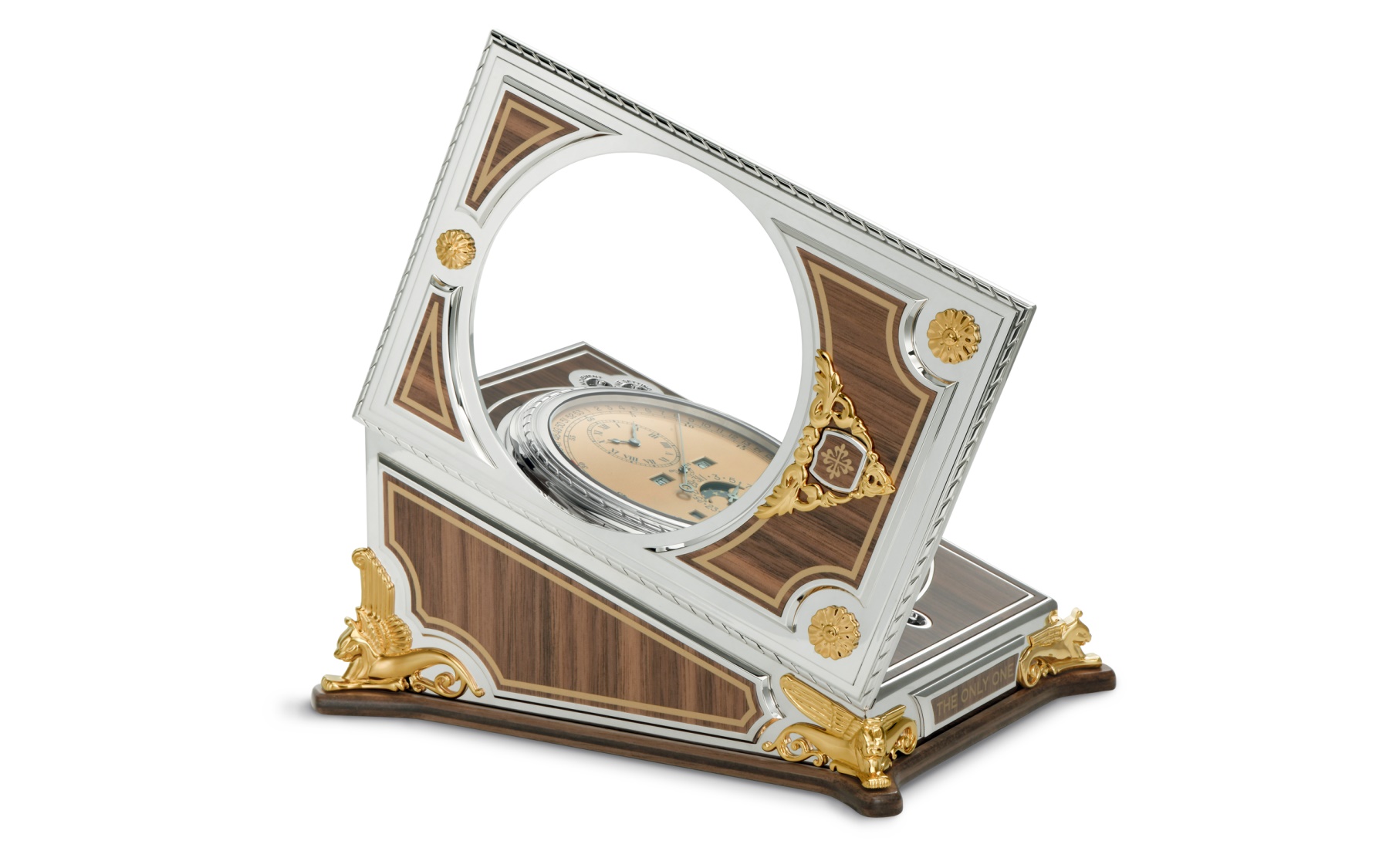 Silver, gold, and the warmth of woodgrain
Like the Packard clock, the new reference 27001M-001 features a sterling silver "cabinet". Enlarged to 135mm in length, 86mm in width, and 28.55mm in height, the new case definitely provides greater "desk presence" than its forebear. It uses a new hinged cover to hide the control panel, while American walnut veneers pay tribute to Packard's American roots. The ornamental filigree, rosettes, and griffins are also fashioned from sterling silver. They feature a thick gold vermeil finish for more durability than standard gold plating.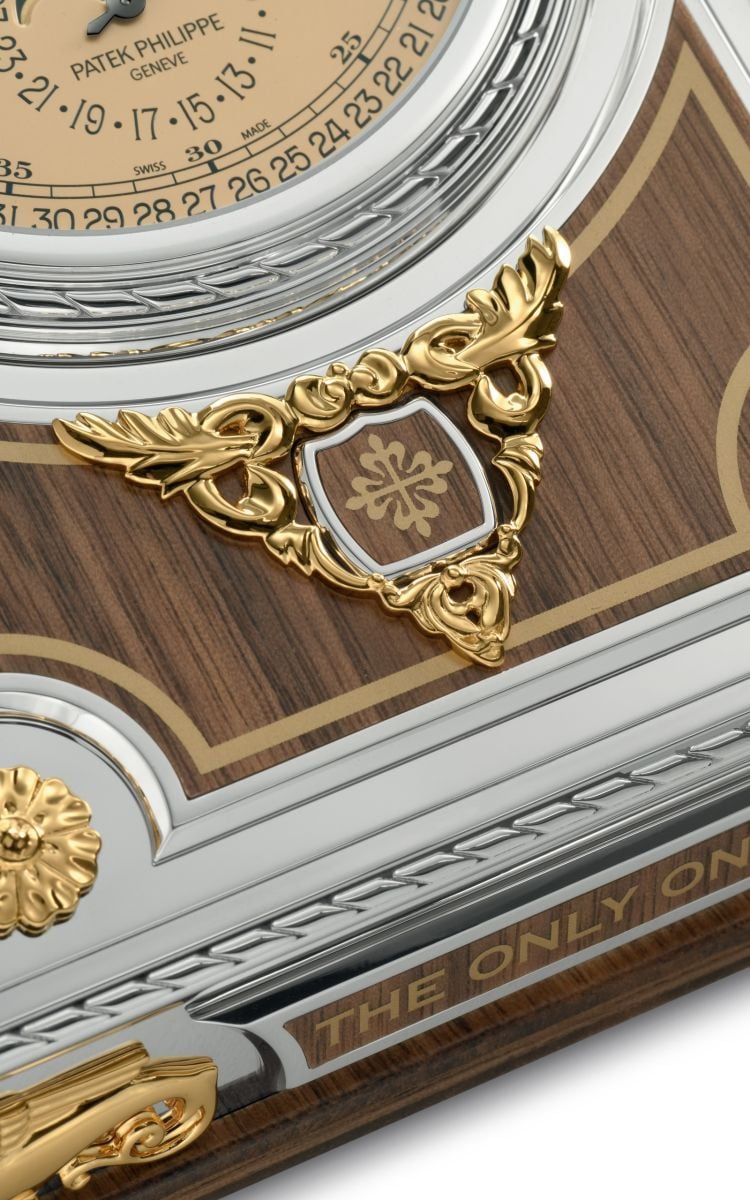 But while vermeil is congruent with the historicity of the Packard clock, I find the lack of solid gold elements puzzling. Combined not with thick walnut inlays, but rather, thin veneers and screen-printed gilt lines, the use of vermeil seems like a blatant cost-cutting measure to my potentially philistine eye. After all, Patek Philippe went to great lengths to modernize the clock. I would therefore be most interested to learn why the brand chose these less expensive decorative elements. Perhaps it wanted to put the greatest focus on the movement itself.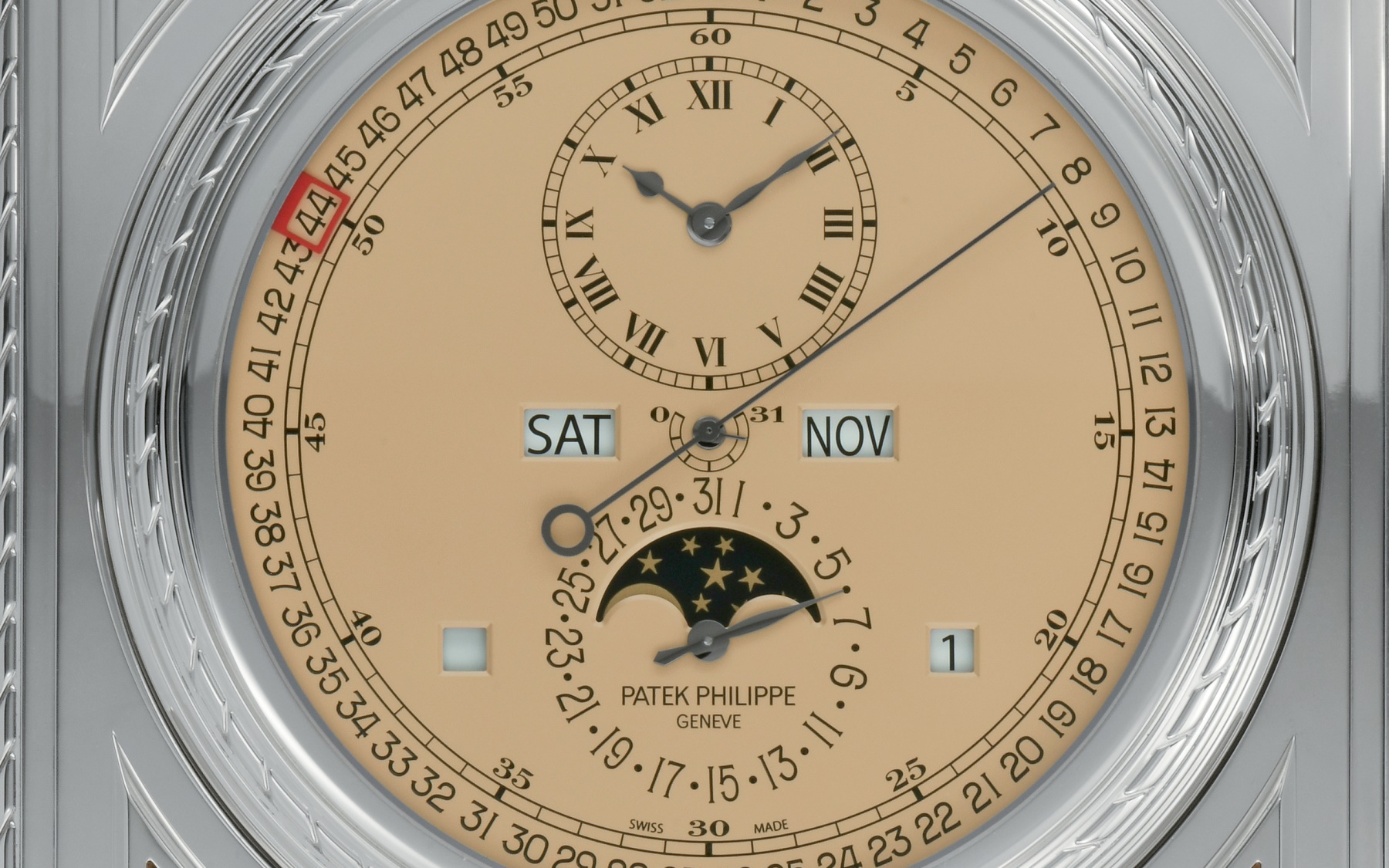 The "yellow-gilt opaline" dial is an obvious departure from the Packard clock. It is one, however, that I think matches brilliantly with the golden brown tones of the walnut. The hue of the dial combined with the black print and gunmetal polished hands definitely reminds me of the salmon-dialed 5270P perpetual calendar. The rope-like bezel and cabinet frame are also decorative touches that I find quite classy indeed.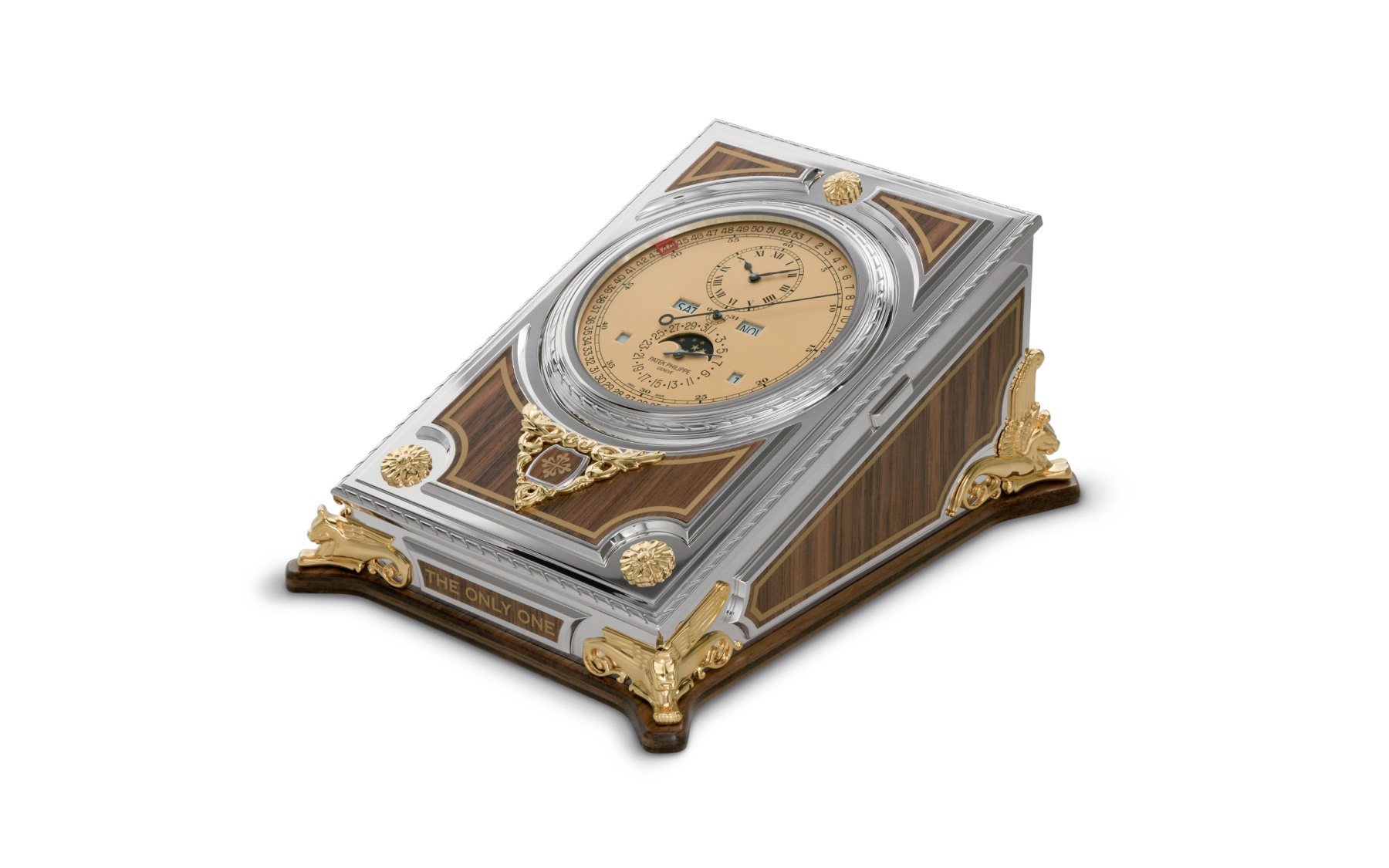 Estimated pricing and availability
As evidenced by the placard at its base, the Patek Philippe Complicated Desk Clock, reference 27001M-001, is a one-of-one creation. It will go under the hammer at the Only Watch auction on November 6, 2021, in Geneva. At the moment, the clock is estimated to sell for between CHF 400,000 to 500,000. But as we've seen time and time again, auction estimates for brands like Patek Philippe are almost always laughably conservative. Will the Complicated Desk Clock surpass the CHF 31 million mark to become the most expensive timepiece ever auctioned? Honestly, I doubt it. But it will at least be interesting to see how it fares against the Ulysse Nardin UFO, the only other clock on offer, and if will take once again earn Patek Philippe the title of Only Watch "top earner."
For more information about Only Watch 2021, and to see all the timepieces available this year, visit the auction's official website here. For more information about the Patek Philippe Complicated Desk Clock, as well as its past Only Watch offerings, check out the brand's website here. And if you plan to bid on this 21st-century update of Patek's most legendary clock, I wish you the best of luck! We here at Fratello we'll be watching with bated breath to see the outcome!