In Detail – Patek Philippe 5270P – A Platinum Perpetual Chronograph With Salmon Dial
Salmon dials have a strange effect on me. Whether it was one of the salmon dial Rolex Datejusts in the 1990s, the salmon dialled Chronoswiss Régulateur Automatique CH1223, Audemars Piguet Royal Oak 'Jumbo' 14802 or Sinn 356 watches, I felt heavily attracted to them. Yet, I never bought one as I felt too scared. With this Patek Philippe 5270P (P for platinum), the dial has yet again that same effect on me.
Patek Philippe 5270P – Salmon Dial
Although I regret not buying the Audemars Piguet Royal Oak with the salmon dial (and the prices went berserk), I could have bought the Chronoswiss or Datejust with that dial. Yet I actually never dared to do it. Not because I think rose or salmon isn't masculine, but whether I would get bored with it over time. In all honesty, I think I'd be fine in the end, so who knows if I will end up with a nice 36mm Datejust with the salmon dial or a Sinn 356 with this dial colour.
Platinum and Rose Gold
The Patek Philippe 5270P is unfortunately out of reach for me, most probably forever, but those who are fortunate enough have another salmon dialled watch to choose from. Although I hardly believe anyone is going to select this watch purely based on dial colour, it has such a presence that it must be one of the decisive factors anyway. The only other option for the Patek Philippe 5270 is the one in rose gold with a rose gold bracelet. The price of that watch is about the same as this platinum version though, so if you prefer a black dial instead, the rose gold version is the one to have. The case of the Patek Philippe 5270P measures 41mm, with a height of 12.4mm. This might be a bit larger than the average Patek Philippe watch, but it actually looks and feels well proportioned for a watch with these complications.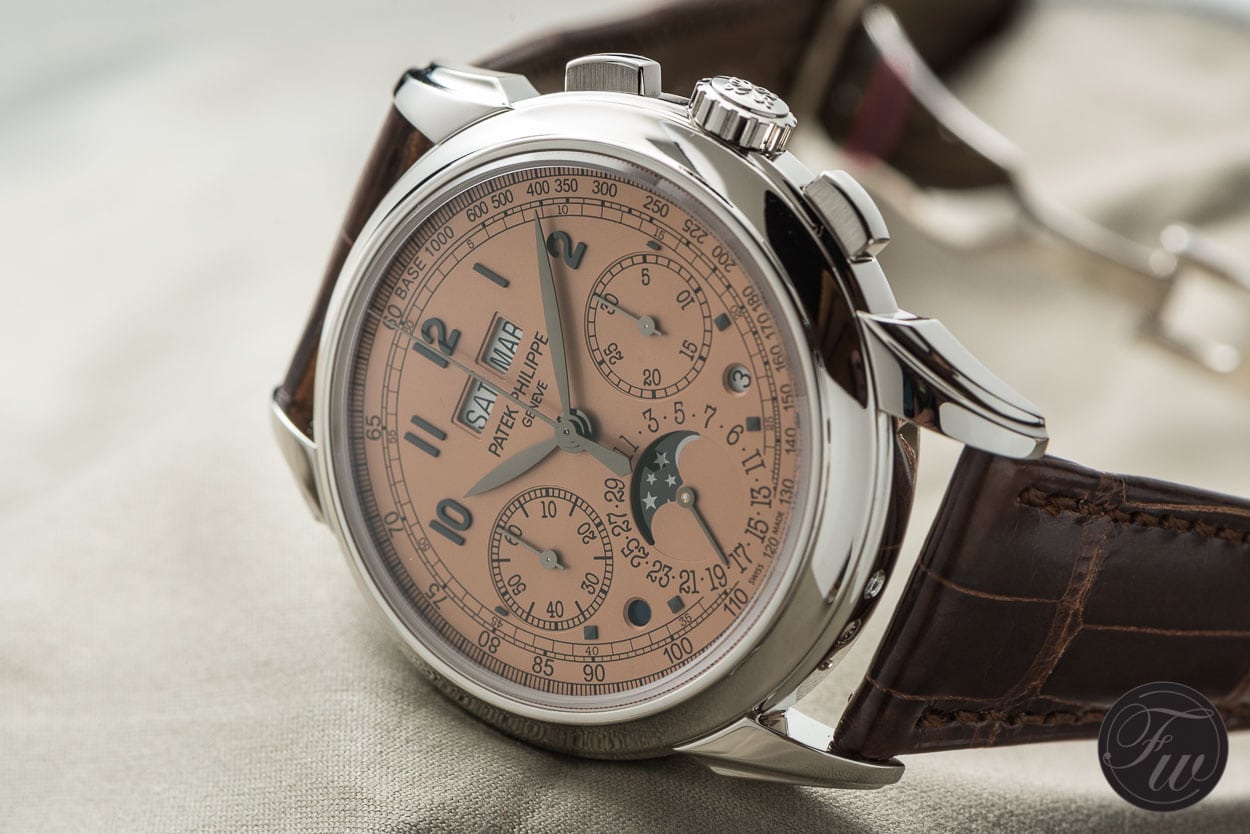 Perpetual Calendar Chronograph
This watch falls into the category of Grand Complications at Patek Philippe, meaning it has three (or more) serious complications. In this case, you will find a hand-wound movement calibre CH 29-535 PS Q powering the perpetual calendar complication, including day, date, month, leap year and day/night indications on the dial. Besides that, there is the moon phases indication. The owner of this watch will also be able to time events, with the column-wheel chronograph with central seconds hand and small 30-minute counter. There you go, a Grand Complication from one of Geneva's finest. This movement has been completely designed and developed in-house. You might think "Of course it is", but not even that long ago, Patek Philippe did not have an in-house chronograph calibre (until 2009) and was depending on beautiful Lemania based movements. All finished in a way that justified the Patek Philippe engraving on one of the bridges of course. The combination of a perpetual calendar and a chronograph isn't exactly new to Patek Philippe, already in 1941, the Geneva manufacturer produced wrist watches with these complications combined.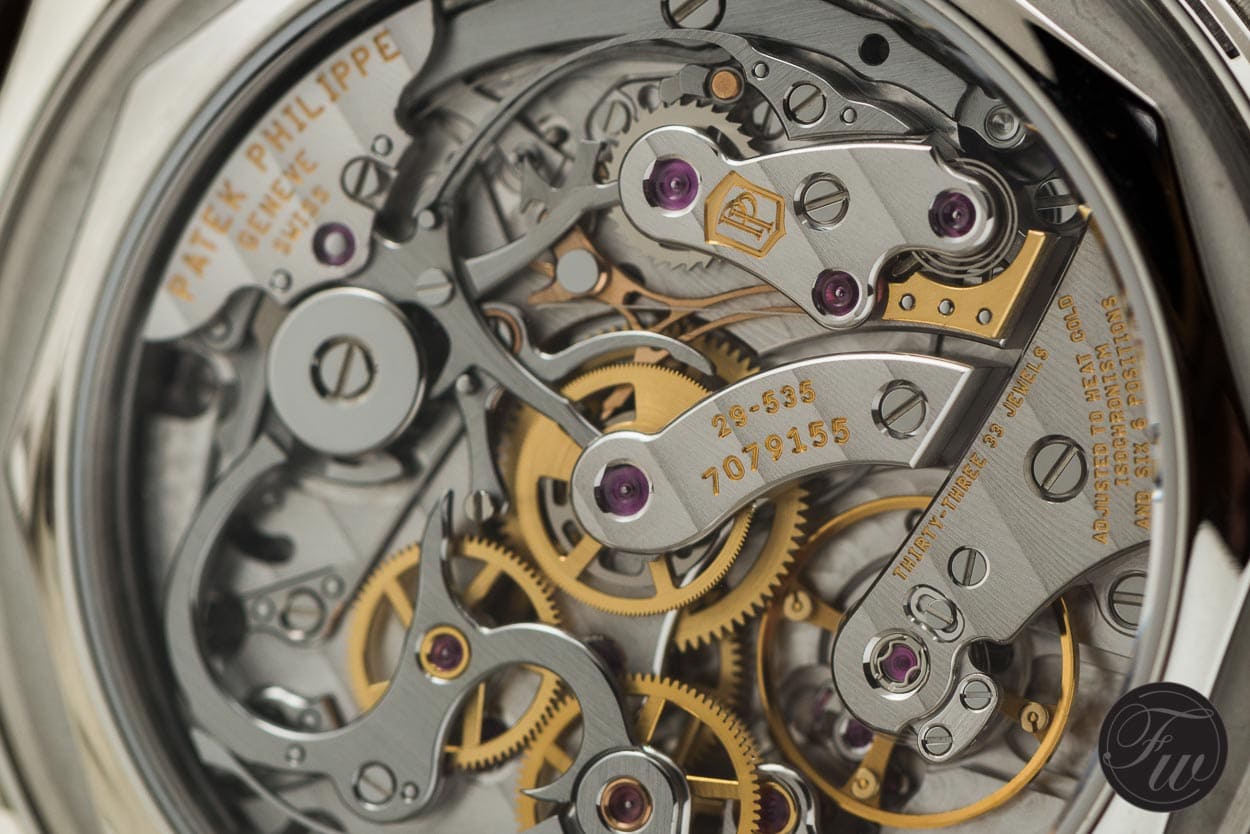 This Patek Philippe calibre CH 29-535 PS Q movement consists of 456 parts and has a height of 7mm. A power reserve of 55 hours is guaranteed, but when you refrain from using the chronograph it has energy up to 65 hours.
The perpetual calendar complication doesn't need further explanation for you I think, and if you wind it daily, the calendar does not need a correction until February 28, 2100, because this is a secular year that by
exception omits the 29th of February.
11 Indications On The Dial
Despite all the information that is being displayed on the salmon dial of this Patek Philippe 5270P, it is still very readable. I am not particularly a fan of the combination of the rose dial colour and the white discs used for day, date and leap year, but it does give enough contrast and looks better than the cream dial / white discs of their reference 5320G Perpetual Calendar. On the dial, we find the hours, minutes, seconds, chronograph seconds, chronograph minutes, day, date, month, moon phases, day/night indicator and leap year. That makes 11  indications in total. Yet, Patek Philippe manages to keep things organized and very easy to read for its wearer.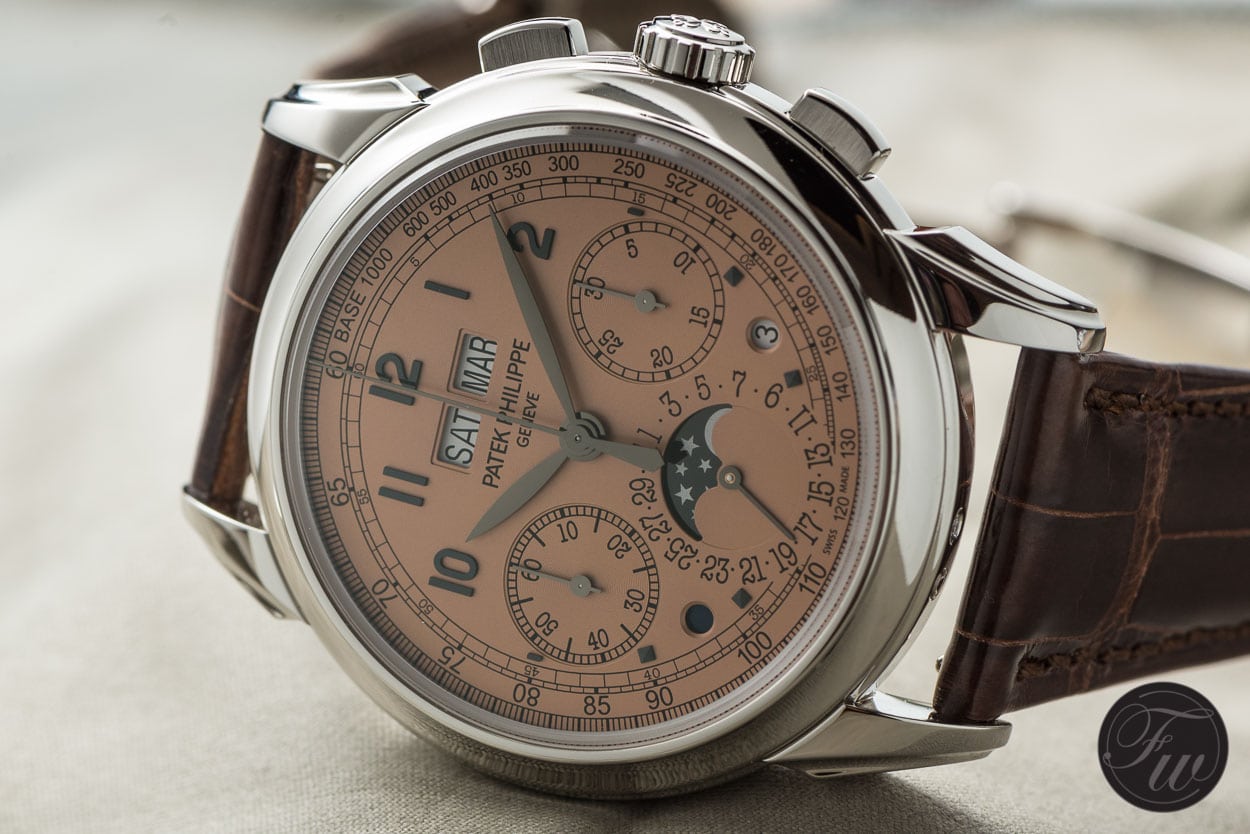 The small round indicator at 4.3o might need a bit of explanation perhaps. This is the leap year indicator of the Patek Phillipe 5270P. As you can see, it now displays an Arabic numeral '3'. A '4' would indicate that it is a leap year, a '1' means it is the first year after the leap year, a '2' for the second year after the leap year and well, the '3' means, of course, it is the third year after leap year. This also means that this watch was not set correctly, as we are in between leap years (2016 and 2020).
When you observe the salmon dial of the Patek Philippe 5270P more closely, you will discover that only the 10, 11, 12, 1 and 2 o'clock hour markers have Arabic numerals. The hour marker at 6 o'clock had to make way for the date indicator. Although this would normally disturb me, the dial of this Patek looks actually nicely designed and balanced. This might have to do with the use of Arabic numerals on the upper half only, as well as the variation of small indexes for the lower half.
Setting and Correcting
Winding, setting and correcting the time and calendar is done by using the crown and four correctors. These small correctors, also described by Patek Philippe as push pieces, should be only used with the appropriate small tool that comes with the watch. These small correctors can be found between the top lugs and lower lugs as well as at the left side of the case. With these small correctors, you will correct the day, date, month and moon phases.
Some Thoughts On The Patek Philippe 5270P
This 41mm Patek Philippe 5270P is the successor of the 40mm 5970. My colleague Balazs once wrote that the 5970(R) would be his choice if he could pick any watch. It was also a huge favourite by our friends over at Hodinkee as they claimed in 2016, and I completely get that. However, I don't mind the extra millimetre in diameter and I somewhat like it that this 5270P (the 5270 was already introduced in 2011) has a completely in-house developed movement instead of a Lemania-based perpetual calendar chronograph movement. What makes the Patek Philippe 5270P so special (to me), besides the complications, is the platinum case and the beautiful salmon dial.
This platinum version is the only Patek reference 5270 available on a leather strap, as the other version (in rose gold) has a gold bracelet. You can always have that swapped for a leather strap of course, but I found this to be a remarkable available selection of this reference. As written at the beginning of this article, the prices of these two variations are very close to each other, so it is a matter of preference for colour and bracelet/strap.
The Patek Philippe 5270P is a stunning watch, as is the 5270/1R for that matter, and those who are fortunate and lucky enough to buy one will actually give it some wearing I hope.
This perpetual calendar chronograph in platinum retails for 168.340 EUR / 187,110 USD.
More information on Patek Philippe online.