Only Watch 2019 – Our Picks!
Some picks from our editors for the 8th edition of the auction
This year we'll already see the 8th edition of the Only Watch initiative. The biennial auction of unique luxury timepieces from which 99% of the proceeds go directly to muscular dystrophy research projects. For the Only Watch 2019 auction, 50 timepieces are generously provided by their manufacturers.
Of course, at Fratello, we've been following the Only Watch initiative from the beginning and respect its noble cause enormously. We're glad to see that in the last seven editions no less than 40 million Swiss Francs have been raised and used to change the lives of thousands of children, teenagers and young adults around the world. Besides the results of the auction, we're always interested to see which unique timepieces made the entry this time. And of course, most members of the Fratello team have their preference. Read on, and you'll learn about some of them.
Jorg – Audemars Piguet Code 11.59 Tourbillon Openworked Only Watch Edition
Back in January of this year when Audemars Piguet introduced Code 11.59 at the SIHH 2019, it was the one watch that everyone had an opinion on.  There was quite a great deal of criticism centered around several design choices that were made by Audemars Piguet. With the unique two-tone Code 11.59 by Audemars Piguet Tourbillon Openworked especially produced for the Only Watch auction, the brand proves that a lot of the criticism is certainly not relevant to each of the Code 11.59 models. I would go even further and personally, and I think this one of a kind version highlights the absolute best of what the Code 11.59 has to offer and what makes it a unique watch.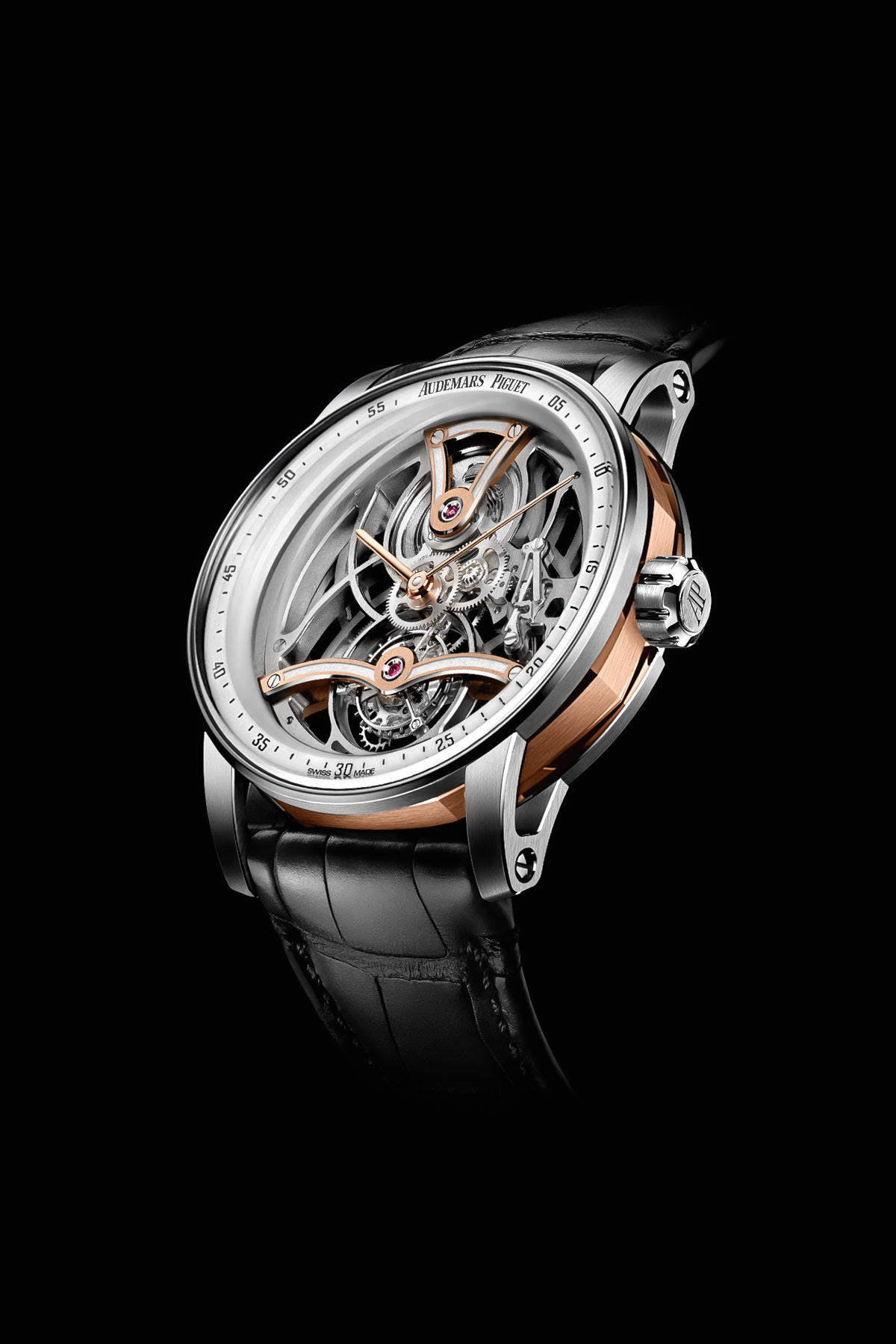 For the Only Watch auction, Audemars Piguet chose to create a particular version of the Code 11.59 Tourbillon Openworked. It's one of the two models of the Code 11.59 – along with the Perpetual Calendar – that people were most impressed by after introduction. The basis of the unique character of this version of Code 11.59 is the 41mm two-tone case that shows off the complexity of the design of the watch.  For this one-off version, Audemars Piguet created the central case from 18K pink gold and the round bezel, characteristic lugs and caseback from 18K white gold. The combination of shapes, materials, and finishing creates a striking contrast that perfectly shows the ingenious construction of the case of Code 11.59.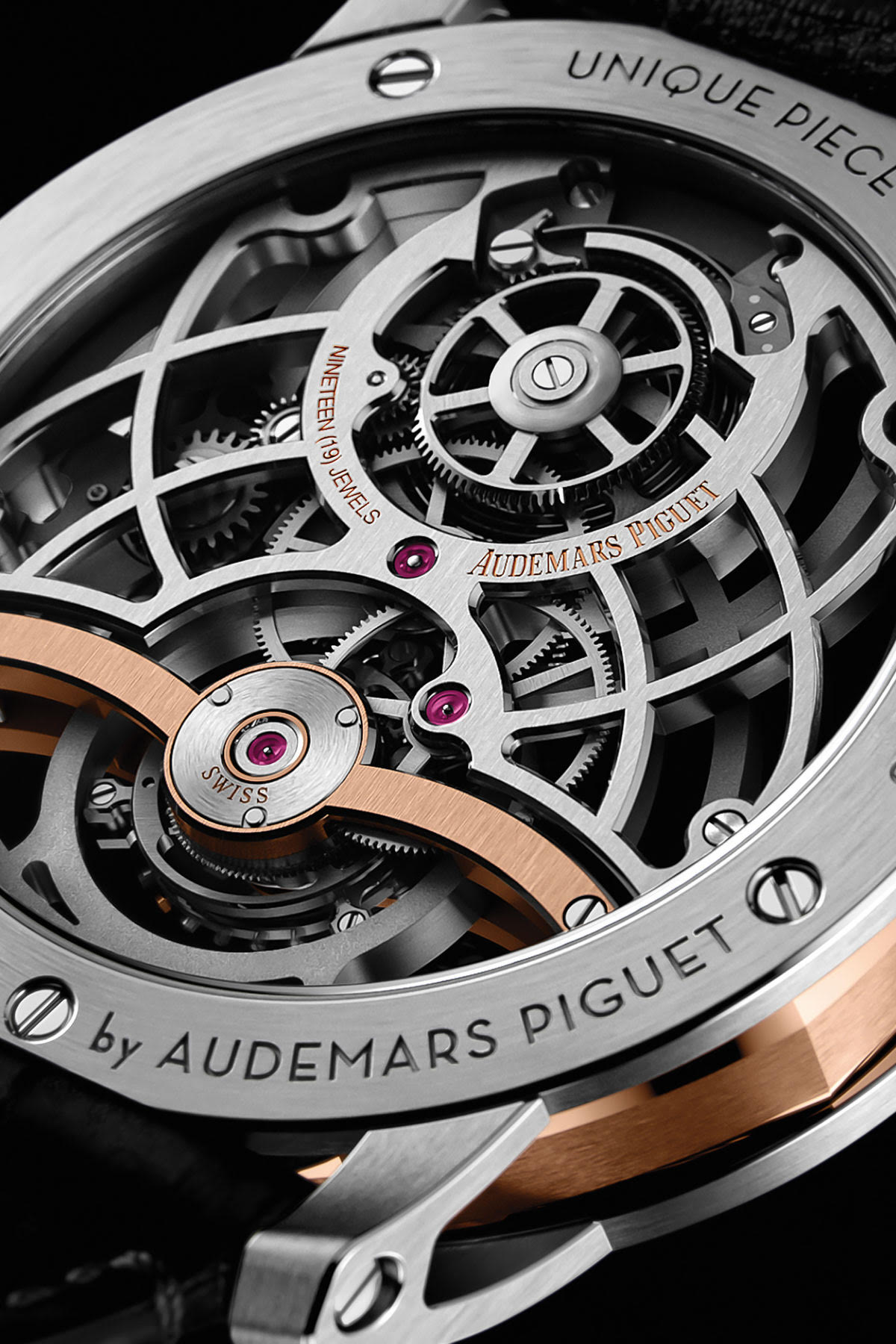 The movement also further strengthens the two-tone character of the watch. The watch is powered by the hand-wound AP caliber 2948 that is fully skeletonized, revealing the inner parts of the in-house produced movement. Most of the movement is rhodium toned contrasting with the pink gold-toned titanium tourbillon, barrel bridges, and 18k pink gold hands. The movement is framed by an opaline silver-toned white gold inner bezel. This unique version of the Code 11.59 comes with a black alligator strap with an 18K white gold folding clasp. The Code 11.59 by Audemars Piguet Tourbillon Openworked Only Watch Edition shows that the two-tone execution watch truly adds to the impact and beauty of the Code 11.59.
Hopefully, we will see more executions like this of the Code 11.59 as this unique piece is reserved for one lucky buyer at the Only Watch auction on the 9th of November.
Sky – ArtyA, Son of Earth Precious Butterfly Engraved 1/1
ArtyA stands for Art by Yvan Arpa. As evident in the name, the brand exists to cross-breed Art and Swiss watchmaking, in a new way that spawns high-end unique pieces. The result is a vast array of designs that are mind-blowing for such a small workshop, and undefinable for a conservative industry. When asked how he manages to be prolific, owner/creator Arpa, a self-confessed troublemaker in the watch world, has no qualms about telling you with a wink, 'We drink a lot.'.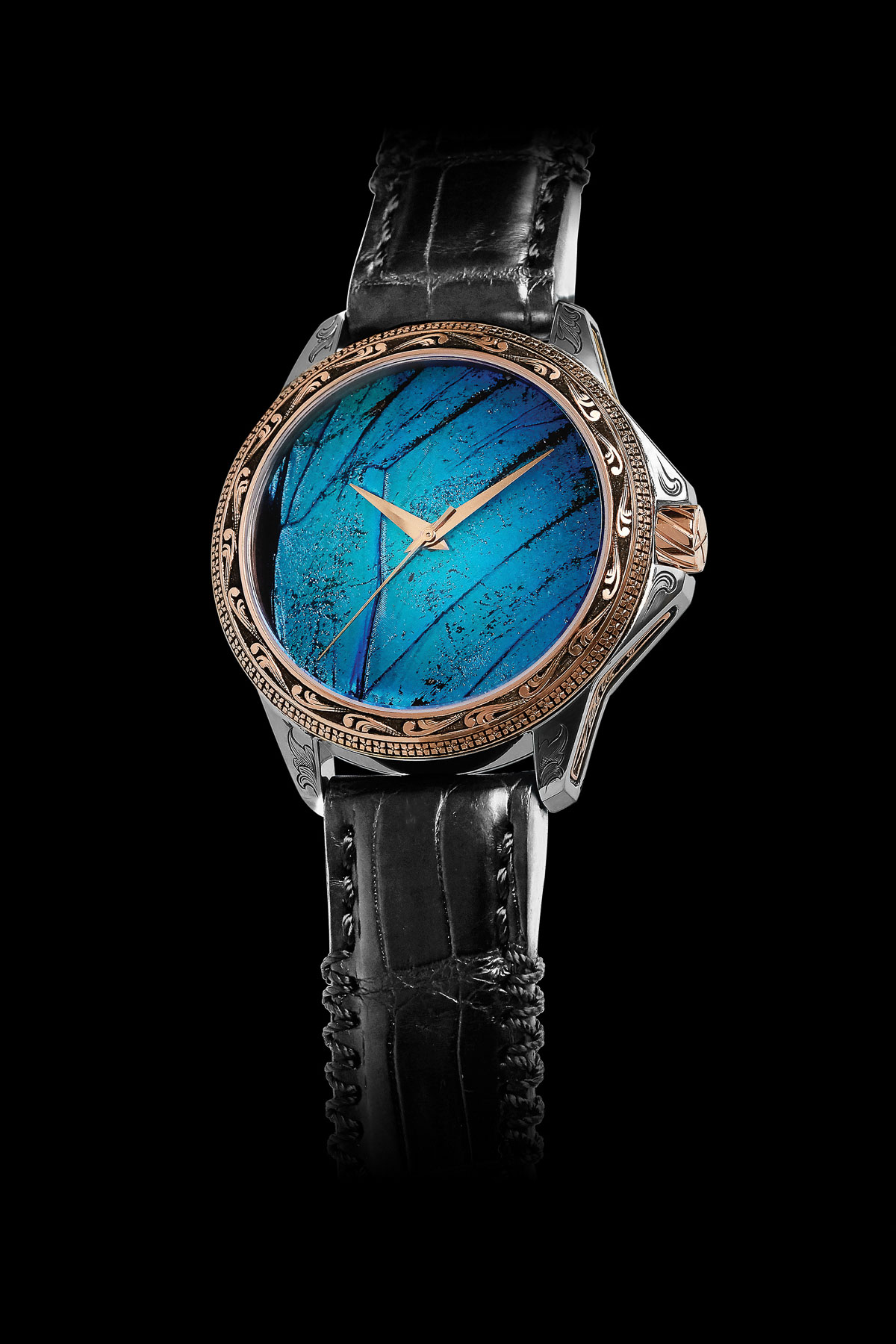 Thanks exactly to that streak of audacity and humor, ArtyA watches are provocative and distinct from a distance. They are at once emotionally charged and wittingly well-crafted. There is little surprise when you look at their list of patrons, it reads like the who's who of aces and power. Based in Geneva, ArtyA is a select team of specialists in their crafts. Arpa himself hails from leadership roles creating watches at RJ, Hublot, and Baume & Mercier. Creating a one-off timepiece for Only Watch must be a walk in the park for ArtyA.
The Precious Butterfly Engraved 1/1 is an addition to the Son of Earth collection, which features dials that incorporate 'Mother Earth' elements such as tropical butterfly wings and natural pigments. The dial of the auction piece is handmade by accomplished artist Dominque Arpa-Cirpka with a real butterfly wing in the Watch Only 2019 theme color. She applies techniques from the art medium, which were unprecedented in watchmaking. The case is entirely hand-engraved with an 18K gold bezel and lateral inserts. Behind the dial is ArtyA's own automatic "Aion" Swiss-made COSC certified movement. The piece-unique is mounted on a sturdy crocodile strap.
As in Art, you know when it "speaks to you". For the upcoming auction, it is the combination of skill, creativity, and provenance that make this piece impossible to ignore
Gerard – Czapek, Faubourg de Cracovie Only Watch 2019 Courage Every Second
Admittedly, the choice for Czapek's Only Watch 2019 entry is pretty much unfounded. I mean, there might be some slight preferences, technically or design-wise, but we're looking at 50 extraordinary timepieces which all have to be respected equally. So my choice is made by respect anyhow, and it just happens that not long ago, during one of my visits, I learned to respect Czapek a lot. Czapek happens to be a rather small company. Czapek's CEO Xavier de Roquemaurel orchestrates more or less the know-how of selected partners to produce his timepieces. More than producing these timepieces all in his own house. For such a small company, generously offering a unique watch to the Only Watch organization means a lot.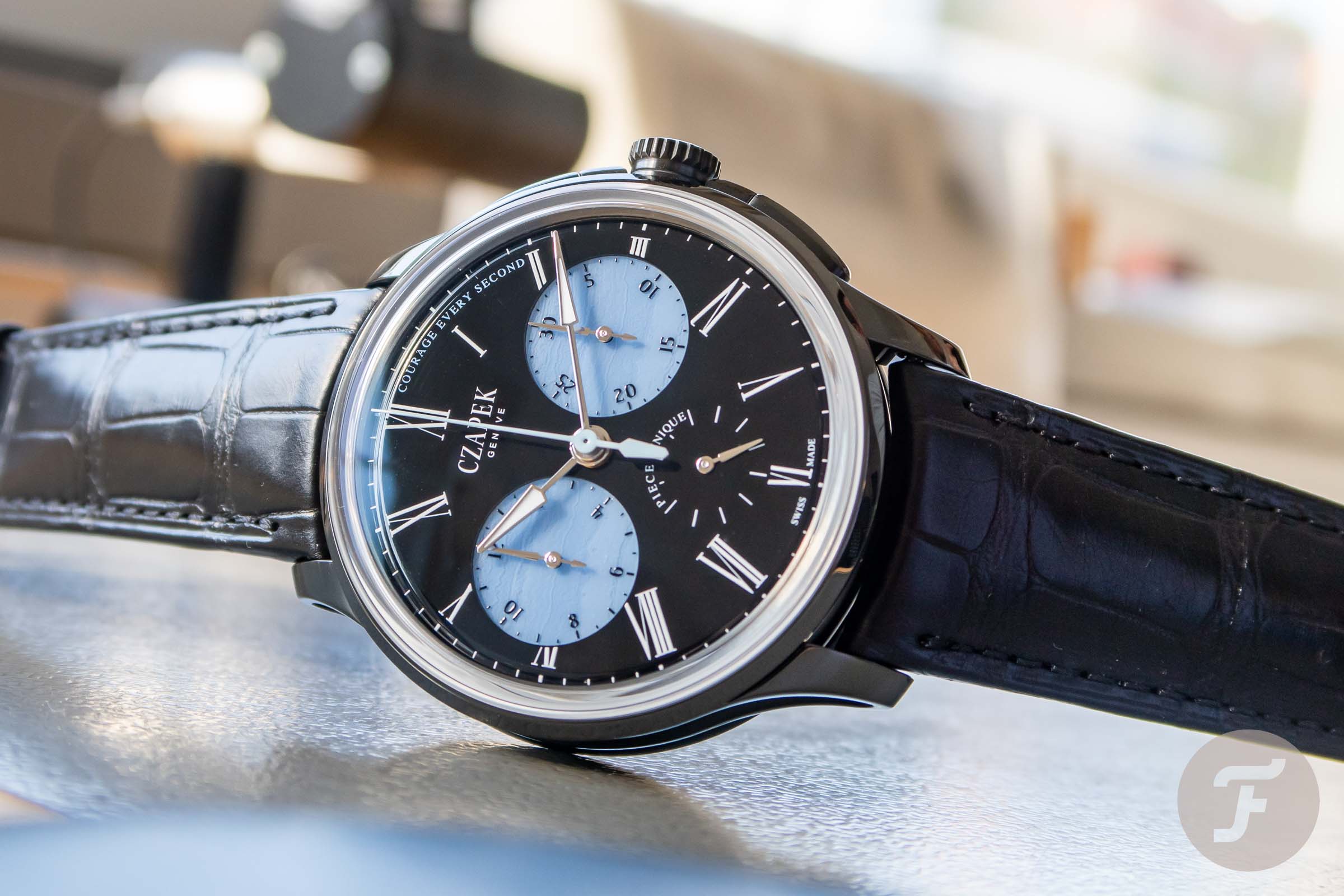 The watch Czapek came up with for Only Watch 2019, is a one-off variation in its popular Faubourg de Cracovie chronograph series. The movement used remained the Czapek caliber SHX3, an exclusive personalized and modified caliber made by Vaucher. Unique for this Only Watch edition is the grade-5 titanium case with ADLC coating, and of course, the magnificent black onyx dial with light blue chalcedony counters.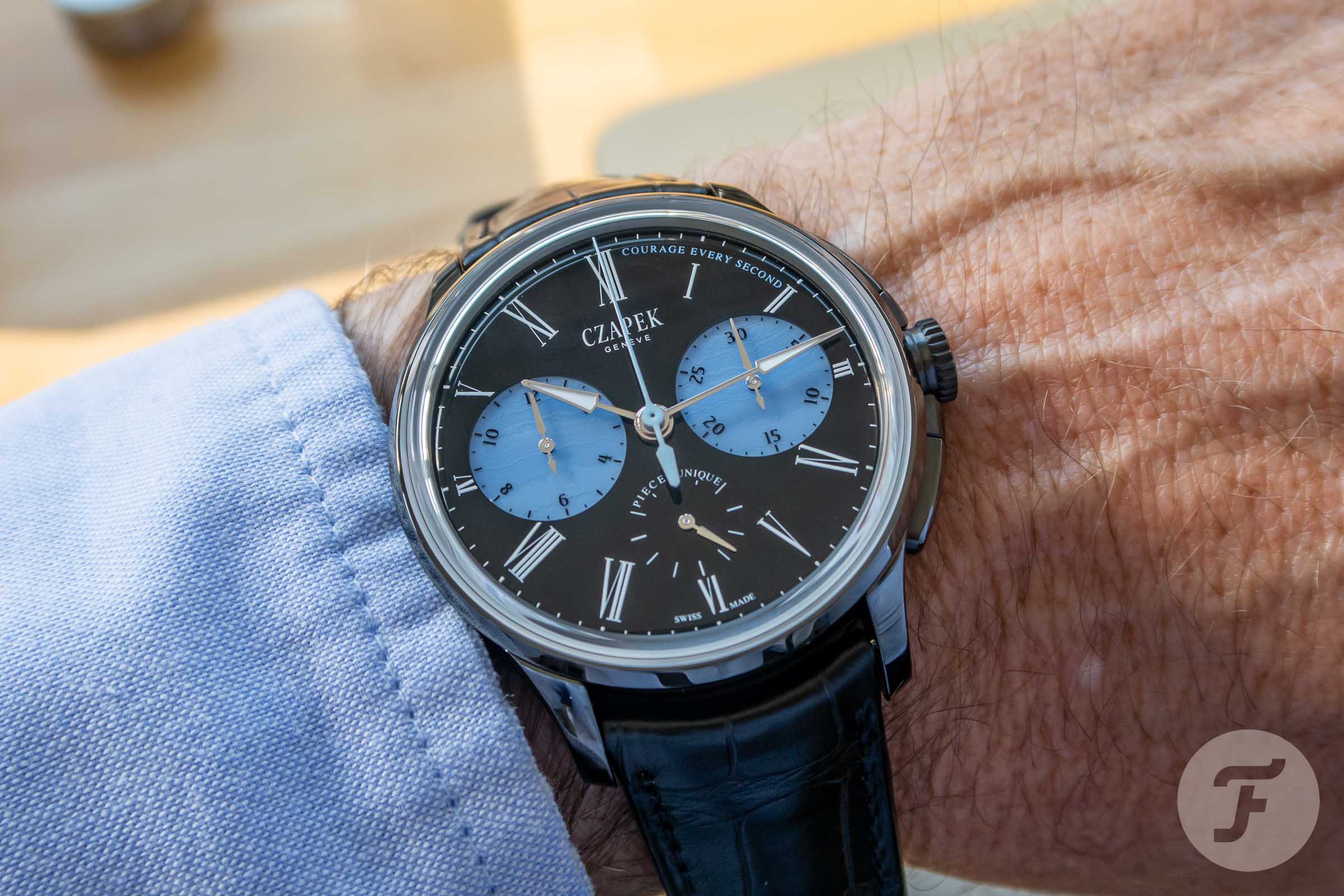 During my visit mentioned above, I had the opportunity to have a look at the watch in a pre-definitive stadium already, and even put it on my wrist. It can be seen that the color of the large chronograph second hand of that model still needed some finetuning to be adapted to the color of the chalcedony counters. But all in all, it was a watch with a beautiful presence, without being overly present. You'll find in-depth information on the watch here.
The auction estimate for this watch lays between 24,000 and 36,000 Swiss Francs; let's hope it'll fetch fifty!
Mike – Zenith El Primero A386
Even though I'm a pretty traditional guy when it comes to my watch tastes, I was genuinely close to picking a bit of an avant-garde piece for my 2019 Only Watch selection.  But my true nature won out, and I chose what must be the nicest El Primero that Zenith has released this year.  Let's not forget that 2019 marks the 50th anniversary of the El Primero, the legendary high-beat automatic chronograph movement.  And the model that marked the introduction of the legendary line happened to be the stainless steel A386.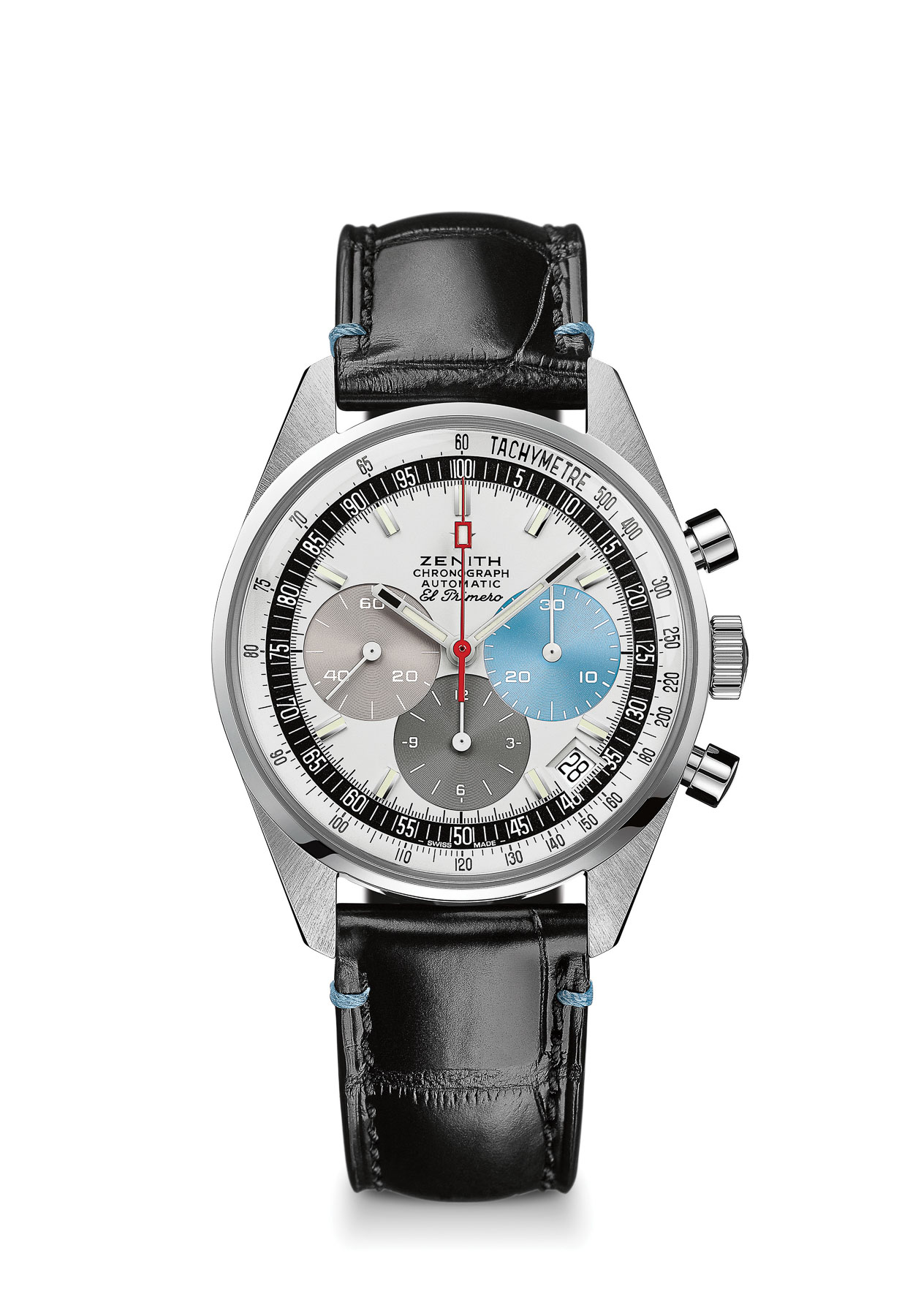 For Only Watch 2019, Zenith's entry could possibly be accused as a very subtle modification to the original, but I think it's an absolute stunner.  The original A386 came in stainless steel, but this entry brings precious metal to the game with an 18K white gold case.  But the real eye-catcher here is the rightmost sub-register that counts up to 30 minutes.  Instead of the historically correct dark blue, this Zenith uses turquoise, the theme color for the 2019 auction.  This color carries forward to the stitching on the black alligator strap.  It's a gorgeous chronograph that I'd love to call my own.  More information can be found here.
With an auction estimate of 19,900 – 29,900 Swiss Francs, this represents one of the more "approachable" pieces.  Let's see how it does!
Bert – Breguet Type 20
So let's get this right, to begin with. It's not an easy task to choose a favorite watch out of a list containing 50 amazing entries for the Only Watch auction. There are multiple watches that I could get used to on my wrist. Although I narrowed it down two possible brands for this article, one isn't a watch. Going through the list over and over again, my eyes came to a stop at the Breguet every time.
We've seen a great deal of vintage-inspired watches in the recent past. Something that I really dig, if it's done right. Too often you see re-editions which have a hint of their predecessors but are buffed up to modern specs too much in my book — losing the true beauty of what makes vintage watches so admirable. And when I look at this watch, which is based on the Breguet Type 20 as used by the French Air Force military, it simply ticks all the boxes. So close to the original with a modest 38,3 mm case, bi-directional bezel and pear-shaped crown, just as it was done back in the days.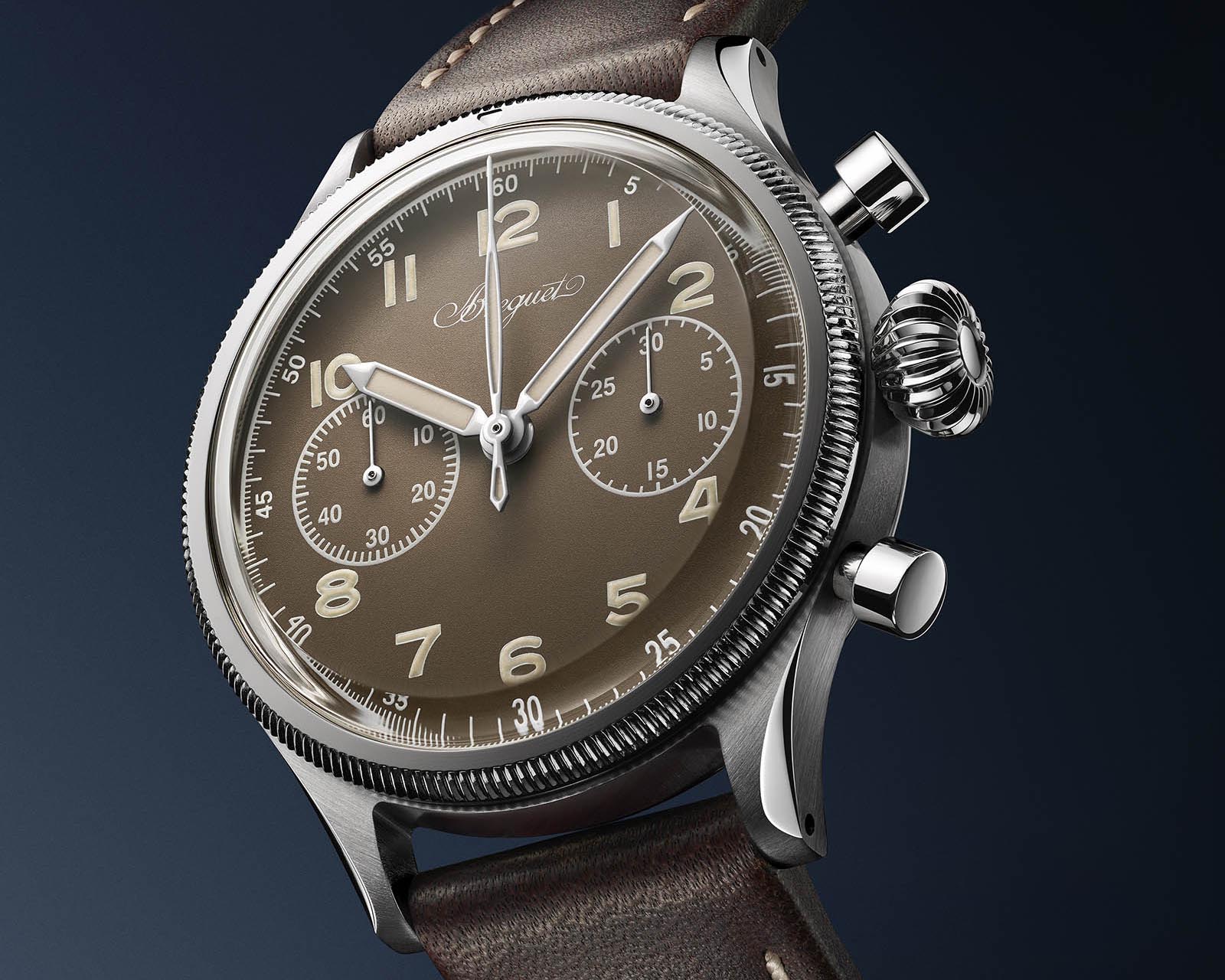 All that with a stunning 'tropical' bronze-colored dial and matching leather strap makes it an excellent piece for me. Even the chamfered (or beveled) edges on the lugs are done in the best way possible to recreate those great looks of the past. The same goes for the movement which is a Valjoux 235, derived from the original Valjoux 222. And hidden behind a closed caseback just at they did back then. The only downside to this watch is that there is only one.
Robert-Jan – Grönefeld 1941 Remontoire
I don't think I ever told them in person, but I have tremendous respect for Bart and Tim Grönefeld. Not only because they create the most wonderful watches, with an astonishing level of finishing, but also because they are very down-to-earth (a rarity in this industry) and very accessible by collectors and enthusiasts. Even after all these years of success, they remain to be cool guys with a tremendous entrepreneurial spirit.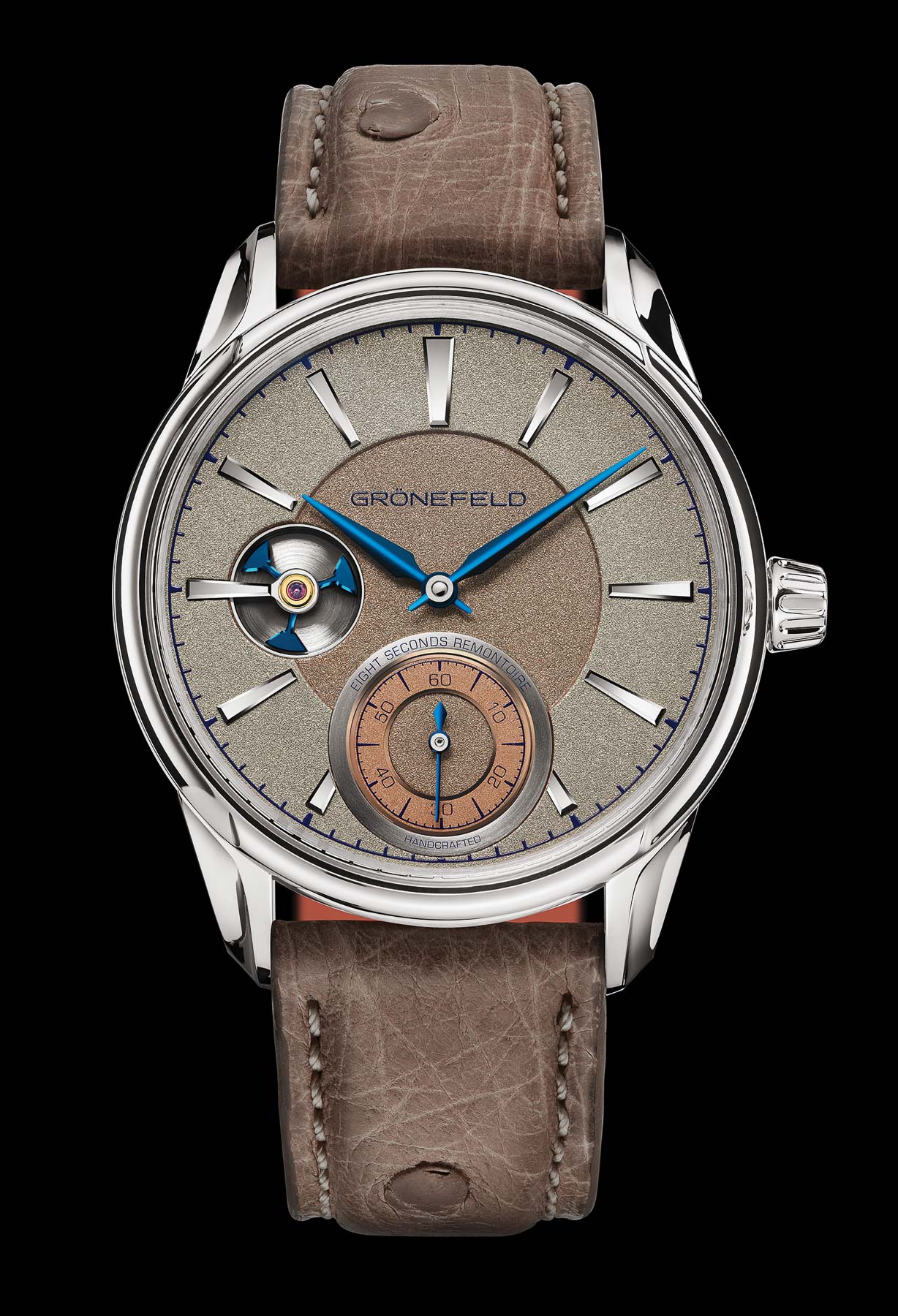 That's about the two horological brothers, but the same amount of respect goes to their watches. The Grönefeld 1941 Remontoire is my personal favorite for sure. But the Grönefeld 1941 Principia Automatic with light blue dial is a great runner up for sure. The 1941 Remontoire has this eight seconds constant force mechanism that ensures that the force is always the same, whether the mainspring is fully wound or almost unwound. As a result, the 1941 Remontoire has a movement that offers excellent precision. This is a very neat feature for sure, but also have a look at the fantastic finishing on the movement. Micro-blasted surfaces, hand-beveled bridges, and beautiful engravings make that this watch is as beautiful on the backside as it is on the front. For Only Watch 2019, Grönefeld created a solid silver dial with a very coarsely frosted surface. The applied hour markers have received a high polish with beautifully finished surfaces. I recently decided to part with most of my high-end watches (and I did), but when I choose to add another, a Grönefeld is definitely on the short-list. This specific Grönefeld 1941 Remontoire will be long gone by then, of course.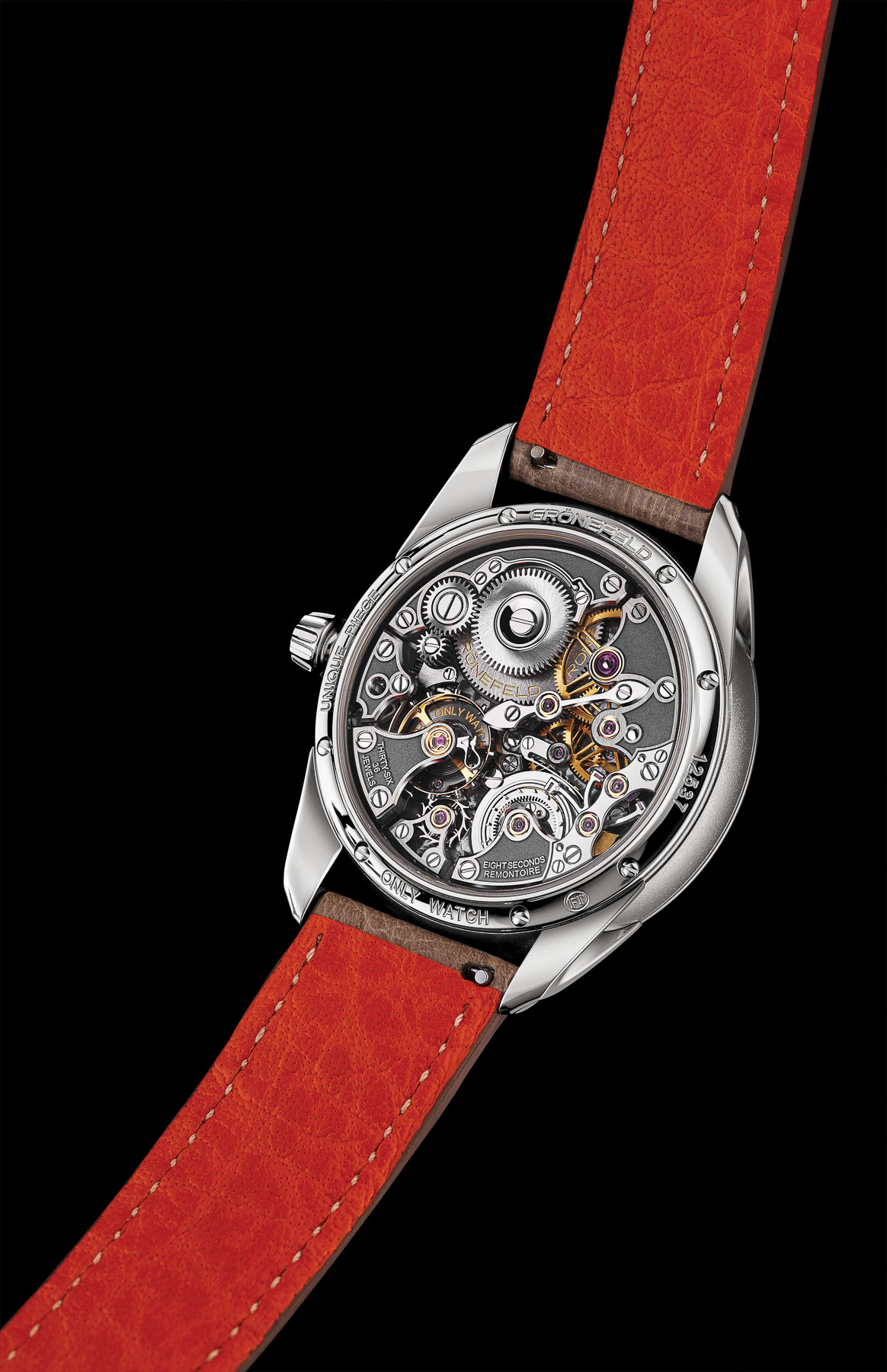 The estimate for this watch is set between €43.000,- and €62.000,-