Orient Star 43.6mm Dive Watch Reference AU0303B
A left-field option for those seeking something different
This watch has been on and off my wrist for the past ten weeks. It's been an emotional journey. Our time together has not all been plain sailing, but I (at least) have learned quite a lot from it. Crucially, this 43.6mm wide Orient Star dive watch reminded me why I like reviewing watches and, more importantly, why the world needs people to do it.
Reviewing watches is not a chore. It would take a disgusting level of First World privilege to complain about having to pass judgment on luxury timepieces. However, we are charged with responsibility — a responsibility to be honest. I see more and more watch news outlets around the world diluting their opinions or "momentarily shelving" them in the name of lucrative media partnerships. I get it. Really, I do. I'm not so naive as to imagine everyone is in this for the love of the game. But the sad truth is, biased content is not only useless, but it is also damaging. And it isn't just damaging to its consumers who might well make purchasing decisions based on it, but, perhaps worse still, it is damaging to the long-term health of the industry.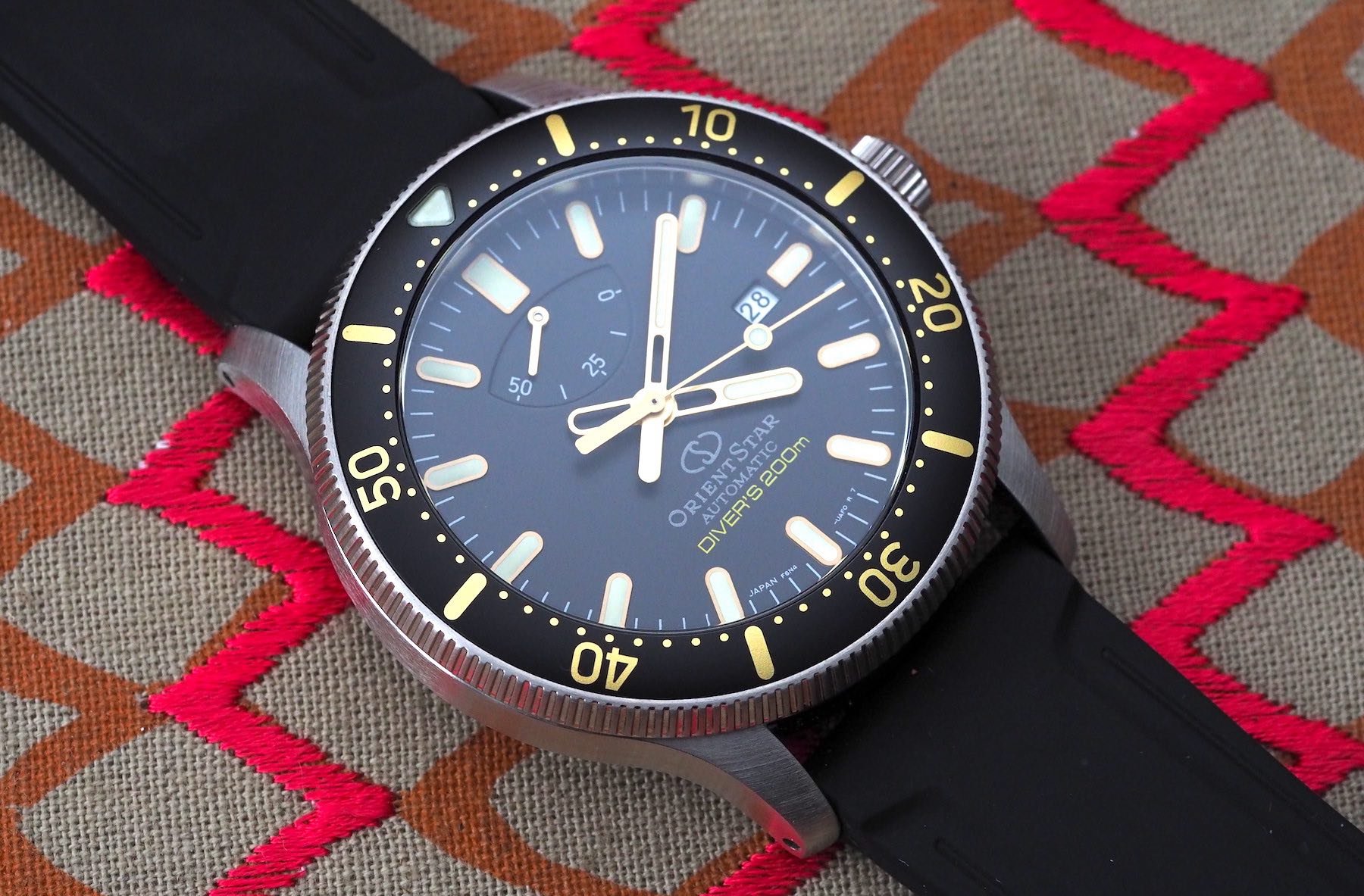 The master tapes of Fraggle Rock
Imagine this: every major watch blog on the internet decides to abandon their critical voices in favor of establishing pocket-lining partnerships with every brand — major, minor, and micro — resulting in a deluge of dishonesty. Consumers make choices based on this vapid bumf and find themselves disappointed. Worse, some find themselves alienated.
…the sky eventually falls on our heads.
That alienation grows. The once-trusted media outlets are outed for the shills they have become. Brands lose their most immediate link to their consumers and are forced to suddenly master online media overnight. They invariably fail. The watch industry collapses. The master tapes of Fraggle Rock are destroyed in an accidental fire. As Asterix feared it might, the sky eventually falls on our heads. The world turns inside out and we all cease to exist.
Terrifying, right?
Sorry about the Fraggle Rock apocalypse…
Okay, okay. So I might have gone a bit far. I'm sorry for the Fraggle Rock comment. That was just masochistic… But my point is this: brands must be criticized when they don't do things well. Without that criticism, everyone suffers. The consumer gets sub-standard products. Blogs lose their credibility. Brands find their reputations dragged through the mud (and for good reason).
…you really do have to be cruel to be kind.
We reviewers may think we're doing our friends the brands a favor by not calling them out when they do something mildly or entirely ridiculous, but we're not. Sometimes, you really do have to be cruel to be kind. Our industry is much more reliant on the unbiased, straight-up, nitty-gritty honesty that made the major blogs popular in the first place. I was reminded of this by my time with the Orient Star reference RE-AU0303B — a watch I love and hate in equal measure.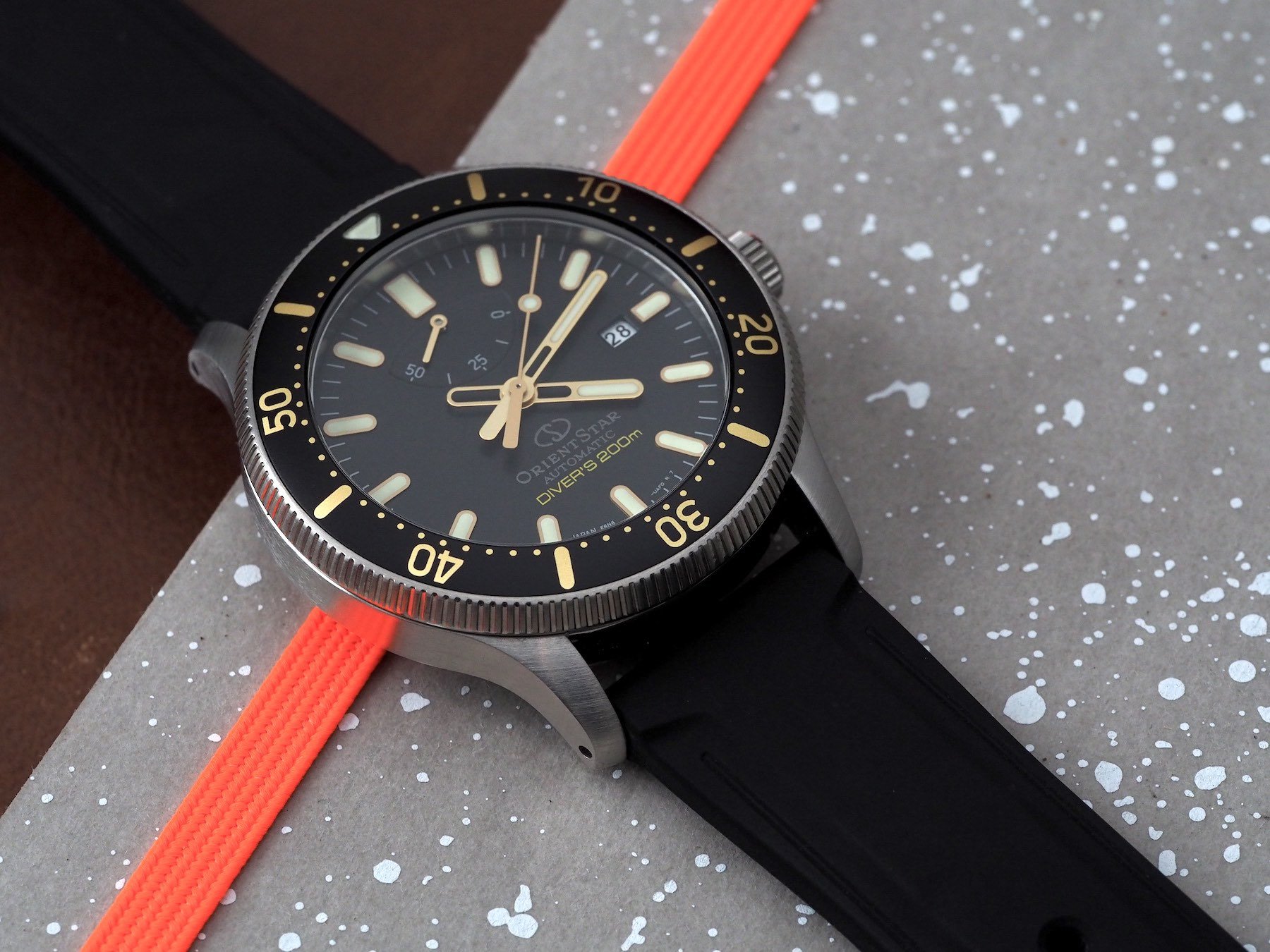 Life is a rollercoaster
I first encountered this watch on February 14th, 2020. The green version of this model was proudly displayed on the Orient/Orient Star stand at Inhorgenta, Munich (reference RE-AU0307E). I was very much enamored of it. Consequently, I agreed to review it. A couple of weeks later, reference RE-AU0303B turned-up on my doorstep. Despite being the wrong watch, I wasn't too bothered. The black, although less exciting than the green, was certainly the more versatile of the two.
…between this beauty's lugs…
The biggest difference between reference RE-AU0307E and reference RE-AU0303B (aside from the color scheme) is that RE-AU0307E comes on a bracelet. Now, this may not seem like a particularly big deal (it is easy enough to change a strap for a bracelet, after all) but it is where my rollercoaster relationship with this watch begins. Although I regard myself as a gentleman, my eyes were instantly drawn to the spot between this beauty's lugs (on the first date, and all). What I saw glinting back at me would forever change this growing thing between us…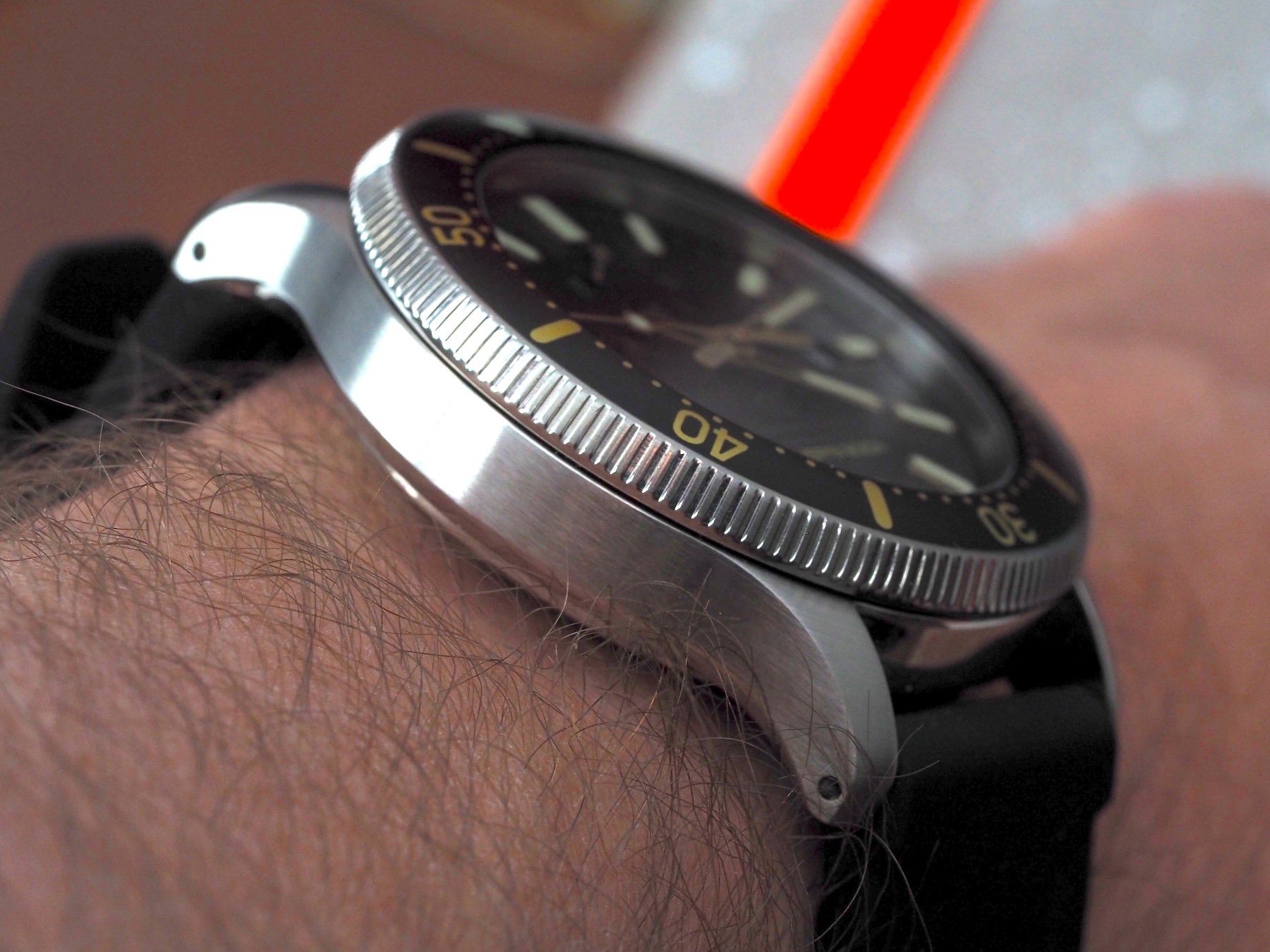 An underrated art
Case finishing is an underrated art. It shouldn't be sidelined in favor of, well, anything. Everyone seems so bothered with the movement that it's hard for the humble housing to get the respect it deserves. But the Orient Star RE-AU0303B really deserved better. Allow me to explain…
For the most part, this case is pretty well finished. The case flanks are straight-grained and the lug tops have been circularly grained. Both have been done very nicely. The transition between the two? Crisp. So crisp, in fact, that this case would have been on the road for a pretty impressive score were it not the wobbly mess on show between the lugs…
It really, really, really would have been worth applying a verticle grain or even a blasted finish…
Between the lugs, the case is polished. I would assume that this entire case was polished in this way before the sides and top surfaces were submitted for brushing. It really, really, really would have been worth applying a verticle grain or even a blasted finish to the area between the lugs (which is entirely obscured by the bracelet I'd originally encountered this watch upon). Instead, we are left with a "mirrored" surface that would not look out of place in a house of horrors.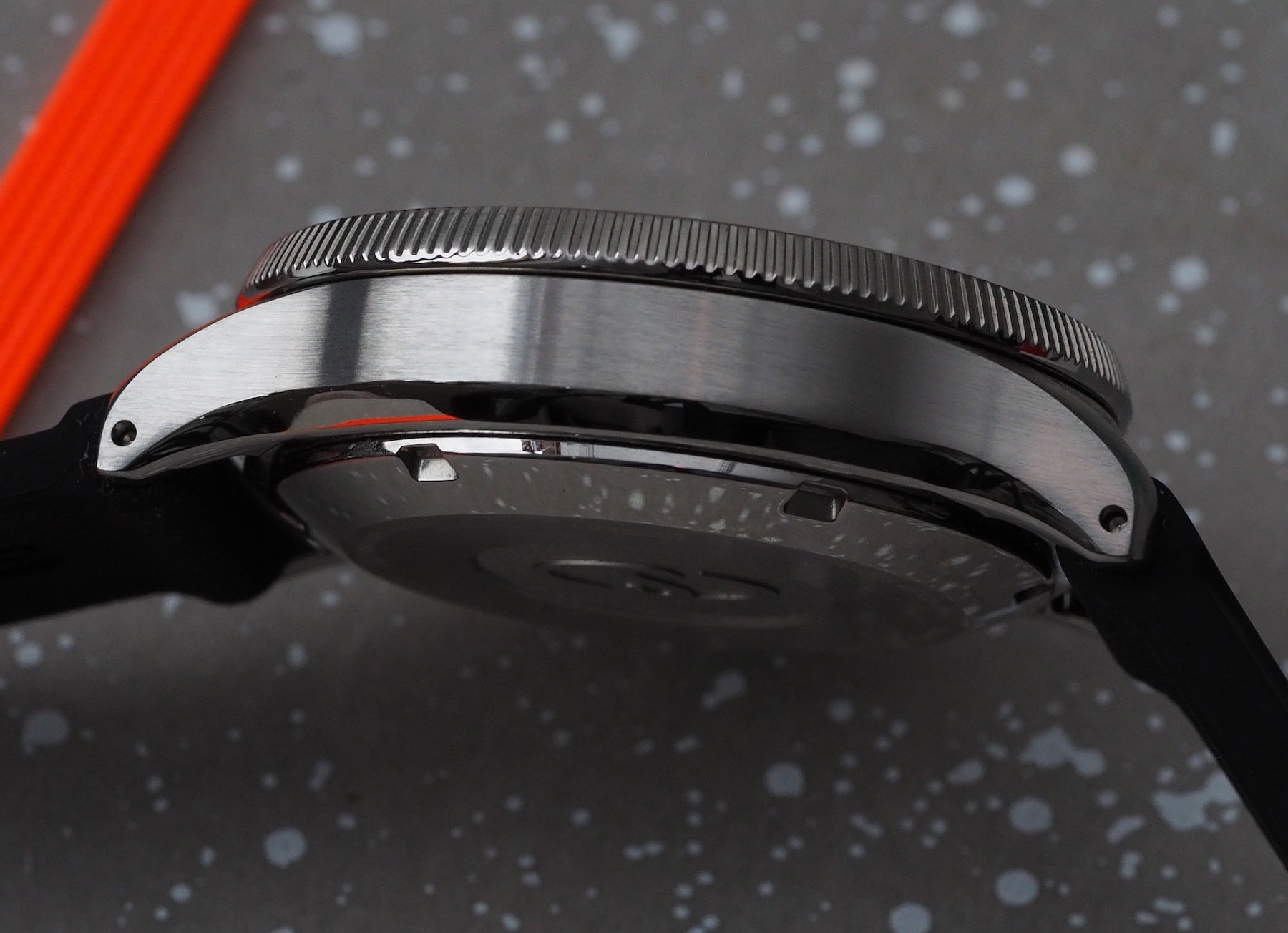 Self-aware
A couple of weeks ago, the team and I visited the Grand Seiko boutique in Paris. I know you're probably sick to the back teeth of hearing us bang on about Zaratsu polishing, but there we were shown a little trick to check how "true" a polished surface is. We were given a sheet of paper printed with text and told to hold a Zaratsu polished surface against the text at an angle and read the text off the watch instead of the paper. The lack of distortion was remarkable. I had a couple of other watches in my bag and tried to perform the same trick. The difference was stark.
Now, this Orient Star is not in the same price range as Grand Seiko. And while it does come into direct competition with some of the pricier Seiko models, I'm not mad at this piece for failing to best Japan's most respected and enduring duo. No, I am bad because this kind of thing is unnecessary.
…if you can't do something well, you shouldn't do it at all.
In the sub-€1,000 bracket, I do not expect world-class polishing. What I do expect, however, is for a design team to be self-aware. I do expect someone to point out that if you can't do something well, you shouldn't do it at all. Does this watch need material between its lugs? Yes. Does that material need to be polished? No. Would it be totally fine if it were grained or blasted? Uhuh. It really would have been fine. And it would have saved me about 500 words and you from missing your train. Sorry, again.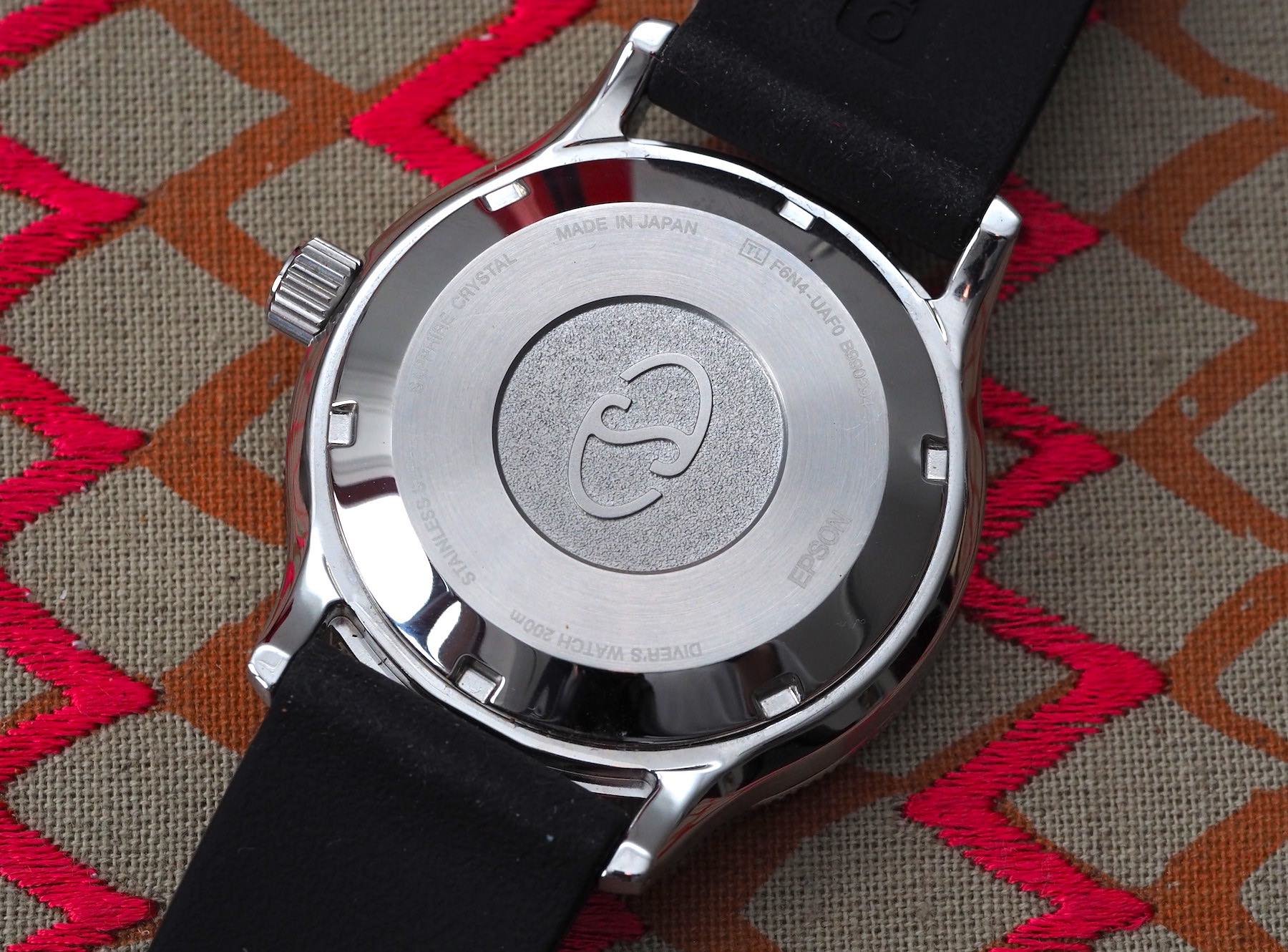 A barrage of good points
Okay, let's boost the positivity for a moment here. This watch has some really nice elements. Firstly, the case back is smart, wisely unambitious, and excellently executed. It has the Orient star logo in the middle, set against a mottled background. The perimeter is polished, the rest of the case back is brushed. It is exactly what I like to see on a serious dive watch. Do I object to a cartoon diver or a sea monster? Heck, no. But do I respect a back that's all business? Heck, yes.
The lugs are drilled. Rejoice.
No, but seriously, this watch head is a strap monster. It is a darn shame about the polished between the lugs, but if you put it on a chunky ZULU or NATO as I have done in the lead image of this article, those shiny surfaces are really obscured.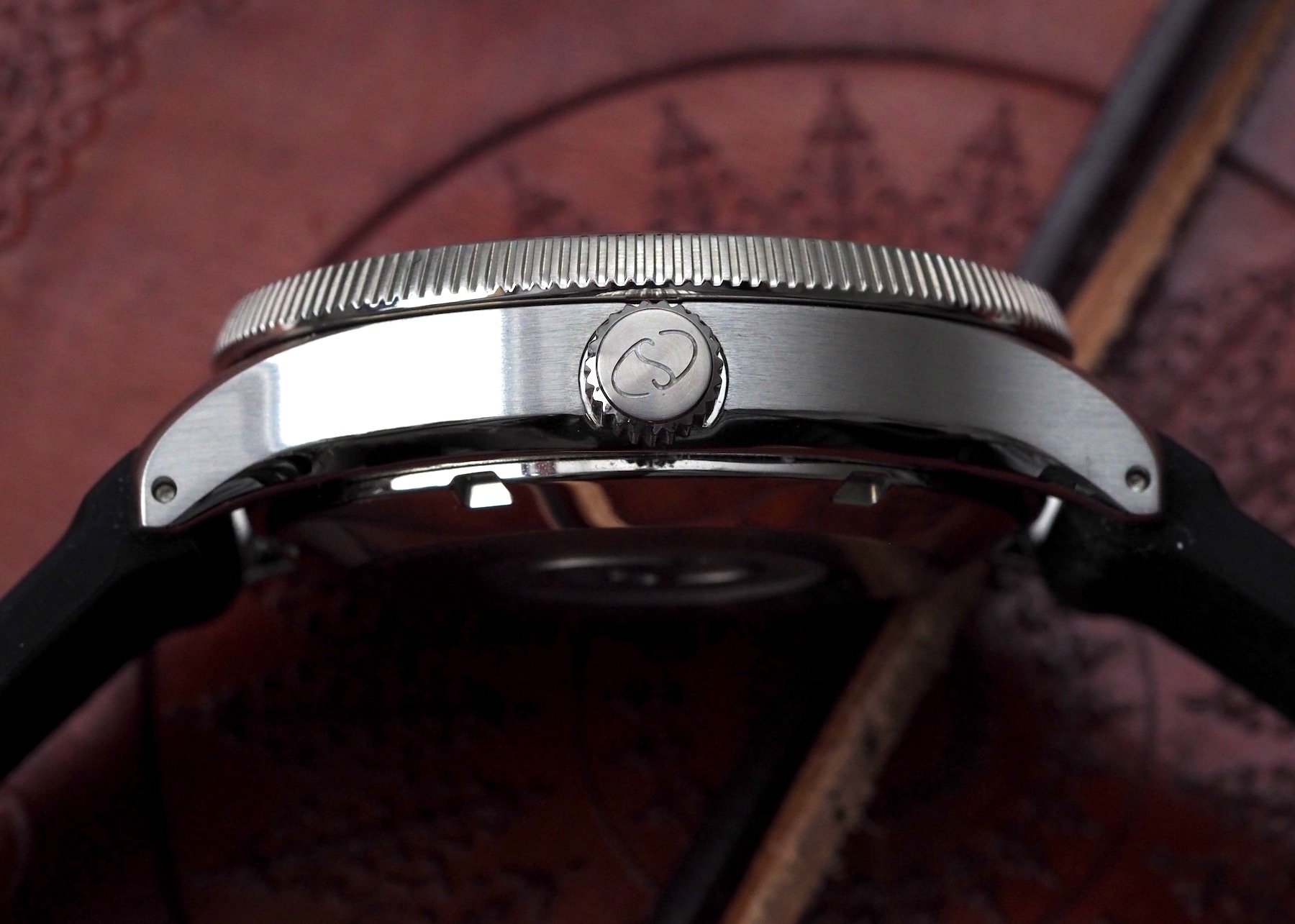 A delightful crown
I love the crown. It reminds me of the crown on the Seiko SLA037J1 except it costs about five grand less (result). It is easily "gripable" (not yet a word — should it be a double "p"?) and expertly machined. Is it a bit boring? Perhaps, but I think it is brilliant. It is easy to use, doesn't shred the skin on my stubby-but-sensitive fingers, screws-down without struggle or complaint, and is signed with the Orient Star logo we also find on the case back.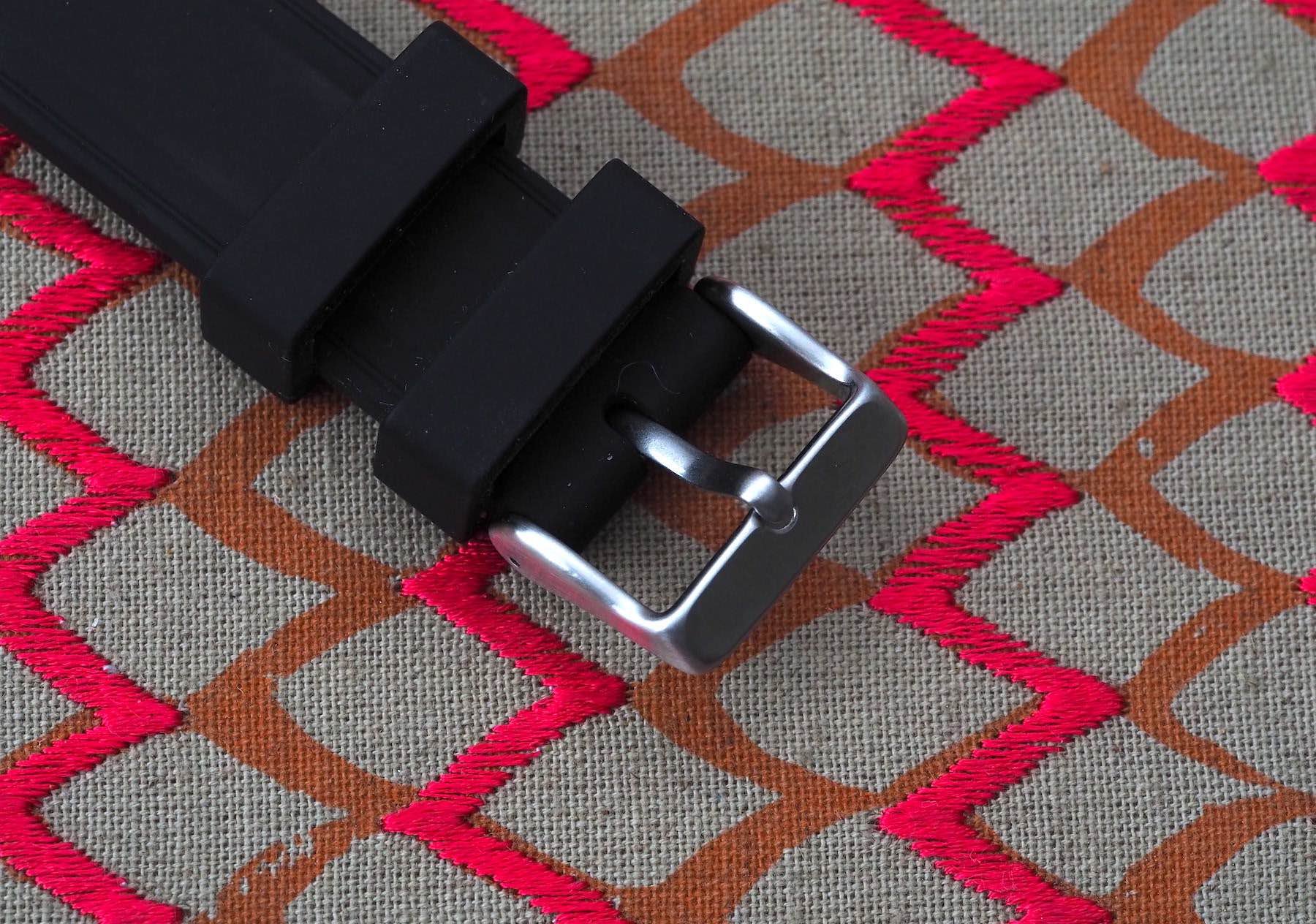 Buckle up, this part is rough
And as for the final external element — the strap — I have, once again, a mixed bag of takeaways. Firstly, it is made from silicone. I do not love silicone. The best thing about it is that as soon as I strap it on my wrist I am at least consoled by the fact that there is less dust somewhere else in the world. The rush of altruistic euphoria does not, however, last long enough for my liking. Note to the industry: please make rubber straps out of rubbers that do not love dust. Thanks.
… it gets 0/10 for creativity.
The buckle is a disappointing afterthought. It is unsigned and looks like the kind of buckle you'd receive on a strap from the strap manufacturer as a placeholder. It works. It's fine. But it gets 0/10 for creativity. The strap pattern, however, is decent. It is just decorated enough to make the decoration's existence worthwhile. It actually does a fine job of looking smart of the wrist until it starts doing an impression of a sheep three minutes into general wear.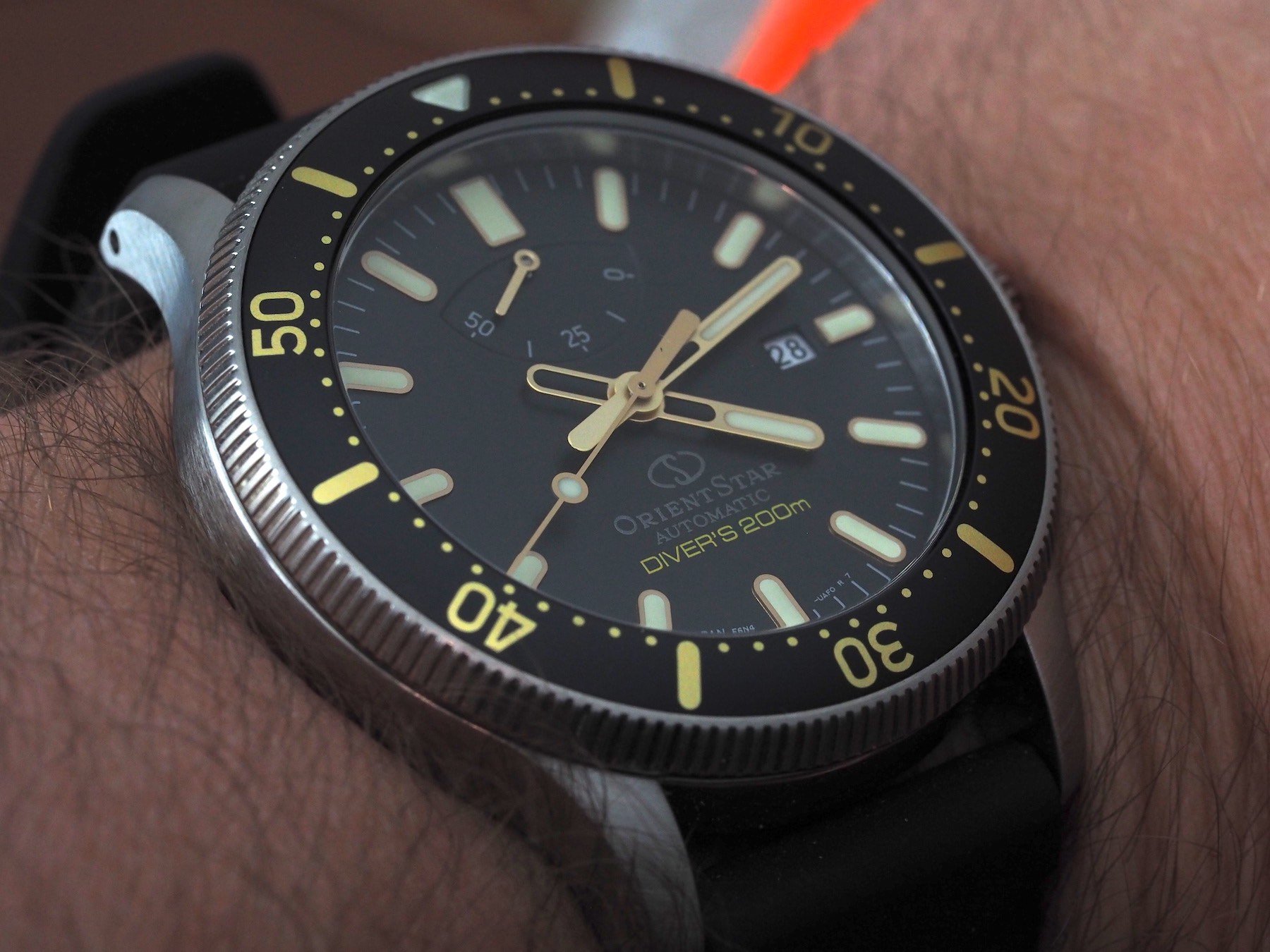 Soft to the touch
Honestly, it is incredibly comfortable. The textured finish on the back of the strap is very soft to the touch and nice against the skin. The best bit, however, is the strap's length. Now, as you may know, I am a slim-wristed man, but I appreciate the need for a good long strap on a proper dive watch. This strap is super long and yet Orient Star was smart enough to put a ton of holes in it so it could be worn by Bruce Banner AND the Hulk (if you get product placement out of this, I want 10%).
…this thing is long and very adjustable.
I have 11 straps on my desk including this one from Orient Star. I counted the holes in all of them for comparison. Five have six holes. One has seven. Two have eight. One has nine. One has 10 (the Boldr Expedition, in case you were wondering). The Orient Star has a whopping 11. So that feeling I got when I first put it on was legit — this thing is long and very adjustable. If a short strap is a dealbreaker for you, consider your deal unbroken.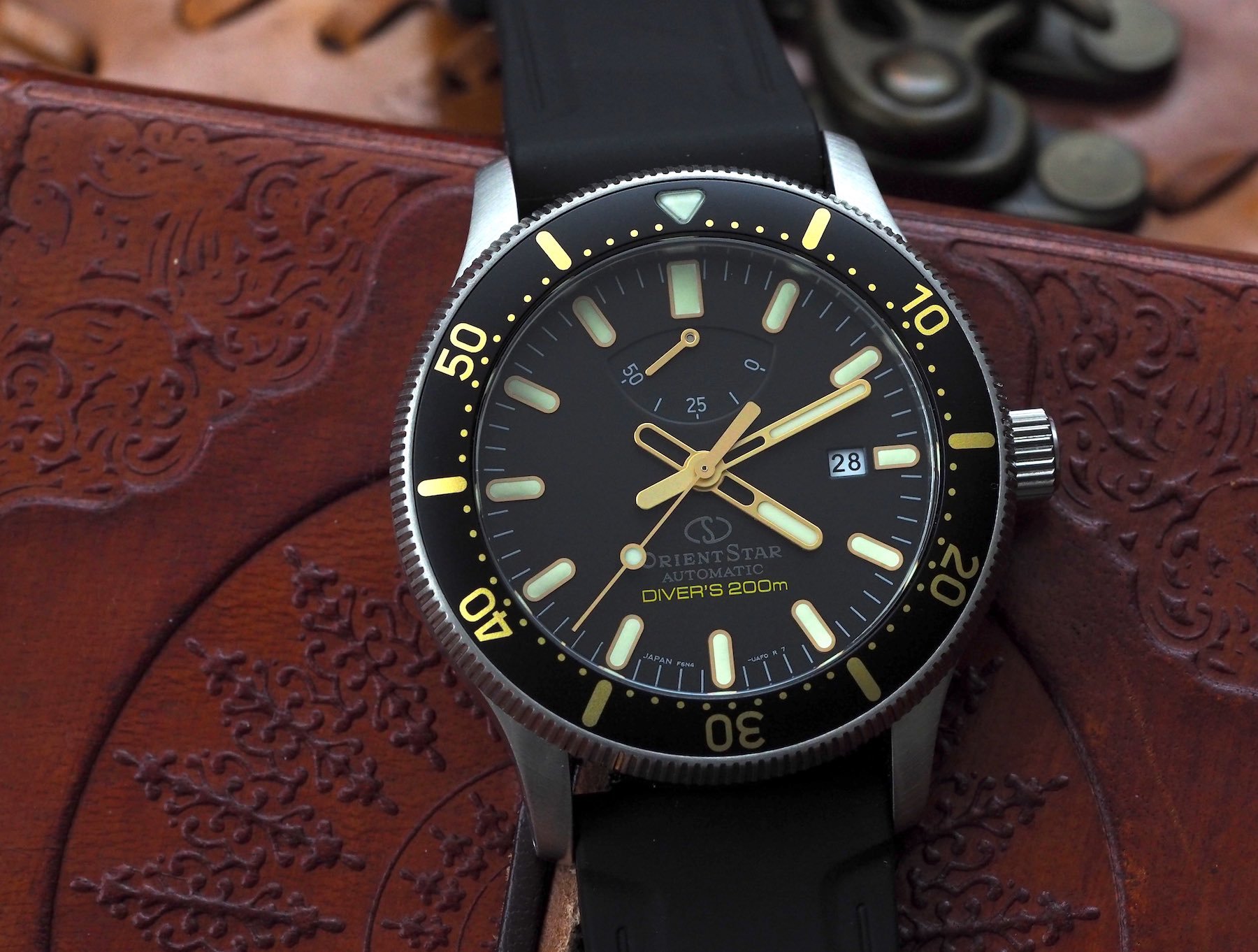 Onto the dial
The dial layout, visible through a scratch-resistant sapphire crystal, is great. It is clean and clear. I even enjoyed having a power reserve indicator (50 hours indicated at 12 o'clock) on an automatic watch for once. The majority of the text (unusually positioned below the hands) is printed in an unobtrusive gray with one line of yellow, which provides a sporty contrast. I would have preferred the date to be white on black as opposed to black on white, but its improved legibility this way round is a fair justification even if it isn't t my taste.
I adore these blasted hands…
Reference RE-AU0303B gets a huge thumbs up for lume, lume homogeny, and its handset. I adore these blasted hands and the perfectly matched hour markers (with the curious exception of the rectangle at 12, which sticks out to me when I consciously acknowledge it). The combination is supremely legible, day, dusk, or night. I love it and I really cannot speak highly enough of the hands aesthetically. There is just one area for improvement, however.
Hand skeletonization
When the minute hand passes over the hour hand it almost entirely obscures the hour hand from view. And when I saw "almost entirely" I mean that the slightest slither of lume can be seen poking out through the skeletonized minute hand. In my opinion, the hour hand should have been fully lumen. The skeletonization of the minute hand only makes practical sense when it allows information to be read through it (or in rare cases where hands are so super-massive the movement doesn't have enough torque to drive their weight). Here was a small missed opportunity that probably only bothers me because I've dedicated my life to being bothered by this stuff so you don't have to. But please, Orient Star, take note. You are "this" close to having my favorite handset of all time in your stable.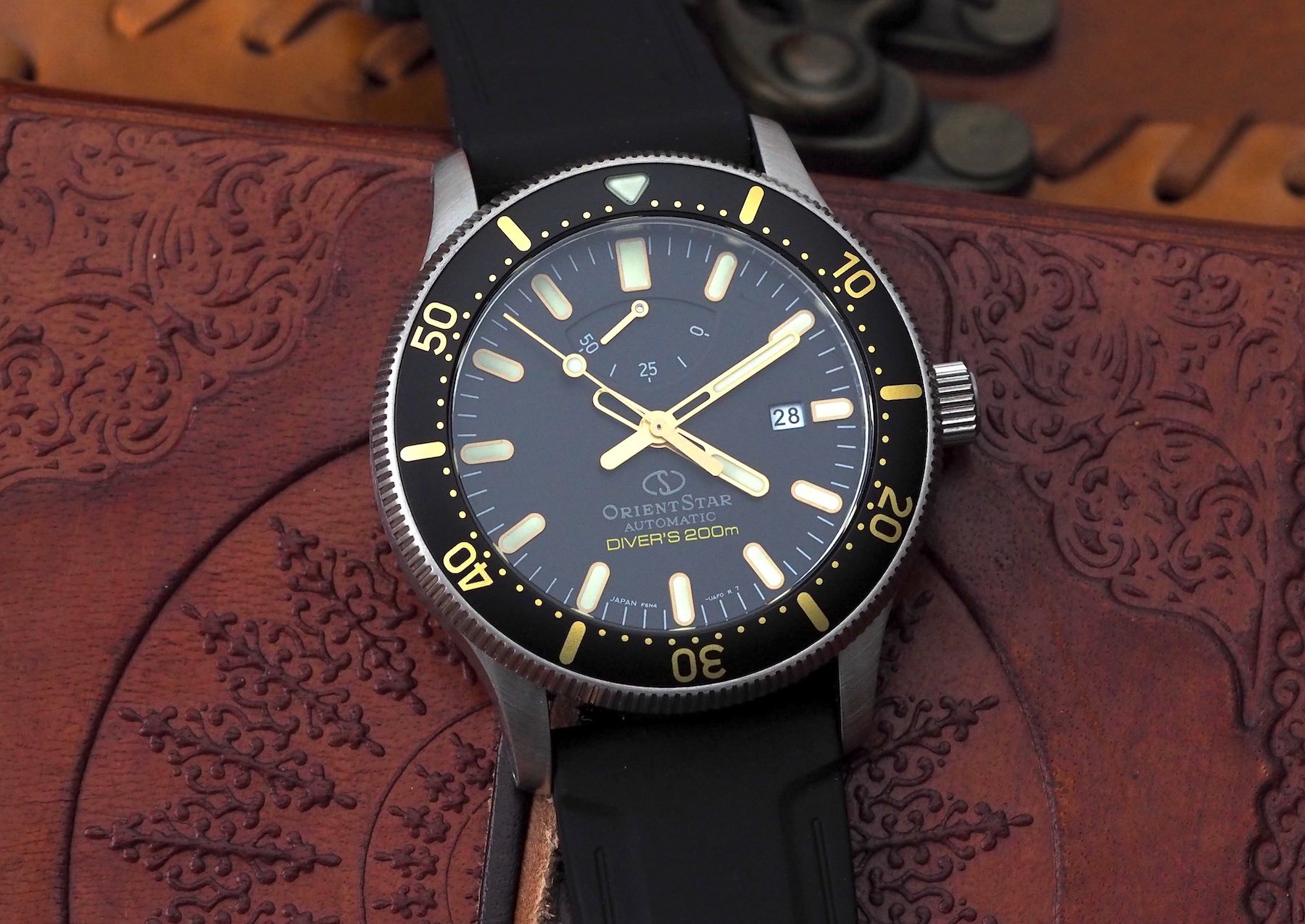 The bezel…click?
The bezel on this watch is super weird. It doesn't so much "click" into place as it does limp. Or flop. Or shuffle. I don't know. It is odd. It's not bad because there really isn't much side-to-side play in this 120-"click" component, but is is not the decisive "thunk" I want from a diver. The lumed triangle is nice. The bezel insert is excellently printed and a lovely texture to look at and feel. But the click mechanism needs work. I'd rather reduce it to a 60-click if it meant we got a bit more certainty out of it.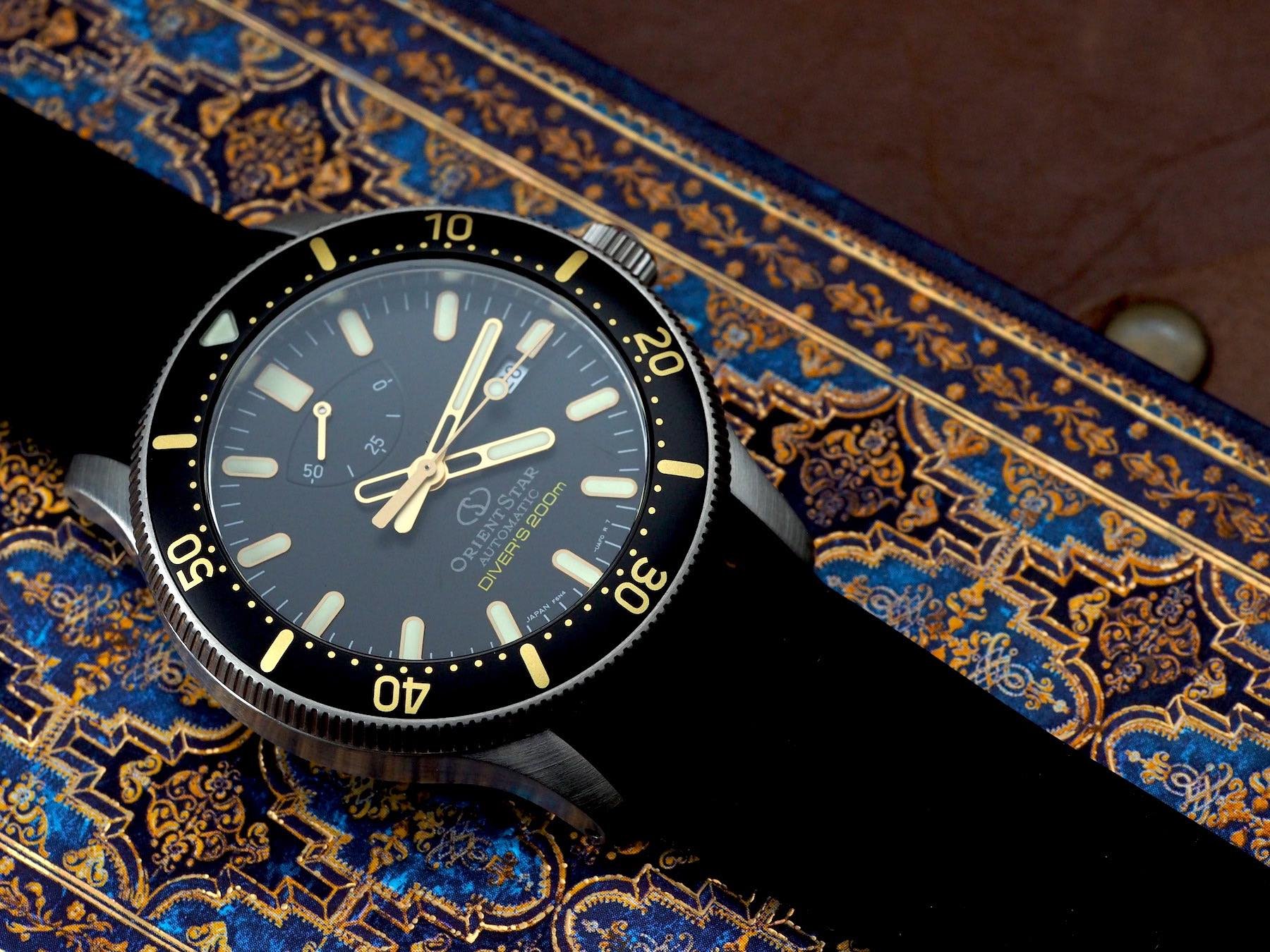 Better than the sum of its parts
For a 200-meter dive tool, retailing at this watch ticks a lot of boxes. The Japan-made F6N47 caliber has hand winding and a power-efficient 21,600 operating frequency. Its accuracy? +25/-15 seconds per day. Perhaps you think I've been harsh on this model, but I have only been honest about the things this watch does very well already and could do excellently in the future if changes are made.
Curiously, however, I have found myself actually choosing to wear this watch a lot. I have picked it out of my collection many times more than required to write this review. I have strapped it on in favor of my Omegas, my Breitlings, my NOMOS Glashüttes… Do I like it more than any of those watches? No, I don't. But do I obviously like it enough for it to get 15 days' wrist time out of 70 while my NOMOS Club 36mm got zero? Weirdly, I do.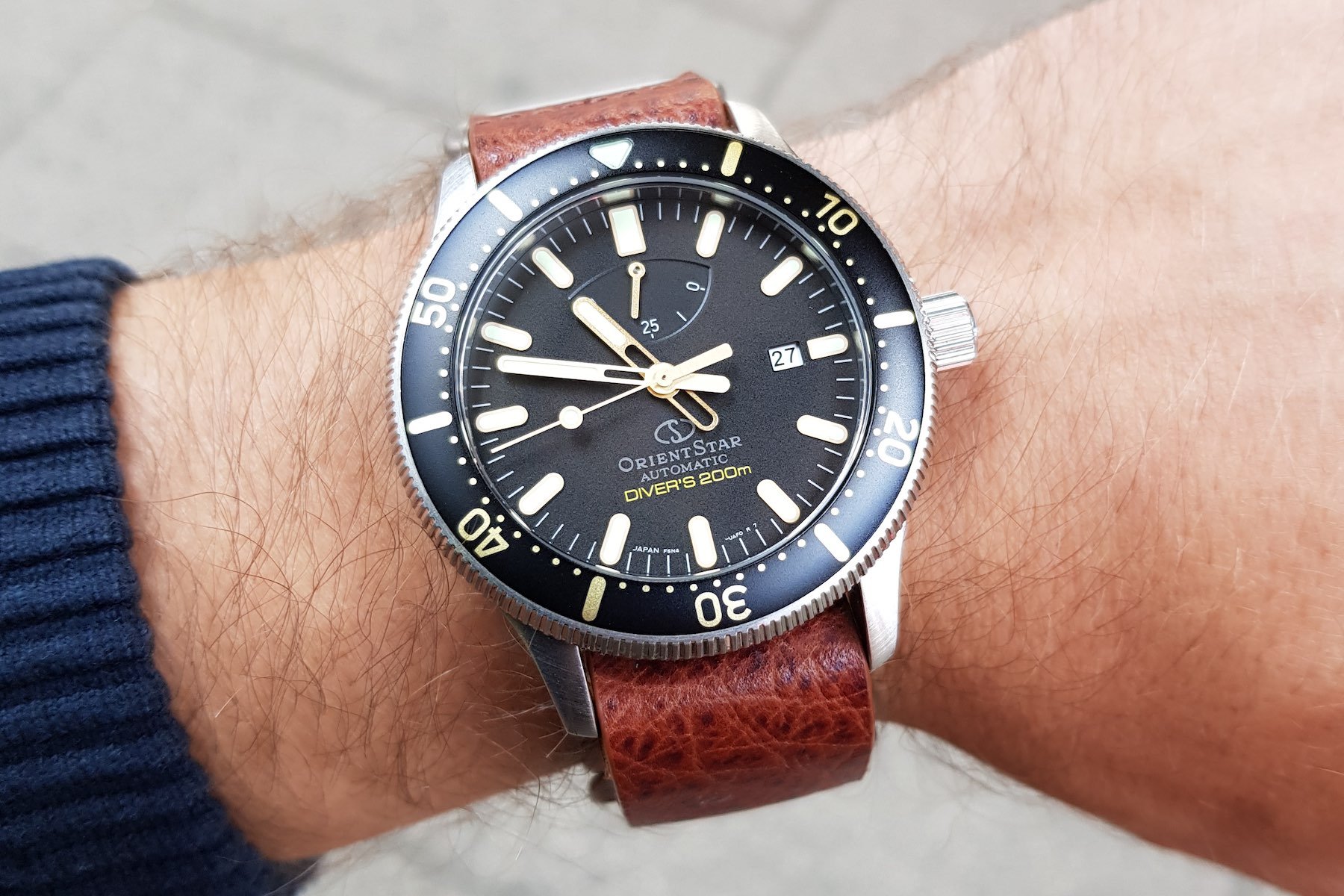 Easy-to-wear
I plugged this watch into my own Visual Impact Index and found that it "looks" a little smaller than its 43.6mm diameter suggests it might. That bears out on the wrist. With a 51.1mm lug-to-lug, it is comfortable, a good size and weight, and a nice alternative to some of the flashier divers I have in my collection. I think the matte bezel and dial and handset really works in its favor. Dressing it down/up/sideways with a brown leather ZULU as opposed to the black silicone upon which it came made a huge difference to me.
…get it on your wrist and see how it sits.
If you like the look of it, get it on your wrist and see how it sits. Nothing I've criticized this watch amounts to a reason not to buy it if you love the aesthetic, but do be aware of the points raised here. If you've stuck with me this far, throughout my longest review on record, I thank you. Please let us know what you think of the watch in the comments section below. Learn more about Orient Star here.