Oris Big Crown ProPilot Calibre 111 With Blue Dial
Oris introduces you to their Big Crown ProPilot Calibre 111 with blue dial. Most interesting about this watch is the in-house caliber 111 movement that is being used. This hand-wound movement was introduced a couple of years ago, and now also available in the Big Crown ProPilot watch. In their Big Crown ProPilot collection, you will find a variety of models (with different complications), but this is the only reference with an in-house movement. Normally, Oris core collections use third party movements (from Sellita for example) to keep their watch affordable and in a certain price bracket. The Oris Big Crown ProPilot Calibre 111 starts at 5,200 CHF (up to 5,500 CHF for the watch on a croco strap), which is slightly above the normal 'affordable' price tag you're used to from Oris.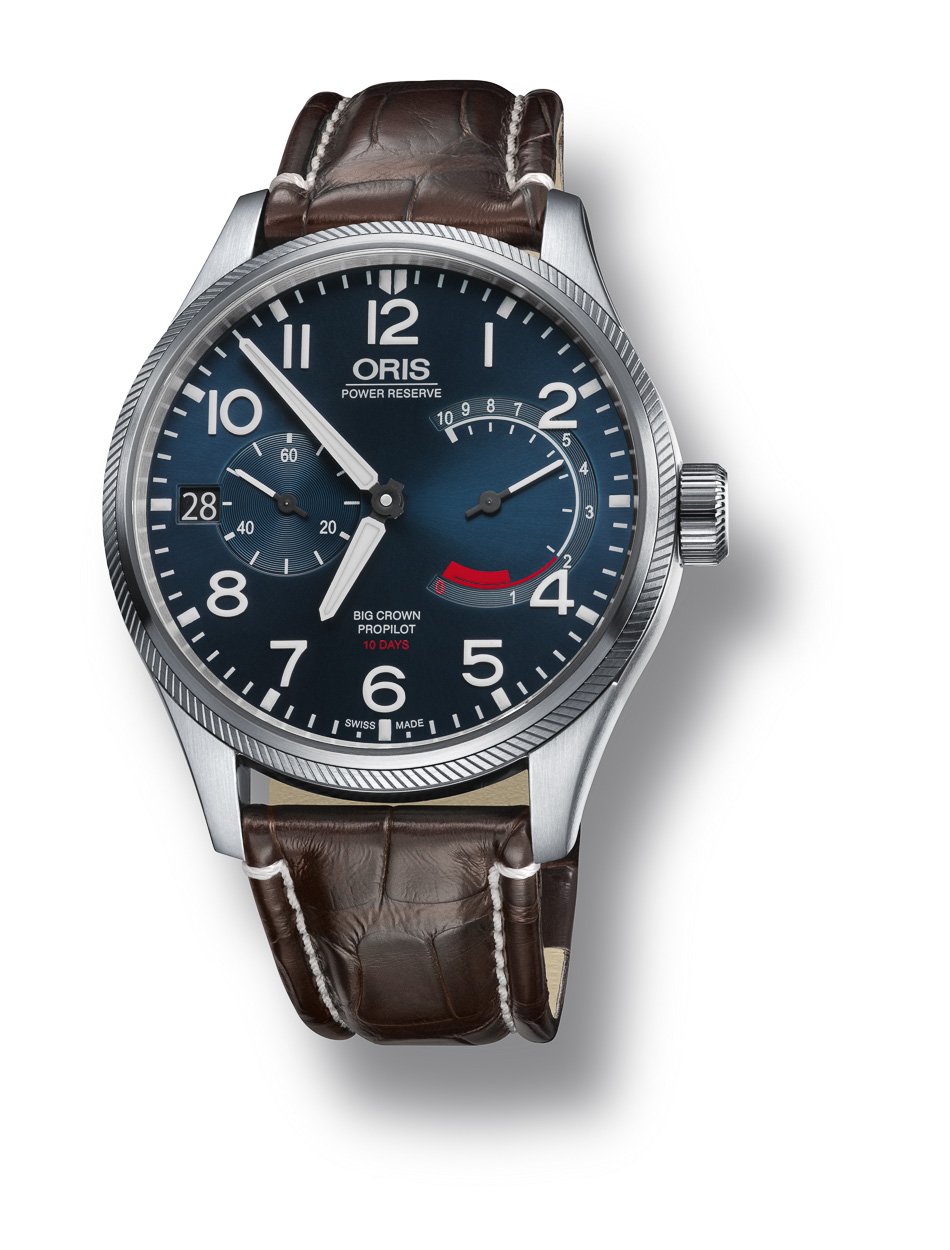 Big Crown ProPilot Calibre 111
Oris has been creating pilot's watches since almost 100 years, first pocket watches but very soon after the first Oris wristwatch appeared for pilots. The Big Crown actually dates back to 1938, a watch with an oversized crown so pilots could operate it with their gloves on. Today's Big Crown ProPilot can still be used by aviators, but also accompany you on on-ground activities. The new blue dial even allows you to wear it with a suit during more formal occasions. A watch for both in their air as on the ground, as Oris implies in their press release. To be honest, only few of these watches will probably be used as a pilot's watch, but the style attracts many enthusiasts I am sure. The blue dial makes it less of a tool watch (like most of the others Big Crown ProPilot models) and more as something you could on a daily basis, including during a diner or with a nice business suit.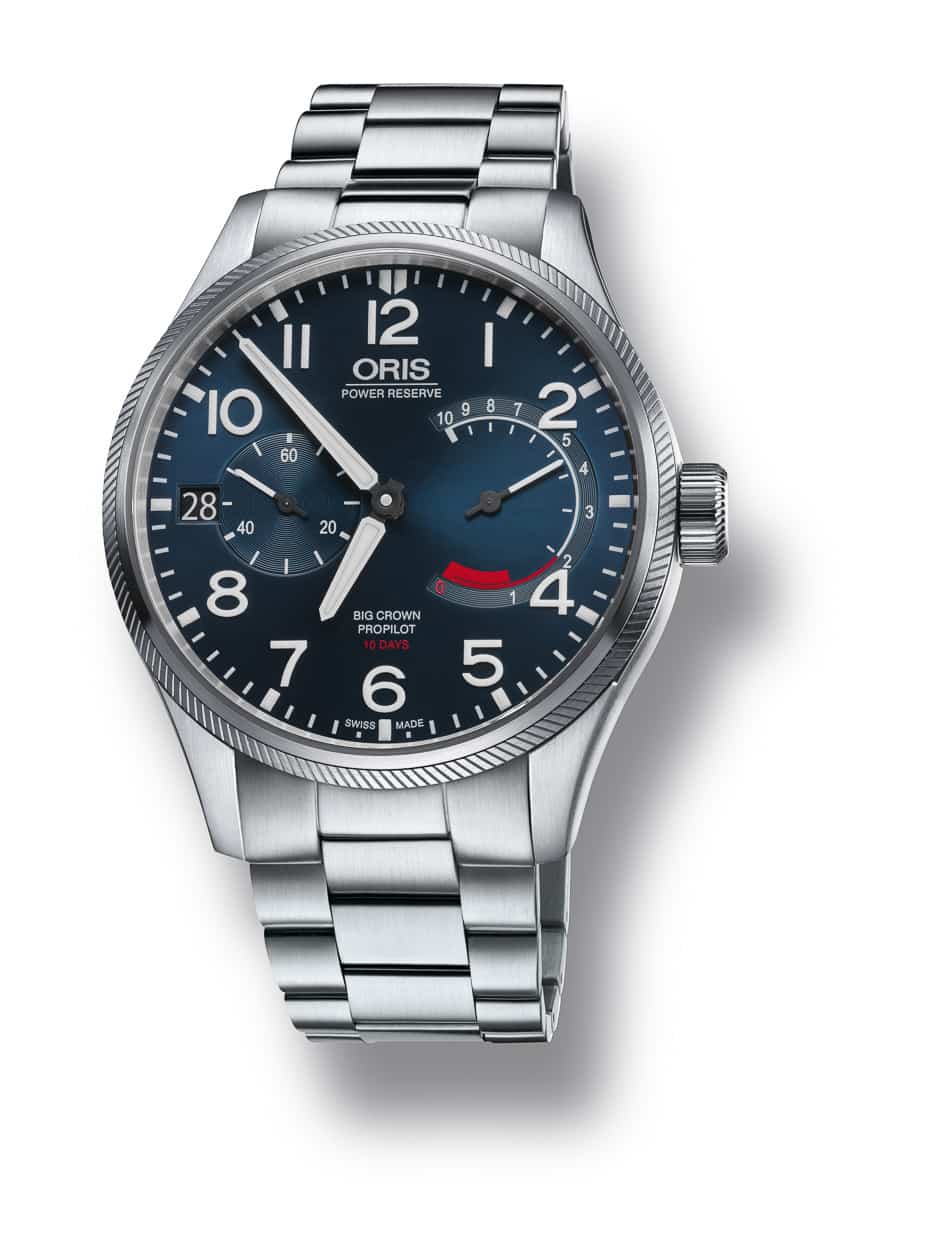 We always feel that you are the one that decides when and wear what watch, even during tuxedo events, when normally a watch is forbidden. If you're a watch enthusiast, you're allowed to use a watch with a tux. At least in our humble opinion, we are not really fond of that non-watch wearing etiquette anyway.
The movement in the Big Crown ProPilot Calibre 111 is perhaps the attraction for this watch, although the design is nicely done as well. The caliber 111 movement is made in-house, but you can imagine that Oris does rely on some suppliers for creating specific parts. Caliber 111 has a power reserve of 10 days, the remaining power is indicated in the sub dial on the right. A non-linear scale (the indicator becomes more detailed when the remaining days become less) indicates when the watch will need a bit of winding. To me, a power reserve indicator only makes sense on a hand-wound watch, so it is actually a useful feature here. The last two days are indicated in red, to make you aware of the fact your watch is running out of energy.
In the sub dial on the left, there's the small running seconds. Two large luminous (Super-LumiNova) hands indicate the hours and minutes on the large dial. On the left, you will also find the date indicator.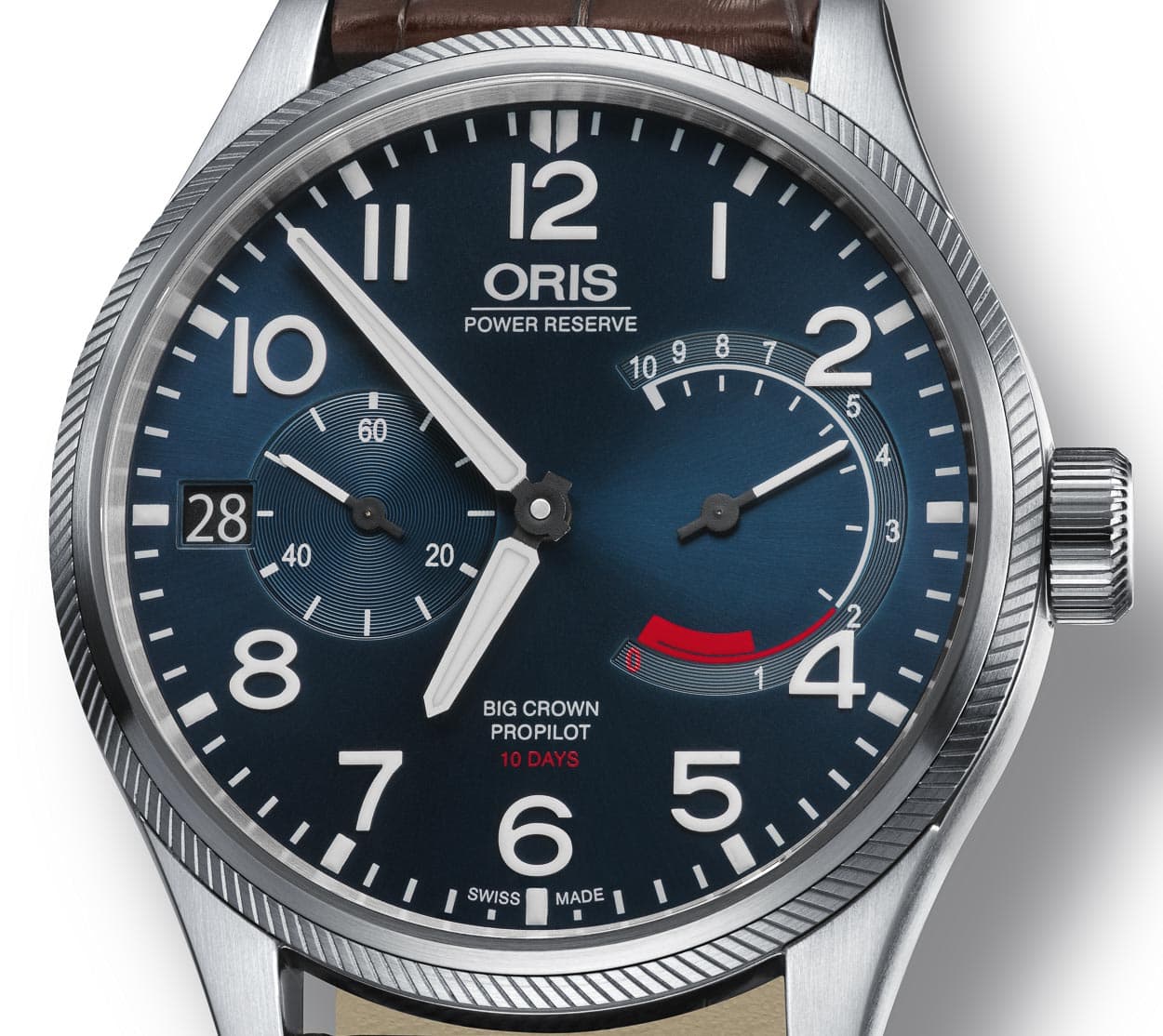 This (reference 01 111 7711 4165 LS) Oris Big Crown ProPilot Calibre 111 has a 44mm case, made of stainless steel and with a satin finish. Bezel and crown have the same interesting finishing (and matching). Sapphire crystals are used on both sides of the watch, unfortunately we do not have an image of the case back yet. But it will show you the large movement, a super big barrel (10 days power reserve, one barrel) and the balance-wheel (single) bridge. The Big Crown ProPilot Calibre 111 will be available on a textile strap, a croco leather strap and with a stainless steel bracelet (5,400 CHF). Using a screw-down crown, the watch is water resistant to 100 meters.
An interesting watch and we can't wait to have one for a real hands-on review. We will keep you posted.
More information via Oris on-line. Price starts at 5,200 CHF.