Oris Bronze Watch Review – What Does It Look Like After A Few Months?
Oris Bronze Watch – Carl Brashear Limited Edition
To be honest, I'd never heard about Carl Brashear before and did not see the Men of Honor movie. I also doubt if the story, to which I will come back later, would have impact on my decision whether to like this watch, or not. Or better yet, that it would have add value to the Oris bronze watch for me, personally. I doubt that basically. I like the watch from the moment I saw it in the flesh during a preview of Oris' BaselWorld novelties in Zermatt.
Without further ado, here is my Oris bronze watch review.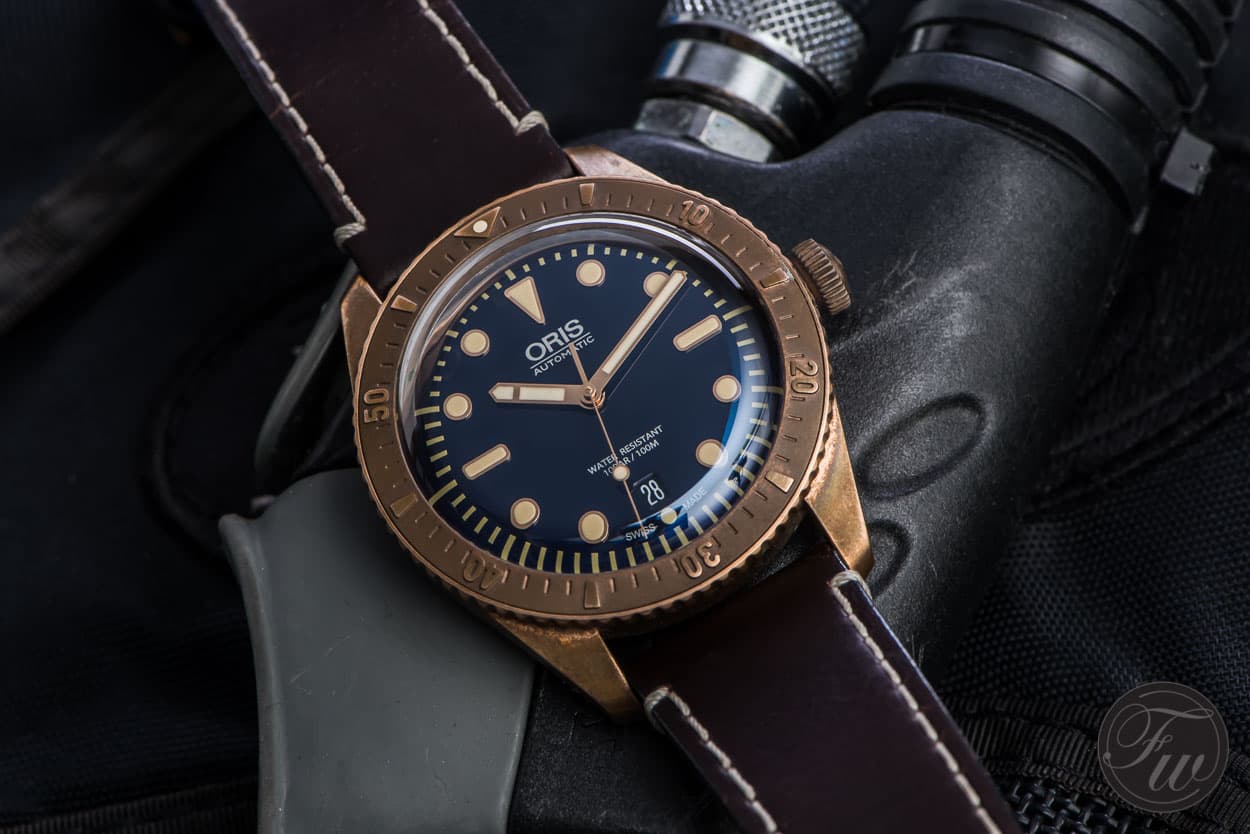 Bronze Watches Everywhere
Bronze is trending. Panerai set the trend with their 'Bronzo' (Luminor Submersible Ref. PAM00382) back in 2011. I know that Genta designed one way before, and Bvlgari did so again with their Gérald Genta Gefica BiRetro Safari. But it didn't unleash the hype like Panerai 'Bronzo' did.
This year, Oris and Tudor introduced their bronze watches in BaselWorld. Both watches are bronze interpretation of existing models. In case of the Oris, the bronze Carl Brashear Limited Edition is based on last year's successful Divers Sixty-Five watch. The Oris Divers Sixty-Five review can be found here.
As you know, bronze has an interesting property, or feature. It will age immediately when it touches moisture or water. The patina layer that will appear on bronze protects the material basically. Watch collectors love patina, so it was only a matter of time before bronze watches would become more common. Some of the Panerai 'Bronzo' PAM00382 watches have turned completely green.
The Oris bronze watch that I received was already worn a bit, and had some patina already. I had the watch for quite some time, being able to witness the discoloration of the case.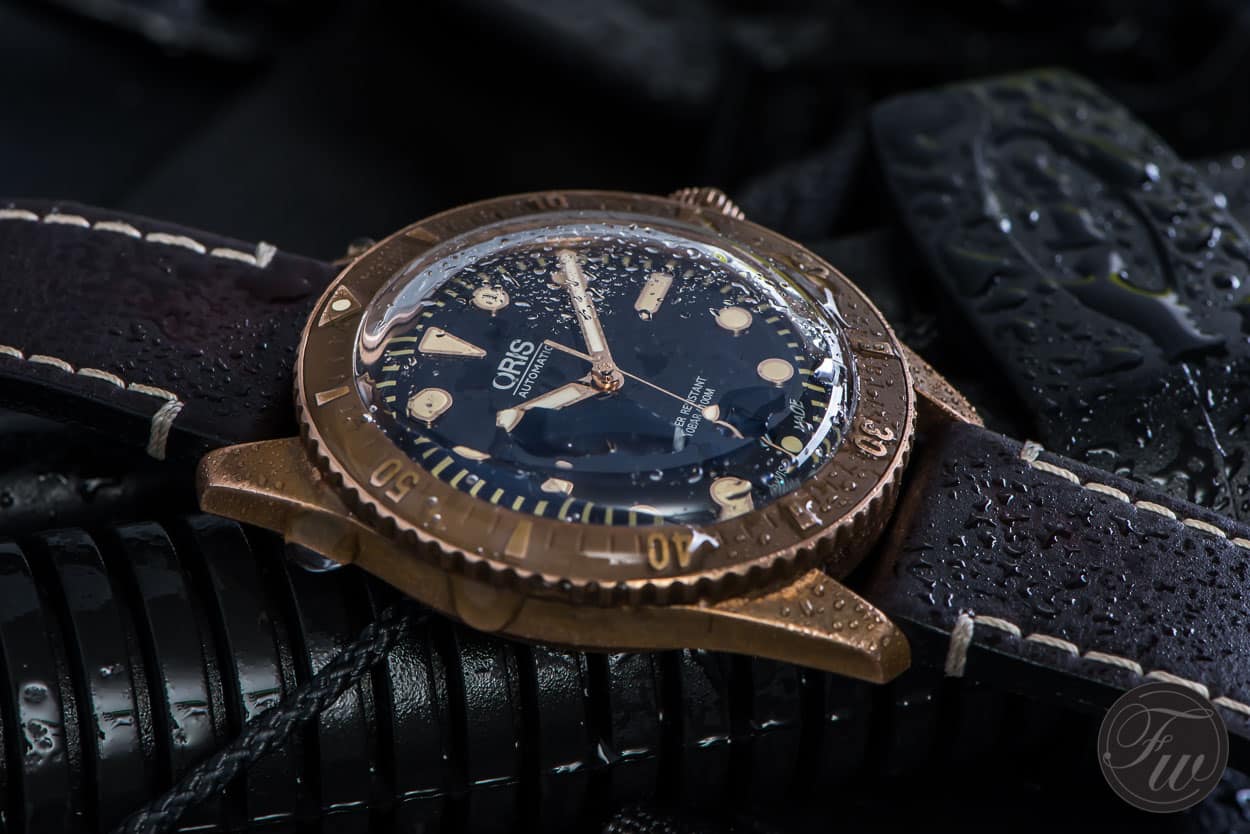 Oris Bronze Watch Specifications
Bigger than the Divers Sixty-Five
Normally I end a review with the specifications of a watch, but since we already have an in-depth Divers Sixty-Five review, let's focus on different things here. Introduced as a 40mm watch in 2015, the Oris bronze watch is only available in 42mm. Slightly bigger, but it makes quite a difference. 42mm seems to be the somewhat more accepted standard for sports watches, whereas 40mm can be found in modern dress watches as well. And vintage inspired re-editions of course.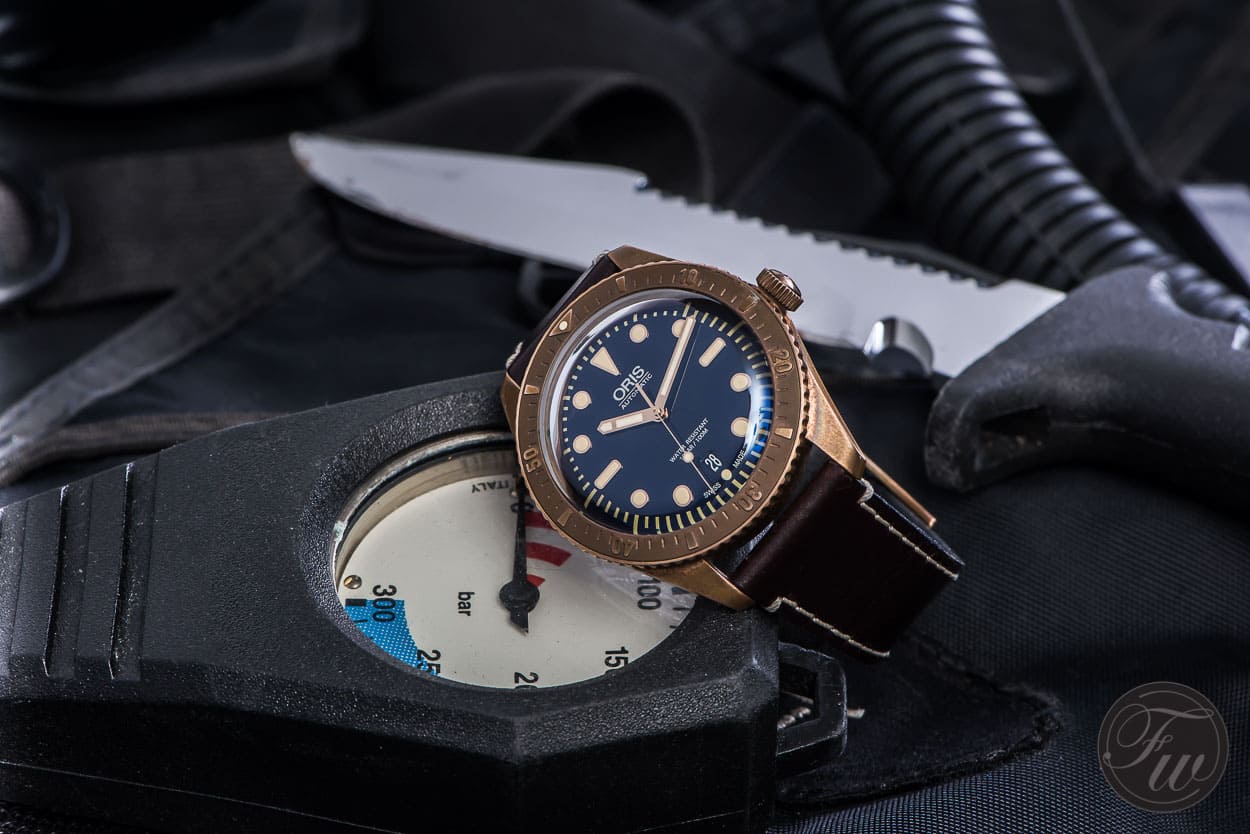 Lug-width limiting personalization
The designers in Hölstein (where Oris resides) decided to use a lug-width of 21mm for the Oris bronze watch. On the one hand it doesn't matter much, on the other hand, you will find most third party straps available in 20mm (or at least in even numbers). So it narrows the possibility of adding your own favorite non-factory strap to the Oris bronze watch. Having that said, the dark brown leather strap it comes on (with bronze buckle), needs no immediate replacement. However, knowing our readers a bit and by looking at some of the creative Instagram watch photos, it is a secondary hobby of many to personalize a watch with a (unique) strap.
Sellita Movement
I did a write-up on Oris's past regarding the use of ETA movements after the buy-out in 1982 from ASUAG (today known as Swatch Group). It is said that one of the conditions in order to purchase shares back from ASUAG was the mandatory use of ETA movements. Today, most Oris watches either have Sellita movements or in-house designed movements. More on the topic can be read in the article I wrote on their Oris Calibre 111.
The Oris bronze watch uses a Sellita SW200-1 movement, identical to the Divers Sixty-Five. It is a workhorse movement, based on an ETA design. Oris dubbed it as their caliber 733 movement. I am not sure why watch manufactures feel the need to designate it with their internal caliber number, but at least Oris is transparent about the origins of the movement.
Oris still uses the red rotors in their self-winding movements, which they have been doing for a long time now. However, it can't be seen as the watch has a solid stainless steel caseback. You have to take our (or their) word for it. One of the things that is good to know is that the power reserve is approximately 38 hours. It is less important for an automatic watch than for a manual winding watch, but it gives you an indication how long you can leave it on the night stand without needing to wind it.
Dial, Hands and Markers
The Oris bronze watch has a beautiful dark blue dial, that can easily be mistaken for a black dial in low-light conditions. Just like the sapphire crystal, the dial is also domed and has beautiful big markers on there for great readability. The indexes and hands match the bronze case and bezel. Hands and indexes are filled with yellow-ish Super-LumiNova. At six o'clock, there is a small aperture for the date function. A dark colored date disc with white printing. Enough contrast to properly read it.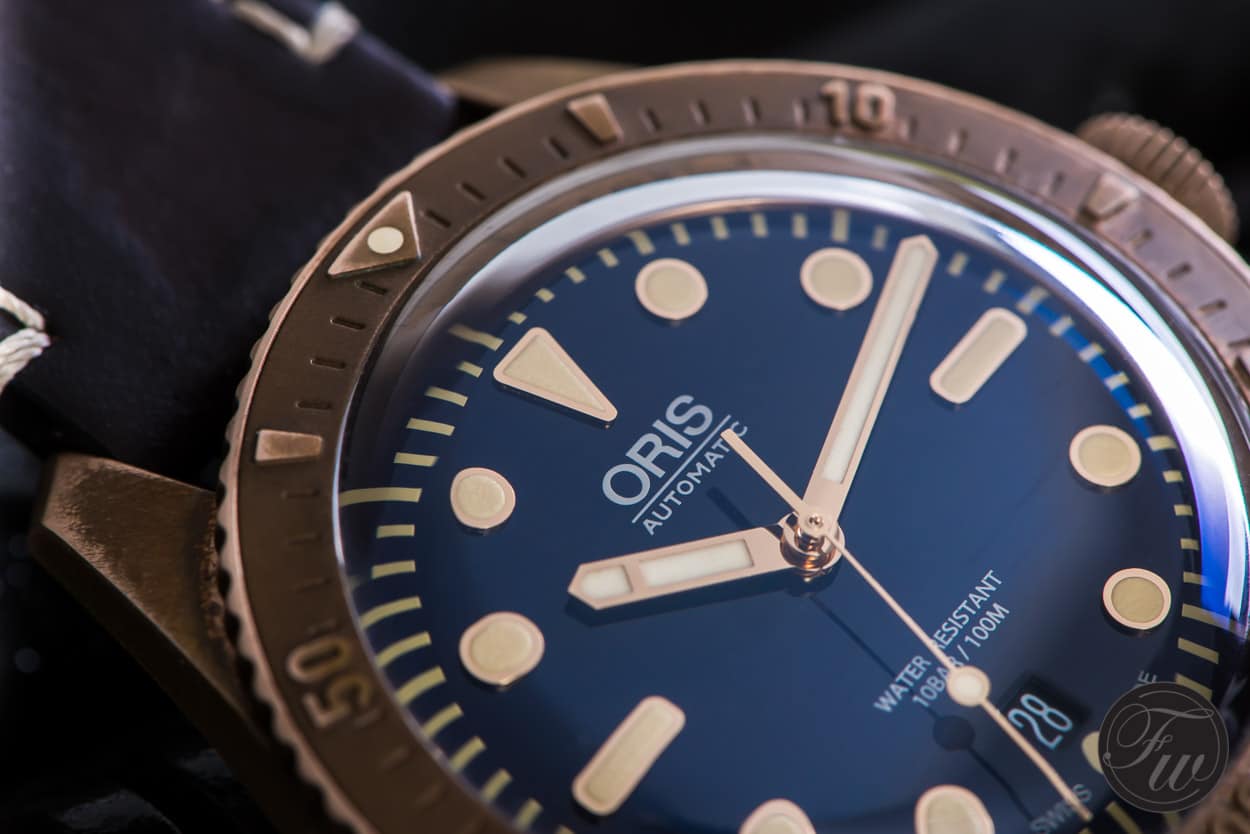 Carl Brashear
The origin of the official name of the Oris bronze watch is  "Oris Carl Brashear Limited Edition". Carl Brashear (January 19, 1931 – July 25, 2006) was the first African American to become a US Navy Master Diver. After he lost his leg during a special mission in 1967 where the US Navy had to recover a (lost) nuclear bomb. After his leg was amputated, he signed up to a navy diving school. This, to prepare for a return to active duty. In 1968, he was certified as US Navy diver again. In 1970 he became the first US Navy Master Diver.
Brashear was motivated by his beliefs that "It's not a sin to get knocked down; it's a sin to stay down" and "I ain't going to let nobody steal my dream". More information on Carl Brashear can be found here. This sentence is also embossed on the caseback of the Oris bronze watch.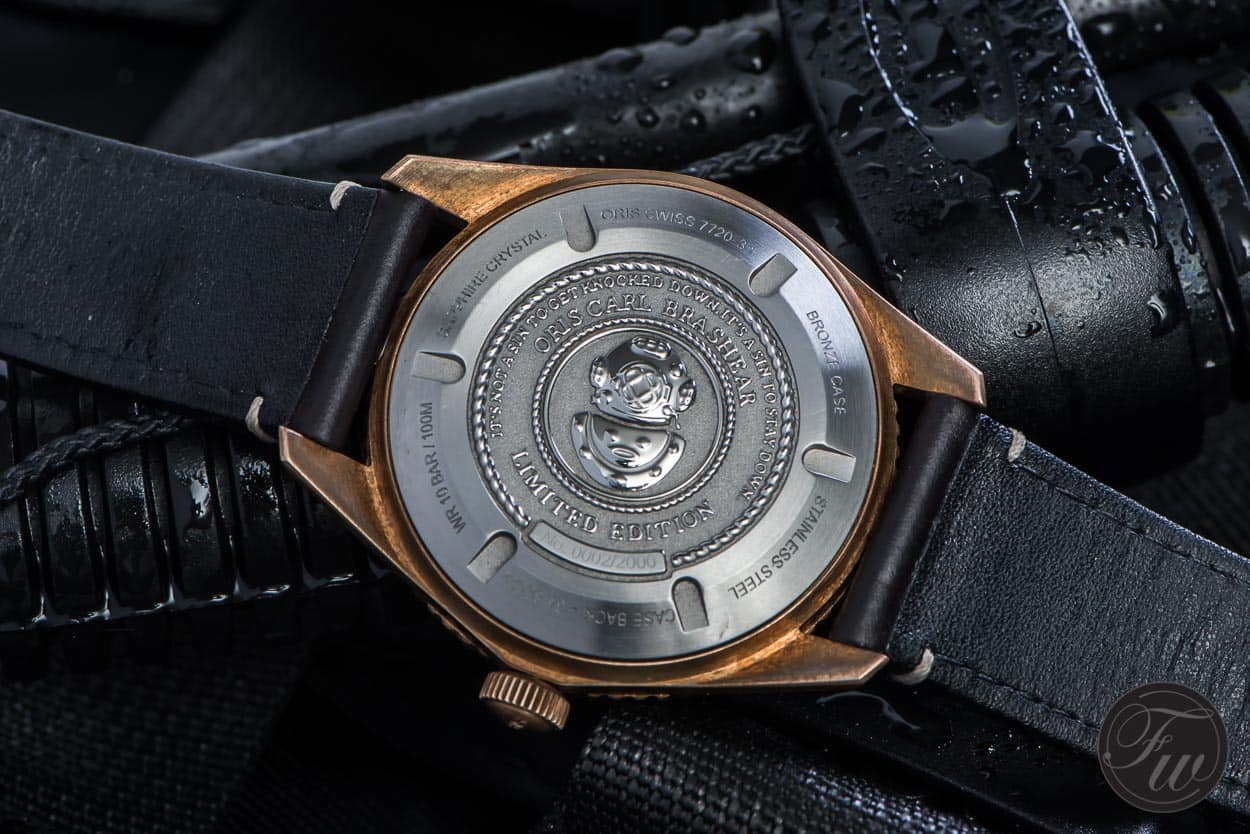 Aesthetics of the Oris Bronze Watch
Wearing something precious
Immediately after I received this watch from the Dutch Oris office, I put it on my wrist in order to get used to it as quick as possible. A lot of watches that I receive for review need some time to grow on me, and since I didn't do the review on the original Divers Sixty-Five myself, I didn't know exactly what to expect.
It gave me the feeling I was wearing something precious. Not per se a gold watch for example, due to the color, but also something vintage.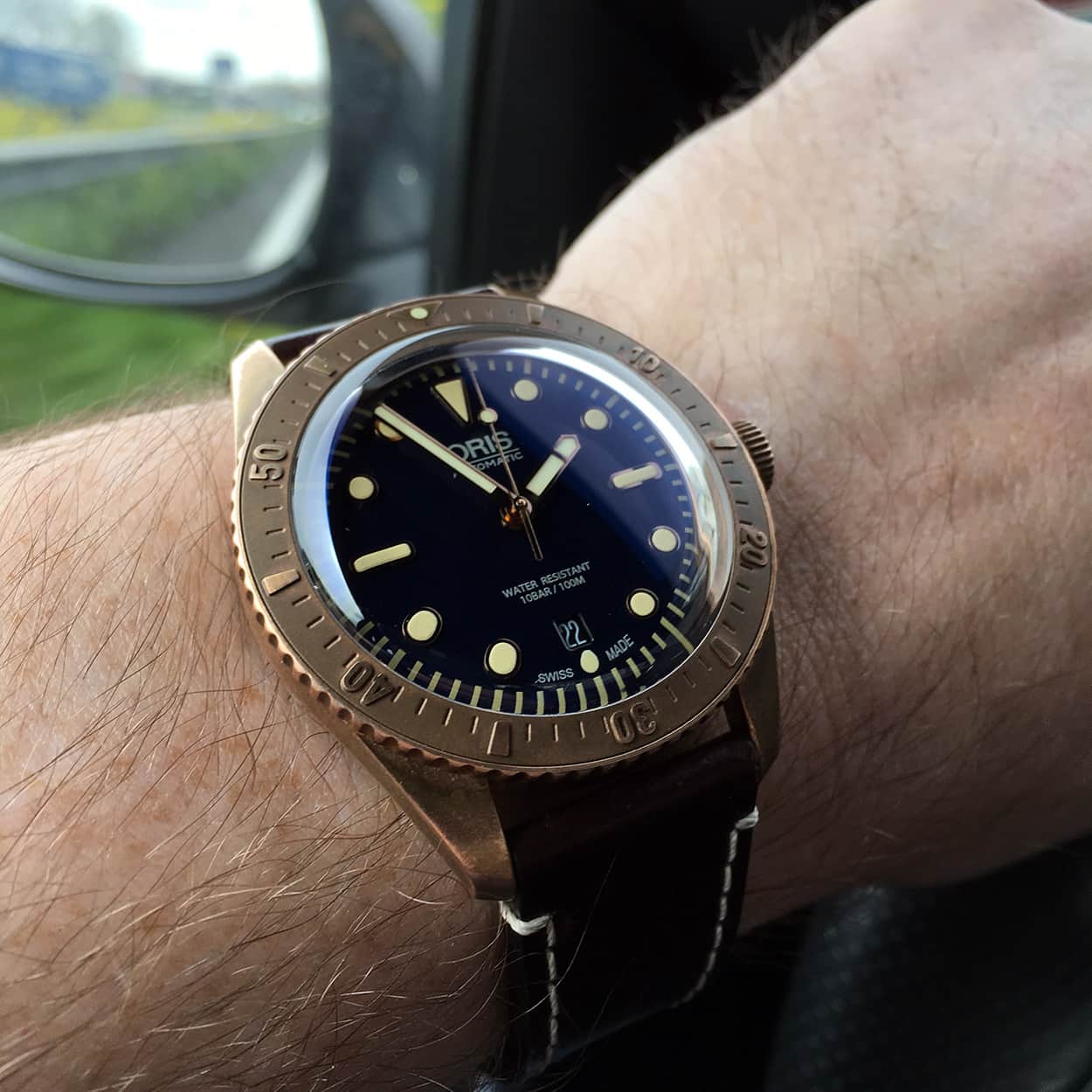 Vintage Appeal
When wearing this watch, be prepared to receive a lot of comments. We also received our share of comments on images we published on Instagram already, mostly positive, but also a fair share of comments in the flesh. As it seems to be a bit harder for people to criticize your watch in the flesh, all positive remarks here. Mainly from people who want to see it up close and admire the patina of the bronze case.
I have my share of real vintage watches and I only own one re-edition watch. I've seen and held the original Oris divers watch in my hands that inspired the Divers Sixty-Five, but never worn or owned it. However, this Oris bronze watch certainly does give that sense of wearing a vintage watch. At least for a while, as you will also immediately notice that it is a modern watch with its sapphire crystal, 42mm size and bronze case. Most of the time, real vintage pieces have this fragile feel to it, at least they do to me. The Oris bronze watch lacks that fragile feeling. Is that a good thing? I think so, as it is – in the end – a modern wristwatch that could (and should) be worn on a daily basis.
The Patina
Oh, the patina. Let me tell you that it is beautiful from the first moment you see those spots appearing on the Oris bronze watch. Every Oris bronze watch will age differently in the end. You will have your own unique creation after a while. In case you buy one pre-owned, you will be able to clean it up. The Oris bronze watch is limited to 2000 pieces only, so chances are that you are forced to buy one pre-owned. When I received the watch, it was worn already for a bit. As you can see on the wristshot above, especially the bezel had already this darker tint.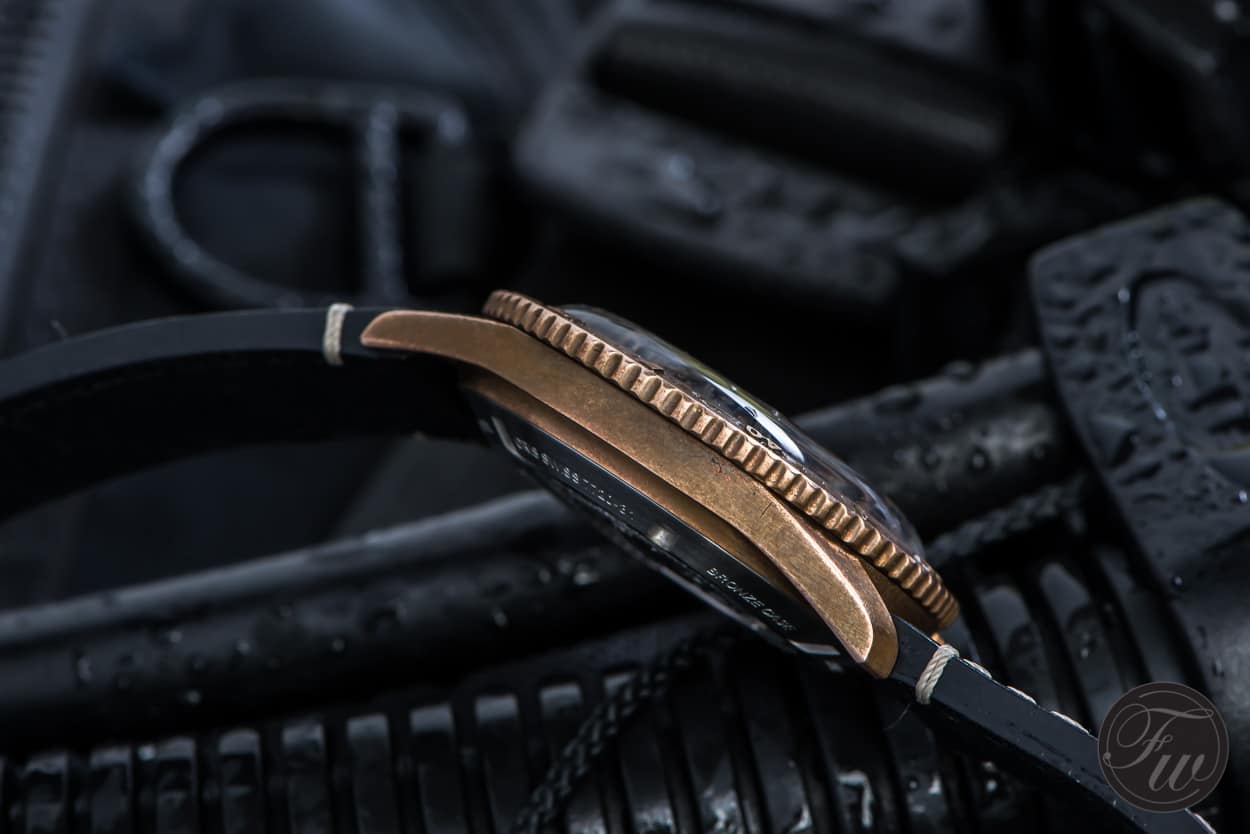 The other pictures are taken by our photographer Bert Buijsrogge. Quite some time after the first image I took with my iPhone in the car. Look at the beautiful patina on the lugs and case band. The uni-directional bezel also turned much darker. Around the crown, you will find some spots of green as well. So, this watch is from March or early April, and this is how it aged after a just a few months of wearing it.
I am curious to learn how these watches will progress over time. I see some of the 2011 Panerai Bronze models that turned entirely green, but I am not sure what kind of 'abuse' was unleashed on them. Let's wait and see until the Oris bronze watch has its 2nd or 3rd anniversary.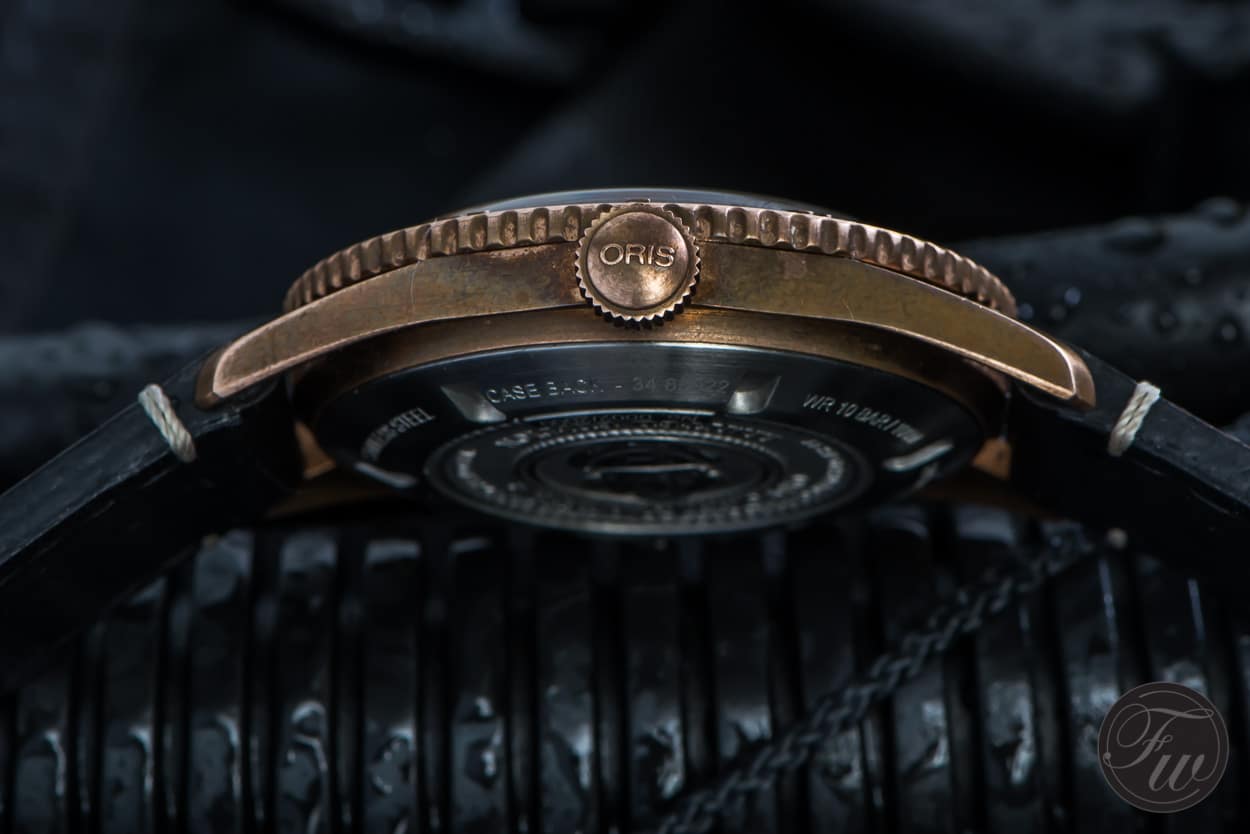 Availability and Price
The Oris Carl Brashear Limited Editon is limited to 2000 pieces and already sold out to the Oris dealers. This however, does not mean that it is sold out to customers. Retailers had to sign-in for this Oris bronze watch and it is being delivered to them as we speak. Of course, a number of retailers signed up for it as they know they have clients for it, but I expect that you will be able to find a couple of unsold pieces here and there.
With a retail price of €2600 Euro it is a bit more expensive than it stainless steel 42mm brother (€1850 Euro), but still cheaper than the Tudor Black Bay Bronze watch.
More information via Oris on-line.