Hands-on with the Oris Divers Sixty-Five
We've had a lot of Oris on Fratello Watches as of late and there's a good reason for that. In general, we really like the looks of their watches and the fact that they bring great value to the table versus a lot of Swiss brands. We admire the brand's independence, their offering of only mechanical watches, and also that they spell out pretty clearly on their site that they're not a "manufacture". So, with all the Oris love going on, I decided that I needed to get my hands on the new Oris Divers Sixty-Five for a hands-on review. We were really excited about this watch and featured it pre-Basel this year and then again based upon our meeting with the brand, but today's article is a good opportunity to go into greater depth.
I mentioned in our Basel Top 5 article that the Oris Divers Sixty-Five was one of my absolute favorite releases at the annual show. I obviously like vintage watches, so when vintage-inspired pieces are released, I take notice. If done well, I do like retro and this watch is very well executed. Furthermore, there's the topic of value and this diver comes in at a very competitive 1700 Euros. I'll talk a little more in my final thoughts about comparisons, but after having the Oris on my wrist for a couple weeks, I really think that it fares well versus the other vintage-inspired dive watches on the market.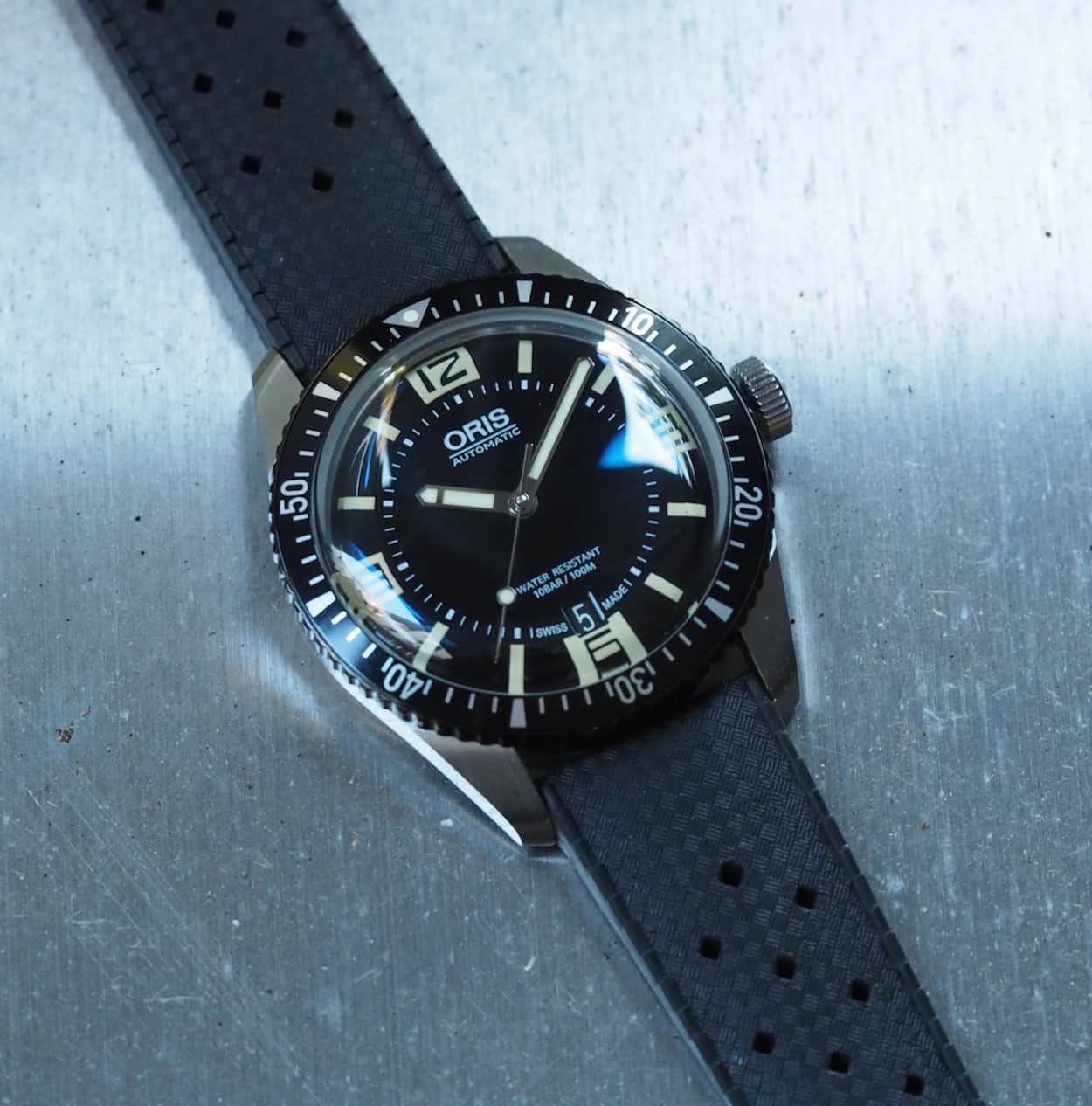 So, to recap some earlier articles, let's run down the specs on the Oris Divers Sixty-Five. The all-stainless watch registers a 40mm case diameter and has 20 mm lugs. It has a unidirectional diving bezel that surrounds a double-domed, anti-reflective sapphire crystal. The case back and crown are both screw-down and help support a water resistance of 100m. Inside the watch is the well-known Sellita SW 200-1 automatic that hacks and features a date. It has 26 jewels, runs at 28,800 bph and has a power reserve of 38 hours. As of now, the watch features a black rubber strap that is styled almost exactly like a vintage Tropic Sport. It contains a signed, stainless steel pin buckle.
Let's initially address a couple mildly controversial aspects of the Oris Divers Sixty-Five, shall we? First off, there were a lot of people who bemoaned the watch's 100M water resistance. Really? Ok, I understand that it's nice to know that your watch could go deeper – say, 300M or 1000M – but the only time the watch is likely to ever see such depths is if someone drops it over the side of a whale watching vessel. So, before you dismiss a lowly 100M watch, ask yourself if you're really likely to pull a Jacques Cousteau and really take a dive below 300 feet. The other facet that draws a lot of attention is the case size of 40mm. A lot of people seem to think that this is too small and while it is of a slimmer looking design, it shares a similar diameter to other divers such as the legendary Submariner. So, I don't really get the complaint. Besides, I personally think that an upsized design of, say, 42mm, would "stretch out" the design and make it less cohesive. So, if you have giant wrists, I get it. If not, try the Oris on before you eliminate it from contention.
When I received the Oris in the mail, I promptly opened it and was greeted by a really nice Oris Heritage box. Inside the box is a nice little "drawer" containing the thick instruction guide. All in all, I was pretty impressed by the packaging and find it is as nice as watches costing roughly double. Then, I spied the watch and I was really impressed.
There's really something about the domed sapphire crystal that Oris employed. It's amazingly glossy and almost liquid looking. Just like its ancestor, it provides a high amount of distortion at the edges but that's really not an issue as the hour markers are so large. Speaking of the dial, it's a really nicely made display. The lume is SuperLuminova "light old radium" and I love it. Call it retro or faux patina, but I call it "near-green" and it's very nice looking. Plus, it's applied very nicely on the Oris Divers Sixty-Five. The same can be said for the other dial details such as the remaining font, minutes track and the lovely, nicely weighted hands. But I think my favorite detail, or favorite aspect for it not being irksome, is the date window. Serious kudos are in order for the fine folks at Oris as they did such a nice job blending in an inconspicuous date aperture at 6:00. I can recall wearing the watch one day and I needed to sign and date a document; I actually had to think about whether the Oris contained a date. Note: this is the kind of date window that I like.
Other nice details abound on the Oris Divers Sixty-Five such as the lozenge-like crown. It's actually a nicely designed, and functional, characteristic that could be manipulated with light gloves if necessary. I noticed a little difficulty when trying to screw the crown back in, but this subsided after 4-5 uses as the threads seemed to better seat themselves.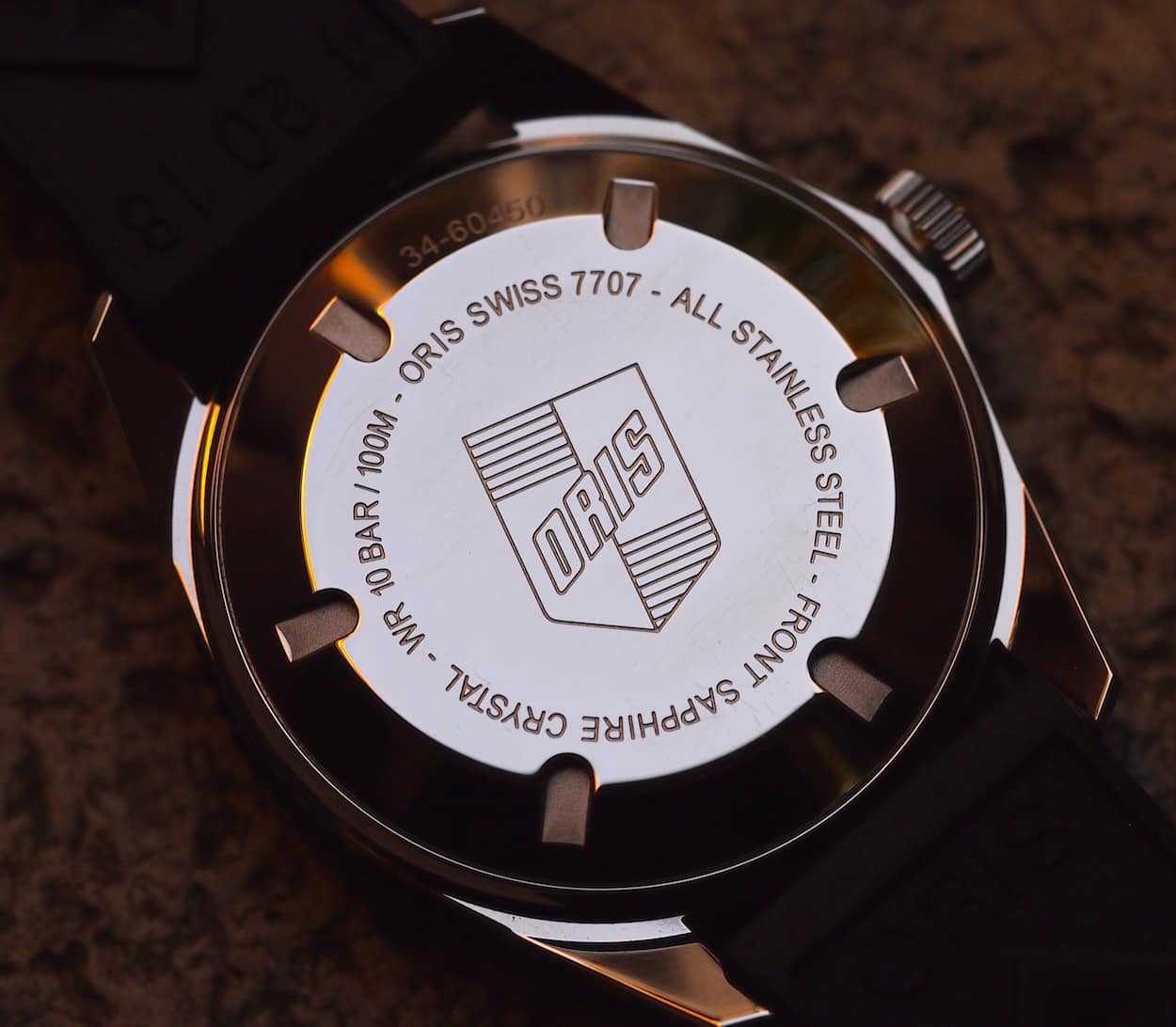 I also really like the screw-down case back. It's absolutely faithful to the original and contains the old Oris logo: cool stuff indeed!
The overall case design of the Oris Divers Sixty-Five is obviously vintage, but it's actually refreshing compared to a lot of the big, bulky divers on the market today. I like several modern divers, but not enough to buy them as I find their cases too bulky and, in a way, unrefined. I spoke about the relatively elegant case design of the sadly departed Rolex Submariner 14060M and how it gave way to the far more blocky version that we have today. Well, the Oris probably doesn't rank up there with the Rolex, but it is a "case" where the housing does more with less. This is no more evident than when one looks at the watch from the side. One really begins to understand, in conjunction with the relatively slim crystal, why this watch isn't depth-rated to 300M. It actually seems impossibly thin…and I really like it. The case is polished on the sides and matte on the top; it's simple but effective. Oh, if I have one detractor about the Oris, it has to do with the bezel. For some reason, when I gripped the bezel to turn it or looked at it from the side, I found the black paint to look glossy and, comparatively, not up to par with the quality of the rest of the watch. The paint strikes me as something that won't wear well – much like a 60's version – but that's purely speculation on my part.
When it came to wearing the Oris Divers Sixty-Five, I found that the watch garnered a lot of looks. Like I said, that crystal is catchy. I found that the watch wore true to size and while it has lengthy lugs, the overall look is still slim.
One thing that I didn't love was the strap. It's a high quality rubber, but man is it long. I felt like I was fastening a belt to my wrist and I was seriously tempted to throw on an actual Tropic to help bring the length down.
The buckle is nice and would definitely be part of any transplant that I'd perform, but the strap would go. Incidentally, we wouldn't be surprised if a bracelet makes its way to the market at some point. I wore this watch in casual and business casual situations. In this era of "anything goes" where people wear suits with G-Shocks, I guess the Oris could be formalized, but I'd definitely change the strap.
Stemming back to our original article on the Oris Divers Sixty-Five, I spoke about the inevitable comparisons of this watch to a couple other retro divers: the Tudor Black Bay and the Longines Legend Diver. For starters, both of those watches feature 300m depth resistance, but they also tend to be a bit bigger and they're more expensive. Specifically, the Longines lists for 2100 Euros and the Tudor sells for 2910 Euros (3210 Euros on bracelet). To me, this makes the Oris a highly competitive offering. The movements on all three are essentially the same and I think that the level of finishing is within spitting distance. I actually like all three and I also find that each has its minor issues. The Tudor carries that "Rolex-lite" pedigree, but I think that it suffers from an overly thick case and I dislike the little band of color around the crown. The Longines is a beauty, but the watch geek in me can't forgive or forget the deletion of the "no date" model. Finally, when we come to the Oris, I think that it best captures the lighter look and feel of early divers. Of course, you sacrifice depth and I explained my minor concern about the bezel.
If you can't tell, I really enjoyed my time with the Oris Divers Sixty-Five. It's a rugged, but comfortable watch that would certainly travel well. It would make a satisfying purchase for the wearer and would likely come off as fairly unique versus other watches sold today. Furthermore, in today's environment of ever-escalating prices for new watches, it's nice to see a company offer something so well designed and thought out for a relatively sensible amount of money. Our chats with Oris have indicated that they'll likely try to expand on this heritage theme. If the Sixty-Five is of any indication about Oris' direction, we think that's a great thing for buyers.
More information can be found on https://www.oris.ch/