5 Fratello Watches Writers Give Their Top 5 BaselWorld 2015 Plus Their Bummer Watch
It is already about a month ago that BaselWorld 2015 took place. For Fratello Watches, the first time we were present at the show with no less than 5 team members. Running from appointment to appointment, seeing and touching brand new watch collections, some time even prototypes still, talking to brand's representatives, attending diners and drinks… all hard work.
We thought it would be nice to give you a run-down of our team's Top 5 best watches, per member. So that will be 25 watches in total, given the fact that some of us might favour the same watches. However, the reasons might vary and that should make it interesting. Also, we decided to also give one bummer watch per writer. The watch that disappointed you. So this adds up to 30 watches in total.
Michael Stockton's Top 5 BaselWorld watches
5. TAG Heuer Carrera Telemeter Cal.18:  Just barely making the top 5 cut, it's with a semi heavy heart that I add the new Carrera Telemeter to the list. If you read our feature on this piece, you know that I love the looks but I simply can't get past the price of 5,900 CHF.  Still, perhaps showing I'm a sucker for skin-deep beauties, I had to include it.  The size, the colors and the badging are all just about perfect.  TAG, who disappointed so many with the start-stop cancellation of the CH80, showed that they're still alive with the introduction of the Telemeter, which is primarily why it makes my list.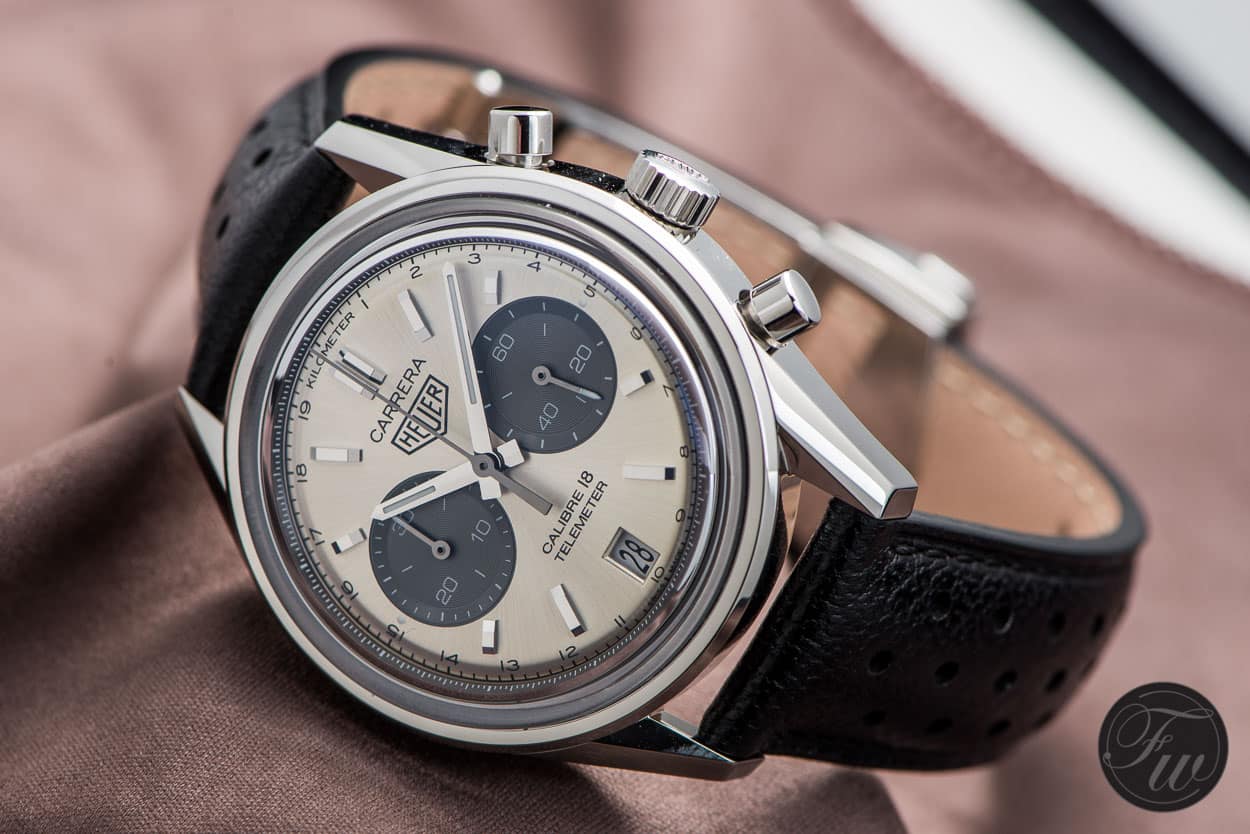 4. Oris Divers Sixty-Five:  No surprise here that this watch is in the heart of my batting order.  I knew I'd like this watch when we published our pre-Basel article, but it was even better in person.  As far as I'm concerned, Oris now makes the best looking vintage-inspired dive watch on the market.  A 40mm case size, perfectly domed crystal, and the addition of a vintage Tropic-styled strap are all evident to Oris' attention to detail.  On top of this, an affordable price of roughly 1,600 CHF makes it an absolute winner from a brand that is easy to buy from with an accessible service network. Click here for our Oris Diver Sixty-Five hands-on article.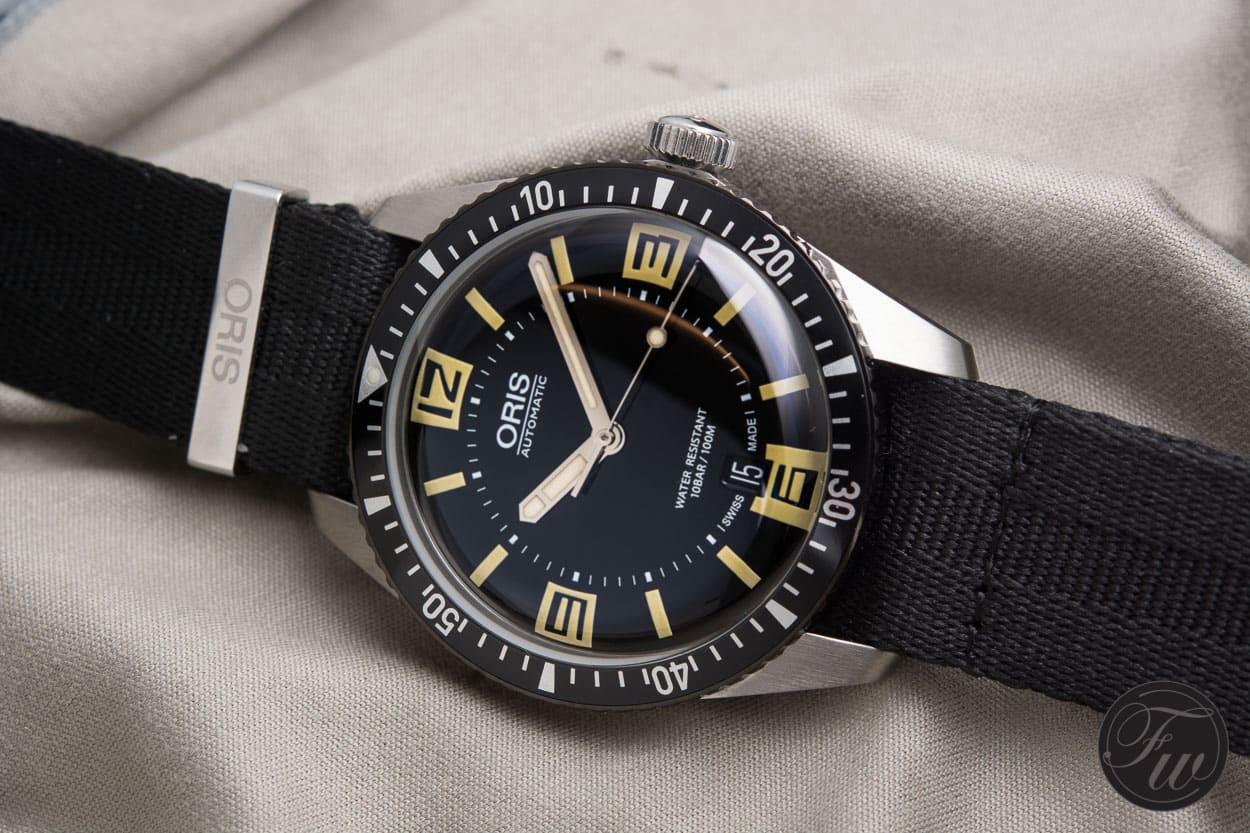 3. Patek Philippe 5170G:  The team is likely surprised about this one as Pateks aren't normally my thing.  Price is one reason for my normal apathy.  Also, I'm not a complications guy and, lastly, Pateks often carry looks that border on boring (to me).  In this case, though, Patek showed us a new dial on an existing watch and this black dial stopped me in my tracks.  The 5170G has classic 2-register chronograph looks with a white gold case and, most importantly to me, a manual winding movement.  This would absolutely do it for me as my one and only Patek except for the slight issue of $81,000.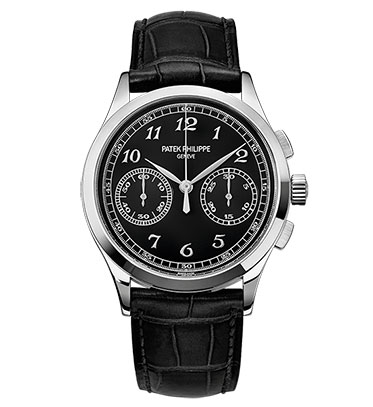 2. Tudor Pelagos Blue:  If you've read my article on vintage blue Tudor Submariners, then this choice shouldn't come as a surprise.  I've been waiting for this one and Rolex, umm Tudor, finally came through and even upped the ante further by including a new, chronometer certified in-house movement.  I think it's fantastic that Tudor is taking away the excuse from the whiners that their pricing was wild for watches that featured a me-too movement.  Now, I'd argue that the Pelagos, at 4,200 CHF, represents a near-bargain for a dive watch ultimately made by Rolex.  It's a modern watch made of modern materials that should suit those not onboard with vintage inspired pieces such as the Black Bay while also simply standing out as a great, utile dive watch.  About that paragraph of writing on the dial, though…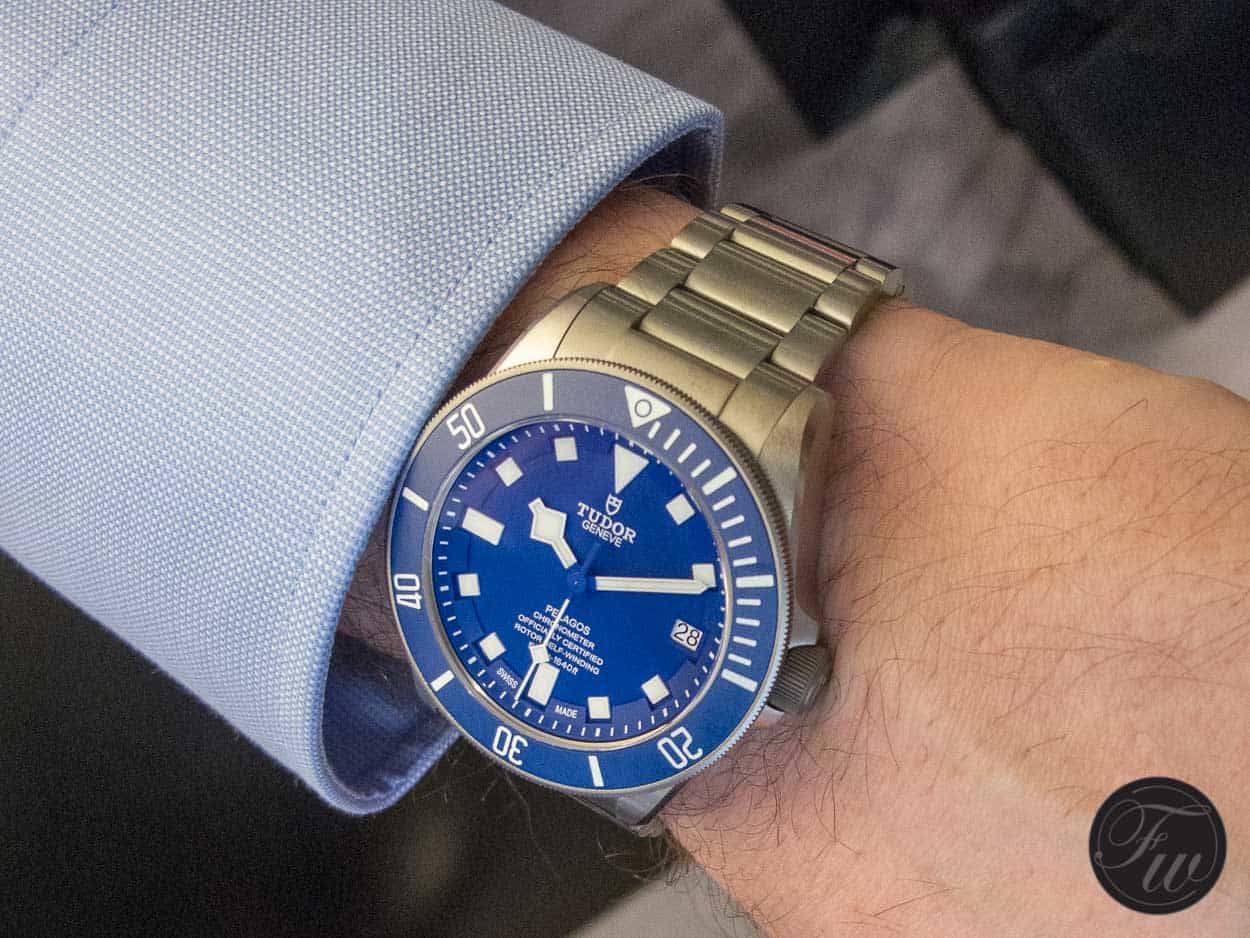 1. Omega "First Omega in Space" Speedmaster Rose Gold:  When I was poring through my pictures trying to decide my Top 5 BaselWorld watches, I kept coming back to this one.  I rarely go for gold-colored watches, but this FOiS in Sedna gold with dark brown panda dial looked amazing in person.  Amongst all the new Omegas in Basel, and there were many, this is the one I'd like best on the wrist.  The case design is fantastic and smaller than a normal coaxial Speedmaster and the dial is one of magical simplicity.  Call me crazy, but I find the white space so stark and beautifully contrasting that it even reminds me slightly of a certain Rolex made famous by a certain actor turned salad dressing maker.  At roughly 15,000 CHF, the price is a bit intergalactic, but it is a showstopper.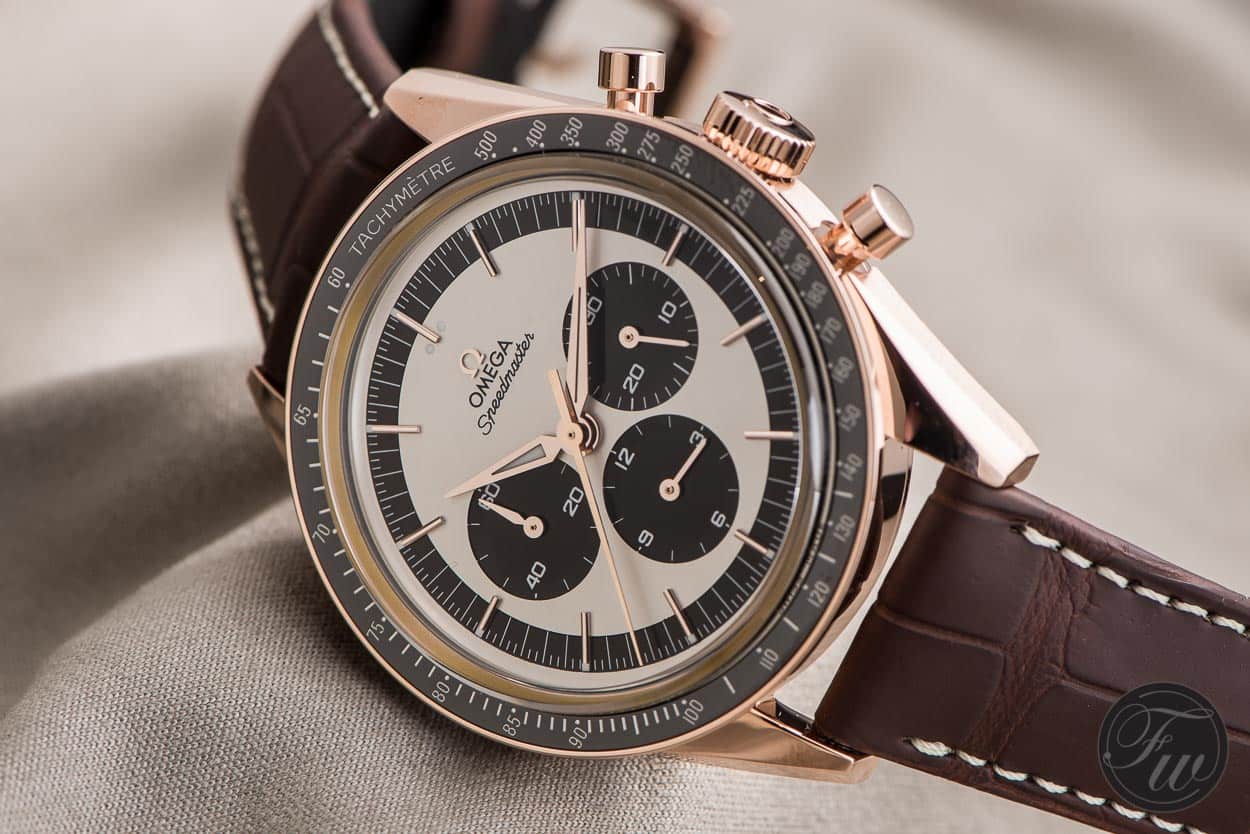 Bummer watch: Tudor North Flag: When I first saw grainy, leaked images of the new Tudor North Flag, I thought to myself that it had to be some sort of gag. While we all can assume that the watch is well made, I find the looks forgettable and reminiscent of several polarizing pieces. First, and maybe it's just the colors and power reserve gauge on the dial, but it reminds me of late 90's Seiko Kinetic watches. Furthermore, while some are applauding the fact that Tudor is moving away from the retro set by introducing a non-heritage piece, the North Flag does draw upon the Ranger II with its case design, dial and integrated bracelet. This, in my opinion, is not a good thing. While I understand that decisions on looks are purely in the eye of the watch wearer, I find the Ranger II forgettable at best so it's an odd one to use as inspiration. My final, and biggest beef with the new Tudor, though, is the tacky power reserve indicator on the dial. It's unnecessary and ruins any chance of clean, simple looks for the watch. The upside is the new in-house movement of course, but one can source this more tastefully in the revised Pelagos.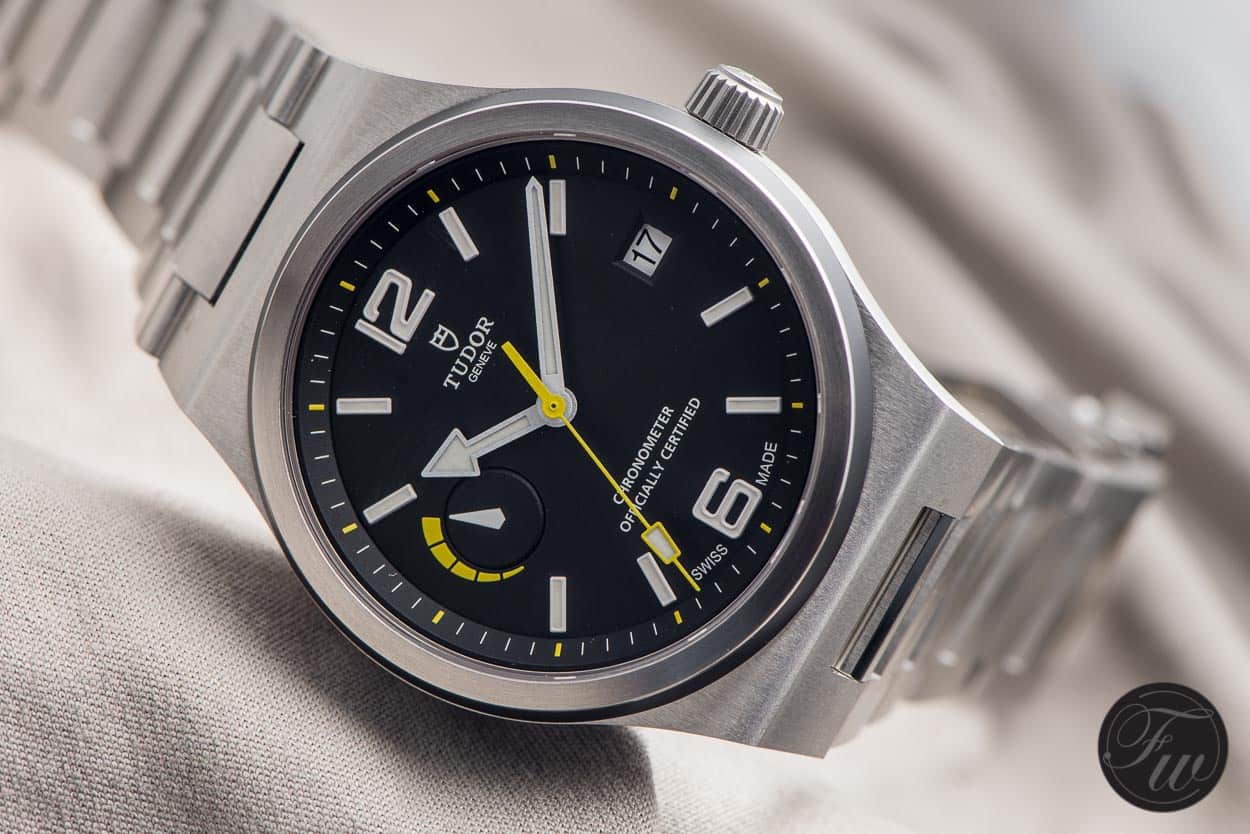 Gerard Nijenbrinks' Top 5 BaselWorld watches
5. Rolex Yachtmaster Everose with Oysterflex rubber strap. A difficult one; my first impressions were 'do I like it or not?'. Which I like. I like watches which I have to learn about and have to grow into. Easy likes are quickly forgotten, a grown love mostly lasts longer for me. Not a fan of gold, other than white gold, at all, this one kept me puzzled however. But then I learned (through Robert-Jan's review here) about the special construction of the rubber strap, and found out that I really liked the relief in the rotating bezel. So, yes I like this Calibre de Cartier Diver killer; it's my number-five favourite Baselworld 2015 watch. And I'm waiting for the white gold or stainless steel version next year…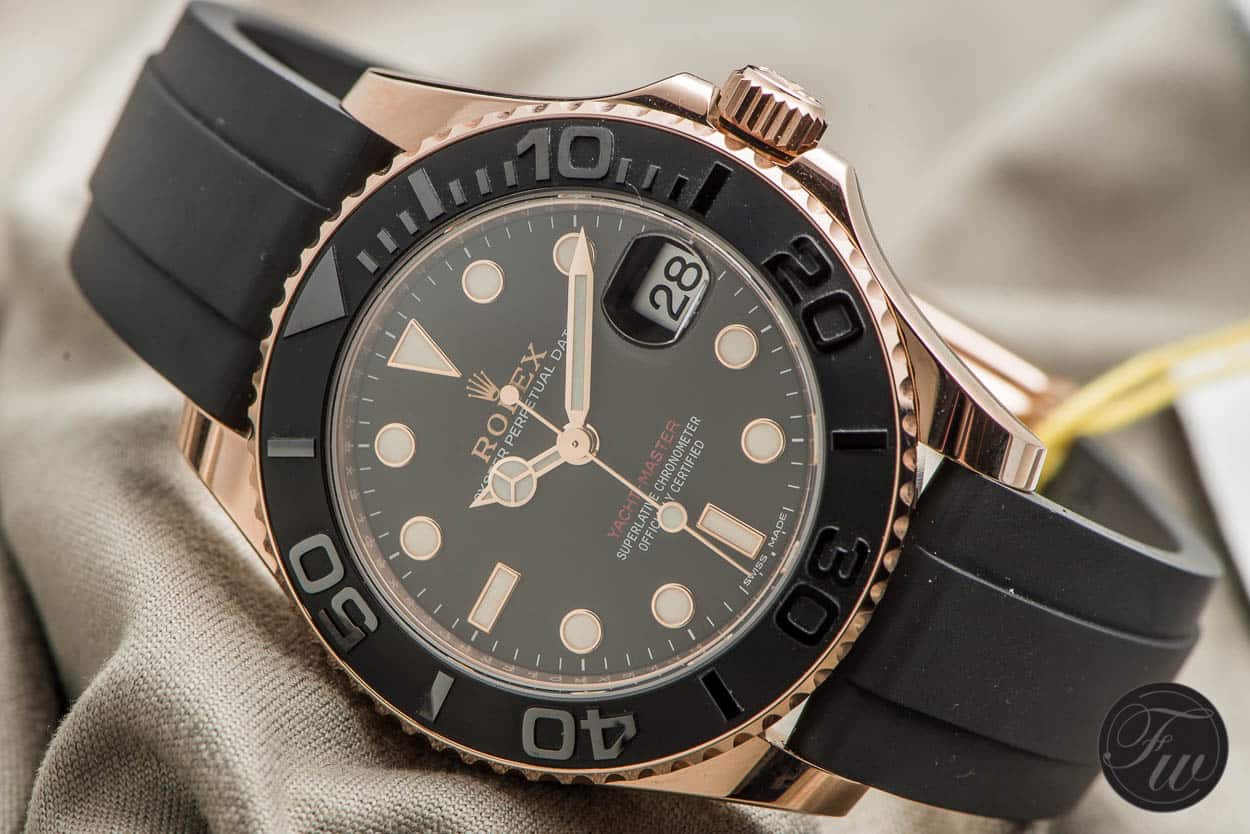 4. Casio G-Shock Mudmaster. Talking large watches… The new Casio G-Shock Mudmaster is my favourite number 4. After I bought the GPW-1000 RAF Gravitymaster last year (of which I wrote my controversial review here) I was pleasantly surprised by this year's new Mudmaster. It will have about the same huge size as the GPW-1000 however sports a digital display for its additional functions, which can't be bad given my experiences with the additional analogue functions of the GPW-1000. I can't wait to put the Mudmaster on my wrist in September, and to the test 😉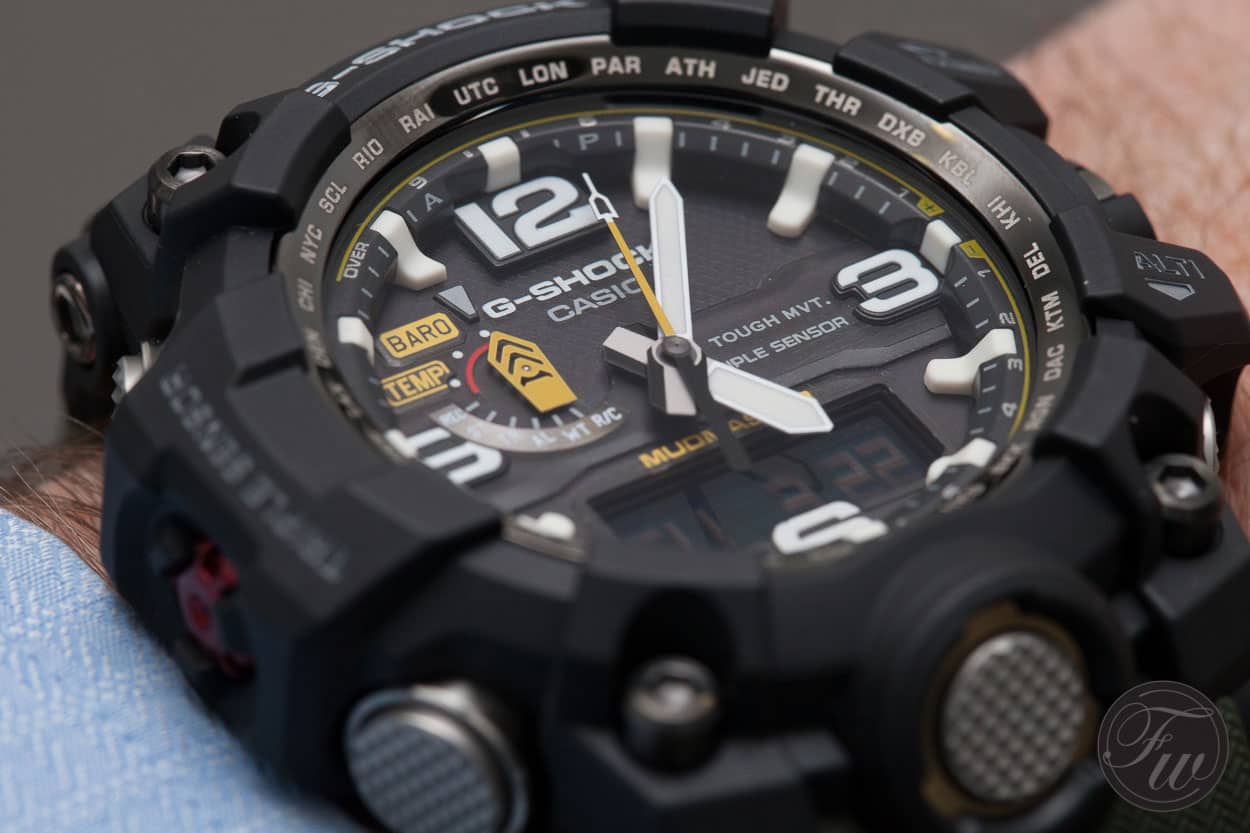 3. HYT H3. I'm following HYT with interest from their start in 2012. I love new and unusual techniques in watchmaking, and this year's – for me unexpected – new H3 model struck me because of the new indication of time. The combination of linear, rotating and jumping indications makes it a very attractive piece of unreachable technique for me. Probably a bit large on the wrist, but hey, if you buy these kind of watches you want them to be seen as well, don't you!?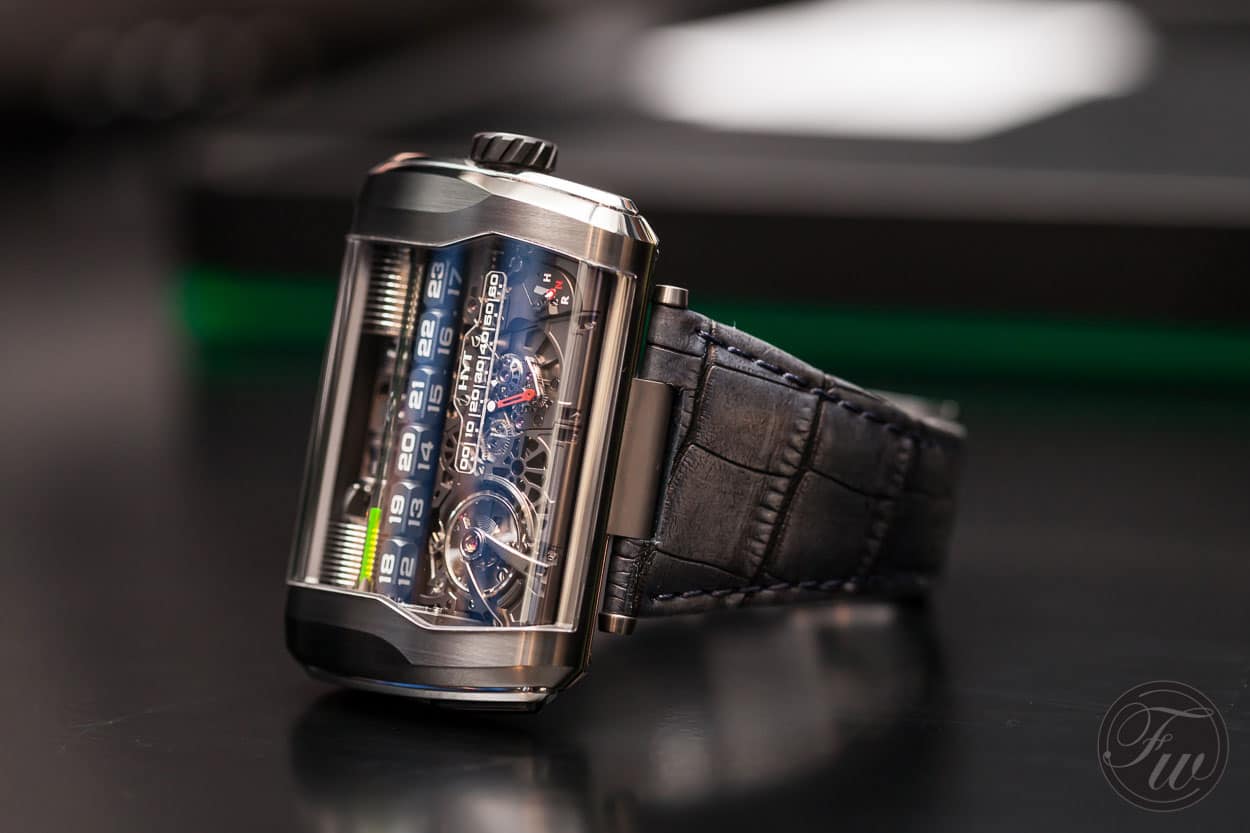 2. Grönefeld Parallax Tourbillion Platinum. Not even out of chauvinistic consideration, but one of my favourite watches just got even more beautiful at Baselworld 2015 in my opinion. I have a weak spot for salmon dials anyhow, and now the Grönefeld brothers came with this platinum edition. It's not fair! Too beautiful and only 5 pieces will be produced.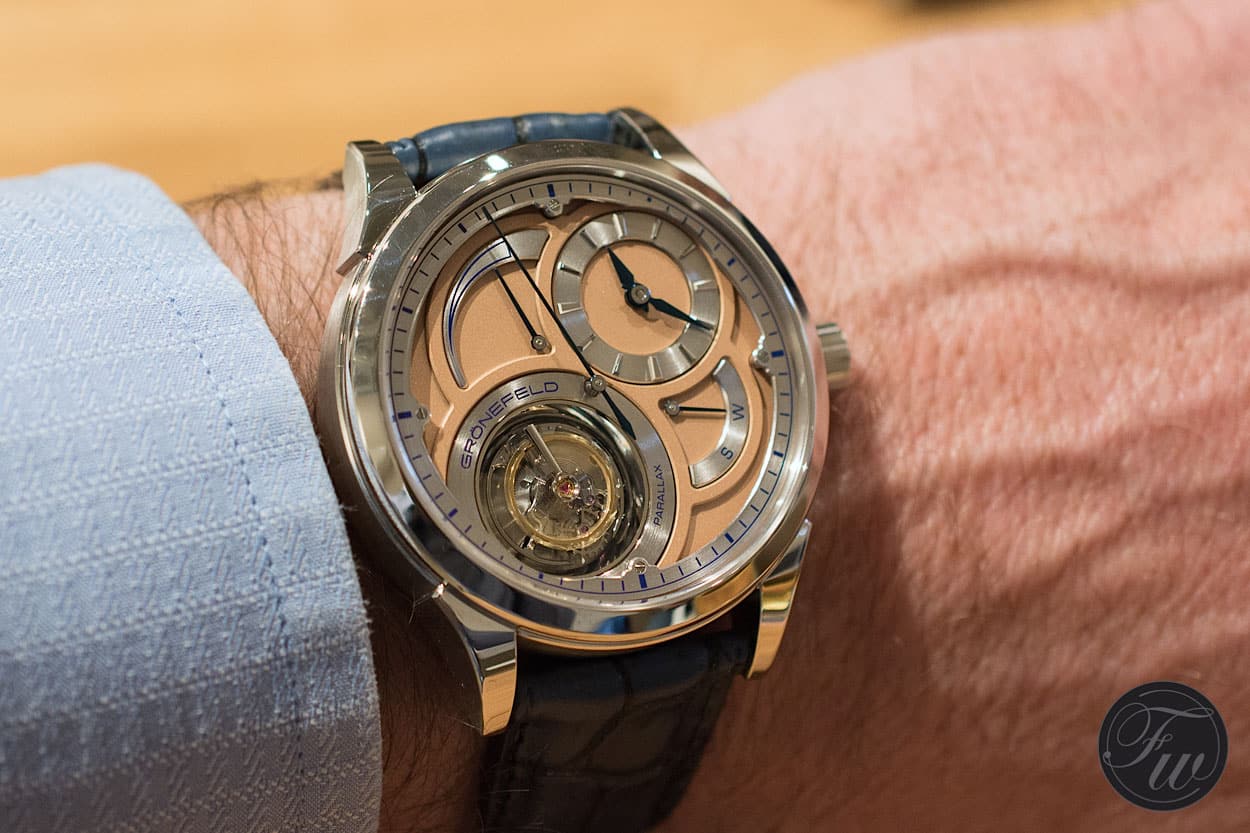 1. Omega Speedmaster Professional Silver Snoopy Award. How else could I end my Baselworld 2015 favourite top-five than with the only watch I ordered at this years fair? And even then after overcoming some reluctance. To me, Speedmaster Professionals have black dials, and although I love the Alaska and for instance the 35th Anniversary Moon Landing edition, I had to get used to the new Snoopy at first. After putting it on my wrist I was sold however and now I have to own one.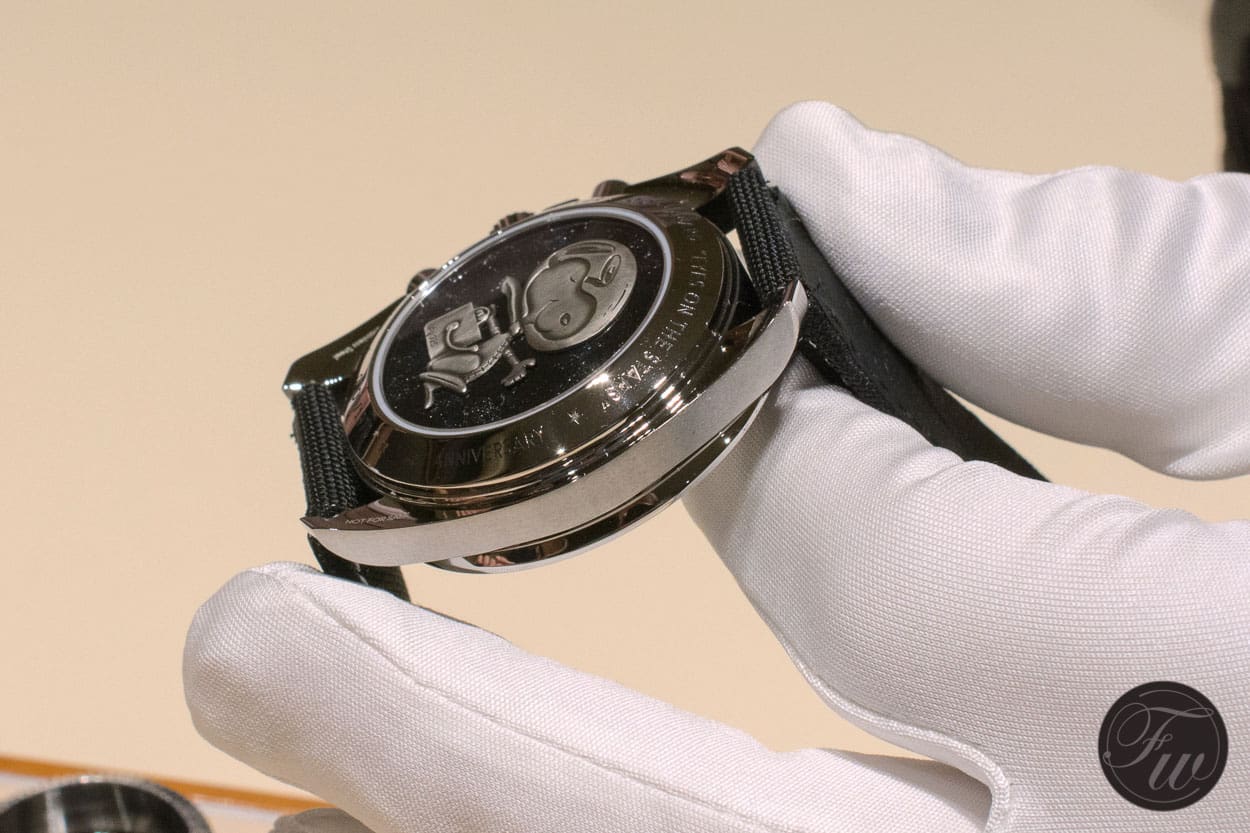 Bummer Watch. Of course I could have easily mentioned the Patek Philippe 5524G Calatrava Pilots Travel Time of which you could hear negative talks at the show on a daily basis. However looking like a Zenith or not, I still somewhat like the watch, and it's a Patek. Far worse was my experience with the TAG-Heuer Connected Watch – because it wasn't there. Just like the Apple Watch the TAG-Heuer Connected Watch wasn't present at the fair. Although press-conferences were announced, no watch was to be seen. Intel and Google can't be wrong, TAG-Heuer can in my opinion.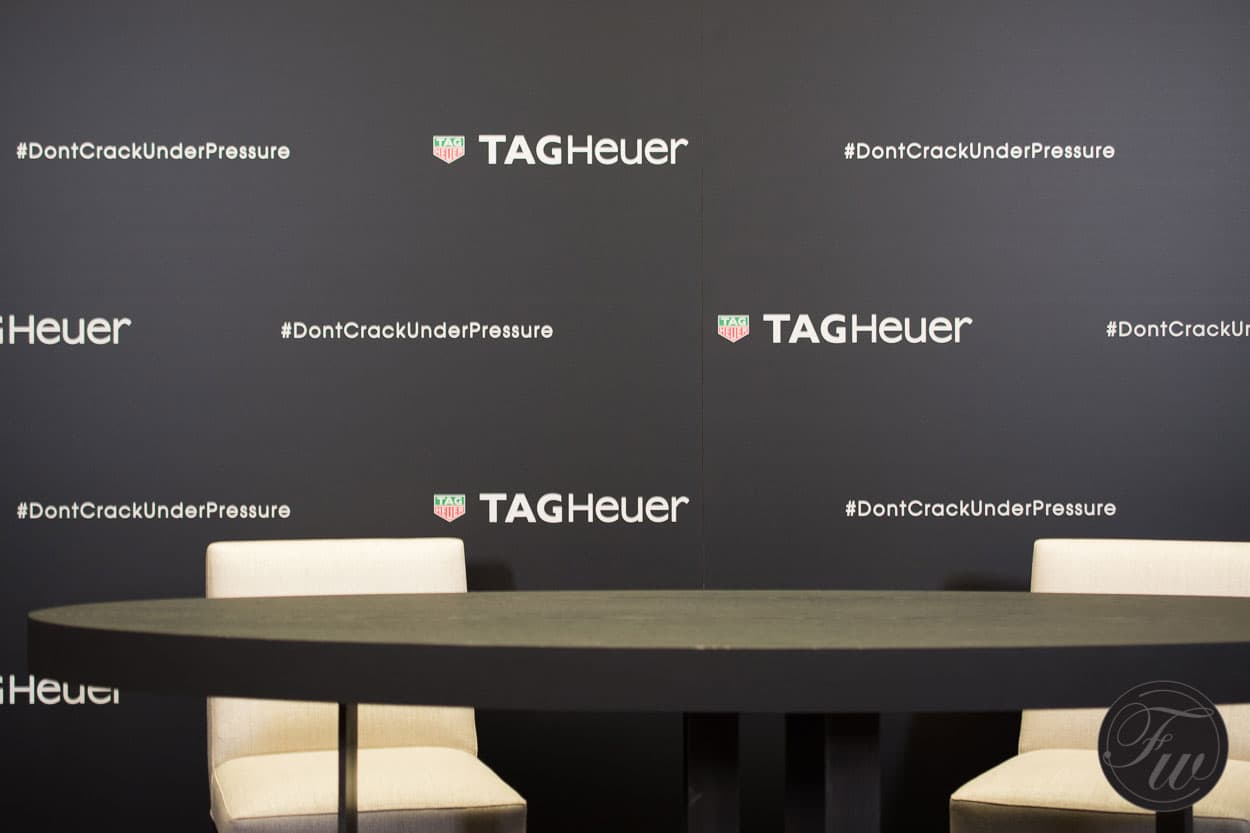 Balazs Ferenczi's Top 5 BaselWorld watches
My list of top 5 watches have no particular order. Every watch I list here I like for a reason but I do not wish to put them in any particular order. There are cheaper and pretty expensive ones, pieces by major brands and smaller companies, sport and dressy models. But let's have a look at them, shall we?
Frederique Constant Swiss Horological Smartwatch. I have covered this watch not too long ago on this very site. As I told you then and there I think this is a very interesting project Frederique Constant (and Alpina) coming up with. It has more to do with "smart watches" than Apple in my humble opinion. I love the dressiness of the watch, the fact that it does not at all look like something you would imagine when you hear the expression smart watch. I also look forward of the different models the above mentioned two brands will come out with during this year. It will be interesting to see how (if at all) this watch will change the watch industry.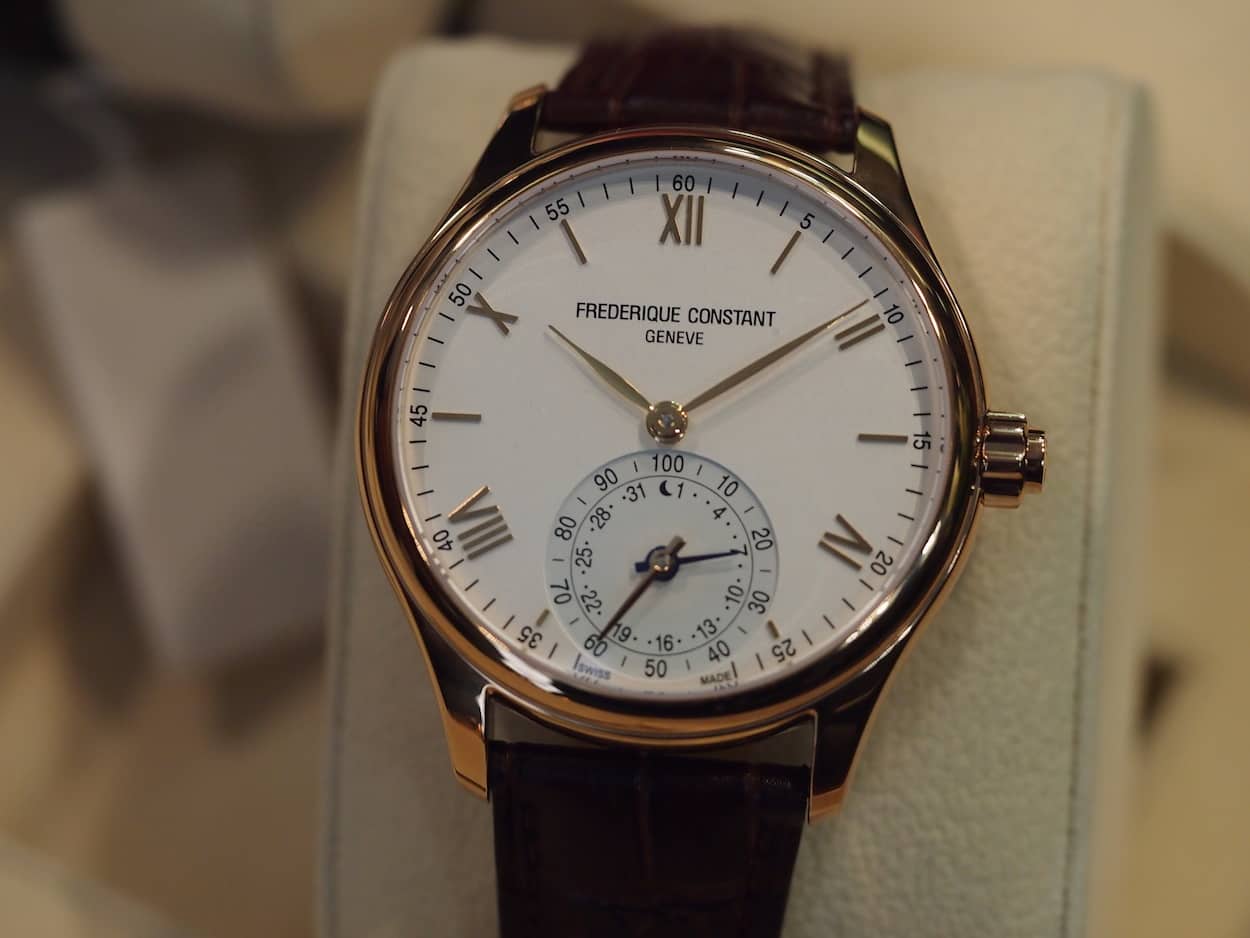 Omega Globemaster. While everybody was speculating about the new Snoopy Speedmaster – which I love by the way – I examined the new Globemaster watches with great interest. At first glance the watch gives you nothing spectacular but if you learn about the design elements the piece consist of, read about the name and where the whole idea is coming from it will give you a good full picture of a complex and deliberated watch. Not to mention that the blue dialed version with the platinum case is a true gem. The Trésor was a beautiful timepiece but with the Globemaster, in this segment, Omega really hit it off. We wrote about the Globemaster here.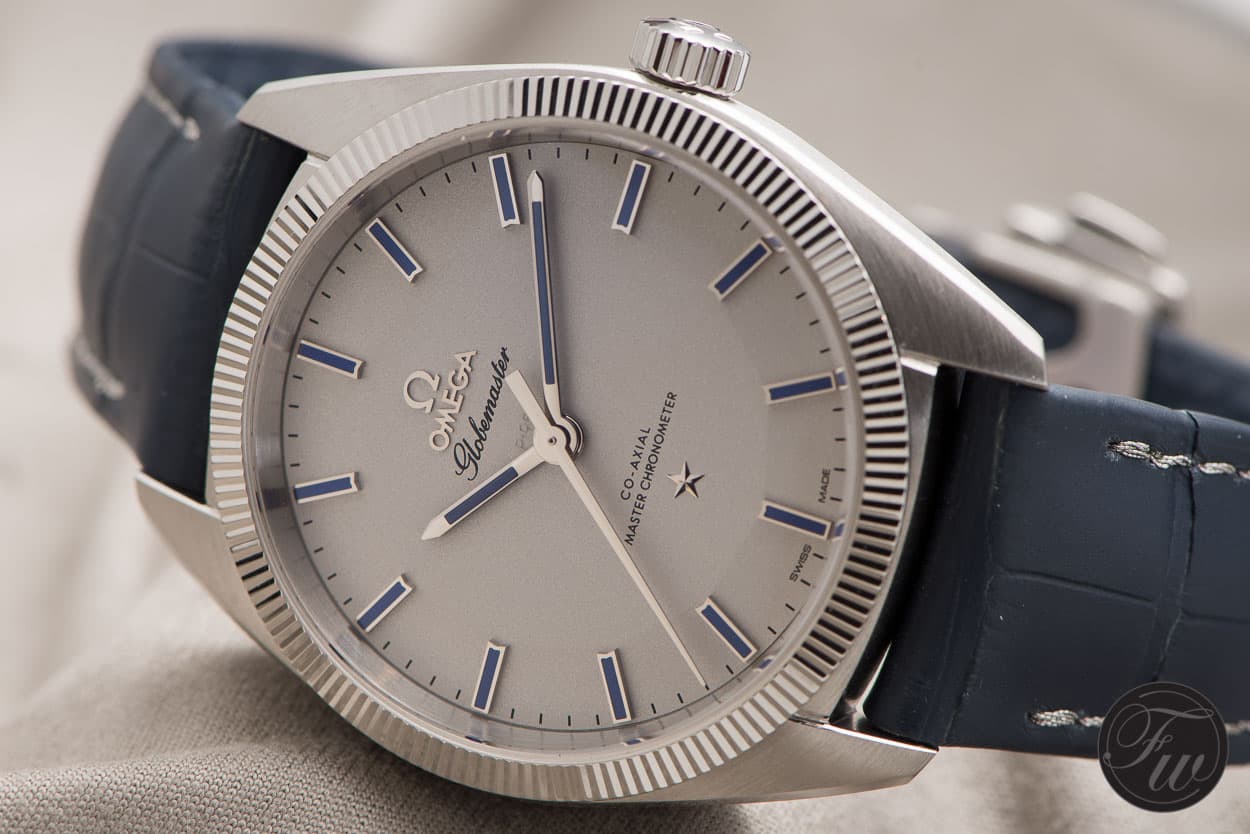 Fortis Monolith Chronograph. Fortis has been the underdog in this beautiful world of watches for so many years. While the vintage pieces are sought after, the modern ones lately gained limited success. With the new direction and their fresh and redesigned models, like their Monolith Chronograph I have this feeling they are on the right track. The PVD-coated chrono with its rich history and contemporary design can be a great seller for the Swiss company. The price tag is friendly, the movement is a trusted ETA 7750 the PVD is thicker and each bracelet pieces is individually coated. Everything is together for a sturdy space watch ready to spend another 20+ years in space.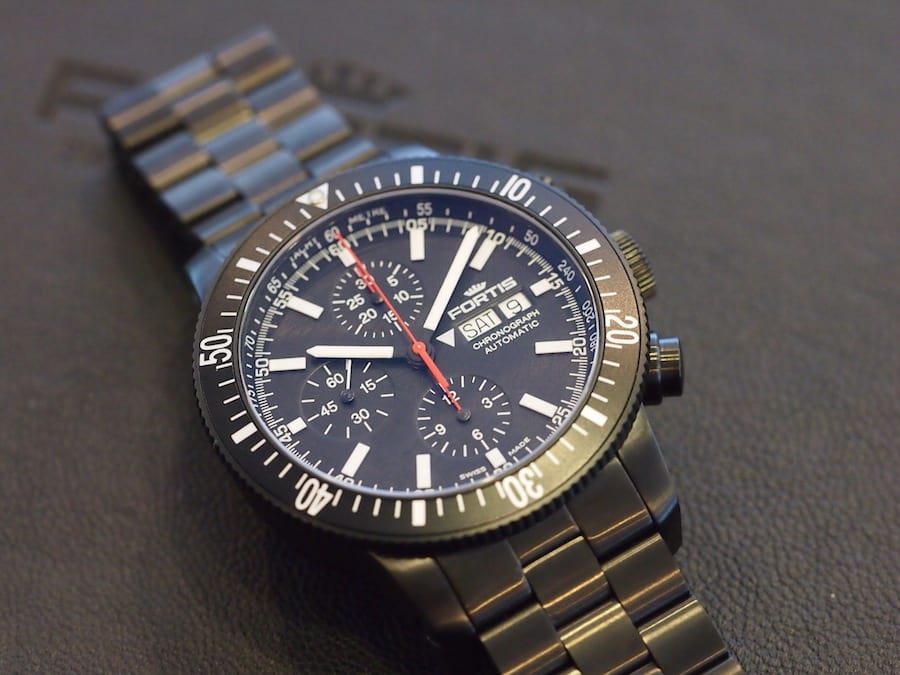 Patek Philippe 5270R.  If I could have only one watch (next to my Speedmaster Professional) I think I would go with the 5970. I know I know, everybody says that but it is indeed a work of art in so many ways. The price however is astronomical and availability is limited. Great alternative however is the 5270R and even though I am not a fan of gold watches for some strange reason the 2015 Patek Philippe 5270R just speaks to me. It has everything a man would ever want from his watch; triple calendar, moon phase, chronograph, beautiful manual wind movement, display case back, gold case the list goes on. If you have the funds and on the market for a sophisticated future classic, the 5270R might just be the right choice for you.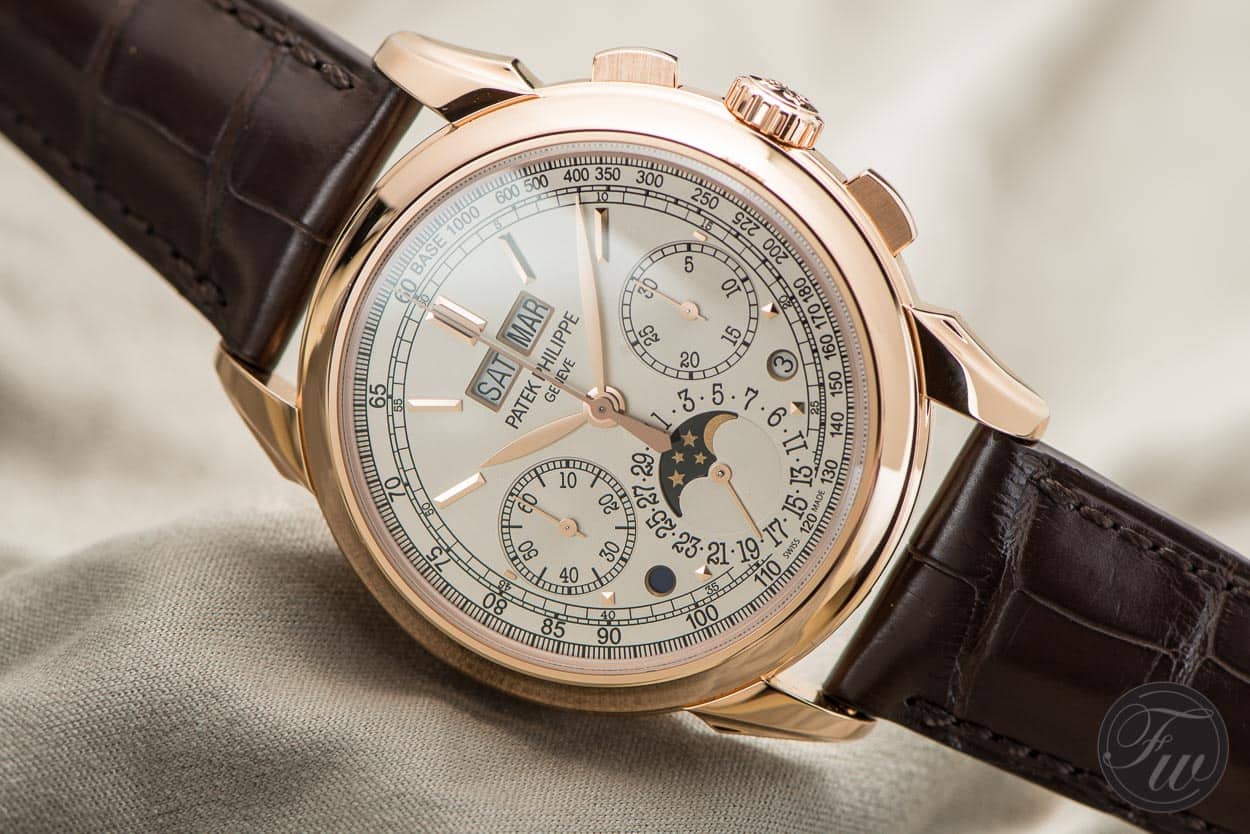 Angelus Tourbillon Lumiére 10.  As a fan of vintage watches I read with great expectations the article of Robert-Jan about Angelus. The company was resurrected by the same people who brought you Arnold and Son and we were all excited to see what will they offer to us. The Tourbillon Lumiér 10 in its concept is very similar to the Omega Globemaster to me; you have to do the homework as they say and study why the guys came up with this project. Every little detail has a reason and pays homage to the design Angelus was so famous for, for many years. The out-positioned sculpture-like tourbillon is just the added bonus.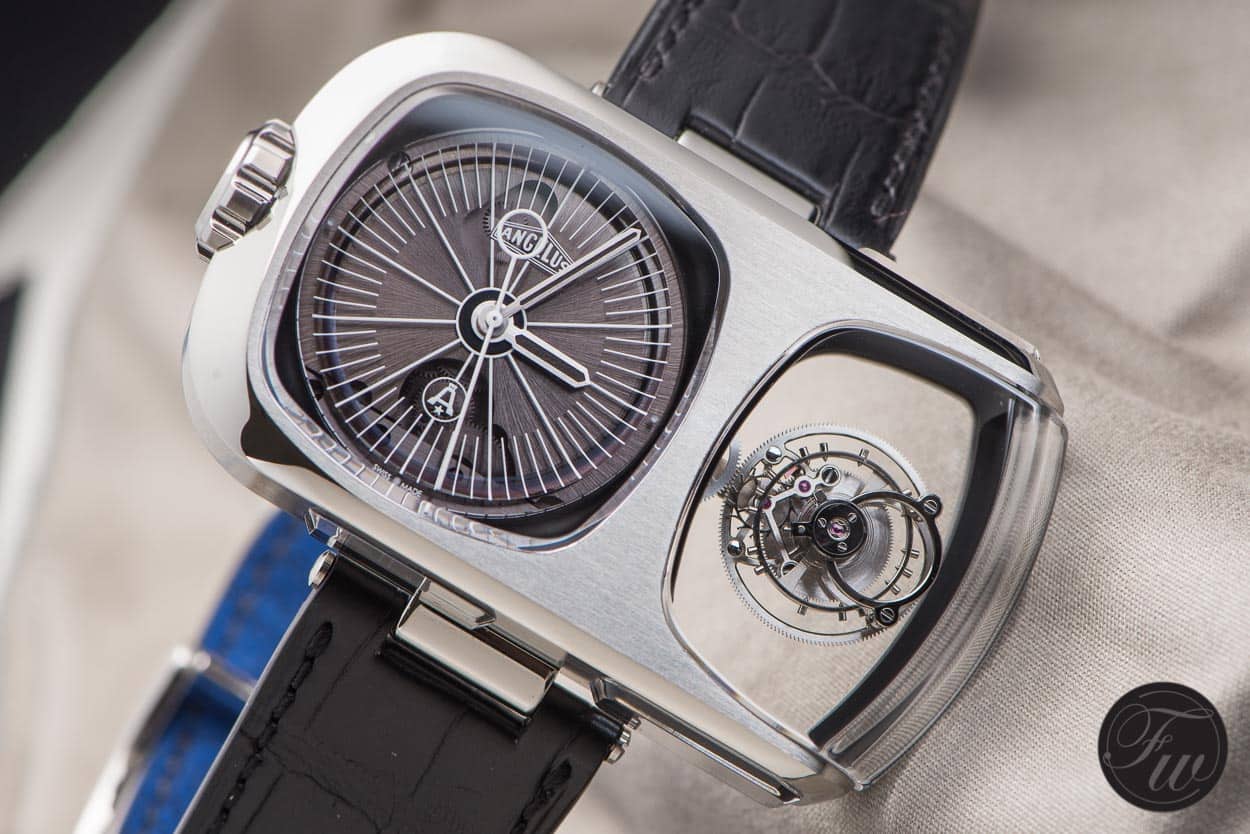 Bummer watch. To be fair I was not aware of the fact that TAG Heuer is cooking something smart watch-ish in their facility before BaselWorld. On the day of the "big event" I was kind of hyped up to hear what it actually was though. TAG Heuer, Intel, Google are all monster companies in their fields so anything comes out of their hands must be something at least interesting. I was between 2 appointments but I could stop by for a few minutes to see Mr Biver all smiley, giving out handshakes and whatnot but no matter how hard I tried I could not get a glimpse of the watch. Why? Because there was simply no watch, yet, to be revealed. I am not saying if and when they release the piece it won't be mindblown but for now it was just a big disappointment. It could have been intentional nonetheless, but it definitely didn't work for me.
Bert Buijsrogge's Top 5 BaselWorld watches
5. Armin Strom Gumball 3000 Tourbillon. Liking Armin Strom and the Gumball 3000 (impression from the 15th anniversary) I was pleased to see Armin Strom announcing their partnership this year. With a special interest in complicated watches the (really) limited Gumball 3000 Tourbillon, limited to 5 pieces only, makes it number 5. Way over my budget but an amazing cool timepiece.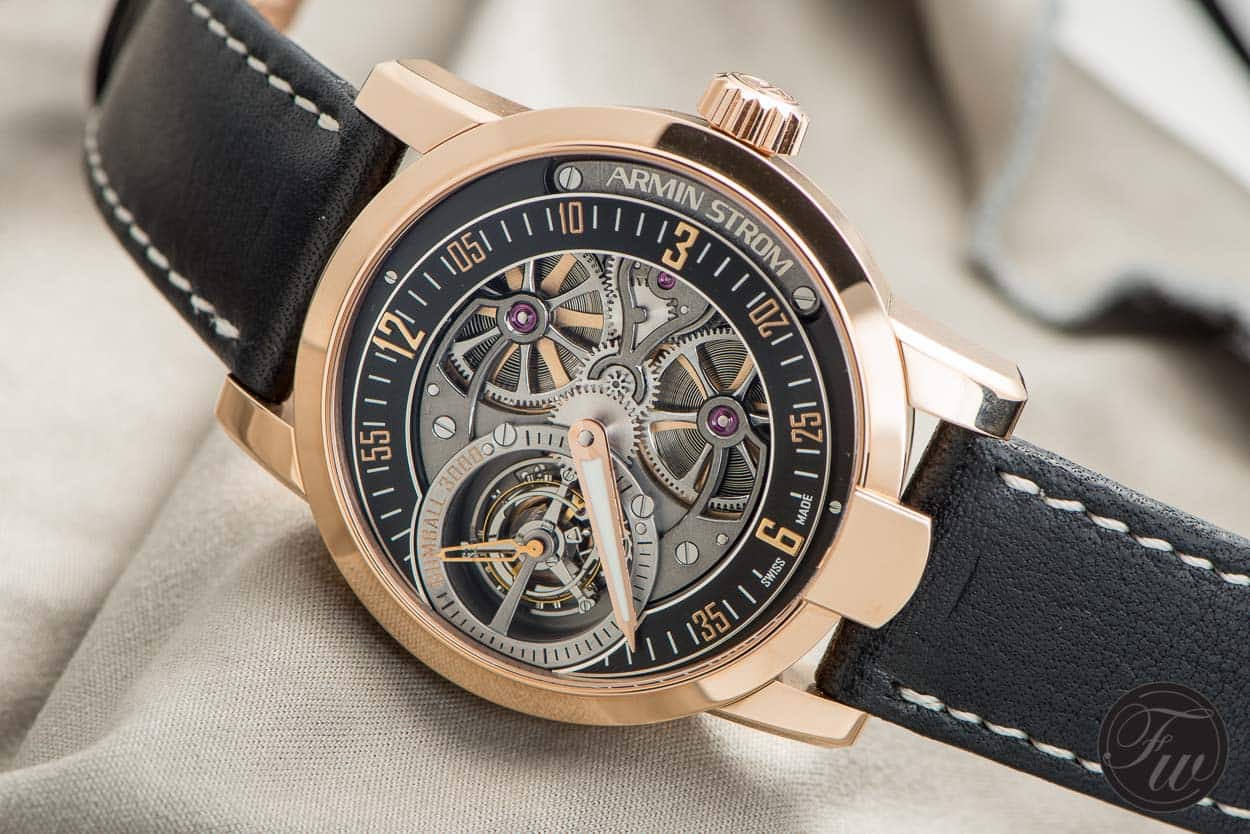 4. Romain Gauthier The Prestige HMS Ten. This Baselworld was the first time I got to meet Romain Gauthier and was impressed by the timepieces they showed. The Prestige HMS Ten is different in many ways and makes it nr. 4 in my list. First thing you will notice is the lack of a crown on any side of the case. You will find it on on the case back instead in the shape of a toothed wheel. Due to the case design the watch can still be wound from the side. Part of the movement is visible from the front, not something that I normally like but the design and finish of the gear wheel and balance wheel is super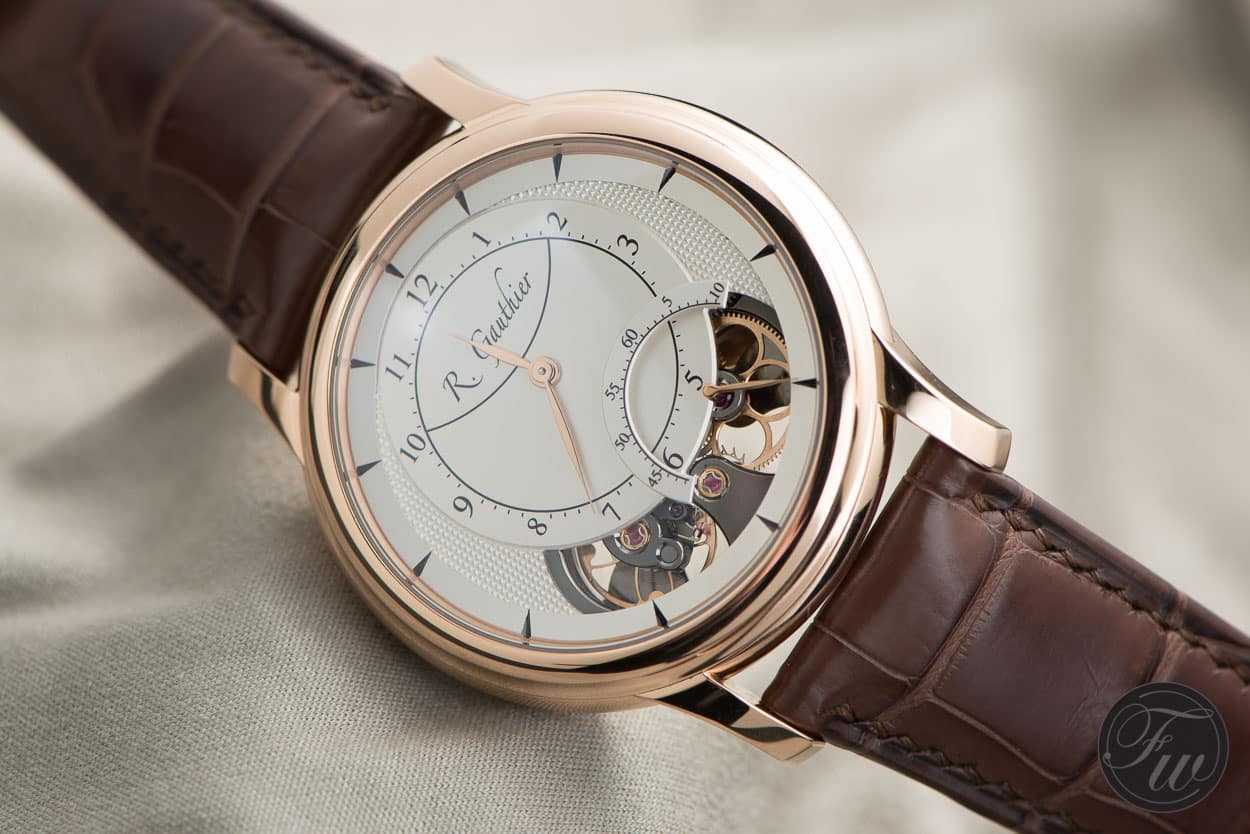 3. Nomos Zurich Worldtimer true blue. Ever since I've been at their headquarter in Glashütte I was impressed by this brand. Really big bang for the buck and they made it number three my list. My favorite model from the Nomos collection, the Zurich Worldtimer true blue. Introduced last year but haven't seen it in the flesh with a blue dial, that really makes a beautiful combination with the steel case. Thinking of blue dials, I've had quite a few over the years and ready for another one. This watch is one I would consider buying.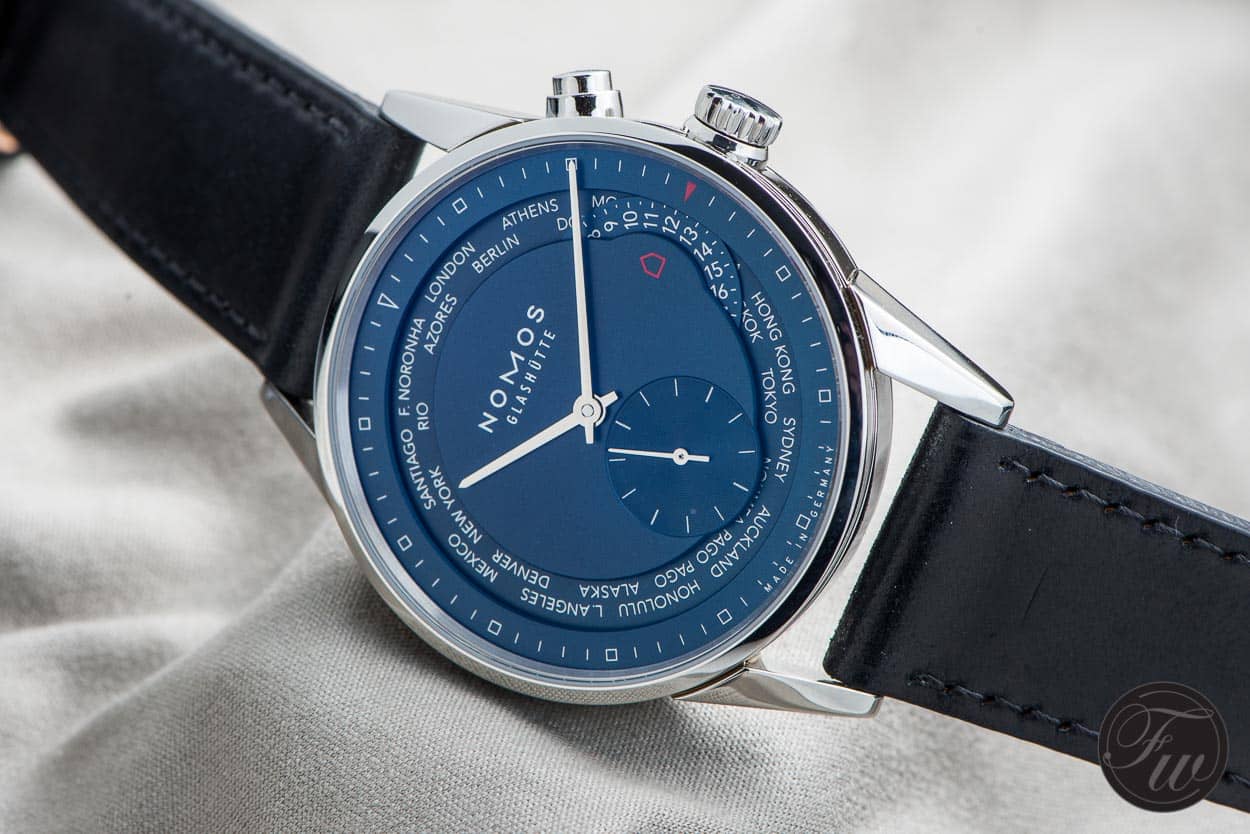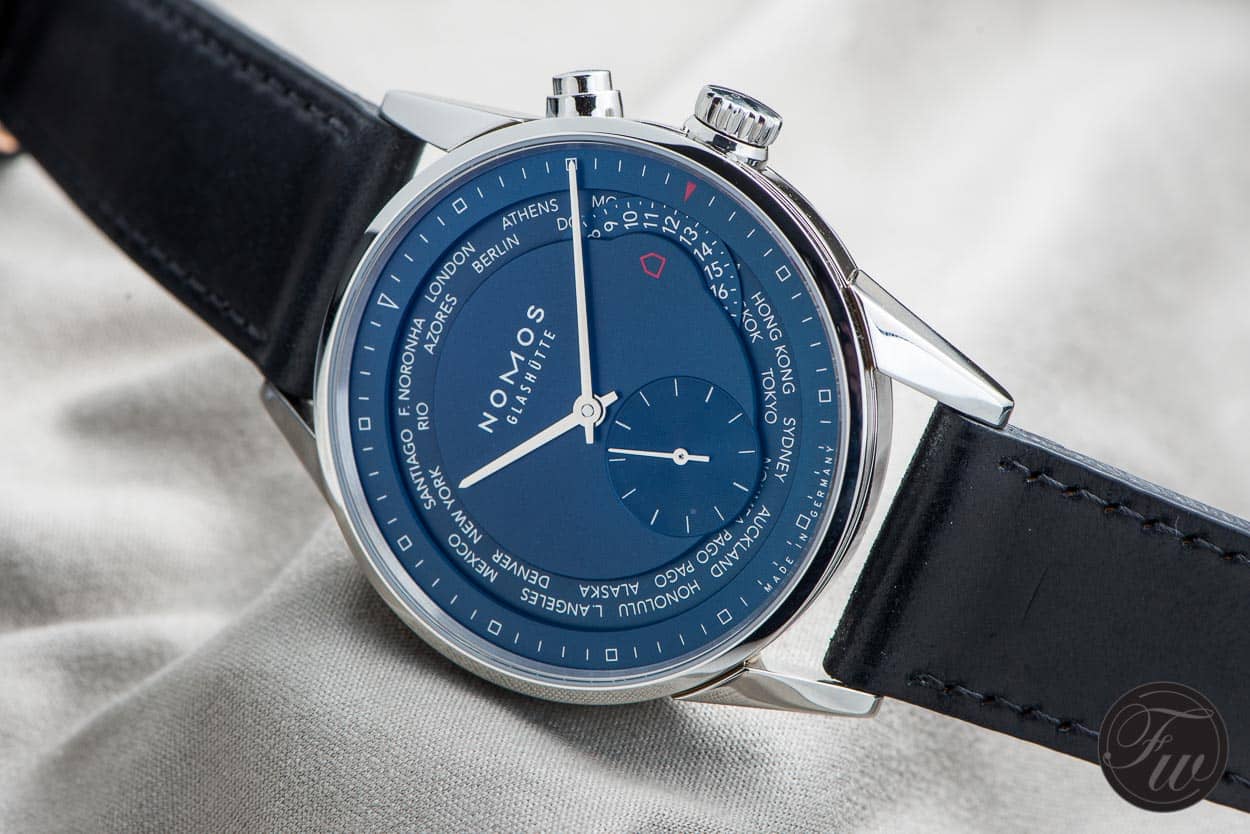 2. Tudor Pelagos. Another blue dial (and bezel) made second in my list. The new Tudor Pelagos with in-house movement. I've had the black Pelagos on my wrist many times before (thank you guys from Watchonista) and really like this watch. With its light weight titanium case and excellent bracelet this watch is a pleasure to wear. The new blue is really striking and I love the snowflake look. Never owned a Snowflake although I was really close buying one many years ago. As I want to wear a watch without having to worry if previous owners took good care of it this Snowflake is tempting.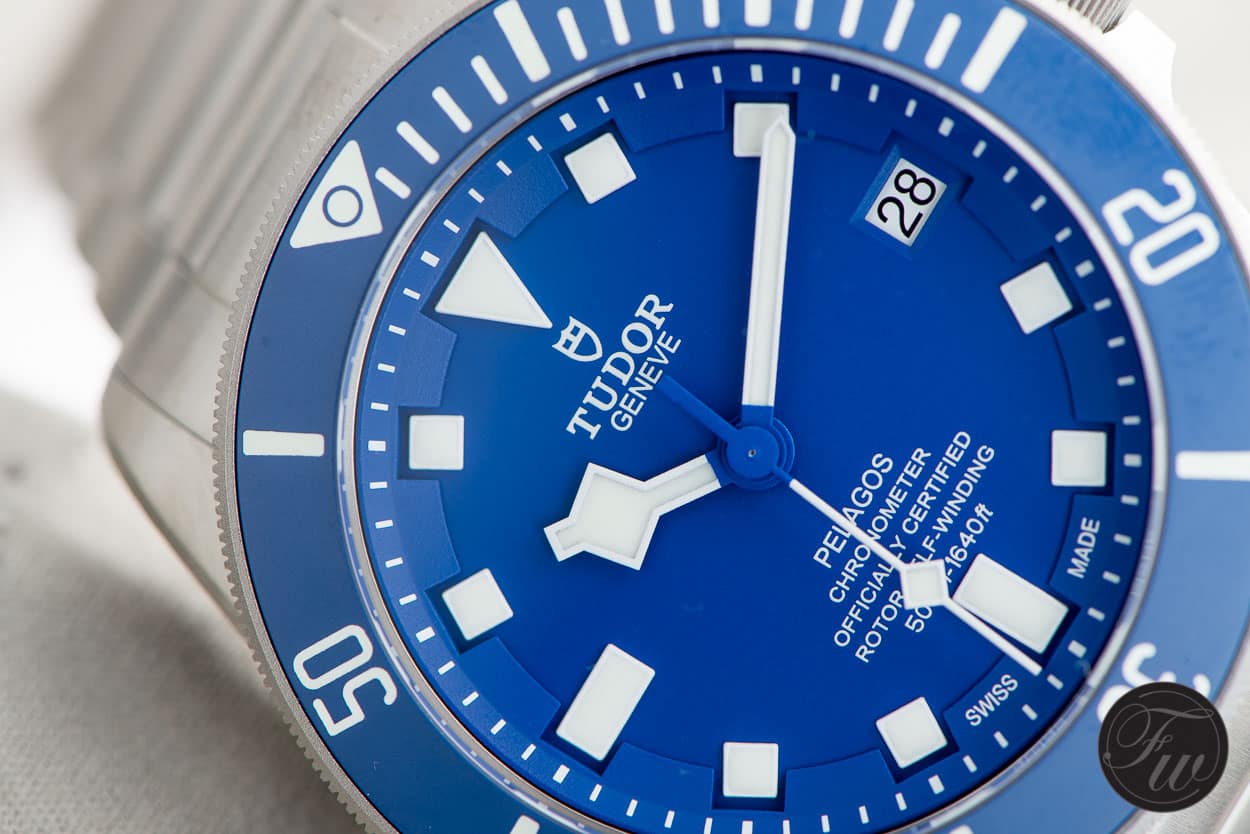 1. Omega Speedmaster Pro Silver Snoopy Award. As number 2 is already tempting, this one I would love to buy. Hey, let's be honest, I (might as well say we) have a thing for Speedies so it's probably not a surprise the new Speedmaster Snoopy lands (pun intended) in first place. It has a high contrast colour combination of black and white that I really like. Although I had to get used to the many details on the dial at first, it is put together really well. As soon as you put it on your wrist you know this is the one to get.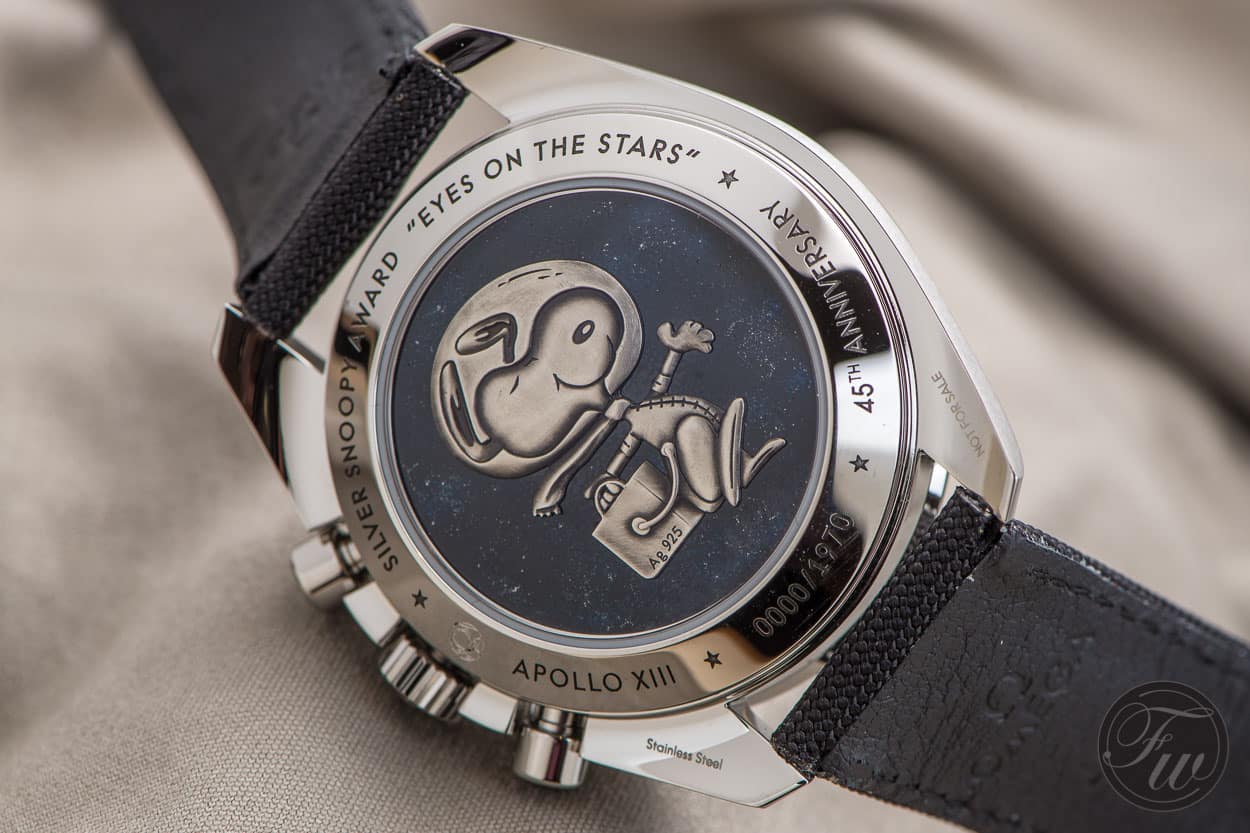 Bummer watch. While thinking of the disappointments of Baselworld a few things come to mind, most of them just for being seriously overpriced imho. But when returning brand Angelus showed us their heritage of beautiful chronographs I was a bit confused by their revival watch. The case design limits your physical movements and although beautifully crafted, to me it is like going in a totally different direction, something you could have done under any (brand) name.
Robert-Jan Broer's Top 5 BaselWorld watches
5. Tudor North Flag. I love functional watches and especially watches that look that way as well. I applaud Tudor for coming up with an entire new collection in these rather uncertain times. Tudor decided to go in-house with their movements as well. Something I'd never have thought. Another cool thing is that Tudor achieved to give it actually a normal price tag (just above €3200 Euro). I love affordable watches and this one – together with the new Tudor Pelagos with in-house movement – will hopefully do very well on the market. No downsides? Of course, the watch is a bit thin and small for a tool watch or truth to be told, for my own wrist. Some people complained about the movement that doesn't have the usual Côte de Geneve striping, perlage and so on, but I actually like the industrial look of the movement.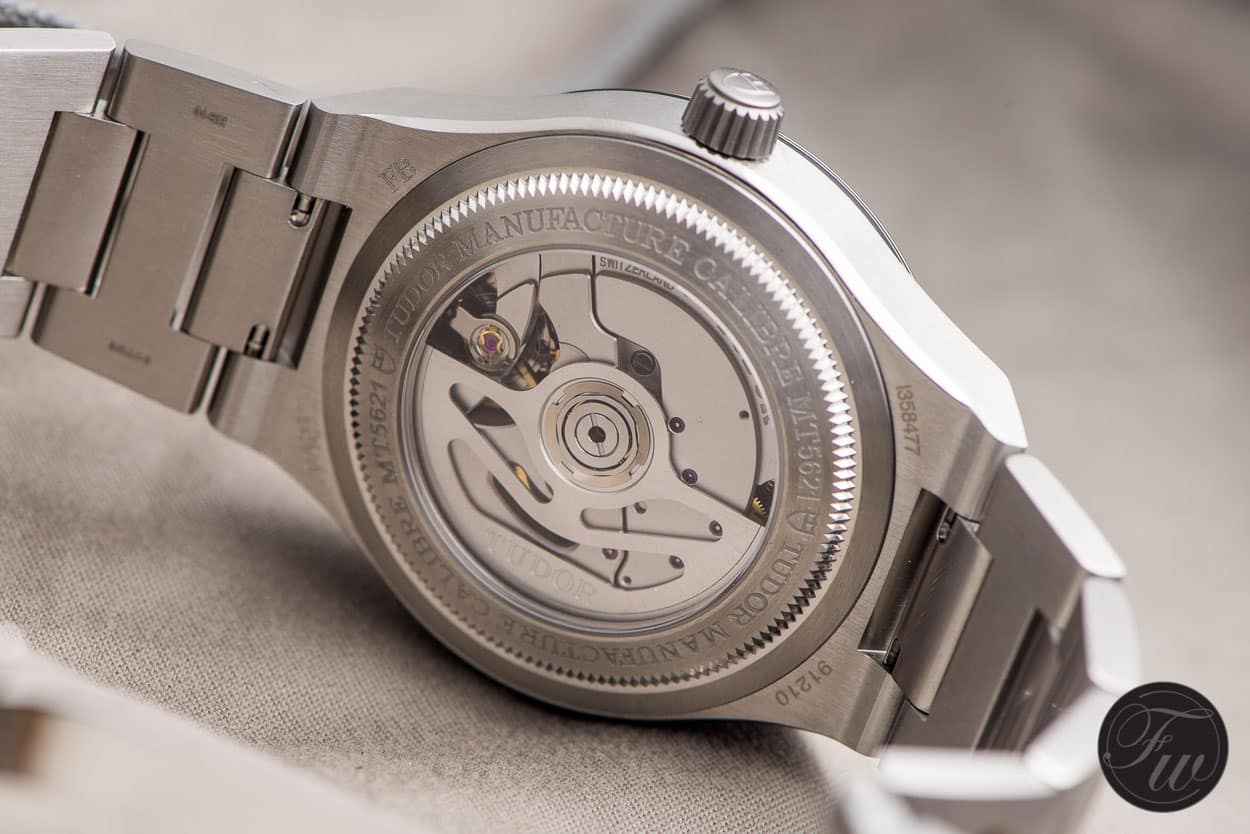 4. Sinn 240ST. I love Sinn watches, always did but actually only owned one so far, the Sinn 142ST.S. Unfortunately it had to make some room at some point for another watch, which I regret some times. The new Sinn 240ST had me locked though! A beautiful time & date piece based on the iconic design of the Sinn 140/142 series. Oh and the price? A "whopping" 1350 Euros for the version on a leather strap, the version I actually prefer. We did a write-up on all new Sinn watches here.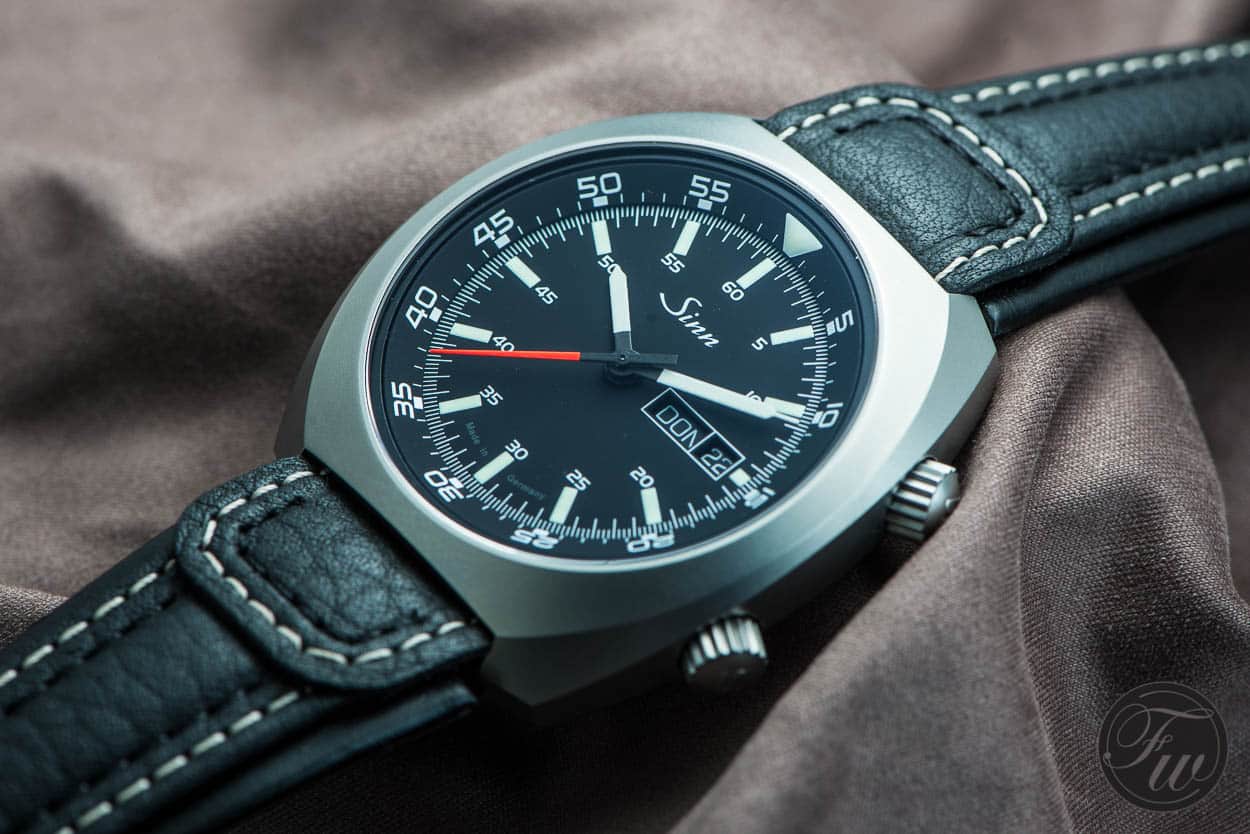 3. Moser & Cie Endeavour Perpetual Calendar. The watch that stunned me to my own surprise. Sure, I'd seen a couple of Moser & Cie watches and we even have a local authorized dealer in the city where I work. But this Endeavour Perpetual Calendar really stood out compared to the watches I'd seen earlier (and later) that week in Basel in similar price bandwidth. The large date at 3 o'clock and the month indicator hand are superb features, but aside from that, that case and dial design is just breath-taking. The hand-wound movement is just as stunning and all hand-finished. Woaah!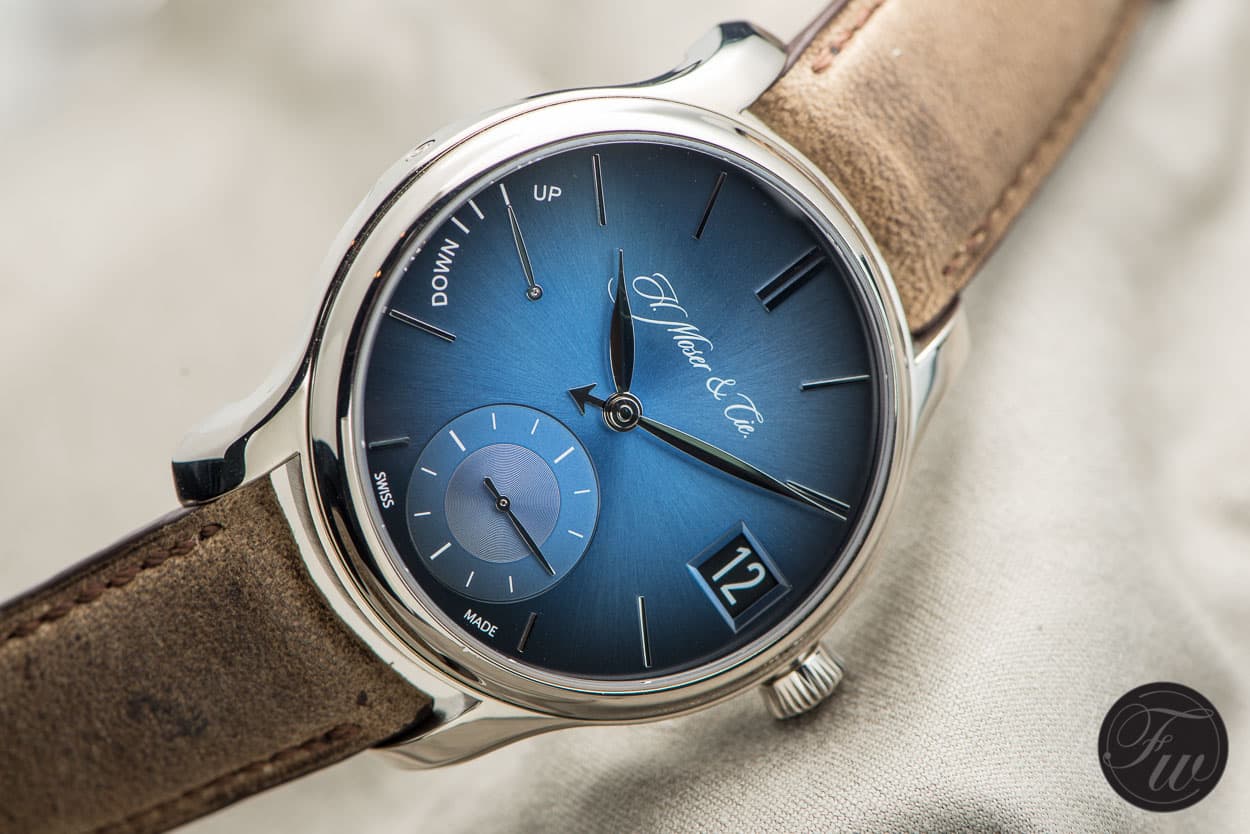 2. Rolex Day-Date. Truth to be told, I wasn't too impressed with their new line-up when I walked by their booth a couple of times (hard to miss) on my way to other brands. That was until I sat down with Rolex at one of my last days in BaselWorld. The new Day-Date 40 mm is actually brilliant. The 41mm mistake has been all made up for with this new collection of Day-Date watches. There is more to it than only 1 mm difference of course, which you can all ready in this article I did on the new Rolex Day-Date. My choice? The Everose gold version with beautifully brown-ish dial.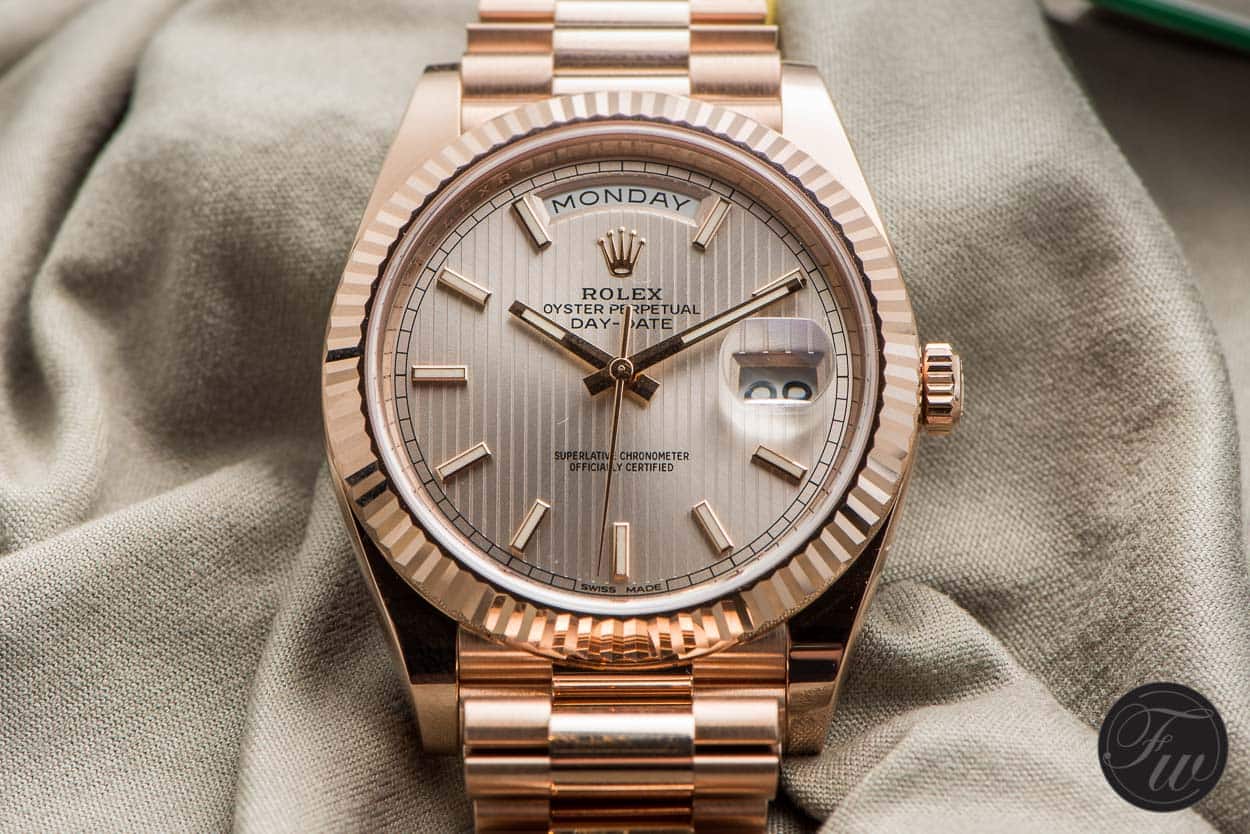 1. Omega Speedmaster Professional Silver Snoopy Award. There was no surprise for us, as we guessed about its arrival already and also a little week before BaselWorld we received the whole press package under embargo. However, my first response even then was 'I want to order one' and that didn't go away when I saw it in the flesh on the first day of BaselWorld. Not only do I love the white dial and luminous Snoopy at 9 o'clock, I also love the beautiful enamel case back with a sterling silver Snoopy on there. There is a lot of stuff on the dial, but I get that and especially after the explanation I received from the person who designed the watch. The absolute #1 in my Top 5 BaselWorld watches overview, I even ordered one on the spot. A full review of this watch can be found here.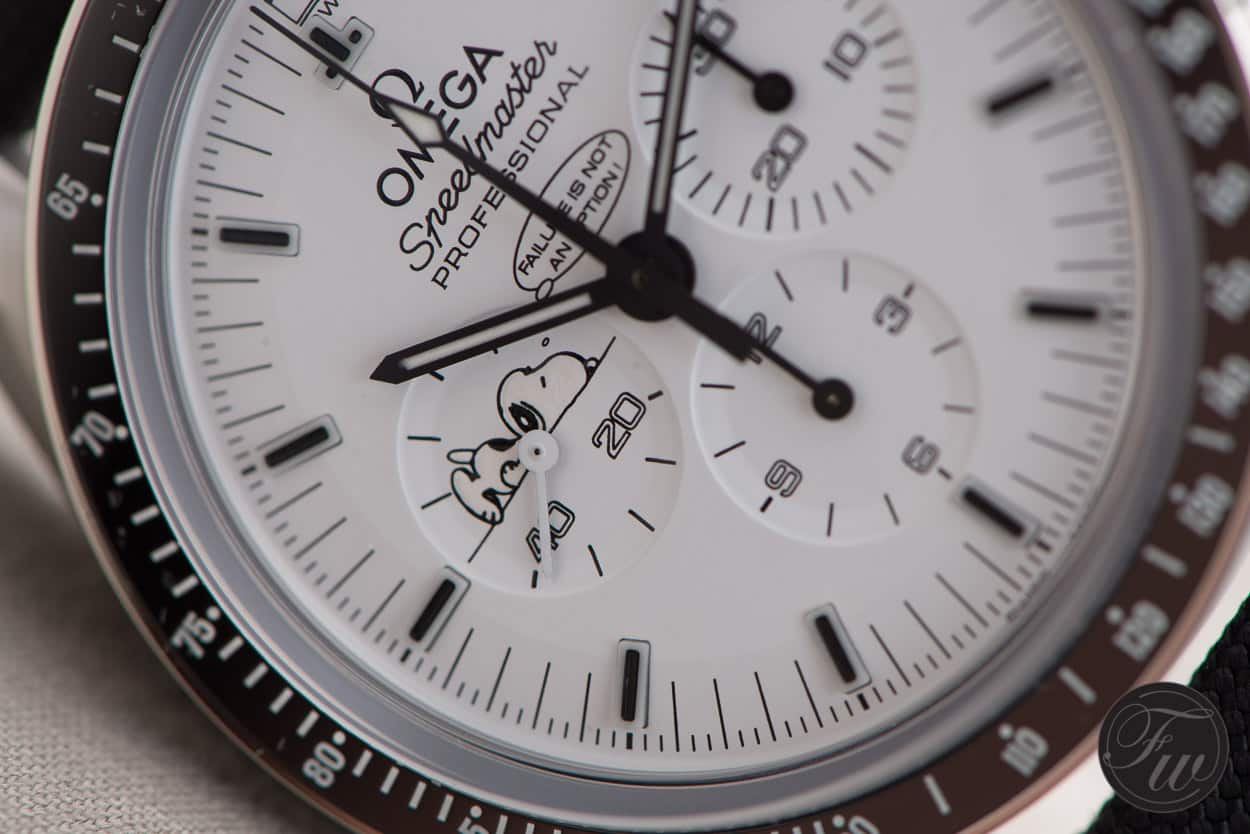 Bummer: Omega Seamaster PloProf 1200M Titanium. I love the Seamaster PloProf and like I wrote on this vintage versus new comparison right here, I really think you can't go wrong with either of them. However, to my surprise Omega came up with a couple of new versions in titanium this BaselWorld. Even though I get the fact why they used titanium, I would have loved to see a couple of things differently. The original PloProf 600M had a monobloc case, which was there for a reason (made the need for a helium valve obsolete), but OK I also understand that the new PloProf 1200M had to do without. However, the new titanium has no date feature that the original(s) did have, have weird color combinations and the shark mesh bracelet in titanium has a very awkward feel to it, almost plastic-like. It is no means a bad watch, but it is too far away – for me – from the original PloProf.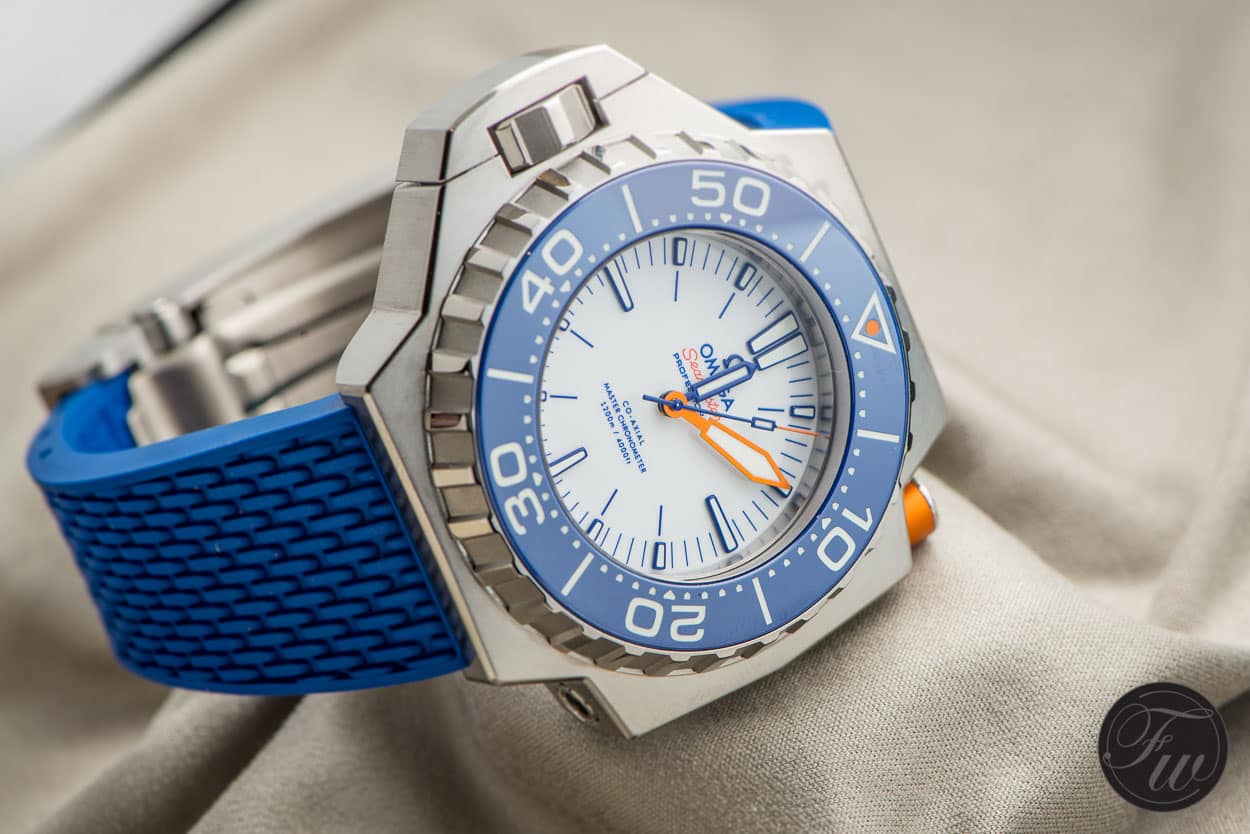 There you go! 5x 5 BaselWorld watches and 5x a watch that has disappointed is a bit, so 30 watches in total.