Rolex Day-Date – Return of a Classic
In my first years of watch collecting, I remember I was able to borrow this Rolex Day-Date 18238 from my friend Gerard – who's also a contributor for Fratello Watches – for a few days and it felt like magic. At that time I was a student and walking around with a yellow gold Rolex Day-Date on a President bracelet probably looked a bit ridiculous. However, during all these years, the idea of owning one at some point never let me go. Up to this day, I still don't have a Rolex Day-Date with President (or Oyster) bracelet but the wish is still there and very alive.
The lack of Rolex Day-Date ownership can be explained though. The good ol' Day-Date in 36mm is considered to be relatively small these days. Now I do think that you can pull it off with a Rolex Day-Date, but I notice that my 36mm Datejust only gets little wrist time these days. Although I love those Rolex Day-Date reference 1803 models, the 18038 and later references definitely have my preference for the simple reason that they seem to be larger on the wrist due to the dial. The Day-Date reference 1803 has a pie-pan shaped dial that makes it look a bit smaller. So actually a Rolex Day-Date 18238 in yellow gold with a tapestry dial would be one of my favourite combinations. On the other hand, a bit more toned down white gold version would perhaps suit me better. As you can see below, the Rolex Day-Date 18209 is an interesting white gold version with Oyster bracelet that has very classy looks.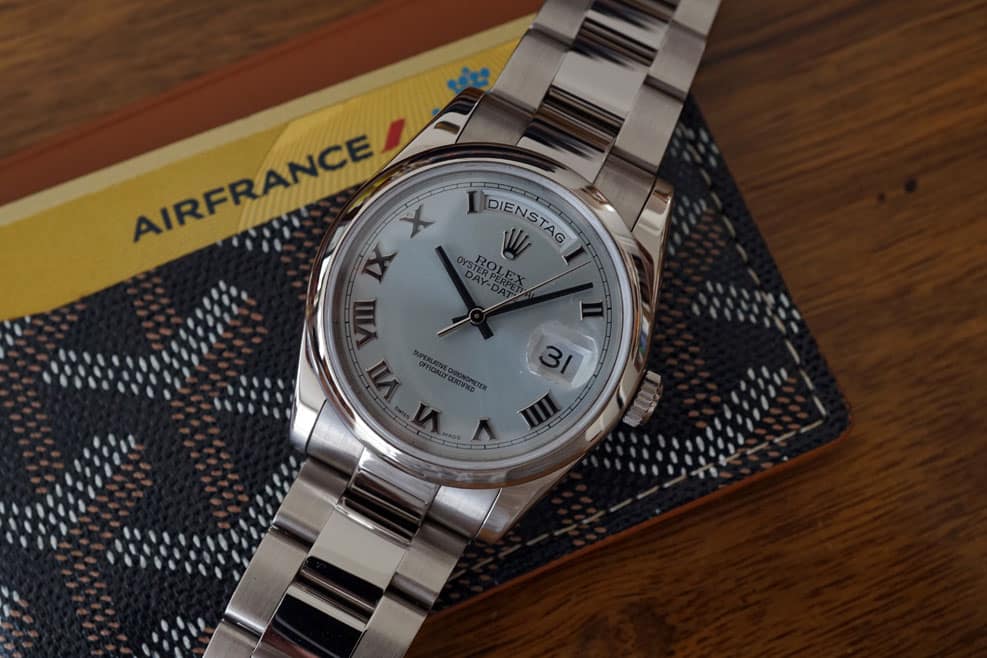 The Rolex Day-Date II – that has now been discontinued – had a diameter of 41mm. In my opinion, the watch was a bit too big and lacked the finesse and perfect design ratio of the 36mm versions. Somehow, this watch appeared to be bulkier on the wrist than the 41mm Datejust II.
So besides the Rolex Yachtmaster Everose (we talked about it here), Rolex decided to bring us a new version of their Day-Date in 40mm and a beautiful stainless steel Oyster Perpetual in 39mm. We will get back to you on the new 39mm Rolex Oyster Perpetual later on.
The Rolex Day-Date in 40mm is basically a larger version of the classic 36mm Day-Date where the 41mm Day-Date II was just a different type of watch. Not only did Rolex put more effort into the design of the Day-Date, they also updated the movement. With more effort into the design of the new 40mm version, I mean that they respected the original Day-Date more than they did with the 41mm version.
The middle part of the case and lugs are more refined than its 41mm brother. The Rolex Day-Date 40mm is therefore [far] more elegant on the wrist and probably suits about every wrist size. Men with smaller wrist can still decide to go for the original 36mm version of the Rolex Day-Date of course.
For now, Rolex introduced the Day-Date 40mm in 18 carat white gold, yellow gold, Everose gold and the cream of the crop is of course the platinum version. The gold versions have a fluted bezel where as the platinum edition was presented with a smooth bezel. There will also be diamond-set bezels for the Rolex Day-Date 40mm.
All Rolex Day-Date models shown have the famous President bracelet. At this point, it is unknown whether Rolex will also deliver the Day-Date on an Oyster bracelet.
Aside from the aesthetics, and I already love that part a lot about the new Rolex Day-Date, there is also something to say about the technical aspects of the watch. Rolex developed a new movement for this Day-Date, featuring – besides the day and date indicator – a power reserve of 70 hours, a new escapement (called Chronergy) and a high precision (-2 / +2 seconds per day).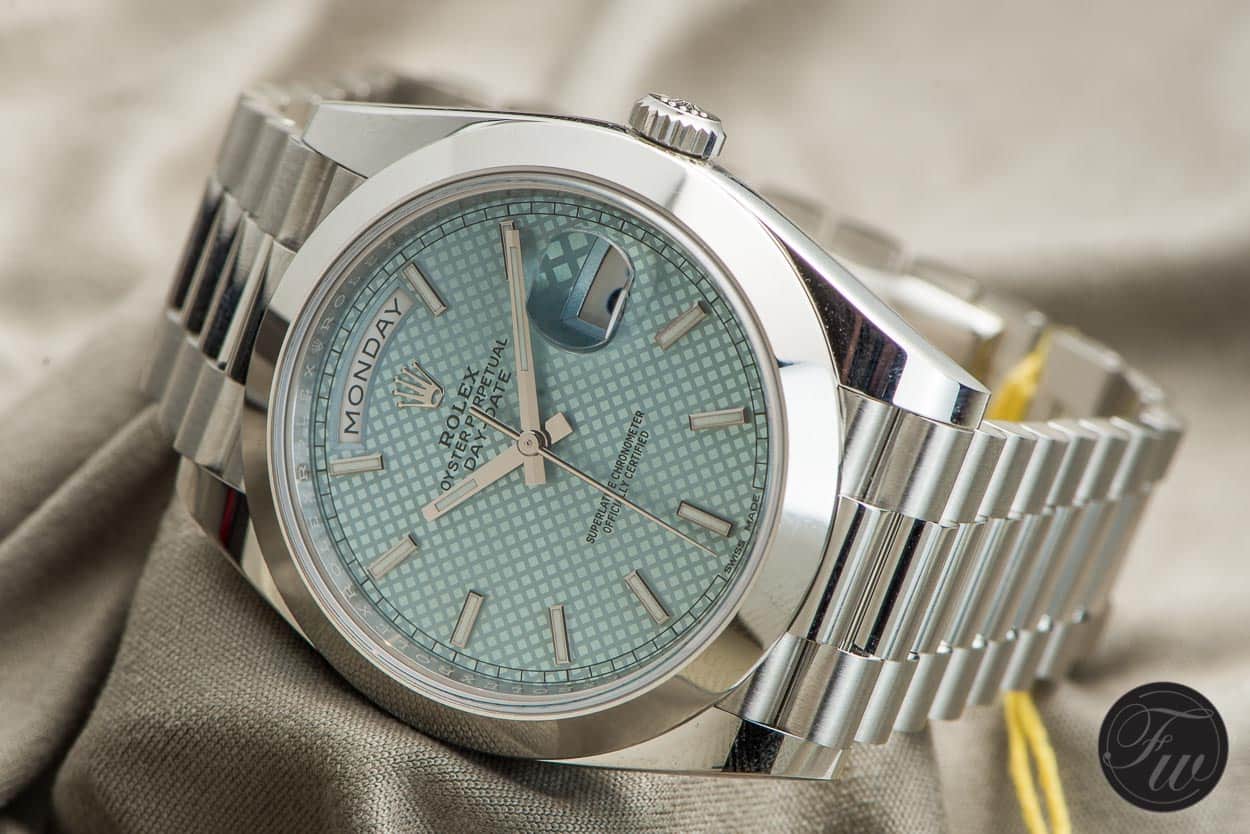 Interesting to note that the Chronergy escapement in this Rolex caliber 3255 movement is anti-magnetic. As you know, magnetism (measured in gauss) is one of the worst enemies to a mechanical watch. Also, the movement has a blue Parachrom hairspring, which is able to handle shocks in a better way than a traditional hairspring. Rolex caliber 3255 seems to be a very solid movement, able to withstand the abuse during daily wear. Rolex was also able to guarantee a -2 / +2 seconds per day deviation with this new movement, numbers that easily fall into the chronometer standards (-4/+6 seconds per day) according to the COSC. Rolex has no less than 14 patents for this new movement and claims that over 90% of the movement consists of new components.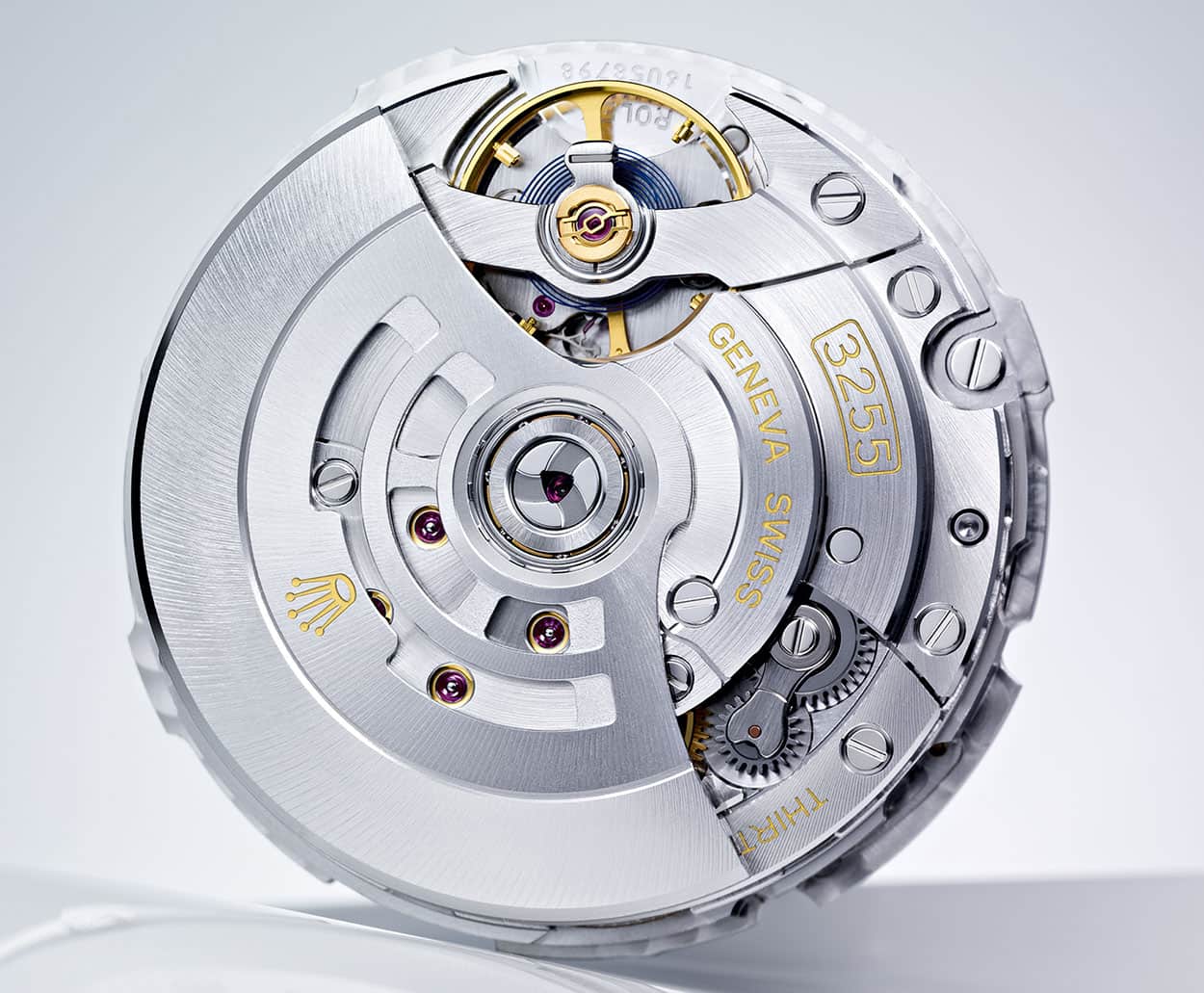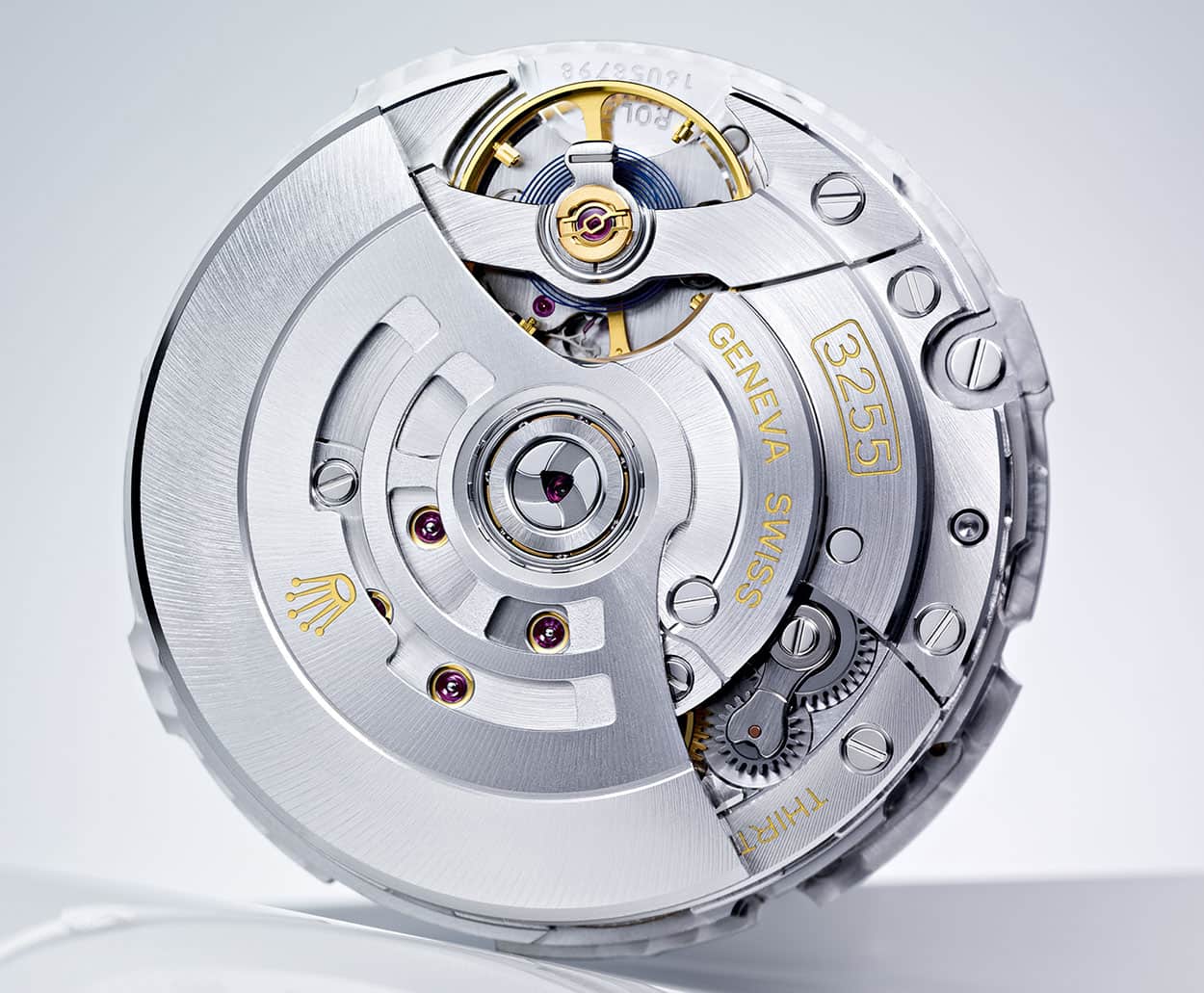 So, that's all cool of course, but I am convinced that most buyers of the new Rolex Day-Date 40mm are more worried about the perfect dial and material combination than technical specifications of the movement. They just rely on it, which is fine of course. In that respect, the Rolex Day-Date is to watches what a Mercedes Benz S-class is to cars. You know that the engine is fine and smooth as butter.
The new Rolex Day-Date 40 has been presented in a number of dial and colour combinations but I am sure this will be expanded in the future with more different configurations. Prices of the Rolex Day-Date 40 start at CHF 33.200,- Swiss Francs for the yellow gold versions, CHF 35.800,- Swiss Francs for the Everose and white gold version and CHF 59.600,- Swiss Francs for the platinum model.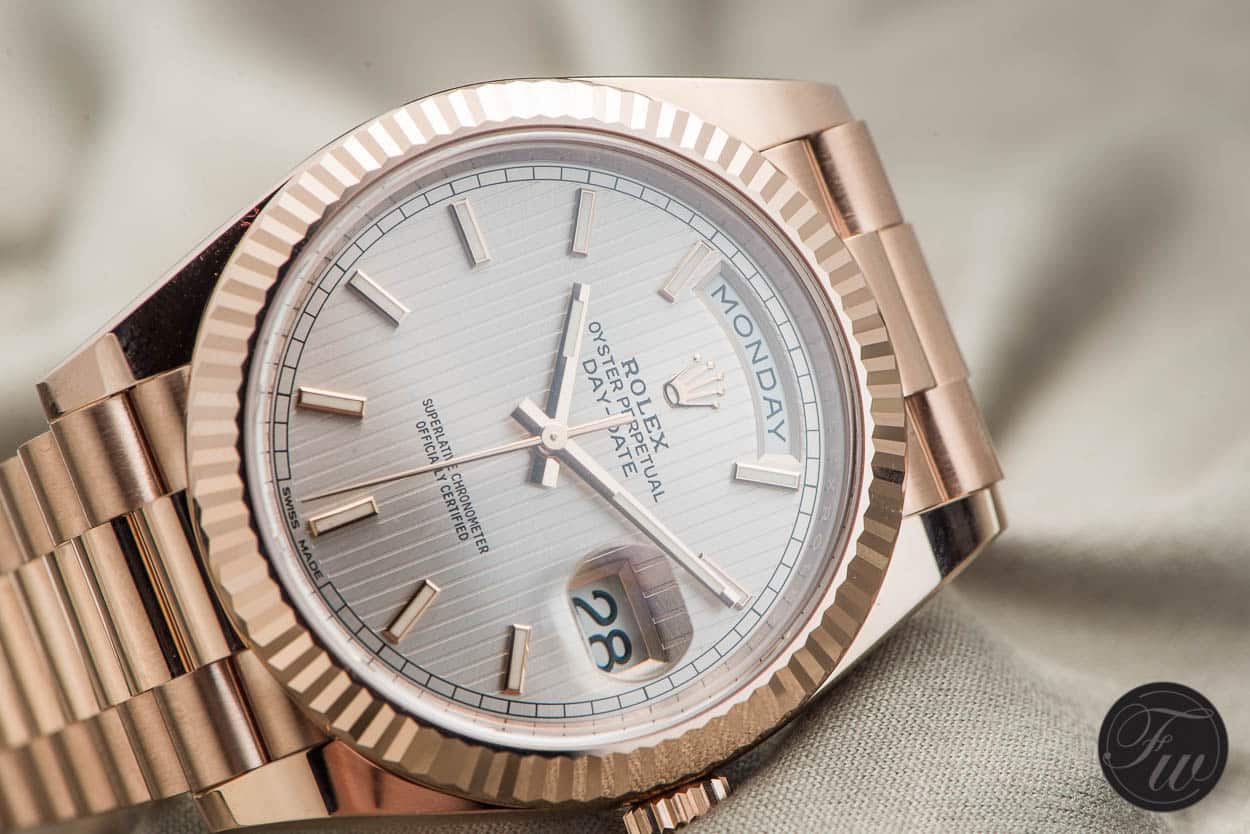 In the end, I believe that with the Rolex Day-Date 40mm the classic 'Presidential' Rolex has returned and will find its way to those who love an elegant but very powerful 'statement' watch.
My lust for a Rolex Day-Date has been reignited again with the introduction of the 40mm models. Now, it is only a matter of raising funds and selecting the right configuration. This 40mm model will be probably in the collection for another 50 years again, with its classic lines and elegant appearance so I won't have to hurry.
More information about the new Rolex Day-Date 40 on the official Rolex website.
More photos in the gallery below. All photos (c) Fratello Watches except the Rolex Day-Date 36mm reference 118209, by Geo.