#TBT – Vintage Tudor Submariners: 94110 Snowflake and 94010 Lollipop
Buying and Wearing The Tudor Submariners
Ask watch lovers which brand has been on the biggest "roll" over the past several years and there's a good chance they'll say "Tudor".
Since 2010's breakthrough introduction of the Heritage Chrono, Tudor has continued its streak by releasing exciting pieces such as the Black Bay, Pelagos, Advisor, and the Ranger.  Coinciding with these new models, Tudor has also upped its marketing game by actively reaching out to passionate collectors (especially versus its parent), sponsoring a racing series and, more importantly, reentered the high profile US and UK markets.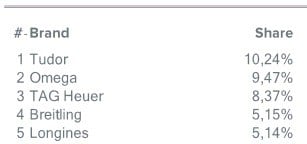 Above, a snippet of the Top 50 most requested brands between € 1000 and € 3000 Euro in the United Kingdom, based on Chronolytics' watch consumer market data covering 2014 (interest in new watches only).
With Basel little more than a month from now, and likely some more exciting new models on the way, it's a perfect time to discuss a couple vintage models from the brand that, up until recently, was mostly thought of as Rolex's more economic understudy.
Personally speaking, as one who grew up stopping into watch shops while at the mall or wherever, I barely remember Tudor.  Granted, Rolex was and is king in South Florida, I was taught that Tudor was a cheaper Rolex due to its use of outside movements and there were other things to see.   So, it really wasn't until about 5 or 6 years ago that I rediscovered the brand when I started to desire vintage watches.  Of course, that interest piqued when the Heritage Chrono took the stage in 2010.  Soon after, I began hitting the forums, searching for images and reading more about Tudor's back catalogue.  This, ultimately, led to the acquisition of the 2 pieces in this article.
I won't recount the history of Tudor as it is detailed all over the web including Tudor's official website, but it is nearly as storied as Rolex.  When looking at Tudor's Submariners, the history goes back to 1954.  Since that time, Tudor has produced a vast number of Submariner designs and continues, while not in name, to make capable dive watches in the name of the Black Bay and Pelagos.  In this article, however, we're staying with Submariners.  One piece, the "Snowflake" is a collector favorite and its namesake hands are seen on Tudor's current dive watches.  The second piece, though, is not as well known but is one of my favorites: the so-called "Lollipop".

The "Snowflake"
The original Tudor Submariner Snowflake was introduced in the late 1960's as the 7016 and 7021 (date and non-date) in both blue and black.  These models were made until the mid 1970's and were replaced by the 9401/0 and 9411/0 models, which were essentially the same except for a change to updated ETA movements.  The model you see here is a 94110, which dates from 1979.  It features a blue dial and bezel, the famous Snowflake hour hand, and is apparently the last year for square hour markers.  A 25-jewel, hacking, quickset date ETA 2784 automatic movement sits inside.  Adjustment, by the way, is managed via a Rolex trip-lock crown.  The caseback, by the way, states that Rolex Geneva makes the case.  The 94-series Tudors, incidentally, are notable for better quality dials versus their predecessors, which tended to "rot".
I had been looking for a nice Tudor Submariner Snowflake for over a year and found this piece in late 2013 at Graehame Fowler in New York City.  I spotted it before traveling to NYC and it was still available when I visited.  Therefore, I was able to see it firsthand before taking the plunge.  As an aside, if you get to NYC, Graehame's shop is a worthwhile stop.  In addition to the high quality wearables, the vintage watch selection and accessories are of interest.  Graehame is a down-to-earth chat as well and is quite patient; I witnessed no fewer than a couple beginner watch admirer's stopping in for a chat that day which was soon after he was featured on Hodinkee. Anyhow, upon seeing the watch, I knew I'd end up buying it.  The piece I found has some lovely patina, especially on the hands, without looking trashed or "baked".  The first time you see a nice one of those, the blue dial and bezel really captivate, especially after seeing so many black Rolex Subs. By the way, the black Tudor Submariner watches are great as well, but I feel that the blue Tudors are really the most defining characteristic of what makes them unique versus their Rolex branded counterparts.  The secondary market seems to feel much the same as one generally sees a slight premium for blue versus black.
The "Lollipop"
As popular as the Snowflake is to collectors, the next piece featured in this article is less known and Internet info is even more lacking.  The 94010 Lollipop Tudor Submariner is known by this name due to an hour hand that lacks the traditional Rolex "Mercedes" hand.  The movement is a 25-jewel, hacking ETA 2776 modified by Tudor.  This piece dates to roughly 1984 and features a round and triangular combination of hour markers.  This watch also features a Rolex trip-lock crown.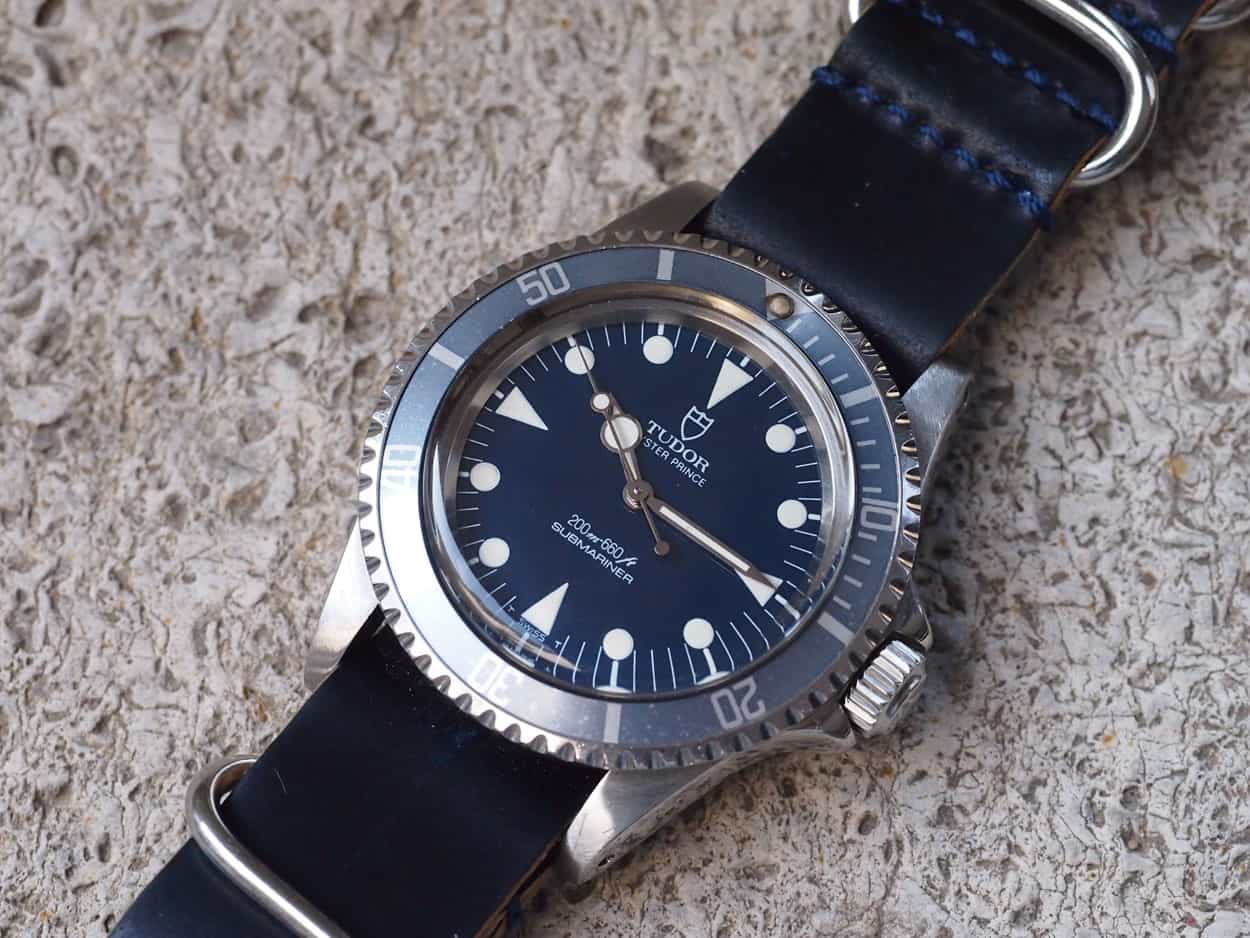 I happened to be in Sydney, Australia in early 2012 and was walking around the city when I stumbled upon this Tudor Submariner.  It was in the window of a vintage watch and jewelry shop.  Needless to say, the combination of a vibrant blue dial and the gray/blue "ghost" bezel were enough to make me enter the store.  It seemed like a fitting, but expensive, souvenir to help me remember the blue skies and water of the city.  Since then, in my periodic looking, I've seen exactly one of these for sale, as others seem to have the Mercedes hand (either as original or service).
Buying, Wearing and Miscellany
I really enjoy my Tudor Subs but why are they so "special"?   With prices now approaching, or even exceeding, some recent vintage Rolex Sub models (more on the market later), what exactly is the appeal of a watch containing a more pedestrian movement?  I think there are several reasons.  First, prices of vintage Tudors were not always so high, so they were a relative bargain for a Rolex-manufactured watch.  Demand over time likely almost certainly caused pricing to increase to the point where they are no longer the relative bargains of yesterday.  Second, I have no idea of production numbers, but Tudor Submariners are seemingly more rare than their similarly aged vintage Rolex counterparts.  Go take a look on the usual sites and you won't see many.  Let me rephrase that: you will see several but most are highly priced, heavily aged, or modified.  That brings me to another point: condition.  I am not sure if the reason for so many poor condition vintage Tudor Submariners relates to their lower original prices and, therefore, owners not treating them with the sacrosanct respect of similarly aged Rolex Subs or if, as often stated, Rolex used lesser materials for their construction.  Another supposition is that there are those people; you've met them, who simply refuse to wear Rolex no matter the model.  Tudor's recent releases also rely heavily on the brand's history which has certainly drawn interest to their past pieces.  Lastly, the Tudor Submariners have different colors and dials than the Rolexes, offer yet another variation to Rolex collectors, and just flat out look good.  Whatever it is, Tudor Subs are hot right now and only seem to be getting hotter.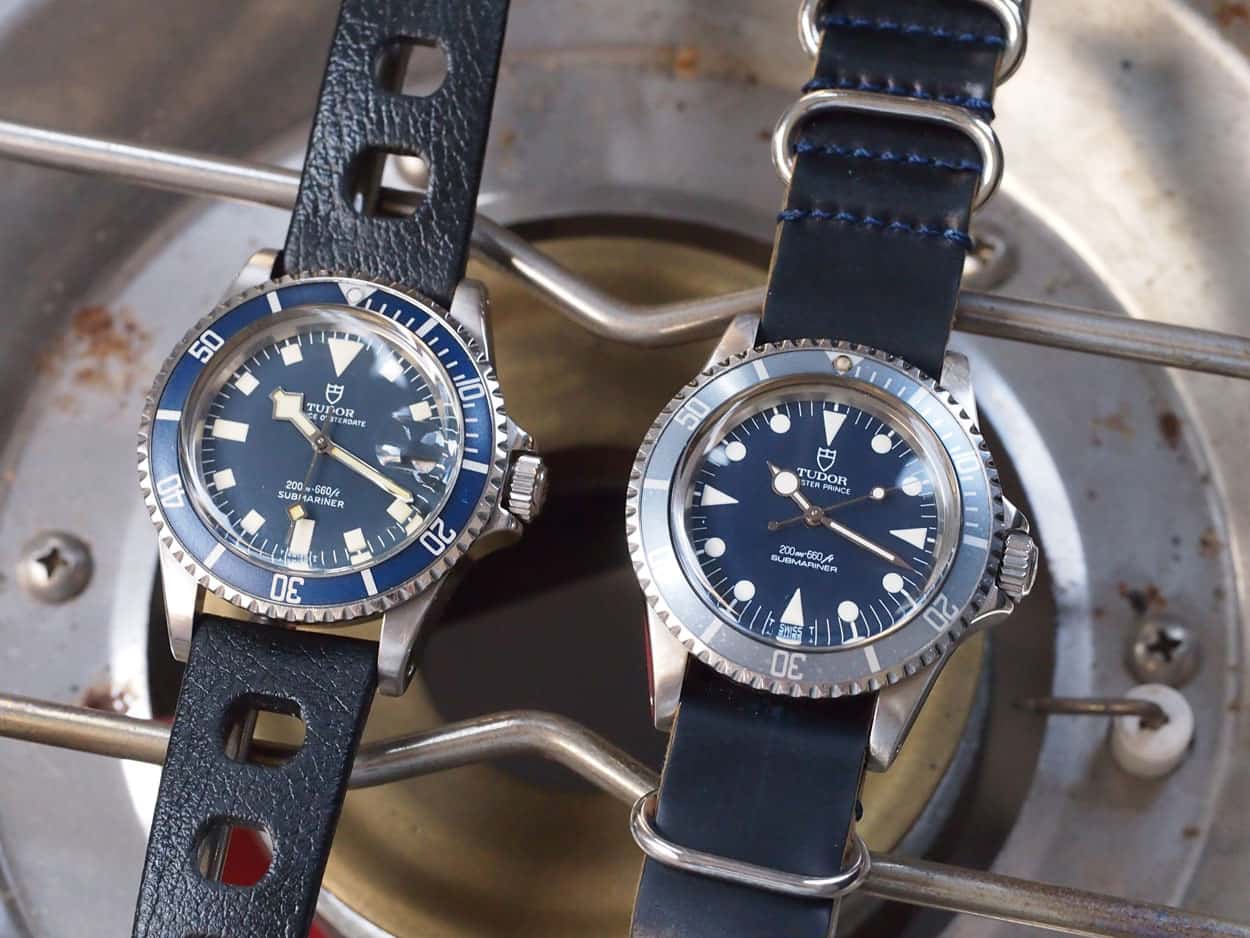 Wearing the Subs is much like wearing their Rolex counterparts from a size perspective.  With the blue dials, they come off as sportier and largely negate the "beach to boardroom" capability of a Rolex but there's nothing wrong with that.  It is true that another advantage of these pieces is that you will likely not see another unless you visit some sort of watch geek convention or pop-up flea market in a big city.
As far as buying, I mentioned that finding either of these two is not so easy and exhaustive resources, unlike for Rolex, are somewhat limited.  The web is loaded with Rolex info down to the smallest detail, but Tudor info seems to be in short supply.  I'd recommend getting familiar with the good folks on TheRolexForum.com and VintageRolexForum.com.  Another nice and responsive resource is tudorcollector.net.
For buying, the forums and chrono24 are good places to look.  Price-wise, Snowflakes like the one in this article tend to range from $4-7K but I've actually seen prices north of that at times.  Whether they sell is another question.  The Lollipop, on the other hand, seems to run from $3-4.5K.  Interestingly, I find the Lollipop harder to source as it is often seen with the Mercedes hand.
I hope you enjoyed taking a casual look at a couple Tudor Submariners.  They provide a unique alternative to their Rolex branded brethren while containing most of the same traits.  Furthermore, they seem to be a safe buy as values continue to rise.  Let's see what sweet treats are in store from Tudor at Basel this year: Lollipop anyone?