OUR CATAWIKI FAVORITES – EDITOR'S CHOICE: Bell & Ross, Zenith and Cartier
As we introduced you to our Catawiki Favorites (Editor's Choice) a  few weeks ago already, this time we show you three different watches of our choice: Zenith El Primero Chronomaster, a Bell & Ross (by Sinn) chronograph and a Cartier Tortue in gold.
This article is a partnership with Catawiki, but our selection consists of watches that we picked and there's no interference from Catawiki regarding the editorial work. If you are not registered on Catawiki yet, we urge you to do so. It is free or charge and will make bidding and marking watches as 'interesting' a lot easier, click here to do so.
As always, let me start by saying that before you bid on a watch, you should have done your homework. A lot that consists of a brand new Rolex or Omega requires less homework than when you are on the hunt for that vintage treasure (of any brand), but always make sure you come (and bid) prepared.
The selection I will show you here, are recently sold items. Yes sold. The thing is, the turnover on Catawiki of auction items is so quick, it leaves us with little time to do a proper write-up. So I show you some watches that I liked of the previous auctions, which might inspire you to look for the same or similar watches. Each watch gets a bit of description, which I hope helps you in making the right decisions.
Catawiki Favorites
This week, I chose a couple of watches that I would define as 'personal favorites' of mine. To be honest, the Zenith, Bell & Ross and Cartier watches I have here today have been favorites of mine since a long long time. The Cartier Tortue might be the most recent, but still since years already, ever since Cartier expert George Cramer showed me his Cartier Tortue on this wonderful green leather strap. So I had to include this watch here. The Zenith El Primero Chronomaster was actually one of my first encounters with a mechanical moon phase watch. A friend of mine, watchmaker and goldsmith, owned (or perhaps still does) this model in full gold and it made a huge impression on me when I started to become interested in mechanical watches in the late 1990s. The model I have here today is much more recent, but is based on the same model basically. Last but not least, a Bell & Ross. As you might know, when Bell & Ross started out, they had this partnership with the German company from Frankfurt am Main, Sinn Spezialuhren. Bell & Ross had a couple of models that were similar, or actually the same, as some of the Sinn models. To be dead-honest, I don't care much for most of the current Bell & Ross watches. They are pretty good watches, but I don't fancy a square watch on my wrist. Some of their Vintage collection are more to my own taste. However, nothing beats a Bell & Ross by Sinn in my book, the Space One being my absolute favorite (based on the Sinn 142).
Without further ado, let's have a closer look at this week's selection.
Bell & Ross by Sinn chronograph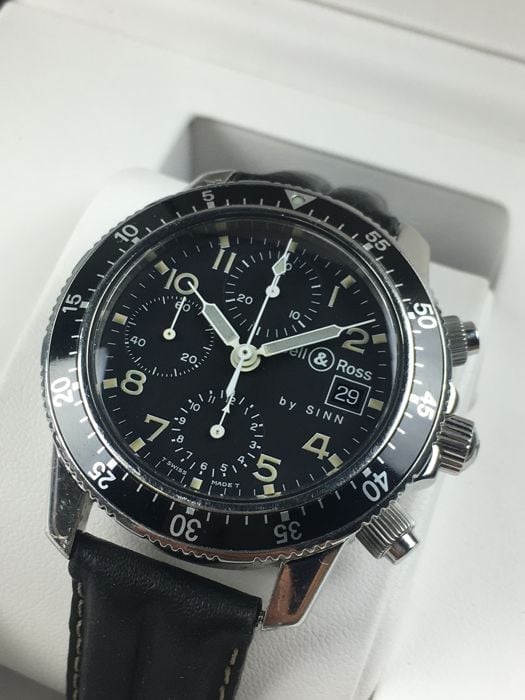 The Sinn 103 chronograph is a classic and Bell & Ross used it at the start of their 'career' for their own collection. Sinn supported Bell & Ross heavily at the time, so you will find a number of Sinn references & models in the early days of Bell & Ross collection books. This watch marks the start of Bell & Ross.
If you don't care much about that, but just like the looks of this watch, I suggest you order a brand new Sinn 103 for under €1600 directly via their e-boutique. If you're a Bell & Ross collector or aficionado, this watch might mean more to you.
This Bell & Ross by Sinn (103) was sold for €1750 on Catawiki. The watch comes with a travel pouch and a certificate by the seller that it is an all authentic watch. Those papers don't mean much to me, as anyone can create those. I am not sure what originally was delivered with this watch, regarding box and papers, but I would definitely have this sorted before you bid on a watch without box and paper work.
The Bell & Ross by Sinn (103) dates from the 1990s and has a Valjoux 7750 powered movement. All details are equal to that of the Sinn 103. The dial shows the Bell & Ross logo as well as the 'by Sinn' addition. The large Arabic numerals on the dial and hands are lumed with tritium.
Click here for more information on this lot.
Cartier Tortue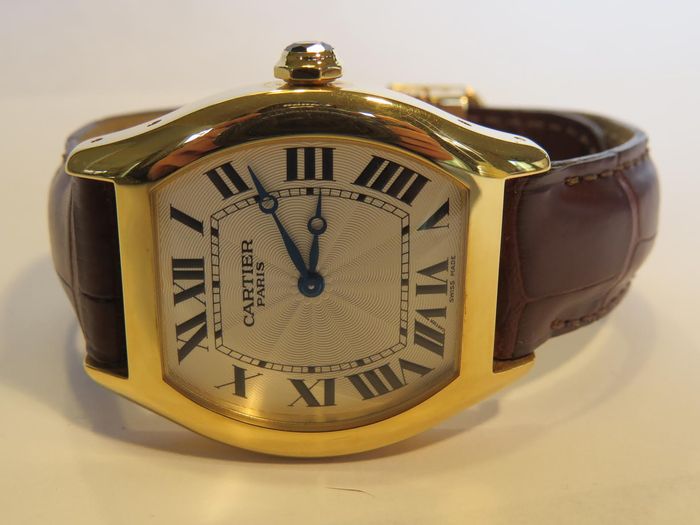 As part of the Cartier "Collection Privé, Cartier Paris" (often referred to as CPCP), a selection of watches that housed beautiful mechanical movements from famous watch brands made for Cartier. Often in a limited series, being numbered or limited production. We did an article a while ago on these special Cartier watches, click here. One of the watches of this CPCP collection was the Cartier Tortue. A beautiful shaped watch, in gold, with a stunning movement from Piaget (Cartier calibre 437MC). The Cartier Tortue reference 2496E I am talking about here, has this tonneau shaped case in 18 carat gold, combined with a leather strap and gold Cartier signed folding clasp. The image of this lot suck a bit (the thing with Catawiki is that sellers directly supply photos and a description to them, so Catawiki doesn't take their own photos of a watch), but the buyer of this watch (for €4000) should be a very happy chap! What an amazing watch for this price.
Click here for more information on this lot.
Zenith El Primero Chronomaster Flyback Chronograph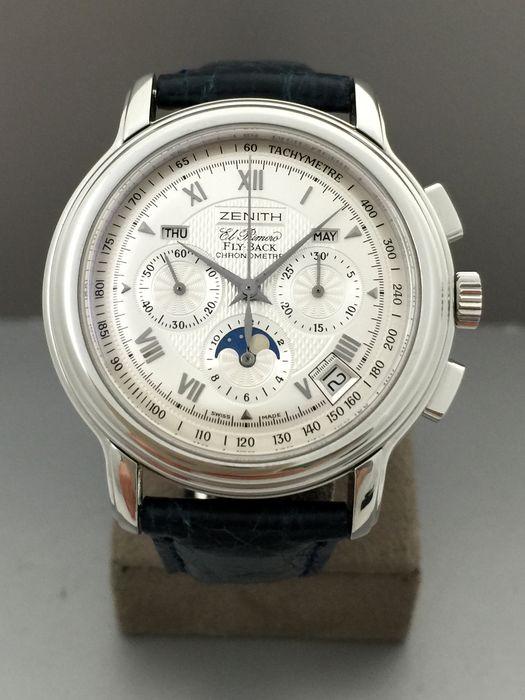 If you would know how often I had a Zenith El Primero Chronomaster in my hands and didn't pull the trigger, you would have a good laugh at me. It is one of those watches that you remember from your first days of watch collecting, one of those watches that really made you enthusiastic. I am just not sure that if I would buy one today, it would be out of sentiments and keep it in the safe most of the time or that I would actually wear this watch. What definitely is going to happen, is that I will buy a Zenith chronograph with the famous El Primero movement at some point. Whether it is this Chronomaster Flyback or the Rainbow Flyback that I should have bought long time ago for sure.
The Chronomaster Flyback has not only a flyback chronograph (as the model name suggests), it also has a calendar on board, including a moon phases indicator. The guilloché dial is very attractive and the way how Zenith handled the date aperture at 4 o'clock deserves a lot of credits. The final bid price on this watch was €4300 and that is about right. The versions without flyback go for a €1000 less in general. The version without flyback can also be found in yellow gold, which would definitely make it a nice dress watch when worn on an alligator strap. The Chronomaster models from Zenith are an interesting collection to investigate.
Click here for more information on this lot.
The Choices
From these three picks I have to admit I would immediately fall for the charmes of the Zenith El Primero Chronomaster Flyback. Not only because of the flyback chronograph complication, but the calendar and moon phases indicator are just fun to have. I love the combination of calendars and chronographs. The Cartier Tortue would be the perfect dress watch, especially in the yellow gold case. What a magnificent creation from Cartier, and the hand-wound movement by Piaget has a very attractive finish. I have little formal occasions to attend, so that's why I would pick the Zenith. The Bell & Ross by Sinn is a no-nonsense chronograph, but truth to be told I have no special relationship with Bell & Ross or their story. So I would settle for the Sinn 103, cheaper as well. A watch from their Space series would be a different story though, I really fancy those. The B&R by Sinn chronograph is nevertheless a great watch and tells about the early days of B&R before they became a fashion statement with their square pieces.
Set-up a free account with Catawiki today and start browsing and searching yourself. You will easily loose track of time while doing so, don't tell us we didn't warn you.
Auction Categories
Click the category below for an overview of active and upcoming auction items.