Owning A Rolex 5513 Submariner Maxi Dial
One of the best from Rolex hits the wrist
It's been a couple of years since I last picked up a vintage Rolex. Woe is me! It's a hard life indeed. Jokes aside, I recently took delivery of a lovely Rolex Submariner 5513 Maxi Dial and I thought I'd share my impressions.
I'm a dummy. As sure as I sit here today looking at the '90s and early '00s "Bluesy" Submariners telling myself to strike now before it's too late (it's already too late, by the way), I did the same thing five to seven years ago on another Rolex. I can't remember the websites, but I remember the watches. I was looking at 5513 Submariner watches and they were staring back at me with their lowly $4,500 to $6,000 price tags ALL—DAY—LONG. What did I do about it? Nothing. I did nothing even though I knew I was looking at the Les Paul, the air-cooled Porsche 911, the archetypical "insert name here" model from the brand. All the forums were spouting out their love for the most simplistic Submariner on the planet and I stood idly by because they were everywhere and they were cheap. Let me correct that. I took action, but on other things — watches and otherwise.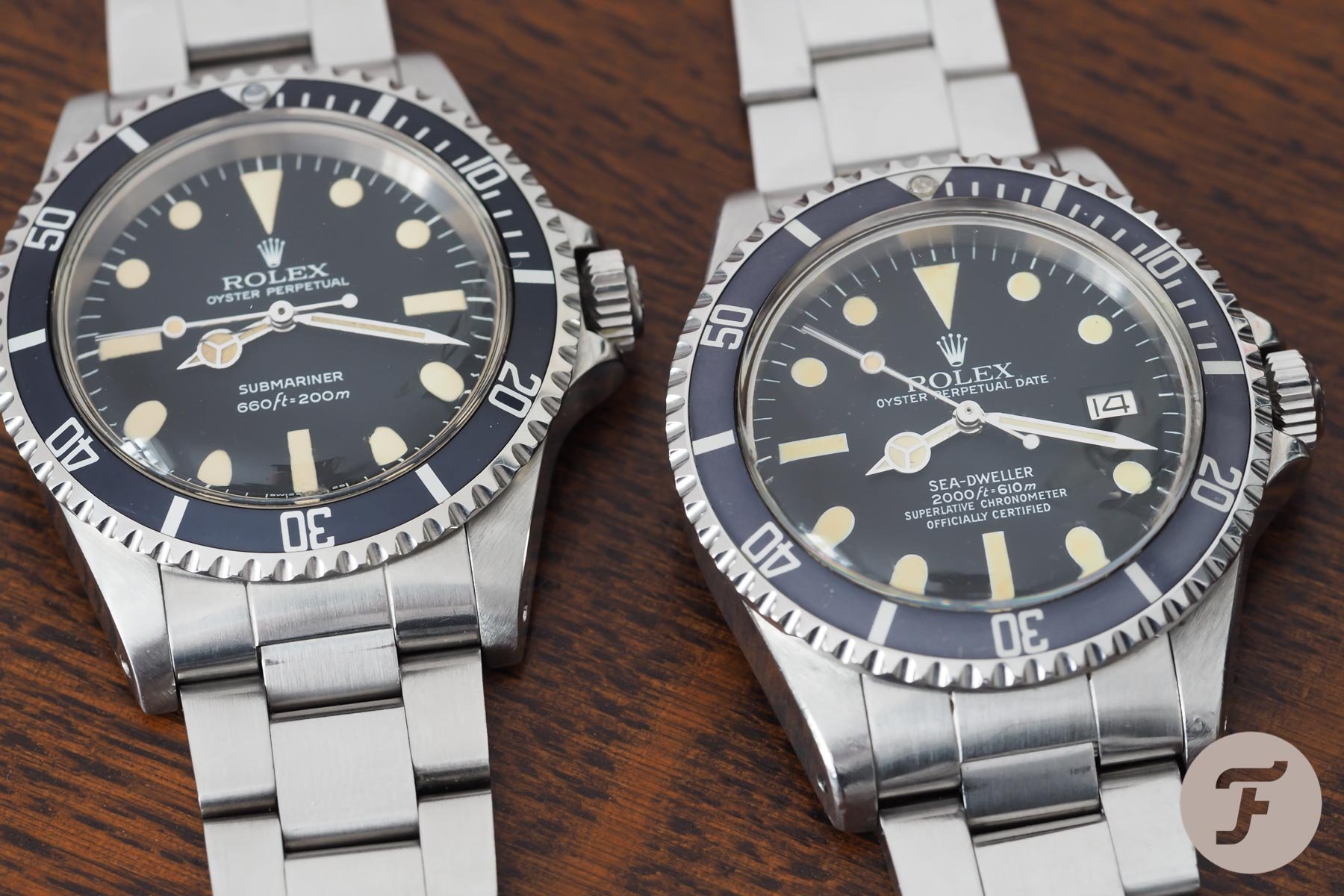 A bit of a story
And then…the 5513 market ran away from me. Even still, I was on the hunt for certain vintage Rolex pieces. Yet, I felt like the most basic 5513 Submariner wasn't worthy of my time. I went down the GMT path in a pretty big way and I don't regret that. I also returned to the underwater side of things with the purchase of one of my favorite watches of all: the Sea-Dweller 1665 Great White. Then, I took a real break from Rolex. Pricing moved even more and I felt like I had what I "needed."
For whatever reason, though, the vintage Submariner genre comes calling. That iconic shape, that dial, the wearability despite age, and those fantastic bracelets: there's a reason this is probably the most famous watch line ever. I considered other models. Adding a white font dial 1680 rolled through my mind because they're still semi-approachable. Then again, my Dad has such a beautiful one that I hope falls to my wrist one day not so soon. That watch has meaning from when I grew up and we went fishing, so that's that. I dismissed the later models with white gold surrounds because they're just not quite vintage enough looking for me right now. All of this led me back to a place I had been before: to the 5513 Submariner.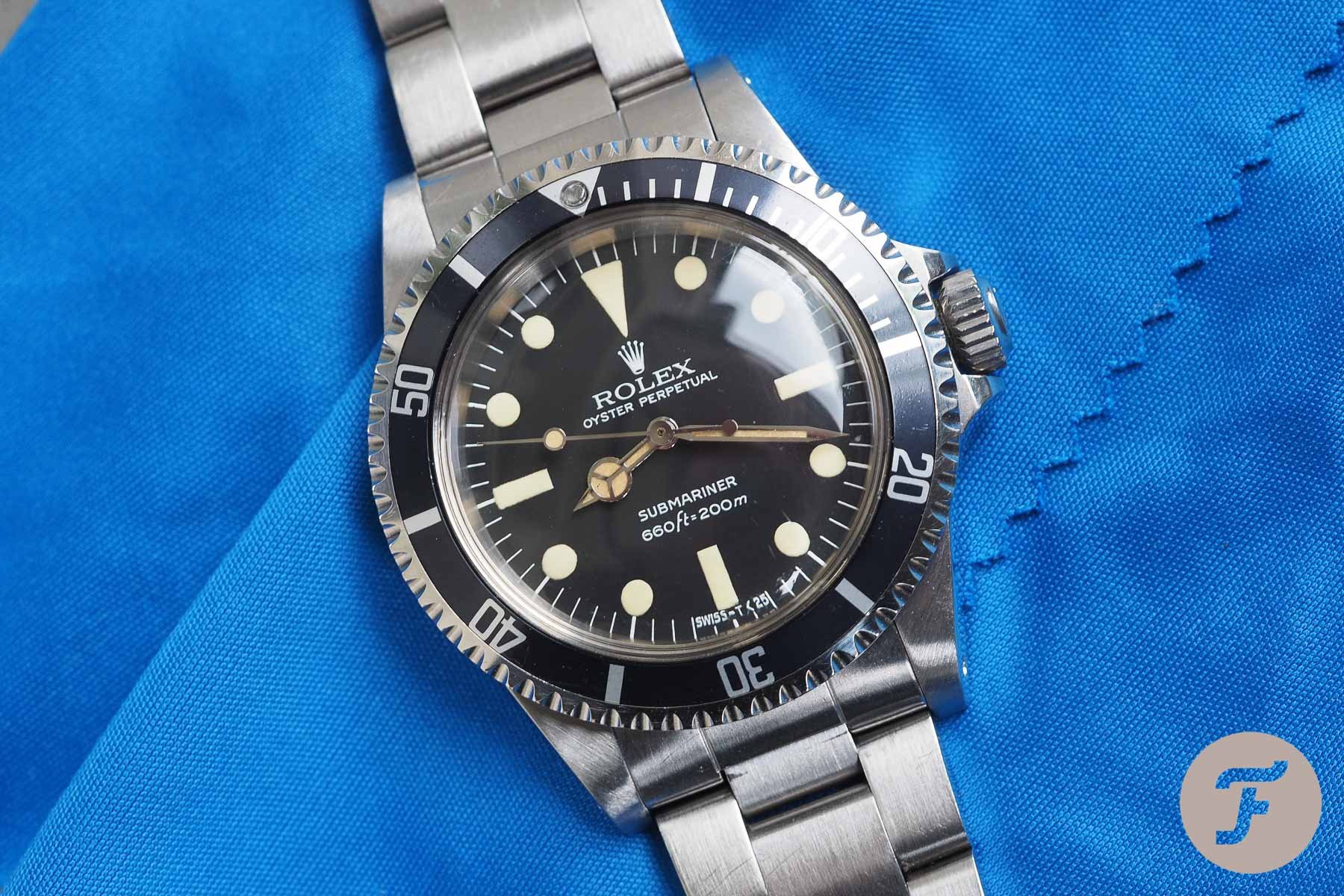 The 5513 Submariner went on and on…and on
The 5513 Submariner came on the scene back in 1962 and made it until 1990 with relatively few changes. Movements changed, dial variations are out there by the bushel, and white gold surrounds came on at the very end. However, one thing remained throughout and that was two simple lines of text above 6:00. The word "Submariner" and that legendary "200m = 666ft" depth rating were all that made the cut. This was the entry-level Rolex diver and that meant that a COSC certification just wasn't in the cards. Folks with a few more bucks likely went for the 5512, but the 5513 was the volume mover. Aside from that accuracy rating, everything else was up to Rolex standards and that meant bank vault tough.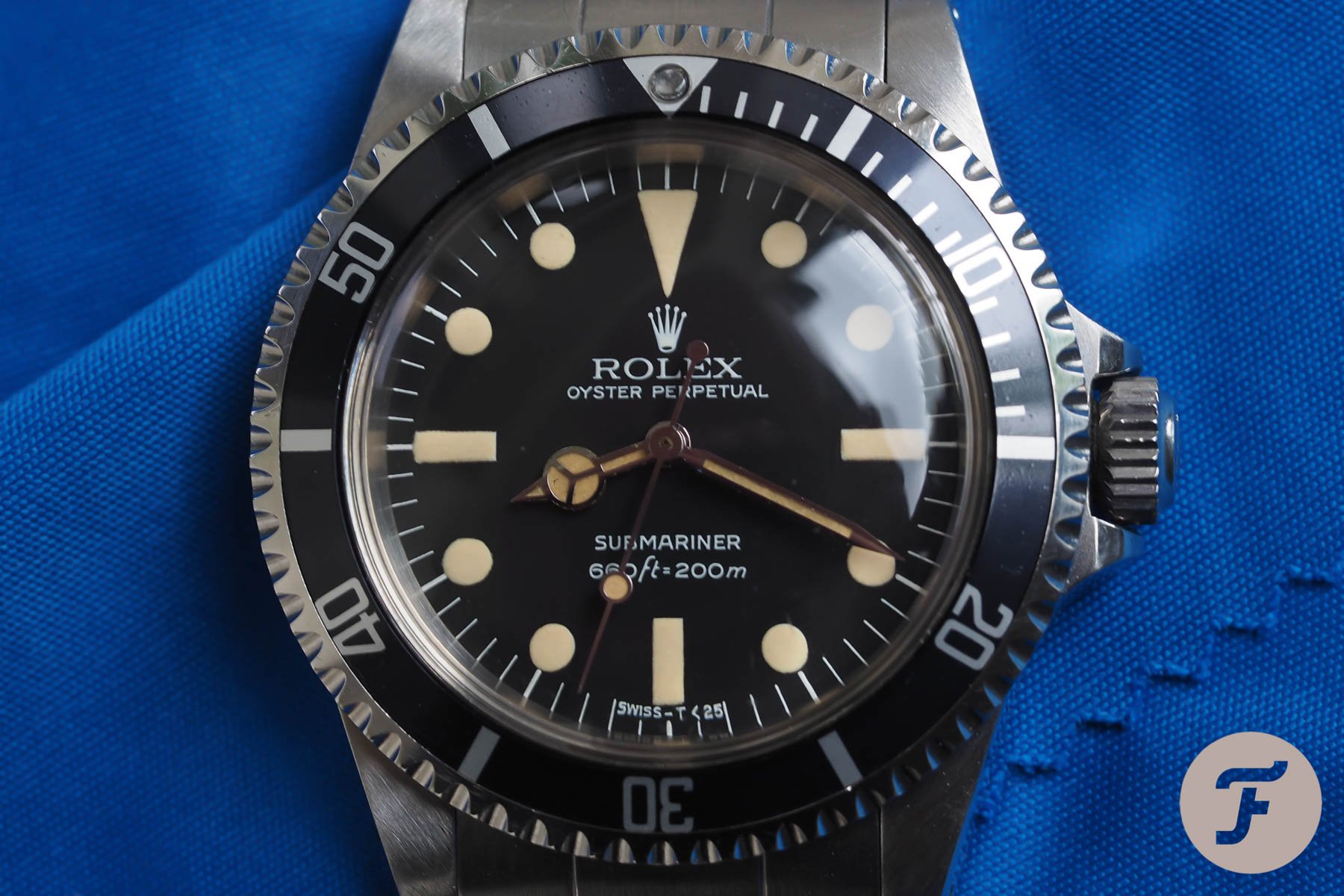 Enter the Maxi Dials
We'll never know what Rolex was truly thinking, but they gave the 5513 Submariner a pretty sweet tune-up during its later life. For an eight-year period spanning 1976 to 1984, a lovely dial sub-series entered production. Collectors refer to this period of watches as Maxi Dial pieces. These matte dial watches gained the name due to larger Tritium hour plots versus prior models. That doesn't sound like much, but the effects are profound. With Rolex, the devil is always in the details and this authoritative site gives a fantastic breakdown of the five sub-variants that existed during the era. It turns out that one of these so-called Maxi Dial models would ultimately become my latest Rolex.
I enjoy vintage watches of all manners, but I've recently tended towards models that I can actually wear. Don't get me wrong, I still don't treat these watches like a modern watch, but I like not having to baby them. This is why I enjoy picking up vintage watches from Seiko and, you guessed it, Rolex. More specifically regarding Rolex, the middle '70s to late '80s have become my favorite era. The solid 93150 Oyster bracelets, once broken in, fit perfectly and are built for the long haul. The dials are typically matte and printed, the crystals are acrylic, and the end links are jangly. Essentially, you get all the trappings of a vintage watch, but with just the right blend of modern fitments. Therefore, I followed the same path when looking for a 5513 Submariner as I did when I found either my 1016 Explorer or 1665 Sea-Dweller. Basically, I wanted a late model and one in great shape that I'd truly enjoy wearing.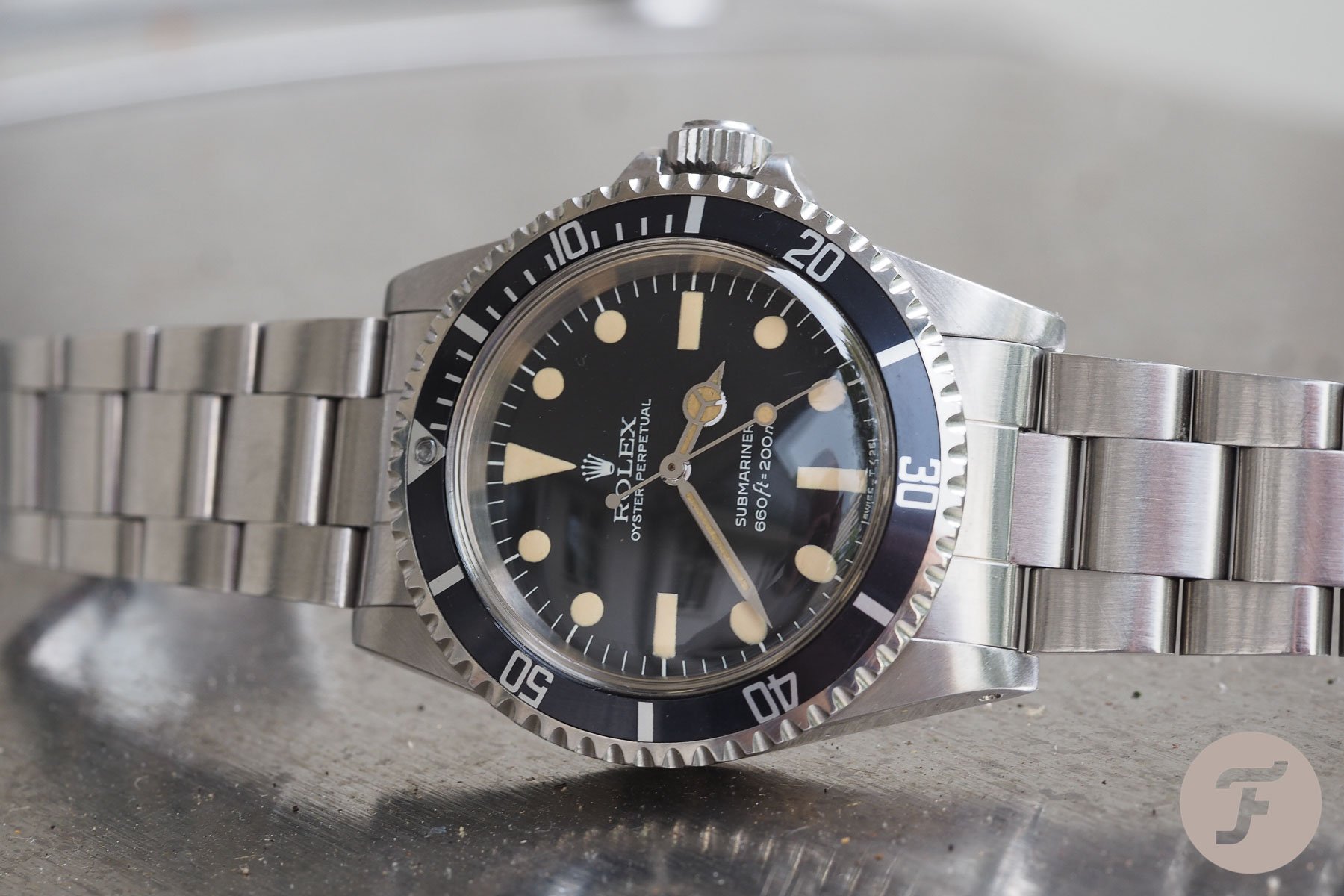 Finding this Submariner
I had been looking at Submariner models on and off for a while. The reality, though, is that this expensive world has only become more fraught with danger. So while I looked everywhere for research purposes, there are very few places where I'd actually consider buying. I have mentioned Eric Wind and the Davidoff Brothers in the past. I've had great experiences with both and, this time, the latter had a lovely 5513 Submariner Mk2 Maxi Dial. It came with its original box and papers, is in lovely condition, but it was not inexpensive.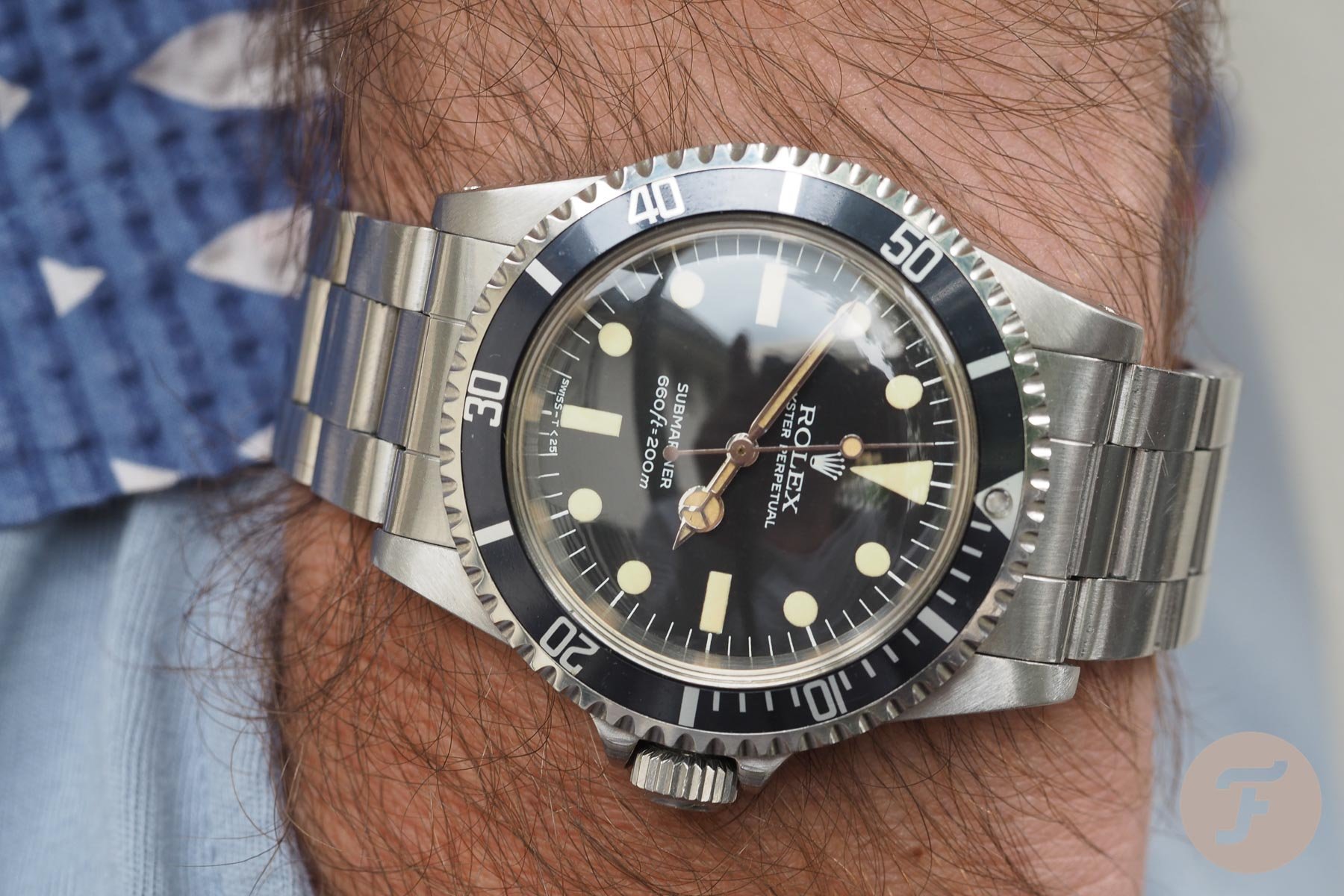 Becoming a fan of 2-liners
I've been a fan of the "4-liner" Submariner models for as long as I can remember. I have always liked the extra credentials associated with these, but something was telling me to try one of these bare-bones 5513 Submariner divers. I know it's been said a gazillion times, but the simplicity is so clean and, dare I say, attractive. There is literally nothing extra on this watch except for what one would presumably need for diving. It's incredibly legible, the dial balance is simply perfect, and those massive aged indices are on display like huge beacons.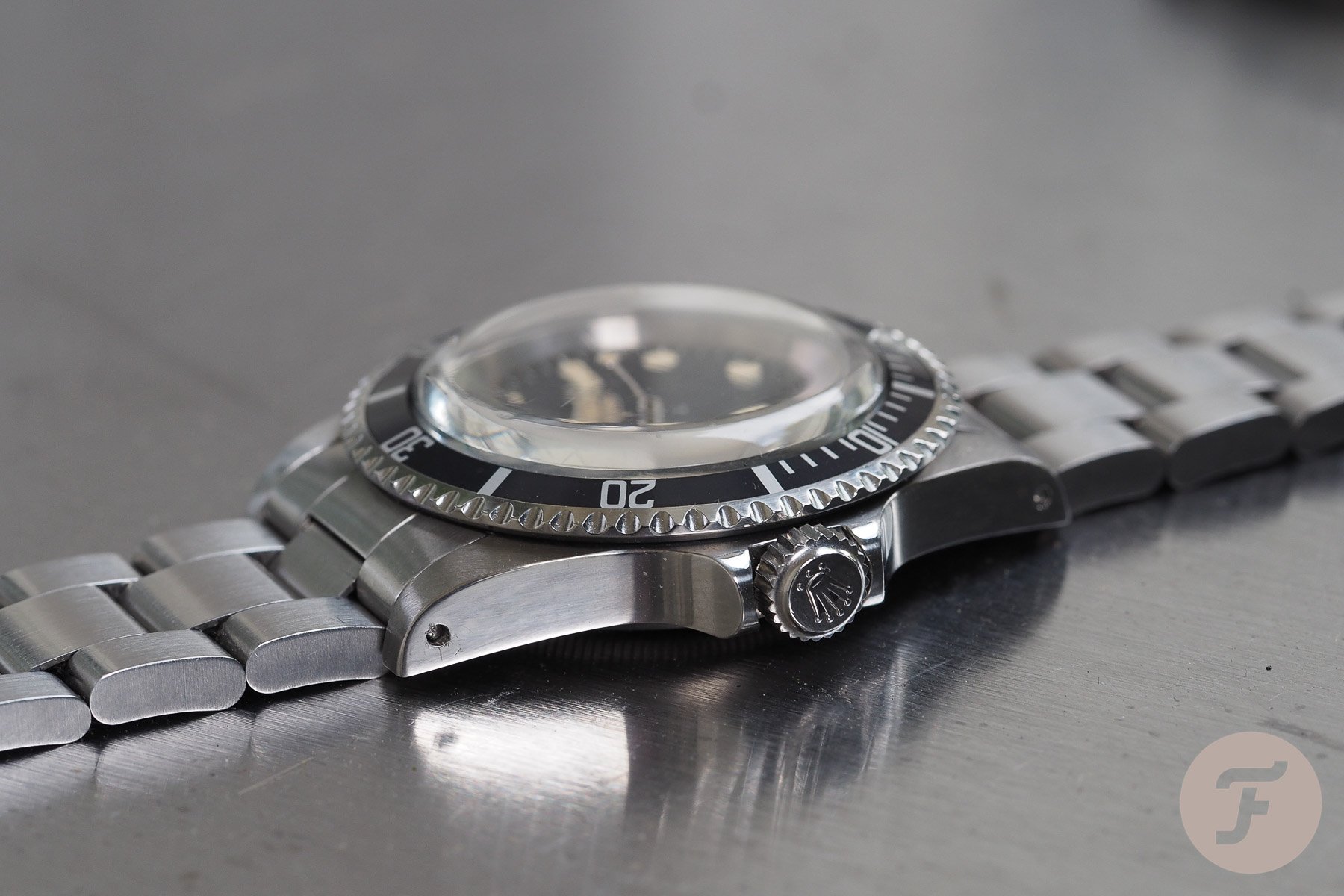 Moreover, Rolex fitted these watches with a domed T19 SuperDome crystal and it's just magnificent. Similar to the Sea-Dweller that I own, this crystal adds a ton of character to what is otherwise a very stark watch. It's the little things like the way the dial details distort at severe angles that help begin to explain why these watches are so beloved. Whereas my lovely 14060M Submariner is a bit perfect and clinical, there's actually something more interesting and man-made about this 5513.
As far as differences from the 5512, the 5513 Submariner Maxi Dial models used the caliber 1520 automatic. This movement debuted back in 1963 with a frequency of 19,800vph. Unlike some other movements from the brand, it used a flat hairspring and a very simple regulator. Even though it's a relatively simple movement, it's known for being robust, dependable, and easy to repair. Despite the lower specs and different movement versus a comparable 5512, it still feels and "winds" like a Rolex if that makes sense.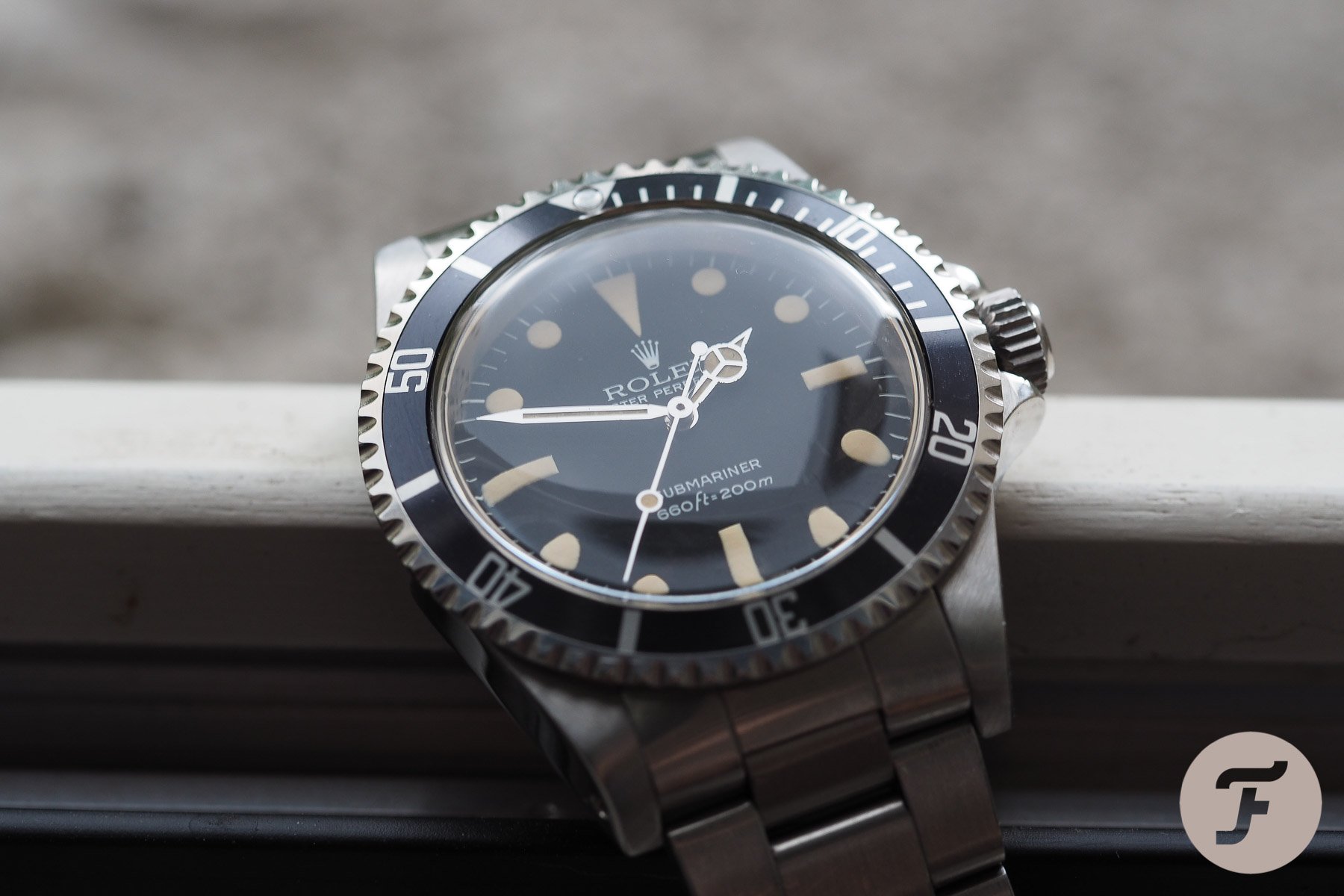 Why now?
I mentioned that prices for watches like the 5513 Submariner Maxi Dial models and vintage Rolex have really gone nuts. So, what made me decide to do something now? It's a great question and I'll try to explain. The primary reason is that I see a watch like this as something that will always be desirable. I guess prices will go up or down over time, but I've only really seen the former in my 15 years or so of intently looking at watches. So, I wanted to strike now on a really nice model while I could somehow manage it. The secondary reason is that I have a semi-special birthday later this year and my wife was incredibly supportive, so that factored in as well.
I've written ad nauseam about my distaste for what is happening on the secondary market with new Rolex sports models. When I look at that craze and compare the prices to a watch like this 5513, there is simply no comparison. A watch like this vintage piece is much harder to find in nice shape and it's just more appealing to me. That didn't really factor into my buying decision, but I can at least semi-rationalize the price of this.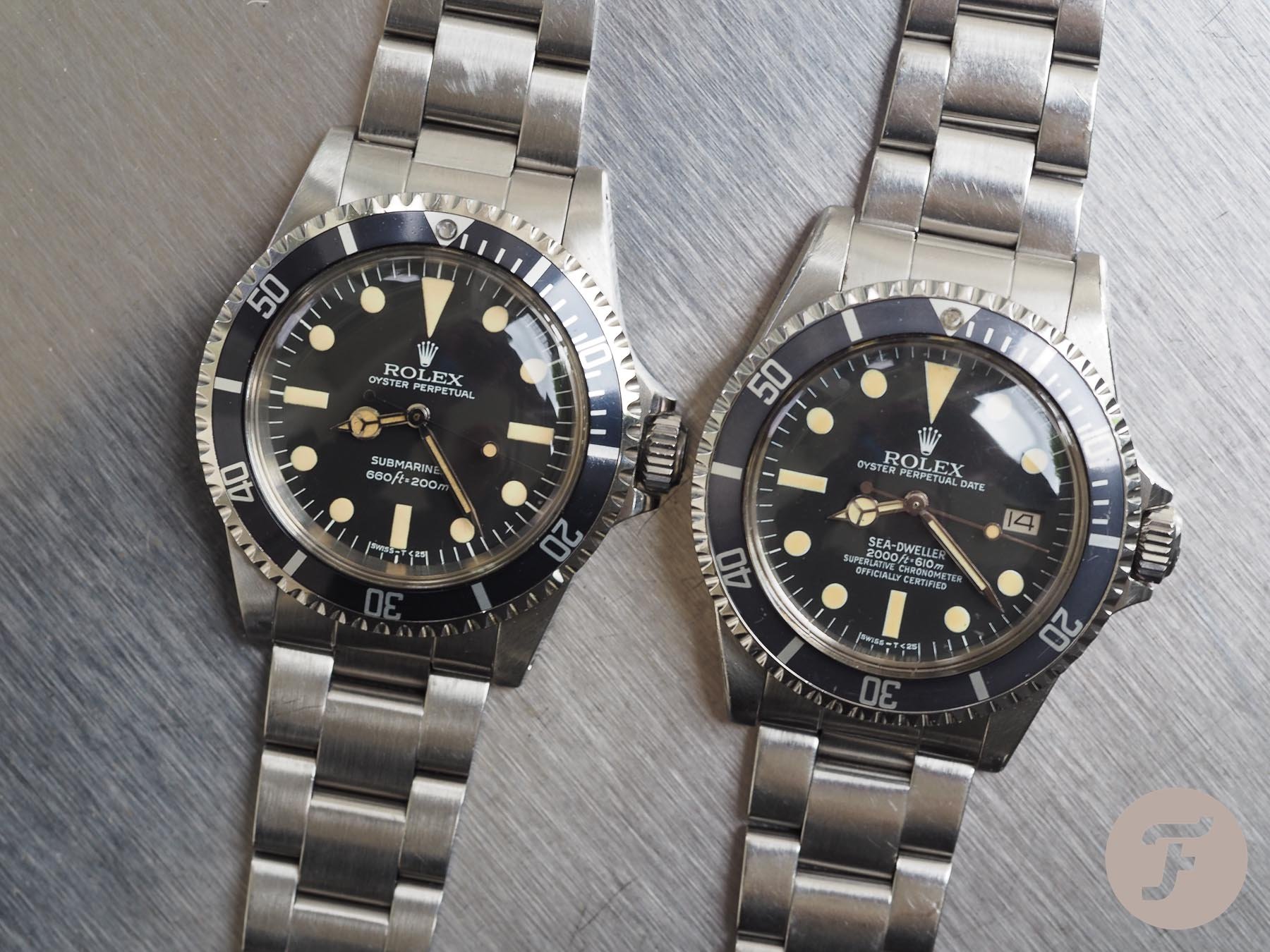 The market for a 5513 Submariner Maxi Dial
Well, as I've said all along, the market for a 5513 Submariner Maxi Dial is dicey and pricey. The market begins somewhere in the low teens and can easily crest the $20K threshold if the condition is up to snuff. Naturally, the original box and papers just add to the price tag. With Rolex, condition and originality are key, therefore making a mistake can be costly. Time and time again, people pick up an older Submariner only to be told after the fact that there are issues. It's important to do your research so why not try via one of the large and helpful Rolex forums?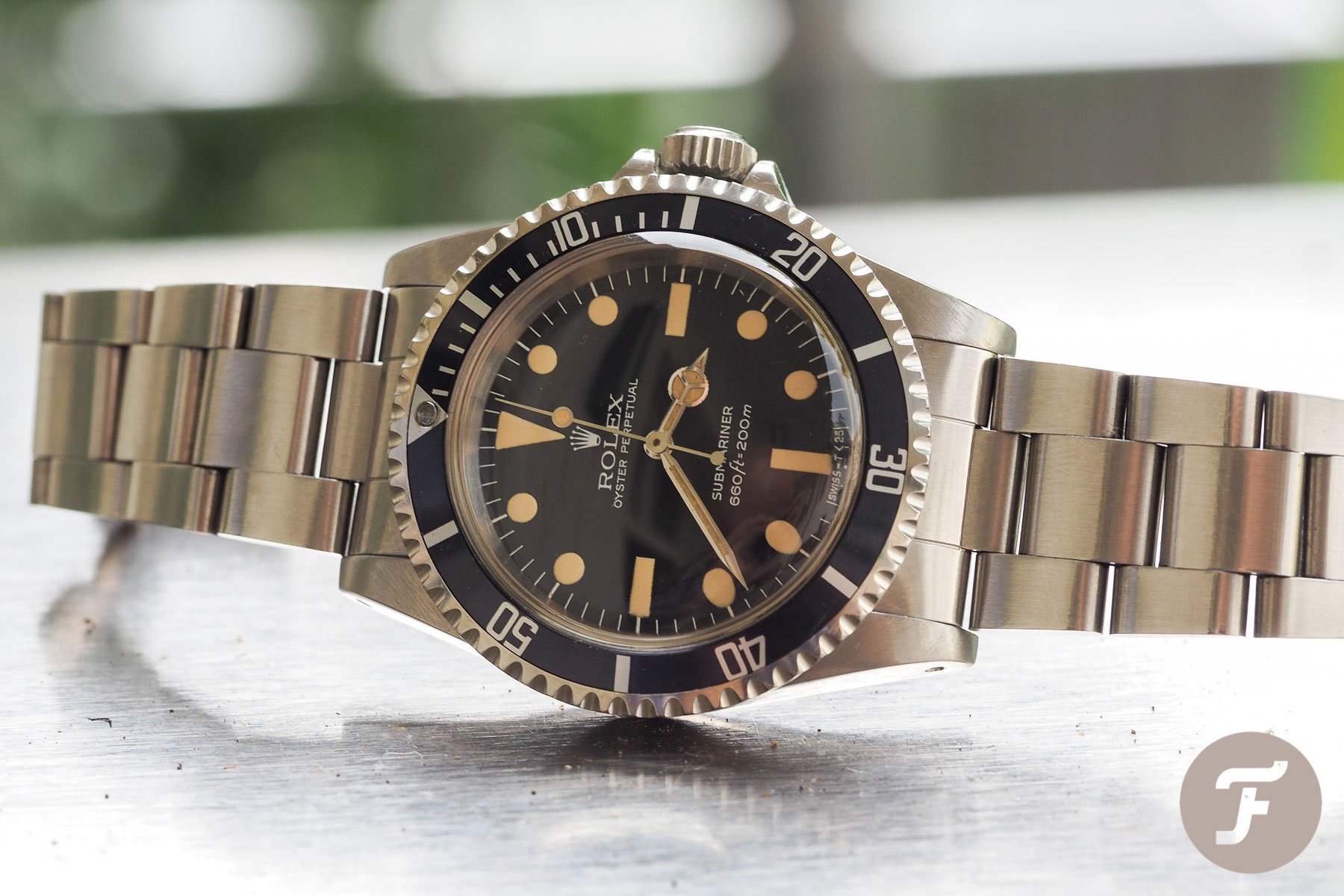 Furthermore, with these Maxi Dial pieces, some models show a lot of patina while others show very little. Also, the so-called Mk1 editions are the only watches in the series where the word "Submariner" is below the depth rating, making them real favorites. In my view, pick a model that sings to you in terms of condition, looks, and price. I wanted something similar in quality to my Sea-Dweller, so that was part of my mission. What I ended up with was a really nice and complete example that feels and looks great on the wrist.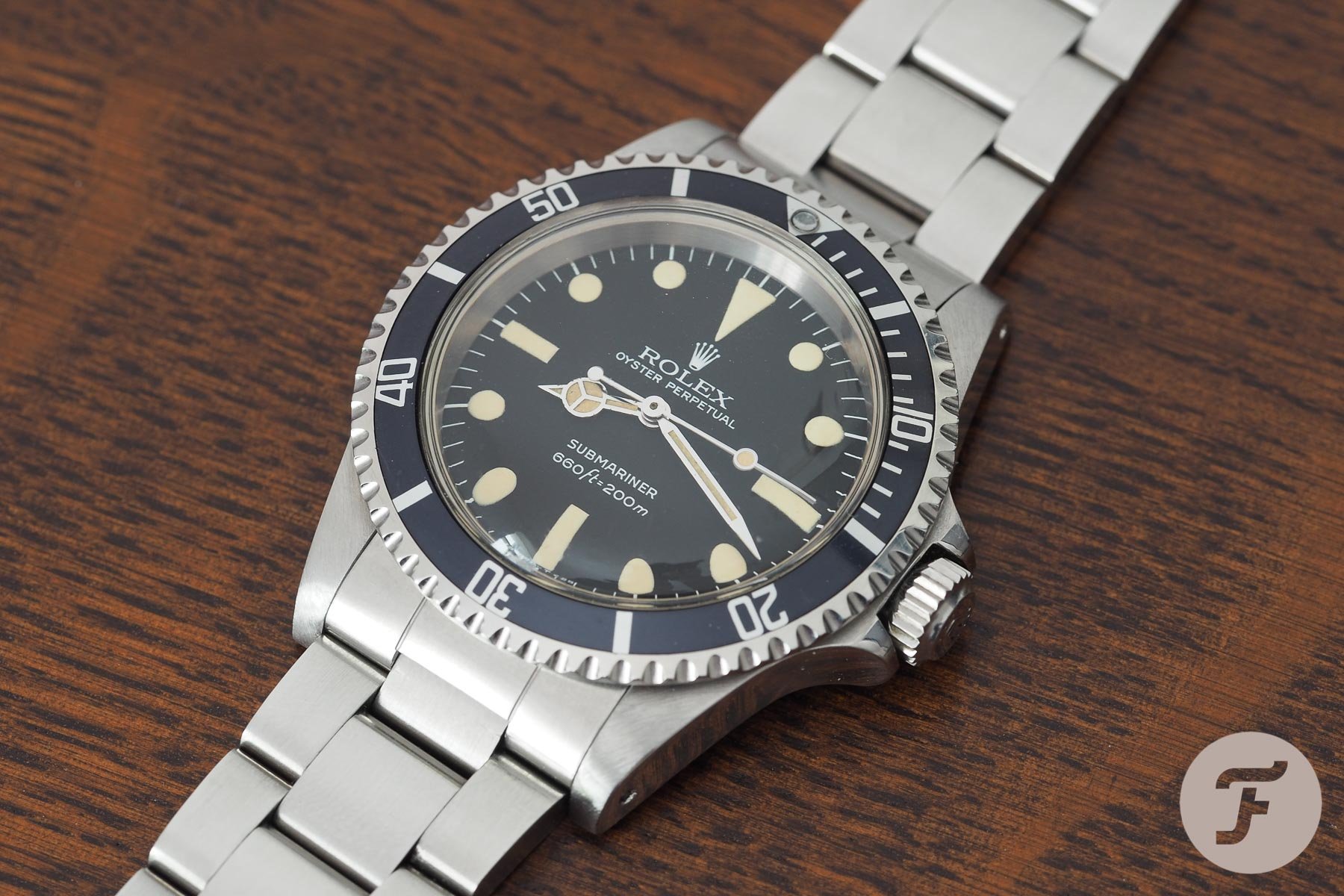 Final thoughts on the 5513 Submariner Maxi Dial
I often say that the Submariner 14060M was the last of its kind. So, what does that make the 5513 Submariner Maxi dial? I'd say it's the last of an entirely different line. The 5513 was the last dive watch from Rolex without a chronometer certification and it manages to bring us back to a much simpler time. These watches weren't cheap, but they lacked pretense and were there to do a job. Unlike some other watches from the period, though, these weren't meant to be disposable. You can feel that level of quality when it's on the wrist and that makes them highly wearable even today. Finally, if you're looking for a vintage sports Rolex, this just might be the only one you have need.