Fratello Watches Christmas Special – The Rolex Sea-Dweller 1665
A Merry Christmas to all our readers who are celebrating! This year, we return to where I essentially "started" with Fratello Watches and that's with a look at a Rolex. It was three years ago that I wrote about the Submariner 14060M and it's time for a repeat engagement – with a twist.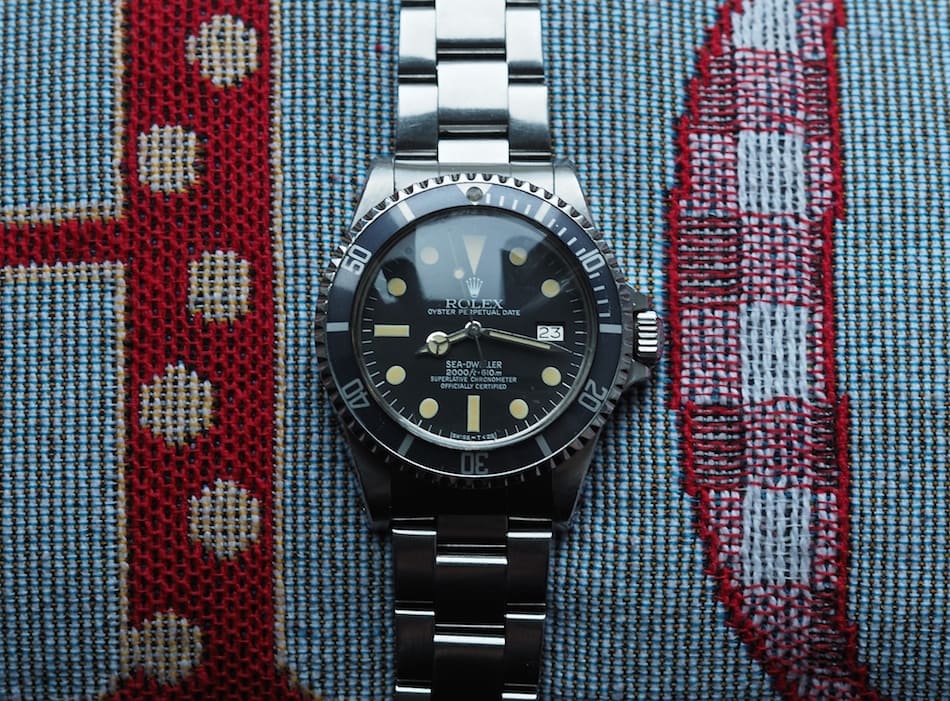 Yes, this is an examination of a diving Rolex, but of the deepest of them all: the Sea-Dweller. Kick up your feet, pour a glass and relax, it's time for a Holiday installment of #TBT with the vintage Rolex Sea-Dweller 1665.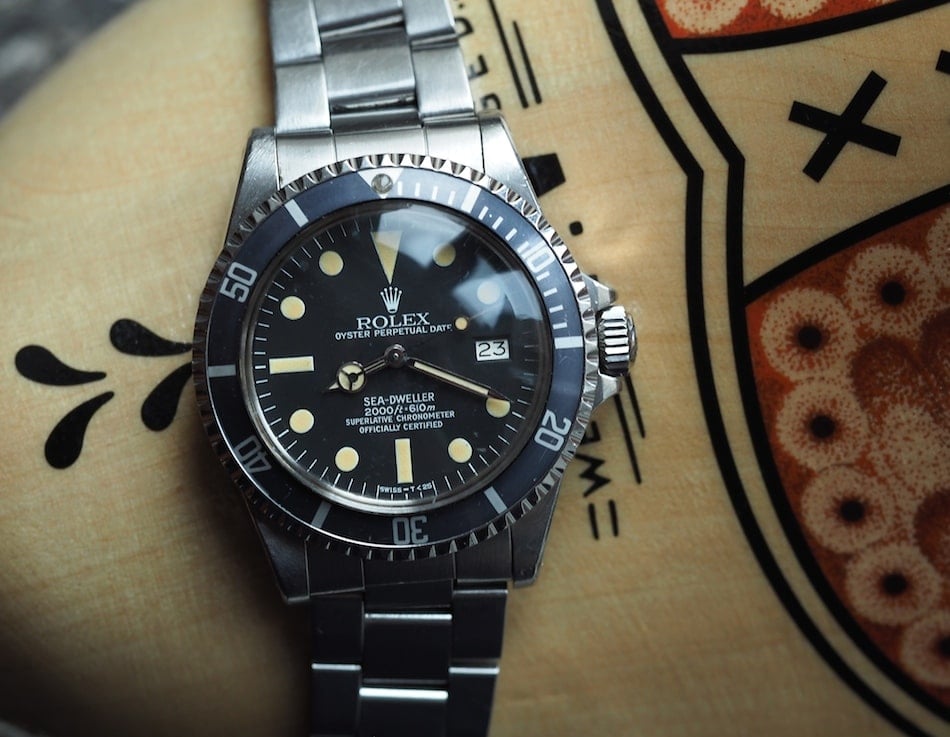 My mind works in mysterious ways. It mines an extensive backlog of trivial information, often making tangential (read: loose at best) connections between what are essentially disparate subjects. And so it shouldn't come as a surprise that when I consider a watch such as the Rolex Sea-Dweller 1665, I instantly recall a scene from the cult classic film, Joe Versus the Volcano, where Joe, (played by Tom Hanks) visits a specialty shop for the sole purpose of procuring luggage. It's a famous spot meant to recall a time when travellers, or adventurers in this case, went to very specific outfitters to buy items that served a very specific purpose. Watch the scene, and readers, may you live a thousand years. I think of this clip from a movie that I first watched during my 2-week long bout with the chicken pox because the Rolex Sea-Dweller 1665 is exactly what I mentioned above: namely, a very specific item.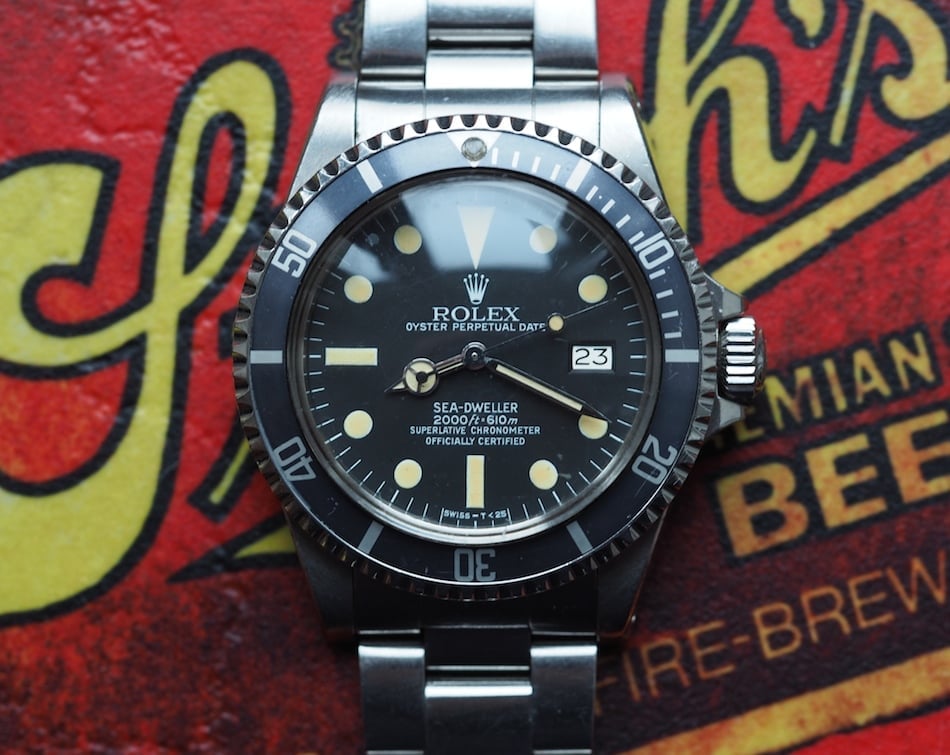 Aside from all the COMEX lore that's been beaten into the heads of every Rolex collector, I'd really never developed much of an impression about the Rolex Sea-Dweller 1665 or any Sea-Dweller for that matter. Well, that's not entirely true. I had seen modern versions of them on the wrists of colleagues and came away with one thought and one thought only; why would any of them fork over the extra cash to buy what, to me, looked like a Submariner with a hole on the side? Of course, I knew about the enhanced capabilities of the watch, but it just smelled an awful lot like conspicuous consumption because, after all, none of these folks were engaging in saturation diving. But I get it, when one has the funds to buy either a Submariner or a Sea-Dweller, I can see how enough people have been upsold over time and cajoled into buying the "top of the line" diver from Rolex even though a normal Sub could handle any recreational dive with aplomb. But for the same reasons that we'll discuss shortly, it seems I was a bit too hasty in my dismissal of the ultra deep diver.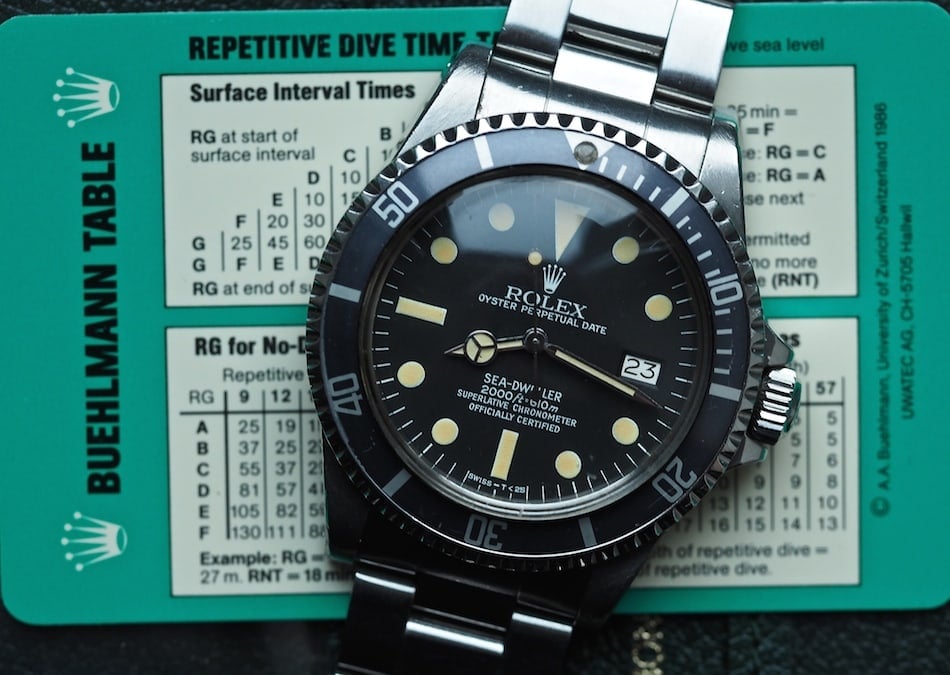 Yes, similar to my feelings about modern Sea-Dwellers, I had never really developed a taste for the vintage pieces like the Rolex Sea-Dweller 1665. That is, until the last six months or so. Once again, I had chalked them up to being "much ado about nothing", but reading is dangerous. Heading to well-known sites like Double Red Sea Dweller and Hodinkee (Louis Westphalen penned a wonderful and easily digested history on the model line), I read about the history of these watches and their significance. Reading about the COMEX history was interesting, but I also came across stories of former astronaut Scott Carpenter's time as a US Navy Diver and most importantly, his involvement with the Sealab project. The project studied the viability of saturation diving and its effects on humans. Carpenter, at one point, even spent nearly 30 days in the underwater habitat. The watches on the wrists of these aquanauts? Well, they were Submariners at the beginning of the studies and apparently transitioned to Sea-Dwellers. To read it here, it seems that Rolex worked with both COMEX and the US Naval divers over time to develop the Sea-Dweller. When considering the fact that the watches were designed to "live" underwater, the name makes sense.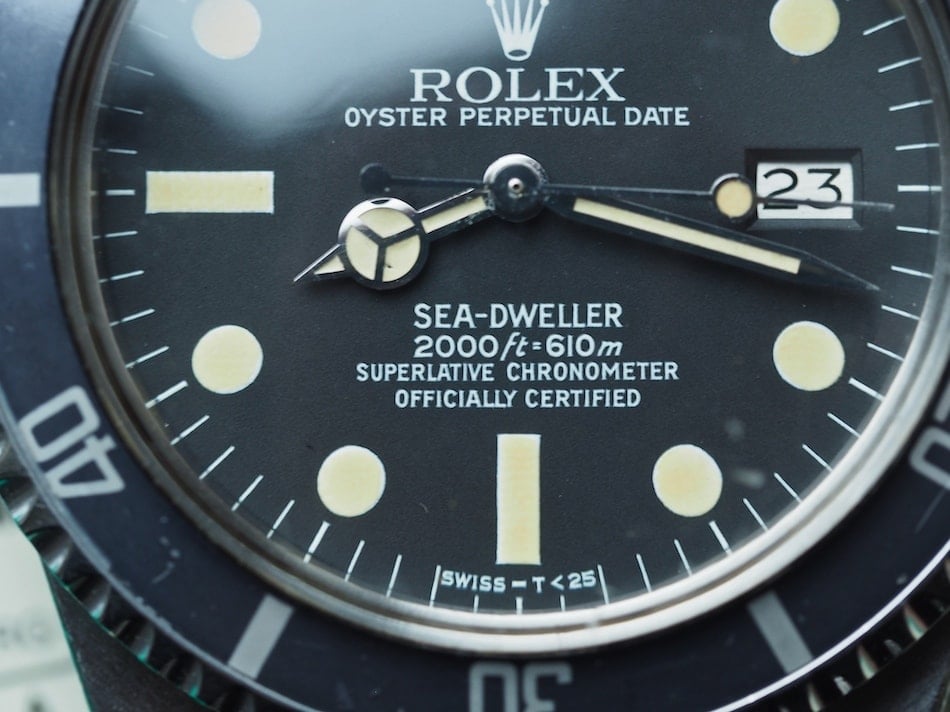 From a personal perspective, I remember taking part in a weeklong program in the Florida Keys at the Marine Resources Development Foundation run by Ian Koblick. And while I didn't dive during the camp, I can recall two underwater dwellings within a lagoon on the premises. One was actually built by the US Navy in the 1970's as part of the Marinelab program and it still functions as an educational platform. The second dwelling is "Jules Undersea Lodge", which exists as the world's only underwater hotel. It was in the latter underwater chamber where Scott Carpenter introduced a class to help simulate the activities of underwater workers. So, yes, the Sea-Dweller at least has a relation to a place where I resided – albeit for only one week. J I told you, loose connections live within my head, but the end result was that a Sea-Dweller was in my future.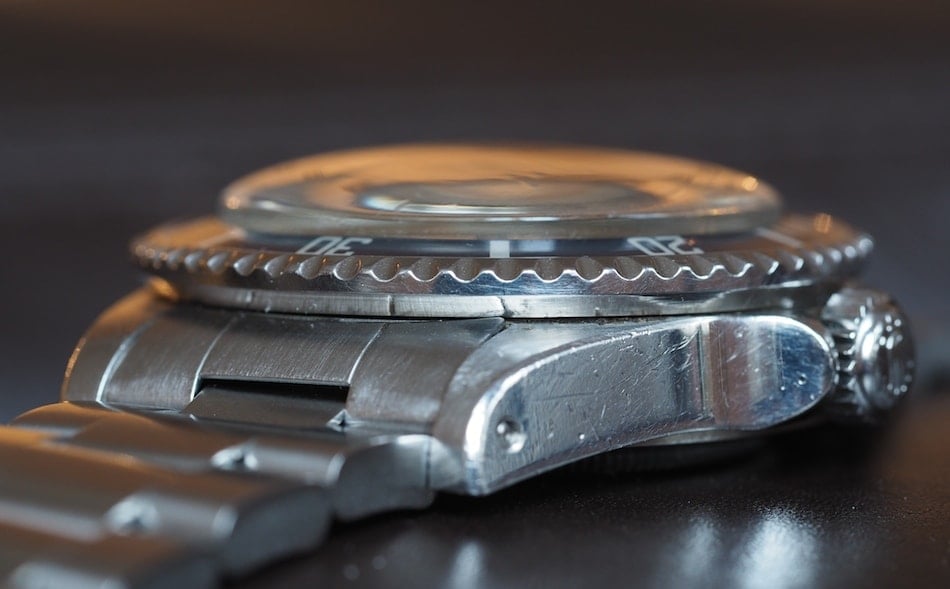 For me, figuring out which Sea-Dweller to buy was simple. As a vintage collector, and especially when it comes to Rolex, I like matte dials and acrylic crystals. With the Sea-Dweller, though, that provides one with exactly two choices (ok, nothing is ever exact with vintage Rolex, but we'll keep it simple here). From 1967-1977, the so-called Reference 1665 "Double Red" Sea-Dweller was produced. Aside from some very rare early variants (single red, no helium valve, etc), these are considered the first publicly available models and pricing reflects this. There are several generations of dial, but assume $30,000 as a good starting point for one of these icons. So, with that cost in mind, it led me to the other choice, the Rolex Sea-Dweller 1665 otherwise known as the "Great White".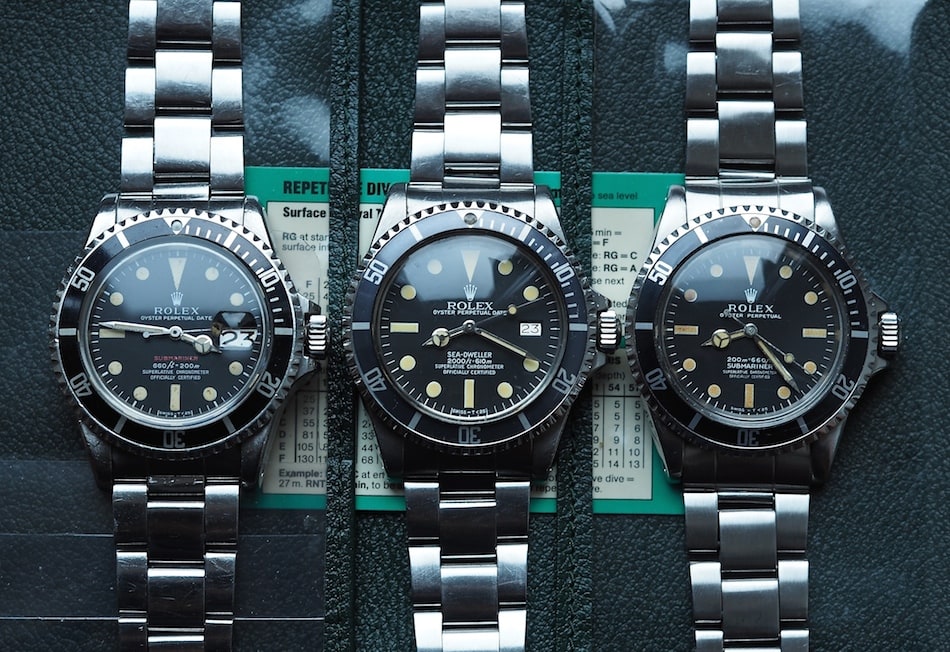 The Rolex Sea-Dweller 1665 Great White was produced from roughly 1977 to 1983 and it's notable for a couple things. First off, it gets its name from its all white text on the dial. Second, the dial denotes the Sea-Dweller line as its own instead of its former place within, or atop, the Submariner line. Aside from that, the watch is essentially the same as its predecessor and that, as I alluded to before, is something that's substantially different when compared to the brand's more typical dive watch.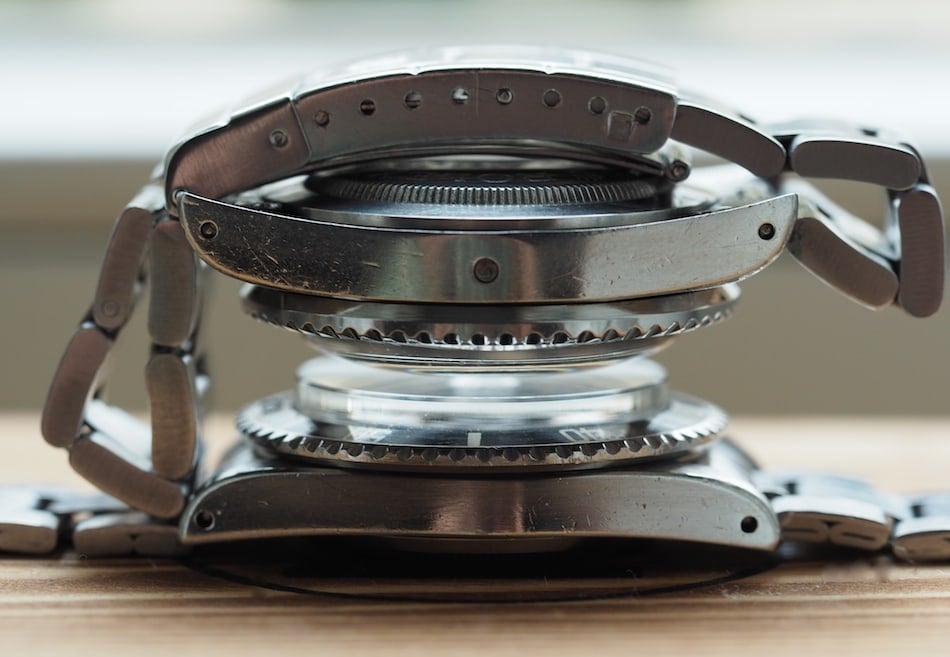 The Rolex Sea-Dweller 1665 Great White that you see here is a one-owner watch from France. It grabbed a cup of coffee in Switzerland at a dealer before the Davidoff brothers plucked it on my behalf. Here's an admission: I'd never held a vintage Sea-Dweller before this piece arrived. I'd read about the differences, but I didn't expect this watch to be so different. First off, despite the same case size of 40mm, it's thick – really thick. A thicker domed case back, a thicker mid case (roughly 5.4mm vs 4.4mm) and a taller domed crystal all add up to a watch that's over 17mm(!!) thick. That's roughly 3mm thicker than the Red Submariner I own with the top hat crystal. The mid case itself adds a millimeter on top of a standard Sub and that T39 Tropic Superdome simply towers at its acme.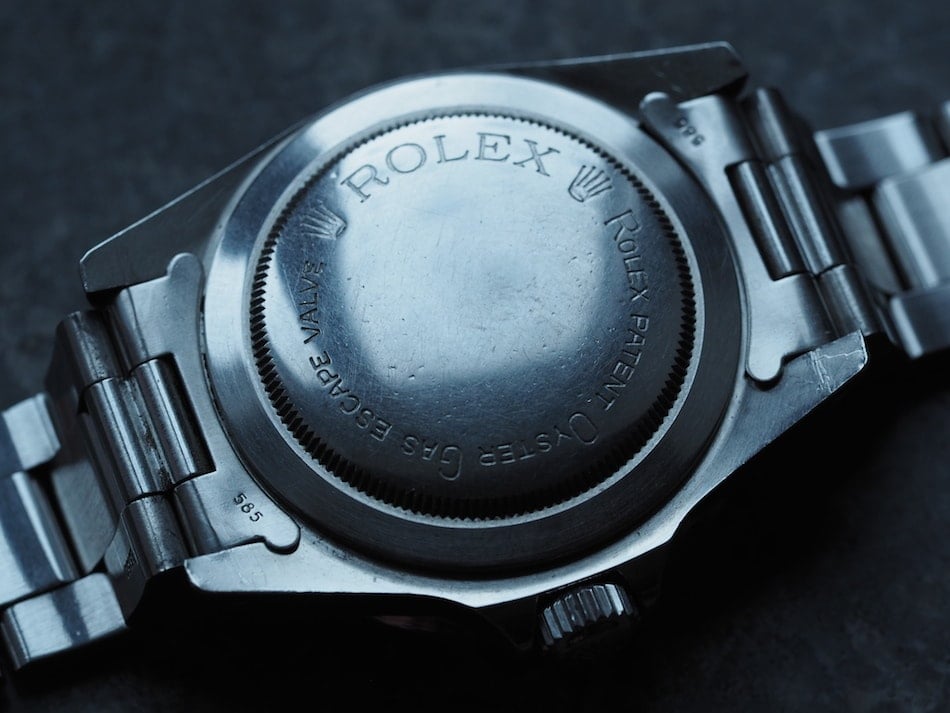 Other details serve to separate the Rolex Sea-Dweller 1665 from its stable mates. The case back is simply fantastic with its deep engravings, which make note of Rolex's patented gas escape valve – a detail which is oddly almost invisible due to its small size. The font strikes me as somewhat "old worldly" and it's an uncommon show of exuberance from the highly stoic brand. In fact, the only other watches from Rolex's similar era family I can think of that contain such engravings are the Submariners from Tudor. But coming back to the caseback, it's actually domed to a soft point in its center and that makes it a bit different. And then, when viewed from the side, there's a detail that, once noticed, becomes hard to ignore.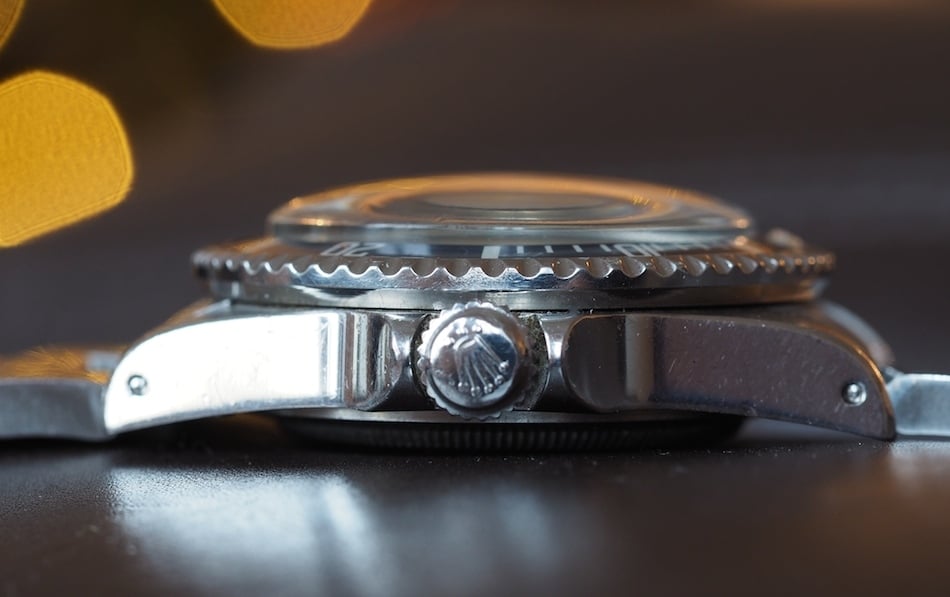 The bezel is demonstrably taller – 3mm vs 2mm and this should provide far more grip. (As a side note, as we've brought up Scott Carpenter, it was he who used a wide bezel Breitling Cosmonaute on his Mercury mission. It seems he was "hands-on" with his watches.) Finally, while on a similar 93150 bracelet with flip lock and wetsuit extension, the Great White trades typical 580 end links for taller 585 end links in order to better fit the thicker case.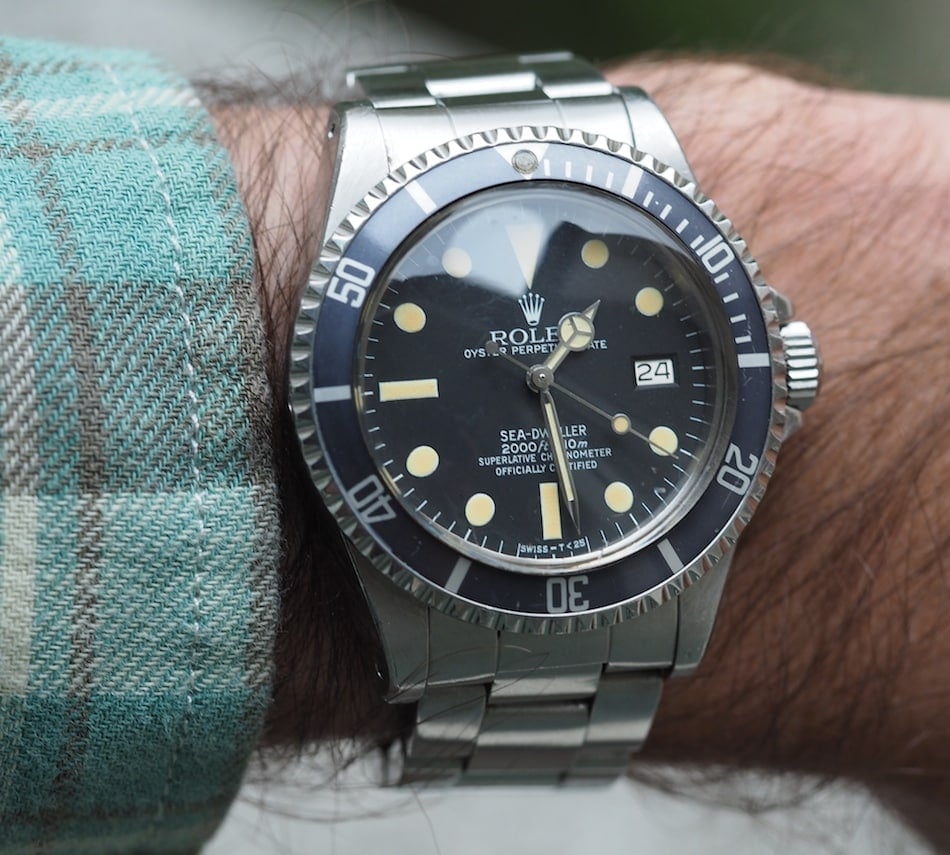 There's just something about how the Rolex Sea-Dweller 1665 looks in person. The massive crystal instantly adds a whole different look to a familiar dial. It's seriously deep and a bit distorted at the very edges. Without the familiar Cyclops, the silver date wheel looks oddly diminutive on a watch that's exaggerated in many other aspects. But here, on the Sea-Dweller, it just works and somehow underscores the instrumental, purpose-built nature of the watch. That faded tritium lume and the graying fat-font bezel also serve to lend this aging beast a grand stature.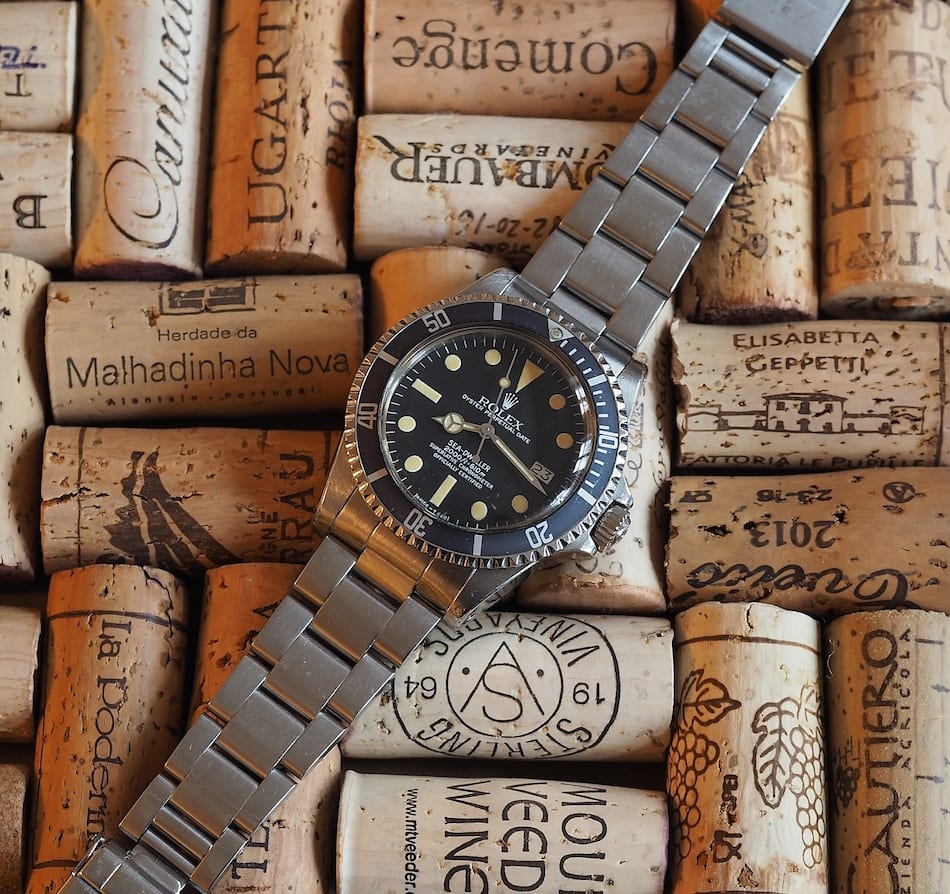 Inside the Rolex Sea-Dweller 1665 sits the familiar 26-jewel automatic 1570 caliber. It's a non quick set piece that runs at 19,800 bph and is chronometer certified. As per usual, the movement is controlled via a trip-lock crown. Everything's familiar here and I've found the watch to run perfectly since taking delivery.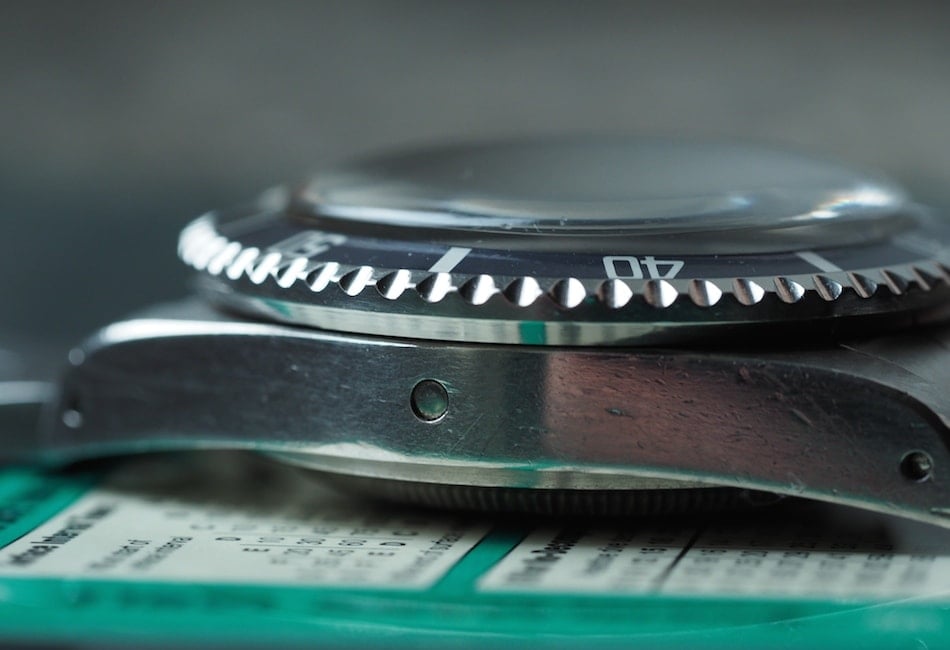 The Rolex Sea-Dweller 1665 Great White has a bit of an odd history with collectors. It followed up a watch in the Double-Red that likely ranks within most Rolex fanatics' top 5 lists and with its all white dial, I suppose it came off as plainer or more commercial. But, technically speaking, it really can't be ignored. It's also the last Sea-Dweller with an acrylic crystal and was made for a far shorter period versus its predecessor. With Rolex, we know nothing about production figures, but a watch like this – more dear than any steel Sub – couldn't have been a mainstream seller. Add to that the fact that it was a tool watch in the truest sense and many took a beating, were serviced and received replacement parts. Now, it seems, good Great Whites are of interest and are increasing in value much like other vintage Rolex sports watches.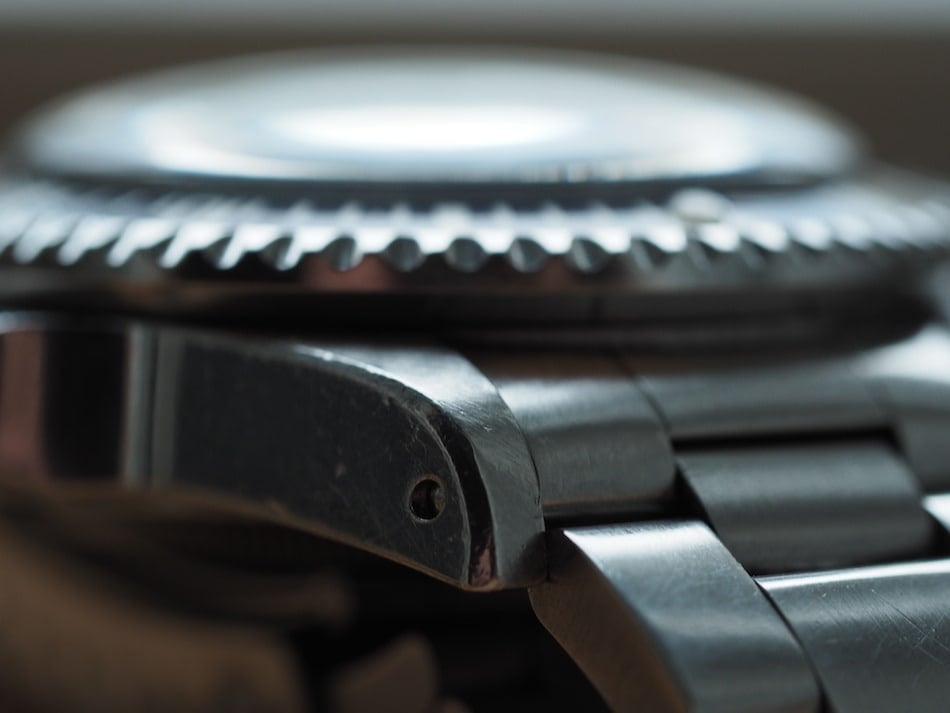 A Rolex Sea-Dweller 1665 like you see on these pages would be deemed as in excellent condition. It's no longer worth debating whether something has been polished or not, but this one shows all its case bevels, some dents and dings consistent with wear and some minor crystal scratching. It's an honest watch and that's not terribly easy to find these days. It was a lucky find and I'm thankful.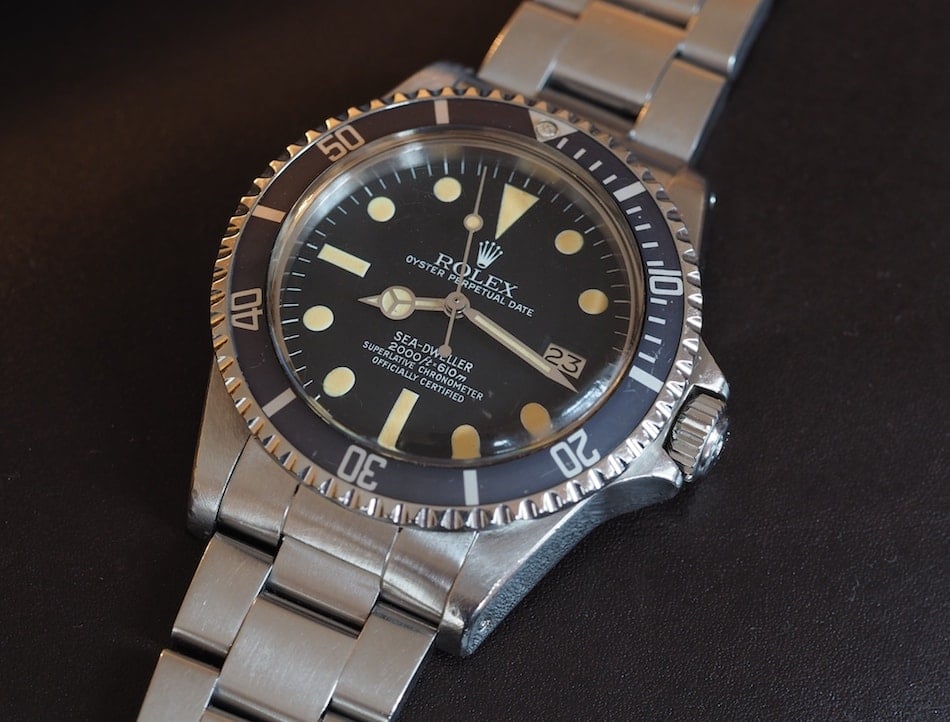 The Rolex Sea-Dweller 1665 belongs to the last period of time when Rolex made watches for very specific purposes: or, better said, when people truly had to use their watches for more than telling time. Case in point: Rolex made similarly specific models such as the Milgauss and Explorer II. To me though, a vintage Sea-Dweller represents the most audacious expression of Rolex's pursuit for underwater dominance. And with that, I'll wait around until a reclusive billionaire gives me a call with an offer to face my own volcano. Until next week…