#TBT The Rolex Red Submariner 1680 – The First Sub with a Date
Damn you Rolex. Ok, more specifically, damn you "vintage" Rolex. I don't want to like you, I really don't, because so many others are in love with you and have made you dangerous to buy and a prohibitively expensive process along the way. Plus, you go and change one silly detail here or there like a font – often likely without a ton of consideration on how the market will react (in this case "would have reacted) – and people go nuts. I mean seriously nuts. Today's #TBT looks at a watch with a small little detail that collectors love and it's a watch that I kind of accidentally backed into about five years ago. Let's talk about the well-known ref.1680 Rolex Red Submariner. Actually, and I'll not repeat it, but just because I'm a pain, this is actually a Submariner Date. 🙂
The Rolex Red Submariner "Date"
Let's clear up a few things because one of my first articles ever on Fratellowatches, was about the modern classic Rolex Submariner 14060M. I made the claim that it was essentially a perfectly designed watch due to its excellent dial symmetry, but also because it lacked that odd protrusion of a feature: the Cyclops. I also made it very clear that there are only 2 types of Subs: the Submariner and the Submariner Date. There is no such thing as a Submariner "No Date" – that's just silly. So, it shouldn't surprise you that it was actually a struggle to pull the trigger when a very honest Rolex Red Submariner came up for sale some five years ago for a very reasonable price. But…the head lurched in front of the heart and made the decision because, if nothing else, a well bought vintage sports Rolex is a sound investment.
This Watch Started as a "Head" Buy
Yes, I had just moved to Germany five years back when my Dad shot me a note stating that a Canadian jeweler outside of Toronto had received a Rolex Red Submariner in on trade and had put it up for sale for around $5,000 Canadian. (This dealer also had a lovely 1675 that neither of us jumped on – ugh). I hemmed and hawed a little, but, admittedly, there was also a little voice inside of me that became really excited because, honestly, I never thought I'd be able to find an affordable vintage sports Rolex again. I took delivery of the watch at some point and, like so many watches I've bought, I was much more impressed in person than in print. But – the watch needed a thorough cleaning and some other additions.
The Rolex Red Submariner Brought the Date to the Sub
The Rolex Red Submariner was produced from roughly 1969 to 1973 (some say 1966 as a start while others claim the watch went on until 1975). Aside from the red font that drives collectors batty, it's truly notable for one thing: it's the first Submariner with a date. Obviously, this is significant because, if you look today, you'll quickly notice that about 95% of all Subs on people's wrists seem to feature a date. The Rolex Cyclops actually started out years back in 1953 on the Datejust (some say the Turn-O-Graph), but, either way, it didn't begin life on the Submariner Date.
When a Crystal Adds Serious Character
When I took possession of the Rolex Red Submariner, a couple things jumped out at me. First, and this is always nice to find, it had its original Twinlock crown (Triplocks came later at around the 3M serial number). So many Subs have lost their original crowns to Triplocks along the way, that it's not overly common to find untouched specimens. Oddly, as finicky as Rolex collectors are, there doesn't seem to be a premium for the less dependable crown. Also, the original folded bracelet was present with what looks like an aftermarket or later replacement clasp (just the outer portion oddly), but it contains the "Pateted" wetsuit extension as a result of someone not using spellcheck at Rolex 45+ years ago. The lume pearl was gone, but the dial looked great. The crystal – not so much. It was chipped, showed some dust or lint, but it quickly showed its major flaw – it wasn't a "Top Hat".
In a weird twist of irony, the 50th anniversary Rolex Sea Dweller Robert-Jan wrote about from this year's Baselworld contained a Cyclops for the first time in its history. Rolex, in its self-pronounced desire to push innovation, claimed that it was the first time it was able to produce such a deeply rated watch with a Cyclops. They claimed the bubble as a potential source of weakness that they were finally able to overcome with technology. Well, heading back to the late 1960's and the Rolex Red Submariner, the brand took a page from the contemporary Detroit era of cars – as in, there's no cure for cubic inches. In Rolex's case, though, they mounted what now looks like an absolutely insane crystal that's now known to collectors as a "Top Hat". Essentially, in order to withstand the 200M depth rating inclusive of the famous Cyclops, a ridiculously thick crystal was fitted to the Sub. When I say ridiculous, we're talking mm's upon mm's. In today's world – or at least back in the 1980's – it looks like a Plexiglas special. It's so damn ridiculous that the thing loses its near 90-degree corners on everything from desks, door jambs, and whatever else. But, it's endearing and I had to find a NOS one…
The Top Hat Isn't Loved By All
I found a so-called Top Hat (a 127) for my Rolex Red Submariner several years back for about $250 – it was truly NOS and some would chide me for mounting it, but what the hell? This watch won't be swimming any time soon. I also took the opportunity to source a tritium pearl recently (also around $200 – damn vintage Rolex) and the watch went off to our resident Fratello watchmaker, Paul.
He sent lots of pictures along the way to show the innards of the watch, including the correctly signed inside case back denoting 1970 – and the non-hacking 1575 chronometer rated automatic (a hack was added in 1973).
He actually enjoyed working on the watch as it contained some real "love marks" on the case, but still retains its original bevels on the lugs.
A Gentle Restoration
Restoration wise, I chose to do nothing to the Rolex Red Submariner other than a service, adding the pearl and the crystal. When asked about the lollipop on the sweep seconds hand, I agreed not to touch it other than to seal it to keep it from degrading further. My thinking was that it could always be filled in later, but never unfilled. This watch was worn – the original owner apparently splitting time between Canada and Trinidad – and I wanted to keep it that way. I was also intent on retaining the Twinlock, which was no issue.
Taking a Detailed Look at the Rolex Red Submariner
Taking a closer look at some details on the Rolex Red Submariner, you're met with some really cool features that just don't exist in today's Subs. I've been critical of modern Subs for being too modular and blocky looking. I hope you'll like these macros because I think it shows off some of the best details within this beauty. Let's start with that bi-directional bezel.
Equipped with a fat font insert, the whole thing overhangs the case in a way that's not often noticed unless you look at the watch while it's on the table. Then, have a look at the machining work on the knurling – it's so well done and so instrument-like. I can picture the lathes at work.
Dial wise, the red font shows traces of white underneath. For non-geeks, that makes this a Mark IV dial and it's perfectly in keeping with the serial number.
Move on to the date wheel and in addition to the open 6's that drive loads of Instagram uploads every month, just look at the serifs on that "1"! More broadly, even the matte black finish of the dial is worth taking in…
And lastly, we can't forget those hands. Yes, they show signs of corrosion, but again, they're true and they're real – and up close, they look like they could tell serious stories.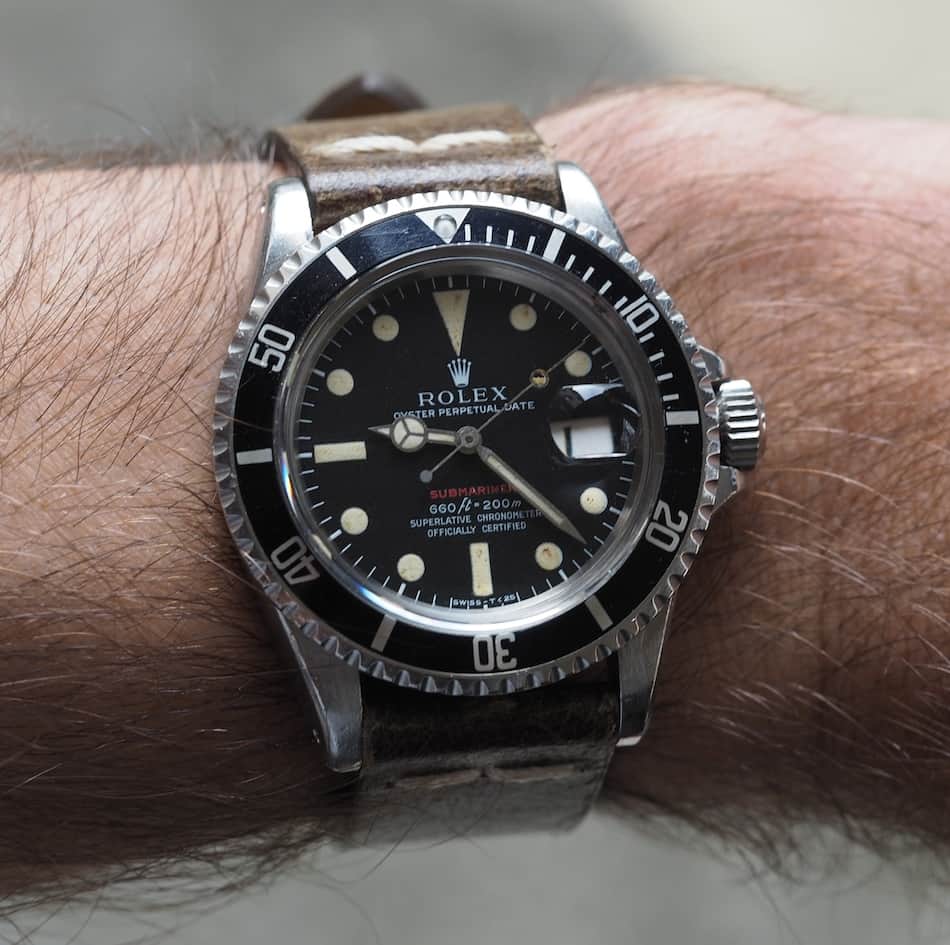 If you can't tell, I am fond of the Rolex Red Submariner. To be fair, my Dad owns a late 70's white font 1680 (he bought it new and these were made until 1980) and when I finally paid attention to it a couple years back and soaked in the top hat on that watch, I knew that this gentle restoration would pay dividends. Since getting mine back, I've worn the hell out of it. I've strangely opted for a strap in lieu of the folded bracelet, but it's simply because I'd need to remove a folded link and I think I'd rather hunt down a later solid link bracelet with stamped end links at some point. It's a great watch, worth the "ado", and I can't stop staring at the insane crystal; I'd simply better be careful with it.
The Rolex Red Submariner Has a Fan Club
The Rolex Red Submariner is a beloved watch by many. In fact, there's an informal registry on rolexforums where people show theirs, list the first part of the serial number, and get deservedly excited about a watch that really doesn't look that different than most other Subs. Still, that red font drives us all wild – it's a cool little difference that lets people know you're wearing something slightly different. Eye catching? I had someone an aisle up on a plane flight last week eyeing the thing for the better part of two hours (I confess, I saw him scrolling through his phone pics and he had plenty of wristshots). But, yeah, it's a special watch. Ruggedness? Aside from the massive crystal and the potential of chips (there are some damn good service crystals out there), it's built Rolex tough and that means that it feels pretty darn modern.
They're Not Cheap Sadly
Value-wise, the Rolex Red Submariner had its big jump about 5-6 years ago above the $10K mark (yes, this is also why I had no choice but to buy this). Today, everything over $18K seems to be the going rate for a really nice example. When looking, it's so important to be diligent. The bezel, the dial, etc all need to be in line. Bezel inserts – these darn things are now 4-figure purchases if a later thin font service insert happens to be on the watch. As always with Rolex, you have to be careful. Tropical dials and "pumpkin" colored lume does truly exist, but I simply don't trust the bulk of it unless it has some sort of provenance (I'm looking at you Hong Kong – the land of the oven).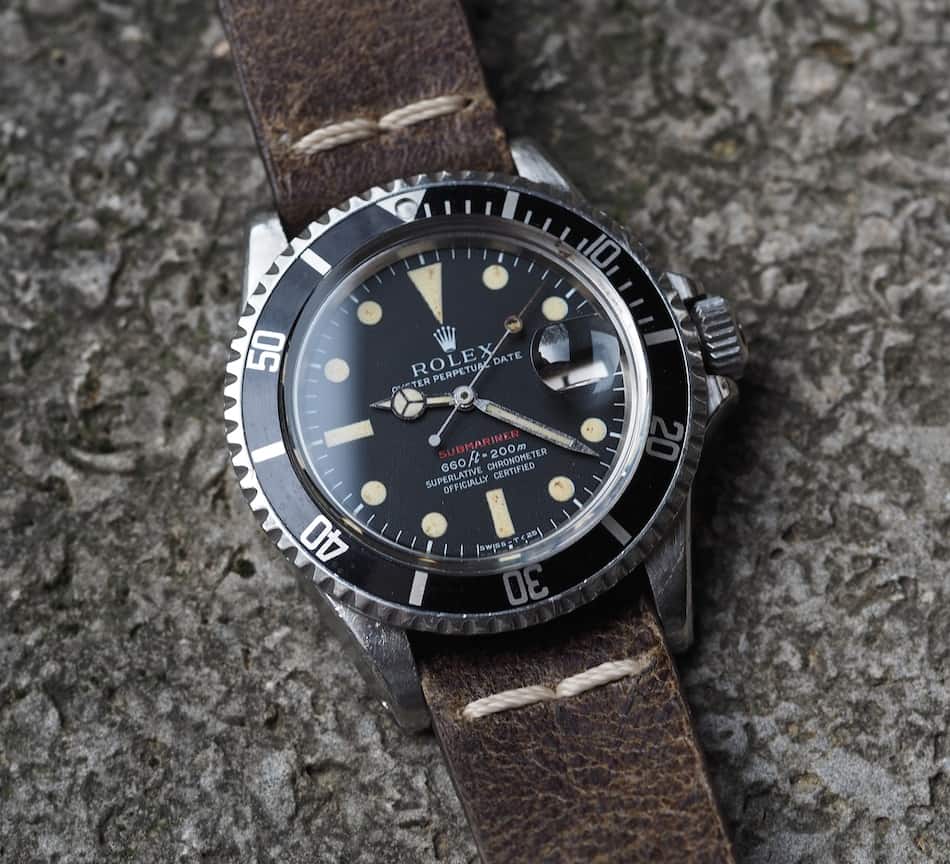 We don't do "the crown" that often on #TBT, but when we do cover the brand, it's always satisfying. A Rolex Red Submariner may be a watch that you see often on Instagram, forums, or elsewhere, but that doesn't make it any less special. It's a great vintage diver (we often forget that as Rolex somehow seems to fall into its own category) that was really well engineered. And that crystal – droolworthy. See you next week…
*This article was first published April 6th, 2017.