Panerai GTG 2009
Paneristi (= dedicated Panarai fans) are famous for their GetToGethers. The best known GTG is P-Day, this year to be held in Florence, Italy. Home of the Officine.
Last weekend, WatchRon (one of the Dutch Paneristis) organized a GTG for all Belgian and Dutch Paneristi. Unfortunately, I wasn't able to join them, but the stunning pictures they posted on PaneristiPix and the wristwatchphotoblog by Martin make up a lot.
A good GTG comes with a good meal, and according to some of the attendees in the Dutch Panerai Forum, the meal was excellent.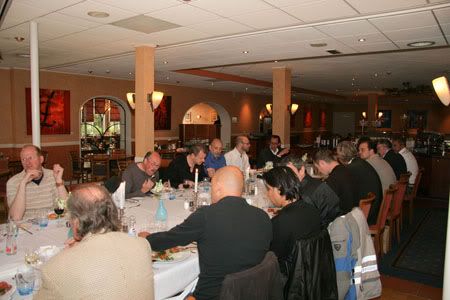 Part of the Panerai fun is about straps (and changing them). Dirk Grandry, one of the most famous strap sellers, was also there, presenting a large collection of Panerai straps. I blogged about Panerai straps several times in the past, including an article on the ammo pouch straps (click here to go the article).
Besides good food and Panerai straps, there were a lot of fabulous watches. I came across this picture by Martin, of two Panerai PAM127 models, or also known as "Fiddy" or "1950". Panerai stopped the production of these watches, and prices are going sky high ever since. I think a lot of people are upset because they either sold them too early or didn't buy them at all back when these were in production.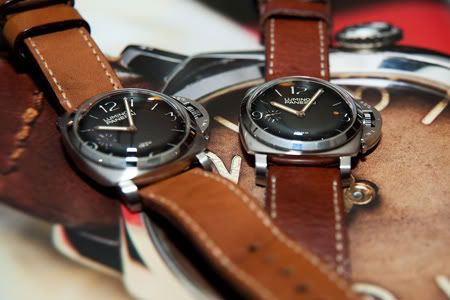 Paneristi love tradition. Making a table shot of all watches from the GTG attendees is also tradition. PierreSim (also responsible for the first two pictures), did a nice job on the table shot below.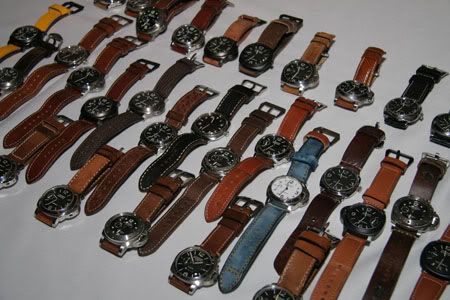 It is just incredible that a brand initiated such a cult of vintage diving watches, straps, GTGs and loads of dedicated websites and forums. Angelo Bonati (CEO of Panerai) did an excellent job, not only on branding, but also on listening to the buyers/collectors of Panerai watches. After the use of relative simple handwound Unitas movements, Panerai upscaled to the fine few that uses their own inhouse movements. Their basic (Luminor Base and Luminor Marina) models still make use of the Unitas movement, still enabling ownership for (almost) every watch enthusiast.