Hands-On With The Patek Philippe Aquanaut Chronograph
A Patek Philippe watch isn't your typical sports watch, even though they want to make you think otherwise with their Aquanaut and Nautilus watches. The new Aquanaut Chronograph does not change anything about this, but surely is an interesting and welcome addition to the Aquanaut collection. The Aquanaut is a beautiful and refined high-end watch, simulating to be a rugged sports watch based on its appearance: an all steel case and bracelet, or rubber strap. You could say the Patek Philippe Aquanaut Chronograph is what a Bentley Bentayga is to SUVs (except for being not ugly). You will rarely come across one in the mountains or desert, as you'll more likely to see a Toyota Landcruiser, G-Wagon or Defender doing the tough work. Not that a Bentayga isn't up to it, you just don't want to damage it. The same goes for an Aquanaut, or Nautilus for that matter.
Aquanaut Chronograph 5968A
I can live with that, as I am not using a sports watch in extreme conditions anyway. Unless an 18-holes walk on Saturday is being perceived as such, of course. Ever since its introduction in 1997, the Aquanaut has been on my radar. It was meant to target a younger audience than its brother that was born in 1976, the Nautilus. Not sure if this is the official message, but the general perception of the Aquanaut is that it was a more modern interpretation of the Naut. We've seen it in all sorts of variations and with different complications already, but now in 2018, for the very first time with a chronograph.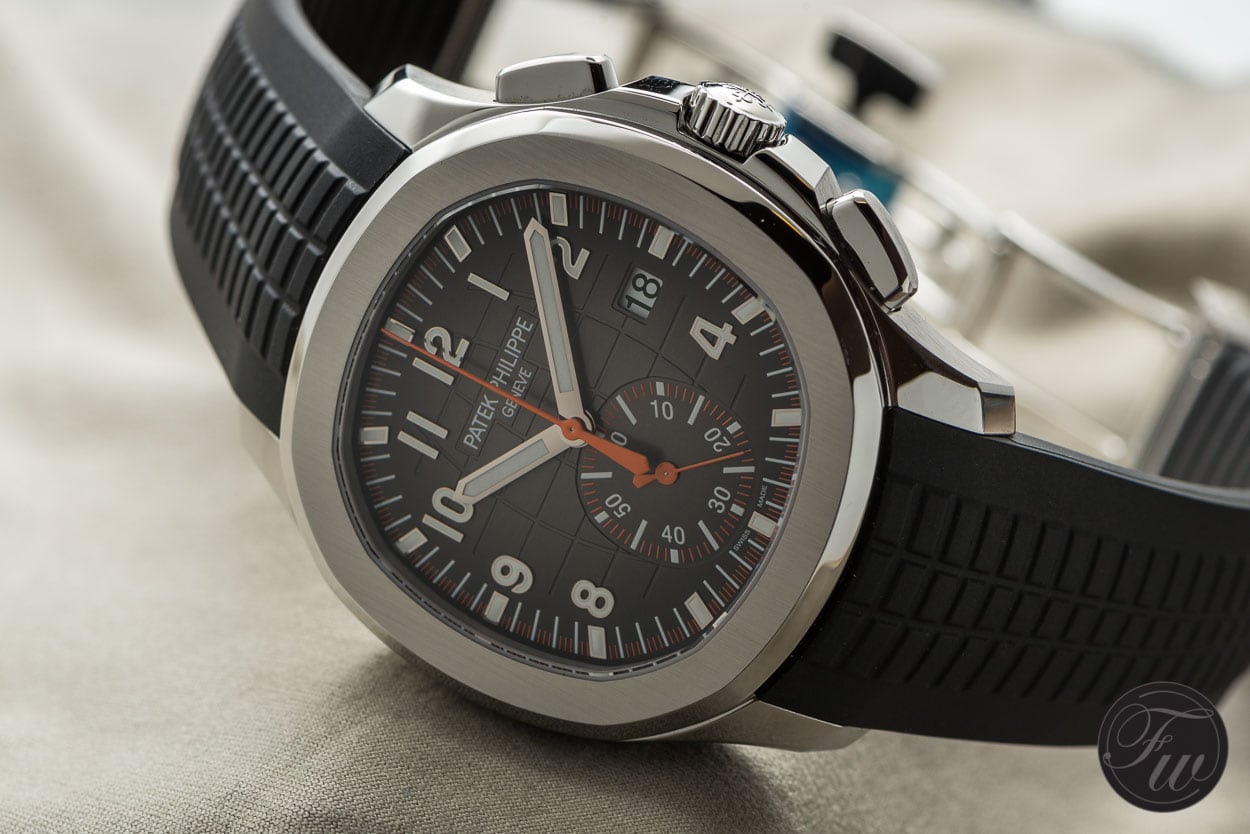 Touch of Orange
Whether it is to honor our King (of The Netherlands), Ultraman or just being bold, the Patek Philippe Aquanaut Chronograph has a touch of orange. Not only due to the chronograph second hand, minute counter or indexes, but also by the rubber strap. The Aquanaut Chronograph reference 5968A comes with two rubber straps, one black and one in orange. I was actually a bit amazed to see this from Patek Philippe, as they are normally very discreet in their design choices, especially when it comes to colors. Not this year, as the orange elements are far from being reserved. Is it the 'enfant terrible' that Patek Philippe releases once in a while, as the Nautilus was being regarded as such among the more conservative collectors for a long time.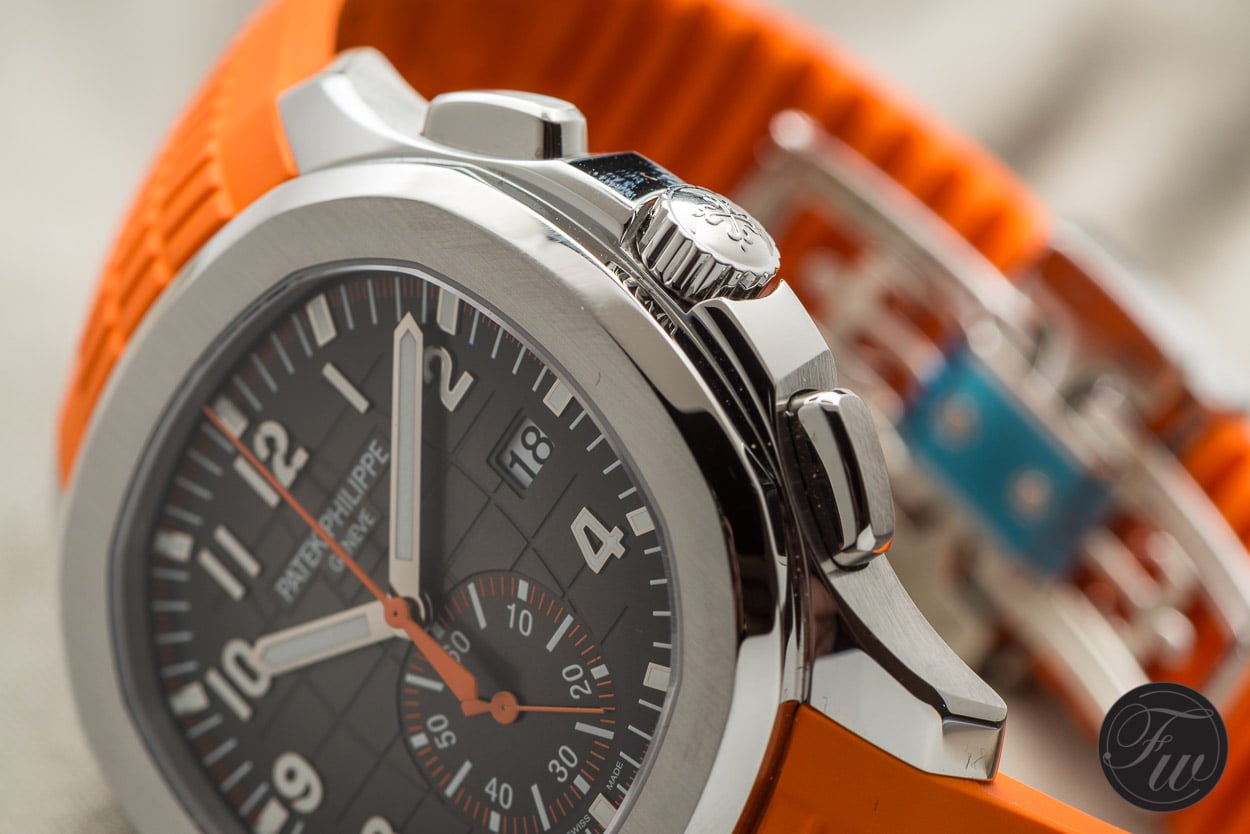 At first I didn't know what to think, and perhaps that is just what Patek Philippe wanted to establish with the Aquanaut Chronograph's colors. But as soon as I saw it in the flesh, the orange was actually kinda cool. Something different. You can always be (or stay) boring if you want, instead you can also get out of your comfort zone once in a while and do something crazy. All is relative of course, as we are talking about a couple of hands and indexes here. But in case you want to attach the orange rubber strap to the Aquanaut Chronograph, be prepared to get some comments when you are wearing it. It is definitely a conversation maker.
Chronograph Caliber CH 28-520 C
You've seen this movement before, as it is also used in the Nautilus Chronograph reference 5980. The Patek Philippe caliber CH 28-520 C movement consists of 308 parts, uses the latest Patek Philippe technology for its balance spring (Spiromax) an has a Gyromax balance (using c-shaped weights on the balance wheel rim for fine adjustment). It ticks at 28.800vph and has a power reserve of at least 45 hours. It has a 60 minutes counter at 12 o'clock, in this case indicated with a small orange hand. The central seconds hand is for the chronograph as well, and also in orange. The rotor is done in 21 carat gold.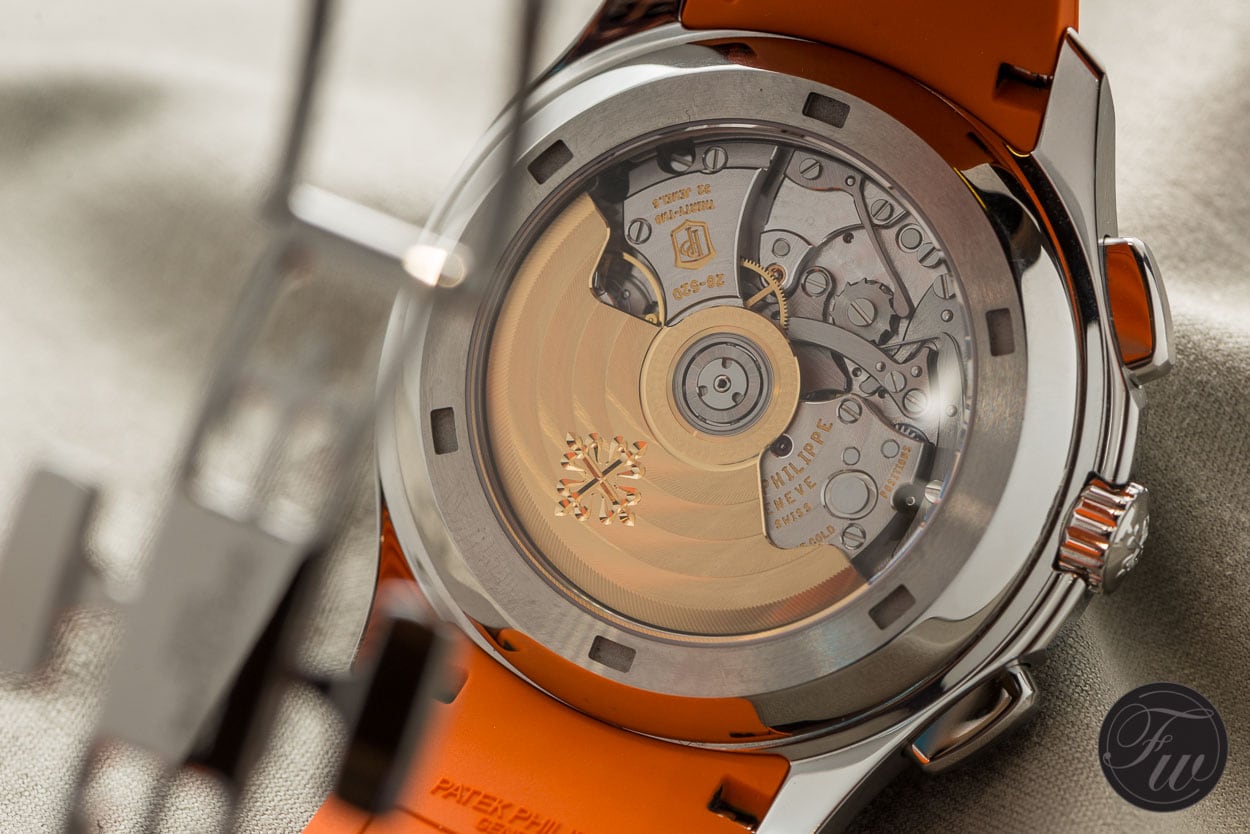 Amazing Finish
The first thing that comes to mind when putting this watch on the wrist is the impeccable finish of the case and movement. The bezel has a satin finish on top and the slope has been given a nice polished finish. A brushed case band and polished surface on top of the lug, make it a playful combination like you're used to from the Aquanaut (and Nautilus for example). Even the rectangular pushers have several types of finishing and interesting looking shapes and angles to it. The crown is signed by the famous Patek Philippe logo and is easy to grasp. As you can see on the image below, the thickness of the case is certainly substantial (for a Patek), but measures only 11.9mm.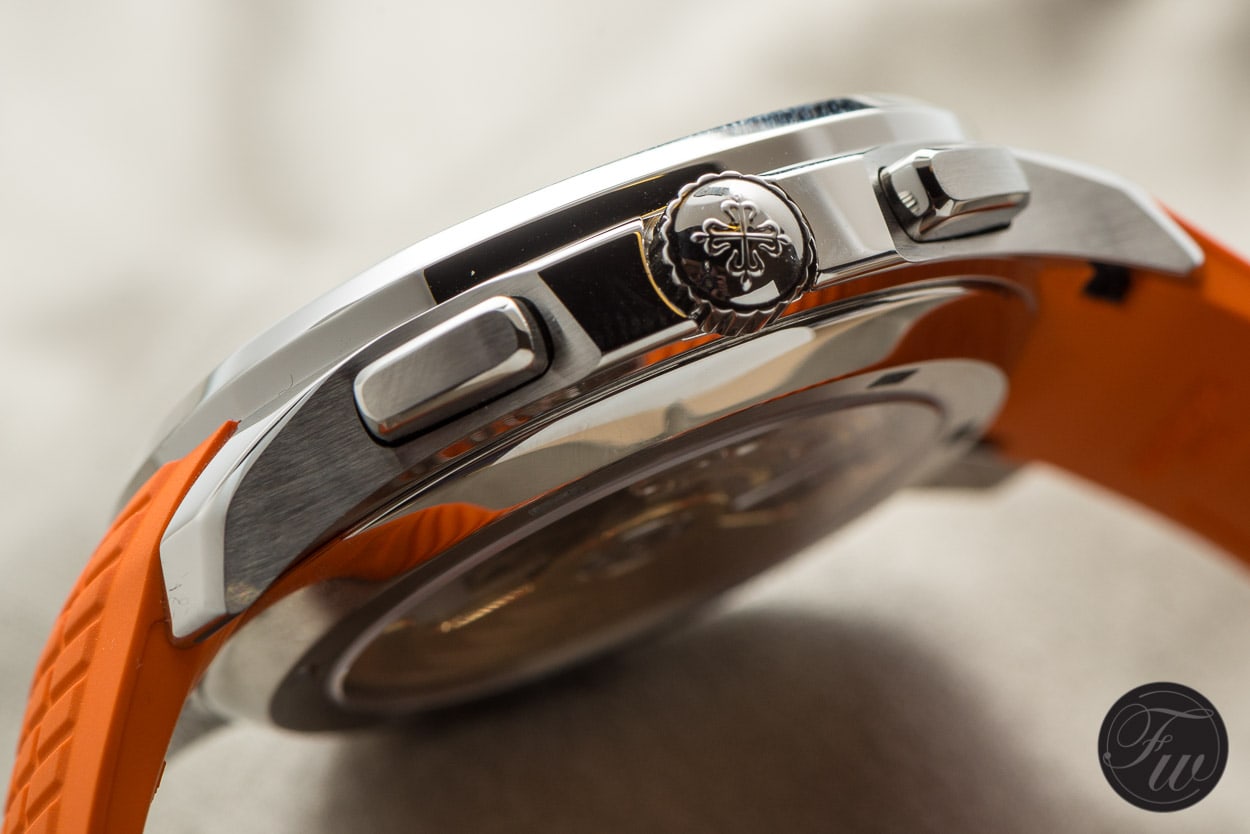 A Sportswatch Afterall
The Patek Aquanaut Chronograph reference 5968A will retail for almost 40K Swiss Francs (CHF38.600) but chances are pretty big that you won't be able to source one right away, as these watches are bound to have a waiting list due to the demand by collectors (or speculators). For that, you will get a very serious high-end chronograph, with a touch of Dutch but you will also be able to tone it down with the black rubber strap that comes with the package. The 42.2mm stainless steel case, being water resistant up to 120 meters and the rubber strap make it suitable for swimming and sports. There's no gold to ruin or bracelet to scratch, it is actually a pretty decent sports watch. The question is whether you will be ready to use your (almost) CHF40K Patek Philippe during sports, whether that's an 18-hole course or while riding your mountain bike. That's entirely up to you of course, but I am pretty sure the majority will take it off and swap it for another watch that will hurt less (financially) when something happens to it. But as an owner of the Aquanaut Chronograph you will be satisfied with the knowledge that the watch is up to it.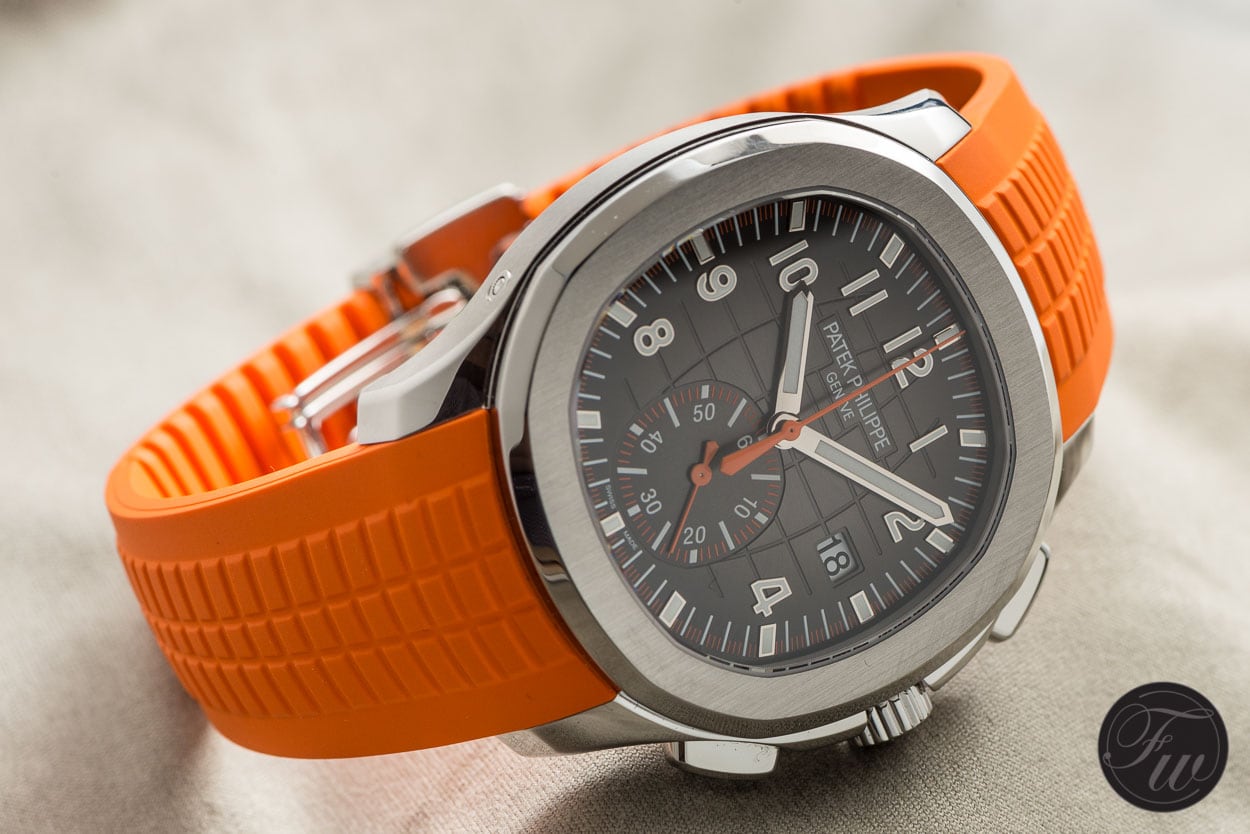 Of course, the Patek Philippe Aquanaut Chronograph 5968A complies with their own Patek Philippe seal. A seal that ensures not only certain technical specifications such as an accuracy of -3/+2 seconds a day on average, but also meeting the requirements of the finish of the case, pushers, crown, bracelet/strap and movement. It also ensures lifetime guarantee that the watch is serviceable, repairable and – in the far future – restorable.
More information on the Aquanaut Chronograph via the official website.