Peren Hintz Hints At More Good Things To Come From Transylvania
The wheel keeps turning...
I love a bit of color. Weird color combinations are always good for a discussion. They aren't always successful, but when it works, it makes you wonder why people don't try crazy stuff more often. Here, with Transylvanian brand Peren's latest release (an homage to Eugen Hintz, a pioneering Transylvanian watchmaker), we see burgundy and orange team-up for what is sure to be a memorable ride…
Fashion is a funny thing. It is genuinely strange to appreciate how tastes change over time. As we live and age we see the cyclical nature of trends evolving around us. Clothes change their fit, style, and colors. Hairstyles careen from the conservative to the crazy, from the neat to the nihilistic. Watches get big, they get small, they are covered in diamonds, they are suddenly all black, they are suddenly all-steel, suddenly someone makes one out of a rock, yellow gold occasionally appears and then recedes again, all the while they keep ticking but not much else remains the same.
So why don't people put burgundy and orange together more often? The world is too crazy a place to live in, sometimes.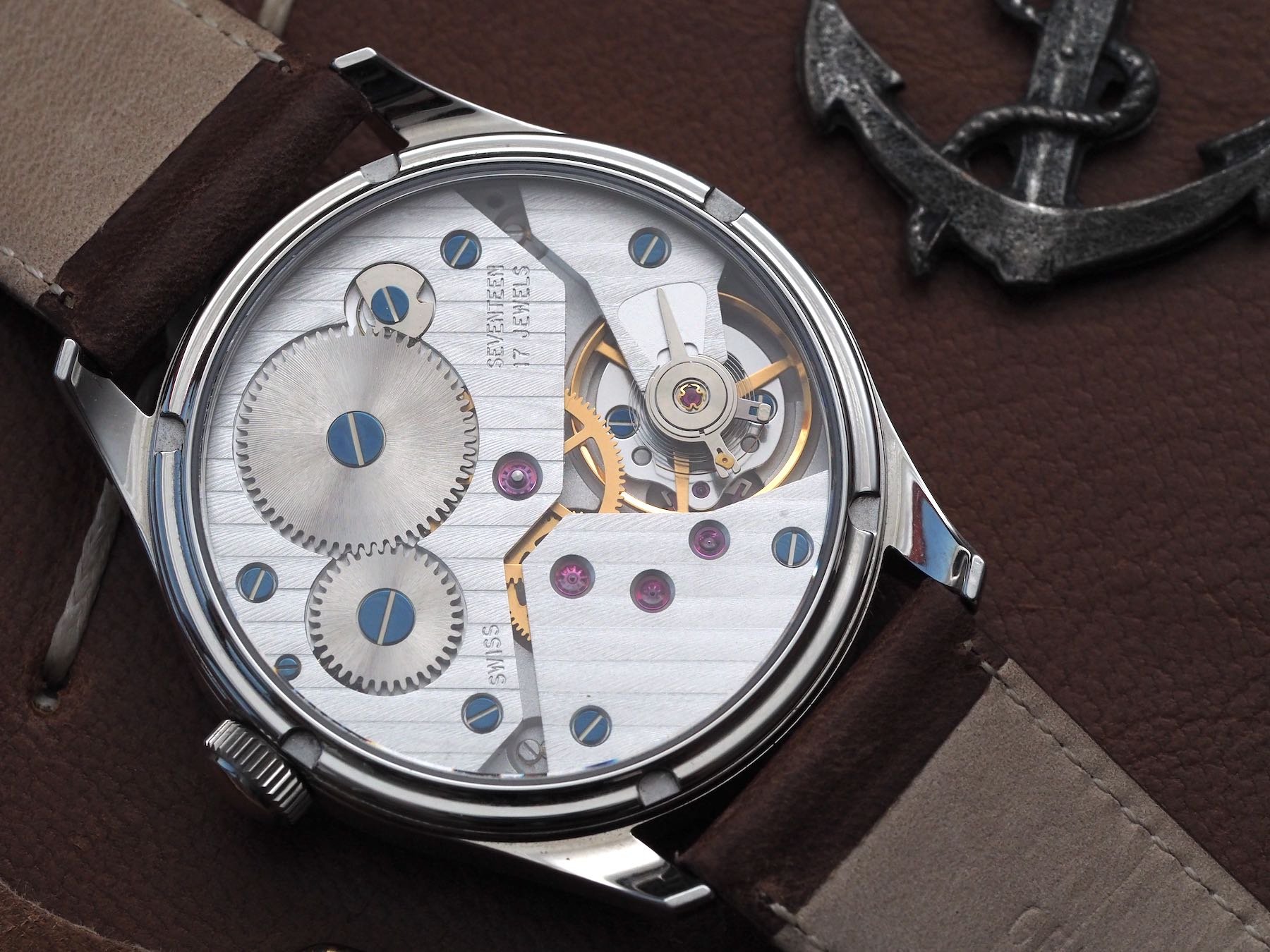 A great starting point
The truth is that Peren makes some really cool watches and some very forgettable watches. I don't care a jot for the quartz line-up. However, I really enjoyed the Nera I reviewed on Fratello earlier this year. Around the time I was test driving that one, Andy Bica, the founder, mentioned he was developing the Hintz for release later this year. I was keen to see it on the wrist because it had unusual colors, a weird seconds disc, and was powered by my old favorite, the Unitas 6498.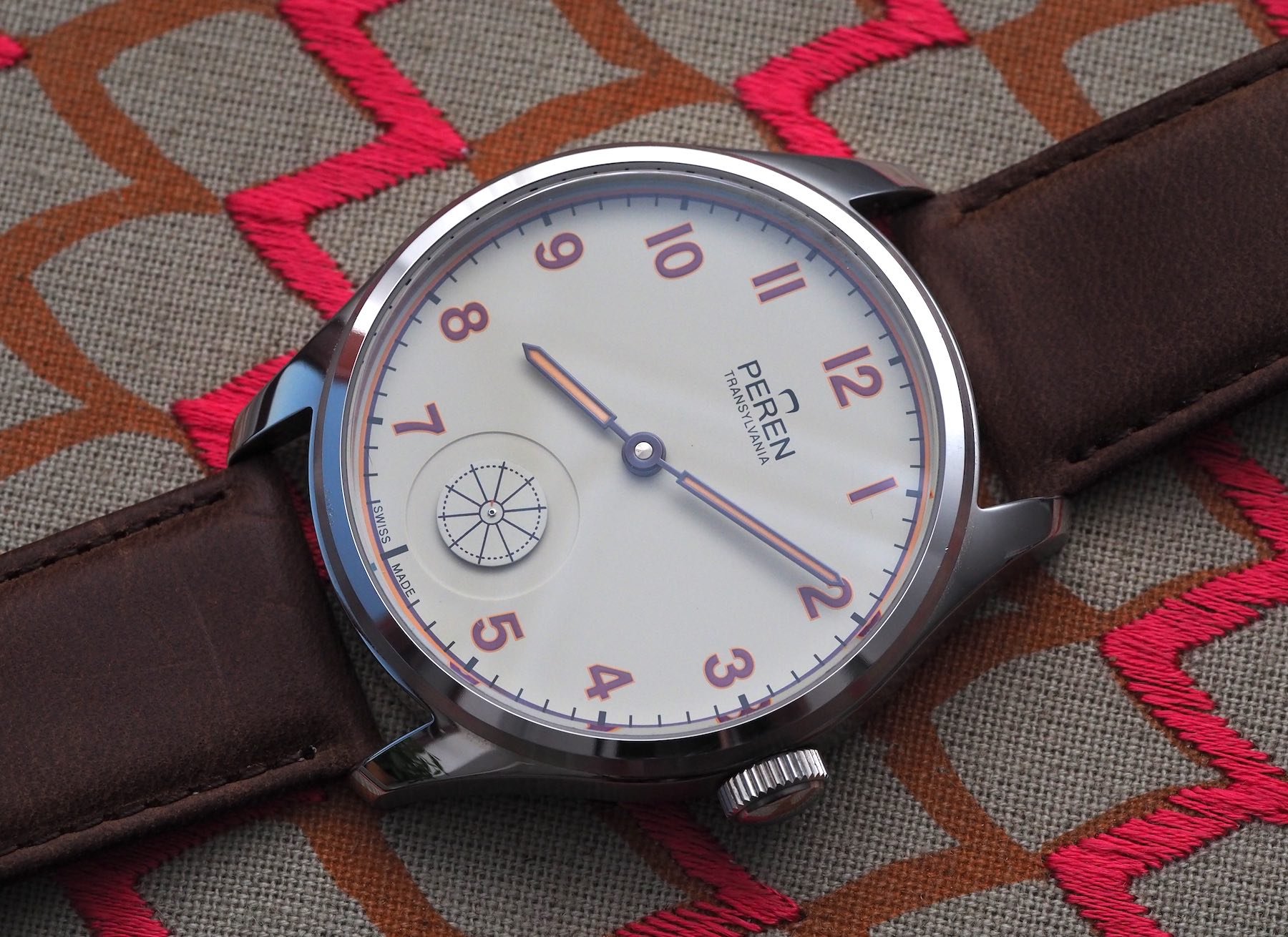 These watches are available on pre-order from under CHF 500 (for the standard movement configuration; the elaboré option adds CHF 100 to the price). I genuinely think this kind of thing would be a great buy for a neophyte watch collector. The Unitas movement is a big and slow-beating beast that gives newcomers a great view of how a watch works. It is not the most refined movement, but it is fun to observe its languid train count tick by, and equally as enjoyable to wind the industrial crown every morning.
At this kind of price point, the Peren Hintz offers something fun, something noticeable, and something credible. And, in addition to that, it spreads the word about a locally famous watchmaker with whom I'm guessing not so many of you are familiar (don't worry, I wasn't either).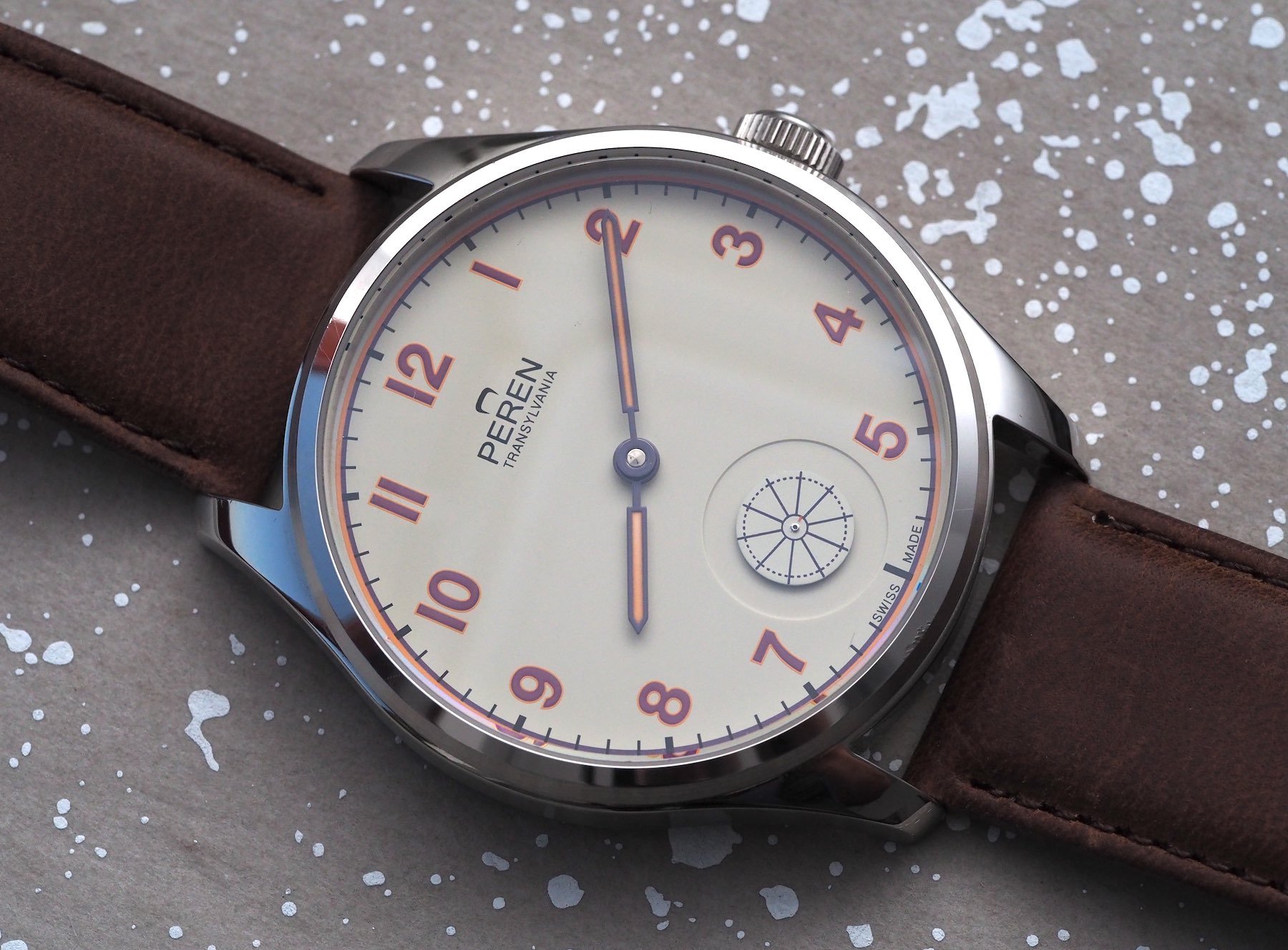 Wearability
The Hintz is really comfortable on the wrist. It's dimensions and sparse dial make it appear even larger than it actual is. At 42.50mm and 11.20mm thick (with nothing busying the dial but for the "going disc") it comes through my Visual Impact Index with a rating of 44.23mm, which definitely feels about right in comparison to some other watches I have in the 42mm zone.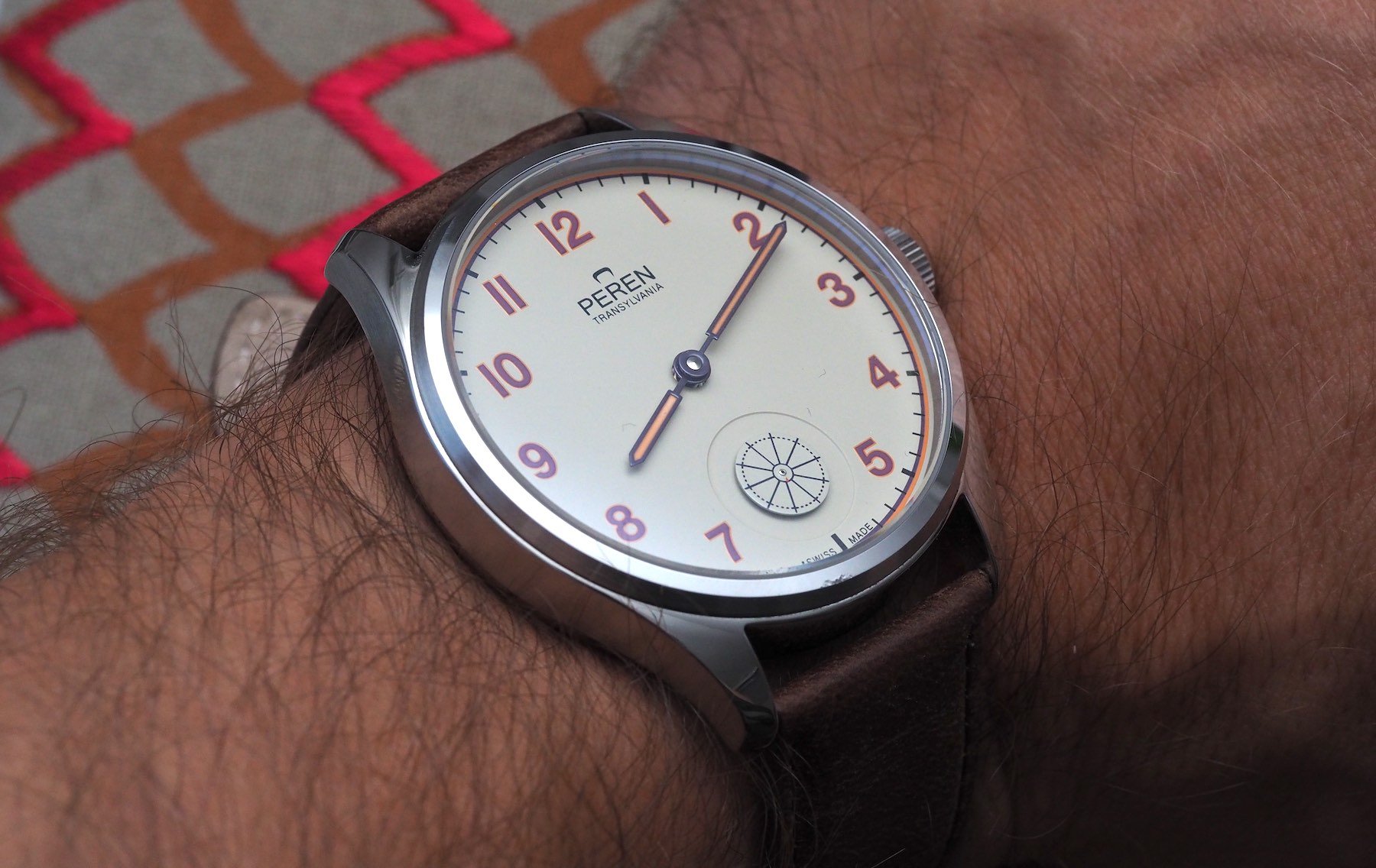 The hand-polished 316L stainless steel case is hardy enough to go down to 100 meters if necessary, and the movement within it will run for 50 hours in between winds.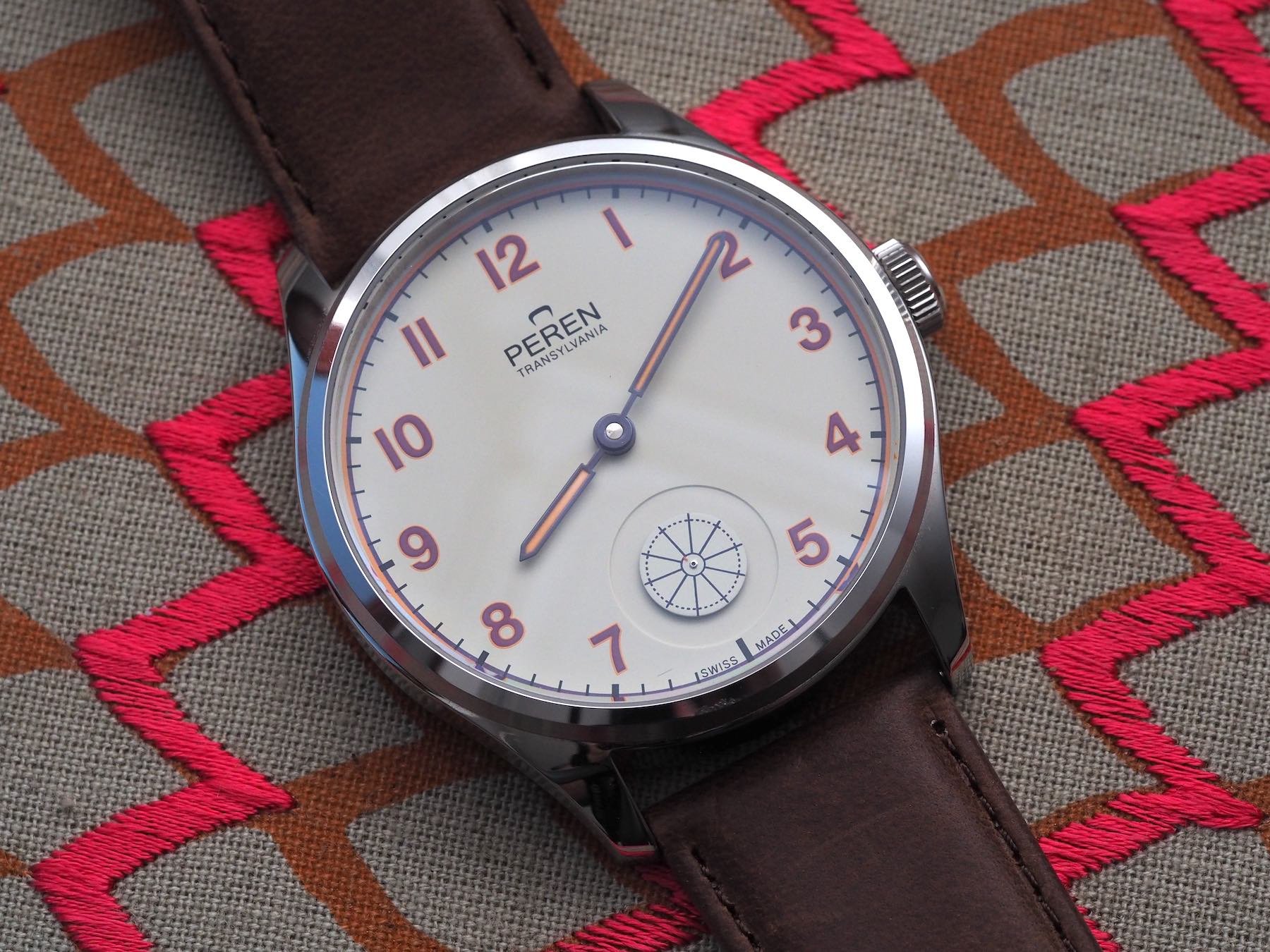 Final thoughts
In short, I find the Hintz a more basic watch than the Nera in many ways. I would prefer the former (without a doubt, actually). I think this one is, as I said at the top, a really excellent choice for someone feeling their way into the world of horology. The movement is openly presented and easy to understand. The case wears big and flat. A slight quirk in the form of the ever-rotating seconds disc adds some real visual interest to the dial, but more experienced collectors may find that bit gimmicky and less classy than the moody Nera.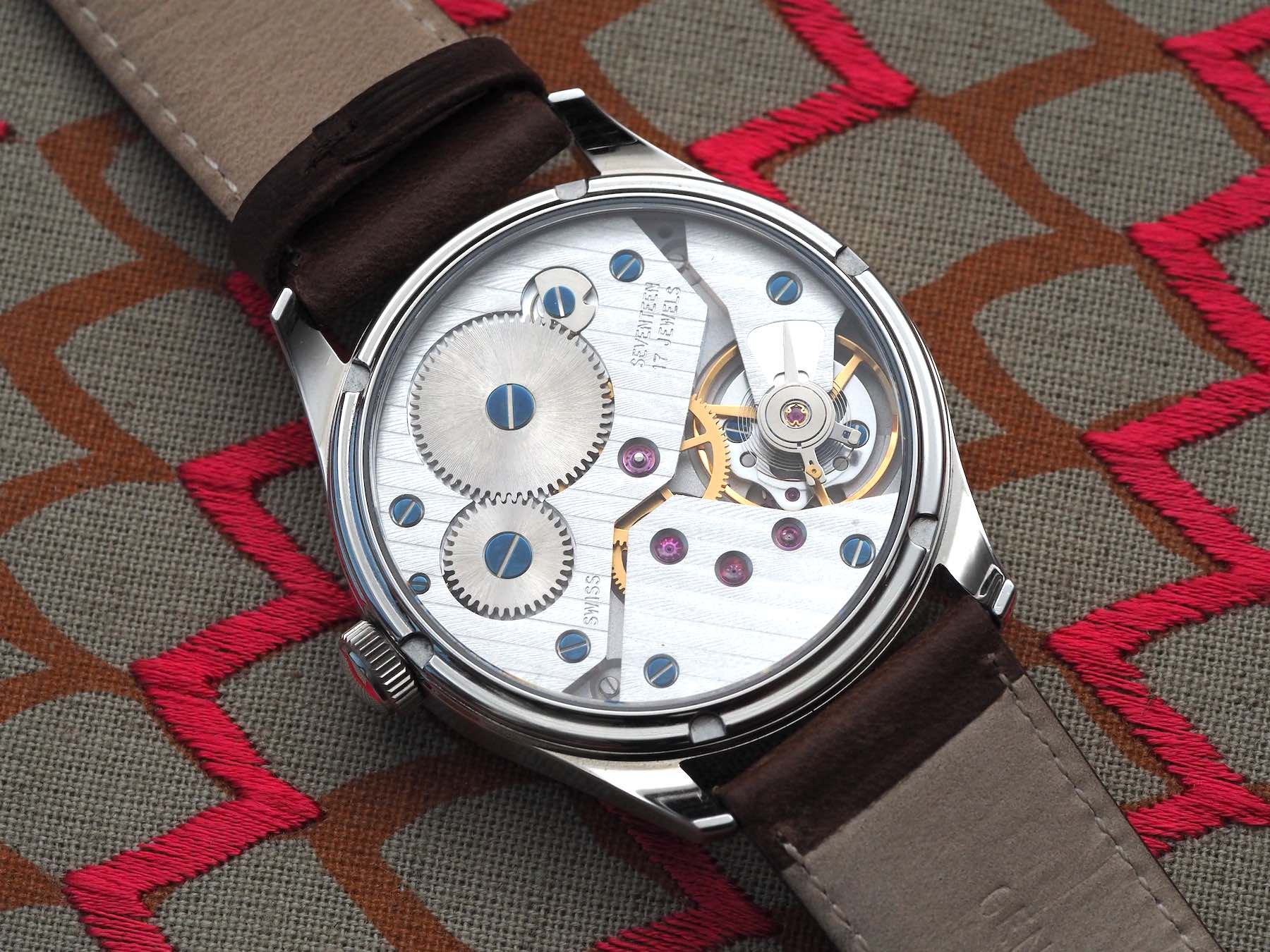 The lower-end price point is pretty much spot on for a watch with this movement, something a bit different about the dial, and a case of this build quality. Even at a sub-500 ticket, however, there is a great deal of competition from group brands' entry-level models and established classics from Swiss heavy hitters like the Tissot Visodate, for example.
The Nera currently comes in a little cheaper at CHF 488, but it is an entirely different wearing experience. It's 39mm by 13.5mm proportions (VII: 37.15mm) and dark dial/bezel combo make it far subtler and a better watch for a more seasoned micro-hunter looking for a bit of nuanced. I like the brand and am enjoying Andy's creativity and passion for local history. I'm learning through wearing these watches and that's fun. I'm excited to see what comes next and whether he can top the success of the Nera in my eyes. Learn more about Peren Hintz here.