Hands-On With The Peren Nera Rogue Dive Watch
Value personified in a watch that turns out to be the gift that keeps on giving
Today, we take a hands-on look at the Peren Nera Rogue dive watch. It's the brand's latest dive watch offering and one that didn't fail to impress. Its design draws inspiration from the iconic Tornek Rayville divers, which could never be a bad thing. And this beautifully sized, modern-spec diver comes in hot at a very reasonable price, with some surprising details waiting for those who take a closer look. So let's do just that and dive on into this charming piece, which, as I write this, is still available for pre-order. Will you want to get your hands on one? I know I do, so let's see what makes it so special.
When it comes to microbrands in the watch world, there's a lot of fun to be had. One could easily fill a watch box every month with new releases alone. However, once you've been into watches long enough and had a taste of what the well-established luxury Swiss brands have to offer, you become far more selective with your purchases. At least this was the case with me. You start to see microbrands that are creating homage watches with only a slight twist to the original's design. But very rarely do you find something that not only digs deep for its design inspiration, but that transforms the original idea into a quirky modern take that certainly stands on its own.
Now, we're no strangers to the Peren brand. Rob covered both the Hintz, and the Peren Nera, the older brother of the watch we're looking at today.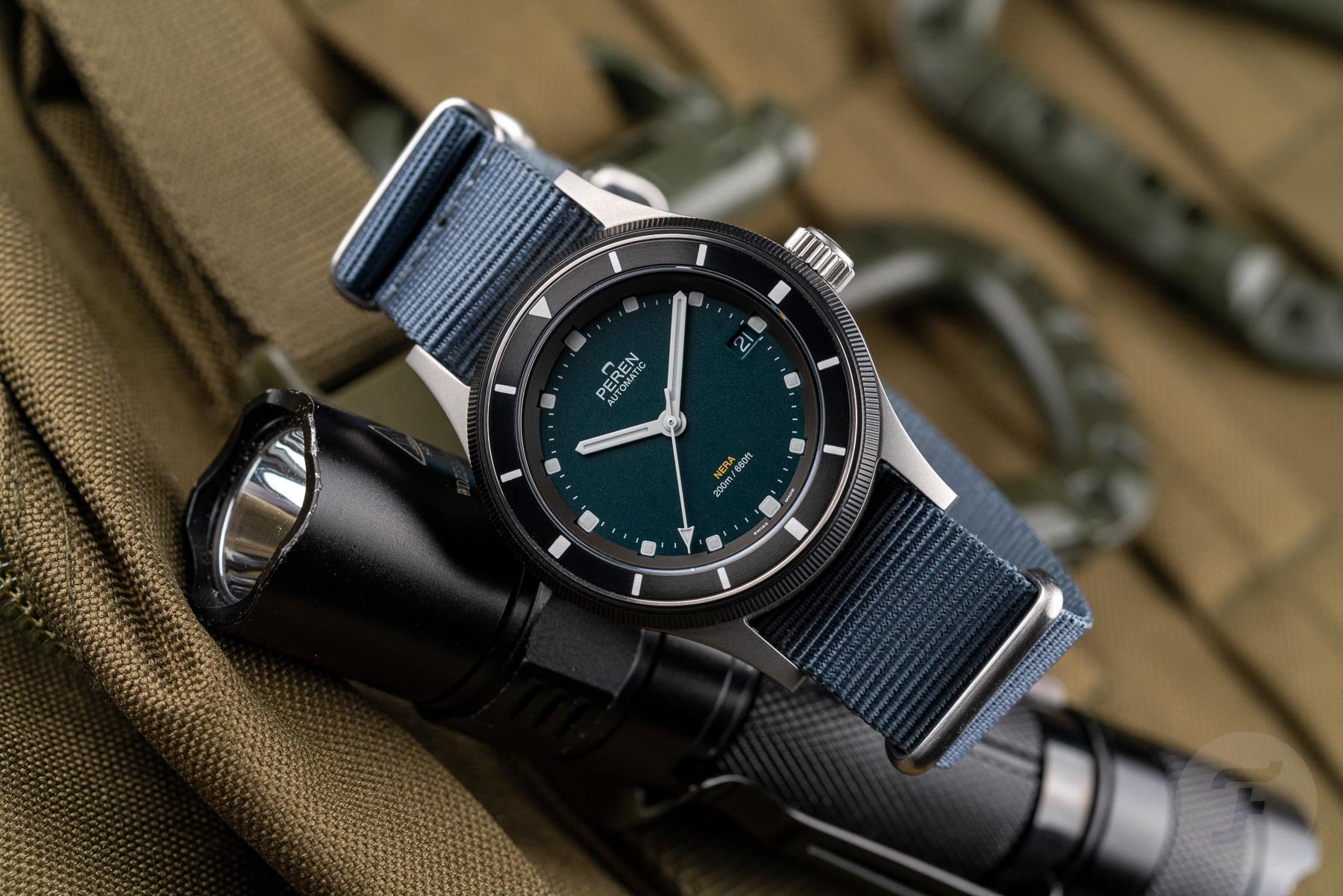 The Peren Nera Rogue
I was lucky enough to get to wear the Peren Nera Rogue for about a week and a half. The example we received came on a leather strap, which is one of the three options available on the site, in addition to the stainless steel bracelet. Now, I'm not one of those people who is totally opposed to dive watches on leather, but I always prefer steel or a NATO. Therefore, the first thing I did was to swap out the strap for the latter. It's a blueish-gray NATO, which doesn't match the overall look of the watch as well as the black one you can order it with, but I still liked the combination. From day one, the watch felt at home on my wrist.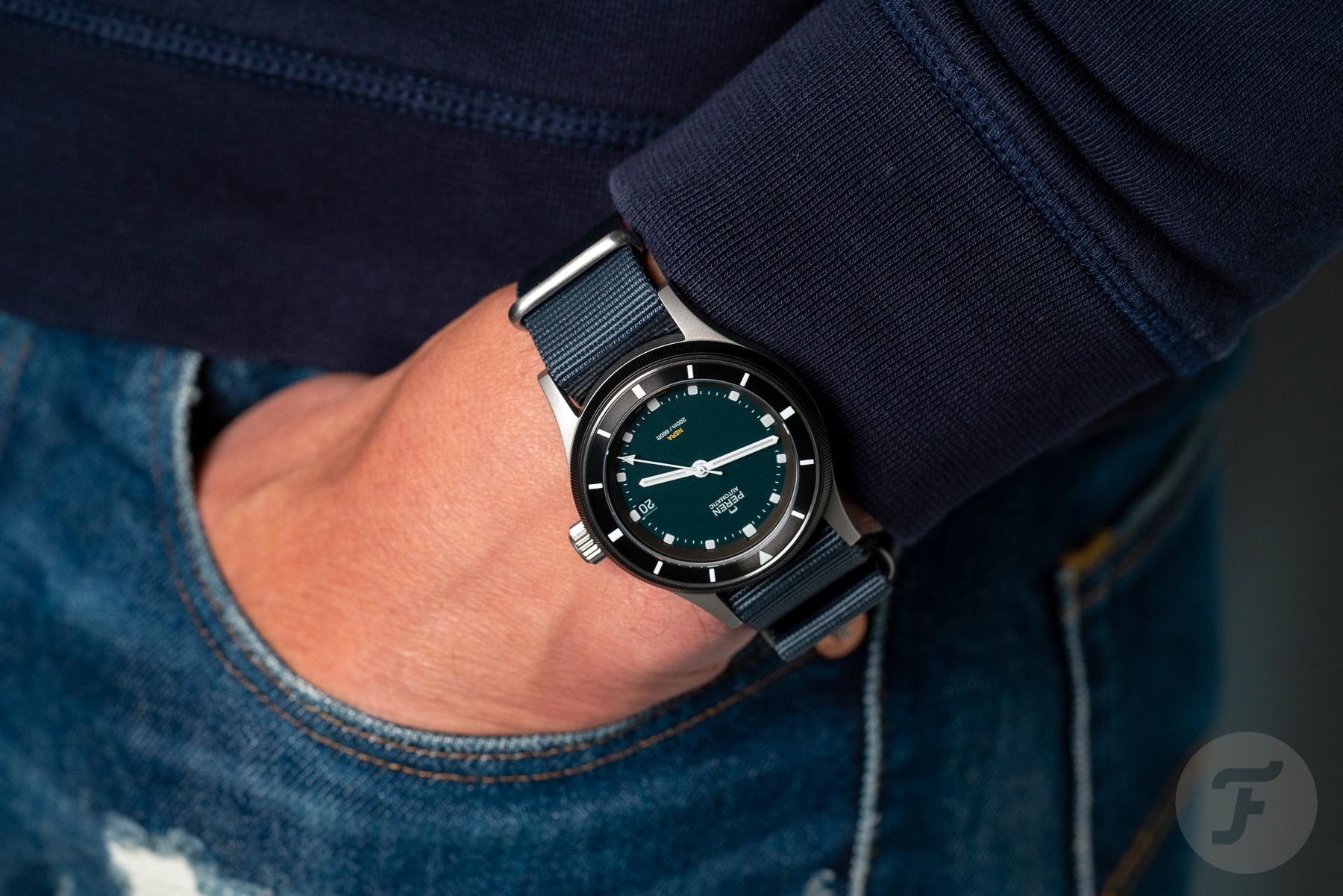 Its sandblasted 316L stainless steel case, coming it at 39mm, is nice and slim at 12.8mm thick. The lug-to-lug is longer than expected at 48.8mm, but still well within what's comfortable thanks to the reduced dimensions overall. The long, slim lugs are one of the key call-backs to the Tornek Rayville dive watch that inspires the shape of the watch. Aside from this, the rest of the Nera Rogue has a rather modern aesthetic. It's this juxtaposition of vintage form with modern looks that gives this diver so much charm. But it doesn't just look the part; technically speaking this is a pretty capable dive watch!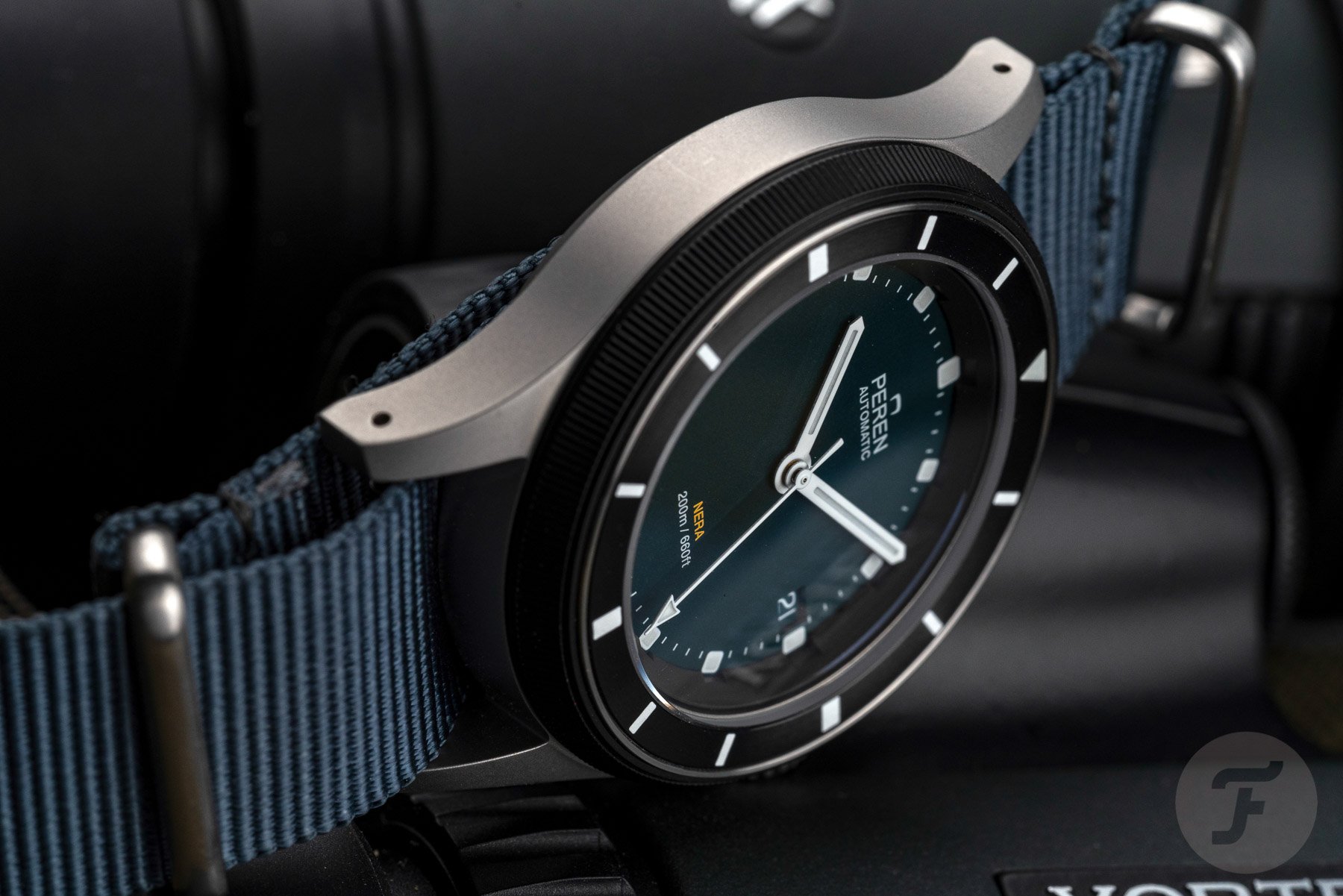 Vintage style, modern convenience
So, what exactly do I mean by this? Well, the watch features the modern workhorse Sellita SW200. This means that you get a Swiss automatic movement, with 38-hours of power reserve, which is regulated by Peren in-house. Topside, you have a triple AR-coated sapphire crystal, under which lies a fantastic dial. A lovely dark shade of petrol blue/green is used, with very minimal text. Only the brand's logo, name, and the word "automatic" at 12 o'clock, while "Nera" in an orange/reddish font adds a subtle hint of color to the dial. Below Nera, the watch's water resistance rating of "200m / 660ft" is indicated. It's almost easy to forget that this watch has a date window. This is because it's small and color-matched to the dial. It's brilliant detail that you might not expect on a watch at this price point, combined with such a special dial color.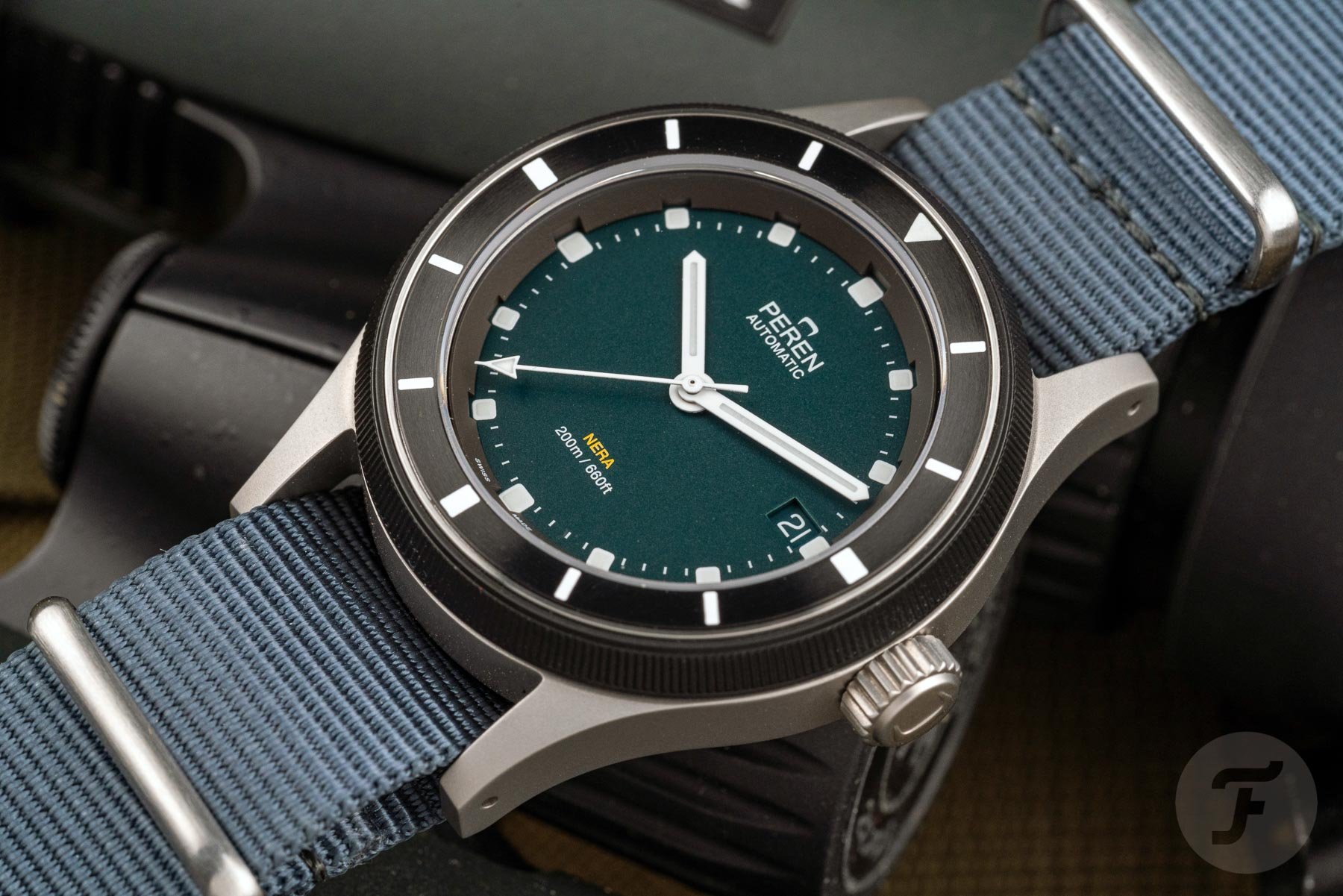 White pencil hands filled with BGW9 Swiss Super-LumiNova jump off the darker dial. Equally lume-filled markers line the dial. These are nestled into the black rehaut, which is nicely slanted from the edge of the crystal down to the dial. It's similar to that found on the Tudor Pelagos. As Rob mentioned in his article covering the new Pelagos FXD, this is a feature that adds a ton of depth to the dial, and which in that new Tudor is very much missed. However, the Peren Nera Rogue doesn't let you down on that front. Below the 6 o'clock marker, on the rehaut, you'll find the white "Swiss made" text.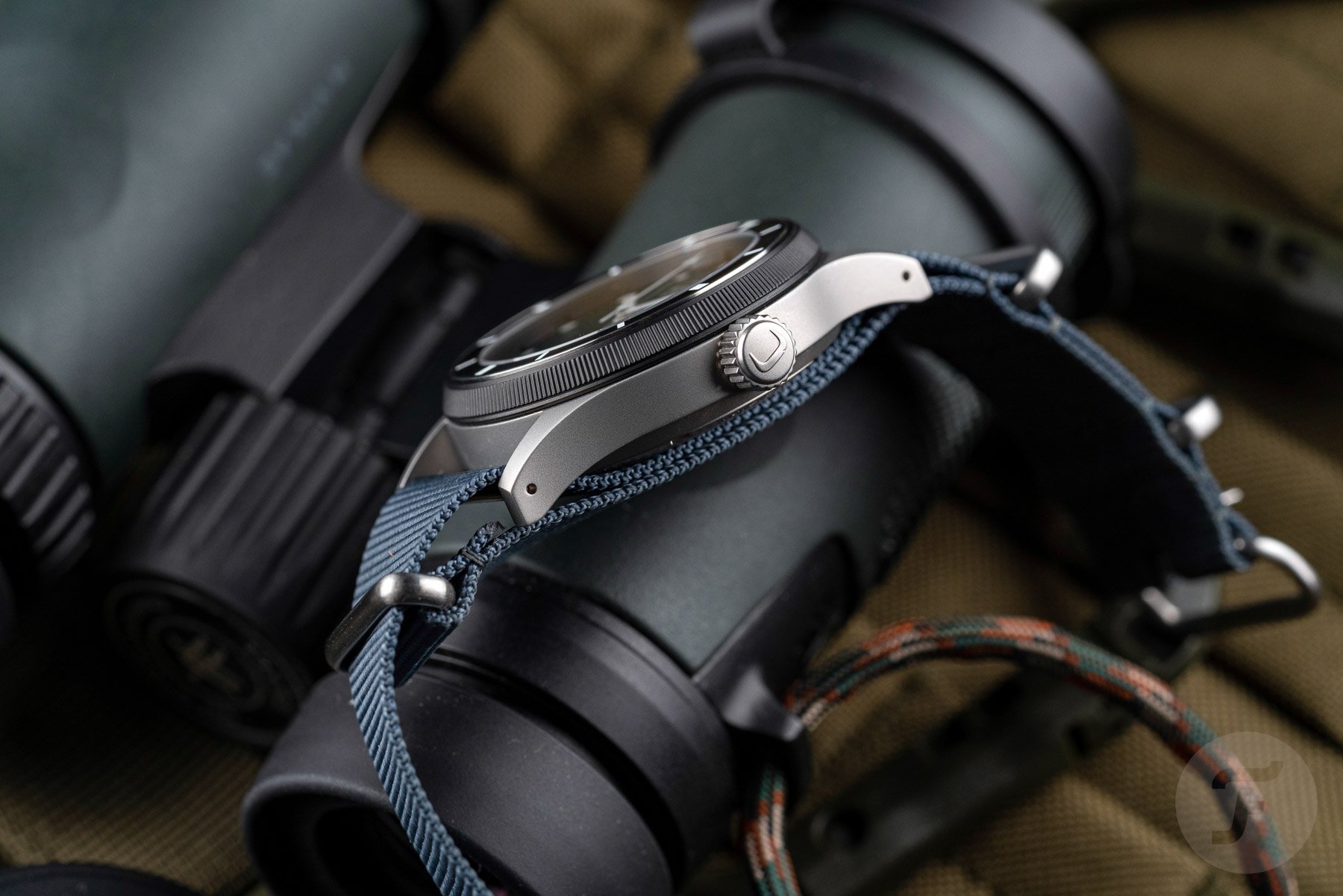 All about the bezel
What's a good dive watch without a great dive bezel? A bad bezel on an otherwise decent diver can be a total deal-breaker. But never fear, the Peren Nera has your back, and it delivers the goods. The black PVD-coated unidirectional bezel features conical knurling done by hand. The knurling flares out from the center and slopes down towards the outer edge. It's grippy, and the 120 clicks are both satisfying and well-defined. The aluminum insert has a stripped-down look, with only hash markings defining the 5-minute intervals, a thicker marker every 15 minutes, and a lumed arrow mark at 12 o'clock.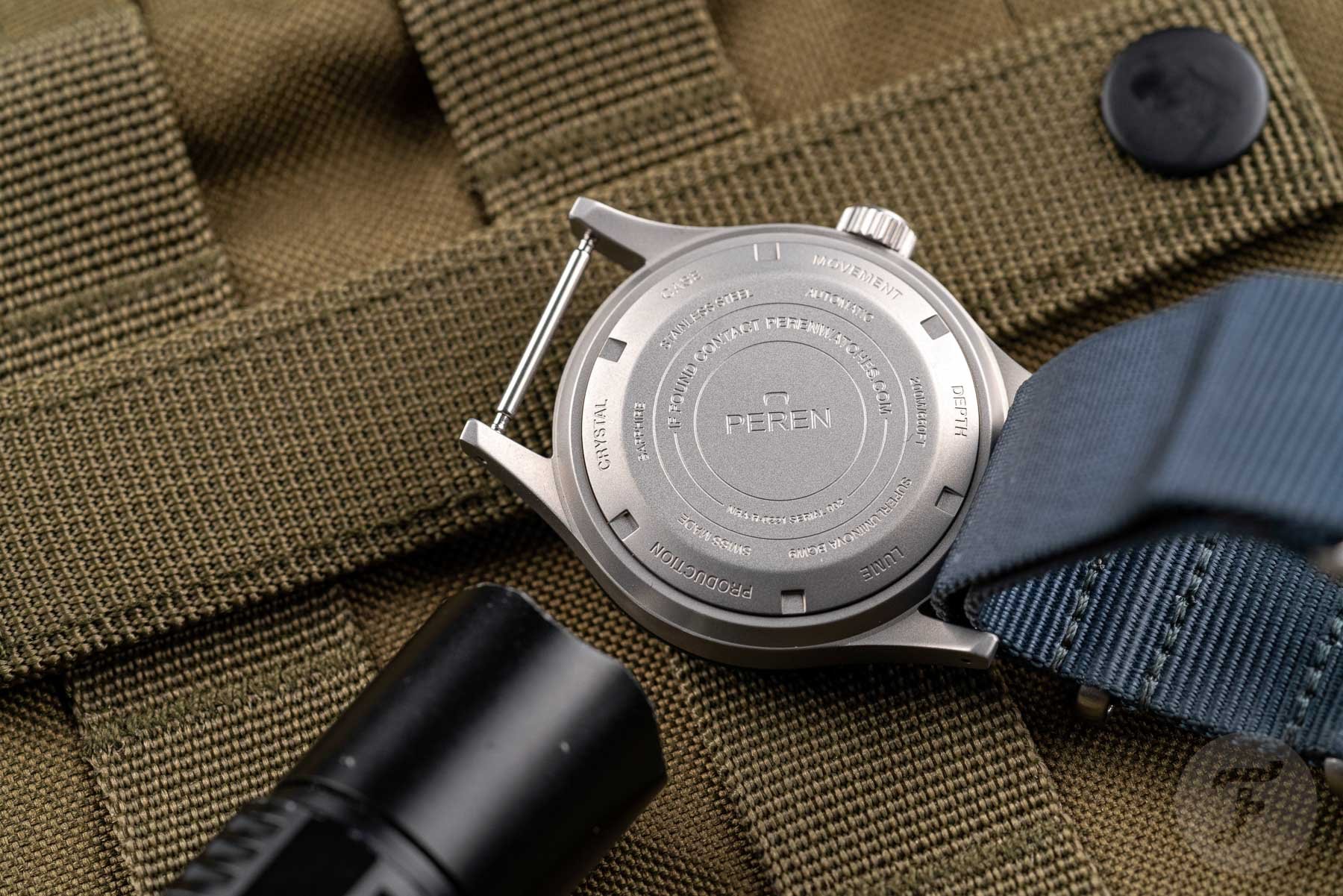 Its edges have a raw metal finish. This contrasts nicely with the black of the bezel and insert, and it matches the case and the oversized, signed crown. The crown is big, well-finished, and a joy to use. Thanks to its size, it's in perfect harmony with the watch's vintage lines, but is also extremely practical, as it allows the user to grip it even with gloves on. Details like this, which add to the functionality of the watch as a tool, are greatly appreciated. It shows that Peren didn't just want to create a good-looking watch, they also wanted it to perform as a proper dive watch. On the flip side, you'll find a nicely engraved solid case back.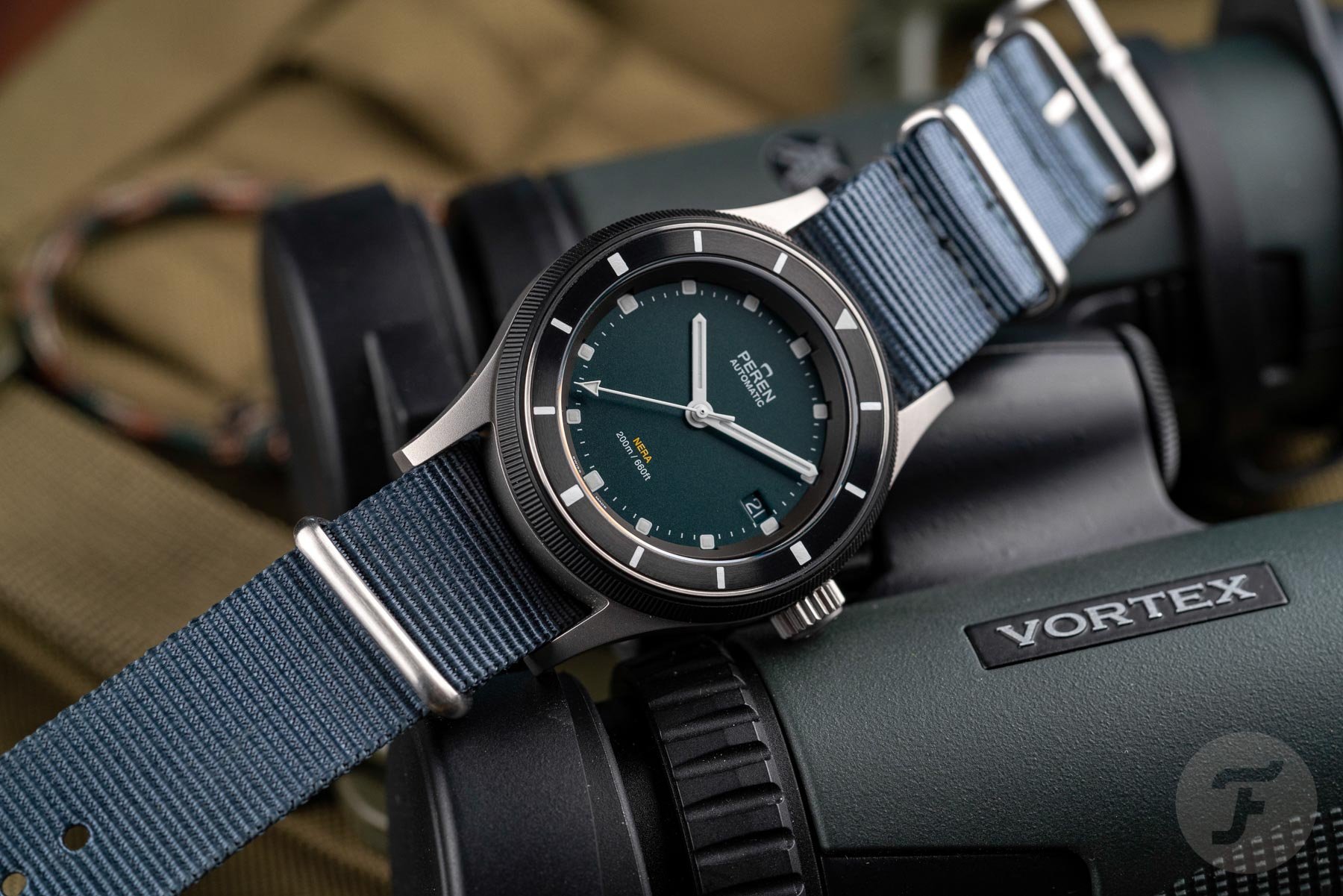 Final thoughts
There you have it, ladies and gentlemen — the Peren Nera Rogue. It's a fresh-faced, capable dive watch with plenty of old-school charm. This model is currently available for preorder on the Peren website. Production will be limited to just 300 individually numbered pieces. You can pick one up now for CHF 449, which is an absolute steal for what you're getting. The regular sale price after the pre-order period is over will be CHF 689. Delivery is expected just this month, so if you want to get a Nera Rogue of your own, head over to the Peren website here.
What are your thoughts on this 39mm diver? Let me know in the comments below!