Speedy Tuesday – Three New Platinum Speedmaster Moonphase Watches
After Omega showed us the BaselWorld 2018 novelties that you've all seen by now, it was time for them to bring out the big guns and show three very exclusive Speedmaster Moonphase watches. In platinum.Weighing about half a kilogram each, these new platinum Speedmaster Moonphase models are not for the faint-hearted.
For this week's Speedy Tuesday installment, we take a look at the three new "Speedmaster Moonwatch Moonphase Platinum OMEGA Co-Axial Master Chronometer Chronograph Calibre 9905" or just "platinum Speedmaster Moonphase" watches. The official model name reveals a lot already, but nothing beats some proper images that our photographer Bert 'Berti' Buijsrogge took in Basel.
Platinum Speedmaster Moonphase
Omega is always our first appointment on the first official day of Baselworld. Somehow it grew this way, even long time before we started working on the Speedy Tuesday model. This year we had a lot of watches to discuss and photograph, so only after I came 'home' to our apartment in Germany of that first day of Baselworld, I realized that we missed one of the new watches. I quickly contacted Omega and they set-up an additional appointment for us to ensure we could photograph the watch we missed. Next day, we had another appointment planned, at the end of the day. With a more slim-lined Fratello team this time, we stepped into one of the Omega offices, to look at the watch we had missed. But not only that, we also got to see some watches that weren't presented at all during the group presentations (yet). Not only did we see some pretty amazing gold Seamaster 300 models with very exotic dials, we also were served with these three stunning platinum Speedmaster Moonphase watches.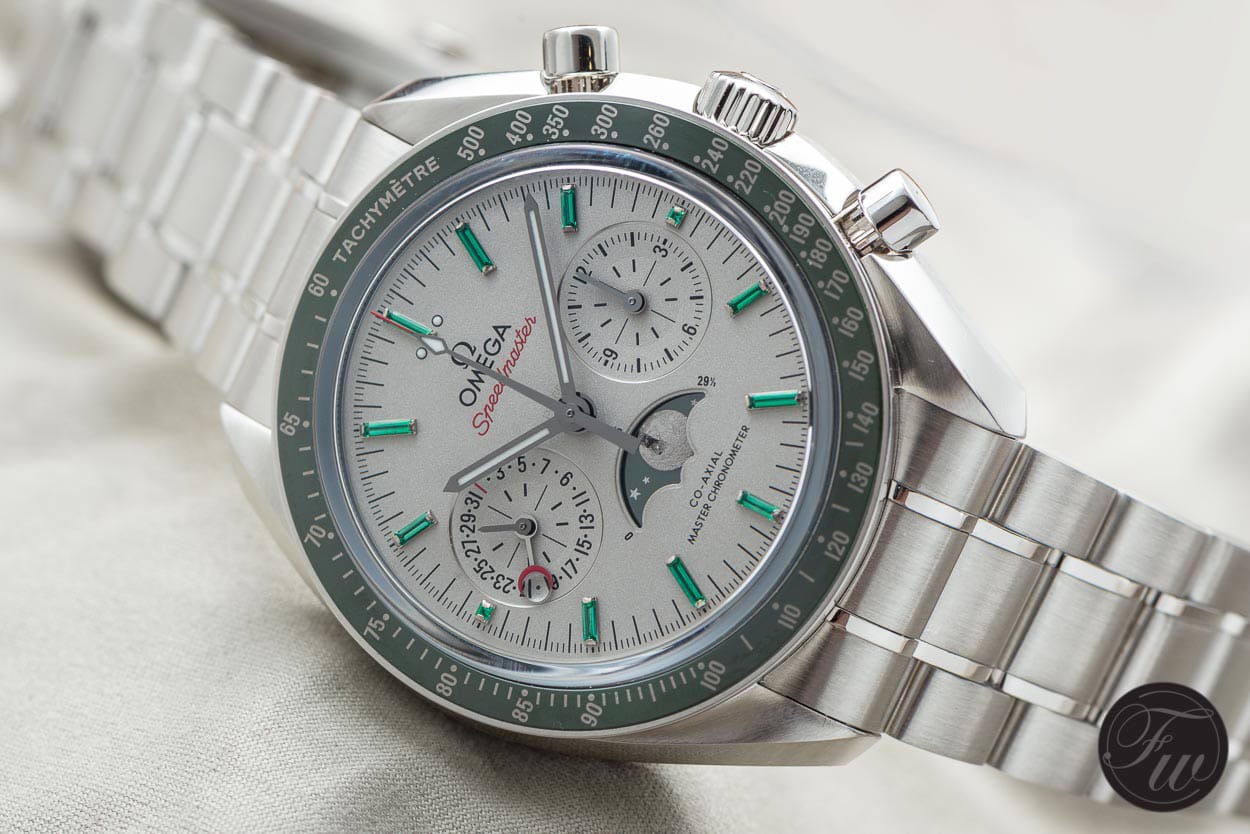 Three Versions – Green, Blue and Red
Three models, either with a red, green or blue bezel. The green and blue bezels are made of ceramic (ZrO2), the red version is made of red alumina (AI203). Each of these platinum Speedmaster variations also have their own type of hour markers: baguette diamond, ruby or emerald. Also, the moon discs have a corresponding color (and material) with the bezel. The moon on the moon disc is made of platinum LiquidMetal.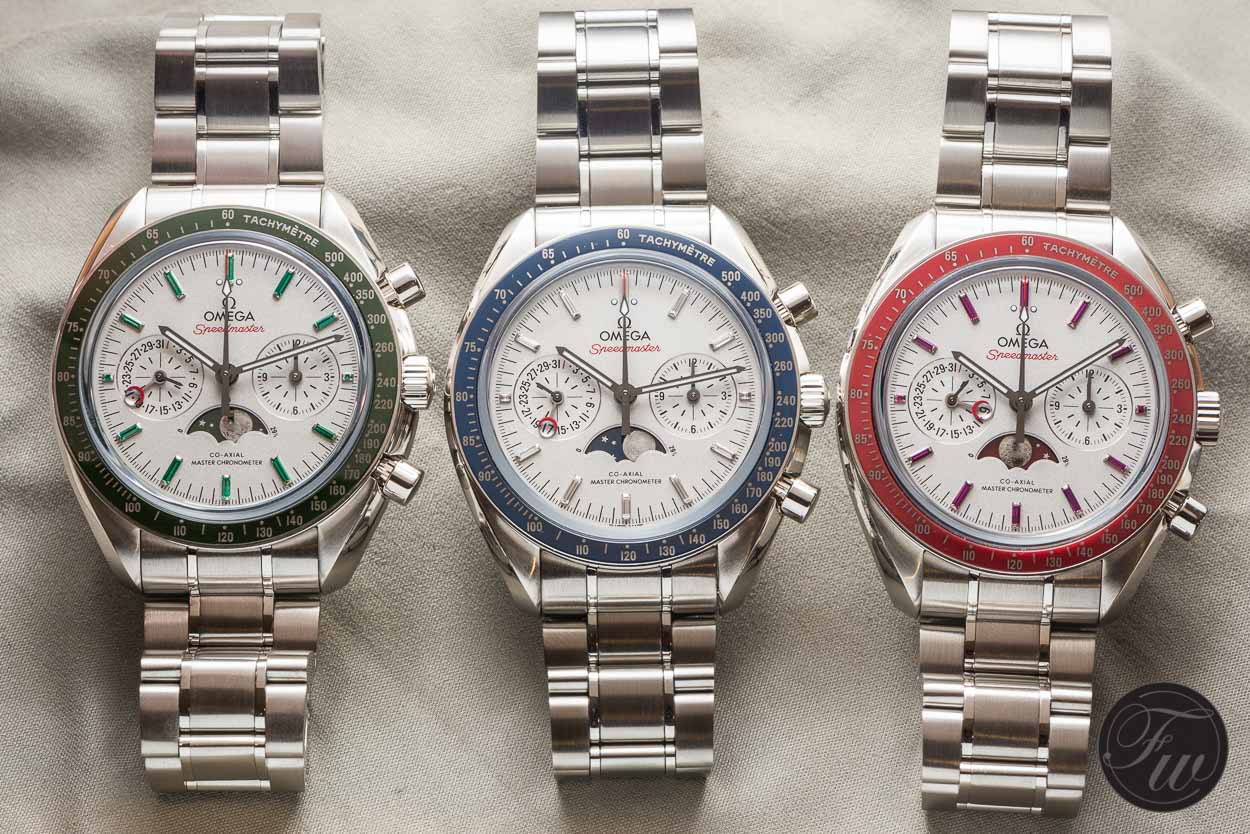 The green version (reference 304.90.44.52.99.002) is the most expensive of the three, due to the use of emeralds. It retails for CHF77.000 Swiss Francs. The red (reference 304.90.44.52.99.001) with rubies and the blue (reference 304.90.44.52.99.003) with diamond indexes retail for CHF70.000 Swiss Francs each. Although the red bezel version with ruby indexes 'pops' the most on the image above, in reality I found the green version with the stunning emerald indexes be the most attractive version of these platinum Speedmaster watches. To each his – or her – own of course, the other versions are also nothing to be ashamed of basically.
Moonphase Master Chronometer Movement
In 1999, Omega made their first steps into the direction of becoming a manufacture (again) by introducing their own Co-Axial escapement. First as a 'modification' for their existing caliber 1120 (ETA2892-A2) movements, known as Omega caliber 2500. Later on, they incorporated an advanced co-axial escapement in their own fully in-house developed movement calibers 8500 and 9300 (chronograph). Since over 10 years now, Omega designs, develops and produces in-house movements. Almost all of their watches are powered by one of these movements, or its later iterations. This platinum Speedmaster Moonphase is powered by their caliber 9905 movement. A chronograph caliber with calendar and moon phase complications. It is basically based on the caliber 9300 chronograph caliber, but with Master Chronometer certification and the calendar and Moonphase complications added.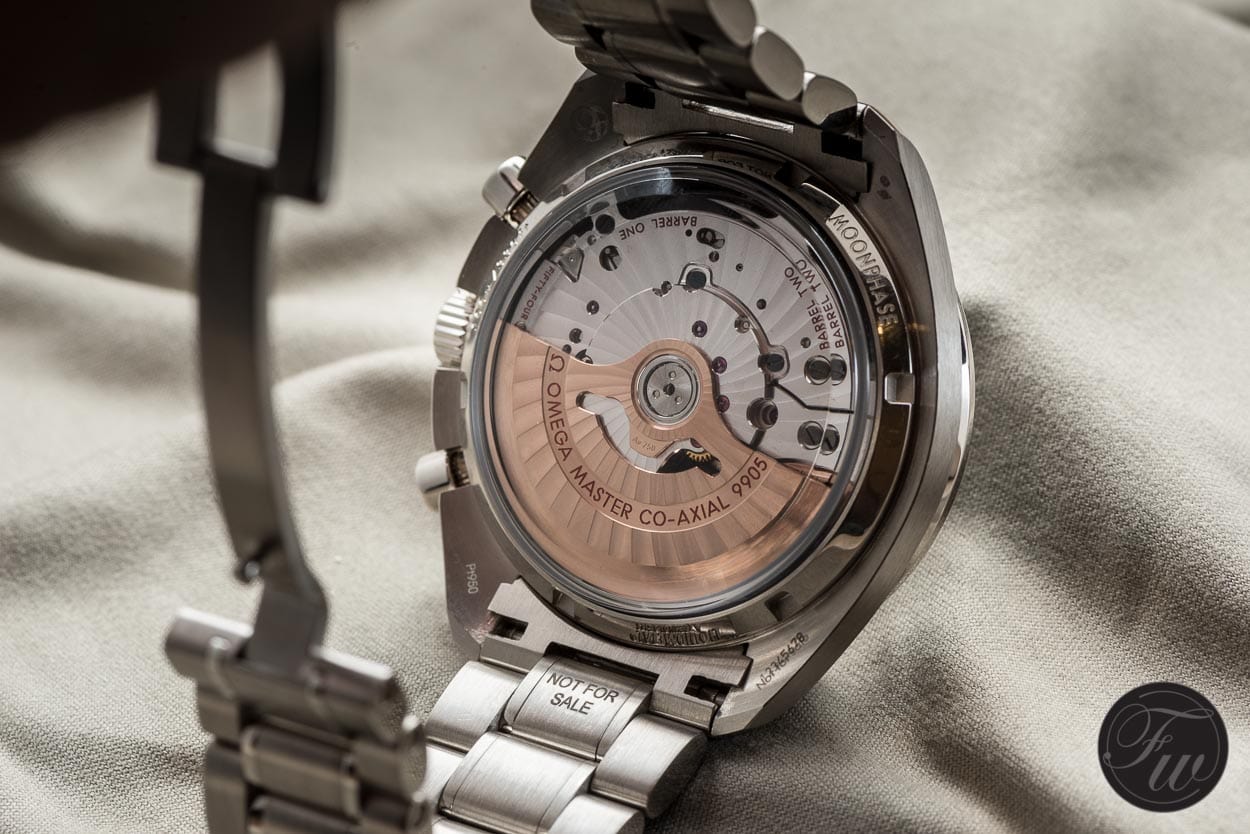 I've written it before here on Fratello, but I like the idea of having the watch certified by a third party to check (audit) whether Omega is keeping themselves to their own standards. There are a couple of examples where (Swiss) watch brands like to label or use their own 'seal' for quality and finish, but this only makes real sense when a third party would audit them to these standards. Omega uses the Swiss METAS organization and all 'Master Chronometer' certified watches have been put to the test basically, not only a sample size. In the new Omega HQ manufacture in Bienne, there's always a representative of METAS to monitor and control the processes. With the Master Chronometer certification, you're assured that the watch is anti-magnetic up to 15,000 gauss, that it is accurate between 0 and 5 seconds a day on average and under a number of circumstances (after being magnetized, shock-tested, at different temperatures and positions) and of course always as a complete watch. This sounds strange, but the regular chronometer certification performed by the Swiss COSC is based on the movement only, so not cased (yet). You could say that a Master Chronometer certification reflects the actual use of a watch much better than just a certified movement.
The caliber 9905 movement has a power reserve of 60 hours, uses a silicon (Si14) balance spring and all the calendar settings can be down by the crown. The rotor of this movement is made of 18 carat Sedna gold as well as the balance bridge (hidden under the rotor on the image above).
The functions of the Omega caliber 9905 movement are all demonstrated on the dial, as can be seen below. The two sub dials for the chronograph are similar to the caliber 9300 set-up, so running seconds at 9 o'clock and the hour and minute recorder at 3 o'clock. On 9 o'clock you will also find the date indicator with the little 'croissant' enhanced with a small loupe to magnify the date. The moon phase disc is located at 6 o'clock. Below you will see the red version of the platinum Speedmaster with ruby indexes and the red alumina disc with a platinum Moon on it. It somehow reminds me of the platinum version that Omega did in 2016 (click here for our article on that one), also powered by the caliber 9905 movement.
Like all Master Chronometer movements with Si14 balance springs, this watch comes with a 4-year warranty.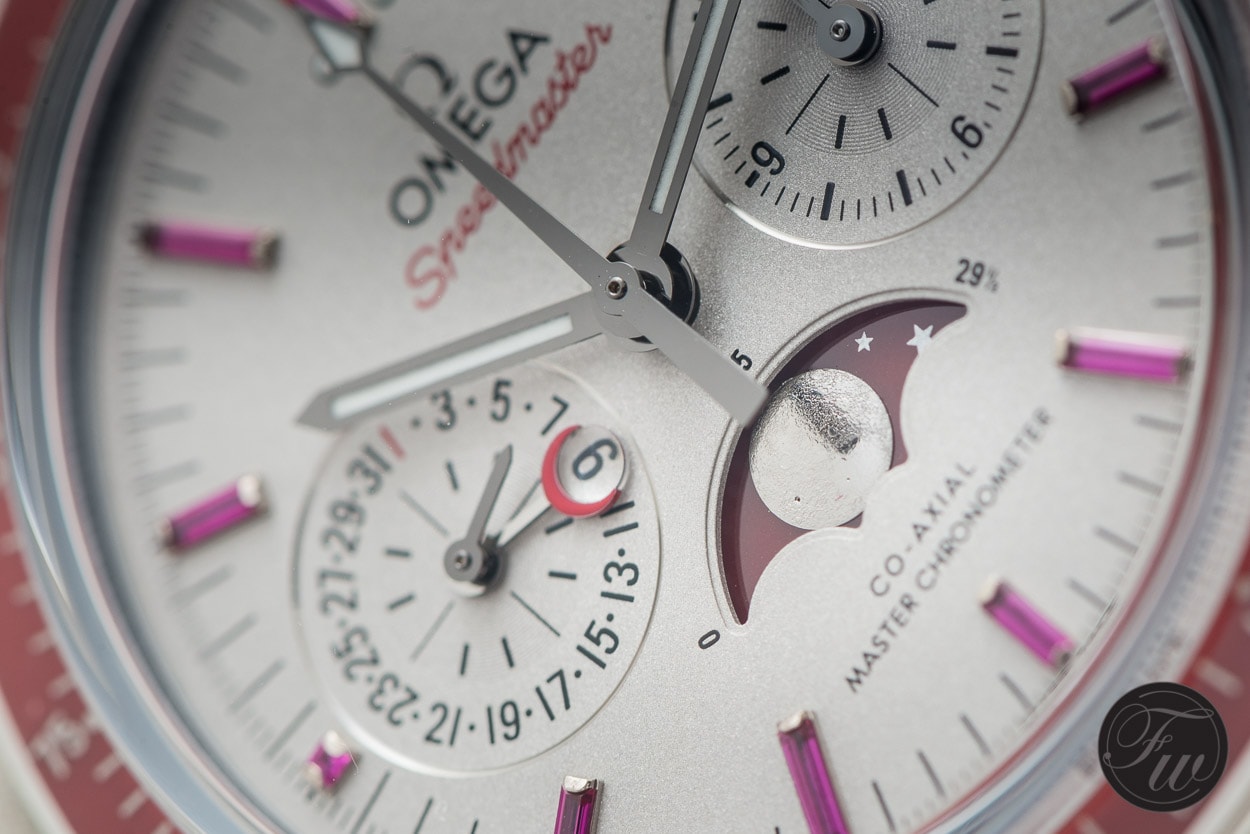 Platinum Dial
That brings me to the dial of the platinum Speedmaster watches, which is also made of platinum. It basically is a sand-blasted platinum dial, using white gold holders for the precious stones. All used precious stones are baguette cut and the 12 of them add up to 2.20 carat for the diamonds and 2.7 carat for the emeralds and rubies.
Normally, I am not a fan of diamond hour markers. Not that I think it is for women only, but it is often a bit too bling for me. The emerald version is – to me – a nice exception, I would definitely could see myself wearing it. The emeralds match nicely with the green ceramic moon phase disc and ceramic bezel.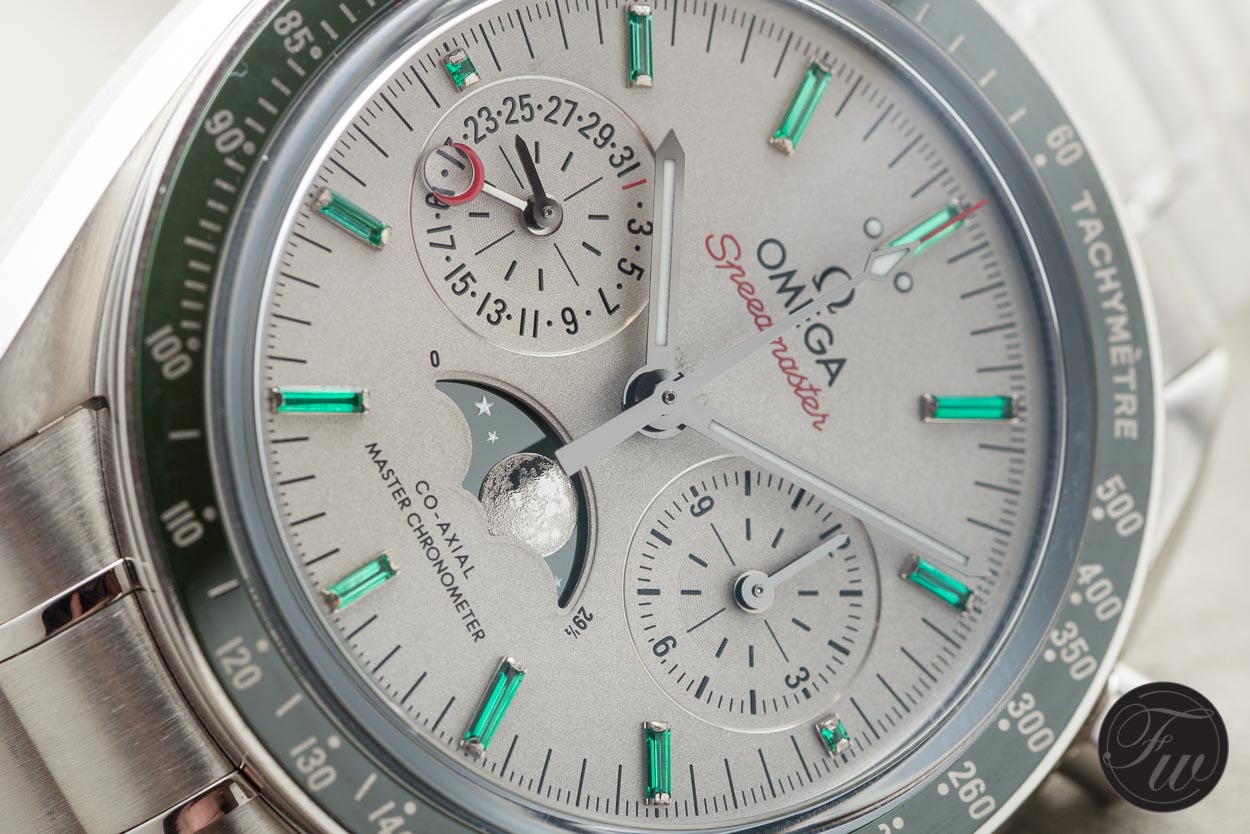 The blue ceramic, as shown below, version uses 2.2 carat of baguette diamonds on the platinum dial. This would be my second choice, as it is quite an understatement and perhaps people need to look twice before they realize that it uses baguette diamond hour markers. The red version, with the ruby hour markers is the version that sticks out the most. The cool thing about these three platinum Speedmaster watches is that you can basically pick the version that fits your personality the most. However, if you already have the limited edition platinum Speedmaster from 2016, with the red bezel and Moonphase disc, I am not sure if the new red model adds much to that one, except for the rubies and platinum bracelet.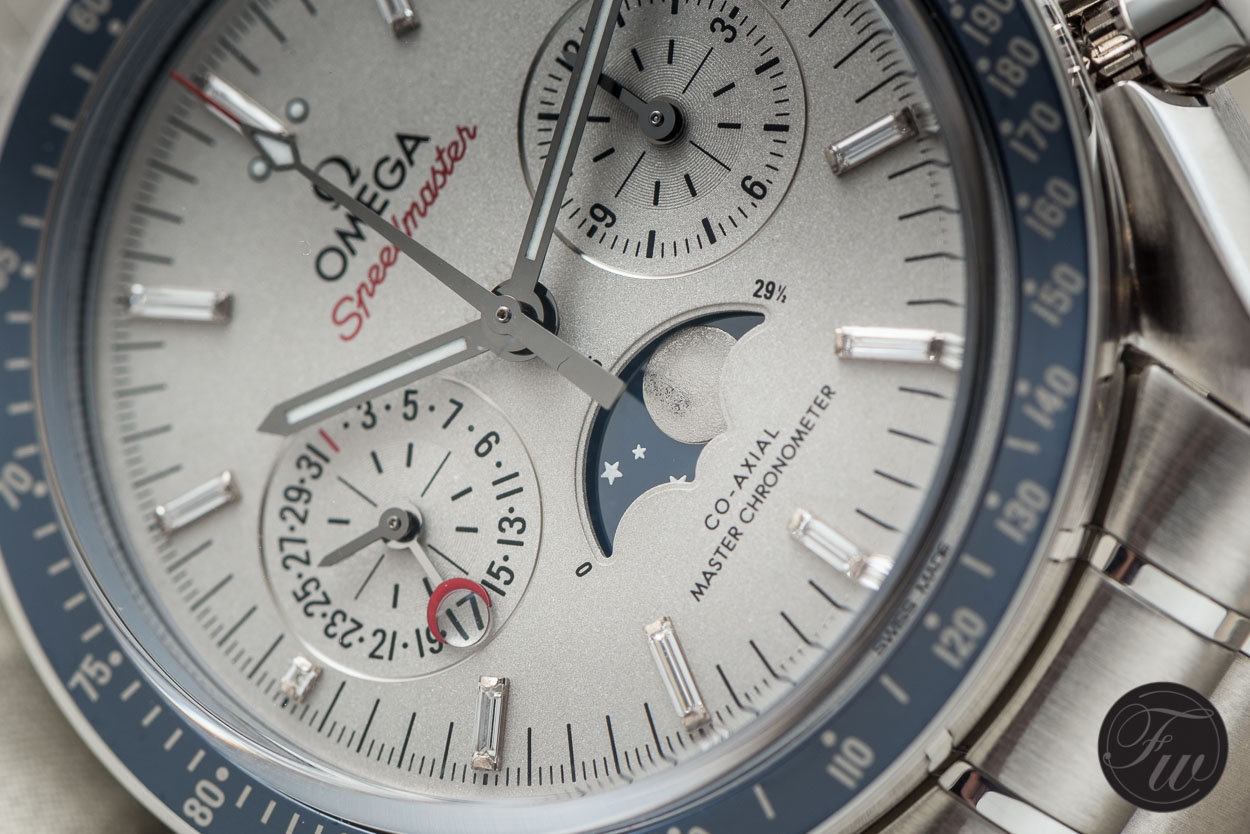 Platinum Case and Bracelet
The weight of this watch was a real shocker to me. I couldn't recall wearing another watch with this weight. I actually have to admit that I liked it, but I am not sure if it would if this would be my daily rocker. Then again, I can't imagine that someone would wear this watch on a daily basis. Of course, there are people who are well off and can wear a 70K piece on a daily basis, but the material doesn't really allow you to wear it at all times without the risk of getting scratched or damaged. I wear my gold watches also not on a daily basis and take them off when I am doing activities that could easily cause scratches. With gold, it is easier to get scratches out (or repair the case or bracelet) than with titanium. Unlike gold, platinum has this 'chewy' characteristic, that makes it difficult to rework it. The case measures 44.25mm like the other Speedmaster Moonphase watches with this caliber, or the Dark Side collection of Speedmasters. It seems to be the size for Speedmasters with this particular family of in-house 9xxx movements. Between the lugs, the platinum Speedmaster watches measure 21mm. If the combination of case and bracelet are too heavy for you, I am pretty sure you will find a nice 21mm strap for this watch, but keep in mind that a platinum folding clasp probably doesn't come cheap. For the blue version, the strap of the platinum Globemaster would probably look awesome, with the platinum stitching. I've once asked what the replacement cost of that particular leather strap would be, and I was quoted 3000 Euro. That's without the folding clasp.
The height of the platinum Speedmaster is 17.05mm. The moonphase and calendar complications probably make the case a bit thicker than the regular bi-compax Speedmaster 44.25mm models. The finishing of the case is like what you're used to from a Speedmaster. Brushed sides, polished lyre lugs and polished crown and pushers. As well as a polished case back of course, with sapphire crystal. The platinum Speedmaster watches are water resistant up to 100 meters.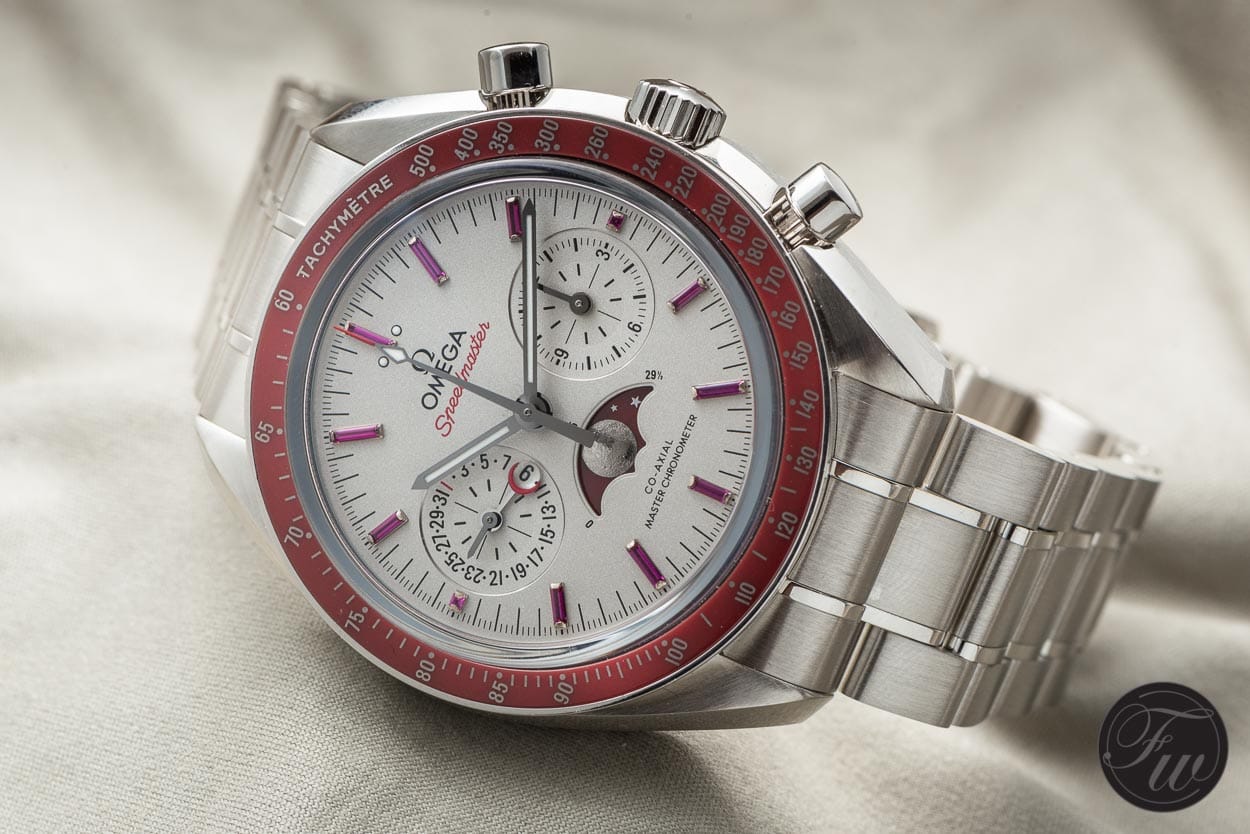 Some Thoughts
I love the Speedmaster, that's not really a secret. My preference goes to the Moonwatch, but many of the 44.25mm versions certainly have my attention as well. The platinum Speedmaster watches are no exception, they are a modern interpretation of the Moonwatch for sure, with a touch of bling. It combines modern technology with the proven design of the Moonwatch. I just feel that the 'Moonwatch' designation should be dropped from the official name of this watch. It has little to do with the Moonwatch in this configuration of course and I feel that Omega should only use it for direct descendants of the watch that was used on the Moon between 1969 and 1972. But that's all discussion about definitions I guess.
The platinum Speedmaster Moonphase is definitely a watch I would love to wear, if I would have the resources. As I have written earlier, the green bezel version with beautiful emerald baguettes would be the watch of choice for me. It is the most expensive reference of the three, with a retail price of CHF77,000 Swiss Francs. The others are CHF7000 less each.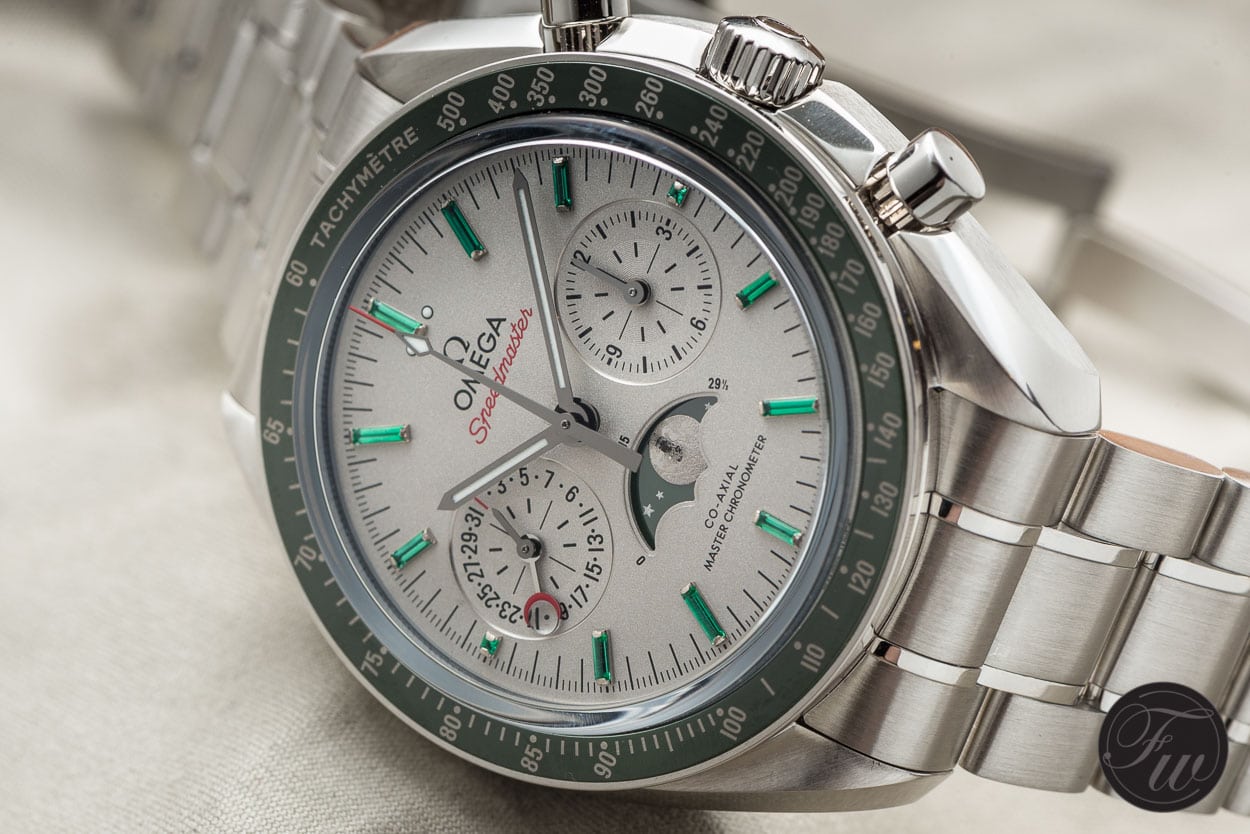 These watches are not limited or numbered, just limited by production. So far I heard that Omega took quite a number of orders in for these platinum Speedmaster watches. I would have thought that these were more or less show-off pieces, but they actually will find their way to (hopefully) proud new owners. There is little for me I can criticize as these are simply out-of-this-world watches. The only thing is that in 2016 Omega already introduced this model as a limited edition of 57 pieces, without the rubies and platinum bracelet, but still. It was then listed at CHF45,000 Swiss Francs so the rubies and platinum bracelet add about CHF25,000 Swiss Francs to the game. Which is probably fine, with these extremes I think price is not that important anymore. I just wonder how someone who bought the limited edition of 57 pieces will feel about these three new releases, especially the red version. Are the rubies and bracelet enough to make the difference? Of course, the limited edition also had the unique number on the dial.
Anyway, to me as a Speedmaster enthusiast, these platinum Speedmasters were quite the highlight of this year's Baselworld releases from Omega. There's another one that we will cover soon, also equipped with a moonphase and using special materials. However, the green platinum Speedmaster Moonphase is a brilliant piece in my opinion. The platinum and green really goes well together and it just looked stunning, which is the most important thing in my book.
More information via Omega watches on-line, click here.