Pre-Owned Picks — 5 Rolex Datejust Models I'd Rock
The mother of all modern wristwatches comes in many flavors
I often call the Rolex Datejust the mother of all modern wristwatches. The very first Rolex Datejust was introduced in 1945, and today's Datejust still shows a very close resemblance.
A Datejust was actually my first Rolex. A 1969 Datejust reference 1600, that I got back in 2003, right after my graduation. A 36mm watch that goes with everything, and to be frank, it is a watch that deserves at least a try by every watch collector. For this reason, I selected five pre-owned Rolex Datejust references I would rock myself.
Rolex Datejust
All pre-owned Rolex Datejust models in this overview are selected from Chrono24. Always make sure to do your homework when buying pre-owned watches. There's enough information out there on the topic of Datejusts. These pre-owned Rolex Datejust watches have often been worn on a daily basis, so parts might have been replaced along the way during a service or repair. Make sure you are aware of this before you pull the trigger on one.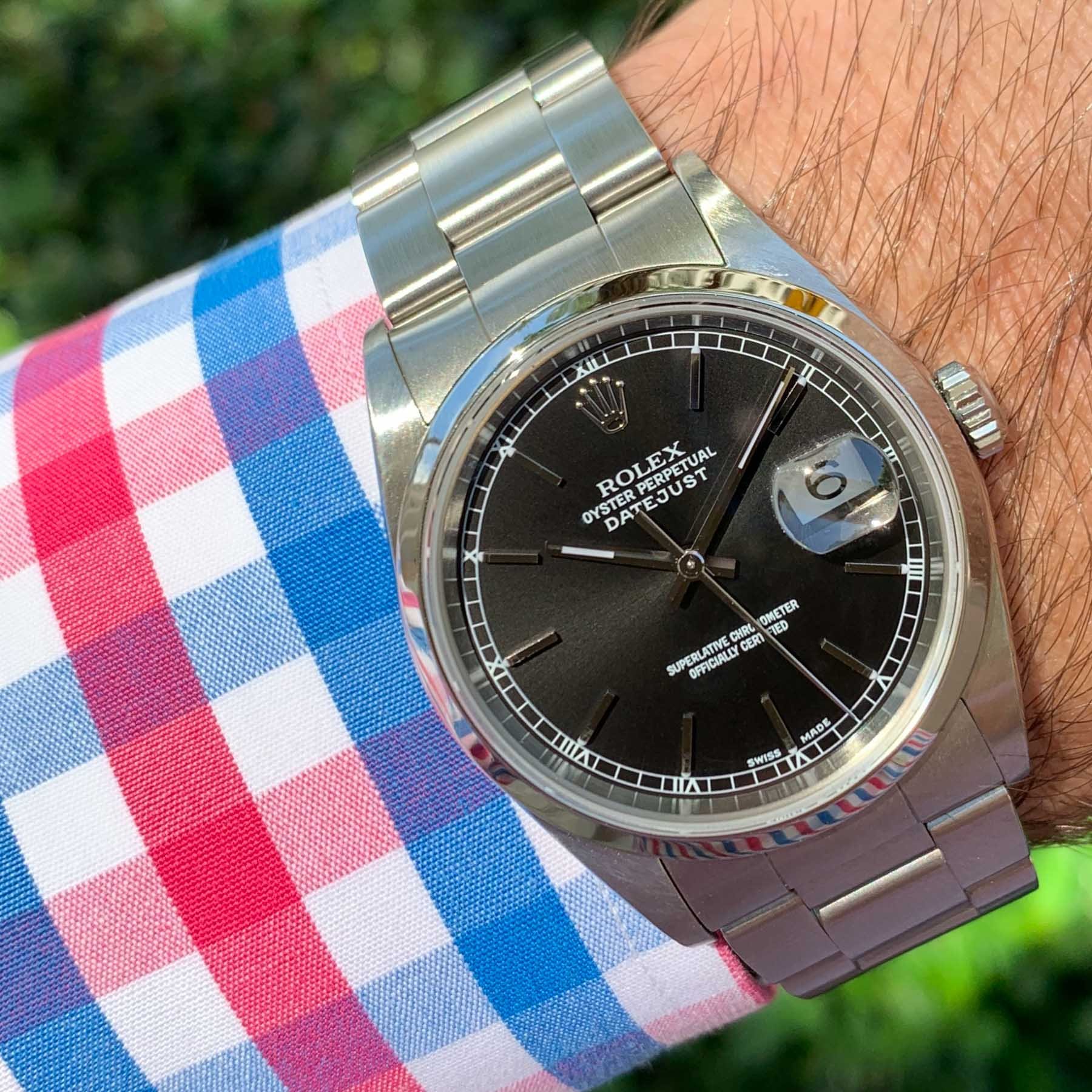 Datejust 16200 — €4,845
The Datejust 16200 is the soberest version in my opinion, but that's something I appreciate. This black dial Datejust with smooth bezel and Oyster bracelet will fit every occasion you can think of. This watch dates back to 2003 and comes with all boxes and papers there should be. A great and complete set for anyone looking for a steel Rolex Datejust. This is a classic. The 36mm Rolex Datejust is equipped with caliber 3135 and, according to the seller, is in great shape. Click here for the offer on this reference 16200.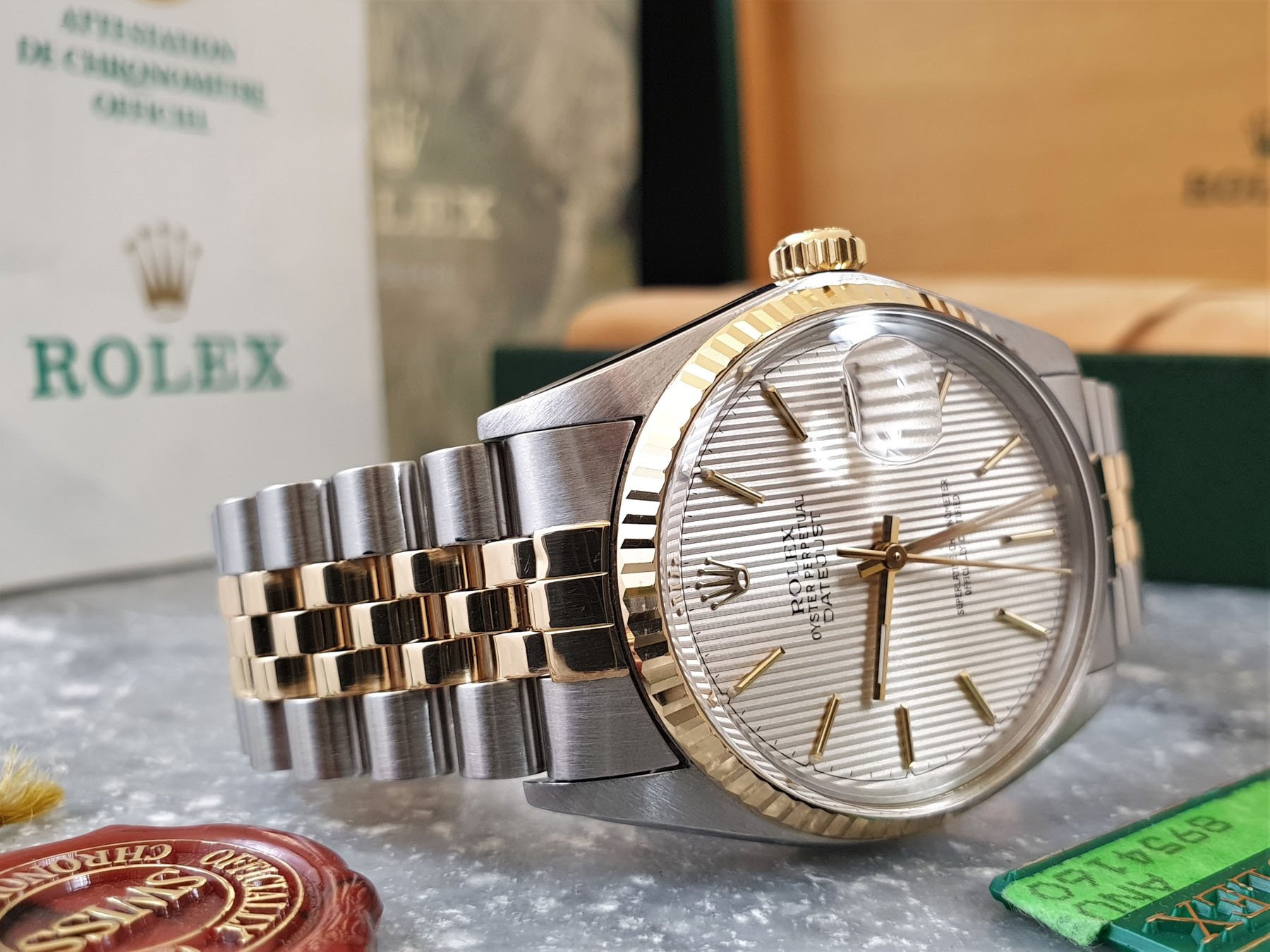 Datejust 16013 — €5,495
A 1985 version of the Rolex Datejust that is — to me — what the Datejust is all about. A beautiful variation in bi-color (it is the watch that will make you get away with bi-color at all times) with a tapestry dial. Then, there's the bi-color jubilee bracelet that is just oh-so-comfortable. It is interesting to see that compared to the 16014 (steel with a white gold bezel), there's not much of a mark-up in the price. Perhaps, this is the one I would pick from these five watches for my own collection. You can find the offer on this beautiful bi-color Rolex here.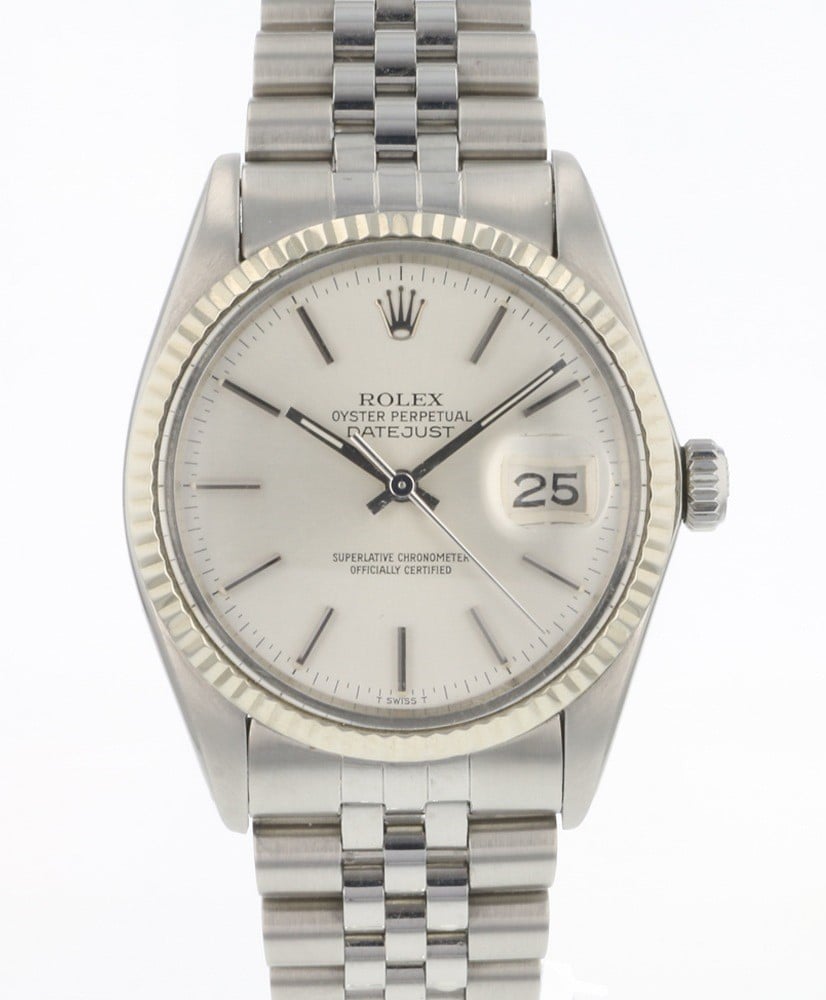 Datejust 16014 — €4,900
Here is an interesting Rolex Datejust, basically the successor of the famous reference 1601. That means we're looking at a steel Datejust with a fluted bezel made of white gold. It dates back to 1980 and has been serviced in 2009 (service papers are there). It is the classic Datejust with a silver dial, a perfect everyday wearer. The last reference for this model with a Plexi crystal. Click here for the offer on this 16014.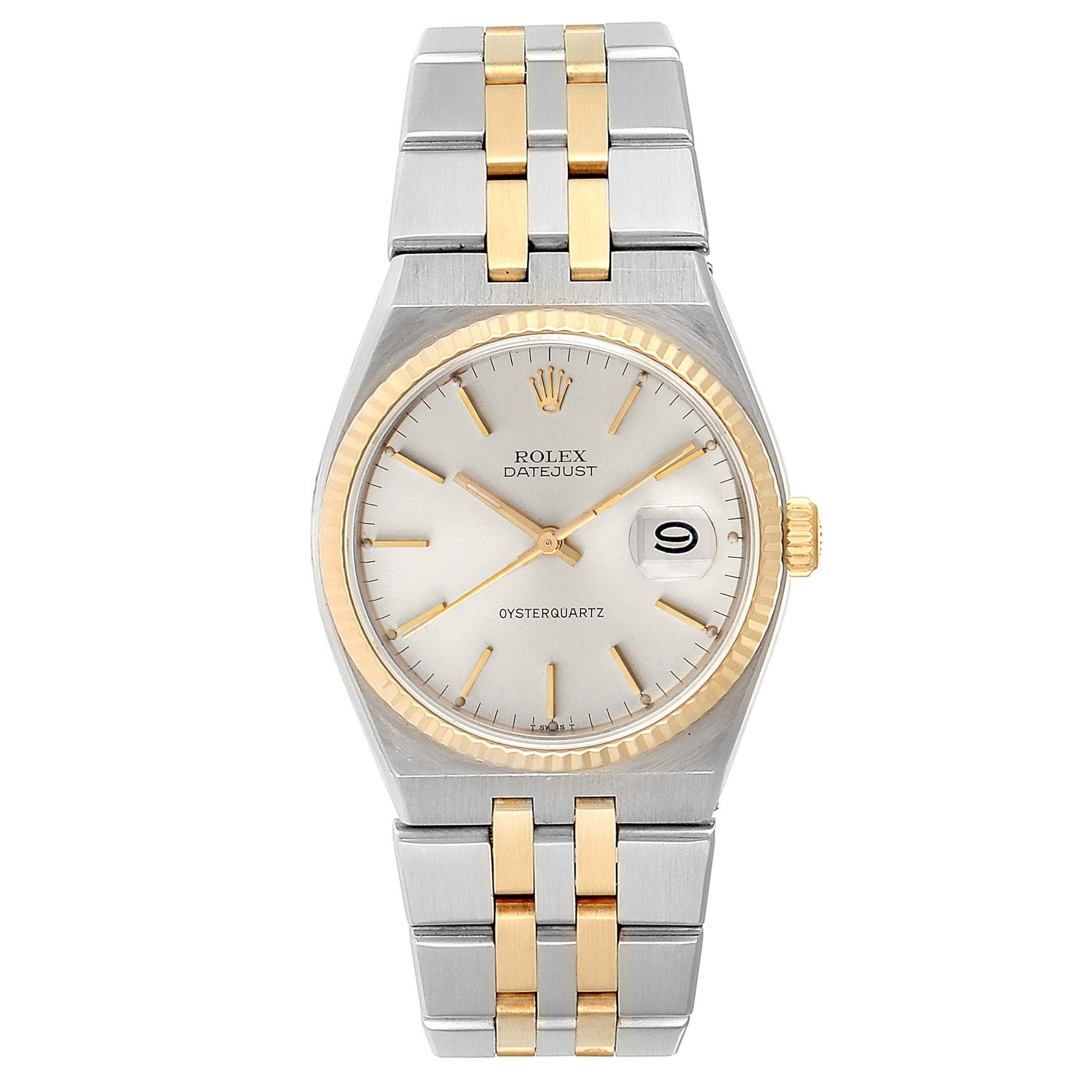 Datejust OysterQuartz 17013 — €3,690
Want something more exotic? The Rolex Datejust OysterQuartz might be your schtick then. I had one in the past but sold it to a relative because he liked it so much. The OysterQuartz was in production from 1977 till 2001 and uses an interesting quartz movement. It uses a pallet fork and pallet wheel that results in a very distinctive ticking sound. Almost like you're listening to a movement with a mechanical escapement. I don't have to tell you what the design of the OysterQuartz Datejust reminds me of, but it is different enough to be called unique. This OysterQuartz has a "single" dial, meaning there is no chronometer text on there. Early versions of the OysterQuartz had just this one line "OysterQuartz" above the 6 o'clock hour marker. Click here for the offer on this OysterQuartz.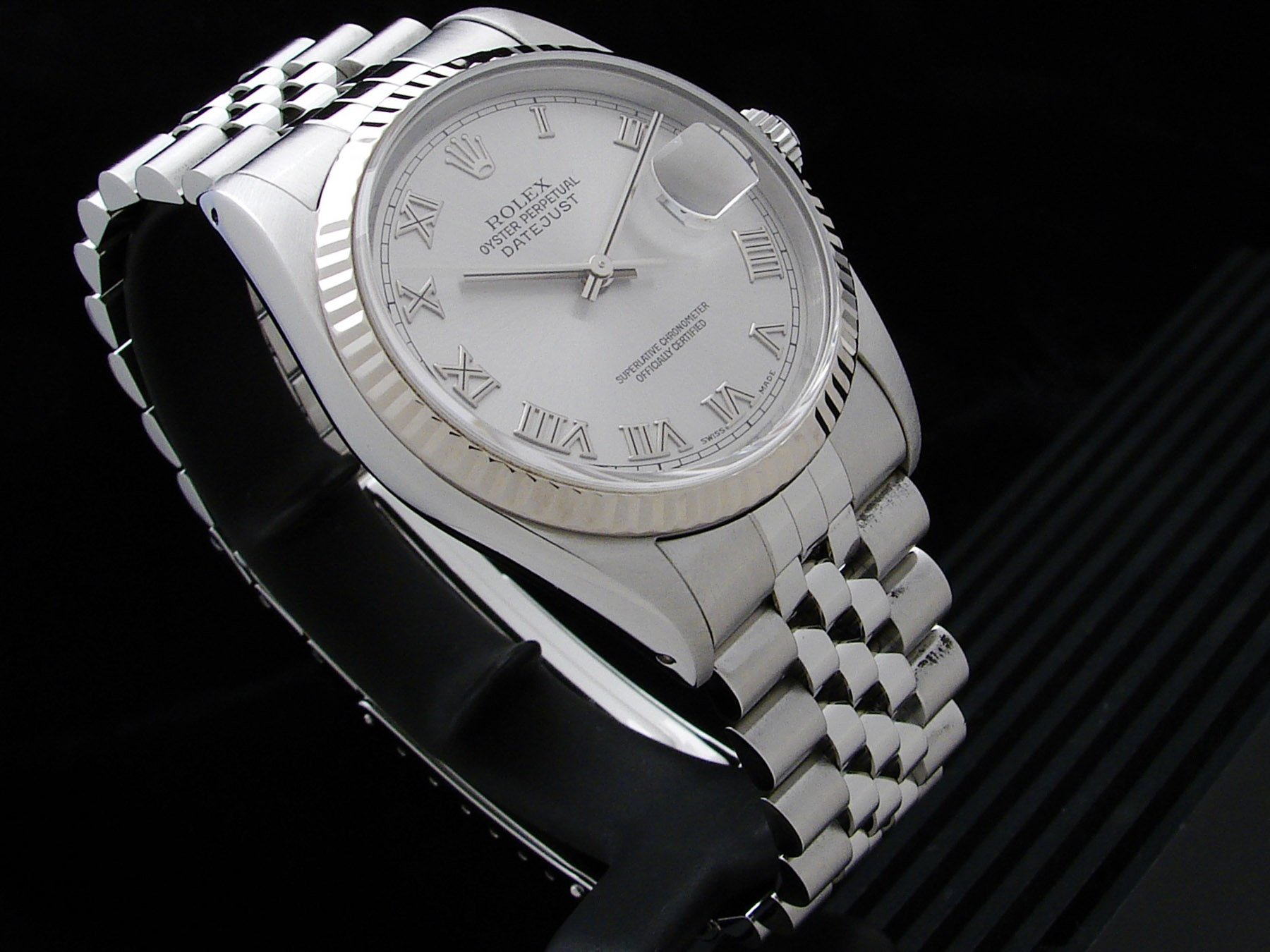 Datejust 16234 — €5,400
This Rolex Datejust 16234 dates back to 1993 and comes with boxes and papers. This is simply an awesome modern version of the 1601. White gold fluted bezel, white gold Roman numerals, and the jubilee bracelet. If a vintage Datejust with Plexi crystal is not for you, this 16234 is the way to go.  This watch is located in the land of the Datejust — Italy — and the price seems just about right. Actually, with today's craziness on (Rolex) watches, it is actually a lot of watch that you'll get for the money, but that goes for all Datejusts listed here. Click here for the offer on this 16234.
You can't go wrong with a Rolex Datejust
That's it! My 5 pre-owned Datejust picks. It actually makes me want to get my Datejust from the safe and give it some wear. 36mm might seem small in today's world, but even on my 19cm wrist, it looks pretty decent.  Also, make sure to read our article "Why you can't go wrong with the Rolex Datejust".