Pre-Owned Picks – Our Selection Of Watches For This Week
For Week 7 We have Rolex, Tudor, JLC, Omega, and Seiko
This week's pre-owned line-up is a bit of a bold combination of watches — Vintage and new, dress and sports. I even included a watch I'd never seen before: The Jaeger-LeCoultre chronograph from the 1970s.
Every week we pick a few pre-owned watches from Chrono24, the largest market place for wristwatches in the world — watches that we love ourselves, or think they will be interesting to you. So to be clear, we picked the watches, Chrono24 only sent us the images without their watermark and in a proper resolution.
Pre-Owned Picks Of Week 7
This week we go from €2,350 (Tudor) to tenfold that amount for a Rolex with a moonphase complication. A Rolex with moonphase? Yes, there's more in their catalog than the sports watches and Datejusts and Day-Dates. The Rolex Cellini is an underrated collection and has some interesting references, just like the model featured here. Another diver I included is the popular Marinemaster from Seiko, the discontinued SBDX001 reference. Then there's the Speedmaster Professional with a moonphase complication, also discontinued now. I have a weak spot for this moonphase edition, which is based on the very limited mid-1980s moonphase edition. Last but not least, the already briefly mentioned pre-owned Jaeger-LeCoultre reference 2648.42 chronograph. A colorful kid from the 1970s. Without further ado, let's have a closer look.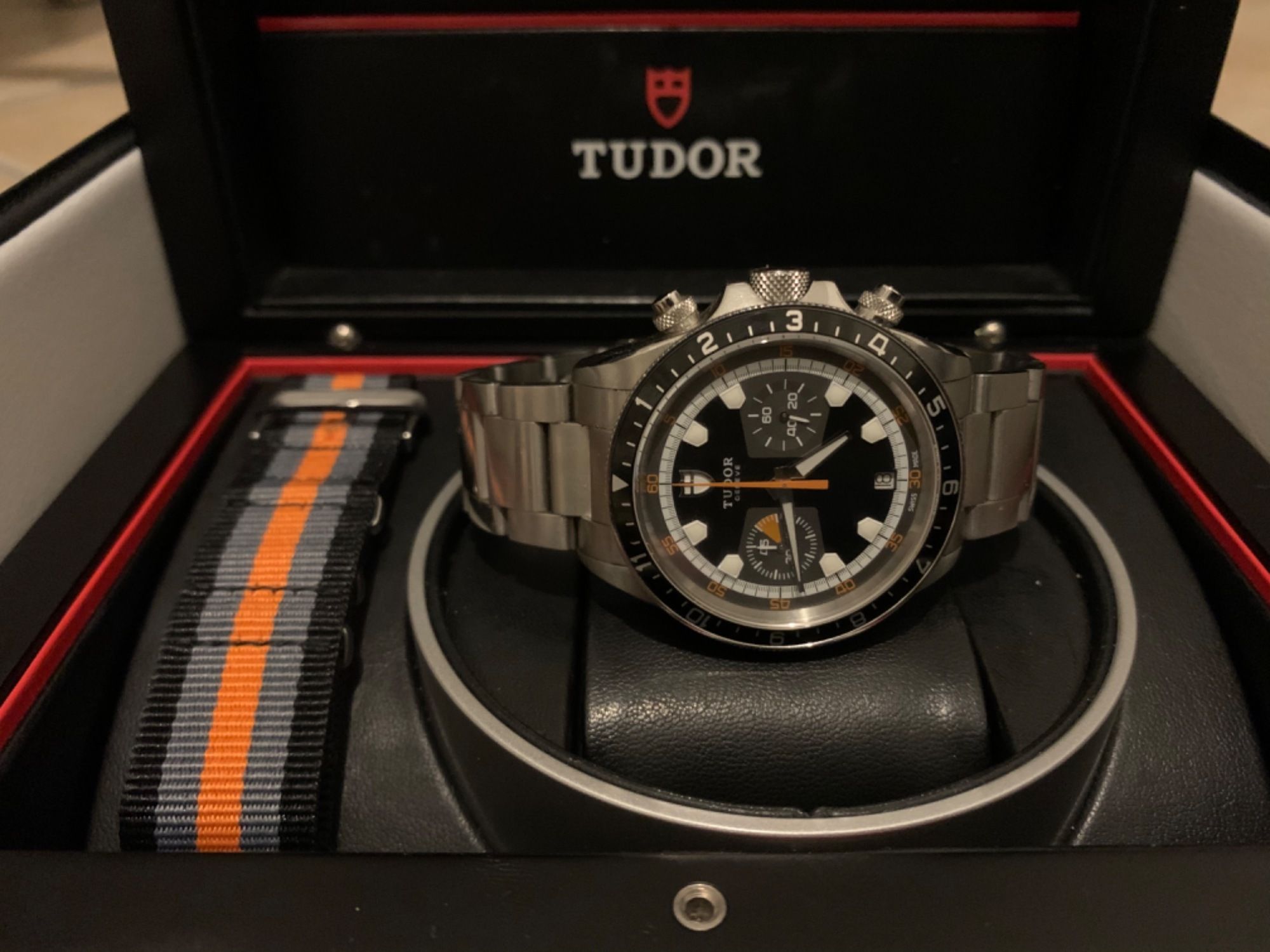 Tudor Heritage Chronograph 70330N (€2,350)
I remember when the Heritage Chronograph came out, and people were hyped. An incredible looking chronograph, inspired by the vintage Tudor Monte Carlo watches, for a sharp price. I was still very much in Rolex circles at the time, and I noticed many of my Rolex friends jumped on the Tudor bandwagon. The watches have a similar heritage, similar looks, but for a far more accessible price tag. Some came back and told me it doesn't do the same for them as a Rolex, others enjoyed their chronographs (and still do) and purchased the Black Bay(s) as well. The Heritage Chrono is one of my favorite Tudor watches, and I've often considered one. For a pre-owned price of €2,350 for a complete package (from 2017), it is almost silly not to buy one. Click here for the offer on this Tudor Heritage Chrono.

Seiko Marinemaster SBDX001 (€2,900)
After I bought a Seiko Sumo (SBDC001) in 2014, I started wondering how good a Marinemaster would have to be (then list price was €2,300) if the Sumo was already so amazing for just €600. When I got my Seiko Marinemaster SBDX001 early 2015, I was simply mindblown how good this watch was (and is). Zaratsu polishing — incredible 8L35 movement (based on the Grand Seiko 9S55), monobloc case, nicely finished hands, etc. This watch could easily hold up against much more expensive watches. During my trip to (Grand Seiko) later that year, I found out the Marinemaster SBDX001 (and later SBDX017) was made in the Grand Seiko workshops, which explained a lot. This is value for money, even at €2,900, which is higher than the retail price of the SBDX001 ever was. That said, the new Seiko SLA021J (which is the current version) is an excellent alternative to this one for just €300 more. If you're really into collecting the Marinemaster 300/Prospex, go for the SDBX001. Otherwise, the SLA021J is the one you should get. Click here for this offer on the Seiko Marinemaster 300.

Omega Speedmaster Professional Moonphase 3576.50.00 (€5,740)
Omega introduced its Moonwatch with Moonphase in 1985 and was in production till 1988. Only 1,300 pieces were made, but they weren't numbered or limited. It was a time where it took 8 years to sell out a gold Speedmaster Professional (300 pieces) and 3 years to sell 1,300 pieces in steel. Amazing how different this is from today. Anyway, in 2003 Omega decided to introduce the Moonwatch again with a moonphase complication. Basically the same watch, but, in the meantime, Omega updated some aspects, of course, including the bracelets and movements. The 2003 model now had the Lemania based caliber 1866 movement (a caliber 1861 with a moonphase complication added to it) and the newer type bracelet. It was in production till very recently, but it never really took off it seems. Only a few people I know have one of these Moonwatch Moonphase models, and I guess it is just not the reference you buy as your only Moonwatch. This pre-owned example comes complete with box and papers (reflected in the price) and a complete service done in 2017. Click here for the offer on the Moonwatch Moonphase.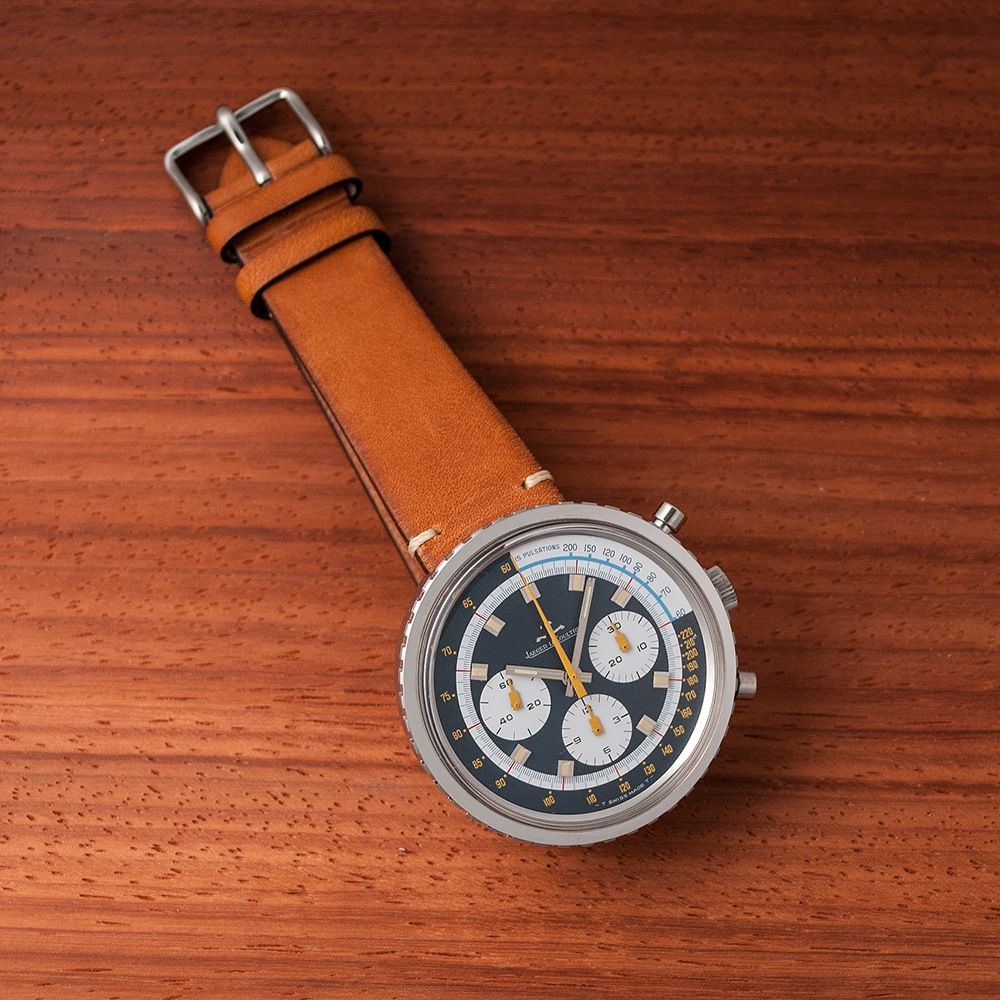 Jaeger-LeCoultre 2648.42 (€8,518)
Here's a watch I'd never seen before, the JLC chronograph with reference 2648.42. A typical 1970s watch, due to its shape and colors. According to the seller, a vintage watch dealer located in Switzerland, the watch is unworn. It is indeed in beautiful condition on the images, and luckily the seller included pictures of the inside of the case back and the Valjoux 72 chronograph movement as well. A typical collector's item for those who don't care about Daytonas, Navitimers, Speedmasters, etcetera, but instead want to have something that not many others will have. The shape of the hands appears to be a wild mix at first, but they blend perfectly, as do the colors on this watch. This 43mm watch must have been enormous in the 1970s, but rather "normal" or at least accepted for today's standards. This doctor's (or Herr Doktor) chronograph has a price tag of €8,518. Click here for the offer on this JLC Chronograph.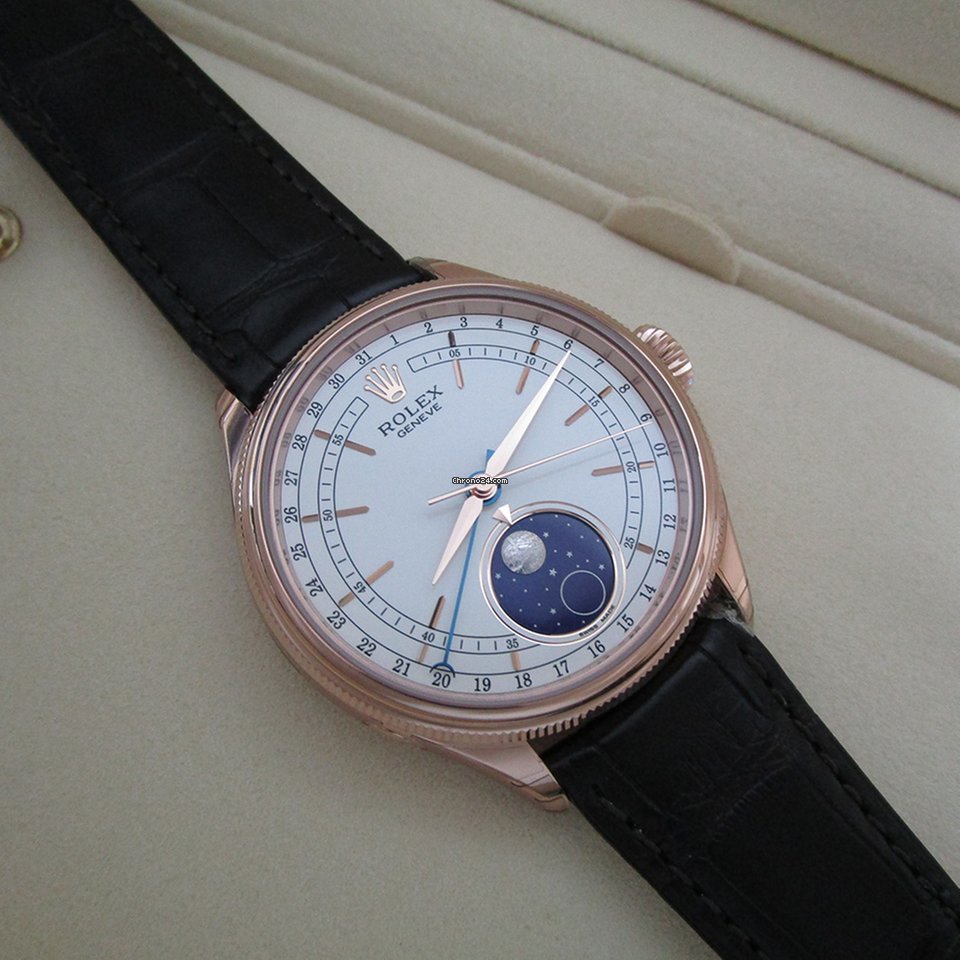 Rolex Cellini Moonphase 50535 (€22,527)
I couldn't believe my eyes when Rolex showed us their Cellini collection in 2014. A bold move. Everything non-Oyster is a bold move, in my opinion. The last time they did this was with the rectangular Cellini Prince, and that wasn't around for very long if my memory serves me correctly. This Cellini Moonphase reference 50535 is a fantastic dress watch from the brand that's so well-known for its sports watches or at least watches with bracelets. This pre-owned 39mm rose gold watch comes on a leather strap, and perhaps the only typical Rolex thing about this watch is the shape of the lugs. Besides the time and moonphase indicator, it has a pointer date as well. The moonphase is accurate for the next 122 years, so you're set. Click here for the offer on this Rolex Cellini Moonphase.
As always, with pre-owned watches, make sure to do your (own) research. Also, feel free to make an offer on these watches (remember, these are merely asking prices), and don't be afraid to discuss the warranty the seller can provide. Chrono24 offers its Trusted Checkout system, so you have proper buyer protection (more here). But it never hurts to be surer than sure. Always do your homework. Spending adequate time on a purchase can help minimize frustrations further down the line.
Happy Hunting!